The world's most successful people have one thing in common; they have exceptional communication skills and are able to deliver their thoughts in a structured and influential manner.
Due to the extremely competitive nature of the world we live in today, organizations have to be on their A-Game when pitching to potential clients.
This is where presentations act as a stepping stone to stand out from others. They act as a visual aid that engages the viewers and gets your information across easily.
Even while teaching or giving a speech to your class, presentations really help you project information in a manner that stays in the minds of the audience.
Presentations can be made on various software, from Traditional ones like MS Powerpoint to modern ones like Google Slides, Prezi, Canva, and more! The benefits of using presentations are endless:
Act as cue points: Presentations often highlight the main points that you need to stick to as a speaker. This ensures that you don't digress and get distracted, which is especially important in time-limited pitches.
Make it easier to understand for the audience: Presentations have the main points listed down, so even if you are covering a lot of information, the audience knows the gist of what you say and can remember it better.
Makes your pitch more engaging: Humans are visual creatures. Presentations not only have a visual aid in the form of text, but also give you the option of embedding images, videos, and audio files that help your presentation become more memorable.
As you can see, using presentations is a no-brainer and everyone has caught up with its benefits! Now it's about maximizing the effectiveness of your presentations to help you stand out from the crowd!
In this article, we'll be giving you various tips and tricks that will help you create better presentations, irrespective of whether you use Powerpoint, Google Slides, Prezi, or any other presentation software!
List Of The Best Ideas And Tips To Make Your Presentation Stand Out!
1. Use Appealing Background Themes
Background themes are undoubtedly one of the first things that catch the eye of the audience, so make sure you take some time to finalize the exact background image that you will be using.

You can choose an image with hues that reflect your product, values, or the topic that is being discussed. Keep in mind that symbolism plays a huge part in how well your audience will remember what you have to say, so decide your background image accordingly.
One thing you should always make sure of is that the image has enough open space for you to place text.
Read more: 7 Presentation Tools to Create Awesome Slideshows!
2. Create Different Slides for Different Purposes
Keeping each slide the same (same format, layout, and background) makes things very monotonous for the audience. Even if the slides have different textual content, make sure you mix up the background and formats of the slide.

The backgrounds should be similar in color so that the audience doesn't get caught off guard, but you can try out completely different layouts and formats.
For example, you can have a different title slide, table of contents slide, and then different content slides with variations. This will keep things fresh and more appealing to the audience.
3. Choose the Right Color Palettes
Choosing the right colors that suit the overall theme of your presentation will do wonders in engaging the audience. Try to keep the colors of the fonts and diagrams in a way that complements the background theme.
When in doubt, you can always take a look at your software's existing themes to get an understanding of what works best. You can then tweak it according to your own preferences.
Another way of making your presentation pop is by adding contrasting colors that grab the attention of the viewers. Keep in mind that this can be a bit risky so do it tastefully, but it is another option that works well for some presentations.
You can also make a few important slides stick out with different colors to convey their significance.
4. Don't Use Bulleted Lists
While bulleted lists allow your pointers to be listed down in a concise manner, there's one major problem with them; literally everyone uses them and hence they become monotonous.
They also become too predictable, with the flow becoming boring and repetitive. That is the worst thing you'd want when you want to keep the audience engaged and interested in what you have to say.
To keep the audience engaged, consider replacing your bulleted points with images and other visual depictions of bullet points. Keep the order of the points unpredictable so that it keeps the audience on their toes at all times. This will ensure that your presentation doesn't become too passive.
5. Add Visuals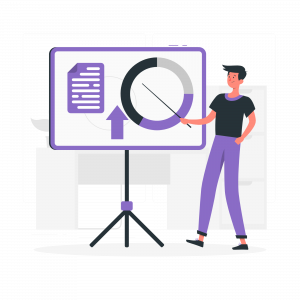 Humans process information better when there is more visual content. Make use of media like images, videos, and even GIFs to stand out and retain the attention of the audience. The more text there is on your slides, the harder the audience has to squint and read through chunks that may distract them.
If you are talking about statistics, try using graphs, charts, or other infographics that will convey the information in a much more engaging manner. You can make custom infographics through simple sites like Canva, which has various templates for you to get started.
You can also embed videos into your presentations that will play automatically as you reach the next parts of your presentations. You can also start off the presentation with a video to immediately grab the attention of the audience. The earlier you show them something interesting, the longer they will be interested.
Just make sure that the visuals you use actually complement and enhance the message of your presentation. They shouldn't take the focus away from the main purpose of the presentation.
Read more: 15 Best Presentation Blogs and Websites to Follow!
6. Choose the Right Fonts
When it comes to text, font is the most important aspect that will make or break your presentation.
When deciding your font, keep in mind the theme of your presentation, level of seriousness (like if you're going to be pitching to investors or if it's a basic teaching presentation), and even the distance between the audience and the screen.
When in doubt, always stick to the most accepted fonts like Calibri, Helvetica, and Times New Roman. If you're looking for something more quirky, perhaps for a fun event presentation, try out Sans Serif, Monospace, or the tons of others that software offer nowadays.
The font size is also a crucial element in legibility. Make sure you can easily read the fonts without squinting your eyes or having to think about the meaning of cursive letters.
Remember to stay consistent in the fonts you're using. You can have one font for the headings, one for the normal text, and one for diagrammatic captions or footers.
Finally, always test out the slides in presentation mode so you get an idea of how well the text can be seen from a distance.
7. Limit the Number of Slides
When you move on to the next slide, the audience takes a few seconds to adjust to the new information. If you keep changing slides fast, the audience is not able to process what's given and ends up getting overburdened with information.
The rule of thumb is to keep it to one slide per minute, so you can get just the right information across in a steady manner.
However, this doesn't mean you should cram one slide with excess information. Only keep the most essential text and you can elaborate upon it when you talk. Loads of text just cluster everything and again, causes information overload for the audience.
8. Add Animations
Animations are obviously not going to be the holy grail of your presentation; the content and format matter way more. But if you've already got your content and style covered, animations are like the cherry on top of the cake and make your presentation go from excellent to perfect.
Animations keep the audience engaged as there is more movement going on on the screen. Moreover, they show the amount of effort you have put into making the presentation.
Again, remember that animations should be the last step after you have made sure everything else is on point. Also, remember to keep a balance when adding animations.
If each slide has 5-10 animations, it could slow down the flow of your presentation as it takes a second or two for each animation to load. Hence, it is easy to go overboard, and therefore you should add it only where it can genuinely grab the eyes of viewers.
9. Try Cinematic Styled Slides
Most software like MS Powerpoint and Google Slides have a slide-by-slide approach. This has been the norm for years, but you can try something different by using Prezi. Prezi bypasses the conventional one after the other outlook and lets you take your audience on a journey through dynamic navigation.
You can move around slides vertically, horizontally, and make transitions between ideas more like pathways, rather than the traditional one slide to the next approach. Prezi adds life to your presentations and allows you to make them very cinematic.
Prezi also has a bunch of templates that allow for smooth transitions from the main topic into sub-ideas, allowing you to tell a story without much effort.
In case you have already made a presentation on PowerPoint or Google Slides, you can simply import the PPT file into Prezi's PowerPoint Converter, which will automatically convert the boring slide to slide format into a more dynamic and engaging arrangement.
Conclusion
As we all know, presentations are one of the most important pieces of aid we have that help us communicate effectively. Whether it's for a sales pitch, teaching to your class, or a college project, presentations will keep the audience engaged and will allow them to process your information easily.
So the next time you make a presentation, use these tips so you can take your presentation to the next level. We hope these tips will make an impact on the way you deliver information to your audience. Let us know your favorite tip by tweeting at us @Bit_docs!
Further reads:
6 Awesome Video Presentation Software & Tips to Follow! (Infographic Included)
Business Presentation: How to Create One to Woo Clients!
Value Proposition: What is it & How to Write it?
Brand Voice: What is it & How to Define it for your Business!
How to Embed SlideShare Presentations in Your Documents?
9 Amazing Flowchart Software and Tools of 2021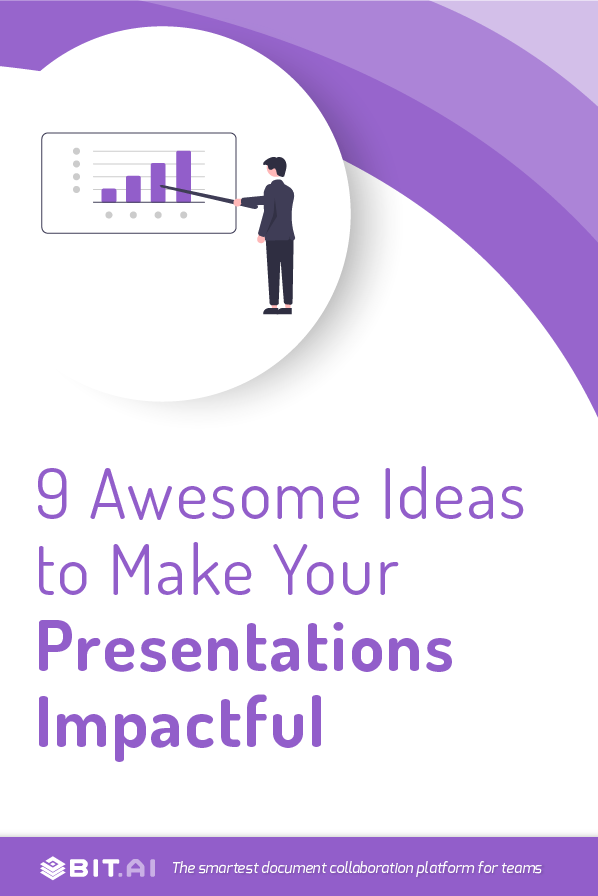 Related posts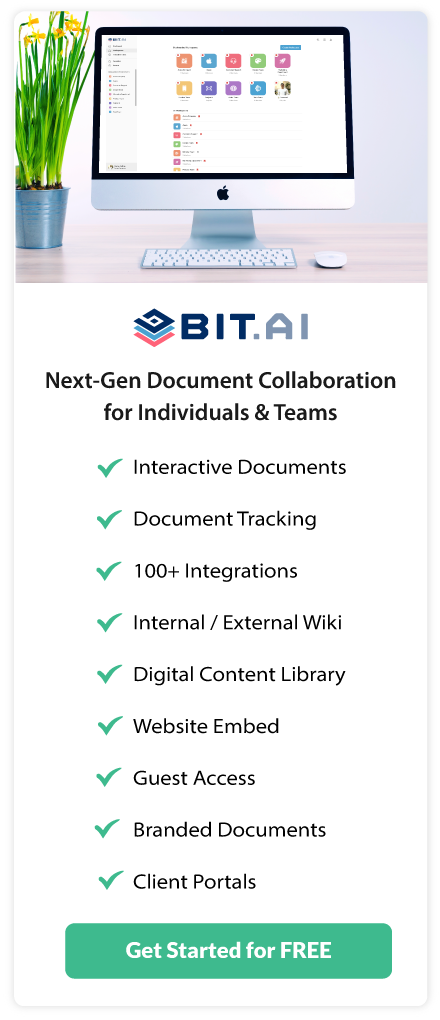 About Bit.ai
Bit.ai is the essential next-gen workplace and document collaboration platform. that helps teams share knowledge by connecting any type of digital content. With this intuitive, cloud-based solution, anyone can work visually and collaborate in real-time while creating internal notes, team projects, knowledge bases, client-facing content, and more.
The smartest online Google Docs and Word alternative, Bit.ai is used in over 100 countries by professionals everywhere, from IT teams creating internal documentation and knowledge bases, to sales and marketing teams sharing client materials and client portals.
👉👉Click Here to Check out Bit.ai.