"No one can whistle a symphony; it takes an orchestra to play it."
Now, there's a quote that we all should ponder upon. It's the combined effort of the orchestra that makes the symphony, not the effort of just one person.
It's teamwork, folks! Something that can do wonders!
That's why businesses are so into team building and fostering team spirit. When a group works well together, they produce the best results. Just like the orchestra!
No wonder employers want to hire people with team-building skills!
So, What Exactly is Team Building?
The process of getting individuals together, forming a cohesive team, and engaging in activities that help and motivate the team in enhancing its efficiency and performance is called team building.
Team building is basically done to ensure that team members get along well with each other, understand their responsibilities and work together to achieve the organizational goals.
It's just like they say: "Teamwork makes the dream work!"
So, let's delve a little deeper to understand the importance of team-building in your company. Shall we?
Why is Team-Building So Important?
Employees spend around 5 days a week at work with the same people. But, that doesn't necessarily mean that they know each other well and will make a great team.
This is where team-building comes in and saves the day.
To understand why team-building is important, let's take a look at some of the benefits of team-building in an organization.
It encourages people to communicate openly with each other.
It nurtures an environment of learning where fresh and new ideas are born.
Team-building teaches employees how to face issues and solve them.
It rejuvenates the entire company culture allowing better communication, collaboration, and acceptance.
It increases the morale of the employees, which in turn persuades them to perform better, thereby increasing the overall productivity of the company.
If you are still not convinced, take a look at what some statistics have to say about team-building:

All these stats must have given you an idea about how important it is to have teamwork in an organization!
So, do you want to know some must-have team-building skills using which you can motivate your team members and bring them closer together? Scroll down and dive right in!
List of 15 Must-Have Team-Building Skills
1. Good Communication Skills
For a team to work together efficiently, you need to have good communication skills and should be able to express ideas and thoughts.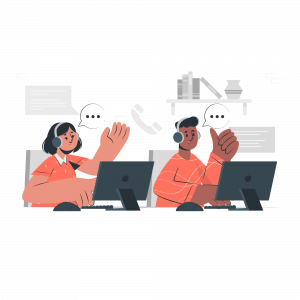 The key traits of being a good communicator are that you are clear, concise, and specific when you convey information. There must be frequent communication to ensure the free flow of information between team members and the whole organization.
Communication is an important and effective team-building skill because, without it, teamwork cannot exist!
2. Active Listening Skills
Active listening skills are an extension of good communication. People don't want to just listen all the time, they also want to be heard.
That's why active listening is an essential part of team-building skills because it focuses on what others are saying and tries to understand their concerns. It makes them feel acknowledged and appreciated.
Active listening skills also mean that you are able to read nonverbal cues such as body language and facial expressions and respond to them in an appropriate manner.
Are you listening?
Read more: Simple Team Management Software Every Business Should be Using!
3. Problem-Solving Skills
It's normal for problems to arise in every team. As a team builder, you should be able to recognize potential issues before they snowball into bigger and more serious problems.
You should be able to remain calm during a conflict and study the situation in its entirety before reaching any consensus. You must be an active listener who is unbiased and open to discussion if you wish to solve issues – without making them any worse.
Your problem-solving skills determine how well your team can work together in times of disagreements, which is why it is an indispensable team-building skill.
4. Delegation Skills
You know that you cannot handle all the work in a group alone. That's why, as a team builder, it is your job to delegate work. This way, everyone is responsible.
To be a good delegator you must create achievable goals, assign tasks according to members' expertise, and communicate well.
Delegation is an important team-building skill that decides how efficiently you can achieve results. You will have no haters if you are a good delegator!
5. Organizational Skills
A team cannot function smoothly if there is no proper organization within it.
As a good team builder, you should ensure that all the tasks that your team needs to work on are well-organized. This includes planning ahead, setting goals, following a strict schedule, keeping track of deadlines, and achieving the goals on time.
All of this helps the team to work effectively and efficiently, which is why being organized is an essential team-building skill!
6. Accountability
Nobody wants to deal with team members who play the blame game.
That is why accountability is important in a team. It shows that you are willing to acknowledge your mistakes and take responsibility for it.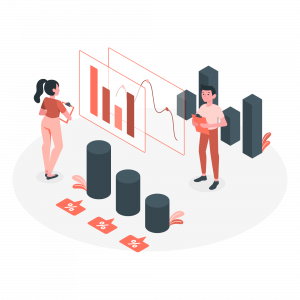 Taking accountability for making a mistake is a must-have team-building skill for the very reason that it builds trust amongst the team members.
Read more: Top 10 Benefits of Teamwork You Must Know!
7. Motivation
As a good team builder, you should be able to easily motivate your other team members and get them excited about setting goals and achieving them.
You can give your members an incentive to work, which could include a bonus or a financial reward. You can come into work with a positive attitude and provide moral support to each member. You can also provide positive feedback to motivate your team members.
This sort of motivation can encourage members to improve the quality and quantity of their work!
8. Ability to Develop Relationships
Being in a team is all about developing good relationships with your teammates. It is a team-building skill that strengthens personal connections between members and aids them in performing better as a team.
Your relations can go beyond the boundaries of a professional one-to-one, you can become closer with your team members on a personal level too!
Such exchanges are what make working in a team fun and enjoyable experience.
9. Being Supportive
The point of having a team is to have people to fall back on.
When team members know that they have people to rely on and receive a helping hand from, it makes working a lot more easier and comforting.
As a team builder, being supportive of your team members can have an extremely positive impact on them. This in turn will boost their morale and encourage them to work better.
10. Decision-making
Often, being in a team means you have to make tough decisions that affect the entire team.
At that point, making the right decision without causing too much drama is what demonstrates your decision-making skills. That doesn't necessarily mean that you go around making decisions for everyone.
As a good team player, your expertise lies in evaluating the options, considering your team members' opinions, and using your critical thinking skills to finally make a reasonable decision.
11. Confidence
Confidence is necessary whether you are a leader or a team member.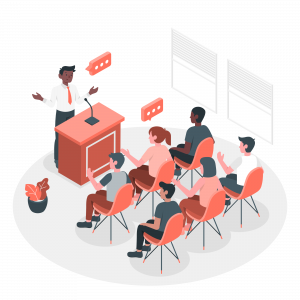 It is a critical team-building skill because it deals with being self-aware of your skills and qualities, and how well you are able to use them in any situation.
Being confident and having confidence in others makes working in a team rewarding for everyone!
Read more: 50 Best Team Building Activities For Collaboration
12. Respectfulness
Everybody in a team deserves respect.
Being respectful makes the work environment friendly and comfortable. This in turn creates a positive atmosphere that improves productivity.
It is a team-building quality you should carry to all your social interactions, not just your workspace!
13. Presentation Skills
Presentations are a major part of working in a team. It's another extension of communication, where you have to perform well in front of others.
Your presentation skills are extremely important because it showcases your personality and your ability to communicate effectively to your team and organization.
It might be an anxiety-inducing task, but it is an inevitable skill!
14. Patience
Patience is an important team-building skill.
Working in a team can sometimes lead to moments of frustration. As a good team builder, you need to be patient in such moments and give some time for things to settle down. This allows you to make better decisions without affecting the morale of your team.
Being patient fosters an environment where everyone can learn to understand and accept each other. This encourages an atmosphere of safety and security which helps improve the overall morale.
15. Exchange Feedback
Being a good team builder means that you can give and take feedback in a professional manner.
All members of the team must be able to receive even negative feedback and use it as an opportunity for learning.
Exchange of feedback is integral to team building because it pushes the team to do better!
Wrapping Up
In this blog, we have covered a long list of must-have team-building skills that will surely help you build a strong, fun, and motivated team.
When employees know each other well, the workplace becomes a fun place where you can have a good time while being productive.
…and that's why team-building is an important part of every organization and should be taken seriously.
Got anything to ask? Tweet us @bit_docs and we'd be happy to help you!
Further reads:
Virtual Workspace: Definition, Importance, and Tools
Team Plan: What is it & How to Create it?
20 Social Media Marketing Quotes to Inspire Your Team!
9 Ways to Improve Work Performance in 2022
7 Compelling Reasons Why You Need To Invest In Team Collaboration
9 Virtual Team Building Games for Remote Employees!
Why Workplace Collaboration is More Important Than Ever?
Collaboration Strategy: Definition, Benefits & Process!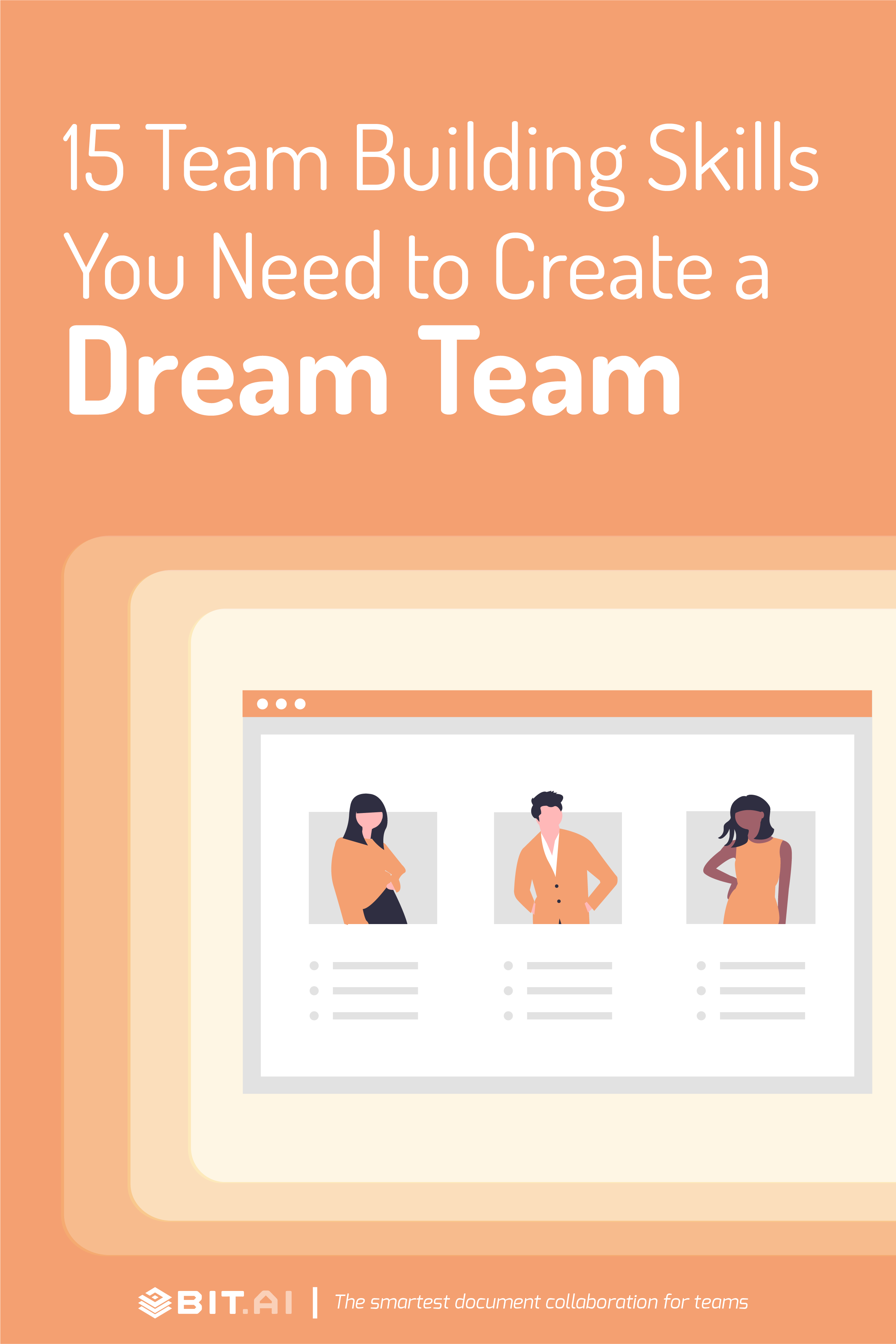 Related posts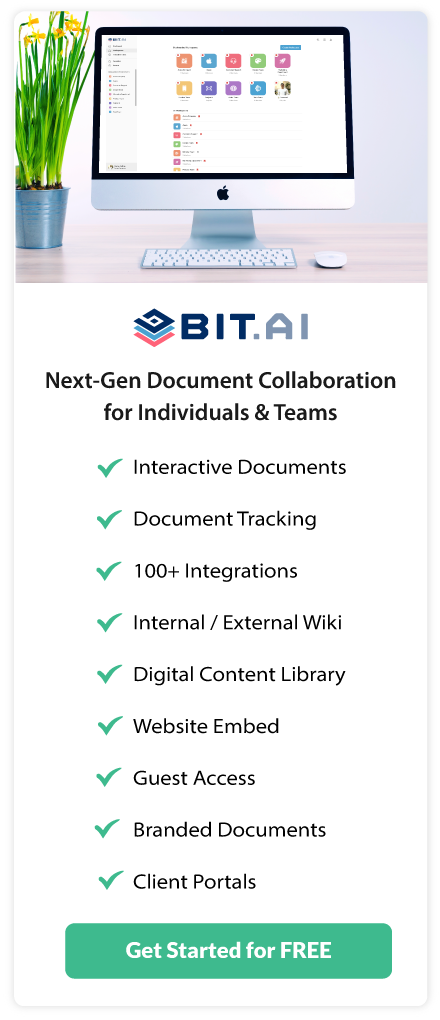 About Bit.ai
Bit.ai is the essential next-gen workplace and document collaboration platform. that helps teams share knowledge by connecting any type of digital content. With this intuitive, cloud-based solution, anyone can work visually and collaborate in real-time while creating internal notes, team projects, knowledge bases, client-facing content, and more.
The smartest online Google Docs and Word alternative, Bit.ai is used in over 100 countries by professionals everywhere, from IT teams creating internal documentation and knowledge bases, to sales and marketing teams sharing client materials and client portals.
👉👉Click Here to Check out Bit.ai.