In a survey by Clear Company, 97% of employees and executives believe lack of alignment within a team impacts the outcome of a task or project, and 86% of employees and executives cite lack of collaboration or ineffective communication for workplace failures.
Team management is one of the biggest contributing factors to a successful organization. In our current scenario, with a global pandemic forcing companies worldwide to work remotely, the importance of effective team management, communication, and collaboration has reached an all-time high.
Businesses are quickly realizing the potential of software tools in the workplace, as around 53% of large companies use some type of team chat and collaboration tool to get work done. This number is 38% for mid-sized companies and 42% for small companies.
Team management software is amongst the most popular type of technology tools and apps we use in our day-to-day to get work done more efficiently.
Team management software is an application that allows teams to communicate and collaborate in a virtual environment. Team leads and managers use team management software to create and assign tasks to employees and get work done together in a virtual workspace.
Such software tools allow better communication in the workplace, resulting in smoother task execution and successful project completion.
Team management software not only comprises project management platforms but can include anything from a document collaboration software, task manager, or to-do list app, a kanban board – anything that helps teams collaborate effectively.
In this blog, we talk about some of the best team management tools out there and how they can help you get more done in less time! Read on…
List of Simple Team Management Software:
If you are working remotely and don't want to compromise on employee productivity and management, we would suggest you find a team management software quickly. Now the question arises- Which team management software is the best? While we can't conclusively come to a single answer, we sure can give you a lot of suggestions to choose from.
Below is a list of some of the best team management software tools out there that'll make your teams' collaboration skyrocket in no time!
Bit
Asana
Toggl Plan
Trello
Flow
Google Suite
Smartsheet
Fleep
Wrike
Bitrix 24

Documents are a vital part of any business and require a ton of collaboration for creating, managing, and sharing them with co-workers. This is why the first tool on our list is Bit, an all-in-one document collaboration platform designed for the modern-day workplace.
Bit provides a commonplace for employees to collaborate in real-time and create documents, brainstorm ideas, assign tasks, store project assets, and get work done collaboratively.
Simply create a workspace, add your team members, and start creating your workplace documents quickly! You can further share these documents with external clients, partners, sub-contractors, etc., and get detailed insights on how they interacted with your documents via document tracking

For both internal as well as external documentation, Bit is the go-to choice of software for managers in 100+ countries over the world.
Here are some of the main benefits of using Bit:
Organized workspaces and folders: Bit brings all your project documents and details in one place by allowing you to organize information in workspaces and folders.
Real-time collaboration: Collaborate with your team and management and feedback in real-time using @mentions and highlight features as every document comes with its separate comment stream.
Content library: Bit has a content library where you can store and share media assets. You can save images, files, videos, PDFs, and content easily and can access it at any point.
Rich embed options: Bit.ai integrates with over 100+ web applications (Ex: YouTube, PDFs, LucidChart, Google Drive, etc.) to help you create media-rich and interactive implementation plans or other workplace documents.
Smart search: Bit has very robust search functionality that allows anyone to find information quickly. You can search for folders, files, documents, and content inside your documents across all of your workspaces.
Interlink documents: Bit allows employees to create unlimited documents and interlink them to create robust internal wikis.
Templates: Bit has a plethora of amazing templates that cut your work in half and help you kickstart your work quickly.
Some standout features of Bit
Document tracking
Content library to store media assets
Organization of the information in workspaces and folders.
Pricing: 
Free with limited functionality
Paid plans start from: Standard ($12/month), Plus ($20/month), Enterprise (contact sales).
Read more: 7 Compelling Reasons Why You Need To Invest In Team Collaboration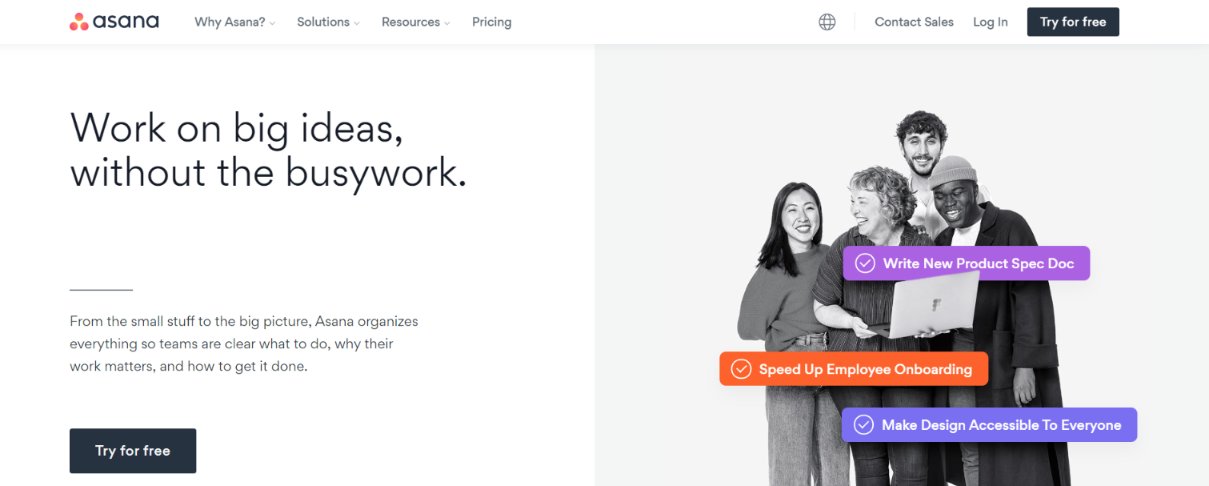 Another crowd favorite team management software, Asana is a great collaboration that makes communication and task management a breeze. Assign tasks, view progress, have conversations all in one place with this amazing piece of software. What sets it apart is it's easy to use, intuitive interface and that lets anyone get on board with the software quickly.
Managers can quickly see who's doing what and what tasks are due. They can also share notes, attachments, follow tasks, add due dates to them, and receive email notifications. Users can also add files to tasks with a size of up to 100MB with no storage limit. You can view your tasks in a Kanban-style interface and can change it to a calendar view, list view, or file view. Asana integrates with popular Saas apps like Zendesk, Slack, Jira, Hipchat, and more.
Some standout features of Asana
View your tasks in timeline, calendar, or kanban view
Get data on tasks, projects, resources, and more
Move stuff around to simplify workflow
Pricing: 
Free with limited functionality
Paid plans start from: Premium ($10.99/month), Business ($24.99/month), Enterprise (contact sales).
Read more: 11 Asana Alternatives & Competitors You Must Know About!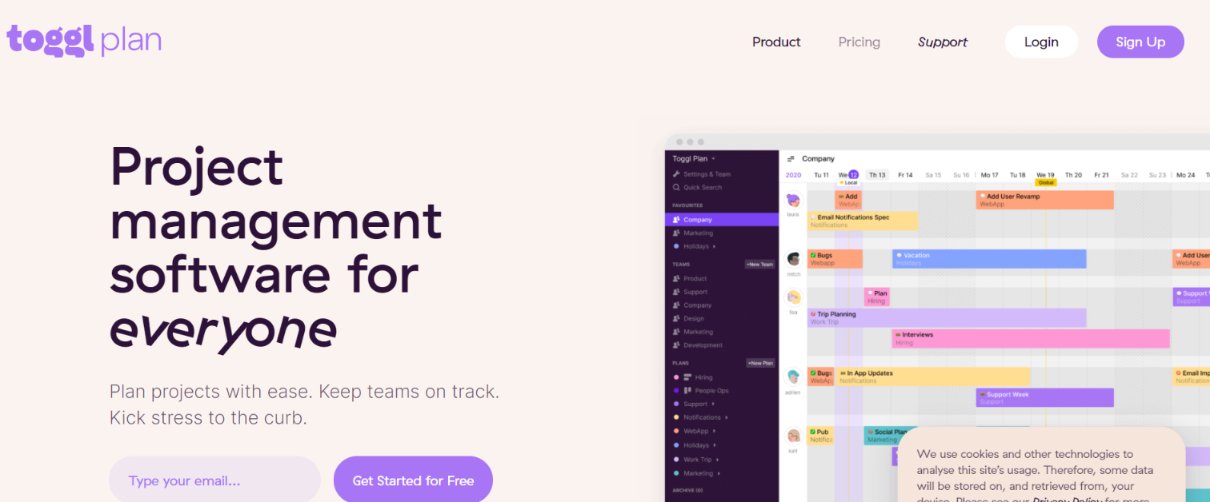 Toggl Plan is the project and task management platform by Toggl. The standout feature of this team management tool is its fun and welcoming interface that makes collaboration a breeze. Bring all your company data together and make it available to all stakeholders. Managers can quickly create projects, assign tasks, monitor progress, create todos, checklists, set milestones, and collaborate with their teams effectively.
You can add comments directly inside a task, improving communication, and reducing ambiguity. The simple drag and drop editor makes assigning or removing easy and quick. Set custom colors to different tasks and projects and distinguish your work for a better overview. With team planning, quickly see who's overbooked, who's underbooked, who's on a vacation, etc, and assign tasks and resources accordingly.
Some standout features of Toggl Plan
In-task comments to improve communications
Boards to manage tasks and view workflow
Upload files, share assets, create checklists, and more
Pricing: 
Free plan available
Paid plans start from Premium ($8 per user per month)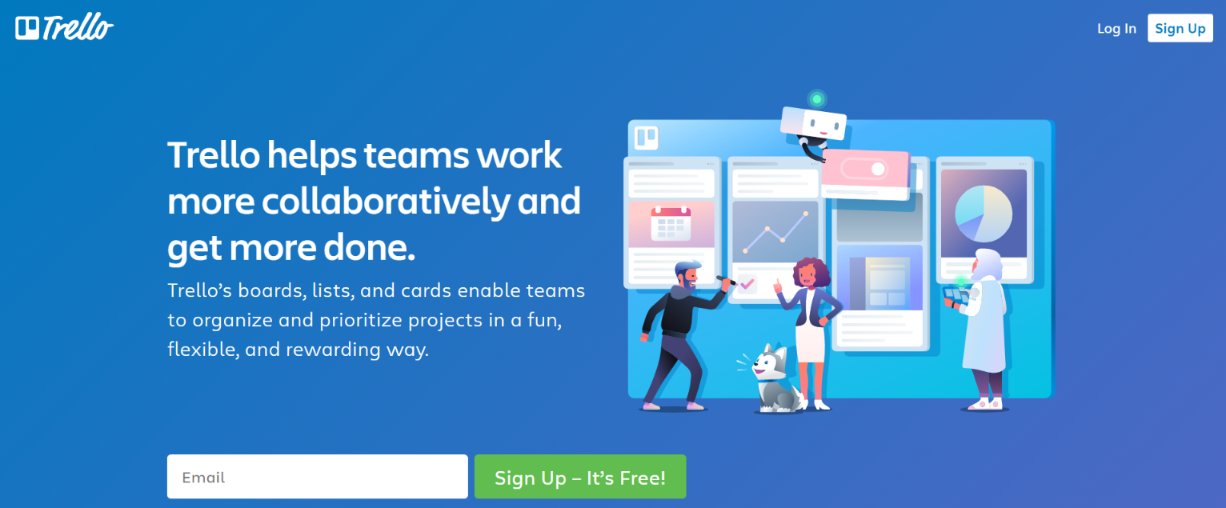 If you love visual collaboration, Trello just might be the tool for you. A pioneer of the Kanban-style team collaboration, Trello is a great team management software that organizes all your tasks on boards and cards.
A fun and interactive team management tool, Trello users can add tasks and cards to projects and assign them to teammates.
For more information, users can add due dates, task description, attach files and assets, create checklists, and make labels to make them easy to view and group. The kanban style boards allow you to drag and drop your task cards around as you build your workflow. With their AI "Butler", you can boost your productivity by automating redundant tasks and create calendar commands, rule-based triggers, card and board buttons, and due-date commands.
Some standout features of Trello 
Mobile apps keep your work synced across platforms
Power-ups to add more functionality to Trello
Over 1,000,000 teams worldwide use the product
Pricing: 
Free with limited functionality
Paid plans start from Business class ($9.99 per user per month), Enterprise ($17.50 per user per month for 100 users).
Read more: 5 Simple Yet Impactful Ways to Improve Team Collaboration

Over 300,000 teams in more than 140 countries use Flow, another great task and project management platform. While testing the tool for this review, we find Flow extremely user-friendly, where everything from task creation to project conversations, just flows! Use Flow to plan your projects, add and assign tasks, create checklists, and get your workflow overview via kanban boards.
With Flow's clean UI, you can quickly view tasks assigned to you, projects you have assigned others, tasks you have bookmarked or followed, and much more. See your project status at a glance and filter them using tags. With Flow's activity stream, you can see all your team conversations in one place and get a bird' eye view of everything that's happening.
Some standout features of Flow
Timeline or calendar view to see every team member's progress
Drag and drop tasks and manage the team's resources efficiently.
Share files, links, code snippets, and more
Pricing: 
Free for 30 days
Paid plans start from: Basic ($6 per user/month), Plus ($8 per user/month), Pro ($10 per user/month).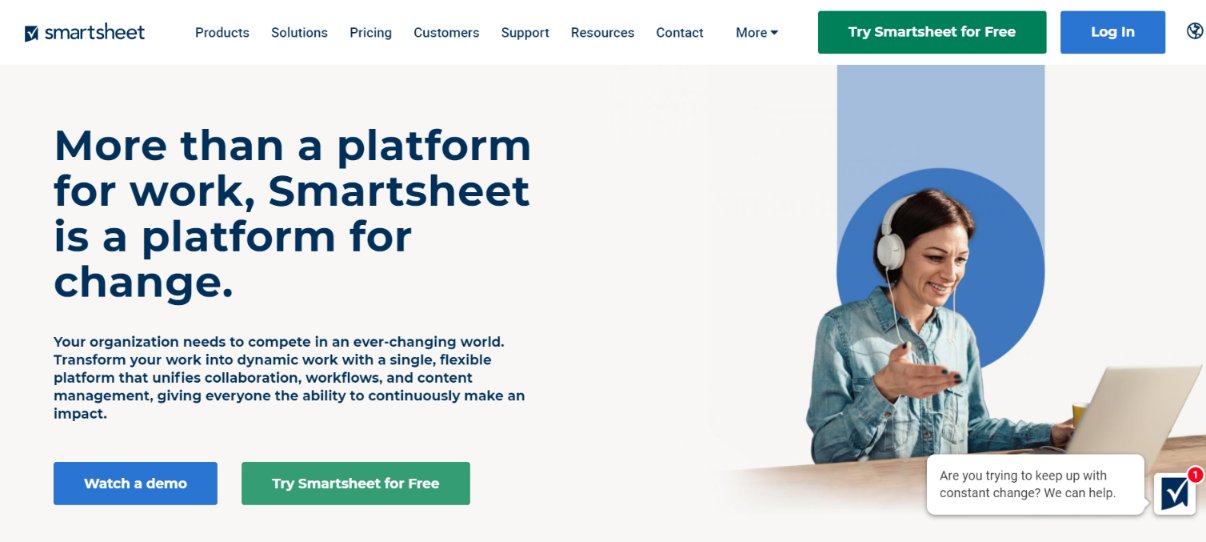 Smartsheet has been around for a while- 14 years to be precise. A veteran in team management space, Smartsheet is a cloud-based tool that allows teams to collaborate and communicate remotely. A clean interface that's easy to navigate, Smartsheet is a play on your traditional spreadsheet, but with superpowers! Using Smartsheet, users can collaborate on tasks, allocate resources, keeps tabs on a project, and solve business problems collectively.
Named in the Forbes "Cloud 100" list of the best private companies in cloud computing, and as a "Cool Vendor", by Gartner, Smartsheet is still formidable team management and collaboration software. With its resource management capabilities, managers use Smartsheet to allocate and plan resources, track budgets, and use charts for reporting effectively. Smartsheet integrates with major platforms like Google, AWS, Microsoft, JIRA, and more to bring everything under one roof.
Some cool features of Smartsheet:
Automate tasks like requesting approvals, locking rows, sending updates, etc.
Multiple views including card, grid, Gantt, and calendar views.
Plan your content production with annotations and conversations
Pricing: 
Free for 30 days
Paid plans start from: Individual ($14 per user/month), Business ($25 per user/month).
Read more: 16 Best Business Tools Every Business Needs in 2021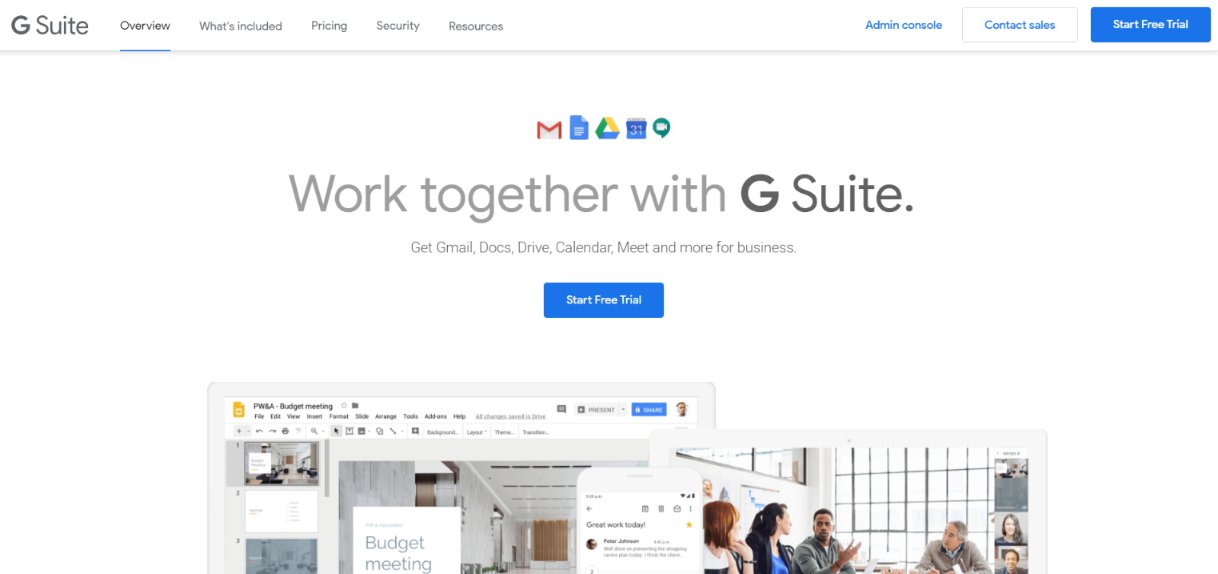 If you are looking for something simple, Google offers a ton of apps to manage your remote team. From document management and content storage to spreadsheets and forms- Google Suite is a collection of workplace apps for the common user. Google products are simple, easy to use, and build with common people in mind. If you are a one-person operation or have a tightly knit group of passionate people, G Suite can be a good place to start your virtual team management.
Google products are well integrated with each other and work over the cloud, making it easy to work wherever you are. Apart from workplace apps to create documents and spreadsheets, Google has other cool apps like Google Meet for video conferencing and Google Keep for personal task management and note-taking.
Some standout features of Google Suite
Document tracking
Content library to store media assets
Organization of the information in workspaces and folders.
Pricing: 
Free with limited functionality
Paid plans start from Basic ($6/user/month and comes with 30GB of Google Drive storage), Business ($12/user/month and provides unlimited storage), and Enterprise ($25/user/month and unlimited storage)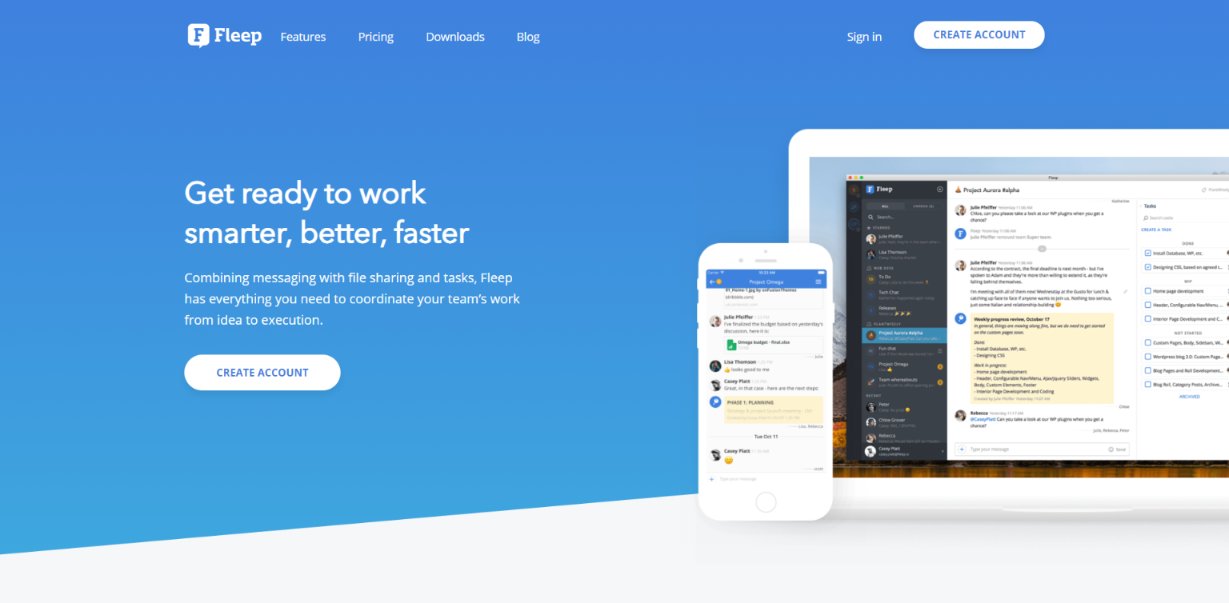 Next up is Fleep, a team messaging app. Fleep knows how important communication is in the workplace and thus, brings all communication and task management under one platform. Discuss ideas, brainstorm, create projects, or talk about any topic with Fleep's instant messenger. For file sharing, the app has a file drawer where all media is stored safely.
Create, assign, track, and search tasks with Fleep's amazing task management capabilities. Task management is highly contextual as they all have a comment stream for communicating the details. With Fleep's pinboard, users can highlight any decisions or plans regarding work tasks and pin them to the side of each conversation. This is great for creating meeting notes, sharing important links, contact details, and more.
Some standout features of Fleep
Pinboard for pinning messages
Audio, video calling as well as screen sharing
Integrates with Google Drive, Github, and more
Pricing:
Free plan with limited features
Pro plan starts from Business (€5 per user/month), Custom (contact sales)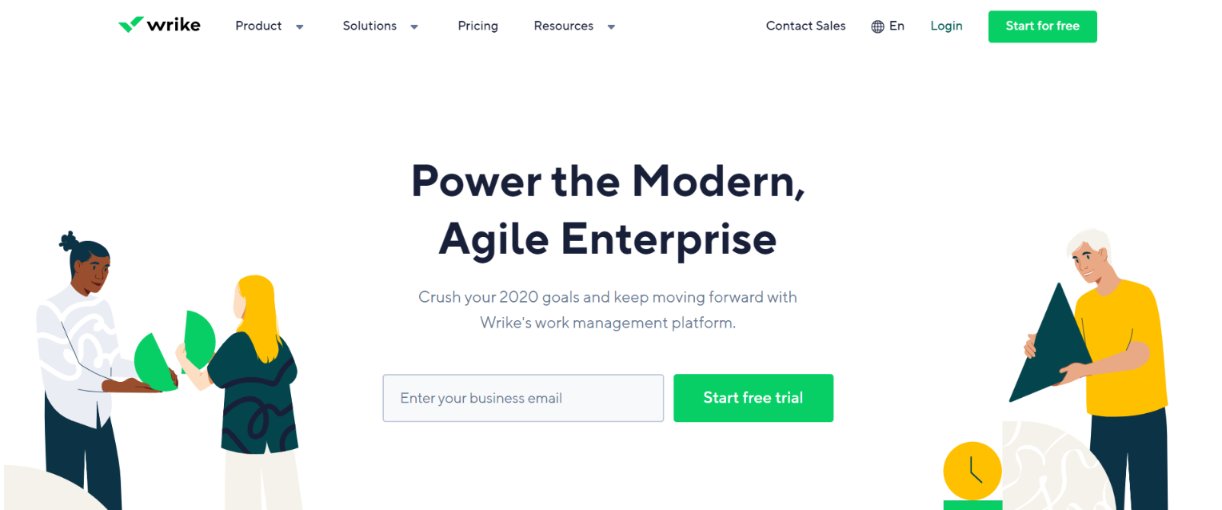 Another well-known team and project management software, Wrike helps you simplify your workflow and improves workplace collaboration. Teams can create and assign tasks, create charts, chat, and collaborate, and do their work efficiently. With @mentiions, comments, and live-editing, collaborating with peers was never this easy.
Wrike provides a customizable workspace, giving users a high-level view of all projects and communications. Users can organize company data folders and groups and view their tasks in kanban or calendar view. Managers can get a 360-degree overview of everyone's tasks and can reschedule tasks and their dependencies in one click. Generate performance reports easily and become a data-guru overnight!
Some standout features of Wrike
Turn comments and questions into tasks and projects
Built-in proofing and approval system
Resource allocator, effort, and time tracking.
Pricing: 
Free with limited functionality
Paid plans start from: Professional ($9.80 per user/month), Business ($24.80 per user/month), Enterprise (contact sales).

The last software on our list of amazing team management platforms is Bitrix24. Chosen by over 7,000,000+ organizations worldwide, Bitrix is a widely popular collaboration platform. Organizations use Bitrix as a "social intranet", promoting a social networking style of communication in the workplace. Employees can create social profiles, add their profile picture, description, message each other, share media, like and comment on posts and activities, and collaborate easily.
The platform is feature-packed with a built-in task manager, CRM, email automation, document and project management, workflow management, lead capture, and time tracking- all integrated into one platform. While some might find this intimidating, others love Bitrix's ability to do it all. Bitrix 24 also has robust mobile apps to take your work wherever you go.
Some standout features of Bitrix 24
Create websites and awesome landing pages
A social network for your company
On-premise, a self-hosted version is available.
Pricing: 
Free with limited functionality
Paid plans start from: Start + ($19/month for 2 users), CRM+ ($55/month for 6 users), Project+ ($55/month for 24 users), Standard ($79/month for 50 users), Professional ($159/month for unlimited users)
Over to you!
That concludes our list of amazing team management software. Each tool on this list serves a particular purpose and caters to different business needs. You cannot really go wrong with any of our top picks for the best team management software out there. If you feel we missed out on your favorite team management software, do let us know by tweeting us @bit_docs. Cheers!
Further reads: 
Workflow Management Software Every Business Should be Using
Team Plan: What is it & How to Create it?
15 Team Building Skills You Must Develop for Better Collaboration!
Resource Management Plan: What, Why, and How to Create It?
Workplace Collaboration Tools for Productive Teams!
Top 10 Benefits of Teamwork You Must Know!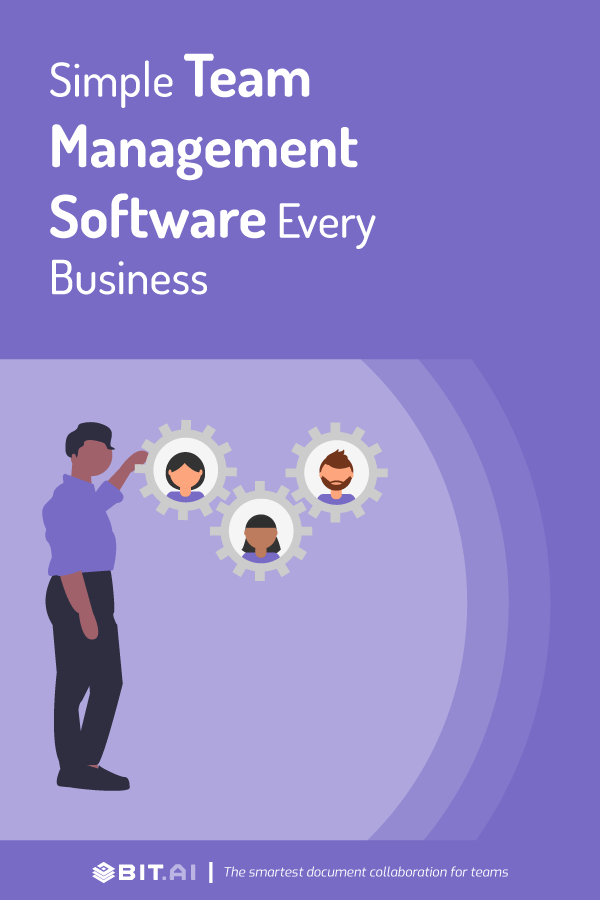 Related posts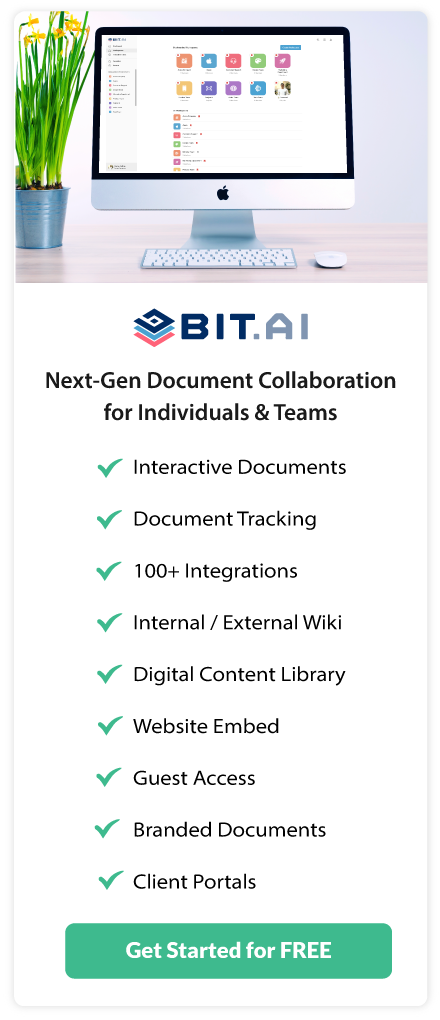 About Bit.ai
Bit.ai is the essential next-gen workplace and document collaboration platform. that helps teams share knowledge by connecting any type of digital content. With this intuitive, cloud-based solution, anyone can work visually and collaborate in real-time while creating internal notes, team projects, knowledge bases, client-facing content, and more.
The smartest online Google Docs and Word alternative, Bit.ai is used in over 100 countries by professionals everywhere, from IT teams creating internal documentation and knowledge bases, to sales and marketing teams sharing client materials and client portals.
👉👉Click Here to Check out Bit.ai.