Want to learn how to create the perfect Employment Verification Letter? You're at the right place!
What comes to your mind when you first think of the word 'hiring'?
Does sweat trickle down your spine at the very thought of this daunting activity?
We feel you! Hiring, indeed, can be a very scary process because you obviously want to pick out an individual who is going to be the best fit for your organization.
It is a significant investment that you're making and you would want to reap the maximum benefits of it.
What would be the consequence of you making the wrong choice?
Hiring is a costly process. Did you know? The average cost-per-hire is around $4,000 (source)! Multiply that with the total number of new hires and the number shoots up even higher!
Making a mistake by inducting the wrong individual will not only cost you time but will also cost you a significant amount of money.
How is it even possible to recruit the wrong individual?
It's a fair doubt to have considering how rigorous hiring procedures are usually.
From sending in their resumes to personal interviews – the process of getting hired isn't a cakewalk, that's for sure. It is also a perfect process to filter out the wrong individuals and find your ideal candidate.
But imagine this — You've hired your perfect candidate based on their resume, their skills, and their personal interview. You've even handed them over their offer letter. However, you find out later that they had lied about their professional experience in their CV!
Shocking, right? You've just lost out on your precious time and money!
But wait, does this even happen in real life?

Yes, it does! Don't just take our word for it, let's take a look at some of these baffling statistics…
So, you see the importance of running background checks on your potential employees to avoid any mishaps like these happening in your workplace.
How do you do that?
That's where employment verification letters come into the picture!
Before you dive further into the nitty-gritty of how to write an employment verification letter, let's take a look at the basics of what they are, and why are they so important!
What is an Employment Verification Letter? (Definition)
An employment verification letter is defined as a letter sent to the former or current employer of the candidate to confirm that the candidate has been or is currently employed by the organization for a specified period of time, as indicated by the candidate during the interview.
This letter also serves as proof of employment and work experience. It is instrumental in further cementing the chances of the applicant having a job, or in securing a loan or a lease.
What's more? This document is also useful for employers who have minimal background knowledge of the applicant, apart from what is listed in the resume by the candidate.
An employment verification letter is usually written on the official letterhead of the company and bears the stamp of the company, and the signature of the competent authority.
With that, let's move on to the next section – the importance of creating an employment verification letter.
Read more: Employee Development Plan: What is it & How to Create it? (Steps Included)
Why is Creating an Employment Verification Letter Important?
If you thought that creating employment verification letters is only useful for selection and recruitment purposes, then you thought wrong! In fact, there are several other instances where employment verification tools can come in handy like…
1. Getting a mortgage
Mortgage providers, banks, and other financial institutions typically need an employment verification letter at the very beginning of the mortgage process.
Why so? This happens because the mortgage providers need to ensure that the lender has a stable income, which is needed to make monthly mortgage payments.
In most cases, a paystub is appropriate for getting a mortgage, and in some other cases, the banks request an employment verification letter directly from the employee or their employer.
2. Loan & credit card application
Similar to mortgages, banks often need to be 100% sure that an applicant for a loan or a credit card is a good candidate to ensure timely payback of borrowed amount.
Sometimes, a bank will ask for an employment verification letter when a customer demands a lower interest rate or deferred payments on a loan.
3. Lease application
In some cases, landlords also need the assurance that their prospective tenants will be able to pay the rent on time.
An employment verification letter provides the landlord with the confidence that they are renting to a responsible tenant with a stable income.
4. Work visa application
Depending on the country and the exact visa application, an employment verification letter is usually required.
This helps the country to officially verify the work status of the applicant and provides them with the employer's contact information.
5. Tourist visa application
In certain cases, even securing a tourist visa requires an employment verification letter. What does it do? It enables the concerned country to be assured that the application has solid relations with its country of residence.
This ultimately ensures that the traveler has a strong reason to go back home and not live in another country.
6. Selection and Recruitment
We've already talked about this point extensively previously, but just to reiterate the importance of it, let's go over it briefly again.
Although an employer can interview the candidate in person, review their CV, and also perform other background checks, the employment verification letter is the official document that is required in certifying the current job status of the applicant.
Okay, now that we've covered all the basics of what exactly employment verification letters are, let's take a look at the steps of how to create an employment verification letter.
Read on!
How to Create an Employment Verification Letter? (Steps & Format)
Since employment verification letters are extremely formal and professional in nature, you need to stick to a proper business letter format for the same.
Here are some of the foolproof steps that you can follow to ace that employment verification letter…
Step 1. Mention Your Name and Sender's Address
Start your letter by mentioning your name, designation within the organization, and your address. This step is a must whenever you're writing any business letter, as it signifies your professional identity.
This also gives your contact information to the organization you're contacting for verification.
Step 2. Write the Date
The next step is to write the date on which you're writing and send in your employment verification letter. You could write the date in any of the following ways:
28/12/2020
28th December 2020
December 28, 2020
Step 3. Mention the Name, Title, and Address of the Individual You're Contacting
Once you've mentioned the date, the next step is to address the letter to the person you're contacting. In a lot of cases, people provide the name and contact details of their previous/current employer in the references section of their CV, or you could even lookup the person on LinkedIn to find out their name.
In case you're unable to find their name anywhere, you could mention their title and address, and you're all set!
It should be written in the following way:
Step 4. Write the Salutation
If you know the name of the person you're addressing the letter to, address them with the following salutation – Dear Mr/Mrs/Ms [last name].
In other cases, where you're unsure about who you are addressing the letter to, keep it short and simple and refer to them as 'Dear Sir/Madam'.
Step 5. Include the Subject of the Letter
The subject of the letter is supposed to specify the purpose with which you are writing the letter.
In this case, since you're writing the letter asking for the verification of an employee's details, your subject would look something like, "Request for Verification of Employee" or "Request for Verification of [insert applicant's name]".
Step 6. Write the Main Body
Onto to the main part of the letter, the main body should typically consist of 3 paragraphs, which are mentioned as follows…
First Paragraph
Start off the letter by mentioning the reason why you're asking for an employment verification letter. For instance, if the applicant has applied for a bank loan, then you should write a letter like, "XYZ has applied for a bank loan with [insert bank name]".
Also, mention the fact that the applicant had listed their organization as a part of their employment history so that they know why they're being asked for an employment verification letter.
Second Paragraph
In the next paragraph, you should mention how you're seeking their assistance in the process of verifying some of the details that were provided on the applicant's CV.
From the next line, you could numerologically ask for the details that you need, which could include the following…
The dates for which the employee worked for the company
The employee's job title
The employee's roles and responsibilities as an employee
The employee's annual salary
Whether or not the company would rehire the applicant
Whether or not the applicant adhered to company policies
How the applicant's job performance was
If they are still employed by the company or if they have turned in their resignation letter
Last Paragraph
Finally, you end the main body by thanking the person you've contacted for considering your request. This is a very simple, polite, and courteous way of ending a letter that goes a long way!
Step 7. Include Your Signature
Lastly, you close the letter by adding any of the following closing phrases:
Yours Truly
Warm Regards
Best Regards
You can choose a different closing phrase too, as long as it remains courteous and formal.
Now that you're equipped with all the steps to write a stunning employment verification letter, the question you should ask yourself is…
Are you equipped with the perfect tool to write an employment verification letter?
Not sure what we mean by the 'perfect tool'?
Read on!
Read more: How To Write A Letter Of Recommendation?
Bit.ai: The Ultimate Tool for Creating Employment Verification Letter
When you're a working professional, writing a letter should be one of the most effortless tasks for you. No, we don't mean that you should be a 'pro' and know everything that there is to know about writing letters.
We just mean that whatever platform you choose to work on, should make it an effortless experience for you. That's where Bit.ai comes into the picture!


Writing time-consuming letters is so 2012 where you first have to sit and compose the content, then also ensure that you're doing all the formatting right. In our fast-paced lives, it's simply impractical, tiring, and cumbersome to do all of that!
What is bit.ai?
bit.ai is the world's most powerful document collaboration tool and platform. It is built for teams and individuals to create, collaborate, and organize all your knowledge in one place from anywhere in the world.
Bit allows real-time collaboration on your documents. You can invite colleagues, partners, & clients to join you to collaborate & work together in real-time. You can also edit & add comments as you create letters, applications, products, plans, proposals, and more.
The primary benefit of writing letters and applications on bit.ai is the fact that it provides you with the automatic formatting of documents. That's right! Bit uses smart systems that automatically format your applications without having you do anything at all.
What's more? Bit also has a very sleek and elegant look in its documents, which can make your letter look 10 times more eye-catching and easy on the eye!
All that you need to do is simply add the content and Bit does the rest for you!
Seems like a piece of cake, right? It is!
Here are some of the other main benefits of using Bit:
Interlink your letters, applications, and other documents
Our team at bit.ai has created a few awesome templates to make your hr process more efficient. Make sure to check them out before you go, your hr team might need them!
Before you go, there are some extremely important tips for you to know about writing employment verification letters. Have a look!
Tips for Writing Employment Verification Letters
Here are some tips and tricks that'll come in handy when you're writing employment verification letters…
1. Use Business Letter Format
When you're writing your letter, use the traditional business letter format that we've mentioned above.
Make sure that you're mentioning your contact information at the top, the date, and the recipient's contact information. Write the salutation at the beginning and close the letter with a handwritten signature.
2. Keep the Letter Concise
Employment verification letters should not be long. Only ask for details that are relevant to your verification process. If you ask for excessive details, it's possible that you won't get a response to those details.
3. Include the Necessary Details
Most employment verification letters include the employee's name, their department in the company or their particular job title, and the time for which they have been employed.
4. Proofread, Proofread, and Proofread!
Since this is a very formal letter, make sure that you proofread the letter a couple of times to ensure that there are no errors! A perfect letter is a mark of your professionalism!
Final Words!
There you have it, folks! The ultimate guide on how to write an employment verification letter, with all the steps, tips, and tools to facilitate the process! There's really no need to look elsewhere for anything!
What are you waiting for? Simply create your account on bit.ai and get started on your very own fantastic employment verification letter!
Do you have any doubts or queries on how to write an employment verification letter? Feel free to reach out to us on Twitter @bit_docs. We'd be glad to hear from you! Cheers!
Further reads: 
Letter of Resignation: Definition, Examples, and Format!
How To Make An Employment Contract?
Complaint Letter: What is it & How to Create it? (With Examples)
Letter of Authorization: What is it & How to Write it?
Two Weeks Notice Letter: How to Write it?
Internship Cover Letter: How to Write a Perfect one?
Leave of Absence Letter: How to Write it?
What is a Character Reference Letter & How to Write One?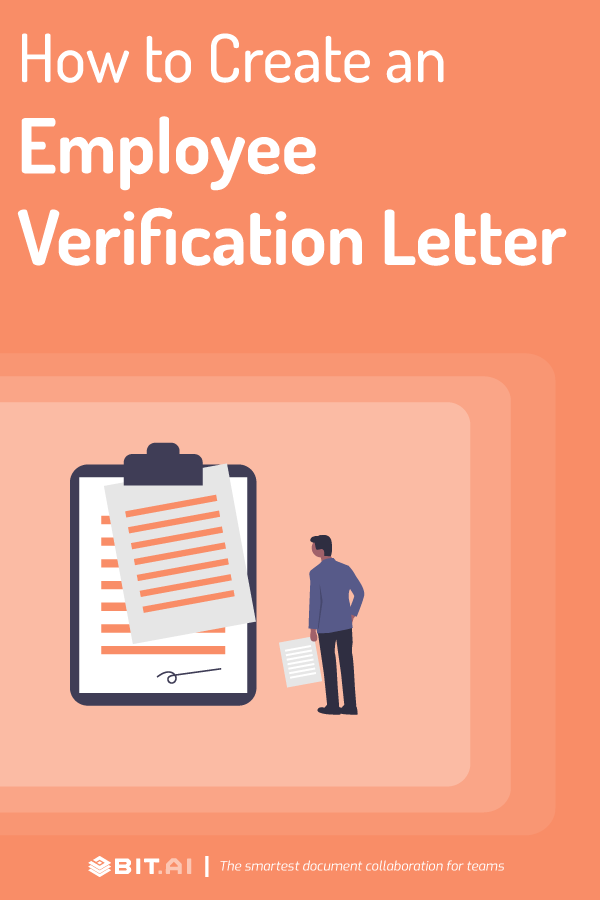 Related posts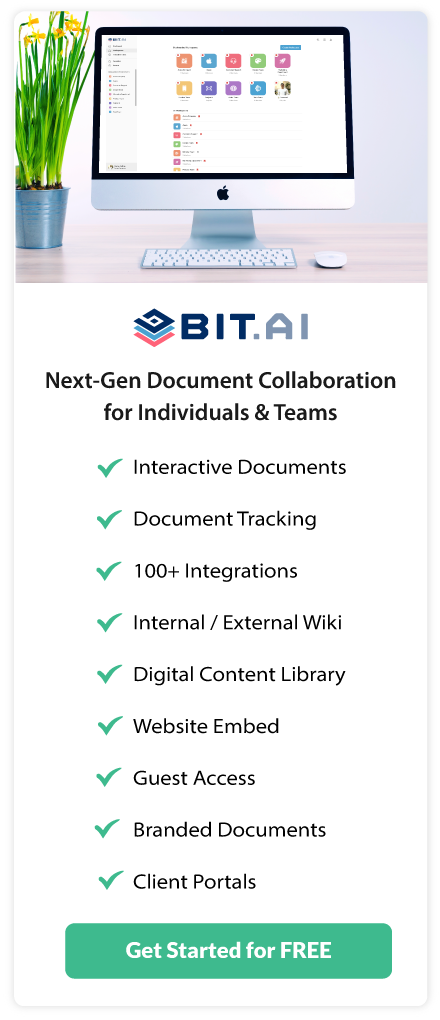 About Bit.ai
Bit.ai is the essential next-gen workplace and document collaboration platform. that helps teams share knowledge by connecting any type of digital content. With this intuitive, cloud-based solution, anyone can work visually and collaborate in real-time while creating internal notes, team projects, knowledge bases, client-facing content, and more.
The smartest online Google Docs and Word alternative, Bit.ai is used in over 100 countries by professionals everywhere, from IT teams creating internal documentation and knowledge bases, to sales and marketing teams sharing client materials and client portals.
👉👉Click Here to Check out Bit.ai.