If you're on this page, chances are that you're either looking for your first internship or you're trying to bag another one, and we're happy to see you take a step in the right direction.
Internships are often the entry point for many into the employment market, where you gain experience in your relevant field and acquire a real-life feel of what it would be like to work in a full-time job. More than that, internships are also a great opportunity to get trained by experienced professionals in your field.
But wait, that's not it!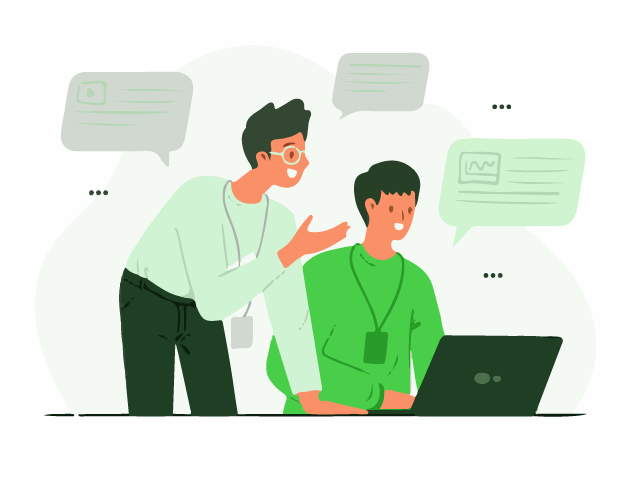 Let's take a look at some of the statistics that prove that internships are great career stepping stones (source)…
56% of interns turned into full-time, entry-level hires in 2019.
Employers use internship experience as a differentiator when picking between two equally qualified workers.
57.5% of students who completed an internship received a job offer in 2019.
Students who have done at least 1 internship received an average of 1.17 job offers.
The offer rate for interns in 2019 was 70.4%.
With more than half the chances of you getting a full-time job while working at an internship, we don't think it's a chance you should ever waste.
So, how do you nail your dream internship?
Well, resumes are a great way to showcase your professional capabilities, however, they sell you short. You need an extra edge over the rest of your competitors. What is your USP?
Your USP is you!
That's right! When employers can gauge a sense of who you are as a person, you could impress them with your personality and get your dream internship.
Okay, we bet that you must be pumped right now to get started on your internship cover letter, so without any further ado, let's get started with the basics of internship cover letters!
What is an Internship Cover Letter? (Definition)
An internship cover letter is a one-page document sent as a part of your job application to your potential employer, alongside your CV. The goal of an internship cover letter is to introduce you to your employers and to summarize your professional history briefly. On average, your internship cover letter should be around 250-400 words.
Just like the main aim of your resume is you showcase the facts about you, your internship cover letter is intended to express more of your personality.
A good internship cover letter will spark the attention of the HR manager and get them to read your resume. On the flip side, a bad internship cover letter could mean that your application is going into the trash. To ensure that this doesn't happen to you, you must know how to write a compelling internship cover letter.

Although we've already talked about the importance of writing internship cover letters, let's still take a look at some of the other why's you should write these letters. Read on!
Read more: How to Write an Unavoidable Job Offer Letter?
Why Should You Write an Internship Cover Letter?
1. It tells the employer why they should hire you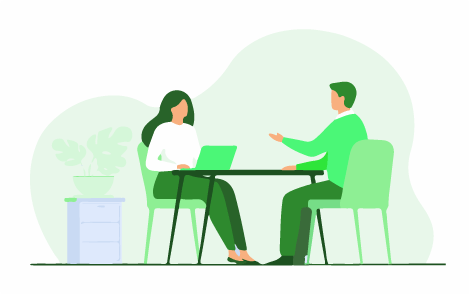 Agreed, the professional summary on your resume do the same job, but in internship cover letters, you have the space to elaborate on your proficiency and interest in the position.
2. It showcases your ability to write well
Resumes have a very strict formula for writing, with bullet points and brief, choppy sentences. An internship cover letter makes it easier for you to write more fluently. A well-written internship cover letter puts the right foot forward from the very beginning, as your recruiters understand that you can write well and are fluent in your interaction.
3. It allows you to display your strengths
Your resume allows you to list some of the important roles you have filled and the valuable milestones you have achieved in your most recent positions. However, you might be forced to compromise some information when you are limited to a page (or two, if you have a lot of professional experience).
An internship cover letter saves you from this problem as you can clarify and draw attention to a couple of noteworthy achievements from your resume in your internship cover letter. It also helps you to demonstrate your character, which is often more important than your professional abilities.
4. It shows your seriousness towards the opportunity
One of the biggest mistakes people make while applying for a job is sending JUST their resumes to the recruiters, and a failure to provide a cover letter with it. When you apply for an internship position by simply sending in your resume and nothing more, the HR manager could interpret this as a lazy thing to do.
We don't think that's the first impression you want to create when it comes to applying for your dream internship, so it's always a better idea to send in a cover letter!
5. It covers up for your resume
We agree, even without a cover letter, your resume should be powerful enough to woo your recruiters, but just in case your resume isn't as convincing as you thought it would be, your internship cover letter can make up for it. More often than not, a well-written internship cover letter instigates a callback and not the resume.
Gear up! We're now all set to dive into the complete process of how to create a brilliant internship cover letter with just a few easy steps. Scroll ahead!
Read more: Two Weeks' Notice Letter: How to Write it?
How to Write an Internship Cover Letter? (Steps)
Before we dive into the step-by-step process of writing an internship cover letter, let's take a look at the basic format of an internship cover letter, which has been tried and tested by professionals, and most people swear by it:
Header – You put in your contact information
Salutation – You greet the hiring manager
First/Opening Paragraph – You grab the recruiter's attention by listing your top 2-3 achievements
Second Paragraph – You explain why you're the perfect applicant for the job
Third Paragraph – You explain why you're a good fit for the company
Formal Closing Paragraph
Now, let's take a look at how to write each of these in detail…
Step 1 – Start the Letter with a Header Containing Your Contact Information
This step is similar to that of writing a resume. You must start your internship cover letter with a Contact Information Section which includes the following:
Your Full Name
Your Phone Number
Your Email Address
Date
Name of the HR Manager/Their Designation
Name of the Company you're applying to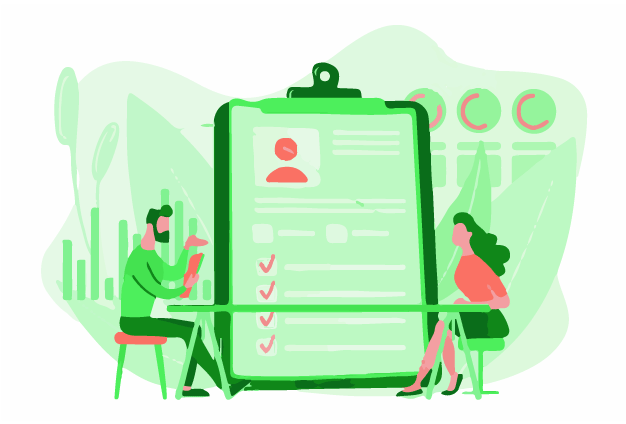 Alternatively, you can also consider adding:
Your social media handles – This can include any type of profiles that are relevant to your field, ranging from LinkedIn to Twitter, Github, Behance, etc.
Your personal website – If you have a personal website that adds significance to your internship application, you can add its link to your cover letter.
Always remember to keep it professional:
Your email should contain your first and last name only; please don't use your personal email accounts like sillyemily@gmail.com or harrypotter4eva@hotmail.com.
Do not use your current work address to send in your internship cover letter. It's rude to both your present and potential employer.
Always ensure that your contact information is consistent across your resume, internship cover letter, and social media accounts.
Step 2 – Write the Salutation
One of the other common mistakes that people often commit is addressing the hiring manager as "Dear Sir/Madam" in their internship cover letters.
But wait, isn't that a common practice?
Yes, it is! That's the problem! When you address the letter as "Dear Sir/Madam", it just seems like you've written a single letter and sent it to 15 companies at once, hoping to get hired in any one of them.
What should you do instead?
You should address the letter to the hiring manager directly. That just shows that you've done your research about the company and are excited to work with them! All that you simply need to do is look them up on LinkedIn! Type in the company's name and look at their employees to find out who would the right person to address your internship cover letter.
Worst case, if you still cannot find the name of the hiring manager, just simply address the letter as:
Dear (The Department you want to work in) Hiring Manager
Dear Hiring Manager
Step 3 – Write an Introduction
When it comes to searching for an internship, first impressions matter a lot! Employers tend to receive hundreds of applications every day, so chances are they're not even going to read every application till the very end.
How do you save yourself from such fate?
The idea is to grab the recruiter's attention from the very first paragraph. Another common mistake that people tend to make while applying for an internship is writing extremely generic introductory paragraphs in their cover letters.
For instance, "Hey, My name is Rose and I'm a marketing student which makes me believe that I'm the right fit to work as a marketing intern with your company."
The problem here is that your introduction is likely to be the same as the introduction of literally any other marketing student applying for a marketing internship.
So, what do you do to capture their attention?
Instead of writing a generic introduction, you should always start by listing your top 2-3 achievements in the field of marketing that make you the right fit for the internship and ALSO sets you apart from the rest of the applicants.
For example, "My name is Rose and I'd like to work as a marketing intern to improve the sales of your company. I have previously worked as the Marketing Head of the Business Cell at my college where I was able to generate $2000 for our project by attracting sponsors…"
In this manner, you can highlight your strengths and also demonstrate the unique qualities that set you apart from the rest of the crowd.
Step 4 – Write the Second Paragraph
After you've listed some of your top achievements in the first paragraph, you need to display your professional skills and convince the recruiting manager why you're a better fit for the internship position than the rest of the applicants.
But before you do that, you need to identify what are the most important requirements for your position. You can do this by looking over the ad, website, or job portal where you saw the internship opening.
Once you've identified the most critical responsibilities that are required in that position, you need to mention how you'll be able to fulfill those responsibilities. This shows how you are the better fit for the internship.
Step 5 – Write the Third Paragraph
Okay, you've proven to the recruiting manager that you're a good fit for the internship position, but are you a good fit for the company and the company culture?
Wait, what? What's the difference?
Well, the job is something that you can do in any other company, but you also need to convince the recruiting manager that you're looking forward to interning at THEIR company only.
How do you do that?
It's not that difficult if we are being honest. All it takes is for you to do some simple research on topics like…
What is the organization's business model?
What is the company's product or service? Have you used it?
What are the company's mission and vision? How can you help them achieve it?
What is the culture like? Can you adapt to it?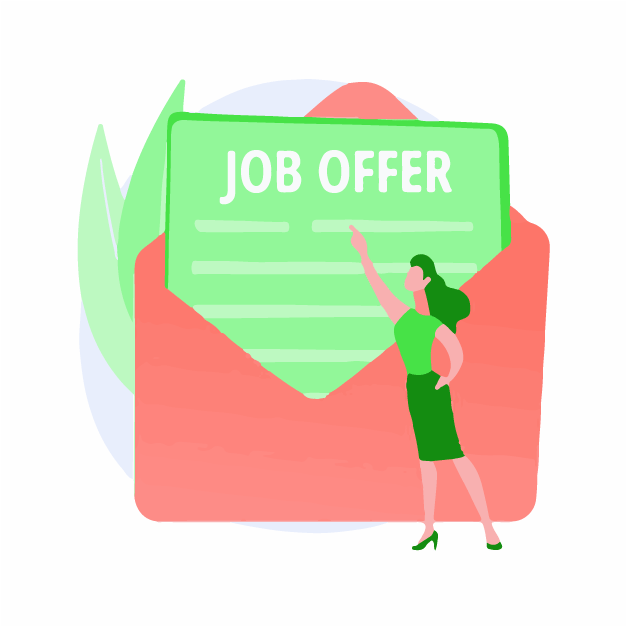 These are often things that you can easily find on a company's website or anywhere else on the internet. The next step is to find out what you like the most about the company and why you'd be happy to participate!
Pro Tip – Don't use the jargon words that are mentioned on the company's website as it is in your internship cover letter. Make sure you change the language and adapt it to your context.
Step 6 – Close the Letter With a Call to Action
And tada! You've reached the end of all the hard work and just need to write the conclusion for your letter. In the last paragraph, you should…
Mention anything that you couldn't in the previous paragraphs. If you have anything left to say that might help the hiring manager make their decision, you should mention it here.
Thank the manager for taking out time to read your application. Just be courteous and say a 'thank you' without coming off as needy.
Finish the letter with a call to action. The last sentence of your internship cover letter should ideally be a call to action. You should be asking the recruiting manager to take some sort of action.
Step 7 – Use a Formal Closing to End the Letter
Conclude your letter with the following phrases…
Best Regards
Warm Regards
Sincerely
Thanking you
…and you're all set to write your very own internship cover letter and send it over to your employers!
But wait, do you have the right tool at your disposal to write the perfect internship cover letter?
We think not!
When we've invested so much time into looking at steps that are going to set you apart, the look of your internship cover letter should also set you apart.
What are we talking about?
Let's have a look…
Bit.ai: The Ultimate Tool for Writing Internship Cover Letters
When you're stressed about whether or not you're going to get your dream internship, things like formatting of the letter should be the least of your worries.
Gone are the days of MS Word and Google Docs, with their difficult formatting experience!
We have a new and advanced tool to help you nail this internship cover letter!


Bit.ai is the world's most powerful workplace and document collaboration platform. It is built for teams and individuals to create, collaborate, and organize all your knowledge in one place from anywhere in the world.
Why should you use Bit to write your internship cover letter?
Formatting is one of the most tedious things to do while writing a letter. You don't have to worry about that anymore because Bit does it for you! Bit has a feature of automatic formatting where the AI formats your document seamlessly giving it a very uniform and consistent look.
Apart from that, Bit also has very minimalistic and easy-on-the-eye looking documents. The simple yet elegant look and feel of the document are enough to set your internship cover letter apart from the others. What an added benefit!
Don't want to work on your cover letter alone? Don't worry, Bit has got you covered. It's literally the world's most powerful document collaboration platform. All you need to do is add your friends, family, or tutor (whoever is helping you write the cover letter) to your workspace and they'll be able to access your cover letter anytime and edit it effortlessly.
Finally, you can also add the links to your work portfolios into Bit and it'll integrate it into the document without tampering with the formatting of the document. It will give a very sleek and neat look to your letter, while also containing all the details that are necessary for you to grab an internship opportunity.
…and there's more! Wanna know how? Jump onto our website and discover the heck loads of features that we have to offer to you and your professional needs.
Before you go, there are also some tips and tricks that you must remember while writing an internship cover letter. Keep reading!
Tips for Writing Internship Cover Letters
1. Utilize Business Letter Format
Always use the proper business letter format when you're sending your cover letter by mail. Mention your contact information at the top. Include the date and write a proper salutation, and sign your name at the very end of the letter.
On the slip side, if you're sending the internship cover letter by email, don't include your contact information at the top. Instead, mention it towards the end along with your email signature.
2. Individualize Your Internship Cover Letter
Just to reiterate what we've already mentioned, write a new cover letter for each internship for which you apply. Always showcase your skills and abilities that are related to the internship listing.
3. Give Specific Examples
Whenever you mention that have a particular skill or ability in your cover letter, make sure to prove this with a specific instance from your past professional experiences, whether they may be academic or extracurricular.
4. Highlight Your Academic Experience
When you have limited work experience, it's better to use academic experiences where you have displayed relevant skills and demonstrate them in the form of examples. For instance, if the internship position required you to display leadership skills, mention any school project/event where you practiced leadership skills.
5. Describe Extracurricular Activities
You could also use your extracurricular activities and volunteer work experience as a method to showcase your professional capabilities.
6. Follow Up
In the final paragraph of the letter, either include a call to action or mention that you're going to follow up with the organization in some time (not sooner than a week) to know about the status of your internship. This reflects taking ownership of your work.
However, don't mention this if the internship listing specifically asks you to not contact the office.
7. Proofread and Edit
Finally, the most underrated part of writing a letter — PROOFREADING. Make sure that there are absolutely no spelling or grammatical errors in your internship cover letter. Internships are extremely competitive and something as simple as a grammatical error could end up costing you your shot at an opportunity.
Final Words
Voila! There you have it, folks! The A-Z guide on how to write the perfect internship cover letter! The most important thing to remember while applying for internships is never losing heart and being patient. Your hard work WILL pay off at the end, and you'll do great at whatever it is that you aspire to do, take our word for it!
If you have doubts and queries regarding internship cover letters, do contact us by tweeting us at @bit_docs. We'd love to help you bag your dream internship!
Further reads:
How To Write A Letter Of Recommendation?
Sales Letter: What is it & How to Create it?
Confirmation Letter: Definition, Importance, and Format!
Sales Manager Job Description: How to Write it? (Steps & Example Included)
Letter of Resignation: Definition, Examples and Format!
Employment Verification Letter: Definition, Steps, and Format!
Letter of Authorization: What is it & How to Write it?
Business Letters: Definition, Types, Format, and Tips!
Leave of Absence Letter: How to Write it?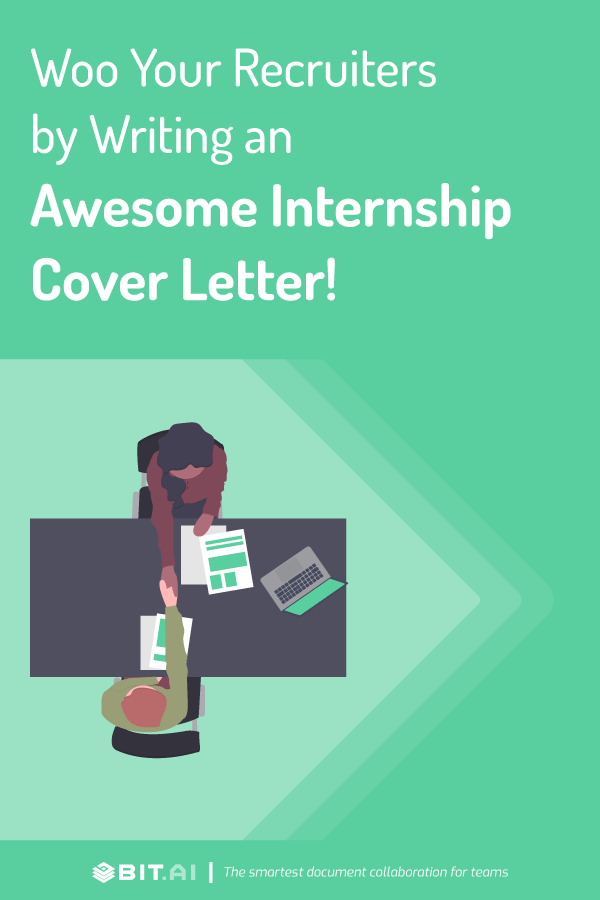 Related posts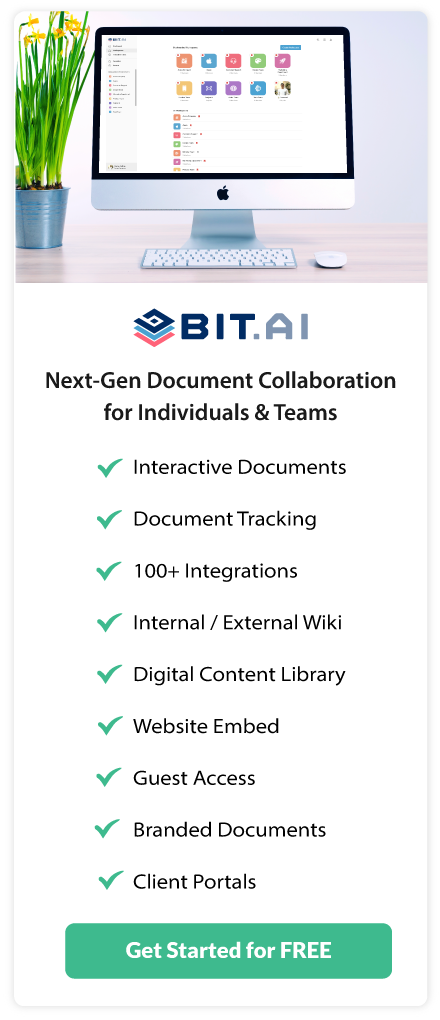 About Bit.ai
Bit.ai is the essential next-gen workplace and document collaboration platform. that helps teams share knowledge by connecting any type of digital content. With this intuitive, cloud-based solution, anyone can work visually and collaborate in real-time while creating internal notes, team projects, knowledge bases, client-facing content, and more.
The smartest online Google Docs and Word alternative, Bit.ai is used in over 100 countries by professionals everywhere, from IT teams creating internal documentation and knowledge bases, to sales and marketing teams sharing client materials and client portals.
👉👉Click Here to Check out Bit.ai.