Introduction
We live in a highly data-driven world where safely storing important data and information has become a high-priority task.
Your PC is a great place to store all your data. However, it slows down its entire performance. And storing them in external storage devices does not always keep them safe from mishaps like theft, breakage, and damage.
That's why cloud storage services like Dropbox, Google Drive, OneDrive, etc., are some of the most reliable and convenient solutions to this problem.
With over 500 million registered users, we know that Dropbox is one of the most popular cloud storage services. However, despite its popularity, Dropbox may not be the right solution.
Why? We will look at that question right here in this blog, and then we will look at a list of some of the best Dropbox alternatives that will help you safely store all your data!
Ready for this blog? Then let's get started!
Why Look for a Dropbox Alternative?
Dropbox may be a popular cloud storage service, but that doesn't mean it is flawless. Two main things keep Dropbox from being the perfect solution for your data storage. What are they? Take a look:
1. Rising Prices
Dropbox's pricing plans aren't very competitive compared to other cloud-based storage services. Dropbox even has a track record of significantly raising its prices upon renewal. This often happens without warning and offers very little in return for the surge in pricing. Furthermore, the free version of Dropbox has very little cloud storage space, thus making it difficult for you not to switch to the pricing plans.
2. Lack of Security and Privacy
Dropbox has a history of being unfriendly to customer privacy, leading to security breaches exposing users' data. So even though Dropbox encrypts your files, they do it in a way that lets them access them without you knowing. Moreover, they even share your data with third parties. So if you have highly sensitive and confidential data, Dropbox is risky.
With limited features for the free versions, rising prices for paying customers, and a lack of proper security and privacy, Dropbox makes itself an unsuitable option despite its popularity.
For these reasons, we've compiled the following list of safer and affordable Dropbox alternatives to sync and store your files with the cloud and share them with others.
List of Dropbox Alternatives
1. pCloud
pCloud is an affordable alternative to Dropbox that allows you to store all your data in its cloud storage by simply uploading and sharing them through your smartphone.

The pCloud Drive feature allows you to access data stored with pCloud without downloading them on your computer. This means that you can access these files even without an internet connection.
Because pCloud uses block-level file transfers to speed up uploads, it's a great option for storing music, photos, and videos. It even has an integrated media player to stream files directly from its cloud storage.
Furthermore, pCloud uses AES 256-bit and the TLS protocol to encrypt and protect your files and lets you secure shares using passwords and expiry dates.
Pricing
PCloud is free to download on mobile devices
Premium plans start at $3.99/user/ month
Lifetime access at $175
2. Internxt
Internxt stands out as the leading alternative to Dropbox, particularly in terms of privacy and security. It is an open-source cloud storage service built on blockchain technology. It has an intuitive interface that makes it easy to navigate, upload, and share files, providing a user-friendly experience.
All files uploaded or shared through Internxt undergo end-to-end encryption, guaranteeing the utmost safety and making them inaccessible to any unauthorized parties. It also employs a zero-knowledge architecture, meaning only you can access your data, providing an extra layer of privacy.
Internxt offers two secure services, Internxt Photos for secure photo storage and sharing, and Internxt Send for secure file transfers. What's more? They have a desktop app and mobile app and they are compatible with all devices.
Pricing:
Internxt offers a 10GB free plan.
20GB plan for $0.89 per month annually
200GB plan for $3.49 per month.
2TB plan for $8.99 per month annually.
3. Sync.com
Here is Sync.com, a collaborative cloud storage service that businesses and private or individual users can use. It is a great affordable Dropbox alternative with strong security features and multiple functions.
Sync.com allows you to store all your valuable data, files, videos, and pictures while also allowing you to make these files available offline for later previews. It even comes with basic collaboration features as well.
Unlike Dropbox, Sync.com offers zero-knowledge encryption, which means only you can read your data, and has a remote device lockout feature that lets you lock your device from any other device. It also comes with AES 256-bit encryption to protect files at rest and uses the TLS protocol to protect files in transit.
Furthermore, Sync is free to download for Windows, Mac, iOS, and Android users
Pricing
Standard plan at $5/user/month
Plus plan at $8/user/ month
Advance plan at $15/user/month
4. Icedrive
Next, we have Icedrive, an amazing Dropbox alternative with great file synchronization options, a beautiful interface design, and solid security features at an affordable price.
What makes Icedrive a cool software is its cloud storage and physical hard drive integration, where no syncing is needed, nor is any bandwidth consumed. It lets you sync your computer's existing folders through the "context" menu.
Icedrive comes with zero-knowledge encryption, preventing anyone from decrypting your files, thus providing you with solid security and privacy. What's more? Icedrive is a super-fast service with high upload and download speeds, and it is available on Windows, Mac, and Linux.
Pricing
Free plan available
Lite plan at $19.99/year
Pro plan at $49.99/year
5. iDrive
If you're looking for a Dropbox alternative to back up all your files online without manually moving them over to a sync folder, then iDrive is a great choice. It is primarily a backup service that offers file sharing and collaborative tools and features.
iDrive helps create a folder on your computer for syncing when you turn on its sync feature and lets you invite people to share and collaborate. You can specify the permission level for each share and check what's been shared with you and your team members.
Since iDrive uses AES 256-bit, you can enable private encryption when you sign up. It's a highly reliable service to store all your personal and company-related data.
Pricing
Free plan available
Personal plan at $4.97/month
Business plan at $6.22/month
6. MEGA
If you value high-level security and privacy for your files and don't mind a bit of complexity, then MEGA is a great Dropbox alternative. It is an online storage and file hosting service that allows you to sync files and folders.
What makes Mega unique is that it is one of the few cloud storage providers offering 20GB of free storage and lets you boost your storage capacity by fulfilling particular 'achievements'.
Mega also provides zero-knowledge encryption to all your data and file sharing. Moreover, it offers AES 256-bit encryption to protect files at rest and uses the TLS protocol to protect files in transit.
Pricing
Free version available
Pro I Plan at $12 per month
7. Box
Box is a Dropbox alternative primarily designed for businesses and collaborative team members. It helps you store data, access it as a team-level user, upload files, download data, and collaborate online for improved workflow.
Box provides 256-AES encryption, ensuring that your files are safe from prying eyes, and if your purchase their Box KeySafe functionality, you will also get zero-knowledge encryption.
Box also has a built-in task manager and note-taking app and offers several different app integrations, including Office 365 and Google Workspace, to help you collaborate on documents.
Pricing
Free version available
Starter plan at $7 per month
8. Amazon Drive
Next on the list is Amazon Drive, a great cloud storage service that Amazon provides to save all your beautiful memories. All you need is an Amazon account, and you can avail of all its services.
Amazon Drive allows you to back up your data securely, share files, and even print photos on-demand via their Amazon Prints service. It uses a block-level methodology for file copying and fast syncing.
With Amazon Drive, you can easily access all your videos, photos, and files on various devices. It also offers multiple plans for your storage needs and is much more affordable and versatile than Dropbox.
Pricing
Free plan for all Amazon users
Premium plans start at $19.99/year
9. Tresorit
Lastly, we have Tresorit, an ultra-secure cloud storage service mainly focused on businesses and collaborative teams. It offers high-level security and privacy to help you secure and share confidential data.
With Tresorit, you can quickly upload your files without the possibility of any data breach. It allows you to work with your team from anywhere seamlessly and gives you offline access to complete your work.
In addition, Tresorit offers monitoring options, version recovery, zero-knowledge authentication, file control at a team level, outlook integration, and much more. It also comes with an easy dashboard and supports multiple languages.
What's more? It is GDPR Compliant and is available for Linux, Microsoft, Mac, iOS, and Android.
Pricing
Free version available
Paid plans start at $10.42 per month
Conclusion
Every company has huge amounts of data and content they regularly produce to streamline, organize, and store them all safely; you need a cloud storage service.
Whether you're a Dropbox user looking for an alternative or someone looking for cloud storage services similar to Dropbox, or someone simply looking for cloud storage services, we hope we have adequately met your needs.
Now all you have to do is choose the cloud storage service that fits your company's needs and budget and keep all your data safe and sound!
That's all, folks!
Further Reads: 
13 Discord Alternatives You Must Explore in 2023!
12 Asana Alternatives & Competitors You Must Know About!
11 Grammarly Alternatives & Competitors You Must Know!
11 Smartsheet Alternatives & Competitors You Must Check Out!
11 Dashboard Software You Should Explore in 2023
11 Free PDF Readers You Must Explore!
What is ChatGPT & How Can You Use It? (Benefits & Limitations)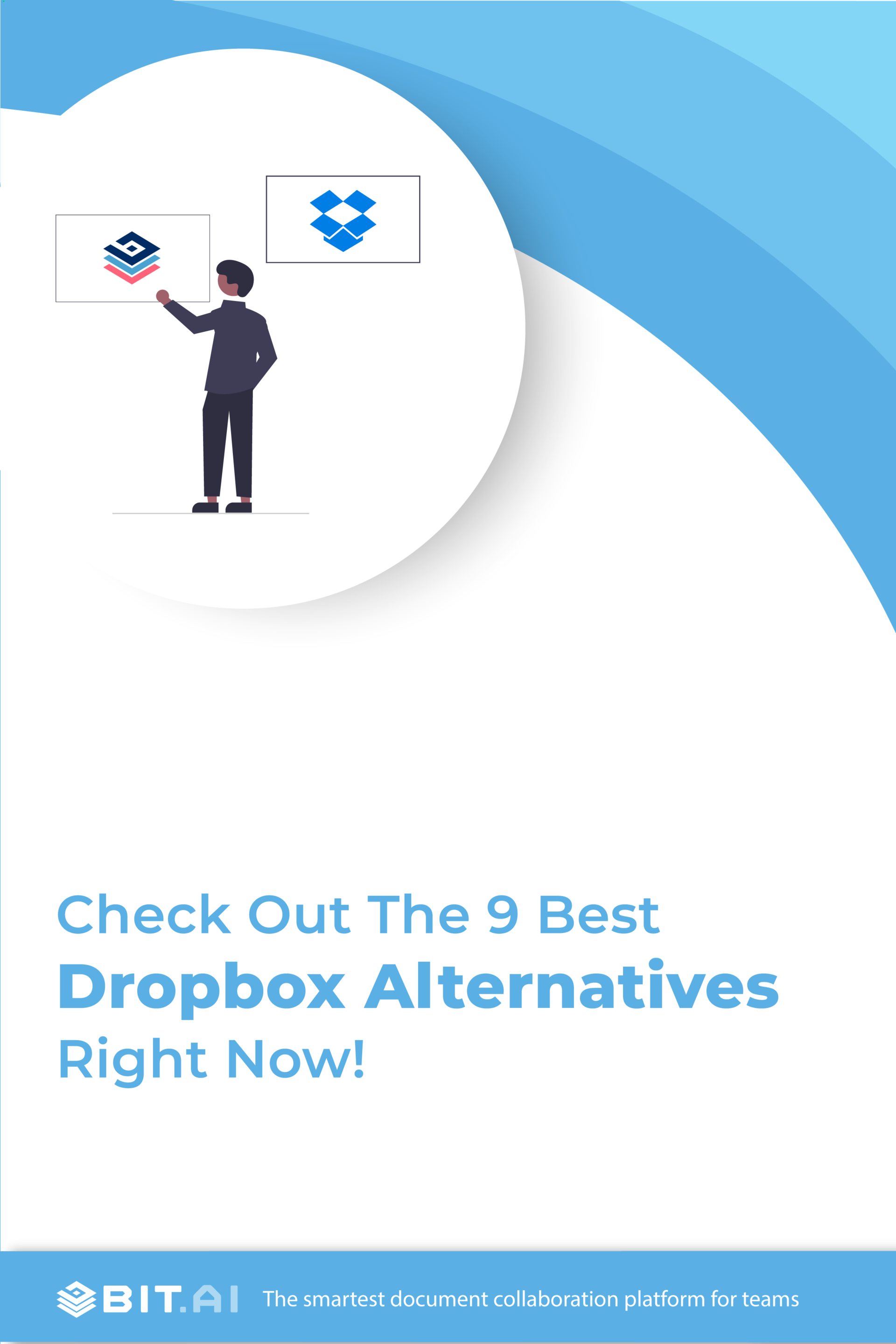 Related posts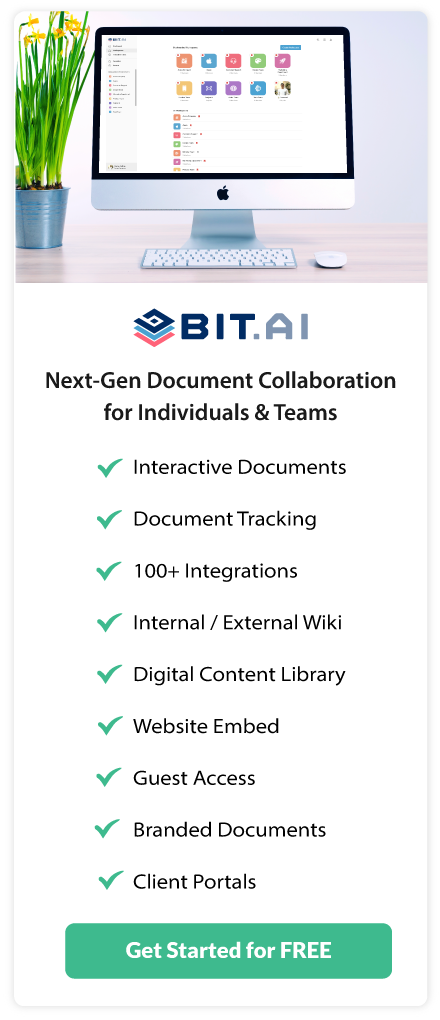 About Bit.ai
Bit.ai is the essential next-gen workplace and document collaboration platform. that helps teams share knowledge by connecting any type of digital content. With this intuitive, cloud-based solution, anyone can work visually and collaborate in real-time while creating internal notes, team projects, knowledge bases, client-facing content, and more.
The smartest online Google Docs and Word alternative, Bit.ai is used in over 100 countries by professionals everywhere, from IT teams creating internal documentation and knowledge bases, to sales and marketing teams sharing client materials and client portals.
👉👉Click Here to Check out Bit.ai.