Who doesn't use a voice and text chat app these days?
We all have one (or more) on our phones and computers. They are central to our communication and it's now nearly impossible to live without them, right?
Discord is one such popular application (hey there, gamers!).
According to discord itself, they are an "All-in-one voice and text chat for gamers that's free, secure, and works on both your desktop and phone."
But, Discord is more than that. It also helps create communities or groups based on common interests or hobbies, where people from all over the world can connect via a simple text or voice, or video message.
Well, if it's so great, then why are you looking for Discord alternatives?
That's because it may not be the best option for everyone. Plus, it also has a few drawbacks.
Don't believe us?
Then, scroll down to read more!
Why Look for a Discord Alternative?
We are not saying Discord is bad, but as we said earlier, it may not be the best option for everyone. Also, discord has some drawbacks which you might want to check and see whether you really want to stick with it or look for better options.
Here are some of Discord's drawbacks:
Discord is not really secure enough to prevent data theft and is therefore vulnerable to hacking attempts. Not just Discord does not support End-to-End encryption even for private messages.
It is not really the most affordable software out there. All its unique features are available as Nitro plans which start at $9.99 per month!
Discord is very gaming-centric, which means that people who aren't familiar with gaming and its language, might find it difficult to use.
Discord is also known to have frequent outages, which means that it tends to go down more often than other chat apps.
Now that we have gone over some of the basic issues with using Discord, let's take a look at some of the alternatives for it
Here we have curated for you a List of Best Discord Alternatives that you must explore!

Jump right in!
List of The Best Discord Alternatives You Should Try
TeamSpeak
Slack
Tox
Troop Mesenger
RaidCall
Wire
Skype
Telegram
Chanty
Flock
Mumble
Steam Chat
Microsoft Teams
Let's take a look at these Discord Alternatives in details..
TeamSpeak is a fairly popular Voice-Over IP communication system for voice conversations. It is the number one choice for most online gamers to stay connected while playing multi-player games.
This is because TeamSpeak uses crystal clear sound, high-level military-grade security, lag-free performance, and unparalleled reliability to communicate with fellow gamers cross-platform. It also uses AES Encryptions which ensures that all your conservations are highly secure.
Moreover, now TeamSpeak is even being used more and more by corporates and companies to hold their meetings and connect with people from all over the world.
Key Features
Military-grade security as standard
AES Encryption
Lag-free communication
Cloud-based service
Pricing
Free on Windows, macOS, and Linux
$0.99 on Android and $0.99 on iOS

Imagine all your team communication in one place and available wherever you go! That's Slack, your discord alternative for professional use. It is considered one of the best live chat software with a clean and simple user interface. You won't find any game-related things on Slack because of its professional design.
Don't be fooled by the name, Slack only helps you become more productive because it integrates with various third-party such as Trello, GitHub, MailChimp, etc., and makes collaboration faster and easier. Moreover, it has a 1GB limit on uploads as opposed to Discord's 8MB.
Key Features
Clean user interface
Integration with third-party apps
1GB upload limit
Pricing
Free with limited functions
Paid plan starts at $2.67 per month

Tox is a super user-friendly software that lets you connect with your friends and family through text, voice, and video chat. It also has a clean screen-sharing feature.
What makes Tox a great Discord alternative is that it does not have any of the drawbacks that Discord poses to its users. Tox uses military-grade encryption which keeps your information safe from prying eyes. Its network is made up of users and it has no central servers, which means that you won't have to deal with any server outages.
What's more? Tox is one of those rare apps that are absolutely free and come without any advertisements!
Key Features
Uses military-grade encryption
No outages
Decentralized servers
Pricing

Troop Messenger is a team communication and collaboration tool similar to Slack. It has an intuitive interface and offers a real-time team collaboration work environment where you can seamlessly conduct all your conversations.
Some of Troop Messenger's unique features include Burnout, a private chat system to keep your conversations confidential; Forkout, a feature that lets you pick multiple team members to share a common message; Respond Later, a feature to filter all your tagged messages to reply at a later time; Shoutout, a broadcasting message to the larger audience; and Jumper, a feature to select multiple members to start a private conversation.
Furthermore, Troop Messenger allows for all communication to be documented for future reference making it a great Discord alternative.
Key Features
Real-time collaboration
Private chat system
Documentation
Pricing
Premium plan at $2.5 per user/month
Enterprise plan at $5 per user/month
Read more: Best Internal Communication Tools for Your Business

Now here's an excellent Discord alternative that supports huge groups and polls – Raidcall. It's an in-game VoIP application popular for gaming purposes. It has super low CPU and RAM requirements and holds up to 100,000 users at a time in a single RaidCall group.
RaidCall offers a wide range of features such as voice recording, poll announcements, voice reduction, screenshot abilities, Facebook synchronization, and easy sharing of files and links. You can chat within the group while watching embedded Twitch and own3D streams.
Additionally, Raidcall is a great place to discover and explore new online communities based on similar interests, games, and activities.
Key Features
Supports over 100,000 users at a time
Requires low CPU and RAM
High quality voice calls
Pricing:

Looking for a Discord alternative that can be used for a professional business setting? Wire is your best option for communication and collaboration. It is a highly secure messaging platform that lets you make safe video calls with screen sharing options, share files, and create encrypted groups for different projects and tasks.
Unlike Discord, Wire takes privacy seriously by providing end-to-end encryption and following European privacy laws. It also lets you send timed messages that self-destruct themselves from all servers. It comes with a superior user experience and allows integrations making communication and collaboration much faster.
What's more? Wire lets you communicate with people even if they don't have a Wire account.
Key Features
End-to-end encryption
Self-destruct messages
Fast communication and collaboration
Pricing
Wire Pro for $5.83/month
Wire Enterprise for $9.5/month

If you just want something simple, without any advanced gaming features, then check out Skype, a Discord alternative for your communication needs. It is known for being one of the most popular audio and video chat services that are easy to use and offer basic functionality.
Apart from text, audio, and video chat capabilities, Skype allows its users to share files, images, and videos with other users. It lets you create private groups for audio and video calls, and has a built-in screen share feature that is compatible with all devices.
Key Features
Simple to use
Shares files up to 300MB
Has an in-built screen share feature
Pricing

Telegram is a popular instant messaging service that provides end-to-end encryption and ensures high security for personal data. It supports sharing media such as images and videos with no size limits. This is why it makes an amazing Discord alternative.
Telegram allows you to create channels with unlimited subscribers and groups of up to 20,000 members. It lets you create bots to manage these groups and channels and also supports hosting private and public communities.
It is a high-speed application that is available across all platforms and is absolutely free of cost.
Key Features
Offers end-to-end encryption
Helps create public and private channels
Supports sharing large files
Pricing

Chanty is a team chat and task management app that offers all the basic private communication features. It lets you exchange information via chat and voice messages and audio and video calls.
But what makes it different from the rest and a great Discord alternative is that it has an easy task management feature that allows you to manage tasks from a single place! You can turn your messages into tasks and assign them to your team members within the Chanty app.
What's more? Chanty integrates with third-party apps such as Trello, Google Drive, Giphy, OneDrive, and so many other apps, and helps boost productivity. It's easy to use and is the best software for task management and communication.
Key Features
Task management – making tasks out of messages
Unlimited searchable message history
Third-party app integration
Pricing
Offers a free plan
Business plan starts at $3/user per month

If you are looking for something that offers more than just basic communication features, then Flock is your perfect Discord alternative. It is not only a communication platform but also a team management and collaboration platform with in-built productivity tools.
Besides the usual text, voice, and video communication features, Flock offers other features such as to-do lists, reminders, polls, notes, and file-sharing. It lets you organize information, messages, and files in a centralized place and thus eliminates the need for you to switch between different apps.
Moreover, it is SOC 2 Compliant, which means that all your data is encrypted and highly secure.
Key Features
Has in-built productivity tools
SOC 2 Compliant
Centralized place
Pricing
Free starter plan with basic features
A Pro plan with additional features at $6/month
Enterprise plan at $10/month

This one is for you gamers! Next on our list of Discord alternatives is Mumble, an open-source, high-quality voice chat software for gaming purposes. While its premise may be similar to Discord, the actual software is very different.
Compared to Discord, Mumble has excellent sound quality and is designed for great low-latency audio calling. In addition to this, what sets Mumble apart from other gaming chat software is that it offers a positional audio sound feature, which helps you find players' in-game positions. This makes the gaming feel more realistic.
Mumble allows chat encryption which is great for privacy and is totally free of cost. It has a simple administrative interface and is available on several devices.
Key Features
Exceptional sound quality with an audio positional feature
Chat encryption
Compatible on several platforms
Pricing
Starting at $2/month for 5 users

Steam Chat is a messaging and voice chat service with a user interface that is similar to Discord, making it a perfect Discord alternative. Steam Chat allows you to make your own groups with friends and connect over text and voice chat.
Like Discord, Steam Chat allows you to share unique URLs with others so that they can join a pre-made group. It also allows group administrators to set roles for its members and moderate the group and its contents.
Furthermore, you can use Steam Chat without downloading it on your system.
Key Features
Allows URL sharing
Supports auto-moderation
Doesn't require downloading
Pricing

If a business setting is what you are going for, then Microsoft Teams is your go-to Discord alternative. It gives you a platform where you can come together in a shared workspace to chat, share files, and make audio and video calls.
It is similar to Discord in the sense that you can chat in real-time with your teammates and attend voice and video calls, but it stands out because it comes with enterprise-grade end-to-end security.
Microsoft Teams allows you to transfer your files where the upload limit is a whopping 100GB compared to Discord's 8MB and upper-end 50MB. What's more? It collaborates with 365 built-in office apps like Word, Excel, PowerPoint, etc.
Key Features
Collaborate with built-in office 365 apps
End-to-end security
File upload limit 100GB
Pricing
Offers a free plan
Paid plan starts at $5 per month

Conclusion
That is a wrap-up to our list of Discord alternatives that you can explore!
Whether you were looking for gaming communication or professional communication or one for your everyday communication, we have covered all the possible Discord alternatives.
All we hope is that you have an idea about what matches your specific needs because, at the end of the day, it all comes down to your preference.
That's all folks!
Further Reads
Client Portals: Communicate with Clients the Right Way!
17 Best Internal Communication Tools for Your Business!
Communication Plan: What is it & How to Create it? (Steps included)
10 Killer Zoom Alternatives and Competitors Worth Checking Out!
Top 11 Screen Recording Software and Tools that are Highly Advanced!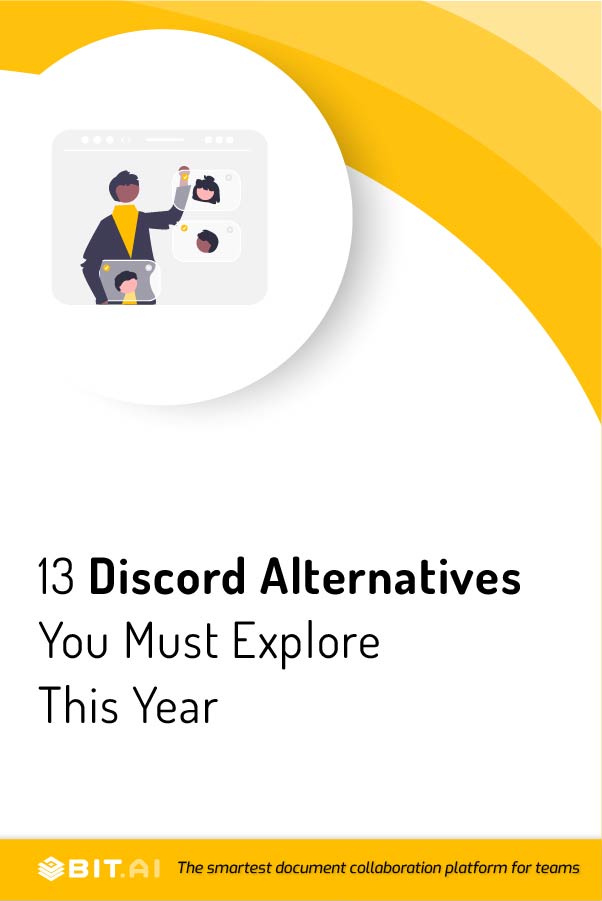 Related posts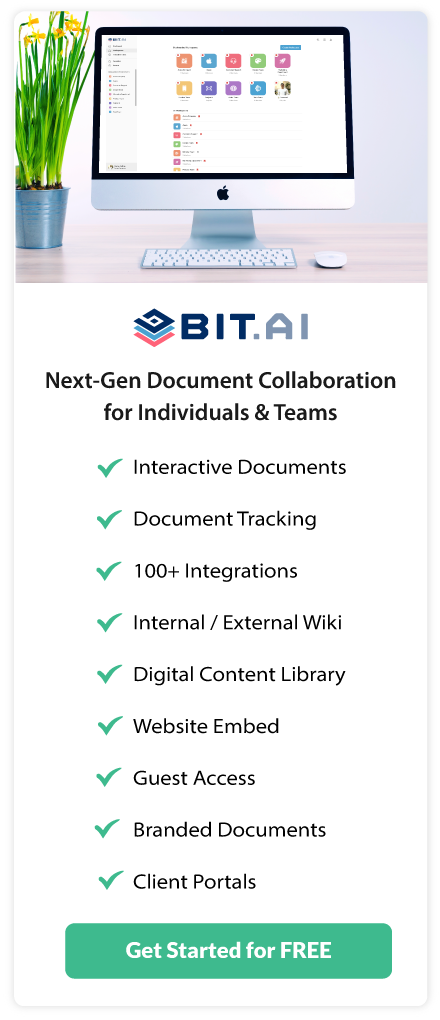 About Bit.ai
Bit.ai is the essential next-gen workplace and document collaboration platform. that helps teams share knowledge by connecting any type of digital content. With this intuitive, cloud-based solution, anyone can work visually and collaborate in real-time while creating internal notes, team projects, knowledge bases, client-facing content, and more.
The smartest online Google Docs and Word alternative, Bit.ai is used in over 100 countries by professionals everywhere, from IT teams creating internal documentation and knowledge bases, to sales and marketing teams sharing client materials and client portals.
👉👉Click Here to Check out Bit.ai.