Whether the end goal of your campaign is to increase sales, improve brand visibility or reach out to a new audience, you are required to do a lot of planning.
While planning is in itself complex and time-consuming, there are so many other things that you need to take care of – such as managing ads, tracking performance, analyzing the metrics, and more.
This is where a campaign management tool enters the picture. It will help you easily achieve your sales and marketing goals and speed up your entire campaign process.
Campaign management tools help you organize successful marketing campaigns by collecting essential campaign requirements, providing a common workspace for team members and stakeholders, streamlining and automating various processes, and more!
That's why we have created a list of some of the best campaign management tools available in the market so that you and your team can run a successful marketing campaign!
Ready? Let's get started!
What is a Campaign Management Tool? (Definition)
Let's first understand what campaign management means. It refers to the planning, execution, tracking, and analysis of a marketing campaign.
Campaign management usually includes inbound and outbound marketing, customer segmentation, market analysis, email marketing, campaign creation, campaign performance, campaign execution, project management, and analyzing and measuring the effectiveness of the campaign.
Since campaigns involve pushing prospects via email, social media channels, print materials, surveys, giveaways, and other channels and methods, it requires you to have software or a tool that can help you manage it.
And that is exactly what a campaign management tool does. It is a software solution designed to manage and measure the various elements and components of a marketing campaign.
It helps automate a range of marketing tasks like campaign creation, email marketing, content marketing, SEO, tracking of their performance across different channels, and more.
With the right campaign management tool, you can understand your target audience and position your brand and messaging to deliver better products and services.

Why You Should Use a Campaign Management Tool?
The role of a campaign manager is to merge the target market data with existing customer data to drive effective marketing campaigns.
It usually requires you to write and edit campaign copy, manage implementation, ensure consistent brand messaging, and provide results and analytics after the campaign is complete.
With a robust campaign management system, you can create, automate, and implement repetitive processes to run successful marketing campaigns.
Let's check out some benefits of using a campaign management tool:
1. Saves Time
A campaign management tool allows you to launch, schedule, coordinate, and monitor your marketing campaigns across multiple channels. It also helps avoid mistakes and errors and breaks down your campaign into smaller tasks.
This results in significantly decreasing the time spent on the marketing campaign execution process and makes overall the process much quicker.
Read more: 13 Social Media Post Ideas for Interesting Content!
2. Tracks Efficiency
By using its A/B testing functionalities, a campaign management tool lets you find what things are not working and measures the probability of success between different campaigns. This, in turn, helps you track the efficiency and progress of your campaign efforts.
3. Allows Personalization and Customization
What makes a campaign management tool special is the fact that it supports customization and personalization. With these features, you can understand the specific behaviors and patterns of individuals and then customize your emails, landing pages, offers, or even the entire campaign.
This will significantly improve customer satisfaction and increase your conversion rates. Now, let's check out the list of some of the best ones available in the market!
List of Campaign Management Tools and Software
Abode Campaign is a content management system and digital asset management system that has touch-friendly marketing automation to measure, personalize, and optimize digital and traditional marketing campaigns.
It allows you to create personalized online and offline campaigns and evaluate your cross-channel campaign performance. It provides a 360° customer view showing how customers previously interacted across different marketing channels.
With Adobe Campaign, you can design emails using templates, create multilingual email variations, and predict subject lines to attract the target audience. It also sends you personalized push notifications, in-app messages, SMS, and more.
What's more? Adobe Campaign offers customizable report templates, such as campaign performance, campaign expenses, etc. in the form of dashboards.
Pricing: 
Read more: 9 Client Management Software You Must Check Out!
Zoho Campaigns is a campaign management tool that supports multi campaigning, digital marketing, content management, multiple communication, and more.
With its ready-to-use email templates and the drag-and-drop editor, you can create responsive, highly tailored, and personalized email campaigns and eye-catching emails. It has a great autoresponder functionality that creates automated emails based on customer trigger actions such as opening an email, signing up, and more.
Zoho Campaigns provides you with valuable insights and detailed analytics and metrics of all aspects of your campaign performance, such as email opens, clicks, bounces, unsubscribes, and more.
Moreover, it also comes with built-in social media integration that automatically posts to multiple social networks with just a click.
Pricing
Free version available
Standard plan at $3/month
Professional plan at $4.50/month
Read more: SMART Marketing Objectives: What are they & How to Write them?
Mindmatrix is a social media campaigning and sales promotion software that offers an integrated platform for PRM, direct sales, marketing automation, channel enablement, and market asset management.
This software is great for content management, email marketing, social media marketing, and direct sales. It also supports multiple channel activation and aids business marketing through automated workflow charts.
With Mindmatrix, you can build a strong brand, market it, attract masses, and reach your sales goals while maintaining your budget and time limitations. Its detailed reporting and analytics tools allow you to get 100% visibility into the lead to revenue journey and content usage and campaign effectiveness, thereby making it an excellent tool for campaign management.
Pricing
Free/Freemium Version available
Pricing plan starts at $15/user/month
Next on the list, we have Salesforce, a cloud-based CRM solution that helps you track customer interactions and information, automate marketing processes, and personalize email marketing all in one place. It offers customizations and marketing tools.
What makes Salesforce a great campaign management tool is that it lets you track lead lifecycles and customer journeys throughout your campaign.
Its sales forecasting feature allows you to predict sales and budget, get a real-time view of your sales, and track its accuracy. It also compares sales expectations and benchmarks, prevents problems, and helps make management decisions.
Additionally, Salesforce offers robust customer service with self-service portals and call center software. It also supports team collaboration and ensures a proper flow of communication.
Pricing:
Essential at $25 per user per month
Professional at $75 per user per month
Enterprise at $150 per user per month
Read more: 6 Best Talent Management Systems & Software in 2022
Hubspot is another campaign management tool that offers marketing tools, functionalities, and CRM and helps manage campaigns across multiple channels and target the right audience.
With Hubspot, you can get easy access to all information and interactions related to your prospects and leads, build lead segments, and prioritize leads based on their scores. It has a landing page builder that creates landing pages and analyzes the number of page visits and conversions.
Hubspot helps design, schedule, track, and monitor social media posts and helps you create video campaigns by inserting videos. It provides detailed reports on website insights, sales activities, individual performances, and more on its reporting dashboard.
Some other features of Hubspot include email-tracking, meeting scheduling, A/B testing, live chats, ticketing, and more. What's more? It lets you add unlimited users and data without an expiration date.
Pricing:
Starter Edition starts at $50/month.
Professional Edition starts at $890/month.
Enterprise Edition starts at from $3,200/month.
Dynamics 365 is a campaign management software by Microsoft that helps you streamline your marketing campaigns, sales, and customer services to promote your business and optimize engagement.
Use Dynamics 365's drag and drop interface to create and deliver targeted multi-channel marketing campaigns. You can also define and monitor your budget, tasks, activities, etc., set triggers based on predetermined rules, choose segmented groups, assign emails, analyze performance, and more.
Dynamics 365 lets you create records of campaign activities like emails and phone calls and lets you request activity summaries based on definition status, date, and parent campaign.
With its AI-powered insights, you can get instant access to business metrics, track KPIs, compare multiple campaigns, and analyze customer satisfaction levels, engagement patterns, and more.
Pricing:
As a standalone app – $1,500 per user/month for 10,000 contacts.
As an add-on to your suite of Dynamics 365 apps – $750 per user/month for 10,000 contacts.
ActiveCampaign is a campaign management tool that lets you create amazing campaigns using its easy-to-use drag-and-drop email designer.
It offers marketing automation, CRM capabilities, email marketing, reporting features, and more. It has a smart predictive sending system that studies when people like to open their emails.
Active Campaign is great for channel management as it captures audience location and tracks the success of your campaigns across various social platforms.
With ActiveCampaign, you can sync calendar tasks from Google Calendar, Outlook, and Apple Calendar so that it shows up within your CRM. This app also comes with tagging, list segmentation options, analytics, and even an easy-to-use flowchart-style editor.
Pricing
The Lite plan starts at $15/month
Plus at $70/month
Professional at $159/month
Enterprise at $279/month
Here we have Campaign Monitor, a powerful and easy-to-use campaign management tool with drag-and-drop campaign creator tools that let you build, launch, measure, and manage branded email campaigns.
Campaign Monitor automates your email campaigns, customizes and segments your lists, and sends personalized emails to your customers at the appropriate time.
With Campaign Monitor's advanced analytics and detailed reports, you can gain insights into how well your emails are performing in real-time. It also allows you to see who opened and shared your emails.
What's more? Campaign Monitor seamlessly connects to hundreds of pre-built apps and integrations
Pricing
Basic plan starting at $9/month
Unlimited plan starting at $29/month
Premier plan at $149/month
Read more: 10 Task Management Tools Every Business Must be Using!
Acoustic Campaign is a customer-centric campaign management tool that helps you organize digital marketing campaigns by combining all customer behavioral, transactional data in one place.
Acoustic uses AI to track customer behaviors and journeys and helps you profile customers and segment them based on their previous transactions. This allows you to provide tailored communication and improve campaign engagement and conversions.
Furthermore, with Acoustic, you can get personalized interactions across multiple channels, such as via online, email, mobile, and more. This helps reduce campaign time for marketing, increases revenue, and helps you run more successful advertising.
Pricing:
Contact the vendor for pricing.
Conclusion
Regardless of which industry you belong to, the market you target, and the size of your business, a full-featured campaign management tool will only help you work faster.
With the best campaign management tool, you can reduce your errors and streamline your campaign creation and management processes with ease.
That's why in this blog, we curated a list of some of the best c for you. Now you can develop, optimize, and launch the perfect marketing campaigns.
So what are you waiting for? Get your campaign management tool right away! Ciao!
Further reads:
Marketing Project Management: Definition, Process, Tips & More!
12 Marketing KPIs Every Marketing Team Should Monitor!
Knowledge Management System Guide For Better Sales
9 Client Management Software You Must Check Out!
Management Report: What is it & How to Create it?
Brand Authenticity: Definition, Importance & Tips To Build It!
Guerrilla Marketing: What is it and How to Use it For Marketing!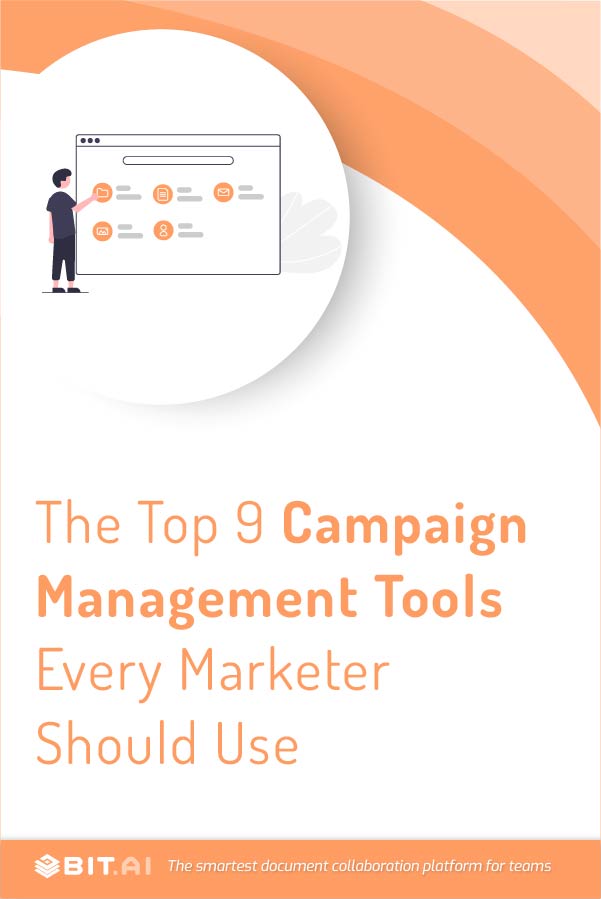 Related posts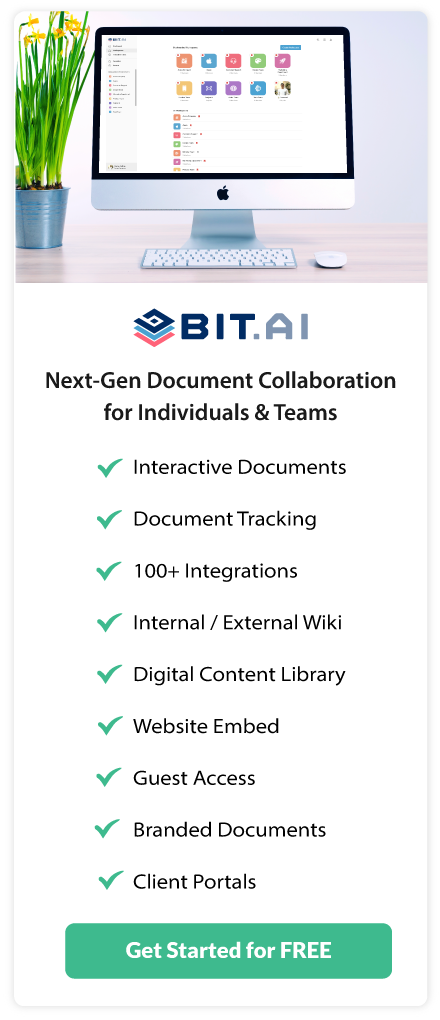 About Bit.ai
Bit.ai is the essential next-gen workplace and document collaboration platform. that helps teams share knowledge by connecting any type of digital content. With this intuitive, cloud-based solution, anyone can work visually and collaborate in real-time while creating internal notes, team projects, knowledge bases, client-facing content, and more.
The smartest online Google Docs and Word alternative, Bit.ai is used in over 100 countries by professionals everywhere, from IT teams creating internal documentation and knowledge bases, to sales and marketing teams sharing client materials and client portals.
👉👉Click Here to Check out Bit.ai.