Within the tech industry for Human Resources (HR), talent management is a hot subject, and for any company, talent acquisition plays an important role. This integration has become much more crucial than it was before.
From aligning human capital with the overall corporate approach to evolving worker demographics, globalization, and talent shortages: talent management takes care of everything!
Times have changed, and talent management systems have replaced traditional practices and are ruling over the ground now. There are more than 100 tech tools available to optimize the recruiting, hiring, and onboarding of employees.
These talent management systems enable recruiters to spend more quality time with applicants and less time on basic tasks. Time-consuming logistical tasks are taken away from the recruitment coordinators with the click of a button through these automated tools.
Today, we will explore the depths of talent management systems and explore some of the talent management tools that will help you handle your staff better and make smarter choices.
What is a Talent Management System?
When it comes to successful selection, growth, and retention within an enterprise, talent management software is the trump card. Recruiting managers can effectively track candidates, remain coordinated during the interview period, and eliminate the paper trail before embarking on new hires.
For any of these activities, it is definitely feasible for businesses to deploy different "stand-alone" solutions, such as one solution for monitoring candidates, another for onboarding recruits, and so on. However, companies look for a robust talent management suite that will integrate all of these functionalities in one.
The core functionality of a talent management system includes:
Online applications
Communications from inter departments
Resume import function
Applicant fast-tracking
Tracking candidate
Real-time performance information
Tracking of key documents
Tracking of goals
Digital records-keeping
Employee self-service
A talent management system helps enterprises and HR teams to manage:
Recruitment: identifying and recruiting the right candidates
Management of performance: measuring how people are doing in their employment
Learning and development: guiding and implementing teams and individuals' professional development
Regulation of compensation: salaries, privileges, and the rest of it
Now the question arises, why should you deploy a talent management system in your organization? Here is why…
Why Having a Proper Talent Management System in Place is Important?
With the current market becoming highly competitive for quality workers, it is important to find, recruit, and retain high-quality candidates and top performers. A good and successful talent management system can help recruit and retain top talent and have a bottom-line influence on productivity.
Let us some advantages that a company can experience when adopting a talent management system.

Improves hiring techniques
Develop employees
Access accurate data leading to smarter business decisions
Improves cultural connections and employee engagement
Retains top talent
For connecting and sharing data
Improves onboarding experience
Increases employee and manager engagement
Investing in an advanced talent management system will surely prove to be a good decision. Are you looking for a talent management system to streamline processes at your organization? Let's hop on to the list of specially curated top talent management systems for voyagers like you!
List of the Top 7 Talent Management Systems and Software

Hello Talent is a cloud-based collaborative talent management solution that offers tools for sharing job opportunities, nurturing candidates, managing candidate relationships, and reviewing and rating candidates. Hellotalent offers automatic social media integration, email, CV parsing, promotion of career openings, and message and mention collaboration. There are several features of this tool, such as:
Tags and ratings
Mobile app access
One document per applicant, available for free
Positives:
The accessible solid free plan
Scalable tools for recruitment
Add LinkedIn profiles to the database
Negatives:
One document per candidate in the free plan
CV parser is limited to enterprise subscriptions.
Searches for keywords are finicky.
Pricing: Hellotalent starts at $63.50 a month and has a free software version.
Read more: Top 9 HR Software and Tools for Human Resource Departments!

ADP is a workforce solution with the ability to control and track compensation, mobile-optimized job posts, and self-service management.
ADP Workforce Now maintains a framework that covers quite a wide range of HR tasks and is easy to use. Membership can also be personalized almost limitlessly, with users being able to add and delete functionality to meet their needs.
Positives:
Robust app for handheld devices
All in one portal: company, state, federal forms
Super quick to verify time
Negatives:
Enters hours in military time
High minimum user requirement
Lags when manually editing entries numerous times
Pricing: ADP Workforce Now starts at $17.50 /user/month and has a free preview.

SAP offers a talent management system with comprehensive functionality for multinational talent procurement and team target management.
SAP provides a range of resources that can be combined with its talent solutions. They have ties to traditional record authoring, document management, and identity management systems.
Positives:
Reward and recognition of good standard
Robust tools for career path development
Engaging onboarding portal
Negatives:
Busy administrative scenes
No AI for candidate procurement
Customized ranking systems drawbacks
Pricing: SAP SuccessFactors has options starting at $2.18/user and has bundles of applications beginning at $1000+/package. A free trial is also offered.

Recruitee is a talent management software to help you recruit talent and simplify hiring activities. It provides advanced CSS and media choices and the opportunity to post to over 10 free work boards worldwide.
You can integrate Recruitee directly into your pre-existing applications and platforms, thanks to their open API. You can also add-on tools for chat, project management, or CMS.
Positives:
Access to 1250 paid and open work boards
User-friendly Pipelines for candidates
Includes Chrome extension for talent sourcing
Negatives:
Multi-language job sites are restricted to higher subscriptions.
No personalized careers site URL for entry plan
No function for submitting external emails
Pricing: Recruitee's pricing plans begin at $79/month and have an 18-day free trial and a free sample.
Read more: Best Resource Management Tools and Software!

Hiretual is engineered for talent sources and agencies. This platform offers AI for selecting candidates, reliable infrastructure with scalable server clusters, and contact information sourcing.
Hiretual has a user interface that is tidy, intuitive, and modest. The menu bar's basic resources list makes it easy to gauge what you need at a glance.
Positives:
Integrations for bi-directional ATS/CRM
AI candidate sourcing from 40+ platforms
Excellent Chrome extension
Negatives:
Only 10 contacts per week on the free plan
Integrations of Gmail and Outlook are limited to enterprise plans.
For multiple recruiters in a company, no pricing bundle
Pricing: Hiretual has a Freemium Lite package that starts at $89/month.

PeopleStreme is a software provider for human capital management and accounting, specializing in application creation to facilitate human resources programs, such as identifying staff, crisis management, and learning and development. This tool excels in customizability, and, beyond that, it is simple to use.
Positives
Ability to personalize answers en masse to applicants
Payroll with complicated setup and parameters
Can support a hefty workload for recruiting
Negatives
Restricted opportunities for personalized branding
Best monitoring capabilities are confined to higher plans.
Failure to recognize the same candidate twice
Pricing: PeopleStreme provides pricing details on request and gives a free sample.
How to Choose the Best Talent Management System for You?
Talent management involves investing in a management system that meets your needs, keeps you up-to-date, and automatically updates all your information. However, how do you chose from the many choices on the market for the right system? Before opting for one, below are some of the things to consider:
1. Social Features: How are the social characteristics configured in the talent management system? Is it possible to interact, track, and combine social networks and interests for various apps? You need a device that can easily interact on the social platform with the users.
2. Mobility: When selecting a talent management system, some of the questions you need to ask are: do the applications have a self-service option? Are they accessible through the mobile site or as a mobile app? How does the functionality correlate with the desktop or laptop edition? Is there a smartphone app? You will need to verify whether the laptop or desktop security is on par with smartphone security.
3. Data analytics: The software should create and transmit data to your business intelligence tool for further analysis and decision making. Look for a system that helps you to build a dashboard and out-of-the-box reports that serve both your and the stakeholders' needs.
4. On-premise or cloud-based solution: Check whether the program is hosted or in the form of software as a service (Saas). If your company operates from different locations, does the software guarantee continuity of business from all locations? You can encounter an enterprise running simultaneously with an on-premise and cloud-based approach. You need software that can be offered on a hybrid cloud basis. Make sure to confirm if the cloud-based software is secure and compliant.
5. Your specifications: Understand the criteria and see which common features are provided by the program to model your business process.
6. Cost/subscription: Consider the cost and subscription fees according to the number of people.
Over to You!
Choosing a talent management system for your company is not a job to be taken lightly, whether you are running a two-person startup or an organization of hundreds of staff.
You should pick a talent management software that checks all the boxes and fits your preferences. We would love to hear about your experience with using a talent management system. Tell us in the comments below or tweet to us!
Further reads: 
11 Budgeting Tools & Software to Keep Track of Business's Budgets!
Management Plan: Definition, Benefits & How To Create One?
How to Ace the New Hire Onboarding Process?
17 Best Internal Communication Tools for Your Business!
11 Kanban Tools and Software to Explore!
Best File Management Systems and Software in 2022

Related posts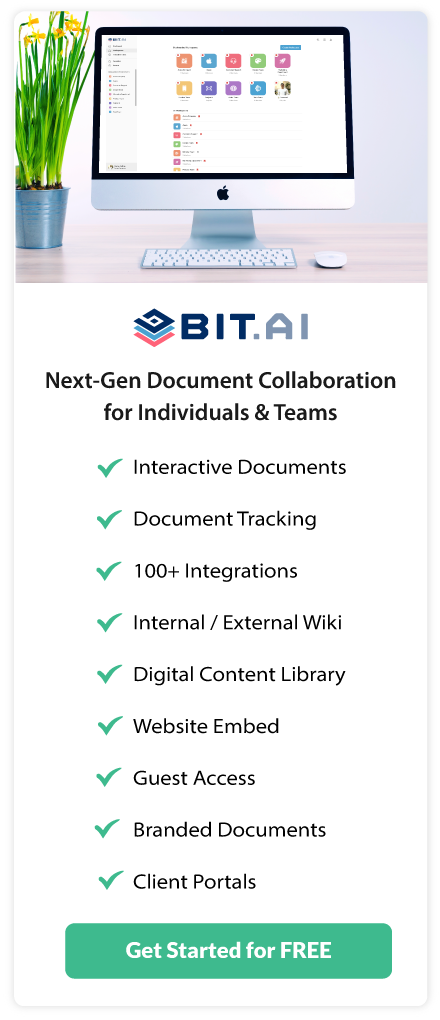 About Bit.ai
Bit.ai is the essential next-gen workplace and document collaboration platform. that helps teams share knowledge by connecting any type of digital content. With this intuitive, cloud-based solution, anyone can work visually and collaborate in real-time while creating internal notes, team projects, knowledge bases, client-facing content, and more.
The smartest online Google Docs and Word alternative, Bit.ai is used in over 100 countries by professionals everywhere, from IT teams creating internal documentation and knowledge bases, to sales and marketing teams sharing client materials and client portals.
👉👉Click Here to Check out Bit.ai.