We know why you are here. You are looking for a job – a sales job to be precise.
And, as a sales professional, you already know that 'the first impression is the last impression'.
Let's be honest here, no recruiter is going to give your resume a second chance when they have a pile of resumes to look at. Your resume either makes it or ends up in the trash.
So, you know you only have one chance at this, and that's why we are here to help!
This blog will cover everything you need to know about sales resumes and lend you a helping hand to pull you out from the crowd. So, let's dive right in!

What is a Sales Resume? (Definition)
In essence, sales is all about effective communication. This needs to be translated into your sales resume if you want to move on to the next step.
A sales resume is a resume that is customized based on the specific requirements of a sales job. Unlike a regular resume, here you flaunt your achievements through your results, numbers, and the right words.
Because the sales industry is so diverse in nature, the need for a good sales resume is of utmost importance. So, let's try to understand a little bit more about sales resume and how it is beneficial.
Benefits of Creating a Sales Resume for a Sales Position
1. Shows Success in Numbers
A sales resume focuses on numbers.
For a recruiter in the sales industry, these numbers are all that matters because it shows how well you have performed as a sales professional and whether you are a good addition to their company.
Thus, a sales resume increases your chances of getting a callback.
2. Highlights Sales-specific Skills
A sales resume is specific to the sales industry, which means that it will only contain skills specific to sales.

It highlights all your skills and potential, awards received, and certificates, emphasizing your specialized skills in the field. This will help recruiters determine if you have the skills that the company needs.
Read more: How To Write An Awesome Cover Letter To Woo Your Recruiters!
3. Shows Effort
Most candidates send out resumes without tailoring them to the specific job description. These resumes normally end up in the trash.
But, a sales resume always stands out, mainly because it has your sales experience in detail.
When you put down all your accomplishments in numbers and stats, it shows efforts, and efforts often get rewarded.
4. Helps in Learning
This may be the most underrated benefit of a sales resume.
Think of it this way – when you are writing a sales resume, you are doing a lot of research on the company and its objectives.
Then you quantify your achievements and pick out the skills that are best suitable to put on your sales resume.
All the research you are doing is benefitting you! It's not only helping you learn about a company but also learn about yourself in the process.
Now that you know how important sales resumes are, don't you want to know how to write a perfect one? Sure you do! Just scroll down!
Follow these steps to Create a Perfect Sales Resume
Ask yourself this – why does a majority of sales resumes get rejected? They all essentially have the same structure and they are all about selling yourself.
Then, what's wrong?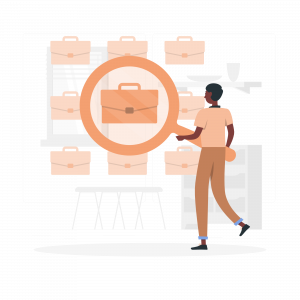 Well, when it comes to creating the perfect sales resume, there may be a few things that you might miss along the way. But, don't worry! This blog has written a step-by-step guide to help you write the perfect sales resume!
Let's take a look at them, shall we?
Step 1. Know your Target Audience
Knowing about your target audience really comes in handy when writing a sales resume. Sure, your target is the sales recruiter. But, you still have to do a little more digging than that.
Research about the company, its history, its goals, the exact nature of the job, the specific requirements of the job, and so on.
It is based on this information that you can tweak everything in your resume to fit their expectations.
Step 2. Decide on your Template
They say sales resumes are like an advertisement of yourself. So you need to make sure that your resume is worth taking a look at.
For this, you need to decide on a template of your sales resume – this includes the design, layout, sub-headings, font, font sizes, and line spacing. This is a crucial step because this decides how your resume is going to look.
Pick a sleek and organized template, preferably one where you can add your photo and looks great on any device with proper headings.
Remember to limit your resume to a single page. Recruiters hate turning pages.
We advise that you add a little pop of color to set your resume apart from the dull black-and-white ones. Check out Bit.ai for some amazing templates!
Step 3. Add a Good Resume Summary
Once your sales resume catches the eye of the recruiter, then it is your resume summary that will be the one to make the next impression.
The goal of a resume summary is to give the reader an idea of who you are and what your goals are. It will also highlight what you have to offer to the job and how your skills match their expectations.
A good sales resume summary will be highly tailored to the sales job description and will include the keywords associated with it. Recruiters look at this section to filter out candidates who haven't taken the effort to write something that aligns with their goals.
Read more: Sales Pitch: What is it & How to Create a Killer One?
Step 4. Include All Hard and Soft Skills
Sales require you to be efficient in both hard skills and soft skills Your recruiters would want to know if you have skills in both the categories,
So be sure to highlight your technical skills or familiarity with any software and include training programs or sales certifications.
Also include soft skills that demonstrate your communication skills and personality type. This will give recruiters an idea about your social skills, which is an integral part of being in sales.
Step 5. Highlight your Numbers
In sales, the numbers speak a lot. Your potential as a sales candidate heavily relies on your sales results and numbers.
You can surely list down as many skills as you want in your resume, but it will all go in vain if they are not backed up by numbers or stats.
A sales recruiter always looks for candidates who can actively contribute to their company sales figures. For this, they need to see your hard numbers.
So, pack your resume with results and translate your achievements into numbers and figures so that your recruiter can assess your sales performances.
Step 6. Keep the Education Section Simple
Sales is one of those jobs where people don't put a lot of emphasis on your educational qualification. We are not saying it's not important, but the educational section does not require as much emphasis as your skills sections.
Sales recruiters value your sales numbers and results in more than a detailed description of your grades.
So, unless you are a new graduate or a fresher, make sure that you keep your academic section as simple as possible.
Step 7. Use the Right Keywords
Every industry has its own lingo, including sales. Recruiters would want to see certain specific words or terms in your sales resume.
Also, some recruiters use an applicant tracking system (ATS) to scan resumes for keywords or industry-specific terms.
So, it is extremely important that you tailor your resume according to the job description and use the right set of keywords associated with it on your sales resume.
Step 8. Add Important Links
Adding links to your sales resume is optional. But, if included, it can really leave a great impression. It will give the recruiters an insight into your professional life and make you a more legitimate candidate.
The choice is up to you – you can add a link to your online portfolio or personal blogs or professional social media accounts like LinkedIn. We highly recommend it!
Step 9. Polish and Proofread!
Once you are done creating your sales resume, you need to take some time to proofread and polish it before sending it out.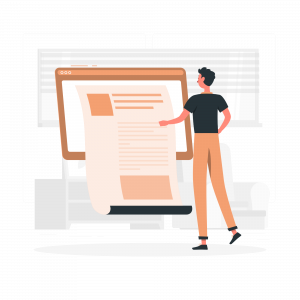 Check for any typos, spelling mistakes, grammar errors, or awkward phrases. You don't want your recruiter to see those!
Also, ensure uniformity in font sizes and line spacing. Get at least two other friends to proofread your resume to ensure there are absolutely no errors at all.
Once you've ticked all these boxes, your sales resume is good to go!
This whole deal with writing THE perfect sales resume is really exhausting. But, not if you've Bit.ai with you!
Bit.ai: The Ultimate Tool for Creating Resumes & Other Documents
Imagine if you had all the right experiences and qualifications, but your resume had uneven line spacing and font sizes which made it look like a mess! Using Bit completely eliminates such a possibility because it automatically formats all your documents even if you don't!


Bit provides an extensive template gallery with over 70 templates! Yes, that includes your sales resume as well. Leave it to Bit to take care of the layout and design of your resume while you focus on your content! Bit also got you covered with its own collection of themes that allow you to change the color of your document with a click.
You no longer have to worry about how your sales resume is going to look because you can trust Bit on making it look incredible! Don't believe us? See it for yourself: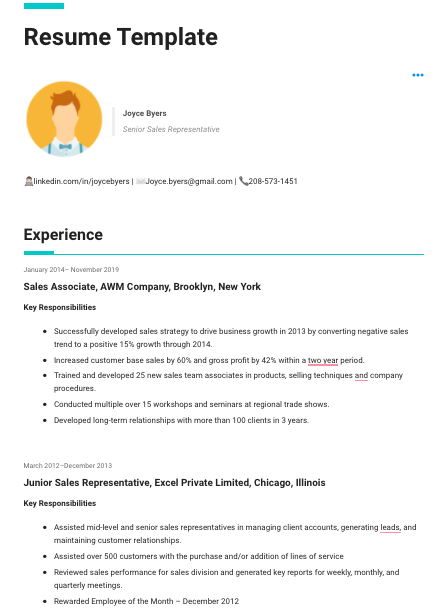 Wait, there's more!
When you know are competing with hundreds of people, how do you make your resume end up on the table rather than the trash? Make it interactive! Bit supports over a hundred file formats which allow you to add as many file types as you want to your resume. Cool, right?
The best part? Before sending out your resume, you might want to get it to proofread and edited by your peers to make sure that your resume is error-free and spot on. Use Bit's real-time collaboration to invite your peers to join you and work together on your sales resume in real-time.
This means your peers can simultaneously make edits and add comments to help you improve your resume. Awesome, right? Bit.ai can make your resume writing a whole lot easier!
Wrapping Up
The sales industry is extremely diverse, and new sales jobs are being added as we write this blog, which means you will have so many opportunities, but also tough competition.
All you have is your sales resume to make an impression.
That's why our blog has covered everything you need to know about sales resumes and how to write the perfect one. We hope we have given you enough tips to make your sales resume outshine the rest!
Got any questions? Let us know by tweeting us @bit_docs.
Further reads:
How To Write An Awesome Job Description?
11 Amazing Sales Promotion Examples You Need to Check Out!
Sales Manager Job Description: How to Write it? (Steps & Example Included)
Letter of Authorization: Definition, Examples, Structure & Format!
How to Write an Unavoidable Job Offer Letter?
Letter of Resignation: Definition, Examples, and Format!
Leave of Absence Letter: What is it & How to Write it?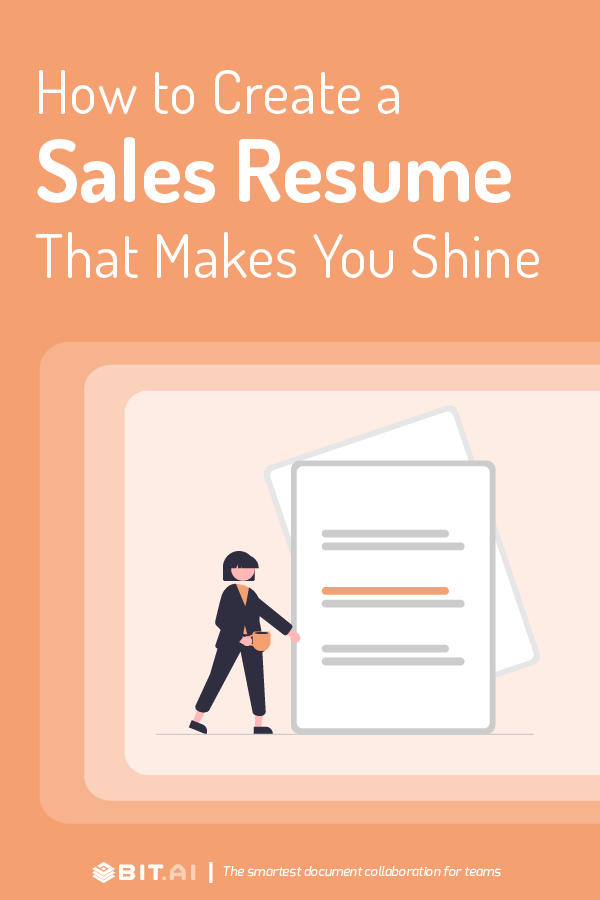 Related posts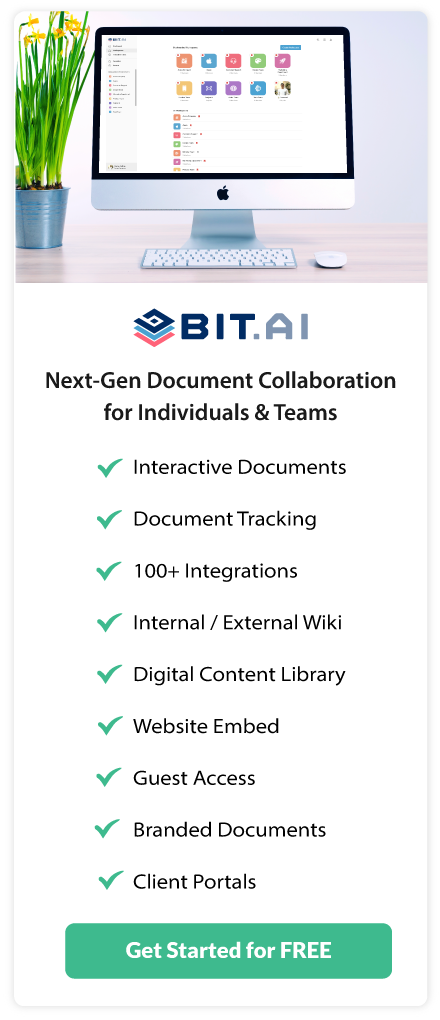 About Bit.ai
Bit.ai is the essential next-gen workplace and document collaboration platform. that helps teams share knowledge by connecting any type of digital content. With this intuitive, cloud-based solution, anyone can work visually and collaborate in real-time while creating internal notes, team projects, knowledge bases, client-facing content, and more.
The smartest online Google Docs and Word alternative, Bit.ai is used in over 100 countries by professionals everywhere, from IT teams creating internal documentation and knowledge bases, to sales and marketing teams sharing client materials and client portals.
👉👉Click Here to Check out Bit.ai.