With over 58 million (and counting) people taking up freelancing, it is set to become the U.S. majority workforce by 2027. Not to mention that the global freelance market economy is likely to reach $455 billion by 2023.
Clearly, freelancing is becoming an increasingly popular way of working. There's no denying that the freedom, flexibility, and autonomy that comes with it is a breath of fresh air in a world that is hell-bent on fixed routines and tight schedules.
However, the life of a freelancer is not always rainbows and unicorns and it comes with its own set of problems and challenges.
As a freelancer, you'll have to wear many hats and manage several things on your own. You'll have to supervise your own duties, find projects, keep track of them, handle all the finances, deal with clients, manage time, and the list just goes on.
All of this can be quite demanding and exhausting if you don't have the right resources and tools by your side. That's why you need to employ a tool that makes your tasks simple and smooth-sailing.
For that, we recommend one of the best work management tools available in the market – Bit.ai! It's the perfect tool to start working smarter so that you get more work done in less time and push yourself to the next level.
To learn more about Bit and its features and how it can prove to be useful to you as a freelancer will be discussed in this blog! Ready to get started? Let's go!
Bit.ai and its Features
Bit.ai is a new-age document collaboration and knowledge management tool that helps create, collaborate, share, track, and manage all company documents, files, and other content in one place. It is a versatile tool that is robust enough to handle all modern-day workflow.
Here are some of the amazing sets of features that Bit offers:
1. Ready-made Templates
Bit has an extensive template gallery that offers over 70+ professionally designed templates from which you can choose your favorite one! All you have to do is fill in your customized content and you'll get the whole draft ready in a few minutes!
2. Design Automation
You don't have to waste your time trying to fix the format of your documents because Bit will automatically format your entire document to give a very uniform and consistent look. Additionally, it provides you with its own collection of themes that lets you change the look of your entire document, its layout, and even color too – with just one click!

3. Media Integration
Want to bring your documents to life? Then Bit's rich media integration will help you do just that! It supports over 100 different rich media integration and lets you add videos, presentations, charts, maps, surveys and so much more to your documents.
4. Smart Workspaces
Bit is the perfect place for organizing your content. Why? Because Bit lets you create infinite workspaces and folders to help you manage, organize, and store information in a neat and orderly manner, making your work more efficient.
5. Real-time Collaboration
With Bit, you can seamlessly collaborate with anyone and work together on the same document in real-time, chat privately, make inline comments, co-edit, and do so much more to ensure that you do not miss out on any important details. It even lets you highlight sections, leave comments and mention people as well.
6. Smart Search
Worried that all your information might get lost if you create too many workspaces, folders, or documents. Not if Bit's smart search can help it. Search any information quickly across folders, files, documents, and content inside your documents across all of your workspaces and you will easily get the results within seconds.
7. Document Sharing
The coolest part about Bit is that it allows you to share your documents in many different ways. You can export your document by converting it into Docx, PDF, and other formats or use Bit's live link-sharing option to share your document with anyone you want or even invite members by giving them guest access to your workspace.
8. Simple and Amazing UX/UI
Even though Bit is jam-packed with features, it has a simple and easy-to-understand user interface, which makes it extremely easy for new users to get on board with the platform. It has a minimal design aesthetic and an excellent UX that makes the flow between the documents to digital workspaces clean and swift! It simply provides a systematic and professional approach to the whole process!
All-in-all Bit is a super awesome tool that has all the perfect features for helping you create documents and collaborate on them easily.
Now that we have gone over the various features of Bit, let's find out how it can make the life of a freelancer smooth-sailing!
How Bit.ai Makes a Freelancer's Life Easy?
1. Offers Stunning Templates
Bit's extensive template gallery offers over 70+ professionally designed ready-to-use templates from which you can choose your favorite one. Whether it is to create resumes, proposals, freelance contracts, or any other document related to your freelancing work, Bit will have something in store for you!
All you have to do is simply pick a template you like and customize it however you want and you'll get the whole draft ready in just a few minutes.
You don't have to worry about the look and feel of your documents, as Bit will automatically format them to give them a clean, consistent, and uniform look. Just focus on your content and let Bit do the rest of the work for you!
2. Organizes Work with Folders and Workspaces
As a freelancer, you will have multiple freelance works from different employers at your feet. Each work might be unique and have its own set of rules, instructions, paperwork, pricing, and more. To manage them all and keep them organized you can use Bit.
Create multiple workspaces around your work topics or employers so that you can efficiently organize and manage them. You can create folders within these workspaces to store everything you have in an organized manner.
Read More: How can you edit your workspace in Bit?
3. Stores Materials in Content Library
Having to work with multiple employers and companies means that you will have a wide variety of information and materials that you have to deal with.
You can easily store and organize them in Bit's content library and have easy access to them whenever you need them. Content management just got easier and better for you!
4. Spice-up Work with Interactive Documents
Whatever freelancing work you do, you can crank up the way you document your work with the help of Bit. Yes, documentation can be fun and engaging too!
Use Bit's 100+ rich media integrations to add images, PDFs, cloud files, maps, presentations, surveys/polls, charts, videos, GIFs – basically all kinds of rich media in your document and bring them to life.
You can even choose from various themes and colors to quickly transform the look of your freelance documents with a couple of clicks at any time.
5. Offers a Client Portal
Being a freelancer, you will have several clients to deal with and you will be required to constantly share multiple documents with them. Bit can make this whole process a lot easier with its client portal feature.
With a client portal, you can offer a smooth experience for your guests to review work, share knowledge, and collaborate with your team. It lets you invite your guests or clients to an unlimited amount of workspaces and access unlimited documents inside of each workspace.
Every document you share in a workspace comes with its own comment stream that lets you chat with your clients by simply @mentioning them in the workspace and bringing them to a conversation.
Guests can get two types of access to your documents in Bit: read-only or comment-only. With read-only access, your guests can only read the content you have shared with them, while comment-only access allows them to @mention team members and give their suggestions or feedback.
This way you can communicate in a hassle-free and organized manner with all your clients!
6. Helps Finish Deadlines On-time
The thing about freelancing is that you will have several tasks and deadlines that you might find difficult to keep track of. So one way to organize all your freelance work and tasks is to create checklists for yourself.
With Bit, you can create your very own checklist for all your project work, tasks, deadlines, and even your personal life tasks and activities. This way, you can keep track of all important dates and approaching deadlines and finish them on time.
7. Makes Collaboration Easy
One of the core features of Bit is its real-time collaboration. It lets you collaborate with your team and work together on your documents in real-time, no matter where they are located.
Using Bit, you can co-edit, make inline comments, access version history, chat via document chat, @mentions, and much more! You can even invite your employers or editors and provide them editing access to receive comments or feedback.
The best part about collaborating in Bit is that it sends you notifications every time someone leaves a comment or feedback on your document, adds you to a workspace, adds a document to a workspace, updates a workspace, mentions you in a comment, and much more. This ensures that you are constantly updated about the work and never miss out on anything that's happening.
Read More: Learn How To Collaborate with Fellow Freelancers using Bit
8. Find Files Quickly
Imagine having to deal with tons of information, documents, and files, and then just when you need a specific file, you can't seem to find it.
With Bit's smart search feature, you will never have to face this issue. It lets you search for any information in just a matter of seconds. You can search for folders, files, documents, and content inside your documents across all of your workspaces and it will quickly appear before you.
9. Tracks Engagement
Another amazing feature of Bit is that it lets you share your documents with your clients via a trackable link. With this link, you can understand how users are interacting and engaging with your documents.
Share your freelance documents with your clients and get live analytics and insights about your work documents, such as who viewed them, how much time they spent it, and even how far down they scrolled through them.
This is a great way to find out where your reader lost interest so that you can make the appropriate changes the next time around.
10. Password Protect Important Documents
Want to make sure that all your important documents are secure and private? You can use Bit to do just this! It allows you to manage permissions and information access with the help of features such as document tracking, password protection, file access restrictions, etc. that help keep your important company information safe.
Set up a custom password when you are sharing your documents to ensure that your documents are protected at all times. You can even update it and disable it at any time as well.
11. Import and Export Documents in the Desired Format
Use Bit to upgrade your work by importing and exporting your documents without compromising on its visuals.
With just a click of a button, Bit makes it easy to bring your documents in from anywhere and convert them into modern Bit docs. You can import docs from Word, Google Docs, Office 365, Confluence, Quip, Zoho Docs, Dropbox Paper, Markdown, Text, and PDF.
Bit also lets you export your document into the desired format. Once you've created a Bit document, you can export them in different ways – PDF, Word, ePublication, Markdown, Rich Text Format, etc.
12. Simple and Minimal Aesthetic
Wondering whether you'll be able to handle all these features on your own? Worry not, because even though Bit is packed with features, it has a simple, minimalistic, and easy-to-understand user interface.
This means that you don't need to be a tech-savvy person or know anything about coding – you can easily get on board the Bit platform and start organizing and collaborating on your freelance documents.
Simply put, Bit acts as a central location for all your communication, content, and collaboration. It helps you chain all of your information together seamlessly.
Conclusion
Bit is one of the best things that can happen to you as a freelancer. It is an essential platform with dozens of features that help boost your productivity, enhance your creativity, and grow your career professionally.
In a world where freelancing is becoming the next big thing, using a tool like Bit is what will elevate your game from basic to fantastic.
Now that you know how exactly Bit can help you out in your freelancing journey, go out there and get one for yourself and see the instant improvement! Good luck, folks! Adios!
Further Reads:
Learn How To Add Smart Widgets To Your Bit Document 
Add Any Type of Digital Content to Your Bit Documents
Save all Your Digital Content in One Place Using Bit
Freelance Contract: What is it & How to write it?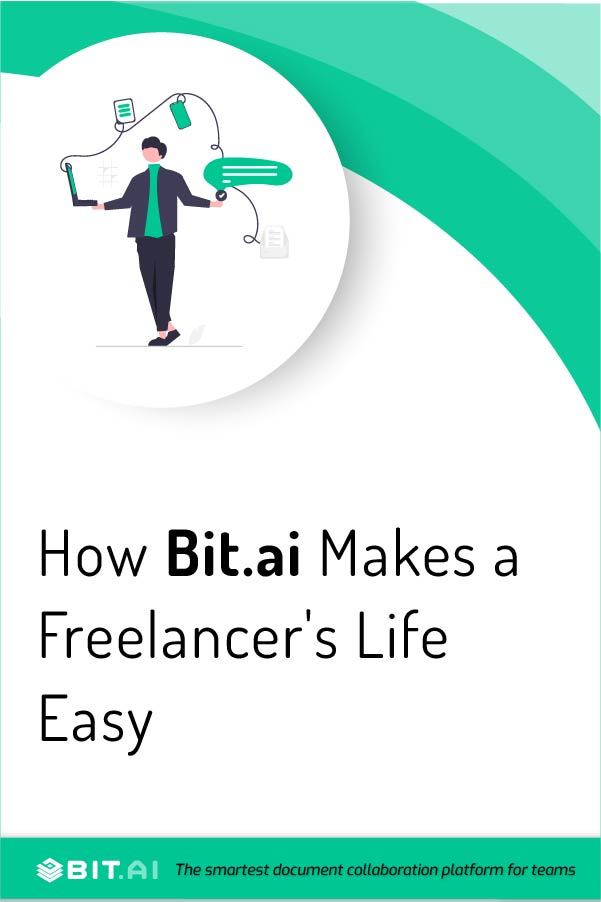 Related posts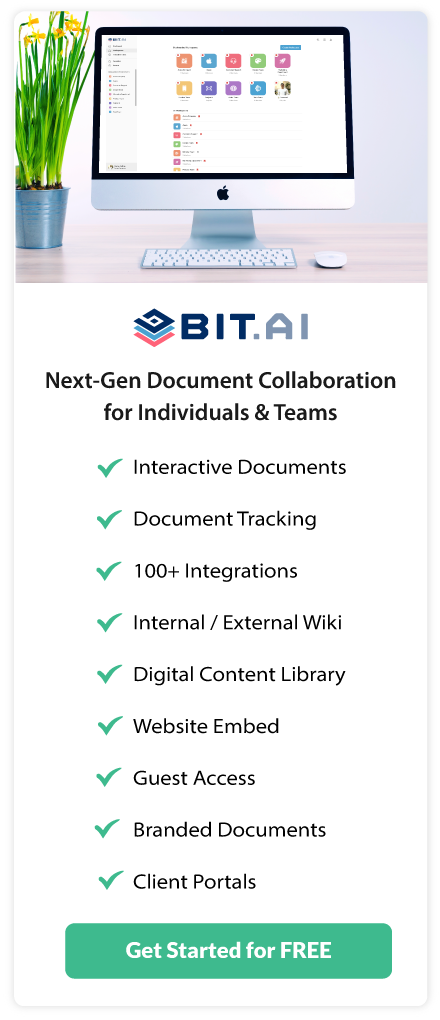 About Bit.ai
Bit.ai is the essential next-gen workplace and document collaboration platform. that helps teams share knowledge by connecting any type of digital content. With this intuitive, cloud-based solution, anyone can work visually and collaborate in real-time while creating internal notes, team projects, knowledge bases, client-facing content, and more.
The smartest online Google Docs and Word alternative, Bit.ai is used in over 100 countries by professionals everywhere, from IT teams creating internal documentation and knowledge bases, to sales and marketing teams sharing client materials and client portals.
👉👉Click Here to Check out Bit.ai.