Hiring a full-time employee for a short-term project would mean that you have to go through a tiring process of recruitment. Not just that, you'll also need to have extra bucks to afford someone new as well.
This is where a freelancer comes in. A freelancer is a person who specializes in a certain field of work and works for a company during a specific period or for a specific work/project.
But more often than not, freelancers tend to get exploited through unpaid work and extra hours. That's why they ensure that they sign a contract before getting themselves involved with any company.
So if your company does not have a freelance contract ready, then the chances of you getting a good freelance worker will be pretty slim.
Don't know anything about freelance contracts? Don't worry, you are in the right place.
In this blog, we will cover everything you need to know about freelance contracts and how to create them for your business. Are you ready? Then, dive right in!
What is a Freelance Contract? (Definition)
We all know that a contract is a legal agreement between two or more parties. It's basically a legal-binding written promise that comes with terms and conditions. This is applicable when it comes to freelance work as well.
So a freelance contract is a written legal agreement between a company and a freelance worker. It outlines everything you and your freelancer need to know about the job and establishes the terms and conditions regarding the work.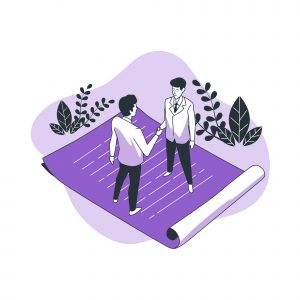 A freelance contract normally includes the names of the parties involved in the specific work or project, the scope of work, time period or deadlines, terms of payment, termination terms, and indemnity
You can send this document to your freelancer to lay out your expectations and to make sure that everyone involved is on the same page regarding the specific work. It defines your working relationship and can be used in a court of law in case of a dispute.
In essence, a freelance contract gives you and your freelancer the right to say "hey, that wasn't in our contract" if something goes wrong.
But what makes this document so important? Read on to find out…

Benefits of Creating a Freelancer Contract
Here are a few benefits of having a freelance contract. It:
1. Provides Details
A freelance contract lays down the what, how, where, when, why, and who of the specific project. These details will help your freelancer understand the scope of work and everything there is known about your project.
With proper terms and conditions are written down, it also ensures that there is transparency in the transactions between you and your freelancer.
2. Serves as a Reference
Disagreements and issues are bound to arise during a freelancer's work time period. In such a situation, freelance contracts act as a solid reference for clarifications. This will prevent miscommunications, clear off any misunderstandings, and save you time and effort in arguments.
3. Sets Defined Payments
A freelance contract helps to define income and pay rates. This means that your freelancer will have a defined and fixed income or payment from your specific project stated in the document, leaving no room for any miscommunications.
4. Provides Legal Backup
Since a freelance contract is a legally bound document, it provides legal backup for you and your freelancer.
This means that in the event of a disagreement or breach of contract, you will be legally protected by the freelance contract and will be allowed to take it up to court to solve the case.
5. Builds a Professional Relationship
A freelance contract is beneficial for you and your freelance work as it establishes a healthy working relationship. Since it protects both parties involved, it helps build a professional and fair relationship between your company and the freelancer.
In short, a freelance contract provides a win-win situation for you and your freelance worker.
Now that you know how important a role it plays, why don't we get down to the nitty-gritty of writing a well-structured and well-defined freelance contract!
How to Write a Freelance Contract in Simple Steps?
The following are the steps involved in writing a freelance contract:
Step 1. Provide the Name of the Parties Involved
This is plain and simple – you have to ensure that you include your company's legal business name and your freelancer's legal business name in the freelance contract. You can also mention the title by which you will refer the individual throughout the contract.
This establishes that your company and the freelancer are entering into a professional business agreement.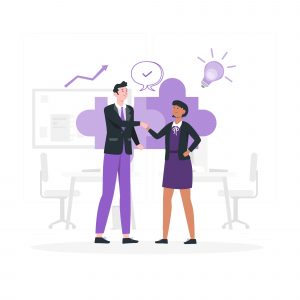 In case you are entering into a freelance contract with another business, then make sure that you include their full legal name with 'Inc.' or 'LLC' as a suffix.
Step 2. Give a Description of Services
The next important thing to be included in your freelance contract is the description of the services you expect from the freelancer. This is where you will outline the specifics of your work, which is basically defining what the project is and what work is involved.
Here, you can provide the scope of the work by:
Stating the skills and knowledge required for carrying out the project or work
Laying down the roles and responsibilities of the freelancer in order to complete the specific work or job
Mention details of the deliverables or the final product
This ensures that your freelancer is very well aware of what they are going to do and what work falls within the contract.
Step 3. Mention the Time Frame
Once you have provided the description of the services, the next step is to establish a time frame or duration for your freelance contract. Here, you can lay down any deadlines that you might expect your freelance worker to complete.
Formalizing a time duration and breaking up tasks into smaller deadlines ensures that your work is organized and you get them done on time.
Step 4. Specify Compensation
This section is one of the most important parts of your freelance contract. Here you detail how you plan to compensate and how much you plan to compensate for the work or project that your freelancer does. It decides whether a freelancer will accept and sign your contract.
Specify the exact rates, payment methods, and the date of payment in the initial stage itself so that it is clear to the freelancer what they are agreeing to be charged. You can charge by the hour, by the day, by the workload or even a flat bulk payment.
Step 5. Detail the Termination Terms
Another major aspect of a freelance contract is the termination or cancellation clause. This section is where you specify the circumstances for terminating or canceling the contract.
Here you can state the procedures for the final date of the contract or you can mention cases of early termination which can be due to missed deadlines or missed payments.
Step 6. Mention Copyrights and Ownership
Depending on what type of work or project you are asking the freelancer to do, this section can describe the details regarding the copyrights and ownership of the content or property.
If your work contains confidential or private information, then you can include a confidentiality clause that prohibits the disclosure of any such data.
Step 7. Include Indemnity
Indemnity refers to security or protection against the legal liability of a party's action. This section is included as a security for all the parties involved in the freelance contract.
Here, you can detail the consequences one must face if one fails to fulfill the duties and obligations mentioned in the contract. In case there is a breach of conduct, misconduct, negligence, or infringement of intellectual property rights, then you or the freelancer has the right to file a lawsuit.
… and that's pretty much all you need to know in order to create a well-structured freelance contract.
Before you go, we'd like to introduce to you a tool that makes writing freelance contracts or any other contracts as easy as a breeze.
Don't believe us? Scroll down and find out!
Bit.ai: Tool for Writing All Sorts of Freelancing Documents

We know that writing a contract from scratch is definitely not a walk in the park. There are so many sections that you need to include and managing it all can be time-consuming and even exhausting.
This is where Bit.ai comes in!
It is a cloud-based document creation and collaboration platform, designed exclusively to satisfy all your documentation needs. It is the perfect tool for creating your freelance contract!
With bit, you can create, edit, organize, manage, and share your freelance contracts all under one roof, and that too in a matter of a few minutes!
Why do we say that Bit is the perfect tool for creating freelance contracts? Check out these amazing features of Bit:
1. Ready-made Templates
Bit has an extensive template gallery that offers over 70+ professionally designed templates from which you can choose your favorite one!
This means that creating a freelance contract just got easier for you. All you have to do is pick a template and fill in your customized content and you'll get the whole draft ready in a few minutes!
2. Auto-formatting
With bit's auto-formatting feature, you longer have to waste your time trying to fix the format of your freelance contract. Bit will automatically format your entire document to give a very uniform and consistent look.
3. Smart Workspaces
Sometimes, your business might have to deal with multiple freelance workers at a time. This might mean that you'll have to create multiple freelance contracts and manage information around each one.
With bit, you can create workspaces and folders around multiple freelance workers to help you manage and organize each contract super efficiently.
4. Real-time Collaboration
While creating a freelance contract, you might need some suggestions and feedback from your teammates or other people involved in your business. Bit allows you to do this through its real-time collaboration feature.
This means that you can seamlessly collaborate with your team and work together on the same document, chat privately, make inline comments, co-edit, and do so much more in order to create a perfect freelance contract.
Read More: How Bit.ai Makes a Freelancer's Life Easy?
5. Simple UI
The best part about bit is that even though it is jam-packed with features, it has a simple and easy-to-understand user interface.
This makes it extremely easy for new users to get on board with the platform and use it for creating and collaborating.
6. Document Sharing
With bit, there are so many different ways that you can share your freelance contract. You can export your document by converting it into Docx, PDF, and other formats or use Bit's link-sharing option to share your document with anyone you want.
All-in-all Bit is a super awesome tool that has all the perfect features for helping you create a well-structured freelance contract.
So what are you waiting for? Just get Bit and make your life easy!
Conclusion
It goes without saying that a good freelance contract acts like a safety net that you can fall back on if things get a bit messy.
It's imperative that you have one ready so that a common understanding can be maintained between you and the freelancer.
In this blog, we have equipped you with a step-by-step guide on how to create a freelance contract and provide you with an amazing tool like Bit to make the process even easier.
Now all you have to do is get that freelance contract ready and seal the deal!
Further Reads:
Consulting Agreement or Contract: What is it & How to Create it?
Profit Sharing Agreement: What is it & How to Create it?
Service Contract: What is it and How to Draft a Perfect One?
Design Proposal: What is it & How to Create it?
Contract Workers Vs Employees: Learn About The Major Differences!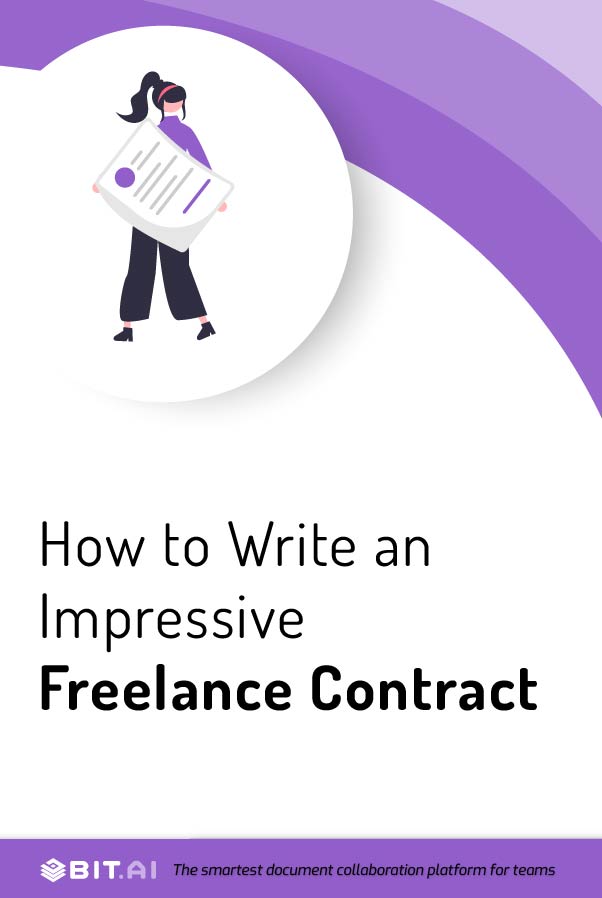 Related posts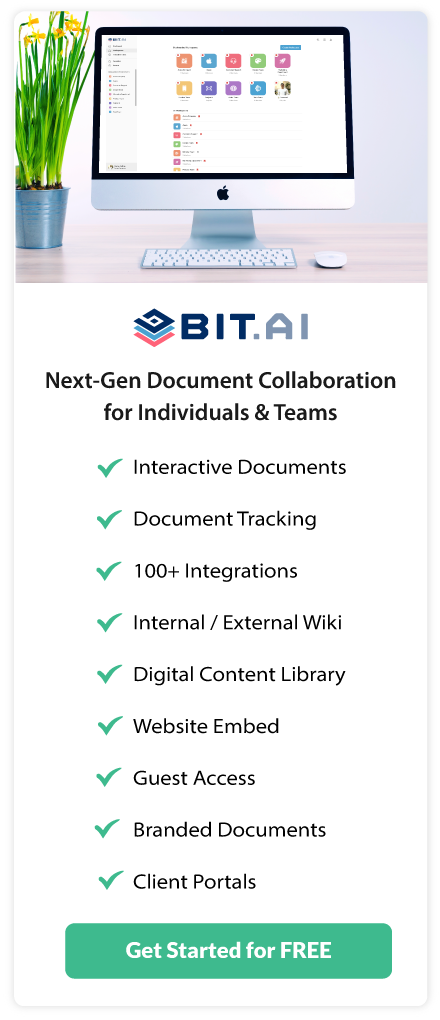 About Bit.ai
Bit.ai is the essential next-gen workplace and document collaboration platform. that helps teams share knowledge by connecting any type of digital content. With this intuitive, cloud-based solution, anyone can work visually and collaborate in real-time while creating internal notes, team projects, knowledge bases, client-facing content, and more.
The smartest online Google Docs and Word alternative, Bit.ai is used in over 100 countries by professionals everywhere, from IT teams creating internal documentation and knowledge bases, to sales and marketing teams sharing client materials and client portals.
👉👉Click Here to Check out Bit.ai.