"There is only one boss. The customer. And he can fire everybody in the company from the chairman on down, simply by spending his money somewhere else." -Sam Walton
Crafting the right product, finding the right market, spending hard-earned dollars on marketing, hiring the best talent- all are essential ingredients in order to start and grow a successful business. However, we often forget the most important part of the equation- the customers!
Customers are the backbone of every business as, without them, no business can exist. Therefore, keeping your customers happy and satisfied should be the number one priority of every business. This makes customer service, one of the most crucial elements of a business strategy.
Why Great Customer Service is Important?
There's an old saying which goes like "the customer is always right". Now, the customer may not ALWAYS be right, but they do pay your bills, which is something every customer service rep should keep in mind while dealing with customer issues.
When you give a bad experience to your customers, you not only end up losing money but you also risk losing your reputation in the market. And with today's digital world, one bad experience could be enough to ruin your market value in minutes.
Don't believe us? Well, take a look at these stats and see for yourself…
A massive $1.6 trillion is lost by companies in the United States due to customers switching as a result of poor customer service. (Accenture)
A Walker study found that by the year 2020, customer experience will overtake price and product as the key brand differentiator.
According to the 2017 State of Global Customer Service Report, 54% of customers have higher expectations for customer service today compared to one year ago.
73% of customers fall in love with a brand because of friendly customer service representatives
64% of customers want to shop with companies that can meet their needs in real-time. (Salesforce)
A NewVoiceMedia survey reveals companies lost $75 billion in 2017 from customers switching to competitors due to bad customer service. This figure is up from $62 billion in 2016.
7 out of 10 U.S. customers state that they would spend more to guarantee a great consumer experience.
As evident from the above stats, treating your customers right and resolving their issues and queries as quickly as possible should be an integral part of your marketing strategy.
A good way for companies to ensure great customer service is by providing proper training to employees and customer service representatives.
And a great way to do that is via a customer service manual. So, without wasting any more time, let's get straight to the point and see what are the most important elements of a perfect customer service training manual!
Read more: Top 9 Customer Service Software for Small Businesses
What You Should Include in Customer Service Training Manuals?
A customer service training manual should provide everything an employee needs to be well-versed with great customer service ethics. Some of the most important elements of a customer service training manual include:
‍Introduction: Describe your company's policy to your customer service reps and employees.
Key Elements: Select 3-5 key elements that you want your team to focus on. Provide explanations and examples.
Frequently Asked Questions: Share a list of frequently asked questions your employees might get.
Resources: Include PDFs, Issue Forms, Contact list, videos, etc.
Feedback Survey: With any employee training, it's always a great idea to include a feedback survey where they can provide thoughts and feedback on what you're sharing.
Read more: Employee Training Software for More Efficient Employees!

How to Create a Customer Service Training Manual Easily?
Creating a Customer Service Training Manual is not an easy job. Here's why:
A Customer Service Training Manual is not a single-page document you can crank out quickly. You have to have a deep understanding of the product, company norms, relationship with the customer, the overall tone of writing, rules, policies, ethics, and other procedures.
If you work for a large organization, creating a Customer Service Training Manual might require inputs from upper management, the sales staff, experienced customer service reps, etc. Bringing all these people under a single rood to give feedback and suggestions can get a

bit tricky.

Creating a Customer Service Training Manual might require a team of writers, editors, and proofreaders to make sure the document is error-free and is written in a structural, easy-to-understand manner.
Moreover, writing the training manual requires a documentation tool to create the manual as well as a knowledge management tool to safely store all information in a central location.
Lastly, your Customer Service Training Manual is alive, an ongoing document that requires constant updates and changes to make sure you are teaching only the best practices to your employees and keeping your customers satisfied.
Sounds like a lot, right? Well, there's no need to be overwhelmed as we have an awesome tool for you to quickly create a customer service training manual easily!
Read more: Top 9 Customer Onboarding Software Platforms For Businesses
Here's the Smartest Way to Create Your Customer Service Training Manual?
After learning the why and what of customer service training manuals, we know you are itching to get on with the work of creating one.
However, what good is knowledge if you don't have the means to deploy it? This is why we would like to introduce you to Bit, the smartest document collaboration tool to create training manuals and other digital workplace documents.
Bit.ai is a new-age document management and collaboration tool that helps teams to collaborate, share, track and manage all company knowledge in one place. It's the perfect tool to create, store and share a customer service training manual.
Bit has an amazing UI that's easy to understand by a new user, making onboarding easier. The user experience is phenomenal too as things flow from documents to workspaces swiftly.

Apart from training manuals, employees can create everyday documents like ebooks, case studies, employee onboarding docs, fact sheets, sales decks, project proposals, media kits, and many more.
Bit helps you create documents of the future that are dynamic and much more than plain-boring text. Thus, apart from allowing multiple users to collaborate on documents, Bit also allows users to share any sort of rich media like YouTube videos, SoundCloud Playlists, Google Docs, One Drive Excel Spreadsheets, GIFs, Tweets, etc.

Basically, anything on the internet with a link (i.e. https://…) can be shared and Bit will automatically turn it into visual content. Did I mention organizing your documents now is a breeze…
Read more: How To Create A Customer Service Policy
Why create training manuals on bit.ai?
Not sure how Bit can help you write the perfect customer service training manual? Let's see some of Bit's awesome capabilities!
1. A distraction-free yet powerful editor
Bit's minimal document editor allows you to create your customer service training manual without the distraction of unnecessary buttons and tabs.
But don't underestimate its capabilities as it's powerful enough to format and design your training manuals in any way you like. The editor also supports markdown to make it easy for writers to type quickly and swiftly.
2. Bring your teammates under one roof!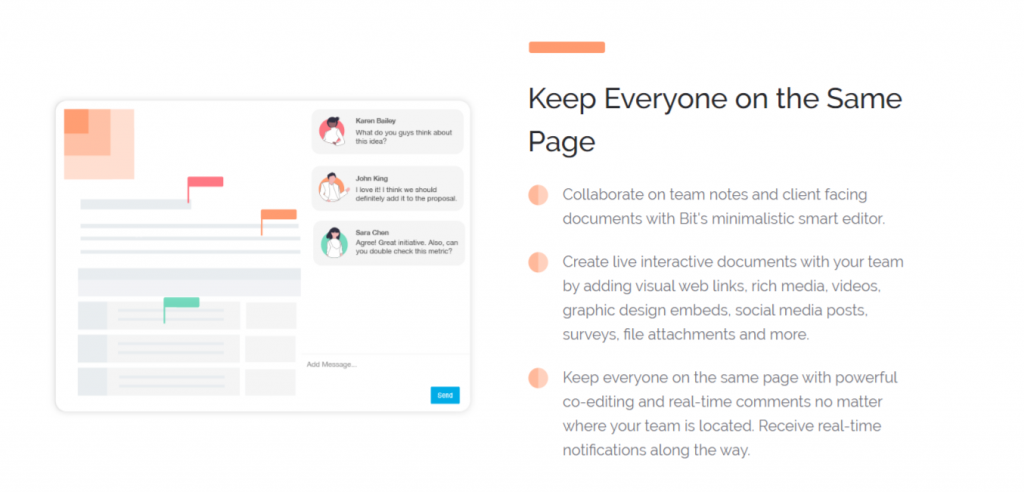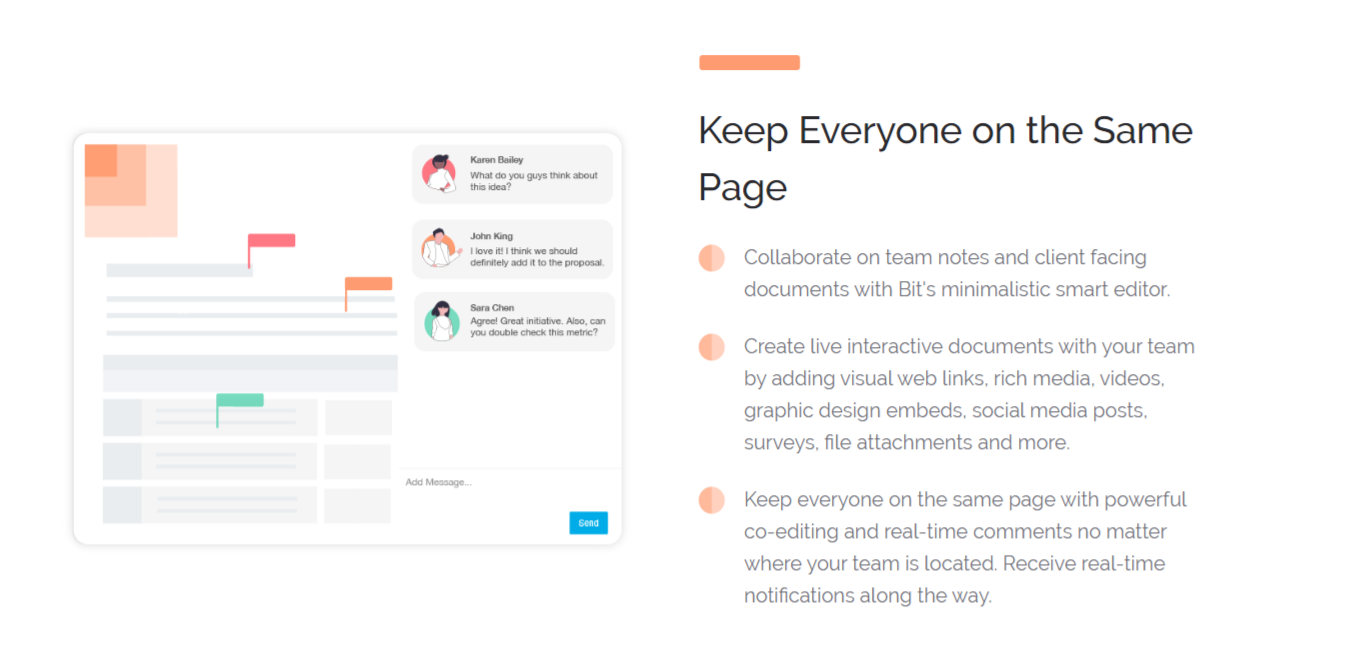 Creating a customer service training manual from scratch can take up a ton of time and effort. You have to start by incorporating information from various sources, research content, get feedback from experienced customer reps, come up with an outline, add awesome visuals, and create an overall experience for your employees that is interactive and at the same time, easy to follow. Doing all of this alone can be pretty daunting and can take up a lot of time.
Thus, Bit allows employees to work together under a single virtual roof and get the manual ready as fast as you can. Real-time collaboration could mean that teams can brainstorm ideas together and bring both content and design people in a single workspace.
Bit allows teams to collaborate together, give real-time feedback, suggest changes and get work done quicker. Most importantly, you no longer have to worry about those dreaded back-and-forth emails!
Read more: How To Create A Customer Survey For Better Insights
3. Create an interactive customer service training manual!
Since customer service training manuals are long-form documents, having to read so much text can be boring and ineffective. In this digital age, you need your content to stand out. Gone are the days of plain boring text manuals.
If you want to engage users and make sure that your employees read the training manual you need to make it interactive. While other document editors limit your creativity by only allowing you to add text and images in your document, Bit is miles ahead.
Bit empowers you to add any type of rich media content, like video lessons, Google Docs Spreadsheets, PDFs, presentations, Spotify playlists, SlideShares, GIFs, Polls, and Quizzes, etc. With Bit, you can create smart customer service manuals by including hundreds of file types and making it dynamic and interactive.
Read more: How to Create a Smarter Employee Handbook
4. Automated table of contents
Bit also has an automated table of contents based on the headers you add to your document. This makes sure you can scroll to different sections of your customer service quickly as a creator, collaborator, and for your audience viewing the final published document!
5. Make it easy with Wiki
Bit documents inside the same workspace can be easily interlinked to create a beautiful internal wiki. If you want to interlink different reference articles or content inside your training manual, you can easily do it in one click.
6. Track those documents
How do you even know whether your employees have fully gone through the customer service training manual you created and distributed? With Bit, you can track the time spent by employees on these training manuals, how frequently they were viewed, or if they were viewed at all.
This is extremely helpful as it gives you an idea of whether new employees have actually read the training material given to them. Bit allows you to track your documents and gain amazing insights, helping you create an even better version of your manuals.
7. Multiple ways to share
 Bit documents can be shared in a live state meaning that all changes that you make to the document will update in real-time. If you are sharing your documents with clients, they will always get your most up-to-date changes.
You can even embed Bit documents on any website or blog. Since Bit documents render and are responsive, any changes made to the document will reflect live on the site! Moreover, features like document tracking, password protection, file access restrictions, etc. help keep your manuals and other workplace documents safe. 
To make the process of creating a customer service training manual even easier for you, we have created a ready-made template for you! Check it out below:

How to use Customer Service Training Manual Template with Bit
The process of creating a customer service training manual document on Bit is insanely easy! Just follow these four simple steps to create a customer service training manual document quickly:
Step 1: Create a Bit Account
Go the home page of Bit.ai and click on Get Started for Free or Sign Up to get started. Enter your email address to sign up. Once in, you can create your personal profile.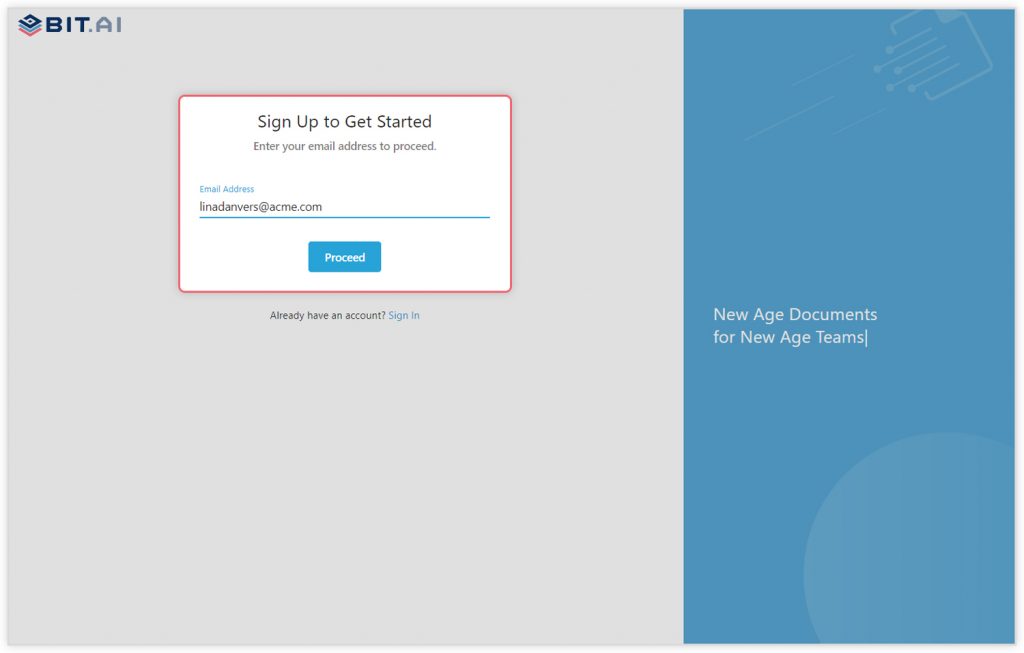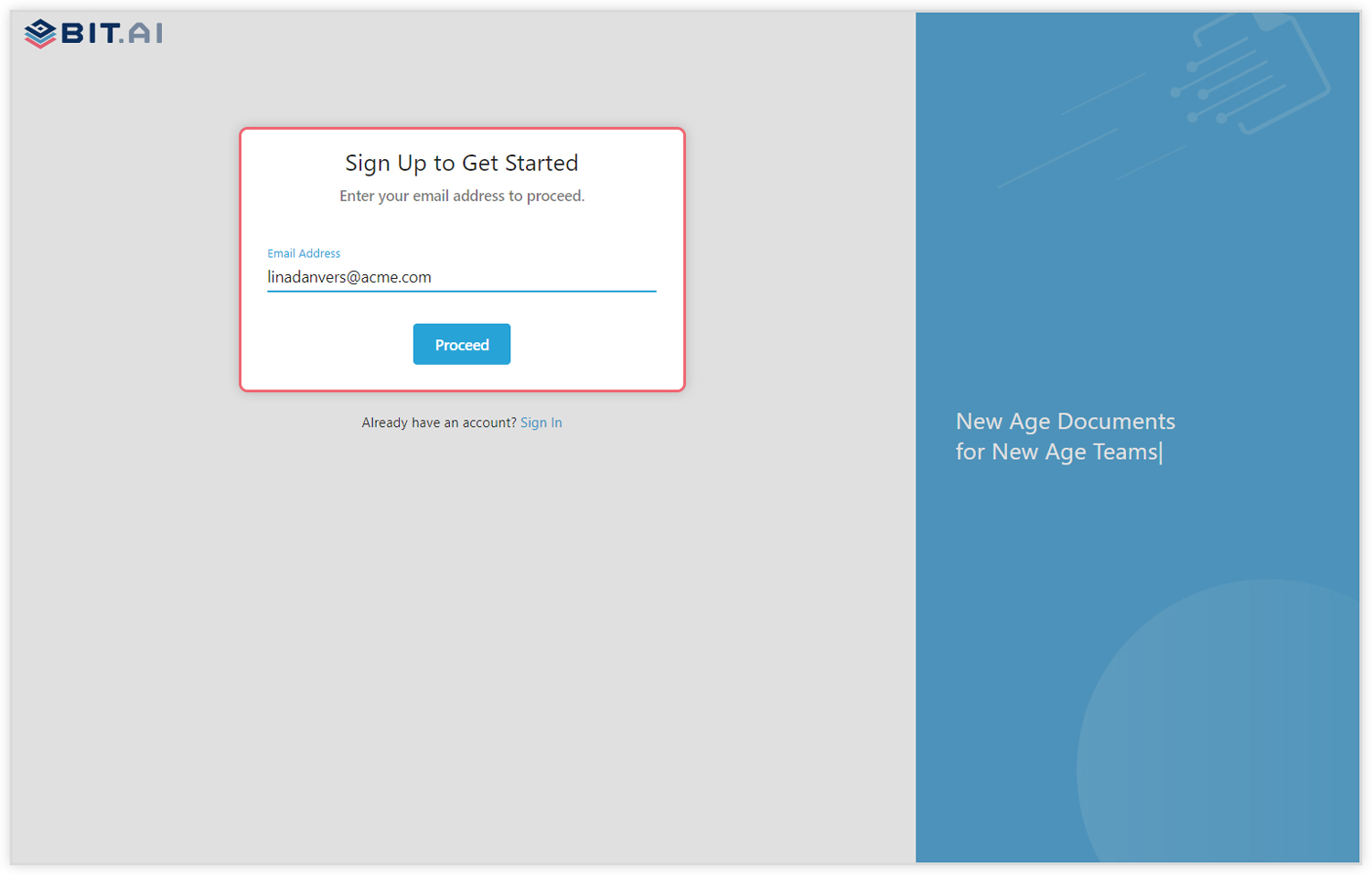 Step 2: Create a Workspace
Workspaces are where the work gets done. Click on the 'Create Workspace' button on the right. A popup will show up prompting you to add a name for your new workspace.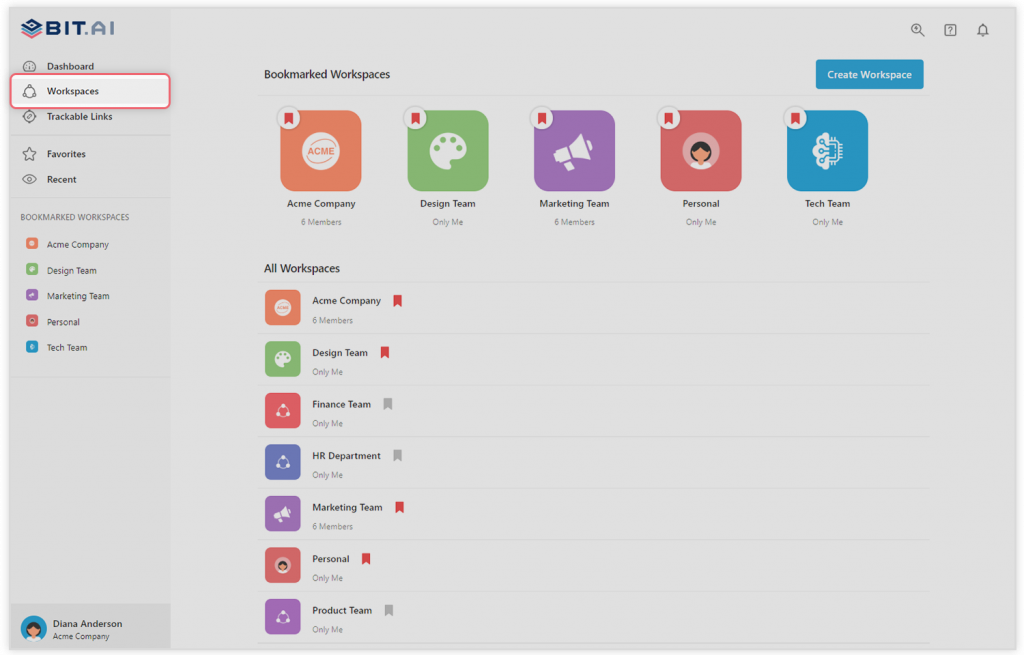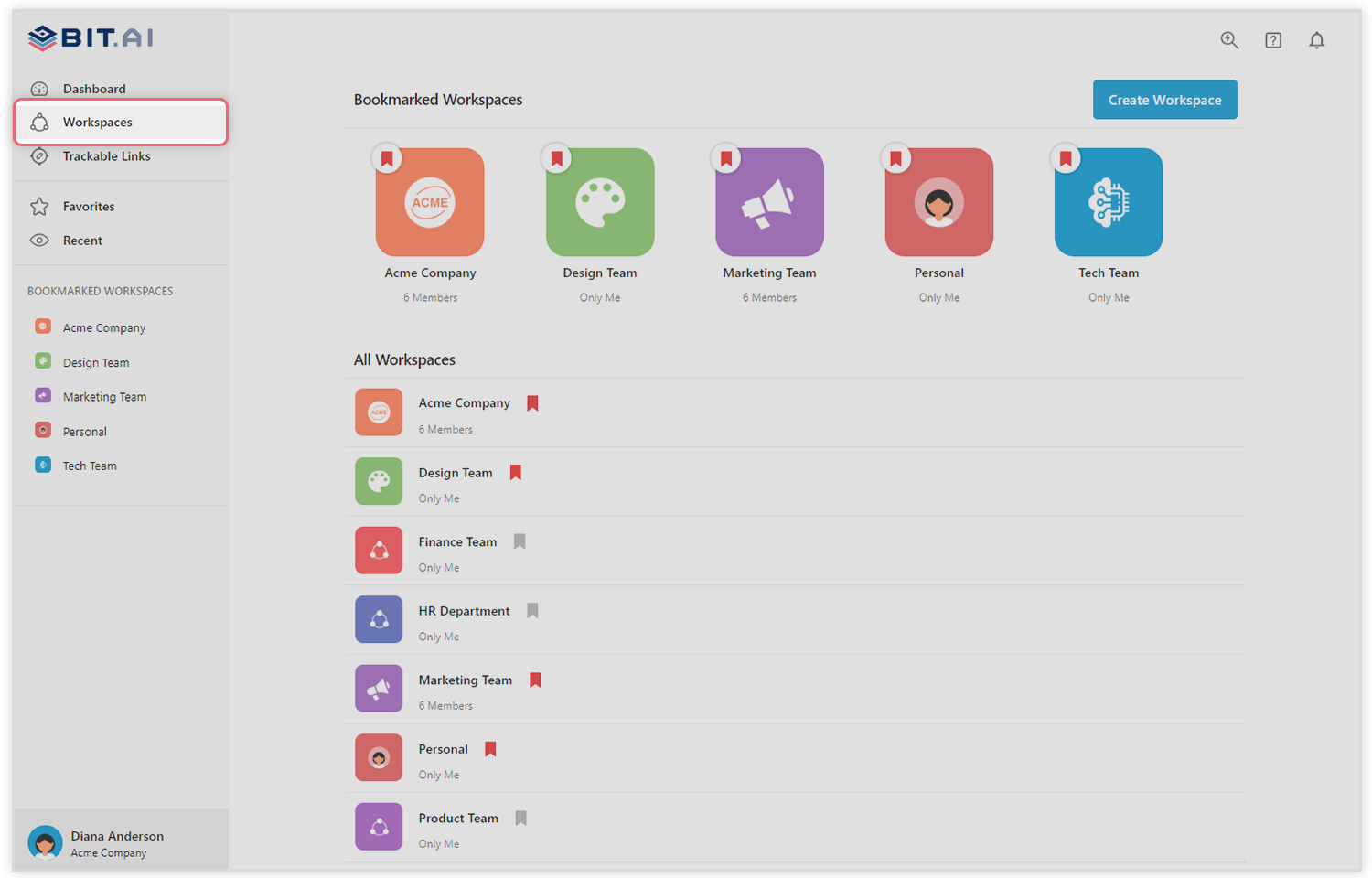 You can create a workspace around a team, department, large project, client, partner, etc. Inside each workspace, you can create an unlimited amount of Bit documents and access your content library (storage area for all of your digital assets – web links, files, cloud files, rich embeds, etc.).
Step 3: Add Team Members
Bit allows your team members to collaborate in real-time and get work done. Collaboration starts at the workspace level.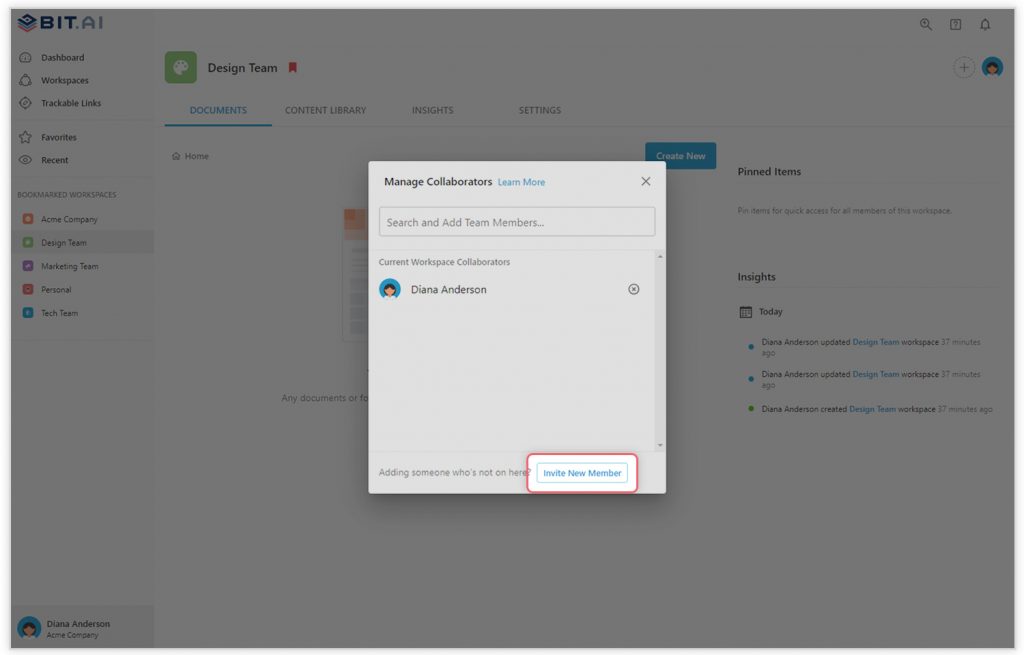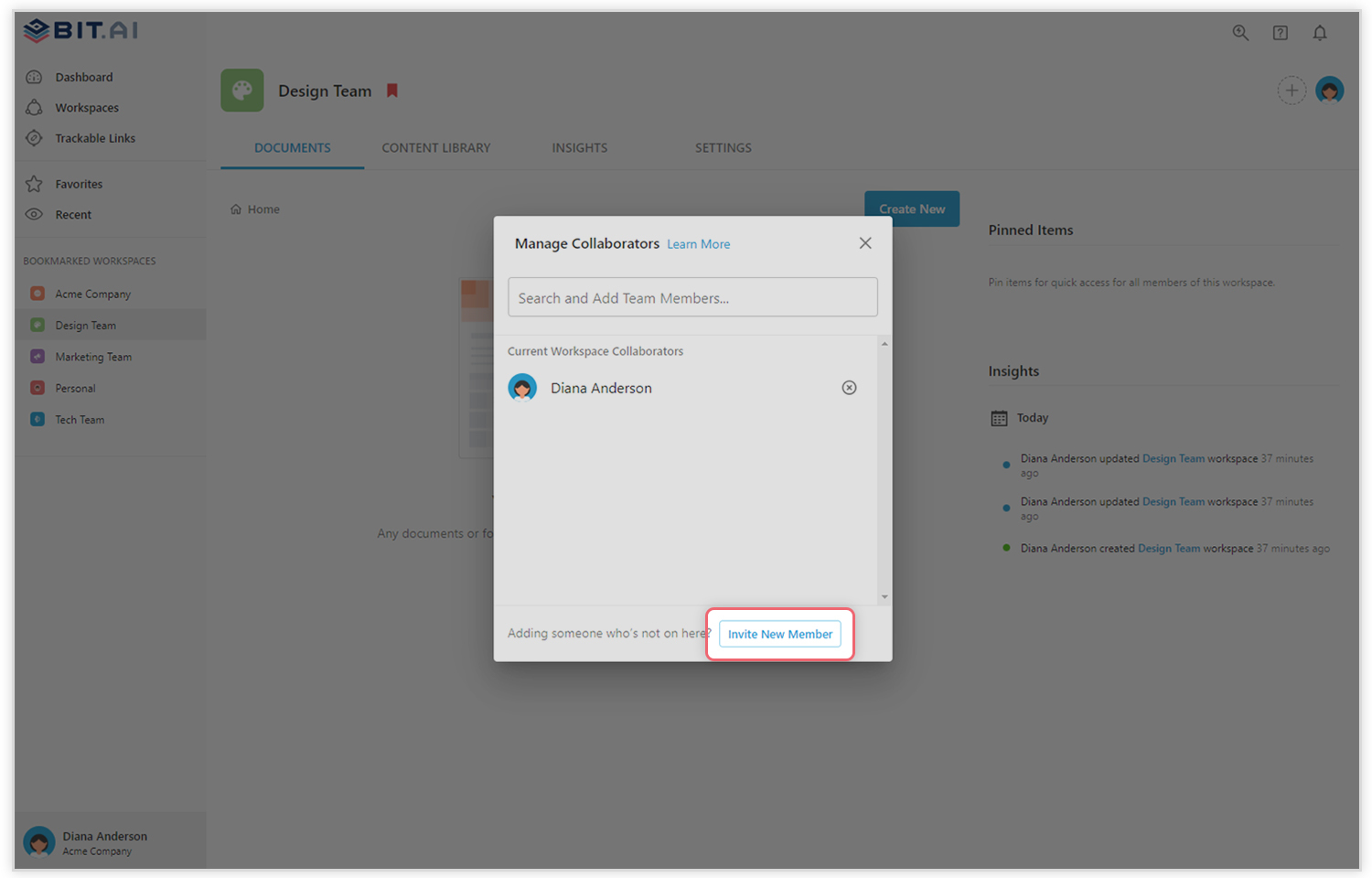 You create private workspaces by default. However, you can invite others to join you inside of a workspace and collaborate together with the knowledge, projects, documents and content inside of the workspace.
Step 4: Create Your Desired Document
Once you are in the workspace, click on the 'Create New' button. Select 'From Template' in the dropdown. A pop up will display allowing you to select a template from the gallery.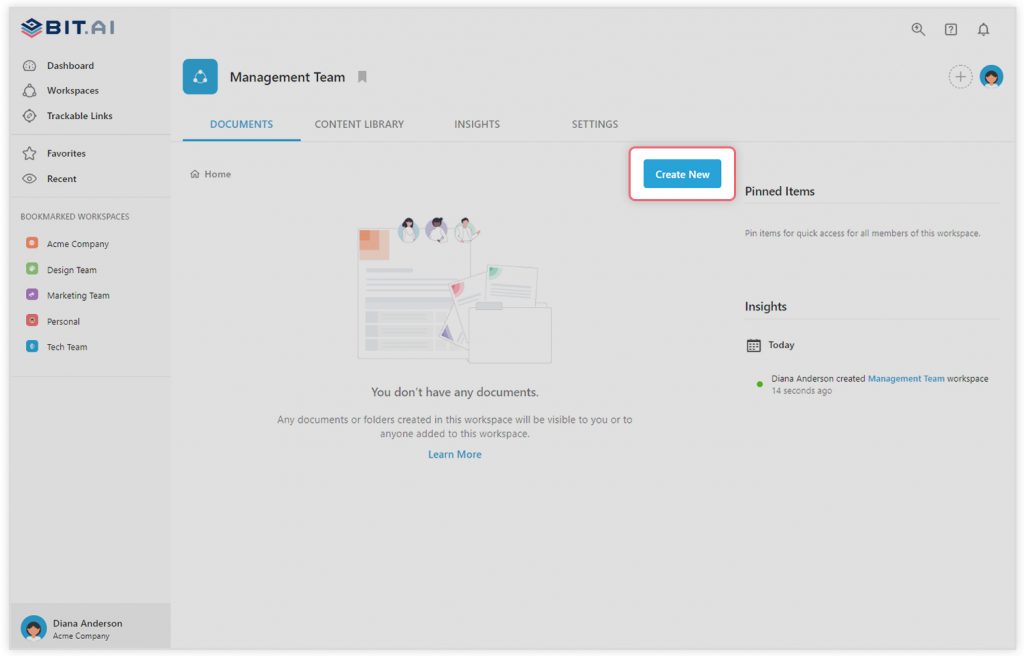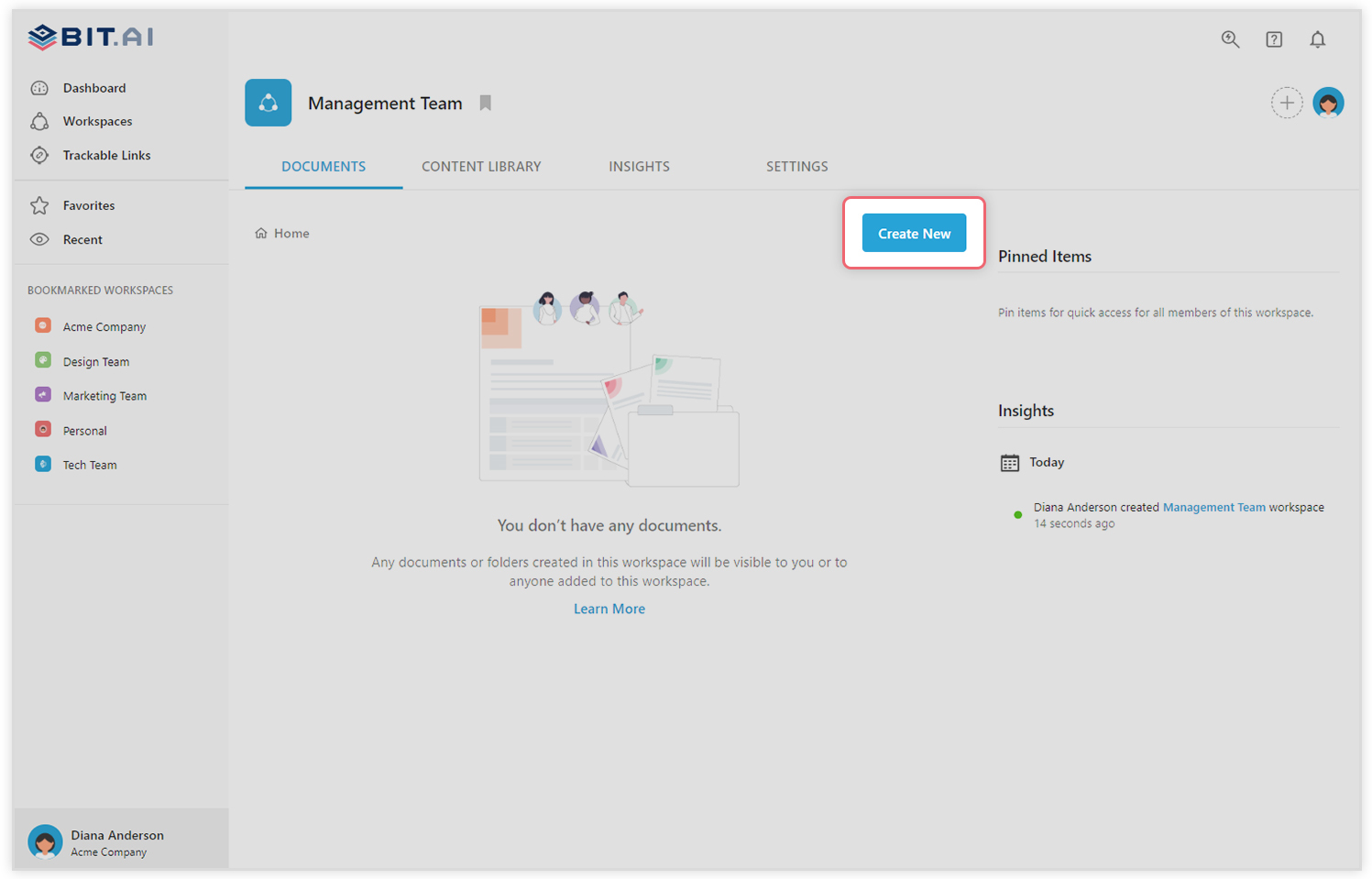 In the search box on the top left corner, you can search for "a customer service training manual template". Once your desired template pops up, click on it and click on the "Use Template" button on the bottom right corner.
That's it! Your customer service training manual document is ready for use!
Our team at bit.ai has created a few awesome customer service templates to make your processes more efficient. Make sure to check them out before you go, your team might need them!
🎥Watch this video to learn more👇
Final Words
Good customer service is the foundation of any flourishing business. Customers now expect quicker (almost instant) response times, less to-and-fro emailing, and greater transparency.
With changing customer expectations and behavior, it's essential that we train our employees to meet and subsequently, exceed these expectations. Training manuals are a great way to ensure that employees are up to speed with new practices and have everything they need to provide exceptional service.
However, creating a customer service training manual is no easy task- you have to study, draft, and design it in a way that is most effective.
At Bit, we empower companies to get the work done in half the time and with more conviction. And with our awesome template, we doubt you'd have any problems crafting the perfect training manual. If you need any help, let us know by tweeting us @bit_docs. Cheers!
Further reads: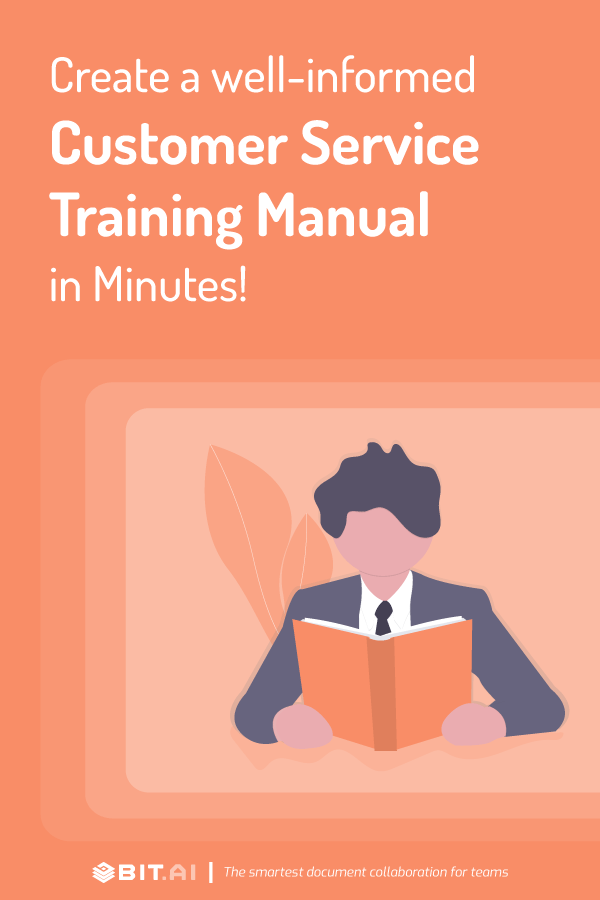 Related posts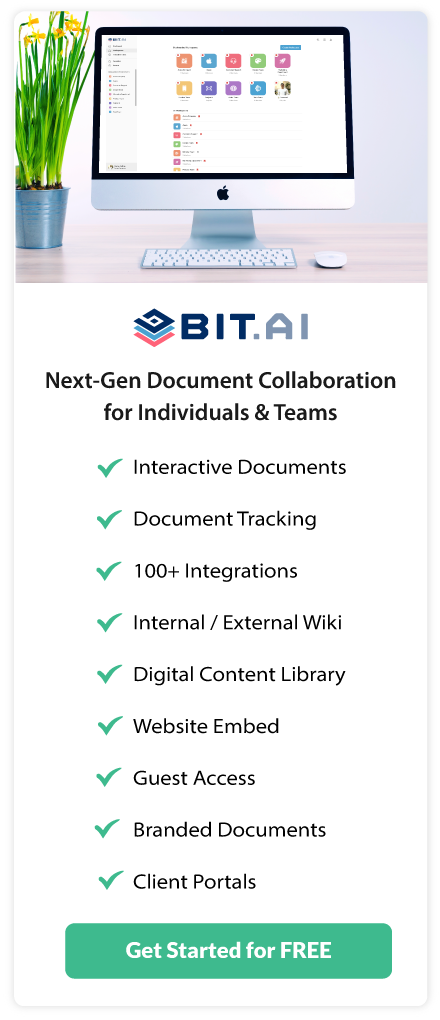 About Bit.ai
Bit.ai is the essential next-gen workplace and document collaboration platform. that helps teams share knowledge by connecting any type of digital content. With this intuitive, cloud-based solution, anyone can work visually and collaborate in real-time while creating internal notes, team projects, knowledge bases, client-facing content, and more.
The smartest online Google Docs and Word alternative, Bit.ai is used in over 100 countries by professionals everywhere, from IT teams creating internal documentation and knowledge bases, to sales and marketing teams sharing client materials and client portals.
👉👉Click Here to Check out Bit.ai.