"If you are not taking care of your customer, your competitor will." – Bob Hooey
Taking care your customer should be your number one business priority. After all, without customers, you don't really have a business.
However, the only way you are actively going to take care of your customer is, if you understand their wants and needs.
While most businesses assume what a customer wants or is going to love, its the businesses that truly study and understand the data who are more likely to succeed.
Making assumptions about customer needs is a bad and costly marketing strategy.
Especially in this digital age where the customer leaves so much data trail on your website, on social media, and on search engines, not making use of that data to make better business decisions is foolish, to say the least.
Data is often referred to as the new oil and quite rightfully so. It is data that allows businesses to understand customer action and modify their marketing strategy to deliver better results.
This is where customer analytics tools and software come in. These software tools help provide businesses crucial data about their marketing efforts and customer behavior. Using such data points, companies can better their customers and hence, provide better value.
This is why we decided to curate a list of some of the best customer analytics tools and software out there so you don't have to spend hours on Google search results to find one. So without further ado, let's dive straight in…
List of Best Customer Analytics Tools and Software
From website usage to social media engagement, the following tools cover a wide range of features and capabilities. Go through each one of them and find out your next favorite customer analytics platform. Good luck!
Mixpanel
Google Analytics
Kissmetrics
Woopra
Hotjar
Zoho Pagesense
Crazyegg
Brand24
Brandwatch
Sprout Social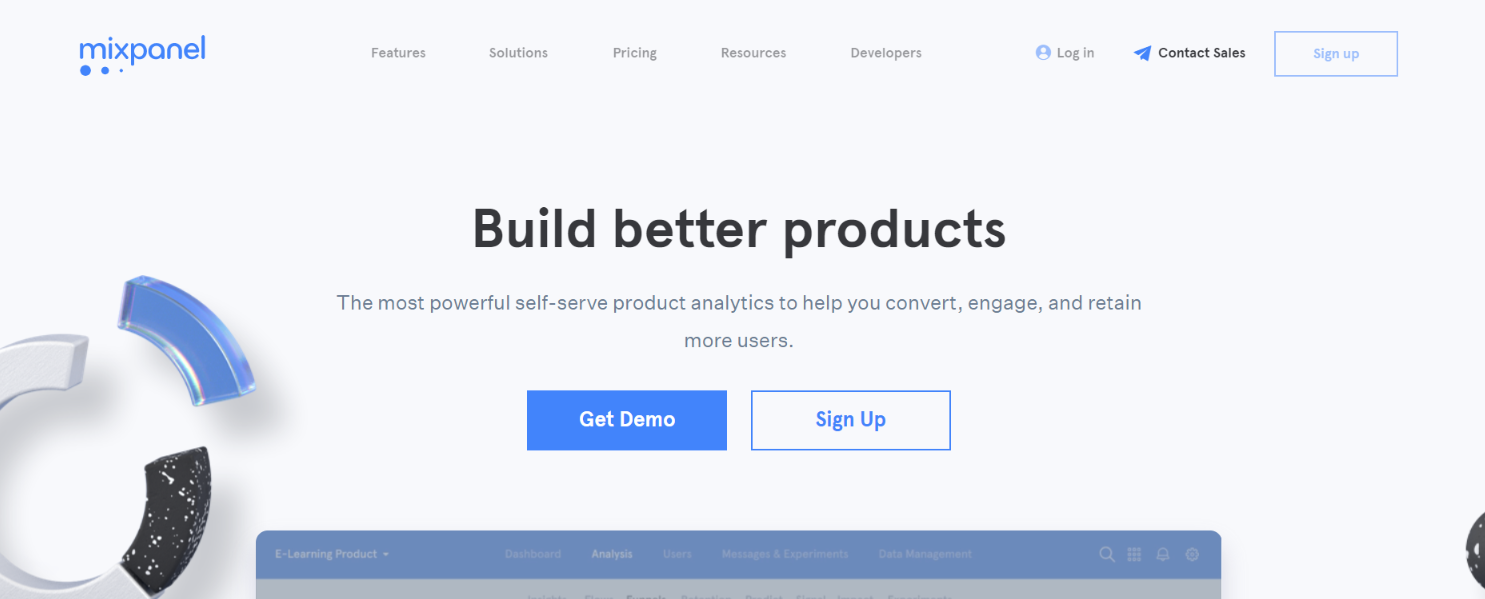 A behavioral analytics platform for web and mobile, Mixpanel is the first tool on our list. A self-serving customer analytics tool, Mixpanel is trusted by over 26,000 companies worldwide, making it one of the best analytics tools out there. Mixpanel allows you to understand how your customers are interacting with your product, which features do they use most often, who are your power users, and other crucial data.
Analyze, measure, and improve customer experience and retention by studying in-depth usage statistics, trends, events tracking, and more using Mixpanel's reporting. The platform also allows you to A/B test different versions of your website, app, or product and then examine which performed the best.
The reports are simple to generate with the ability to create funnels and cohorts, without needing to work on any code. You can also measure product impact and how likely are certain customers to upgrade.
Some cool features of Mixpanel:

Identify at-risk customers and send them timely messages
Finds trends and KPI
Flexible APIs and easy integrations
Pricing:
Free plan with limited features
Pro plan starts from: Pro ($999 per month), Enterprise (contact sales)
Read more: 10 Best Reporting Tools and Software for Businesses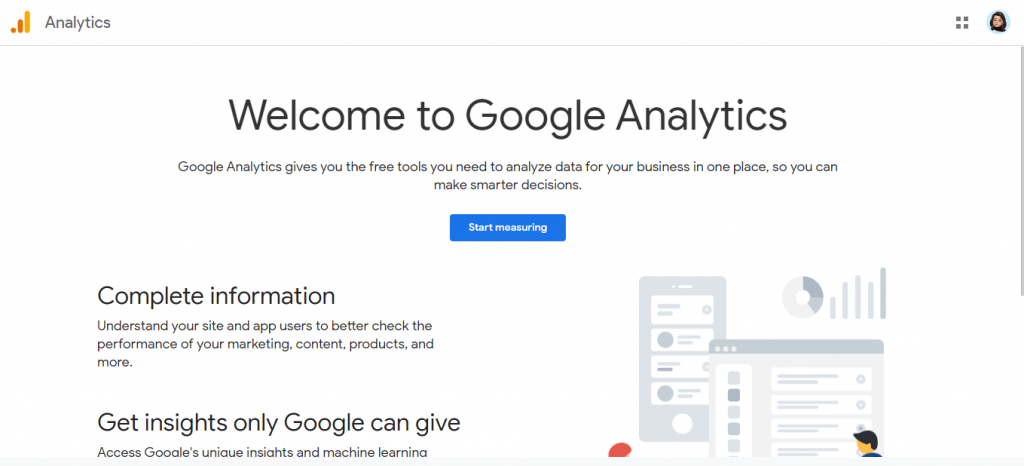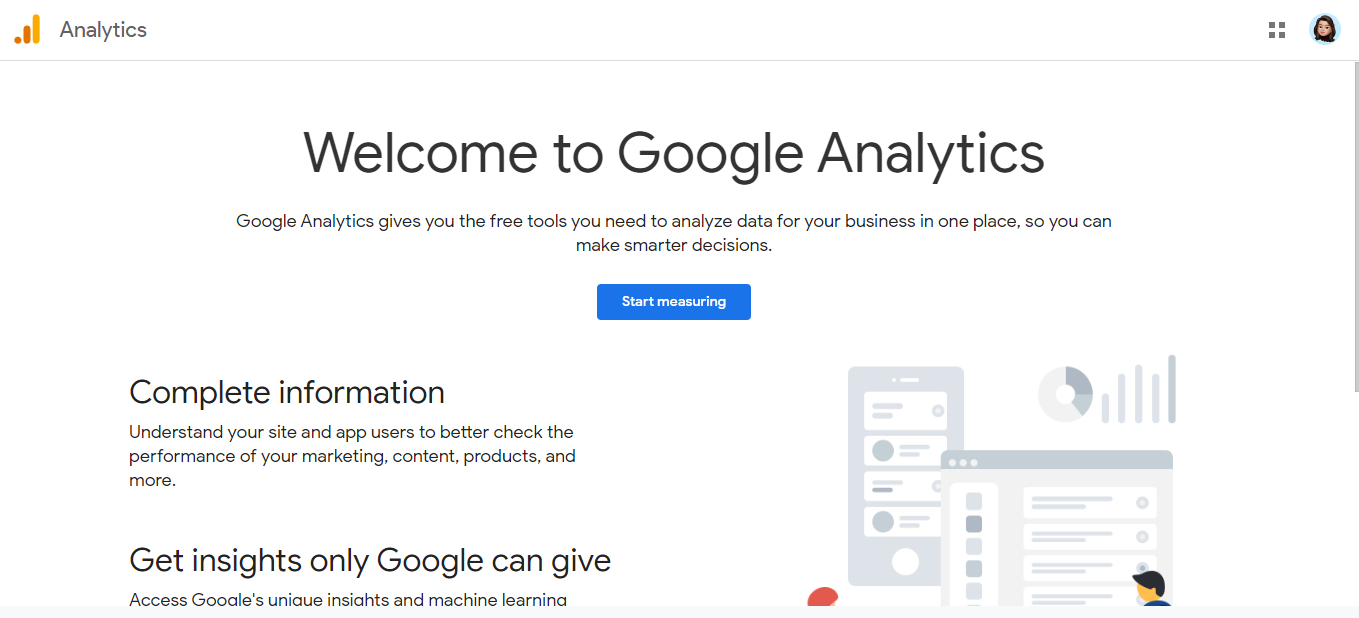 One of the most famous customer analytics tools on our list is Google Analytics. Google Analytics is used by over half of the website owners (55.6% of all the websites) and is a great way to find key customer data points for your website and app.
Website owners assess their marketing performance by creating goals in Google Analytics and see how effective their strategy has been. The can only see real-time data of customers on their website or app and analyze what are their main customer acquisition channels. This data can easily be converted into amazing reports you can share with your team and make decisions accordingly.
Google Optimize platform allows users to perform A/B testing and test out various landing pages for their website or app and see which performs the best. If you are looking for a free tool, Google Analytics is a great choice.
Some cool features of Google Analytics:
See customer behavior and acquisition channels
Quick and amazing reporting
A/B test different layouts
Pricing:
Free plan available
Pro plan starts from: Analytics 360 (contact sales)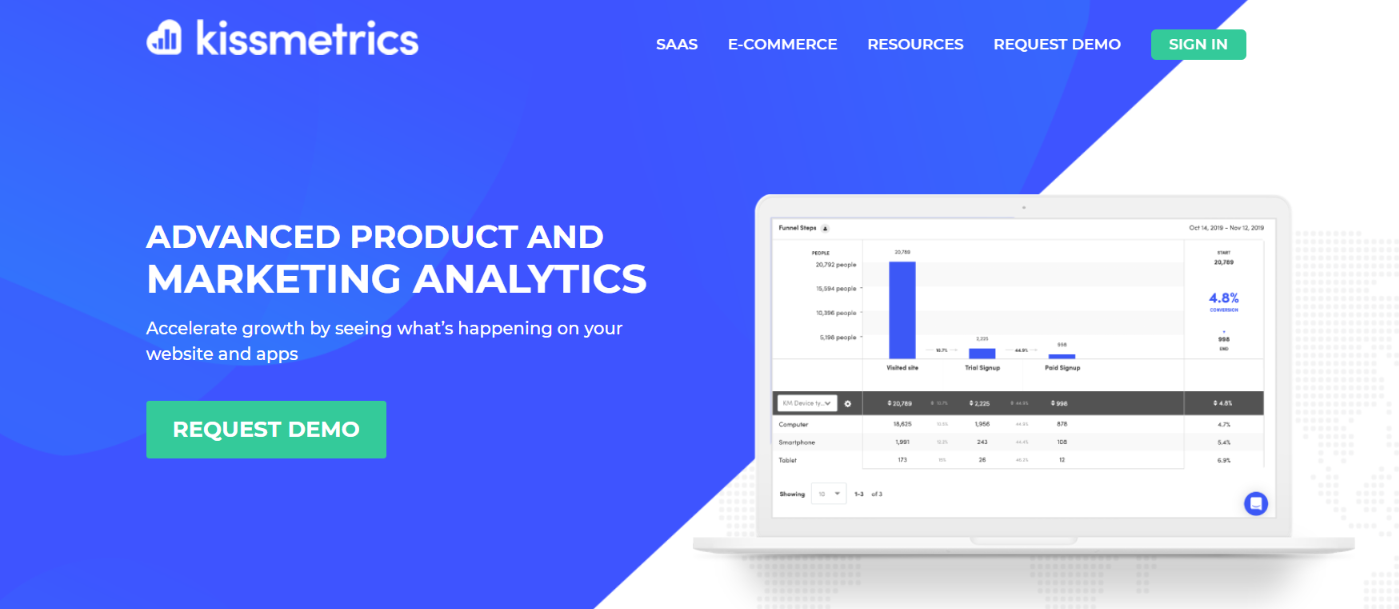 Next up is Kissmterics, a customer behavior analytics tool by Neil Patel. An easy to use the platform, Kissmetrics is designed with marketing and sales teams in mind. Following the theme of your website visitors are actual people and not mere sessions, Kissmetrics provides in-depth analysis of customer journey by tying data to a real person.
Understand how your visitors are interacting with your website, blog, or app, and then re-engage them with highly targeted Facebook and email campaigns. See a customer's full journey across devices and discover the drop-off points. Customer segmentation and precision targeting allow marketers to never let a lead slip by their funnel.
Users can trigger attributes and behavior-based automated emails to keep customers involved. Moreover, track the impact of your email campaigns to see which one drives the most sales. Kissmetrics is also helpful to e-commerce stores with its Woocomerce and Shopify integration that can import shopping history, segment users, and target them with email or social media campaigns.
Some cool features of Google Analytics:
Track customer journey and see which features are most useful for them
Track new subscriptions, churn, trial to signup conversion rate, monthly recurring revenue, and more.
Identify power users and the features they most use.
Pricing:
Free trial available
Pro plan starts from: $400 per month.
Read more: 9 Powerful Mind Mapping Software & Tools You Need to Check Out!


Trusted by over 5000 companies worldwide, Woopra is an end-to-end customer journey analytics that allows brands to track, analyze, and optimize the customer journey. Analyzing various touchpoints of customer interaction, Woopra tracks how visitors are browsing your website or app and provides amazing reports regarding the same.
With people's profiles, Woopra gives insights into the person who is interacting with your website, opening emails, or using certain features. You can then view data about the pages they visited, their last visit, social media profiles, and much more!
If a user gets stuck somewhere on your website, you can automatically trigger messages, emails, slack messages, or Salesforce fields based on their current behavior. Woopra integrates with over 50 apps like Zenddesk, Slack, Marketo, Salesforce, and more to bring all your customer analytics in one place.
Some cool features of Woopra
See customer journey reports and visualize how visitors move through your website
Catch trends like feature usage, subscription-based on location, campaign performance by source, and more
Cohort reports seeing signup date, acquisition date, first purchaser date, and more.
Pricing:
Free plan with limited features
Pro plan starts from: Pro ($999 per month), Enterprise (contact sales)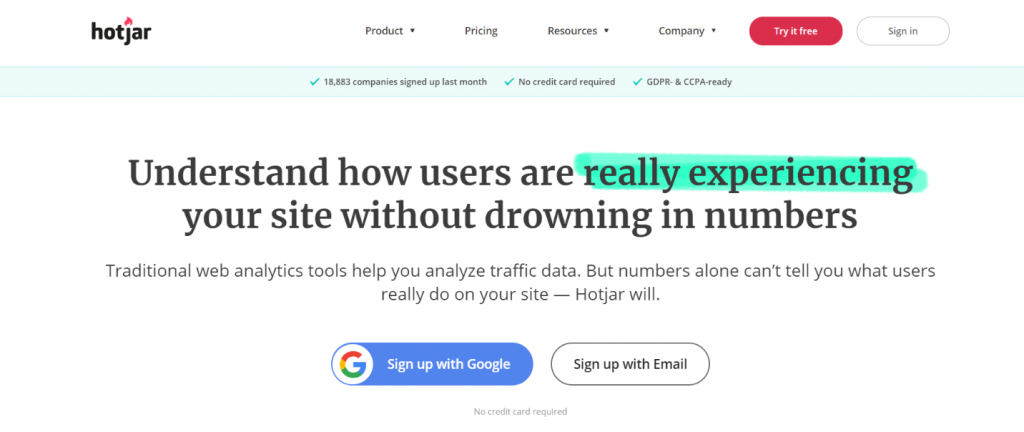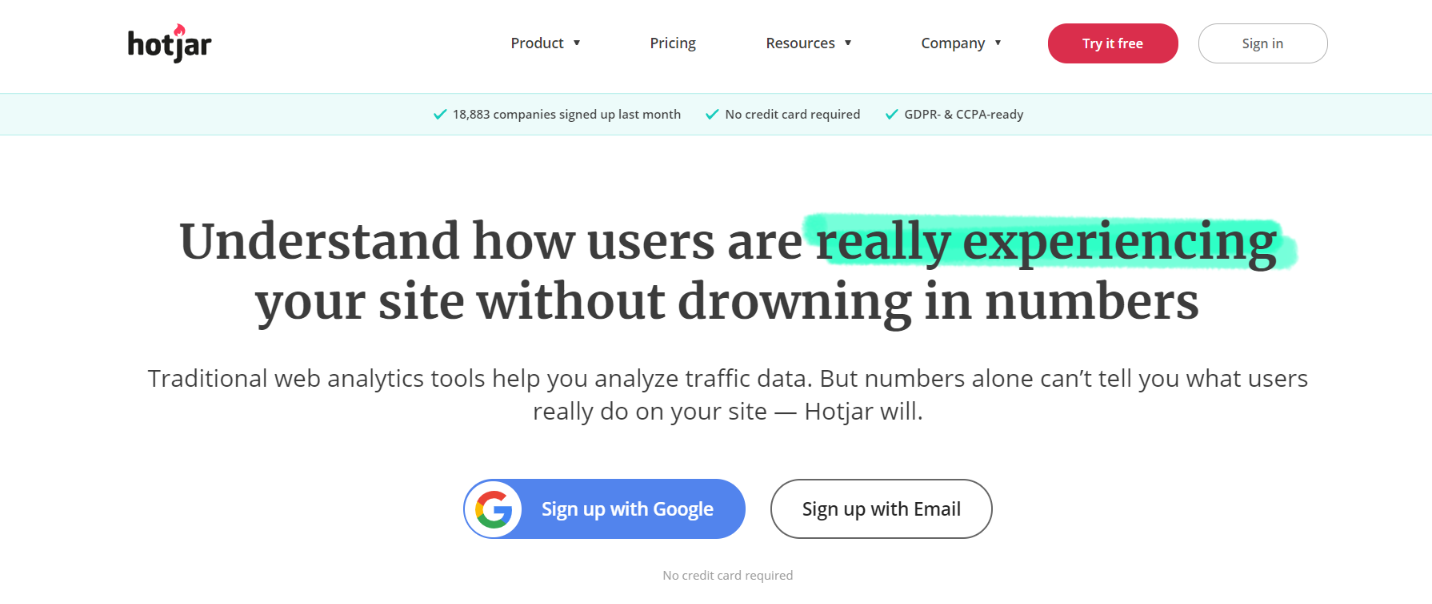 With a whopping 500,000 users in 184 countries, Hotjar is a popular customer analytics tool and conversion rate optimization tool. Providing more than just numbers, Hotjar makes it easy to see for website owners to see how customers are actually interacting with your website via heatmaps and screen recordings.
Providing a visual overview, Hotjar showcases clicks, taps, and scrolls on a website to understand customer behavior. You can check individual user recordings to see their flow and analyze where the majority of your customers get stuck on your website.
Once you have this valuable info, you can optimize your funnels and make it easy for customers to sign up for your product or service and at the same time, prevent drop-offs. With built-in engagement tools, you can ask your website users various questions using polls, surveys, and in-app forms.
Some cool features of Hotjar
Click, move, scroll, heatmaps of user behavior on your site
See real recordings of visitors browsing your website and remove any guesswork
Visual feedback from users via surveys, polls, widgets, and more
Pricing:
Free plan available
Pro plan starts from: Plus ($39 per month for 10,000 pageviews a day), Business ($99 per month for 20,000 pageviews a day)
Read more: 15 Business Intelligence Tools & Software Every Business Needs!

Zoho Pagesense is a conversion rate optimization tool from Zoho. Track, analyze, and optimize your website and apps based on crucial behavioral data from Zoho Pagesense. Quickly see how visitors are interacting with your website and why visitors behave in a certain way to make better business decisions. Can't decide on a layout? Try A/B testing and test different layouts with varying fonts, colors, and more.
Pagesense allows users to create business goals to track important metrics and see which pages on your website cause meaningful drop-offs. With a built-in heatmap tool, you can see the most used features on your website and scrolling patterns of users. Moreover, session recordings provide an in-depth insight into customer behavior and clicks.
Since every visitor is different, users can create different website layouts personalized for different users, serving their exact wants and needs. The platform also integrates with 3rd party tools like Google Analytics, Intercom, and Kissmetrics to bring all your data in one place.
Some cool features of Zoho Pagesense
Click, move, scroll, heatmaps of user behavior on your site
See real recordings of visitors browsing your website and remove any guesswork
Visual feedback from users via surveys, polls, widgets, and more
Pricing:
Free trial available
Pro plan starts from: Standard ($29 per month for tracking 10,000 visitors), Professional ($129 per month for tracking 50,000 visitors), Enterprise ($699 per month for tracking 500,000 visitors)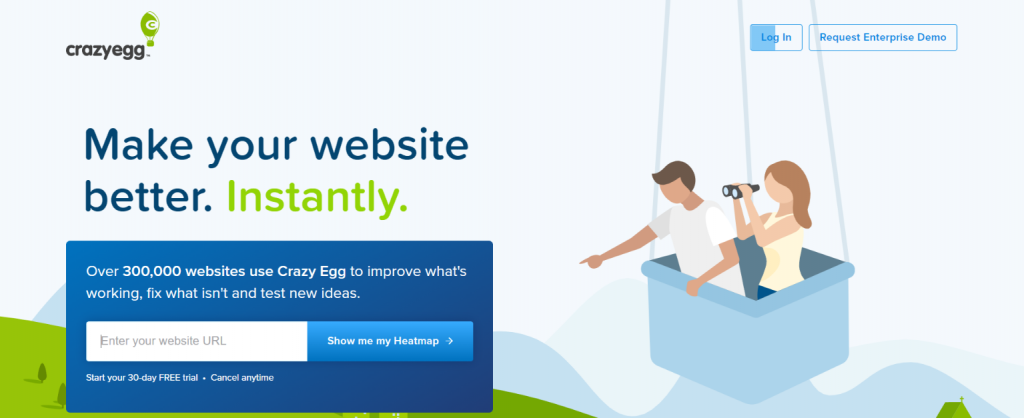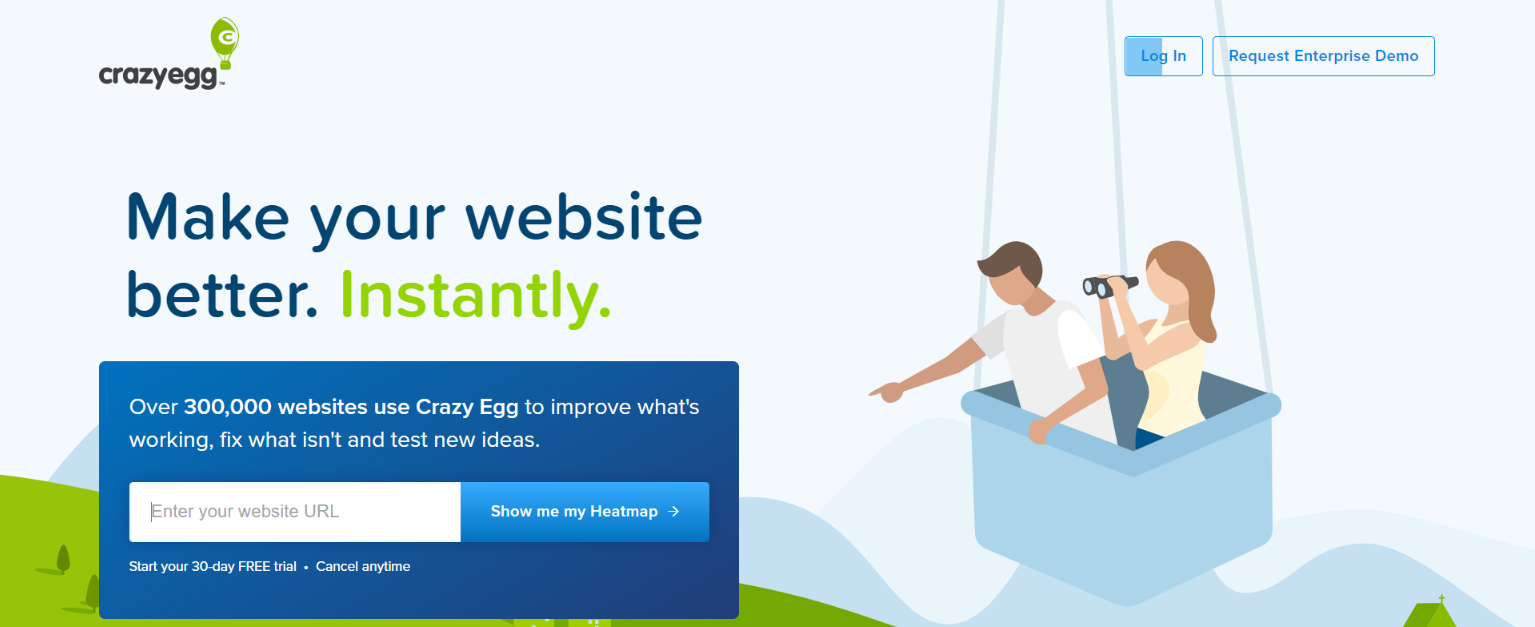 Crazyegg is another great customer analytics tool, thanks to its amazing heatmapping feature. Businesses use Crazyegg to see where their website visitors often click, what pages and posts they visit, how far they scroll on a particular page, and at what point do they leave their website.
Using this critical data, marketers can improve the user experience of any website and understand their target audience better. Visual reports and individual screen recordings help businesses see user flow and help out a customer in case they get stuck. With in-built A/B testing, users can create different test layouts and see which one performs the best.
You can also use Crazyegg to modify content on your website without needing a developer as its editing tools to allow users to change colors, fonts, and more easily. Lastly, the Confetti Tool helps users analyze clicks segmented by referral sources.
Some cool features of Crazyegg: 
Add your team members free of charge
Integrates easily with Shopify and WordPress.
A/B testing and confetti tool
Pricing:
Free trial available
Pro plan starts from: Basic ($24 per month for tracking 30,000 visitors), Standard ($49 per month for tracking 75,000 visitors), Plus ($99 per month for tracking 150,000 visitors), Pro($249 per month for tracking 500,000 visitors)
Read more: Customer Profile: What is it & How to Create it?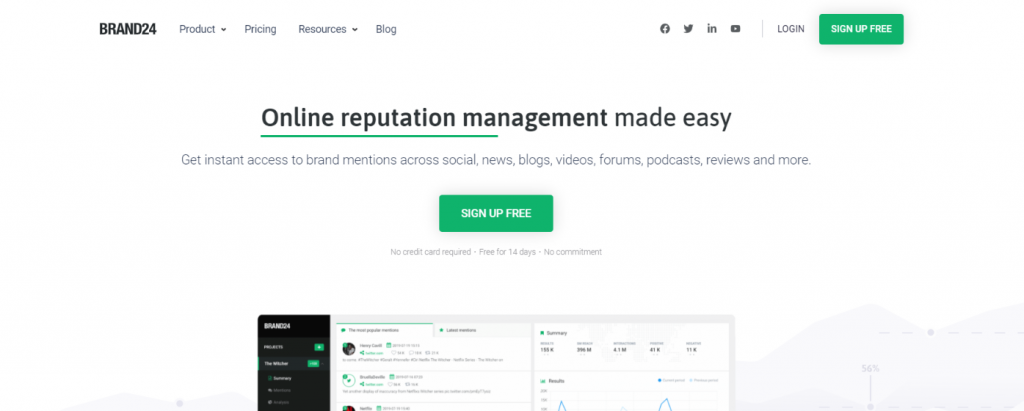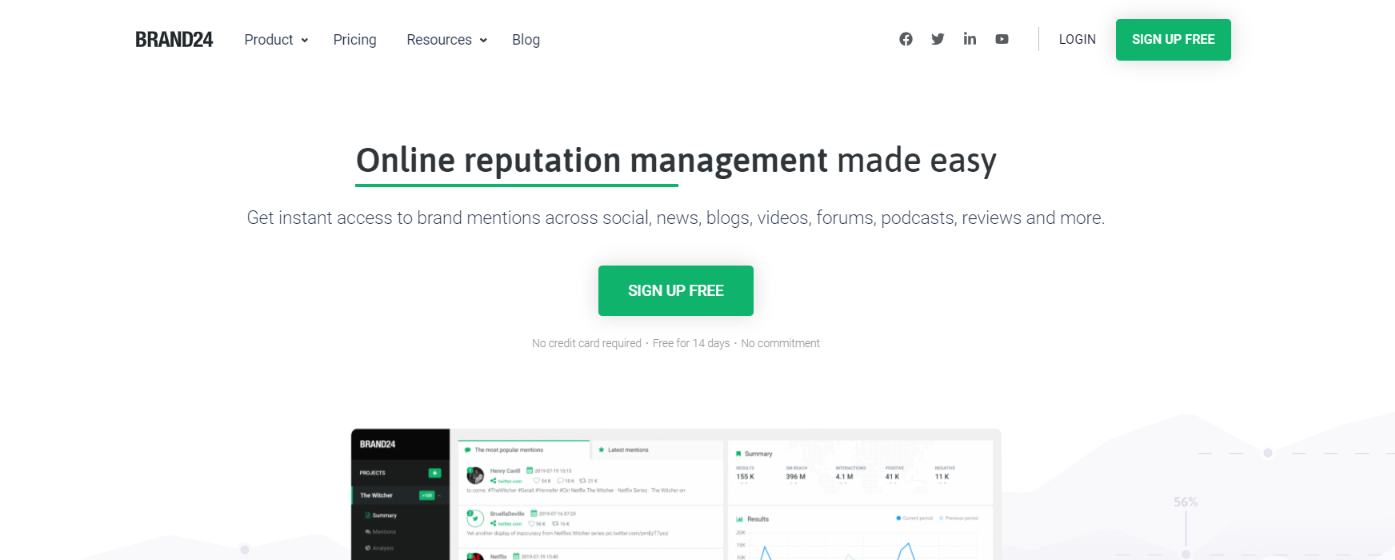 Next is Brand24, an online reputation management tool that lets you monitor your business online in real-time. Track your brand across social media, blogs, news, podcasts, forums, videos, and more, and keep an eye out on everything that's happening around your brand. Brand24 helps users understand their customers better by giving them insights into what they are talking about.
Advanced sentiment detection allows Brands to get an idea of whether their brand is receiving positive, negative, or neutral remarks online. In case you are getting negative mentions, you will instantly get alert notifications can jump in on any conversation before its too late.
Users can also track KPIs like reach and engagement and get daily/weekly automated reports regarding the same. They can also track certain hashtags and measure the impact of a Hashtag campaign. All in all, Brand24 is a great customer analytics tool and can do wonders for your Brand's reputation online.
Some cool features of Brand24: 
Find influencers to work with using Influencer score
Get customized alerts whenever your brand gets tagged on social media
Turn data into PDF reports, .xls files, or even infographics.
Pricing: 
Free plan with 14-day trial
Paid plans start at- Plus ($49/month), Premium ($99/month), and Max ($199/month).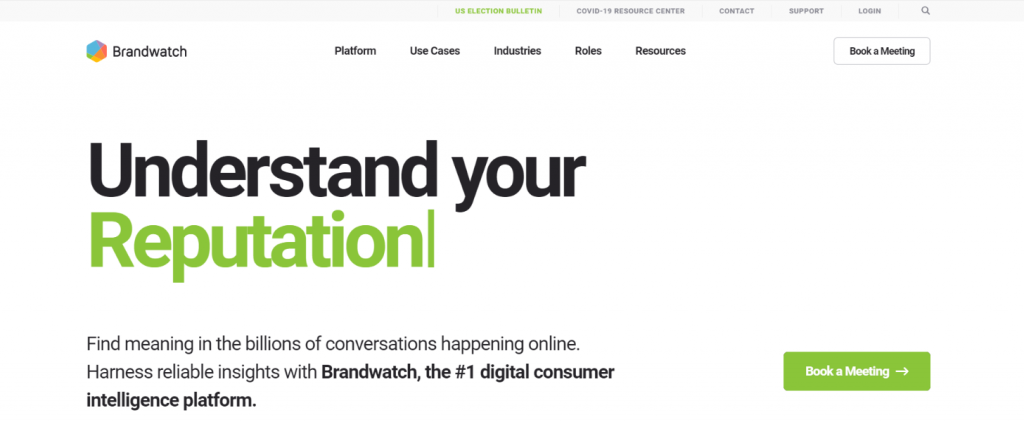 Brandwatch does it all- from crisis and brand management to competitive analysis and influencer marketing. A must-have analytics tool, Brandwatch keeps track of all brand mentions online and keep so you can tailor your communications accordingly and sell efficiently.
Brands can benchmark their performance against their competitors and see their strategy, uncover opportunities, and analyze risk before a crisis happens. Automatically segment and analyzing consumer conversations online and make data-based strategies to improve customer experience.
Brandwatch integrates with Google Analytics, Hootsuite, Buzzsumo, Salesforce, and more to get a complete picture of the customer journey.
Intelligent data mining means that users can create personalized content and reach out to consumers via subjects they are most interested in. Lastly, crisis management helps brands stay on top of negative reviews and chatter around their brands and get on top of it quickly.
Some cool features of Brandwatch: 
Smart AI to find and deliver more unique insights
Find micro-influencers in your niche that your audience resonates with to build trust
Crisis management and competitor analysis
Pricing: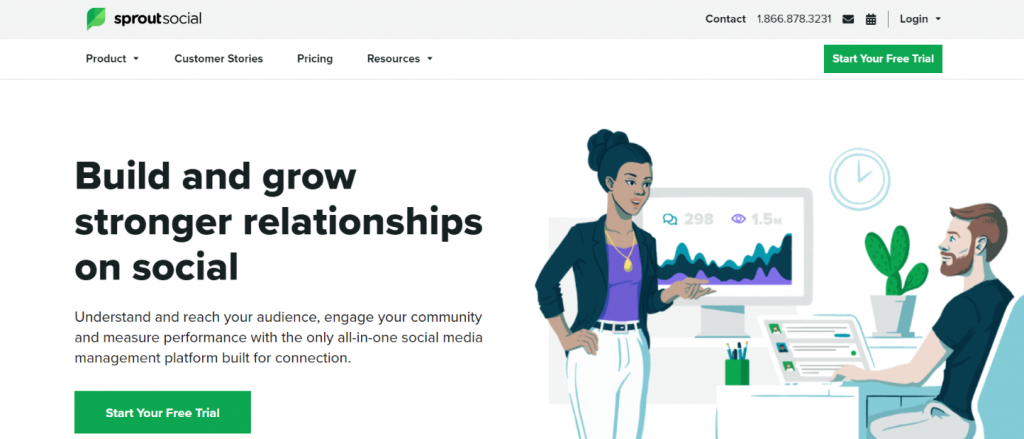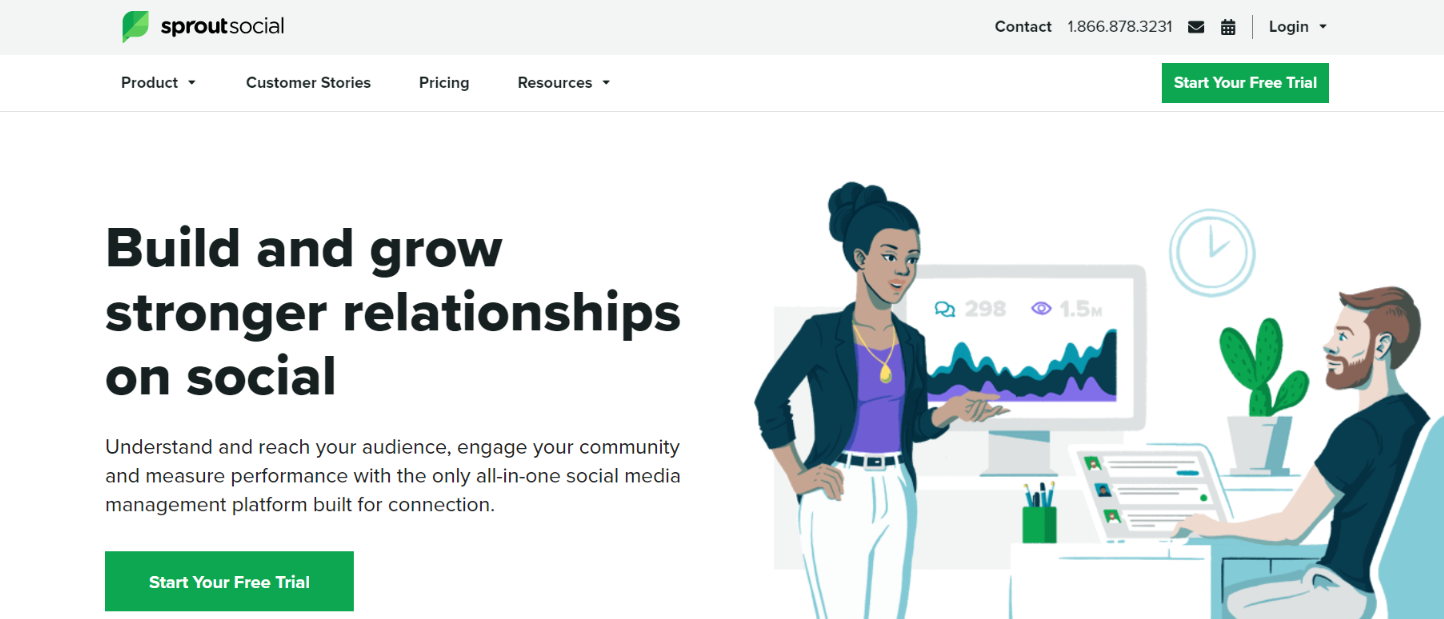 If you want to understand your social media audience, Sprout Social is the tool for you. From listening and publishing to engagement and analytics, Sprout Social provides you with everything your brand needs to succeed on social media. Keep all your customer interactions, replies, campaigns, and events under check with this amazing tool.
With a smart social inbox, you can monitor and reply to messages across Facebook, Instagram, Twitter, and LinkedIn all in one place. Real-time brand monitoring means you can track keywords, hashtags, and location searches across Twitter. Keep a unified customer profile as Sprout Social helps you keep all your conversation history across platforms and networks.
There's also a collaborative content calendar that allows teams to View and manage social posts across multiple platforms and schedule them easily. Running out of content ideas? Content suggestions will provide you with fresh and engaging content and help you stay on top of trending topics across social channels.
Some cool features of Sprout Social: 
Facebook and Instagram ad comments on moderation.
Convert any social media message into tasks and reminders.
Set up chatbots for Twitter DMs and Facebook conversations.
Pricing: 
Paid plans start at- Standard($99 per user per month), Professional ($149 per user per month), and Advanced ($249 per user per month)
Before you go!
Our team at bit.ai has created a few awesome customer service templates to make your processes more efficient. Make sure to check them out before you go, your team might need them!
What's your pick?
So there you have it, folks! This wraps up our list of amazing customer analytics tools and software you can buy in 2022. You cannot really go wrong with any of the above-mentioned tools, you just have to find the one that suits your company's needs. Did we miss out on your favorite customer analytics tools and software? Do let us know which customer analytics tools you use for your website or app by tweeting us @bit_docs.
Further reads: 
Top 9 Customer Onboarding Software Platforms For Businesses
10 CRM Tools and Software You Should Explore Right Now!
9 Customer Acquisition Strategies Your Boss Wishes You Knew!
Best Live Chat Software you must try in 2022
How to Create a Customer Service Training Manual Easily?
10 Best Customer Retention Strategies for Startups!
Top 9 Customer Service Software for Small Businesses
How To Create A Customer Survey For Better Insights?
How To Create A Customer Service Policy?
9 Help Desk Software Every Business Must Use!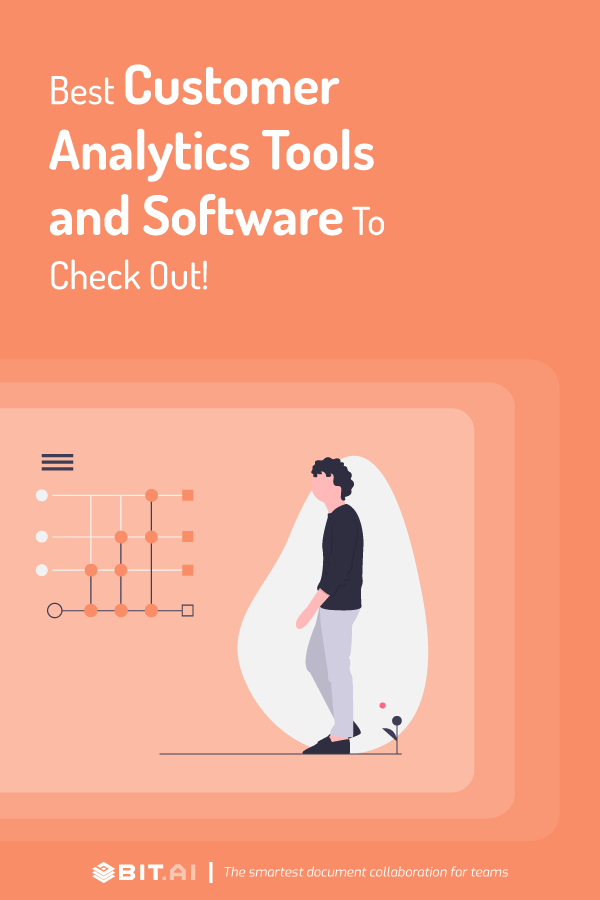 Related posts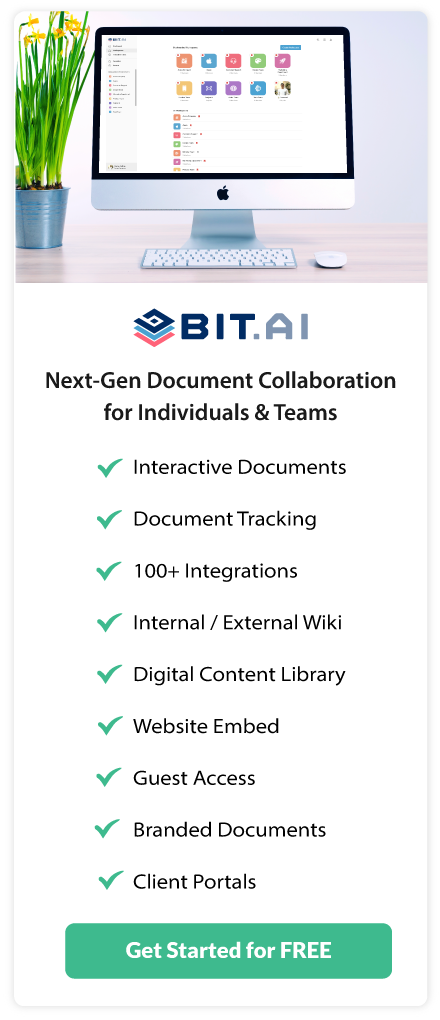 About Bit.ai
Bit.ai is the essential next-gen workplace and document collaboration platform. that helps teams share knowledge by connecting any type of digital content. With this intuitive, cloud-based solution, anyone can work visually and collaborate in real-time while creating internal notes, team projects, knowledge bases, client-facing content, and more.
The smartest online Google Docs and Word alternative, Bit.ai is used in over 100 countries by professionals everywhere, from IT teams creating internal documentation and knowledge bases, to sales and marketing teams sharing client materials and client portals.
👉👉Click Here to Check out Bit.ai.