If you run a business, we're sure you have to take AT LEAST one decision every day.
It's definitely a stressful thing to do…but what if we tell you that there's something that can make your decision-making process easier? We're talking about formal reports!
Formal reports are a part and parcel of every industry. They are written to provide information, analyze an issue, or make recommendations.
Formal reports are similar to your regular reports but they delve a little deeper into the details and format. They're basically a fine-tuned version of regular reports.
Confused? Don't worry, in this blog, we'll cover everything from what formal reports are to how you can create them easily. So let's get started!
What is a Formal Report? (Definition)
A formal report is an official report that includes detailed information, research, and other data necessary to make business decisions.
A formal report includes specific sections and divisions. These sections might be according to the rules of the company, or the requirements of the organization to which the report is being sent.
This report is generally written for outlining the details of some project, documenting the results of an experiment, solving a problem, and advocating a course of action.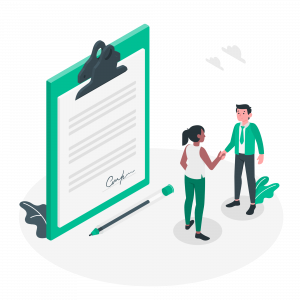 Depending on the topic, formal reports can be pages long and super-extensive.  Some examples of formal reports include:
Feasibility Report
Safety Report
Compliance Report
Recommendation Report
Annual Report
Now let's understand why we need a formal report in the first place…
Read more: Business Report: What is it & How to Write it? (Steps & Format)

Benefits of a Formal Report
1. Clarity: A formal report focuses on key aspects of any given project. Such defined sections and parts help the reader to easily comprehend what's being said. A formal report contains no jargon or unnecessary writing aspects that could mislead the reader and helps boost clarity.
2. Decision-Making Tool: Modern business organizations operate with a multitude of information daily. Formal reports deduce large pieces of information into sections that can be used to make decisions more quickly and aptly.
3. Offers accuracy: Formal reports contain plenty of facts and figures. It has concrete information that leaves no room for ambiguity. And this is what makes a formal report a completely reliable and accurate document.
4. Objectivity: A formal report is neutral and unbiased. And if an analysis is put forth, then it is clearly backed up with hard-hitting facts and figures. This makes the formal report a great citation to be used in other reports!
5. Valuable Source of Information: Formal reports act as a valuable source of information that can be used in the future. They are pieces of evidence of everything that happened n an organization and how they tackled it.
The benefits of formal reports are endless and that is why it is pivotal that you create one in the most perfect way possible. So without further ado, let's dive straight into learning how to create formal reports!
How To Create a Formal Report? (Step By Step)
Step 1. Start With A Plan 
It's crucial that you know what you want to achieve with this report. Think of it as a project that you would handle. This way your report has a better chance of being clear and concise.

Also, if you are writing a formal report for your organization, make sure you check if there is an established format that needs to be followed. With such specified formats, your reports have a better chance of looking all the more professional.
Step 2. Title 
The first part of a formal report is an introductory page that includes all the basic details of the report. Follow this order for your report:
Name of the report
Name, title, and organization of the individual receiving the report
Name of the author and any necessary identifying information
Date of submission
Keep in mind that all these parts are equally spaced and clearly visible as it offers the first impression for what's to come.
Step 3. Letter Of Transmittal 
The transmittal letter is a letter that informs the recipient of the topic and purpose of your report. The letter also specifies what other documents are included in the report.
The letter of transmittal should be formatted as a business letter. Some people also prefer a memo over a letter.
Make sure that you use a certain level of formality depending on your relationship with the reader. Although, it's crucial that all your letters are professional when you're writing to someone who you don't particularly know, closer attention to detail will go a long way!
Step 4. Table Of Contents
Next in line is a table of contents. This part helps the reader to easily locate parts of your formal report, especially if it's a long read.
Include headings, sub-headings, and also mention the corresponding page numbers. Write the heading exactly like it's written within your report.
If you are using Bit.ai for your documents and reports then this will be automatically created based on your headers and sub-headers.
Read more: Performance Report: What is it & How to Create it? (Steps Included)
Step 5. Executive Summary 
An executive summary is a complete overview of your formal report.  It's very useful especially if the reader doesn't have the time to read the entirety of your report.
The executive summary should include a:
Summary of purpose
Overview of Key Findings
Conclusions
Overview of Recommendations (If Mentioned)
Although an executive summary comes early on in your report, it'd be wise to write this part only after you've completed the rest of your report. Also, keep it as condensed as possible.
Step 6. Introduction 
The body of a formal report starts with an introduction.
Mention the details of why you are writing the report in the first place. Include the purpose, set the stage for what's to come, and mention any vital background information on the topic.
Provide definitions for technical terms and other definitions about your overall project, if necessary.
Read more: Grant Proposal: What, Why & How to Write it?
Step 7. Present Your Findings 
This part will probably be the lengthiest part of your report. Present the results of your study succinctly with enough information to back it up.
These findings will form the foundation for your conclusion. Use bullet points, headings, and subheadings to make sure everything is clearly understood and organized.
As you present all key evidence, make sure you include graphics and illustrations for easier comprehension. Long paragraphs filled with numbers and data tend to bore most audiences, and graphics offer much-needed relief and enhance the overall look of your formal report.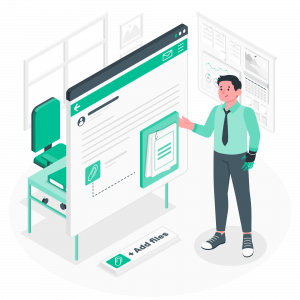 Keep in mind that you only use graphics when needed and employ them effectively. Too many graphics are just as bad as none. Strike the perfect balance between text and graphics, and your report will work wonders!
Step 8. Conclusion And Recommendations
This section simply conveys the key results from your findings.
Along with a proper conclusion, you need to mention recommendations too, that offer a course of action to resolve the issue highlighted in your report.
If you add any goals, make sure they are measurable!
Step 9. Bibliography Or Citations 
If you are sourcing information from other sources in your formal report then you should include a bibliography. Basically, include all the sources that have been used in the report. Label each of these sources clearly and also refer to the pages where they've been used.
…and that is all! We understand that taking time off your crammed schedule to create a power-packed formal report may seem distressing.
So how do you do it in the most efficient way possible? Let us tell you!
Create Mind-Blowing Formal Reports With Bit.ai  
If you want your formal report to be awesome, you need to make sure that it has the perfect format and that it has stunning visuals in it.
And all this can be a hassle….BUT NOT ANYMORE!

With Bit.ai, a new-age cloud-based document collaboration tool, you and your team can create, access, manage and have the time of your life while creating formal reports!
Check out how you can woo your readers by using Bit as your helping hand…
1. All Your Teams Under One Single Roof
Creating a report all alone is a daunting task. You have to research content, dig up the numbers, collect and organize a lot of data, come up with an outline, and so much more. That is why Bit allows you to bring all your relevant teams together for report creation!
Here, you can create as many workspaces as you want around different teams and collaborate with them on your report in real-time. You can finally say goodbye to emails for communicating across teams!
2. Rich Media Integrations 
To engage your readers, you need to add a variety of graphics and other media in your report. Most documentation platforms let you add only static images which can also be pretty dull after a certain point.
But, Bit.ai integrates with over 100+ popular applications (YouTube, Typeform, LucidChart, Spotify, Google Drive, etc.) so you can add any type of rich media in their reports beyond just text and images.
3. Live Analytics For Your Report
Bit allows you to share your documents with your clients via a "trackable link". This link provides you with awesome insights and analytics. You can see who viewed your report and how much time they spend on your report.
You can also see how far down your readers have scrolled your report and where your reader lost interest. This way, you can make the changes accordingly the next time around.
4. Design Automation
Bit.ai has a plethora of stunning templates that you can use for creating documents that are fully responsive. Just put your content and let Bit take care of the formatting. That's not it! Bit offers design automation which makes every document that you create eye-catching. You can change the layout and color theme of the document with one click.
5. Client Portal
Let's say you wanted to share your formal report with your clients but you don't want them to see or edit anything else. Well, with Bit's client portal all of that is possible!
You can invite your clients into your workspaces through guest access. You can give them access to the document and everything else will be removed from their view and access. Guests can get two types of access to documents: read-only or comment-only.
This way you can communicate in a hassle-free manner with all your clients!
And There Is More To It…
With many intriguing templates and a myriad of features, Bit is an all-rounded tool for all your reporting needs. Trust us, your data is secure here and your work will become more efficient than ever with Bit!
Conclusion
When it comes to formal reports, it's all about the details!
Yes, we know that creating reports is not the most enticing and glamorous job but no one said it needs to be boring!
With Bit.ai, creating formal reports will not only become an easy task but your reports will be a refreshing change from those dull black and white ones.
Don't wait any longer – the next time a formal report shows up on your to-do list, no more whining, use Bit, and woo your teams with intriguing formal reports!
Did you enjoy our blog on creating formal reports? Let us know by tweeting us @bit_docs, we'd love to hear from you!
Further reads: 
Project Timeline: What is it & How to Create it? (Step By Step)
Annual Report: What is it & How to Create it?
Formal Letter: What Is It & How to Create it?
How to Write a Business Case: Step By Step Guide
Progress Report: What is it & How to Write it? (Steps & Format)
KPI Report: What it is & How to Create a Perfect One?
Survey Report: What is it & How to Create it?
Marketing Report: Definition, Types, Benefits & Things to Include!
Sales Report: What is it and How to Create One?
Technical Report: What is it & How to Write it? (Steps & Structure Included)
Consulting Proposal: What is it & How to Create it? (Steps Included)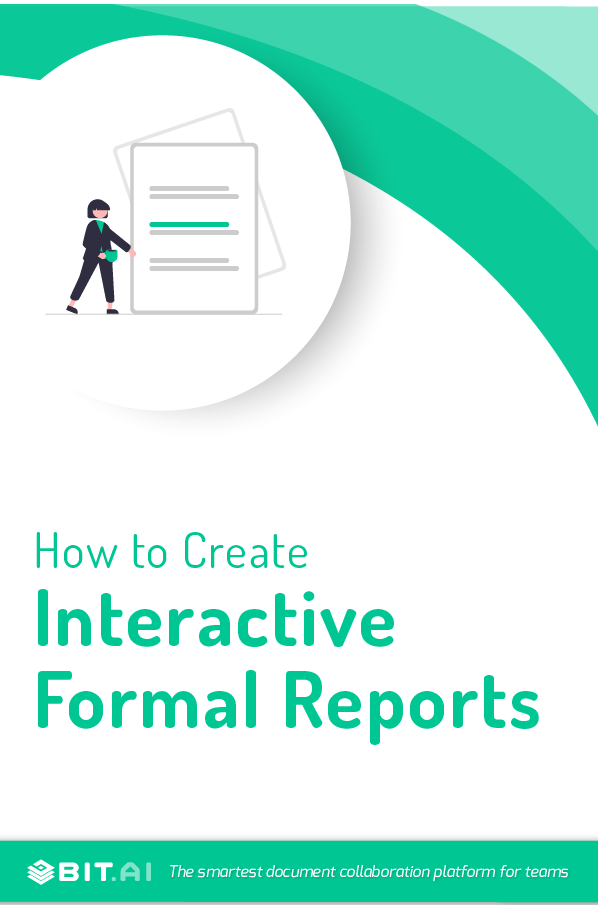 Related posts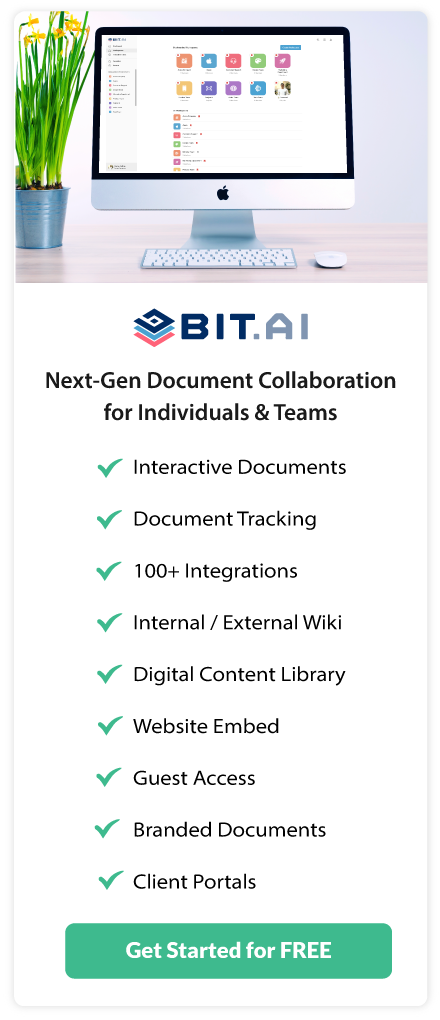 About Bit.ai
Bit.ai is the essential next-gen workplace and document collaboration platform. that helps teams share knowledge by connecting any type of digital content. With this intuitive, cloud-based solution, anyone can work visually and collaborate in real-time while creating internal notes, team projects, knowledge bases, client-facing content, and more.
The smartest online Google Docs and Word alternative, Bit.ai is used in over 100 countries by professionals everywhere, from IT teams creating internal documentation and knowledge bases, to sales and marketing teams sharing client materials and client portals.
👉👉Click Here to Check out Bit.ai.