Have you ever wished you could add a video to or other types of digital content to your documents? We have an awesome solution that is going to help you embed rich media into your documents.
Your proposals, business plans, product brochures, meeting agendas, and more will be 10x more effective with the tips we're going to share with you. Let's see how rich media embeds take your documents to a whole new level!
Let's start with the basics …
Documents are the building blocks of any business.
It doesn't matter what industry, company, department or team you work with, all of us rely on documents to get work done.
Documents in the workplace help us with training, management, research, onboarding, standard operating procedures, sales collateral, marketing material, reports, white papers and much more.
Over the last 30 years, documents haven't evolved beyond basic text and images. The way our documents look and the way we get work done with them hasn't really changed online.
However, in that same time period, cars (ahem Tesla), computers (MacBook Pro) and phones (iPhone X) have come incredibly far. It's high time our documents step up and fit into the advanced world we live in today!
Here are some components of documents that are a must in today's world:
Collaborative – multiple users need to work simultaneously on one document.
Responsive – documents must look great on all devices.
Interactive – documents need to have a 'wow' factor and incorporate rich media.
Documents need to stand out whether you are sending it up the chain to your boss, to a client or a prospective client. All of us are vying for attention and time when we take the time to create and share a document with others.
It's important that the time and effort we spend creating documents don't get wasted and delivers the right results.
Communication In The Workplace
At work, we communicate in a handful of ways.
Face-to-face
Email
Phone/ Conference calls
Chat
The one form of communication that is consistent throughout these mediums are the documents we create.
After meeting face-to-face we often need to create brainstorming notes, meeting notes, new project specs, client follow up material, etc. Anything we do afterward our face-to-face requires us to put our ideas together, share information with others or start collaborating with others via documents.
When we send emails, most of us attach documents or links to various websites, videos, and resources online. Our communication is tied to these digital attachments to enhance our communication and help our recipient have a complete understanding of our message(s).
When we talk on the phone or through conference calls we often are going over presentations together, meeting agendas, reports, etc. They all require some type of documentation that everyone reviews together. The written word is permanent and it's harder to misconstrue then verbal communication.
An informal way we communicate at work is through chat portals like Slack.  Chat applications are great for quickly passing information around, sending out updates and links. Most of the links we share are filled with digital content from all over the web or cloud-based documents that teams need to collaborate on.
The one overwhelming piece that ties our communication and creates consistency in the workplace are documents. They help us communicate effectively and get work done.
How Can I Create Smart Documents With Rich Embeds?
Documents that we use in our day-to-day business life can no longer be plain text. Our digital world has become more complex. We need to not only share images but screenshots. We can't just share stats, but interactive graphs.
We can't rely on plain text and need to share audio and video sources. Documents today need to come alive and breathe literally.
We need our documents to be dynamic, to incorporate every media you throw at it and to have the ability to view, share and edit the rich media right there in the document itself.
This is why we created Bit.ai

With Bit.ai, you can add web links for any type of rich media to your Bit documents and watch them appear visually. No more messier, meaningless URL's (https://URLs-Like-This-That-Don't-Tell-You-Anything-0123456789?) inside emails, chats, and documents.
Bit handles any rich media content you throw at it, be it Twitter Links, PDFs, Google Spreadsheets, SoundCloud playlist, etc.
Just add any web link on any blank line of your Bit document and hit enter. Bit automatically generates a live preview of your rich media, right there in your document. You can share/watch videos, edit Excel sheets, view marketing PDFs, etc. without your audience having to leave your document.
Bit.ai brings document collaboration to a new level by allowing you and your team to collaborate and share all types of rich media and digital content.
Types Of Rich Media Embeds
We're sure right now that you are nodding in agreement that documents in our modern-day environment need to be more than just plain boring text.
Visual content has been long known to be more effective in getting the point across than simply plain text. An estimated 84 percent of communications will be visual by 2018.
Adding rich media embeds to your Bit document allows your documents to have a visual dimension to them. The best part is you aren't causing your audience to click on a bunch of links that open up multiple windows. They can view and interact with videos, SlideShares, Google Spreadsheets and much more right inside a document!
Just copy the URL of any type of web content, paste it into your Bit document, and hit enter! Here's a Gif that shows you just how easy it is: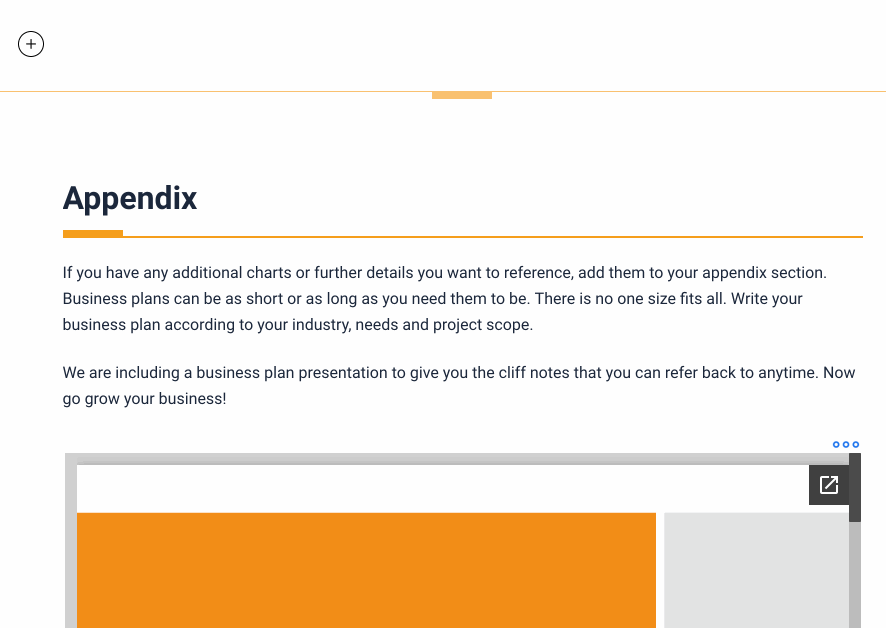 Bit will automatically make your content appear on your Bit document. This content is dynamic, which means you can interact with it in real-time, without leaving your Bit document!
The types of content you can embed in a Bit document are endless:
A YouTube video
A Spotify playlist
Your files from the cloud- Google Drive, Box, DropBox, etc.
PowerPoint presentations
Facebook, Instagram, Pinterest, or Twitter content
Google Sheets, Slides, Maps, Docs
Slideshare slides
Soundcloud audio
Gifs
Articles, blog posts
Kickstarter projects
Podcasts and much more
There's no better way to explain how rich media displays within a Bit document then with visual images and examples. We have put together some examples of the type of rich media and web links you can add to your Bit document. Read on to see the magic…
1. Video Rich Embeds
Bit allows you to embed videos from any video sharing platform like YouTube, Vimeo, Dailymotion, etc, directly in your Bit document and play it right from your Bit document!
How: Just copy the web link of the video, paste it into your Bit doc and hit enter!
Use cases: Share and get feedback on product videos, share inspiration from competitor advertisements, share informative TED Talks, share product demos with your clients and much more.
You can even change the size and layout of the video player and add a custom caption below the video.
Example 1: Youtube Video Embed
Share YouTube videos inside your documents from the world's leading video hosting sites. Embed product videos, inspirational content, industry content by simply adding the web link (URL) of the video on a blank line in your Bit document and hit enter!
[/vc_column_text]
Related posts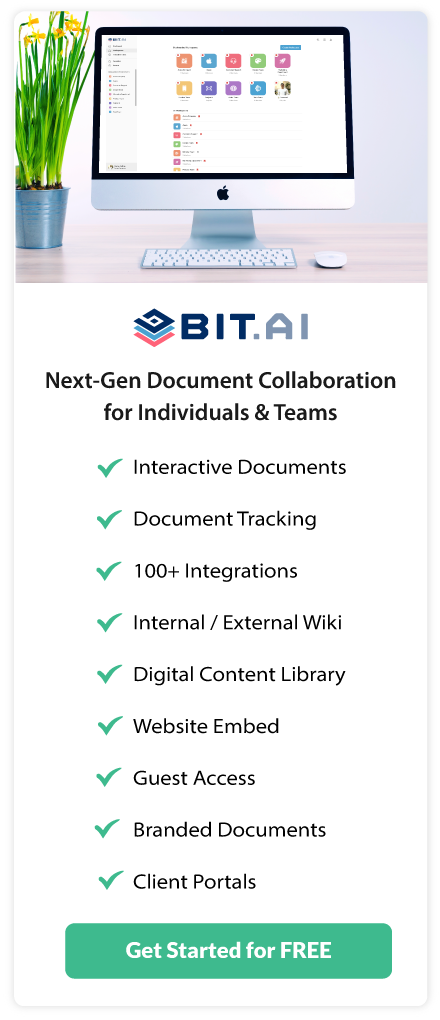 About Bit.ai
Bit.ai is the essential next-gen workplace and document collaboration platform. that helps teams share knowledge by connecting any type of digital content. With this intuitive, cloud-based solution, anyone can work visually and collaborate in real-time while creating internal notes, team projects, knowledge bases, client-facing content, and more.
The smartest online Google Docs and Word alternative, Bit.ai is used in over 100 countries by professionals everywhere, from IT teams creating internal documentation and knowledge bases, to sales and marketing teams sharing client materials and client portals.
👉👉Click Here to Check out Bit.ai.