"I want to increase sales this quarter. I want to expand my business this year. I want to hire new employees this month. I want to improve the quality of my product by the end of this year. I want to hit a new market target."
If you run a business, you've probably said these things or something similar a thousand times. After all, every business has a list of goals they want to achieve by a particular time.
In a perfect world, we'd set goals, and we'd reach them without much effort. Unfortunately, in the real world, there are a lot of things we need to do after setting goals, like creating a growth plan.
A growth plan isn't just about the goals and future of your business, but also the strategies you would implement to make sure that your vision comes to life.
Considering the fact that 50% of businesses fail during their first five years and 66% fail during their first ten, creating a solid growth plan is quintessential.
So, in this blog post, we're going to tell you all about growth plans and how you can create one that works like a charm. So buckle up because you're in for a ride.
Growth Plan: What Exactly is it? (Definition)
A growth plan is a strategic plan about how every aspect of your business will walk towards attaining the business goals. With a growth plan in hand, you'll know exactly what to do, how, and when to do it.
Even though a growth plan sounds like the marketing tactics you'd implement to grow your business, it's a lot more than that. It encompasses an overview of everything you'd be doing to grow your business.
Let's understand the concept of a growth plan better with an example.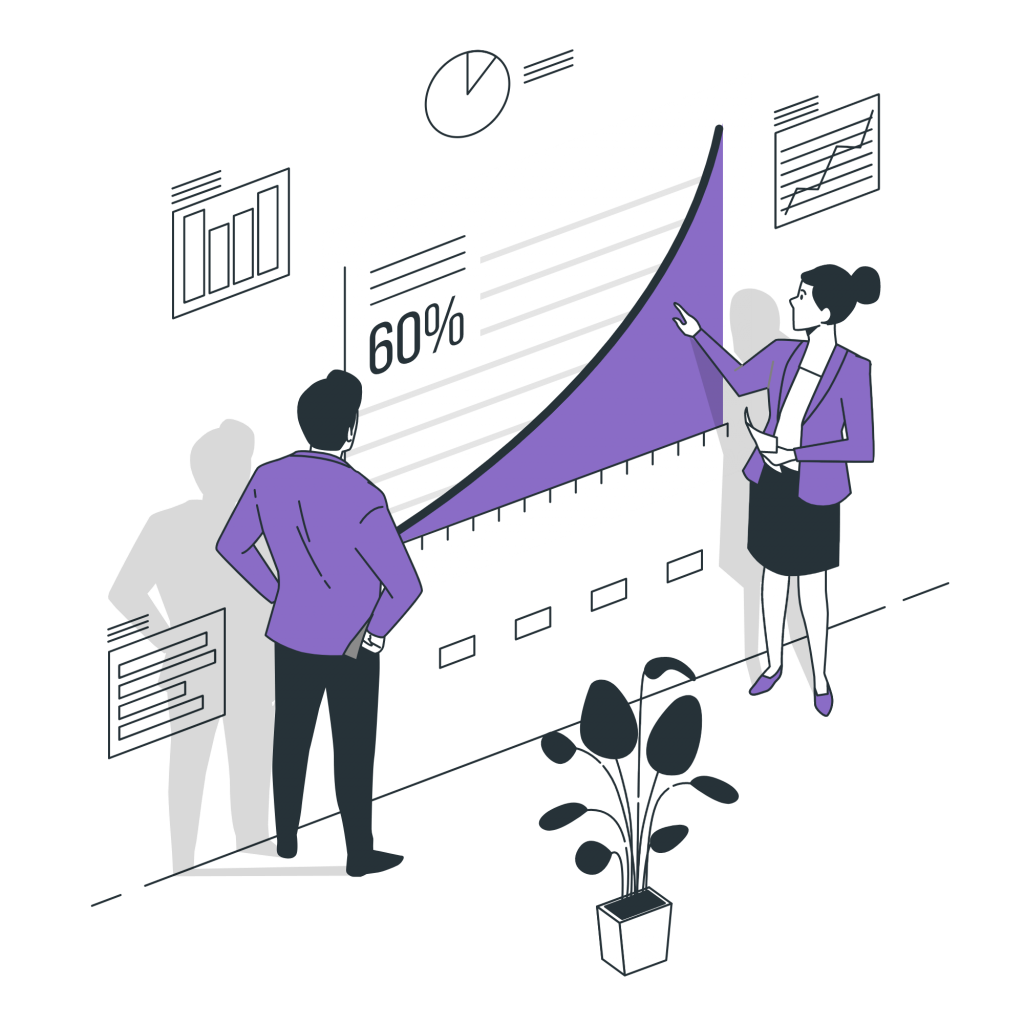 Suppose you're running a gaming laptop business. Your goal is to increase your sales by 60% over the next five years. To achieve this goal, you might need to carry out a plethora of tasks like:
Hiring new, more experienced sales reps.
Upgrading the product after conducting market research.
Finding investors who'd be willing to invest in the new version of the laptop.
Hiring a social media marketer to handle your business's social media accounts.
Creating a TV advertisement that hits the right spot.
Now, you'd be writing all these things in your growth plan, along with other details like timeline, budget, name of the people responsible for carrying out a particular task, and more.
Want to know some other reasons why you need to create a growth plan? Let's find out!

Read more: Growth Marketing: What is it & How to Carry it out for your Business?
3 Reasons Why You Should Create a Growth Plan
1. Keeps You Focused
When you're running a business, you usually try to flap your wings around in different places.
But, when some places don't give you the results you expected, you get frustrated and realize that you wasted so much of your time and effort that you could've invested in other areas.

Well, a growth plan can help you avoid that frustration. With a growth plan, you'd know exactly what areas you should be focusing on and what areas you don't need to pay attention to.
The result? You won't be wasting any time and effort on places you won't get any return from.
Read more: Business Development Plan: What Is It And How To Create A Perfect One?
2. Helps You When Things Go Sideways
We don't want to scare you, but the landscape of the market is changing at a rapid pace.
That means things in your business can go haywire at any time. But, you really don't need to worry about that if you have got a strong growth plan in place.
Like we said above, in a growth plan, you write all the strategies that'd lead you to growth. When things go wrong, you can just pick one of the strategies, modify them according to the current scenario, and you're good to go!
3. Gives You a Direction
Your business isn't a road trip. You can't go rogue and see where the road takes you. You need a roadmap, a direction…and that's exactly what a growth plan gives you.
A growth plan shows you the way towards achieving your goals. It tells you the route you need to take to reach your goals. Without it, you might end up taking the wrong turn and reach a dead end.
To put it simply, when you have a growth plan with you, you'll know all about what you need to do to make your business successful.
Considering the importance of a growth plan, creating it is not something you can rush through. There are some steps that you need to follow, and we're going to tell you all about them.
How to Create a Growth Plan In 5 Easy-Peasy Steps?
Set 1. Set Goals
Every plan starts with setting business goals, and a growth plan is no different.
After all, you can't just say "I want this" and expect something to happen automatically. You need to define what exactly you want to achieve, i.e., you need to set your goals.

Also, always make sure that your goals are not vague but realistic and measurable. For instance, "Increasing sales" isn't a solid goal. "Increasing sales by 20% over the next 6 months" is the kind of goal you can measure.
Step 2. Conduct Market Research
You might think that once you've decided on your goals, you can just go ahead and start creating strategies. Unfortunately, it's not that easy.
There's another important step that you need to follow: carrying out market research. Creating strategies without considering the market is not going to help you achieve your goals.
Examine your target audience, the condition of the market, and your competitors. Evaluate what your audience is looking for, how saturated the market is, and what your competitors are doing.
Step 3. Evaluate Your KPIs
Once you've done the market research, it's time to get back home, aka your business, and do some digging. You need to find out what's working for your business and what's not.
The best way to figure that out is by evaluating your KPIs. For those who don't know, KPIs stand for Key Performance Indicators. They are the metrics that are "key" in determining your business's success.
By assessing your KPIs, you'll find out the key areas that are giving you the most fruitful results. You can then target these areas while you're brainstorming strategies for growth. This brings us to the next step:
Read more: KPI Report: What it is & How to Create a Perfect One?
Step 4. Create Strategies
Okay, so now you know everything about the market and your company, so you're all set to create strategies that you'd be implementing to achieve your goals.
From hiring new sales reps to upgrading your existing product – your strategies can be anything, as long as they help you achieve your goals.
We don't need to say this, but make sure that your strategies align with your present and future budget. You don't want to overspend right now and then be short of money when you execute a future strategy.
Step 5. Execute Your Plan
Brace yourselves because it's time to get the ball rolling and execute the plan. Start implementing all the strategies according to the timeline you've set.
However, there's something that you need to remember: Your plan isn't a static piece of document. You need to keep modifying and updating it as you go.
Just follow the old saying, 'grow through what you go through.' A strategy isn't giving the results you expected? Change it. A strategy is working too well? Increase its timeline. A strategy isn't in trend anymore? Slash it.
Yay! You've now learned how to create a solid growth plan.
Now, all that's left for you to learn is how to create it the right way. See, your growth plan is a VERY essential document. You can't just type all the strategies out and think that your growth plan is ready.
Your plan needs to have a proper structure and layout. It needs to be easy on the eyes and easy to comprehend. Most of all, it needs to be written after getting inputs from all the departments in your business.
It seems like a tough and long process, doesn't it? It's not, because Bit.ai is a platform where you can do all this and more. Want to know more about Bit.ai? Read on!
Read more: Growth Hacking: What is it & 21 Tools that can Help!
Bit.ai – The Perfect Tool for Creating Growth Plans & Other Business Documents

Get your team together, brainstorm all the strategies and create your growth plan – all under one roof!
Yes, that's the essence of Bit.ai – a document collaboration platform where you can create, organize, share and manage all company documents and other content.
You do not have to worry about formatting or designing your growth plan at all – just pick a template, and put all your strategies in it. Did you know that Bit gives you the option to choose from over 70 templates?!
This nifty platform lets you and your team collaborate in real-time by co-editing, making inline comments, chatting via document chat, @mentions, and much more.
Want to make your growth plan more robust and comprehensive? Add rich media into it! Bit lets you add excel sheets, social content, cloud files, charts, surveys/polls, code, presentations, and much more to your documents.
One feature that makes Bit stand out is 'smart workspaces'. On Bit, you can create infinite workspaces around projects and teams. This will help you in keeping all your documents related to your growth plan organized!
Bit.ai makes creating documents as easy as ABC, and there's no reason why you shouldn't give it a try.
Wrapping Up
There are some things in business you just can't avoid, and creating a growth plan is one of them. If you don't want your business to disappear into thin air, you need to create a proper growth plan.
A growth plan literally has the power to take your business to heights, but only if you create it properly and accurately. It's not even a gigantic task, considering that you have Bit.ai with you.
So, what are you waiting for? Go ahead, start working on your growth plan and skyrocket the growth of your business. We're totally rooting for you!
Got any questions or suggestions? Feel free to tweet us @bit_docs. We'd get back to you as soon as possible.
Further reads: 
Financial Plan: What is it & How to Create an Impressive One?
13 Growth Marketing Strategies You Must Know About!
Mitigation Plan: What Is It & How To Create One?
12 Sales KPIs Your Sales Department Should Measure!
Go-To-Market Strategy Guide for Businesses!
Communication Plan: What is it & How to Create it? (Steps included)
How To Develop a Growth Mindset That Will Change Your Future?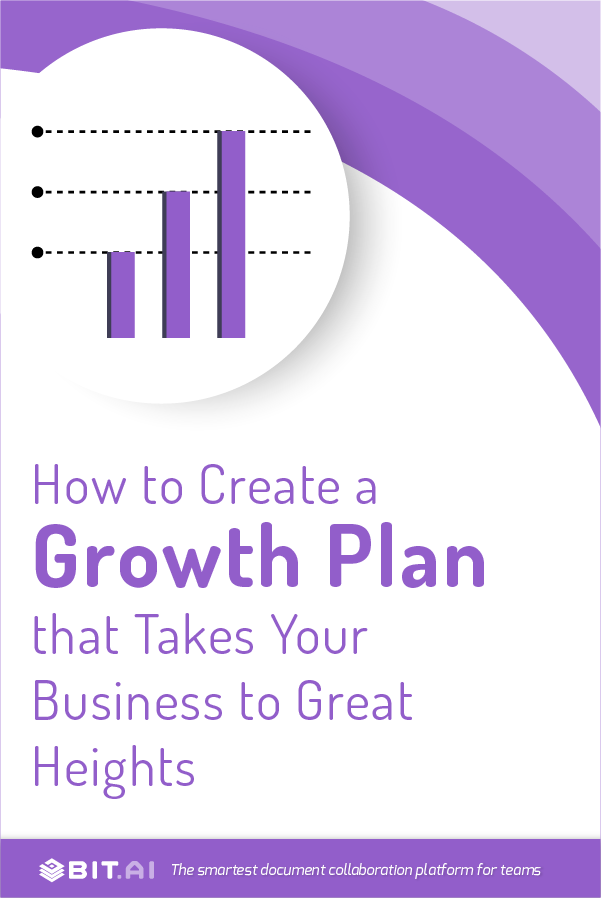 Related posts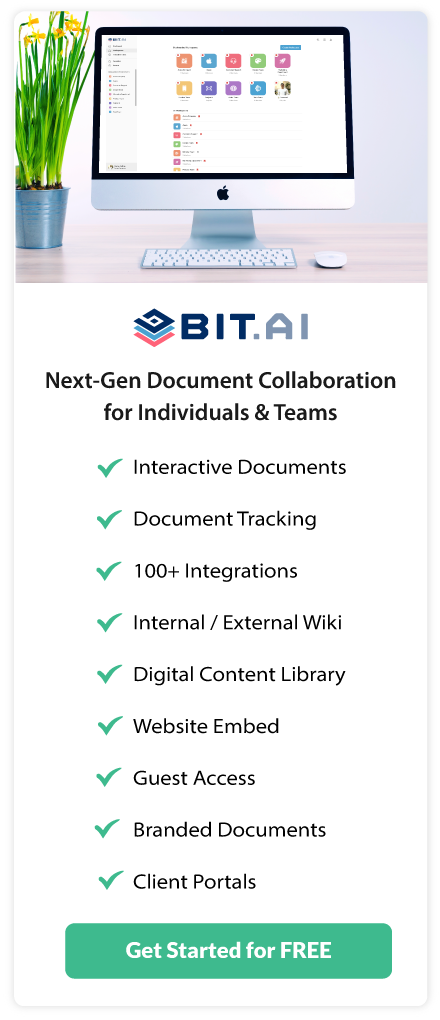 About Bit.ai
Bit.ai is the essential next-gen workplace and document collaboration platform. that helps teams share knowledge by connecting any type of digital content. With this intuitive, cloud-based solution, anyone can work visually and collaborate in real-time while creating internal notes, team projects, knowledge bases, client-facing content, and more.
The smartest online Google Docs and Word alternative, Bit.ai is used in over 100 countries by professionals everywhere, from IT teams creating internal documentation and knowledge bases, to sales and marketing teams sharing client materials and client portals.
👉👉Click Here to Check out Bit.ai.