Think email is past its prime? These email marketing stats will surely change your mind! 
The Internet has fundamentally changed the way businesses and customers interact. Status Updates, Likes, Stories, and Tweets are a few of the many ways marketers communicate with a customer or prospect.
New ways of reaching customers like Influencer marketing, chatbots, Facebook ads, etc. have opened up faster ways of reaching out to potential buyers and improving your marketing results.
With so many new and advanced opportunities at our disposal, why are we even discussing email marketing, right? It's an ancient way of reaching out to customers and is not that effective…or is it?
Well, we dug deep into the effectiveness of email marketing in 2022 world and the results we found are going to shock you, no joke!
It turns out, email is still every marketer's best friend. Not just marketers, consumers don't mind receiving emails too.
A report by Statista indicates that 86% of consumers would like to receive promotional emails from companies they do business with at least monthly, and 15% would like to get them daily.
Email Has Stood The Test Of Time 🕐
The email has stood the test of time and has grown to be an important part of any marketing strategy.
More than 86% of businesses surveyed indicate that they plan to increase their upcoming email marketing budgets, proving that email marketing is still a critical and strategic component of any company's marketing mix.
The Newoldstamp email signature marketing platform shared in their report that 66% of businesses consider email as their primary communication channel. Moreover, the same study states that more and more professionals start seeing day-to-day correspondence as a marketing tool as 62% of the respondents use their sign-offs for branding, driving traffic to the website, lead generation, and other marketing purposes.
Since the number of ways a business communicates with its customers continues to increase day by day, it creates immense competition between these various communication channels as we all try to find better ways of engaging our audiences.
Brands are continually getting distracted by the "shiny new platform" syndrome, creating the perfect opportunity for you to up your email marketing game, especially when email generates $38 for every $1 spent, which is an astounding 3,800% ROI!
If you're still hesitant, we've curated a list of some astounding email marketing statistics for 2022 to demonstrate just how powerful email can be. Read on…
Email Marketing Stats That Will Make You Amazed!
Email Marketing Stat #1:
Global email users amounts to 3.9 billion users in 2019. 
This figure is set to grow to 4.3 billion users in 2022 (Statista, 2019).
As a comparison, there are 3.5 billion social media users worldwide. Though both stats are close, email still has the upper hand in terms of reach over social media.
[/vc_column_text]
Related posts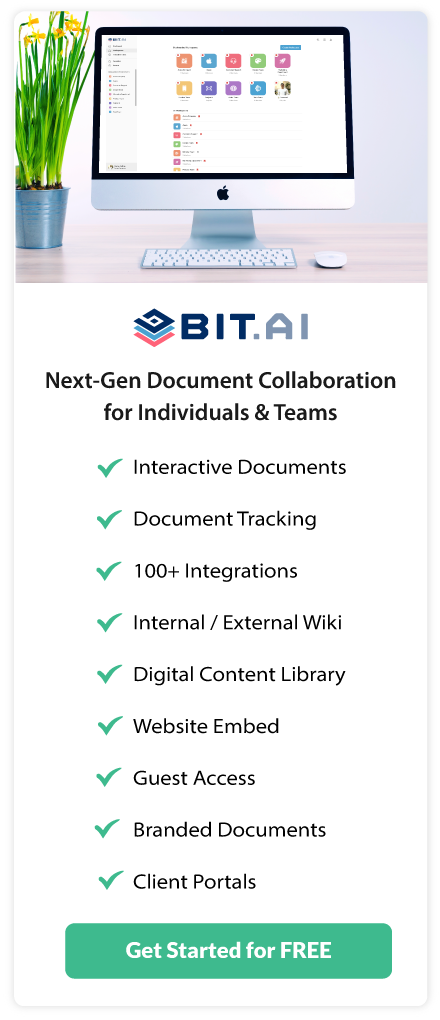 About Bit.ai
Bit.ai is the essential next-gen workplace and document collaboration platform. that helps teams share knowledge by connecting any type of digital content. With this intuitive, cloud-based solution, anyone can work visually and collaborate in real-time while creating internal notes, team projects, knowledge bases, client-facing content, and more.
The smartest online Google Docs and Word alternative, Bit.ai is used in over 100 countries by professionals everywhere, from IT teams creating internal documentation and knowledge bases, to sales and marketing teams sharing client materials and client portals.
👉👉Click Here to Check out Bit.ai.