Looking for a  project planning software to get work done efficiently? Look no further, as we have compiled a list of some of the best software for the project. Read on…
Completing projects on time and successfully delivering results is instrumental to a company's bottom line. You cannot possibly rely on your team's or manager's memory to plan, execute, and deliver a project on time, especially when some of these projects can take months to complete.
From putting together a team, strategizing, allocating resources, planning the budget, running meetings, documenting paperwork, and forecasting deliverability- a project manager is responsible for handling all aspects of a project.
To successfully deliver projects on time, project managers rely on specialized software to make sense of the chaos. Enter, project planning software.
What is a Project Planning Software?
Project planning software is a specialized tool that helps managers plan, strategize, and execute projects while managing tasks, processes, and resources efficiently. With the help of project planning software and services, project managers can handle their projects efficiently while maintaining the proper use of time and resources.
The lack of clear goals accounts for 37% of project failures. A project planning software provides a workspace to project managers and team members to clearly define the deliverables, the timeline, and the end result to ensure proper execution of the project.
A staggering 44% of project managers do not use any kind of project management software at all even when research has found project management software to increase project performance. On top of that, for every $1 billion invested in the United States, $122 million was wasted due to lacking project performance.
Read more: How To Write A Project Proposal that'll Get Approved In No Time?
List of 10 Best Project Planning Software:
If you don't want to be part of that statistic, we would advise you to go through this blog post thoroughly and pick a project management software of your choice! So without further ado, let's dive in…
Let's take a look at each of these project planning software out there and how they can help project managers get work done efficiently.
1. Jira (Project Management Tool for Agile Teams)
The first project planning software on our list is Jira. With over 50,000 customers, including the likes Cisco, Airbnb, and Spotify, JIRA is amongst the most popular project management tools for software development teams.
JIRA helps software teams plan, track and release great software. You can assign tasks to teammates, evaluate your project timelines, discuss the team's work with full visibility and context, and track progress by generating automatic reports.

Key Features
Integrations with thousands of add-ons including Hipchat, Zephyr, Bitbucket, Confluence, etc
Get real-time updates on project progress
Knowledge management
Pros: Great tool for software teams, great for issue tracking
Cons: The UI is a bit overwhelming and confusing.
Pricing: 
Free with limited functionality
Paid plans start from: Standard ($7/month), Premium ($14/month).
Read more: 7 Best JIRA Alternatives For Project Management
2. Bit.ai (New-age Collaboration Tool)
Bit.ai is another project planning software that is worth trying. Documentation is a critical part of project planning and needs to be accessible by different teams working together. This becomes even more important when you have a geographically dispersed team. Whether its meeting notes, to-do lists, process documentation, or SOP Bit is the ideal place to keep all your documents and digital assets in place.
Bit serves as a central hub where collaborators, content, and communications can be accessed in one all-inclusive document. Project managers can use Bit to create planning documents, collaborate with the team in real-time, and store all project assets in one place for easy and fast access. The best part is that this data is safely secured in your workspaces and can be shared (or kept private) with anyone in your organization!
Key Features
Workspaces to keep everything organized
Real-time collaboration
Content and knowledge management
Pros: Great UI, affordable
Cons: No mobile app
Pricing:
Free with limited functionality
Paid plans start from: Standard ($12/month), Plus ($20/month), Enterprise (contact sales).
Workzone claims to be "just the right" tool for most teams as it is more robust than entry-level tools like Basecamp but less complicated than powerful tools like Microsoft Project.
Workzone breaks down large projects into simple to-do lists and specific workspaces. Project managers can assign tasks, collaborate on documents, manage to-dos, share assets, track time spent on projects, and get a holistic view of the entire project schedule.
Pros: Secure, attractive UI
Cons: No Cost-to-Completion Tracking, no mobile app
Key Features
Comment section to discuss and stay informed of changes
Graphical reports to get project overview
Simple and easy to use
Pricing: 
Free trial
Paid plans start from: $20/month/user. Contact sales to get accurate pricing.
Read More: How to Write Project Reports that 'Wow' Your Clients
Blossom is a lightweight project planning tool for distributed teams.
It is based on the principles of Kanban, giving a clear overview of who's doing what & why. Project managers can efficiently manage their whole development process in one place.
With integrated performance analytics reports, you can see how and where your time and resources are being spent. Apart from planning and reporting, Blossom has a ton of integrations including Slack, Hipchat, and Github.
Pros: Lightweight and easy to use
Cons: Not as feature-rich as some of the other tools on this list.
Key Features
Daily email digest that automatically sums the most important of your project in the last 24 hours and sends it to your inbox.
Stand up meetings to know what's going on
Built with distributed teams in mind
Pricing:
Free with limited functionality
Paid plans start from: Contact Sales
Get the who-what-when for every email open, link click, and attachment view with Yesware. It is among one of the best gmail plugins that gives you the ability to track every email you send, right from your inbox.
Yesware also allows users to create and save email templates to reuse later and test different subject lines.
Apart from tracking open rates, users can also find out how long customers are spending on their slide decks, PDFs, and other attachments via the attachment report.
Key Features:
Easy setup
Progress report for bird's eye view
Salesforce integration
Pricing: 
Free plan with limited features.
Paid plans start at- Pro ($12 per user/month), Premium ($25 per user/month), and Enterprise ($55 per user/month).
Avaza is a project planning tool with some features of accounting software. It allows users to collaborate on tasks, track time spent on projects, generates expense reports, timesheets, sends invoices to customers, and even get paid right- all from a single dashboard.
Avaza is a more visual tool than most of the tools on this list as it allows project managers to switch between Kanban, Gantt, and list views for tasks and projects. Users can even convert an email into tasks, track time spent, completion rate, and more. It's a great project management and scheduling tool, especially for freelancers and small businesses.
Pros: Great tool for freelancers, client focussed business
Cons: Can't select multiple tasks for deletion, UI could be better.
Key Features
Integrate files into Avana from your Dropbox or Google Drive
Share your project board with your customers
Time and expense tracking
Pricing: 
Free with limited functionality
Paid plans start from: Startup ($9.95/month), Basic ($19.95/month), Business (39.95/month).
Part of the Zoho productivity suite of apps, Zoho Projects is a cloud-based team collaboration tool for project planning. You can plan your project, assign work to team members, manage resources and collaborate with your team effectively. It also includes a set of project templates and a project wiki to store project ideas, information, reference materials and more.
With built-in timesheets, you can record every second of your hard work and get paid for it. Users can also customize their experience by using personalized fields, layouts, statuses, and workflows. Following a style similar to social media, Zoho incorporates a feed that can be used to post comments, discussions and can provide an overview of all projects.
Pros: Time tracking can be useful for freelancers
Cons: Difficult to navigate the interface and as a result, most features stay unused.
Key Features
Integrations with Zapier, Dropbox, Slack, Zoho CRM
Gantt charts for a visual representation of schedules and time assigned to tasks
Task automation
Pricing: 
Free with limited functionality
Paid plans start from: Standard ($25/month), Express ($50/month), Premium ($100/month), Enterprise ($150/month).
Mavenlink is one of the top-ranked project planning tools on G2crowd and rightfully so. This tool helps automate project management, project accounting, resource planning, and team collaboration efficiently.
Designed for service organizations, Mavenlink integrates your task, projects, employee data, and resources for transparency and effective utilization. Advanced analytics provides business intelligence, identifies problem areas and suggests best practices to get the job done faster. Mavenlink integrates with popular applications like Google, Microsoft, and Salesforce to help you have all your data in one place.
Pros: Works well with distributed teams, neat user interface
Cons: Task assignment and updation can be clunky, reporting could be better.
Key Features
Monitor budget, time and margins
Agile resource management
Perfect for service organizations
Pricing:
Free with limited functionality
Paid plans start from: Teams ($19/month), Professional ($39/month), Premiere (contact sales), Enterprise (contact sales).
Teamwork was founded in 2007 and has gained a ton of customers worldwide. Teamwork provides project managers a bird's eye view on everything happening in the organization- who's working on what and with whom!
Teamwork Projects allow your team to manage project work in one place while you can chat with your teammates with Teamwork Chat. There's a third feature to this tool which is Teamwork Desk, using which you can answer customer queries. It's basically a one-stop-shop for all your business needs.
Spaces provide you a well, space for all your company knowledge. You can store all important files, documents, help-center articles and more and provide a single source of truth across the organization.
Key Features
Integrates with the majority of the apps like Google Drive, Dropbox, Box, SalesForce, etc.
Track time spent on projects by teams and generate custom time reports
Invoice all tracked time and expenses
Pros: Time tracking, flexible
Cons: Tries to do too many things at once which can be overwhelming
Pricing:
Free with limited functionality
Paid plans start from: "Forever Free" plan includes 100mb storage space for up to 5 users. The pro plan starts at $9/month with 100GB storage and supports up to 100 users.
And the last one on our list of awesome project management and scheduling tools is Paymo. It's an all-in-one project management software that includes features like project planning, time tracking, project scheduling, resource planning, and collaboration.
Project managers can use Paymo to schedule and monitor all project-related activities in real-time and make adjustments using Gantt charts. Tasks can be easily filtered to provide a clear view of the progress and you can even switch to a Kanban view for a complete overview.
Pros: Live reports, Gantt charts
Cons: No desktop or mobile version
Key Features
Track resource usage by viewing resource usage on a calendar.
The activity stream shows all the recent activities, task assignments, changes made, resources used and more.
Converse in real-time
Pricing:
Free with limited functionality
Paid plans start from: Small office ($9.56/month), Business ($15.16/month)
Final Words…
Organizations have been slow to adopt specialized project planning software but things are changing. Between 2017 and 2018, the percentage of organizations using spreadsheets to manage their agile projects dropped from 74% to 67%. Instead, these organizations moved to specialized project management and planning tools.
Organizations are now realizing the need of deploying a project planning tool for their business, especially after the fact that fewer than a third of all projects were successfully completed on time and on budget over the past year.
A project planning software helps manage the cost, time, and resources associated with a project, putting project managers in the driver's seat.
The project planning software we mentioned on this blog are some of the best ones out there. You really cannot go wrong with any of the above-mentioned tools, it all depends on the type of project you are working on, the number of variables, employees, and of course, your budget.
Let us know which project planning software impressed you the most and why by tweeting us @bit_ai
Further reads:
Don't want to forget this information?
Pin it for future reference!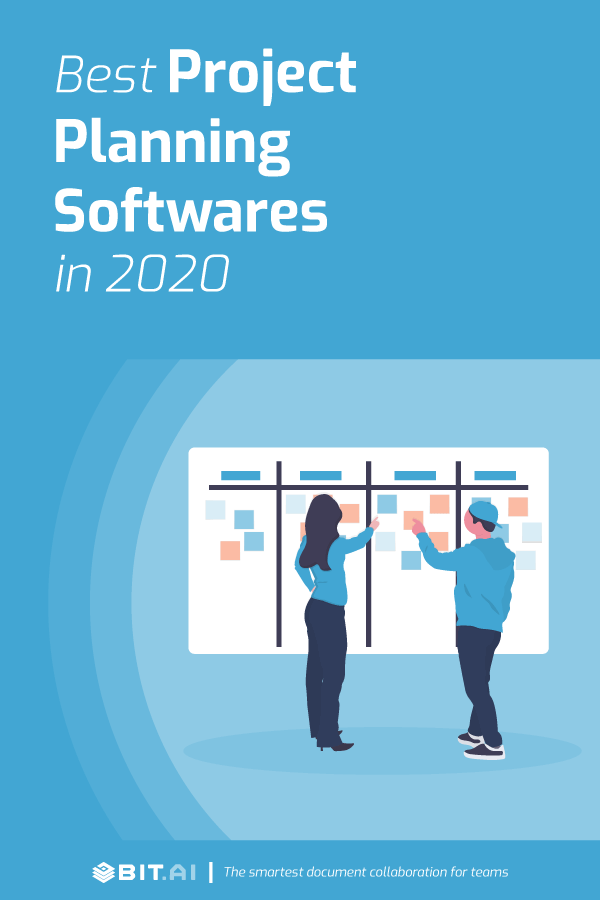 Related posts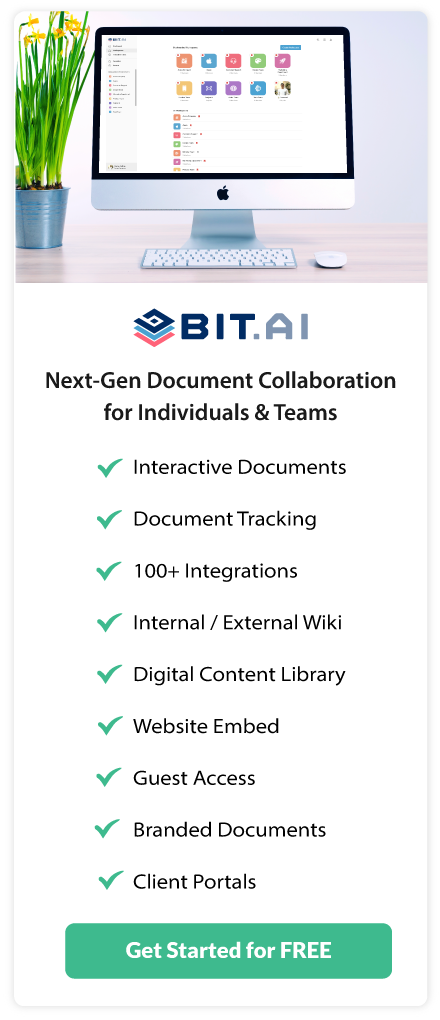 About Bit.ai
Bit.ai is the essential next-gen workplace and document collaboration platform. that helps teams share knowledge by connecting any type of digital content. With this intuitive, cloud-based solution, anyone can work visually and collaborate in real-time while creating internal notes, team projects, knowledge bases, client-facing content, and more.
The smartest online Google Docs and Word alternative, Bit.ai is used in over 100 countries by professionals everywhere, from IT teams creating internal documentation and knowledge bases, to sales and marketing teams sharing client materials and client portals.
👉👉Click Here to Check out Bit.ai.