Having trouble managing time and keeping track of your deadlines? A project timeline is what you need. Read on to learn more about them…
Brian Tracy once said, "Every minute you spend in planning saves 10 minutes in execution." That means, when you miss out on planning, even the most solid projects can easily come crashing down.
All the projects you undertake might be incredibly diverse. They might have different goals and will involve different departments of your business.
But all of them have one similarity – the need for project timelines. They help to identify the tasks that have been accomplished and the impending ones. These timelines establish a mighty foundation for your project!
Project timelines may appear to be simple but when you start creating one, you'll realize how intricate they are. Exactly why it becomes all the more important for any project manager to build timelines carefully.
So if this is your first time creating a project timeline, you might be feeling overwhelmed but you are at the right place for help. In this blog, we will teach you all that you need to know about project timelines, along with a full–proof guide on creating one too!
What is a Project Timeline? (Definition)
Project timelines are just as simple as they sound – a list of all events that will occur or have already occurred in your project. They direct you to the tasks that need to be completed and the time remaining to finish them.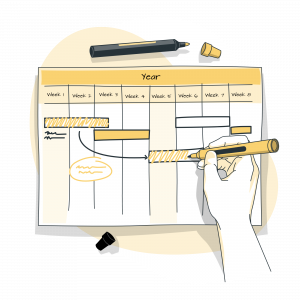 You can call it a comprehensive overview of your entire project from top to bottom! They link every task to one other and help identify how one task depends on the other, and anticipate any possible blockades.
Every project manager should make use of such invaluable project timelines, and we'd love to give you more reasons for the same…Read on!
Importance of Setting Up Project Timelines
1. Improved Teamwork
Like we discussed already, project timelines help uncover task dependencies, due dates, and more.
With such assistance, teams are aware and alert of what needs to be done next. They understand the importance of every single task and how one delay can trigger a chain reaction of further delays.

Improved teamwork and collaboration lead to success and this is backed by statistics! 71% of business executives say employee engagement is one of the top factors in project success. (Source)
With project timelines right in front of them, teams work more efficiently. It also keeps them motivated as they know they're advancing in their project.
2. Prevents Waste of Time and Money 
Time management is key to successful project management. Close to 46% of team leaders say hitting project deadlines is their biggest problem. (Source)
When you create project timelines right in the beginning, you can better estimate your overall project costs and the time needed to finish them.
When you anticipate the estimates, you are likely to not derail from your plans and deadlines. This way your team can avoid mindlessly working on insignificant tasks and also avoid any budget overruns.
Read more: Project Management Schedule: What is it & How to Create it!
3. Boosts Communication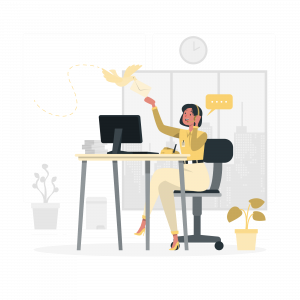 The lack of effective communication is one of the leading reasons why so many projects horribly fail. In fact, a study shows that 57% of projects fail due to a breakdown in communications.
Not just this, poor communication costs small businesses over $420,000 and companies with over 100,000 employees over $62 million.
So it's utterly crucial that your business practices proper communication and project timeline foster that! Creating timelines helps the entire team to keep a track of everything that's going on and thus, improves communication.
When communication is in high gear, project management will become much easier and faster.
4. Better Project Maintenance 
Project timelines are a great way to track project progress.
Hence, when deadlines are missed or a task ends up requiring more time than anticipated, a project timeline helps the project manager and their team to make needed revisions.
This way you can think on your feet and react as quickly as possible without affecting your entire project.
Project timelines help maintain productivity and keep your teams engaged. It's an integral part of project management if you want to make your project a big hit!
We know that you want your projects to be a success…that's why we're going to teach you how to create a perfect, no-fail project timeline step-by-step.
How To Create A Project Timeline? (Step By Step)
1. Identify Project Scope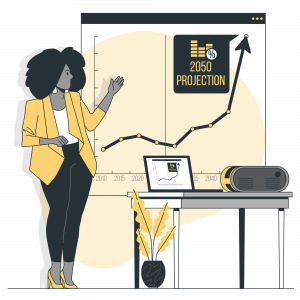 Before you start creating a distinguished project timeline, you'll have to start with identifying your project scope.
Simply put, the project scope is all about the deliverables that a project wishes to create and all the associated resources and costs to it.
Make sure you take your time with this step and that it is accurate and concise. Also, it needs to be easily understandable by everyone in your team. It can't be too wordy or too vague.
All in all, a project scope will make sure that your timeline is correctly aligned with what you wish to achieve at the end.
Let's say, the project scope for a textile industry could be to produce 50 varieties of handmade rugs. Now that we know the scope, we could plan the rest of the things from availing the resources to dividing the tasks easily.
2. Divide Your Work into Simple Tasks
Once you are aware of the bigger picture, the next step in creating a project timeline is to divide all your deliverables into simple tasks leading to the goal.
Think about what you need to do in order to achieve your ultimate goal. These tasks can be anything like conducting market research, analyzing data, designing, quality testing, etc.
Obviously, these may not be the exact tasks that suit your project and they'll need to be curated as per the needs of your scope.
3. Determine Dependencies
When you take on projects, some tasks can be done simultaneously without any disruption, while some can't begin until another one is completed.
For example, you can't go on with painting your house until you have the paint.
You need to determine such dependencies prevailing in your project. Create flow charts and diagrams of all your tasks and spend some time visualizing which task could be dependent on another task.
Depending on the complexity of your project, this can be a strenuous task but soon, it'll become clear which tasks come first and what order your team needs to follow.
Trust us, this is worth your time because once dependencies are mapped out, your project takes a solidified shape.
4. Assign Time To Each Task
Now that your project is falling in place, your next step is to assign proper timing for how long you think the tasks in your project should take.
If not you, call an expert who can do that for you. Even consult your team who will be the ones performing these tasks, this way you can be as accurate as possible with the timing.
Once done, you'll see the duration for your entire project taking shape.
5. Assess Resource Availability
The one resource that is highly crucial in your project is your team members. Take the abilities, preferences, and schedules of your team into account.
If they have any other task to work on and this project timeline contradicts that, it can be detrimental.
Managers should keep this in mind and even if the task requires two days of dedicated work, make sure you offer them flexibility by providing additional days to not oversaturate your employees.
Other than the team, make sure everything from technology to the capital required to get going on the project is available by the start date.
Read more: Project Scope: What is it and How to Write it?
6. Create Milestones
Project Milestones are checkpoints that track your progress.
They help adjust deadlines when unexpected delays arise and also provide much-needed feedback to your team once they complete a certain task.
So, place milestones around key task completions and big achievements.
7. Draw Your Timeline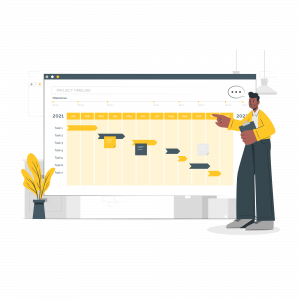 Yes, it's finally down to the last and most exciting bit – drawing your timeline!
Line all your tasks from start to finish, mention the date and time associated with them, add some finishing touches with your project milestones!
Yes, creating a project timeline is an intricate job but who said it needs to be boring?
All you need is a handy tool that will lead you, be your best friend on this journey, and stick with you…
And you know what? We wouldn't leave you stranded at this stage, so here's a tool that is the perfect fit for your project timeline needs!
Bit.ai – A Powerful Tool for Creating Project Timelines & All Other Documents


Bit.ai has made creating project timelines and other documents easier than ever. You can not only make your project timelines look super great but also weave them with interactive elements. The BEST part is, Bit lets you and your employees work together in real-time seamlessly.
Here comes the fun part: With Bit's fully responsive and beautiful templates, you can make your timelines super attractive and accessible on any device. You don't have to care about formatting and designing your documents at all because Bit does it all for you!
Want to see how awesome your project timeline will look if you create it on Bit?
Here, using Bit's smart tables, we've created a calendar timeline, along with a project ownership section where employees can easily locate what tasks they're supposed to undertake. You can mention all your tasks in Bit's beautifully designed, fully responsive tables with as many rows and columns as you like!
We've also embedded OneDrive and Google Sheets files into our project timeline! Yes, Bit integrates with over 100+ popular applications to make your documents come alive, with just a few clicks!
All-in-all, Bit offers so many exquisite features and you need to give it a try!
Wrapping Up
Just coming up with a great project won't help you reach heights, you need to know how to execute it too. An efficient timeline will help you to visualize and respond to your project needs better.
Your projects may all differ in their complexities and their deliverables but a project timeline is something you'll always need if you want your project to work smoothly.
So now is your time to take action! We have equipped you with all the nitty-gritty about project timelines, and by now, we're sure you understand how crucial it is.
Don't wait anymore and use our step-by-step guide to curate the perfect project timeline for your next project!
Further reads:
Project Budget Plan: What is it & How to Create it?
Project Objectives: What are they & How to Write them Effectively?
Project Summary: What is it & How to Write it!
Waterfall Project Management: What, Why, and How?
What is Project Planning: A Step by Step Guide!
Project Management Communication Plan: Definition & Steps to Create!
What is Project Status Report Documentation?
Project Charter Document: How to Write Perfect One?
Workload Management: Definition, Importance, Process & Tools!
Burn-Up Charts: What are they and How to Create One?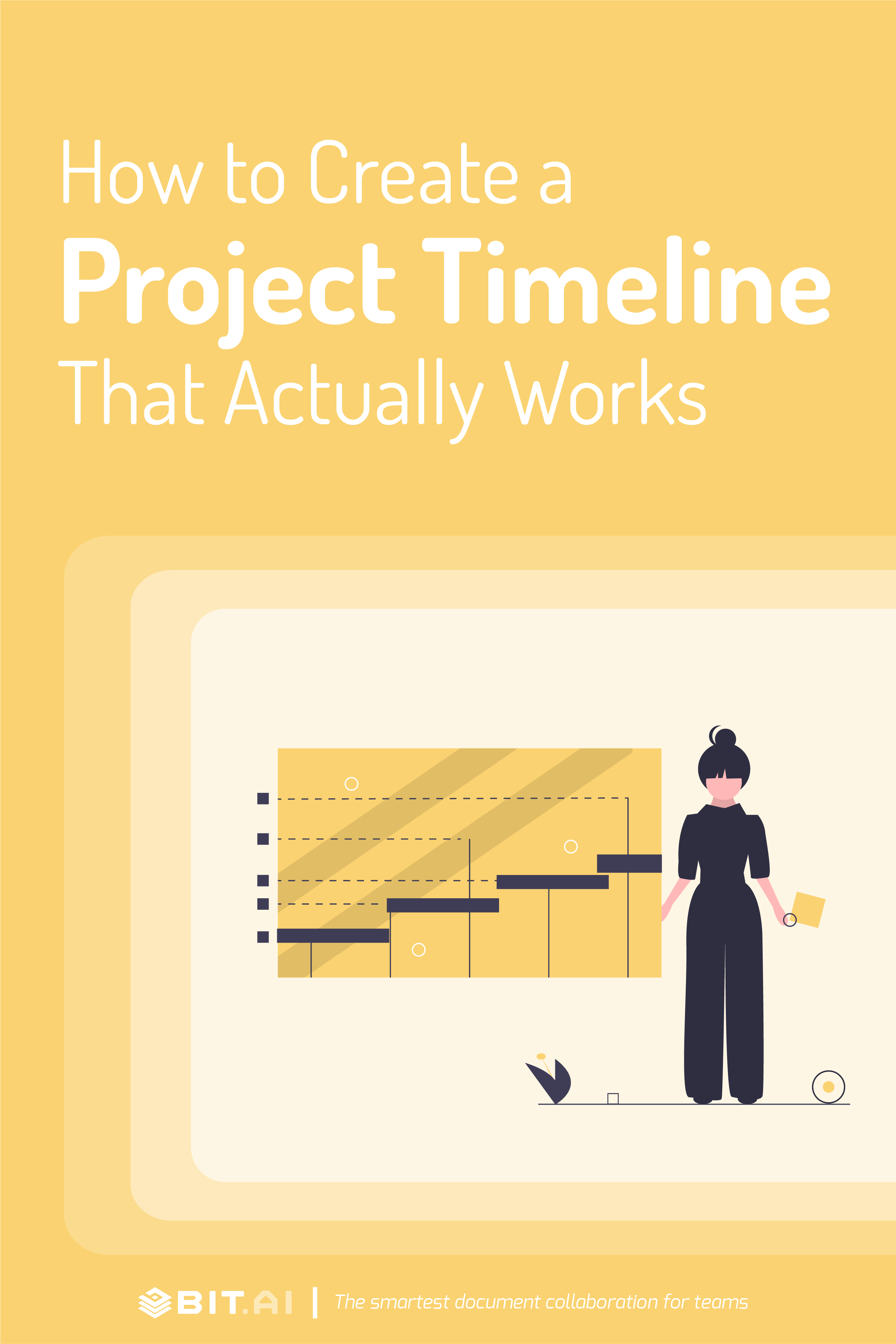 Related posts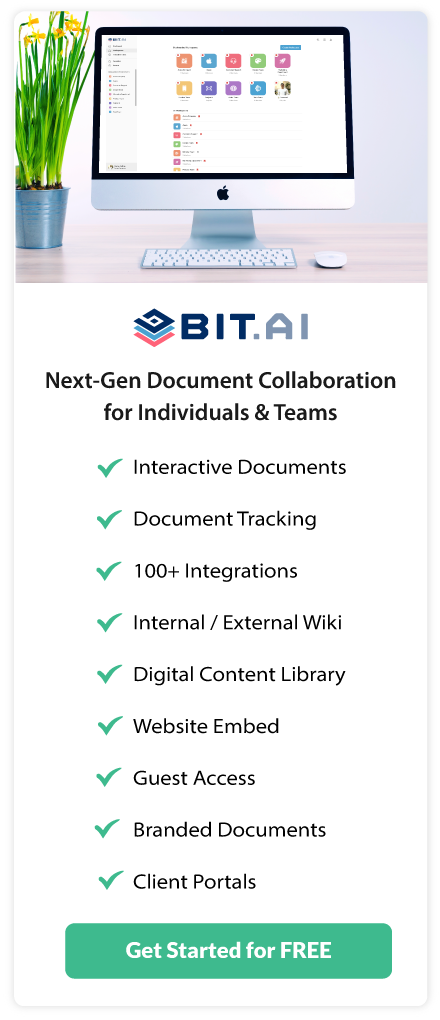 About Bit.ai
Bit.ai is the essential next-gen workplace and document collaboration platform. that helps teams share knowledge by connecting any type of digital content. With this intuitive, cloud-based solution, anyone can work visually and collaborate in real-time while creating internal notes, team projects, knowledge bases, client-facing content, and more.
The smartest online Google Docs and Word alternative, Bit.ai is used in over 100 countries by professionals everywhere, from IT teams creating internal documentation and knowledge bases, to sales and marketing teams sharing client materials and client portals.
👉👉Click Here to Check out Bit.ai.