What comes to your mind when I say the word video? I bet many of you just thought of YouTube! YouTube has become synonymous with video watching as almost one-third (over a billion) of internet users are on YouTube. YouTube has only one way to go…and that is up and up!
Did you know that on mobile alone, YouTube reaches more 18-34 year-olds than any cable network in the U.S? YouTube is huge and has become an integral part of the internet landscape in just over a decade.
Apart from providing entertainment and endless cat videos, YouTube also helps people make purchase decisions, especially those looking to buy a smartphone, laptop, or other technological hardware.
According to data, YouTube influences 64% of purchases made, which is the highest when compared to other popular social media platforms like Facebook, Twitter, or Pinterest!
As a result, a lot of tech YouTubers have popped up on the platform in the past few years with millions of people viewing and subscribing every day.
Below is the list of some of the best tech YouTubers for getting your daily dose of technology and helping you research your next purchase…

Kicking off our list of awesome tech YouTubers is Marques Brownlee, or as he is commonly known as "MKBHD" KB (Brownlee's initials) and HD (for high-definition). One of the biggest names on YouTube, especially in the tech sector, Marques has been regarded as the "the best technology reviewer on the planet right now" by none other than Vic Gundotra, former Senior Vice President, Social for Google.
Marques started making tech videos in 2009 when he was still studying in high school. From 2009, a lot has changed as he now boasts of over 10 million subscribers and over 1.6 billion total video views! Marques usually reviews mobile hardware.
However, with his growing popularity, he has managed to get big names like Elon Musk and Will Smith for interviews on his YouTube channel!

Next up is Judner Aura, or as some might know him "UrAverageConsumer". Judner is a self-proclaimed "average guy who loves tech," and reviews smartphones, laptops, cameras, gaming, and much more.
Judner started his YouTube journey in 2012 while he was studying marketing at Drexel University. With over 2.75 million subscribers, Judner has grown his YouTube channel tremendously, thanks to his honest opinions and "common guy" take on gadgets.


Linus Gabriel Sebastian is a Canadian Tech-YouTuber and owner of four YouTube channels, Linus Tech Tips, Techquickie, TechLinked, and Channel Super Fun, which have a combined subscriber base of over 15 million users. As of February 2019, Linus Tech Tips is ranked the 5th most-watched Technology channel on YouTube.
Linus Tech Tips was born when Linus was working at a now-defunct Canadian online computer store NCIX, who asked him to create a YouTube channel for reviewing products for their store.
Linus has gained enormous popularity over the years and in 2014, Tubefilter named the channel as being within the "top 1% of Google's preferred advertising channels" on YouTube for the technology category. Inc. magazine has ranked Linus 4th on a list of the "Top 30 Power Players in Tech."
Read more: Top 10 Technology Blogs You Must Subscribe to in 2022

Another popular Tech-YouTube channel, Unbox Therapy gives you the pleasure of opening up the newest tech gadgets without having to spend any money to buy them! The channel was started by Lewis George Hilsenteger (host) and Jack McCann (videographer).
In 2014, Unbox Therapy uploaded a video in which Lewis was shown bending his iPhone 6 plus using his bare hands, a video which is recognized to spiral the infamous "Apple Bendgate" controversy.
Apart from reviewing smartphones and laptops, Lewis also showcases weird products (an unspillable cup!) that you never knew existed. The YouTube channel has over 16 million subscribers as of now and over a billion video views!

From gaming PCs to smartphones, Austin reviews anything and everything about tech. He uploaded his first video in 2009 when a friend recommended he make an app review using video and post it on YouTube.
Since then, Austin has grown into being one of the most recognized tech YouTubers, garnering over 4 million subscribers to date. His breakout video was a speed test between iPhone 5 and Samsung Galaxy S3 which got featured on Mashable and gained over 100,000 on its first day!
Read More: Top SaaS Influencers You Must Follow

Jonathan Morrison started his YouTube journey in 2010 when his channel was called tldtoday, which he later renamed to his own name, Jonathan Morrison.
From gadget reviews and buying advice to checking out the latest apps and PC games, Jonathan Morrison provides crisp and aesthetically pleasing tech videos and reviews. He currently boasts of close to 2.7 million subscribers and over 400 million channel views.

A regular spokesperson for CNBC and Fox Business, Jonathan Rettinger is a well-known face in the Tech world. He started his technology website "TechnoBuffalo.com" in 2009 with an initial capital of $40,000 and grew it to a behemoth for tech fans to discuss everything about technology and gadgets.
However, early last year, Jonathan Rettinger sold his website and YouTube channel Technobuffalo to Mobile Nations, one of the biggest digital publishers in the world. Since then, Jonathan has gone solo, and now runs his YouTube channel Jon Rettinger which has over 1.5 million subscribers!
Read more: The Best Tech Websites to Follow in 2022

Arun Maini or MrWhoseTheBoss runs the most followed Tech YouTube channel in the UK. Arun has been featured around the globe with publications like Huffington Post, The Daily Telegraph, and BussinesInsider, all praising him for his contribution to the tech sector of YouTube.
A 24-year-old economics student, MrWhoseTheBoss has gained over 3.5 million subscribers on YouTube, thanks to his detailed smartphone reviews and comparison videos.

Android Authority started off as a website covering everything Android way back in 2007. In 2011, they joined YouTube and kicked off their Android Authority YouTube channel where they unbox and review Android smartphones and gadgets.
If you are a fan of the Android operating system, Android Authority is like a gold mine of android apps, games, smartphones, how-to guides, and more. Their channel currently has over 3.35 million subscribers and is the go-to place for fans to discuss and geek out on the latest of Android.

iJustine started her channel back in 2006 and it now has over 6.2 million subscribers!
From product recommendations to cyber hacks and tips – her channel has it all. She has also launched a program called 'Vlog University with iJustine', in which she teachers her subscribers all about tech vlogging.
That's not it! She has also been invited to participate in many famous TV series like Law and Order, The Vampire Diaries & Criminal Minds.
One of the best YouTuber's of all time, iJustine is a role model for all the women out there.

With over 870k subscribers, Tech Me Out is one of the best tech channels on Youtube.
Run by a technology nerd Erica Griffin, this channel features unboxings, product reviews, tech tips, and much more! Her content is brutally honest and credible.
Want to know about the best gadgets out there?
This is the channel for you!
Final Words
There you have it, folks! This is our list of some of the best tech YouTubers on YouTube right now. There are a ton of great Tech YouTube channels out there, but we believe the ones listed above will help you satiate your hunger for awesome new tech.

If we missed out on your favorite Tech YouTuber, do let us know by tweeting us @bit_ai. Till then, happy watching!
Further reads: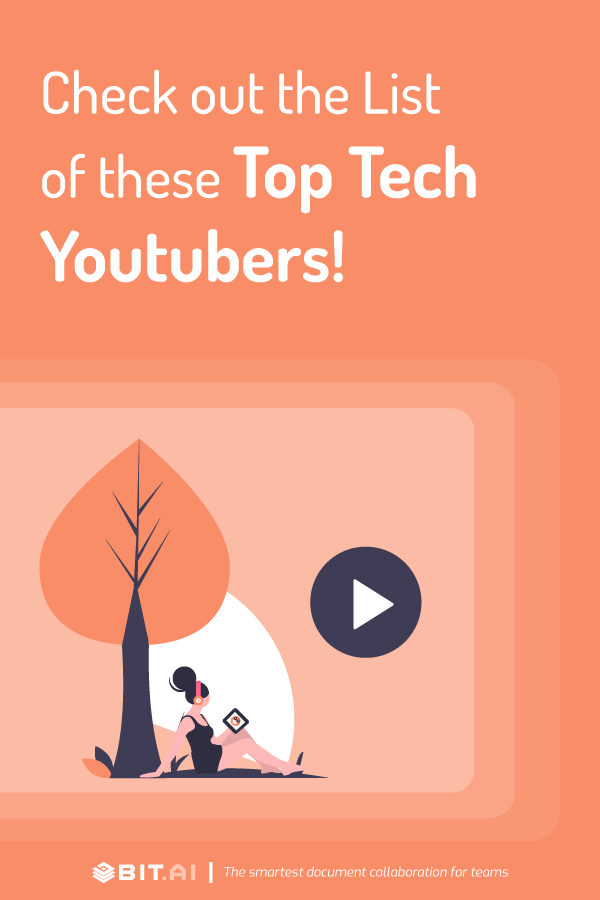 Related posts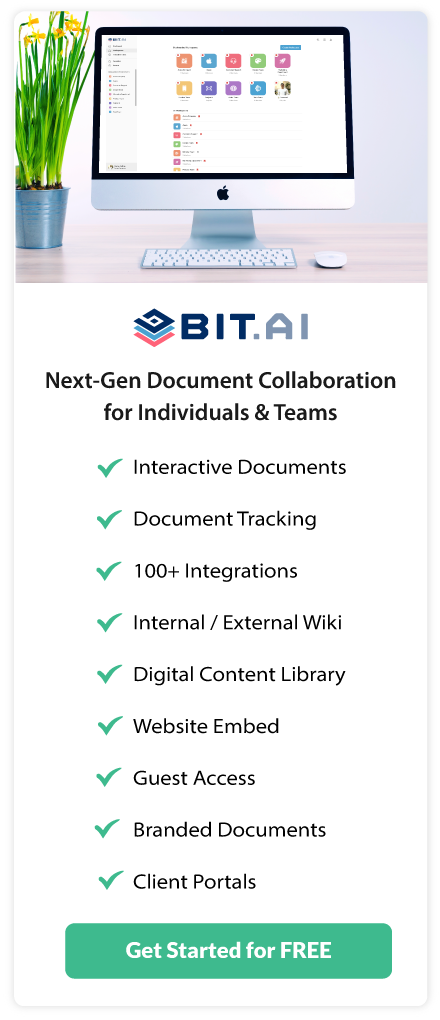 About Bit.ai
Bit.ai is the essential next-gen workplace and document collaboration platform. that helps teams share knowledge by connecting any type of digital content. With this intuitive, cloud-based solution, anyone can work visually and collaborate in real-time while creating internal notes, team projects, knowledge bases, client-facing content, and more.
The smartest online Google Docs and Word alternative, Bit.ai is used in over 100 countries by professionals everywhere, from IT teams creating internal documentation and knowledge bases, to sales and marketing teams sharing client materials and client portals.
👉👉Click Here to Check out Bit.ai.