Healthy communication is essential for a peaceful and productive work environment. If your business goals, roadmap, and status are not effectively communicated within the organization, it could lead to confusion and chaos.
In fact, according to a survey by the Computing Technology Industry Association, 28 percent of employees reported poor communication as the primary cause of failing to deliver a project within its original time frame.
It's always the combined effort of the teams and departments in an organization that lead to the overall prosperity of the business. Having an effective communications strategy is a necessity for achieving that degree of success.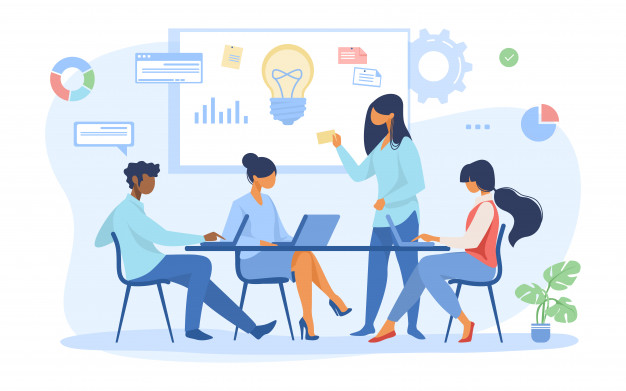 One such communications strategy is sharing a project status report with your team. A project status report keeps the entire team updated on the latest developments in a project and makes sure everyone is on board with its trajectory.
Using a project status report template is by far, the quickest and easiest way to update your internal as well as external team. This is why we created an awesome, AND FREE, status report template for you all.
But let's not get ahead of ourselves just yet. We will soon give you a perfect project status report template that will help you create visually stunning documents without any external help. But first, let's learn everything there is to know about status reports and what are the key elements you need to include in such documents. Read on…
What is Project Status Report Documentation?
Project status reports are regular updates sent to clients, management, and teams to understand the status of projects, any issues, and milestones achieved. By keeping everyone in the loop with updates on a weekly, monthly, or quarterly basis it helps with accountability and receiving help or resources when necessary.
Why is Status Report Documentation Important?
Project status reports are an important part of large projects. When there are complex deliverables and many moving parts across various collaborators it's important to have check-in points.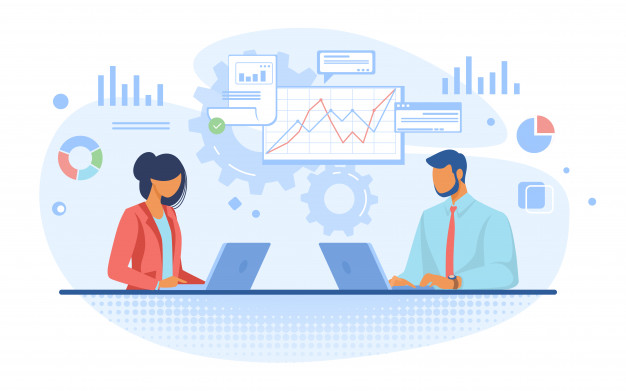 Project status reports help the team to see what's going well and what isn't. It also helps managers to see from a higher level the overall success or failure of a project.
A project status report:
Keeps internal as well as external stakeholders in the loop of project development.
It provides transparency in the work.
Identifies issues and risks associated with a project and in turn, provides timely mitigation.
Keeps everyone associated with the project accountable.
Keeps a paper trail of the entire process of development for future reference.
Read more: Progress Report: A Complete Guide for Beginners!

What You Should Include in Project Status Reports
‍An ideal status report must have the following key elements:
Title: Heading of the project
Project Manager: Name of the project manager
Project Sponsor: Name of the client
Date of Report: Add the date of submission
Created By: Name of the person who created the report
Executive Summary: Add an overall summary of your status report
Milestone Status Review
Project
Project Milestones
Status
Completion Date
Issues
Issues Summary
Issue ID
Priority
Issue Description
Impact
Issues
Now that you know the importance and elements of a project status report document, it's time to put that information to test by using a documentation tool like Bit.
Key Benefits of Creating Your Project Status Report Documentation on Bit.ai
For creating project status report documents, you need a proficient tool that can help you create, share, and collaborate with stakeholders and get work done efficiently. This is where Bit comes in!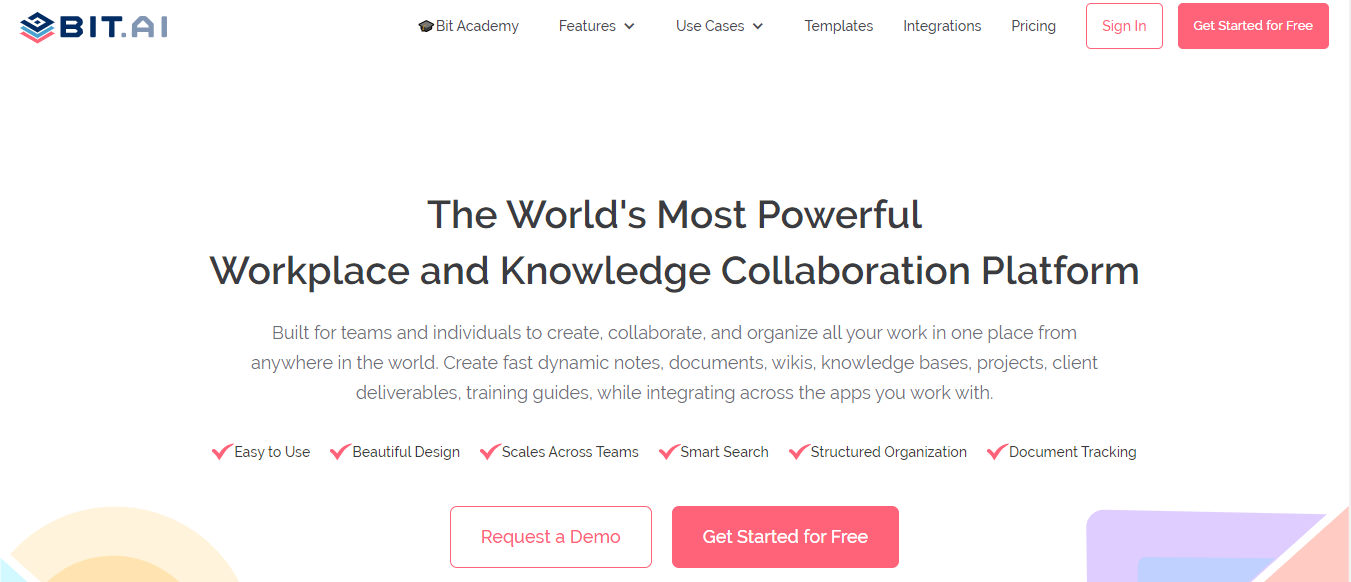 Bit.ai is a new-age documentation and knowledge management tool that helps teams to collaborate, share, track, and manage all company knowledge in one place. Project managers can use Bit to create project status report documents, collaborate with the team in real-time, and store all project assets in one place for easy and fast access.
Apart from creating project status reports, your team can easily create other workplace documents like the statement of work, project documents, operational plan, roadmap, project charter, etc. You can even add cloud files, Slideshares, Google Slides, YouTube videos, PDFs, maps, charts, graphs, and more to these documents and make them visually stunning.

Simple, Clean UI: Bit has a very minimal design aesthetic to it, allowing a newbie to quickly get on board with the platform. Even though the platform is feature-rich, it does a great job as to not overwhelm a new user and provides a systematic approach to work.
Organization of information:  Information is often scattered in cloud storage apps, emails, Slack channels, and more. Bit brings all your information in one place by allowing you to organize information in Workspaces and folders. Bring all your documents, media files, and other important company data in one place.
Brand consistency: Focus on the content and let Bit help you with the design and formatting. Bit documents are completely responsive and look great on all devices. With amazing templates and themes, Bit docs provide you with the type of brand and design consistency which is unheard of in the documentation industry
Smart search:  Bit has very robust search functionality that allows anyone to search and find their documents swiftly. You can search workspaces, folders, document titles, and the content inside of documents with Bit's rich-text search. On the other hand, Bit's content library helps teams save and categorizes digital content you use frequently inside documents, making it easy to find and reuse any digital asset.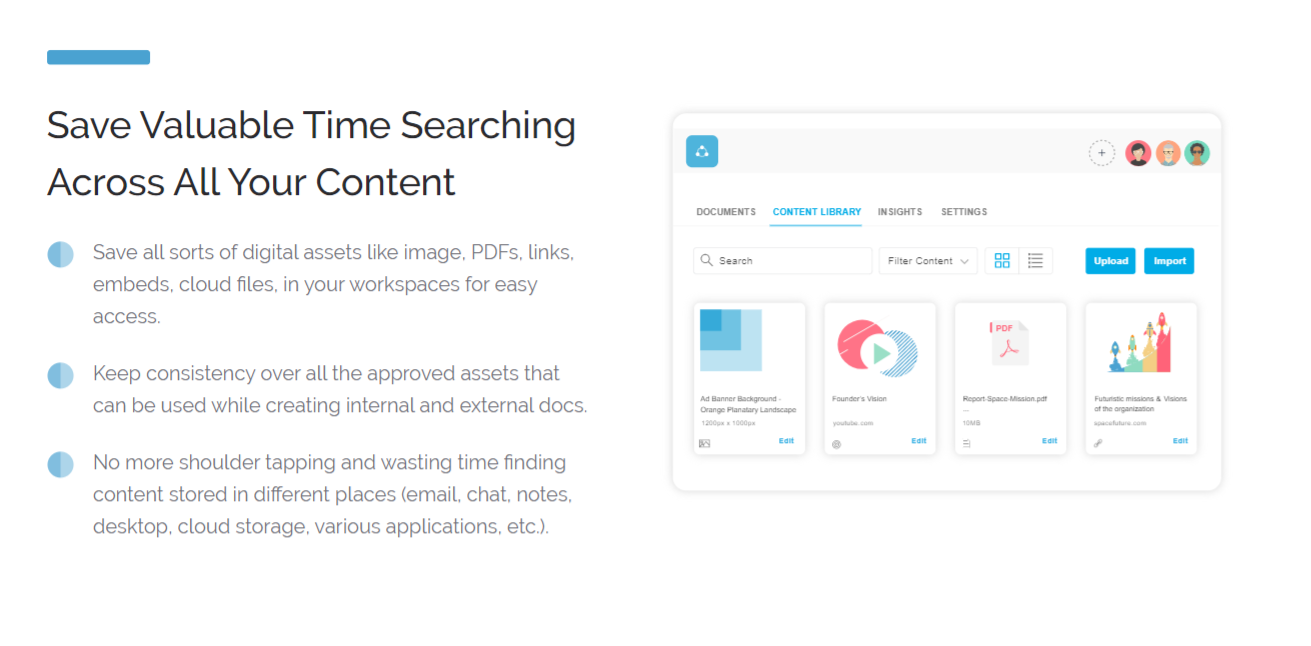 Media Integrations: Companies use an average of 34 SaaS apps! No wonder why most of our time is spent hopping from one app to the next, looking for information. This is why Bit.ai integrates with over 100+ popular applications (Dropbox, YouTube, Typeform, LucidChart, Spotify, Google Drive, etc) to help teams weave information in their documents beyond just text and images.
Recommended power links and files you can add to your template:
Weblinks
Google Sheets, OneDrive Excel, Airtable
GitHub
Social Media posts
YouTube, Vimeo
Draw.io, Lucidcharts
Sketchfab, Figma, Marvel
PDFs, PowerPoint in Google Drive/OneDrive
Sharing: Bit documents can be shared in three different states:
Live state: A live state meaning that all changes that you make to the document will update in real-time. If you are sharing your documents with clients, partners, or customers they will always get your most up-to-date changes.
Embeds: You can embed Bit documents on any website or blog. Bit docs are fully responsive and render perfectly on your website.
Tracking: You can track your documents and gather real-time insights to understand how users interact with your content. See how much time users spend viewing documents, scroll ratio, user information, and more.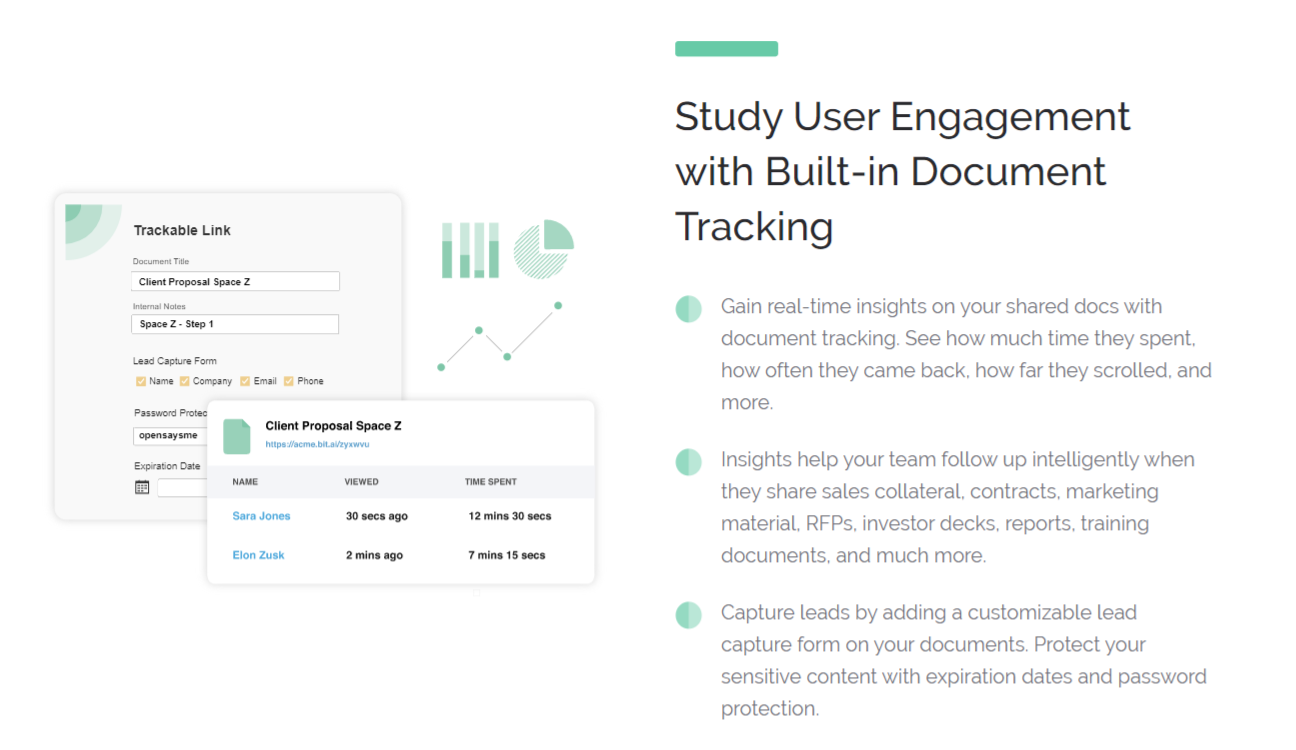 Tons of other features: Bit has a plethora of amazing features like document tracking, cloud-upload, templates, and themes, document locking, document expiration, and much more, making it a well-rounded documentation tool.
Bit provides a common workplace for project members to collaborate, document, share their knowledge, brainstorm ideas, store digital assets, and innovate together. The best part is that this knowledge is safely secured in your workspaces and can be shared (or kept private) with anyone in your organization or the public!
Here are some of the main benefits of using Bit:
Collaborate in real-time
Interlink status reports and other documents
Create fully responsive documents
Create private status reports only visible to yourself or your team
Track engagement on shared status reports with consultants, partners, etc.
Read more: Formal Reports: What are they & How to Create them!
To make the process of creating your project status report documentation easier, we have created a ready-made status report template for you! Check it out below: 

How to Use the Project Status Report Template with Bit?
The process of creating a status report document on Bit is insanely easy! Just follow these four simple steps to create your document quickly:
Step 1: Create a Bit Account
Go the home page of Bit.ai and click on Get Started for Free or Sign Up to get started. Enter your email address to sign up. Once in, you can create your personal profile.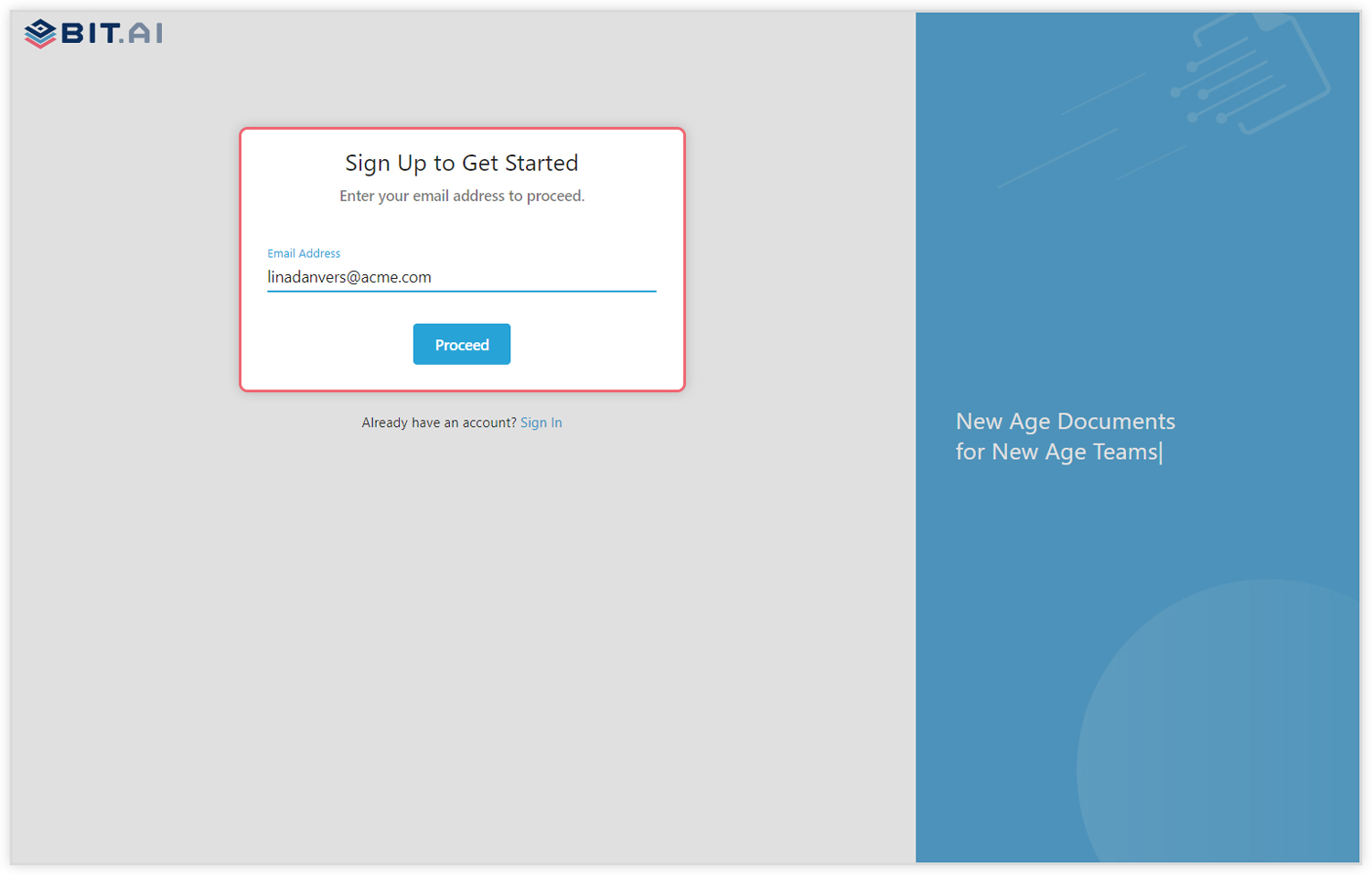 Step 2: Create a Workspace
Workspaces are where the work gets done. Click on the 'Create Workspace' button on the right. A popup will show up prompting you to add a name for your new workspace.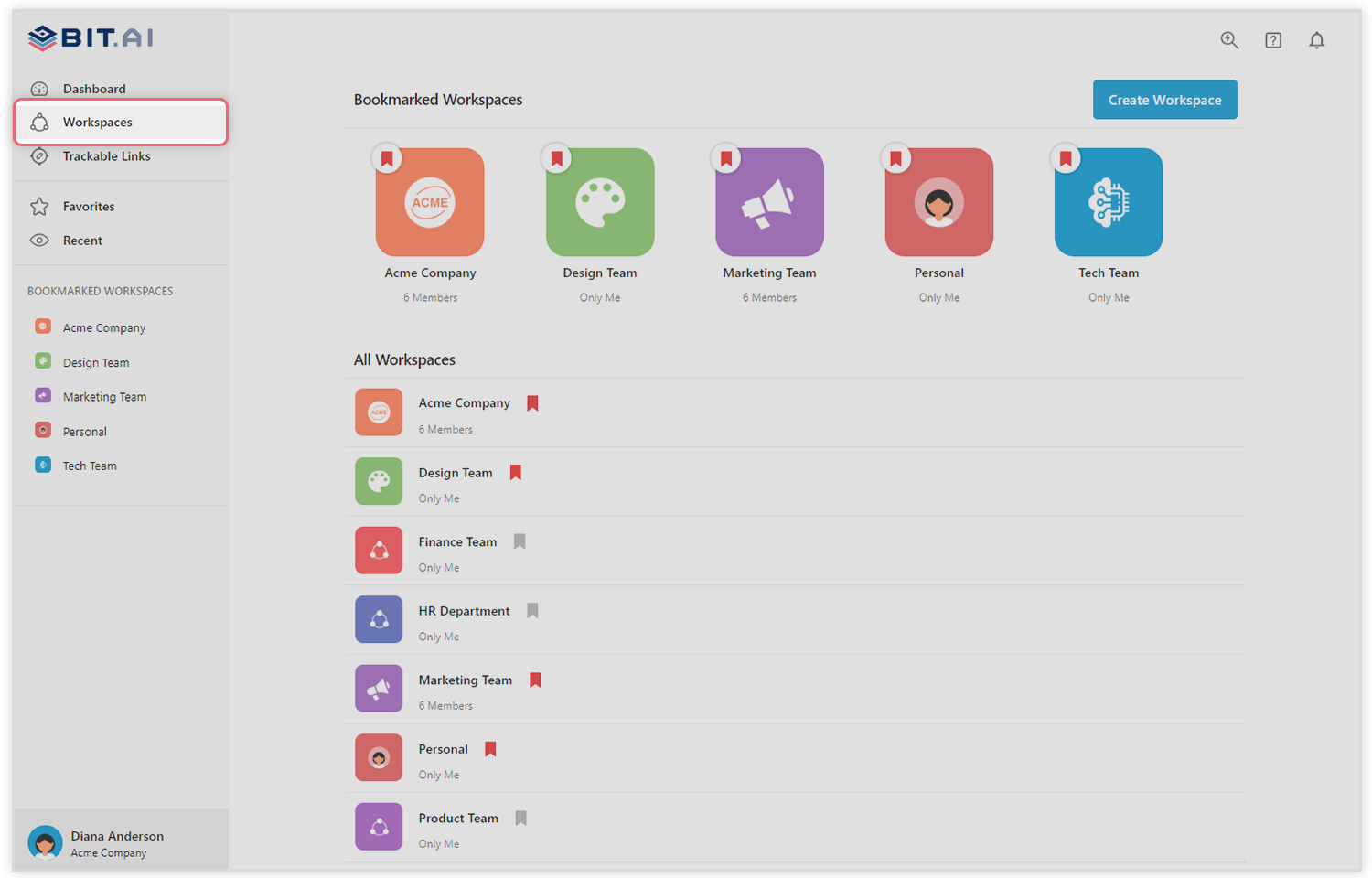 You can create a workspace around a team, department, large project, client, partner, etc. Inside each workspace, you can create an unlimited amount of Bit documents and access your content library (storage area for all of your digital assets – web links, files, cloud files, rich embeds, etc.).
Step 3: Add Team Members
Bit allows your team members to collaborate in real-time and get work done. Collaboration starts at the workspace level.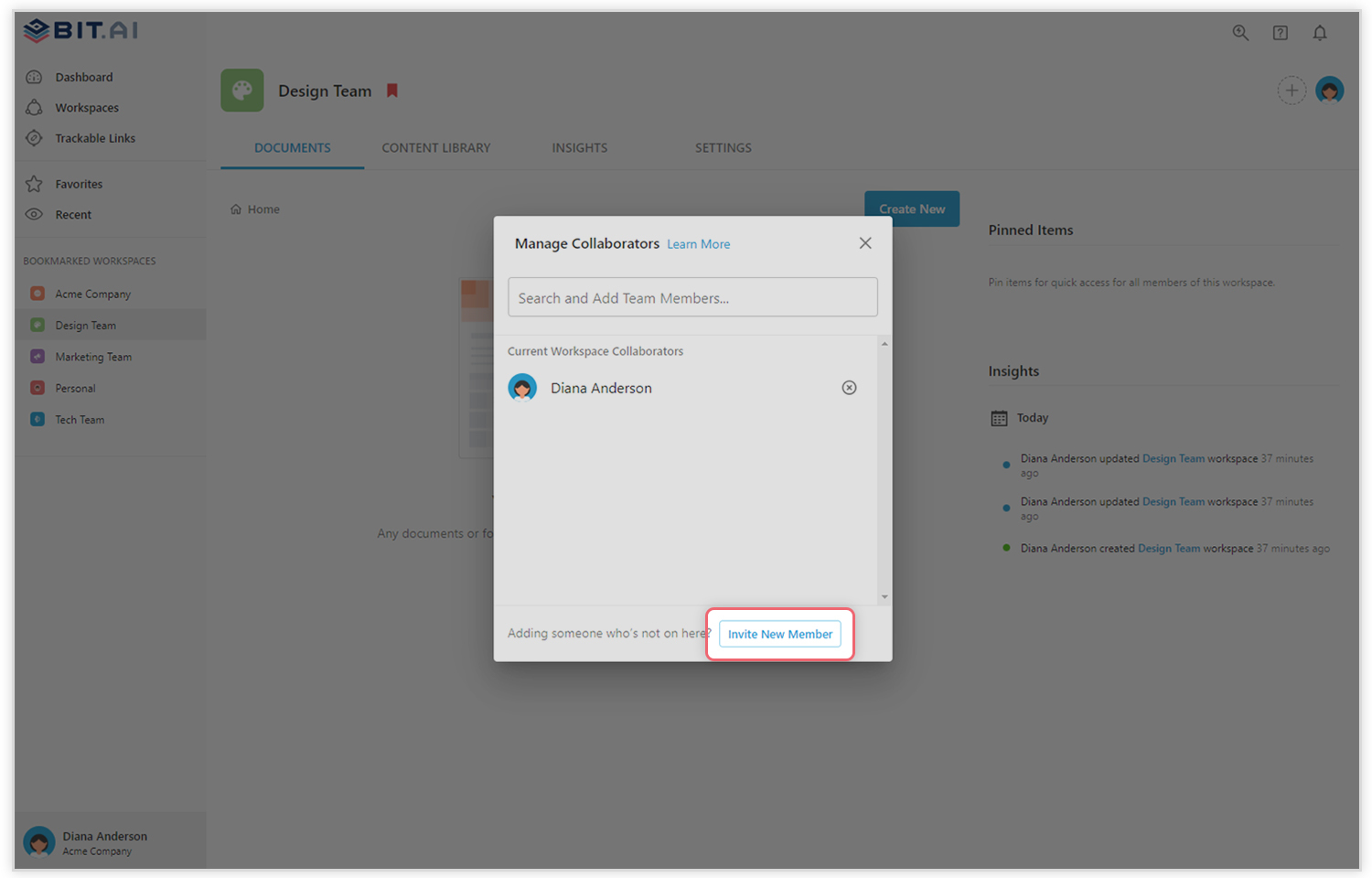 You create private workspaces by default. However, you can invite others to join you inside of a workspace and collaborate together with the knowledge, projects, documents, and content inside of the workspace.
Step 4: Create Your Desired Document
Once you are in the workspace, click on the 'Create New' button. Select 'From Template' in the dropdown. A pop up will display allowing you to select a template from the gallery.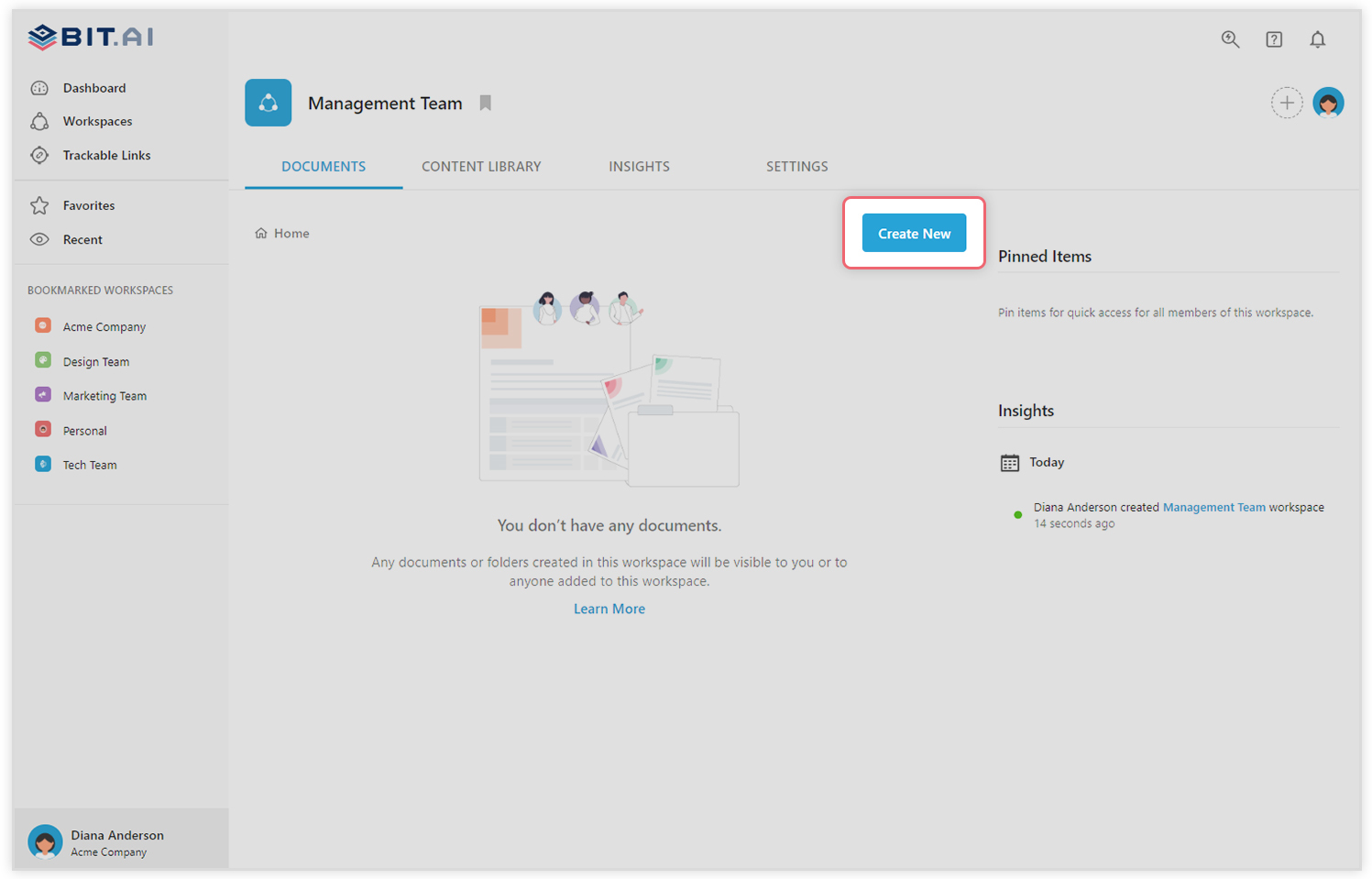 In the search box on the top left corner, you can search for a "project report template". Once your desired template pops up, click on it and click on the "Use Template" button on the bottom right corner.
That's it! Your project report document is ready for use!
🎥Watch this video to learn more👇
Over to You!
Once you start sending timely project status report documents to clients, partners, and other stakeholders, you are likely to receive fewer inquiries about the progress of the project. The act of regularly updating stakeholders about progress instills confidence in both the team working on the project as well as external partners.
This is why project managers turn to documentation tools like Bit to manage all critical resources associated with a project and bring all stakeholders under a single roof. If you need any help with the project status report template or want to know how Bit can help your business, let us know by tweeting us @bit_docs. Cheers!
Further reads: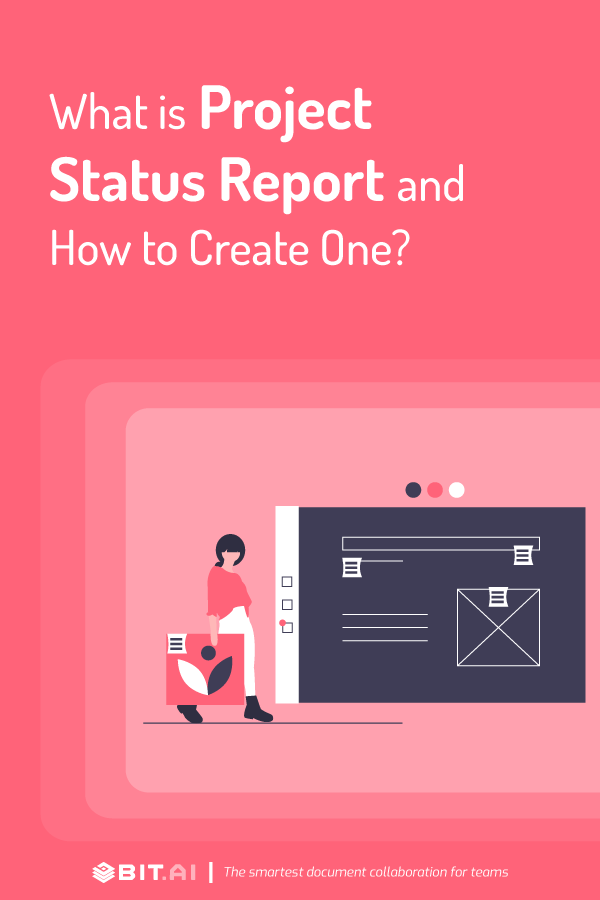 Related posts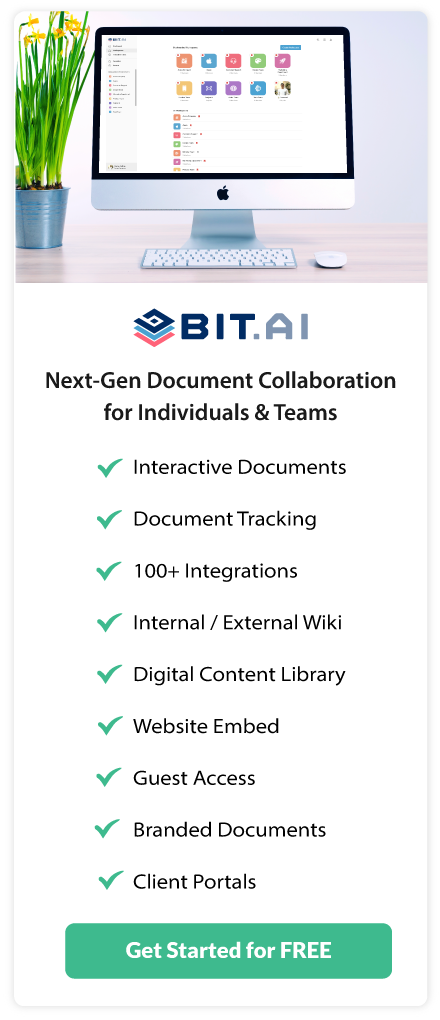 About Bit.ai
Bit.ai is the essential next-gen workplace and document collaboration platform. that helps teams share knowledge by connecting any type of digital content. With this intuitive, cloud-based solution, anyone can work visually and collaborate in real-time while creating internal notes, team projects, knowledge bases, client-facing content, and more.
The smartest online Google Docs and Word alternative, Bit.ai is used in over 100 countries by professionals everywhere, from IT teams creating internal documentation and knowledge bases, to sales and marketing teams sharing client materials and client portals.
👉👉Click Here to Check out Bit.ai.