Here's some bad news- Wunderlist just took its last breath on May 6th, 2020, and is no longer available for use. Since its conception in 2011, Wunderlist has gained millions of fans worldwide, helping them organize their lives using the to-do app.
It had over 10 million users back in 2014, before getting acquired by Microsoft in June 2015. Since then, Microsoft has slowly phased out Wunderlist in favor of its own to-do app called " Microsoft To Do".
If you were a heavy Wunderlist user and are devasted to see it go, we can feel your pain. Having said that, there are a ton of Wunderlist alternatives out there that can fill that void in your life. To save you hours and days of Google searching and trying out new apps, we have curated a list of awesome Wunderlist alternatives for you.
Every person has a different style of jotting their to-dos and notes and thus, requires a tool based on their specific requirement.
While some look for a blank canvas with no distraction to write their to-dos, others need a flashy tool with all the latest features. Then there are those who need a to-do app for office purposes and need to collaborate with their peers to create a joint to-do list.
This is why we tried to keep our list of Wunderlist alternatives as broad as possible, catering to every person's needs and wants. Some tools on this list are for professionals and teams, while others are casual and fun.
No matter what you are looking for, you are bound to find it on this list. But, before jumping into our list of Wunderlist alternatives, it's a good idea to first categorize what makes a to-do app great…
What Makes a To-Do App Great?
Every to-do app is different yet similar in some ways. In order to avoid the ambiguity around the different to-do apps on the market and only discuss the best-of-the-best, we have covered the tools with the following features and functionalities:
1. Interface: A great to-do app must have an easy to use interface. The process of noting down tasks and todos should be frictionless.
2. Organization: A great to-do app has awesome organizational functionalities that let you group your to-dos and tasks in organized folders or groups.
3. Search: A great to-do app should have robust search functionality to quickly find the task you are looking for.
4. Scalable: A great to-do app must be scalable in case you want to share your to-dos and/or notes with family members, friends, or work colleagues.
Rest assured knowing that we have done our best to find only those to-do apps that do everything mentioned above and more. Hopefully, you'll find the one you are looking for! So without further ado, let's dive into our list…

Top 9 Wunderlist Alternatives You Must Try: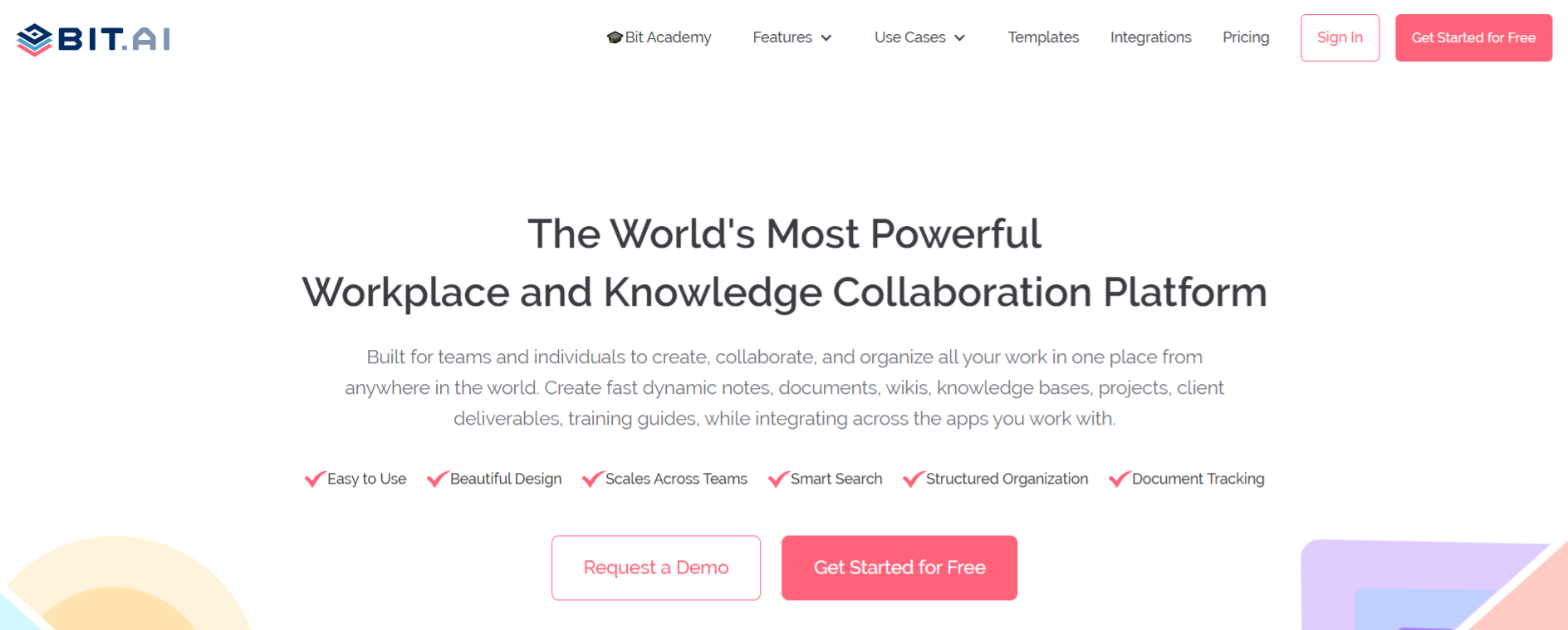 Kicking off the list of the best Wunderlist alternatives is Bit.ai. Bit is well rounded and simple enough to be used as a to-do app by an individual and powerful enough to be used as a full-fledged collaboration and note-taking tool for teams.
If you are looking for a new, advanced yet simple editor to write down to-do's and tasks, look no further! Bit's smart, minimal editor is perfect for distraction-free note-taking. No more word-styled ribbon with confusing and distracting tabs and buttons.
The support for Markdown gets rid of all the distractions of a formatting toolbar and mouse clicks by helping you focus on your to-dos and tasks without lifting your fingers off of the keyboard.
The coolest feature of Bit, however, is its ability to add any rich media, be it- files, images, videos, Spotify songs, Googler Maps, PDFs, social media content, etc. to your to-dos and notes and create interactive documents!
Key Features of Bit include: 
Multi-media rich notes with the ability to embed YouTube videos, Spotify songs, PDFs, Cloud Files, PDFs, and more to your documents.
Real-time collaboration making it a perfect tool for collective note-taking and task assignment.
Organize all your notes, todos, documents, and content in different workspaces and folders.
Pricing: 
Free with limited functionality.
Pro plan starts at: Standard ($12/month), Plus ($20/month), Enterprise (contact sales)
Read more: Best Free Online To-Do List Apps to Help Improve Your Productivity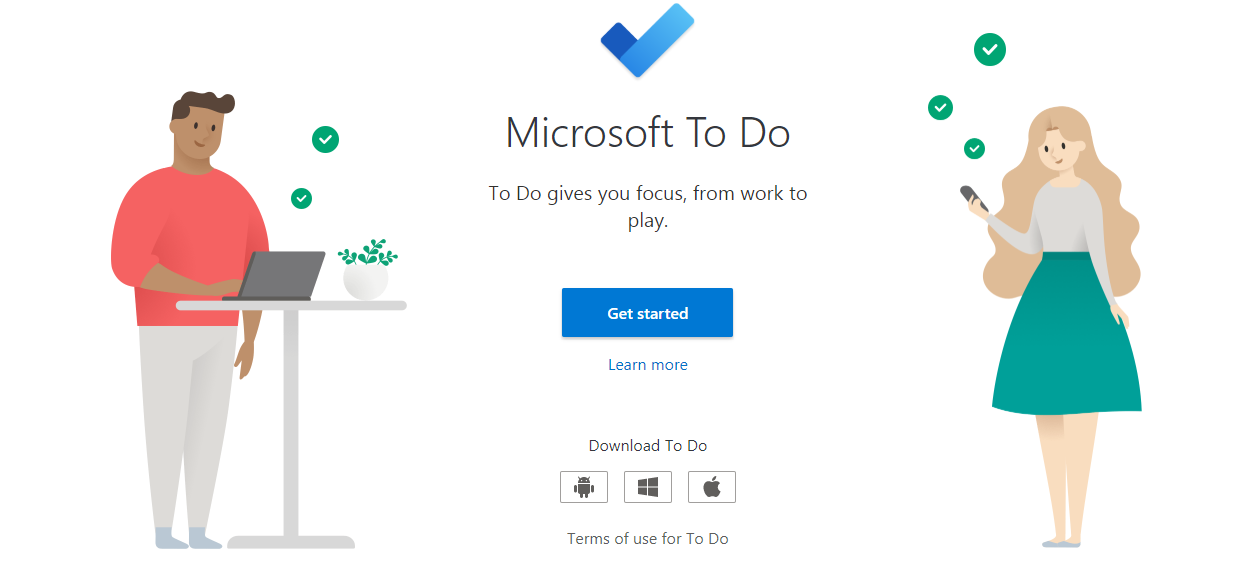 The main reason Wunderlist doesn't exist today is Microsoft To-do. After its acquisition by Microsoft, Wunderlist's team joined Microsoft and came up with a new to-do app called Microsoft To-Do.
If you are an Office 365 user, Microsoft To-Do could be a great bonus to your workflow. To-Do is integrated with Outlook Tasks, allowing users to manage all their tasks in one place instead of using different apps.
Users can make their tasks more manageable and keep track of deadlines by adding due dates, reminders, and notes to their to-dos.
To-Do' also offers intelligent suggestions and recommends the most important task for you each day, making it easy for the user to prioritize their tasks. Users can also create shared lists that they can share with friends, family, and colleagues, and collaborate.
Key Features of TO-DO include: 
Syncs with Outlook to create and manage tasks centrally.
Create shared lists.
Smart suggestions for your to-do lists.
Pricing: 
Launched in 2007, Evernote has stood the test of time and still reigns to be one of the top note-taking and to-do apps on the market today. With more than a decade in the business, Evernote has raked in over 225 million customers and over 20,000 businesses worldwide.
From professional to personal, Evernote helps you create to-dos and notes for every use case. Acting like your digital notebook, users can store their notes, documents, ideas, to-dos, and other information in Evernote. The platform has great organization features to keep everything systematically.
A user can easily create separate tags and folders for the content and information of the different types. Evernote auto-syncs across all your devices, including desktop, smartphone, and tablet, making it easy to have your to-dos as and when you need it.
Key Features of Evernote include: 
Go paperless and keep all your important paper docs on Evernote with its Document scanning feature.
Find text in handwritten notes, photos of whiteboards, post-it notes, and more.
Web clipper to add content to Evernote while surfing the net.
Pricing: 
Free with limited functionality.
Pro plan starts at Standard ($12/month), Plus ($20/month)

Another great Wunderlist alternative, Todoist is a great task manager/to-do list creator tool. Todoist is known for its with a clean and simple interface that lets you create tasks in minutes.
The best part? The tool has explicitly mentioned that they have no plans of getting acquired or "selling out," meaning that you can keep using the app for the end-of-time!
Apart from creating personal to-dos, you can even create work projects, which you can then share with your colleagues and add a due date to.
You can even delegate tasks to your teammates and add a priority level so you know what's important and what can wait. The app works on desktop, mobile, and even has a browser as well as an email extension!
Key Features of Todoist include: 
Templates to kickstart all your projects.
Recurring due dates to help you stay on top of tasks
Add priority level to tasks and to-dos
Pricing: 
Free with limited functionality.
Pro plan starts at $3/month.
Read more: Best Note-Taking Apps for Better Productivity

Next up is Google Tasks, a to-do list app by the search giant Google. Users can easily manage, capture, and edit tasks from anywhere, at any time. All your todos sync across various devices so that you can work on the go.
Google tasks can be integrated with your Gmail and Google Calendar. This means that you can easily convert your emails into to-dos and also get a bird's eye view of your schedule. For more organization, you can create subtasks and add details around it.
To stay on track with your work, Google Task allows you to set due dates to your work and receive notification for it. You can either organize your tasks by date or prioritize them with the help of a drag-and-drop.
Key Features of Google Tasks include: 
Integration with Gmail and Google Calendar.
Set due dates to tasks and get reminded via notifications.
Quick and easy user interface.
Pricing: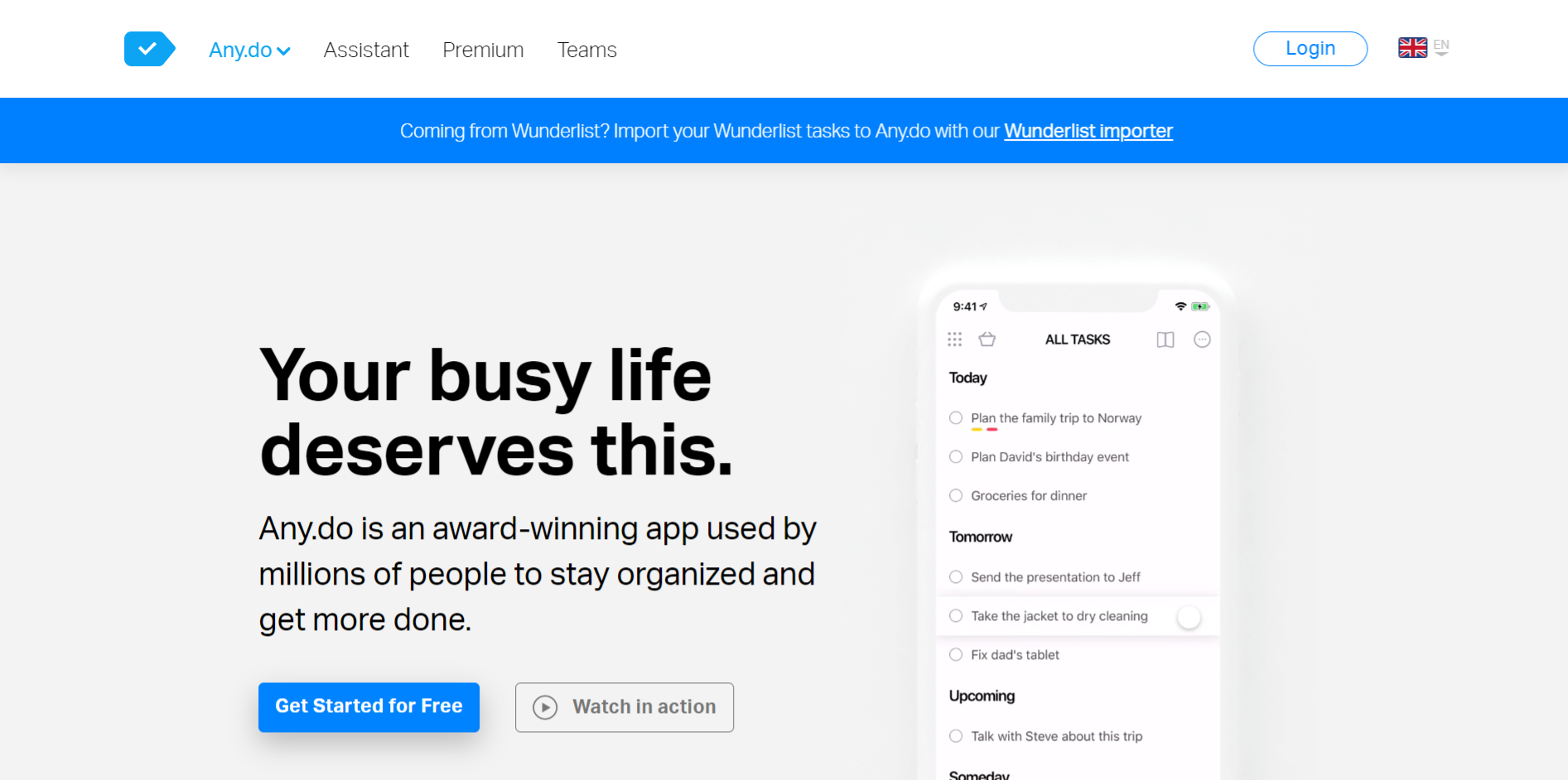 Another great Wunderlist alternative is Any.do. This little app has a clean UI and is extremely easy to get started with. You can organize your tasks, reminders, todos, shopping lists, and more with Any.do.
The app seamlessly syncs across all of your devices, making your tasks accessible everywhere. Lifehacker named this the best to-do app for iPhone and for a good reason. The calendar app inside Any.do is a wonderful way to keep an eye on your schedule and make sure you never miss an important deadline.
You can set smart reminders inside your calendar and can even pin the Any.do calendar widget on your smartphone's home screen for easy access. Users can even swap between attractive themes to change the look and feel of the app. If you are looking for a simple yet effective todo app, Any.do will certainly do!
Key Features of Any.do include: 
Works well with other calendars such as Google Calendar, iCloud, Outlook, and more.
A smart assistant that can schedule appointments, purchase products, lookup best deals, and much more for you.
Set one-time, recurring, and location-based reminders.
Pricing: 
Free
Pro plan starts at $5.99/month (billed annually)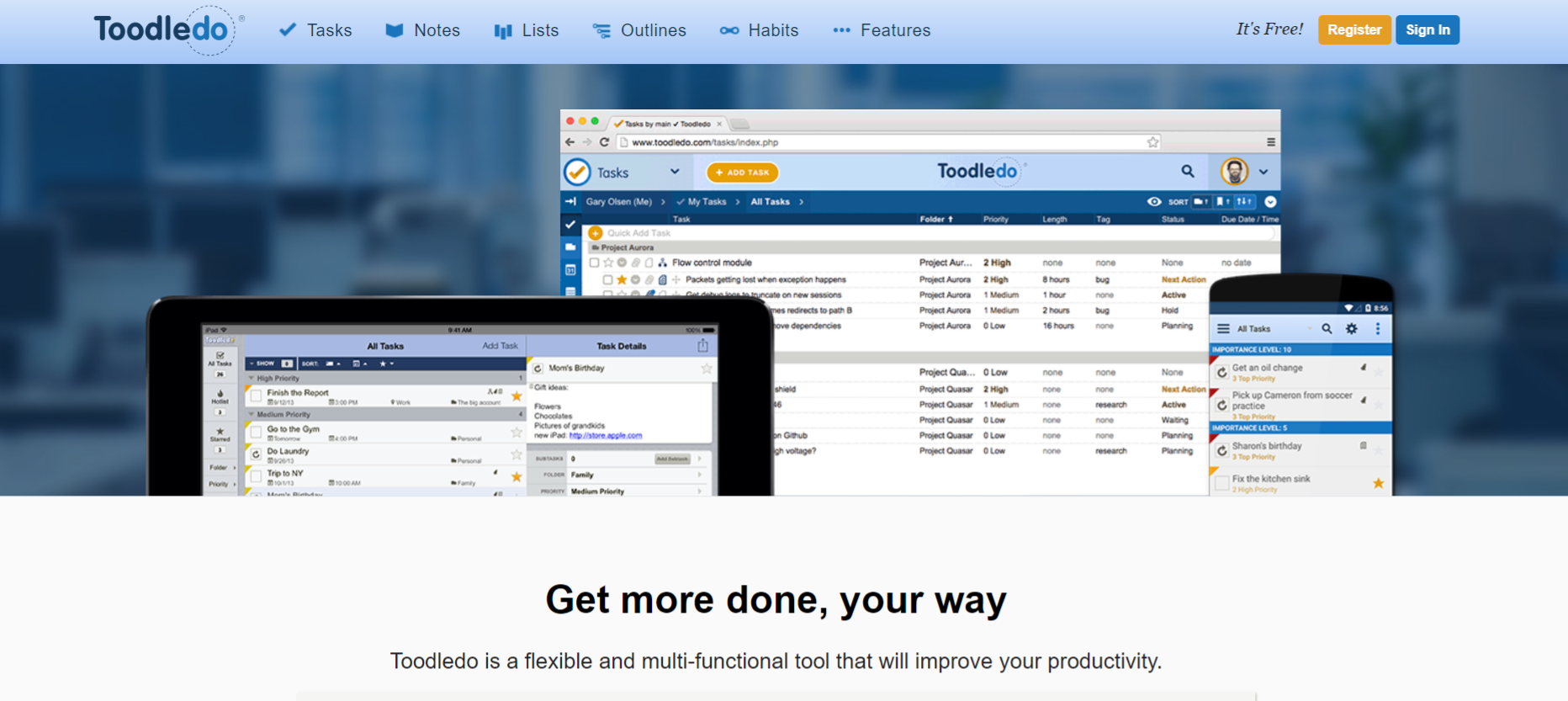 Toodledoo doesn't limit itself to be just a to-do app. A full-fledged task manager, Toodledoo provides you a place to store your notes, make lists, create structured outlines, track habits, and collaborate with friends and coworkers.
If you think the interface is too overwhelming, don't worry as Toodledoo is highly customizable. You can literally remove anything you don't need and turn it into a minimalistic to-do app if you want.
Users can also set alarms for their tasks and Toodledoo will send you an email or in-app notification as a reminder. You can also easily import and export existing data from other applications (say, Wunderlist!), and use their powerful search tool to filter that data.
Key Features of Toodledo include: 
Sync data across smartphone app, tablet, as well as the desktop client.
Set alarms and receive email or in-app notification.
Easily share tasks, outlines, and lists with your collaborators.
Pricing: 

Exclusively available for the iOS, Bear is a note-taking app whose big focus is around markdown. If you are a fan of the markdown style of writing, Bear is a must-try app for you. From quick notes to long essays, Bear can handle anything you throw at it easily.
You can link notes to each other and create a sort of a knowledge base while using beautiful typographies to make your handwriting looks awesome!
If it's too much, you can use the Focus mode on Bear and remove all sorts of distractions and buttons from its editor and simply focus on writing. If you are looking for long-form writing in addition to note-taking, Bear is worth checking out.
Key Features of Toodledo include: 
Packed with beautiful themes, typography, and dark mode.
Use Hashtags to quickly find and organize notes however you like.
Focus mode to write without distractions.
Pricing: 
Free
Pro plan starts at $1.49 monthly or $14.99 annually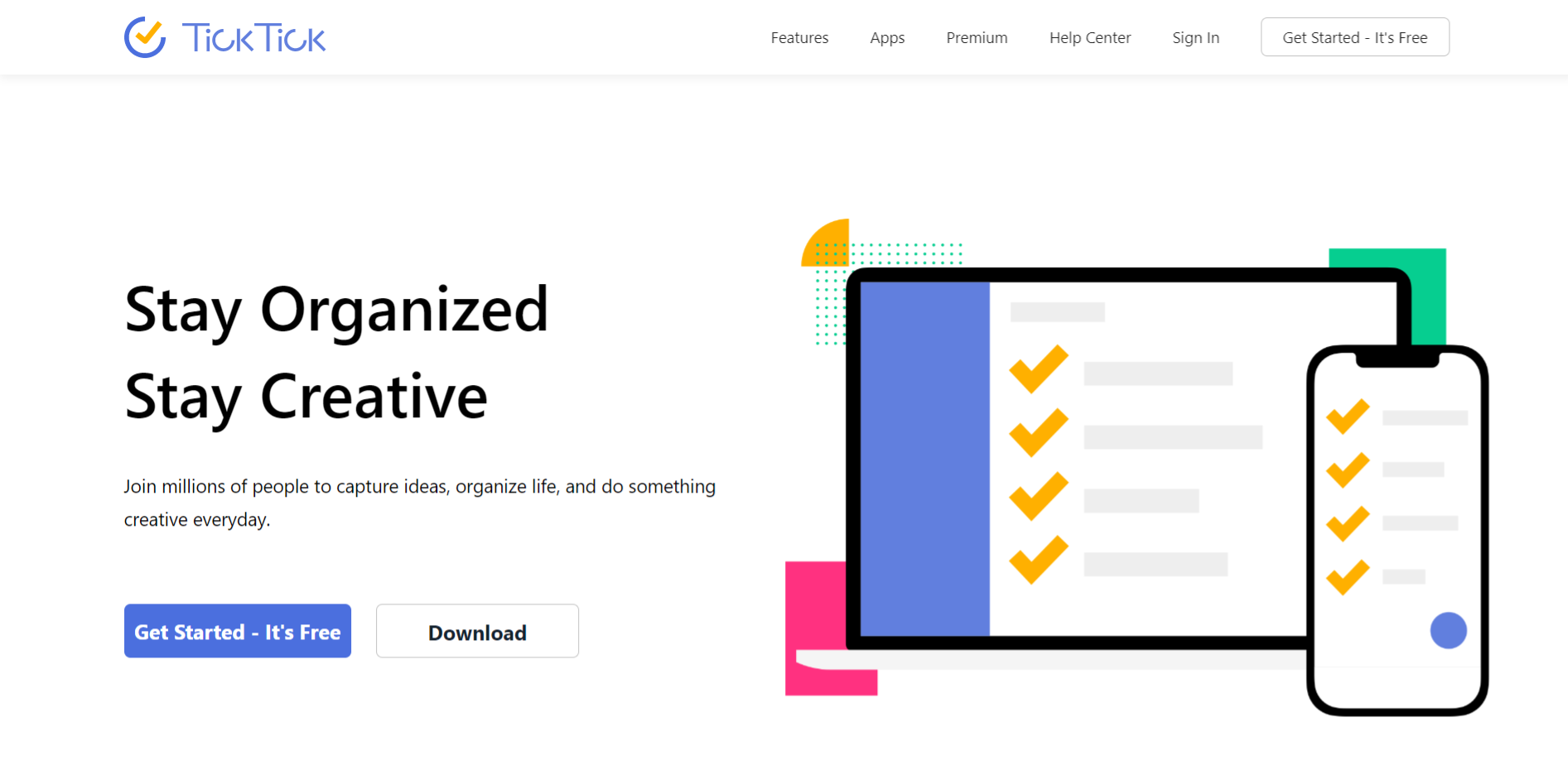 The last one our list of awesome Wunderlist alternatives is TickTick. From personal to-dos to work-related tasks, you can organize your entire life in TickTick with ease.
Create tasks, sub-tasks, set deadlines, reminders, and can also share with other users. With five different calendar views, you can view your schedule however you like.
Some notable features of TickTick are voice commands, the ability to turn emails into to-dos, or the option to use Siri to enter tasks and to-dos for you.
You can even add recurring tasks that happen every week or month and save time. For keeping everything organized, TickTick allows you to keep your tasks in folders, lists, tags, or subtasks.
Key Features of TickTick include: 
Widgets to add and view tasks.
Add tasks via Siri or voice input.
Multiple reminders, location-based triggers, and recurring tasks.
Pricing: 
Free
Pro plan starts at $27.99 annually.
Final Words…
Every one of the above-mentioned free to-do software makes a pretty good alternative for Wunderlist. However, if you are looking for a well-rounded, easy to use to-do app that can be used for both personal as well as professional tasks and notes, you should try out Bit.ai!
Which tool are you looking to switch to from Wunderlist? Let us know by tweeting us @bit_docs.
Further reads: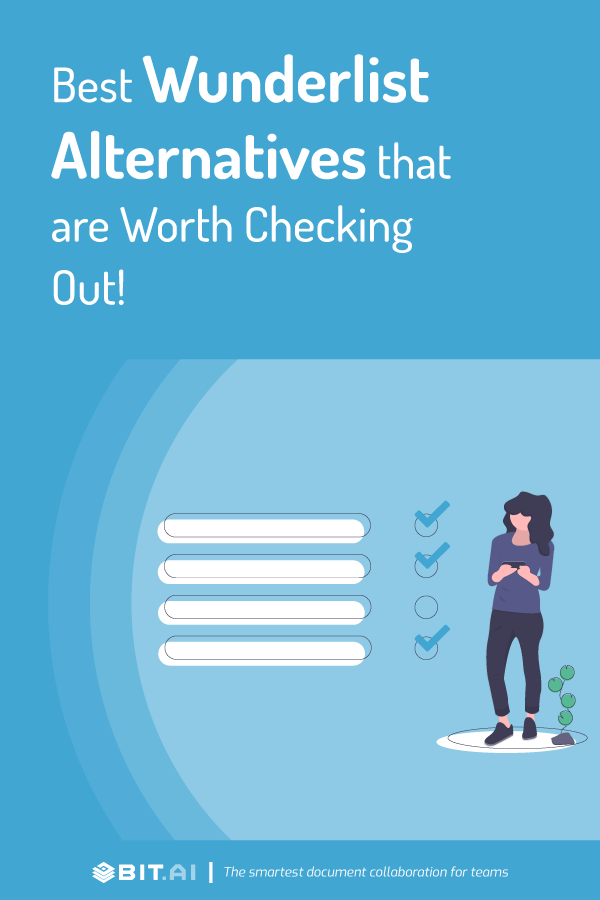 Related posts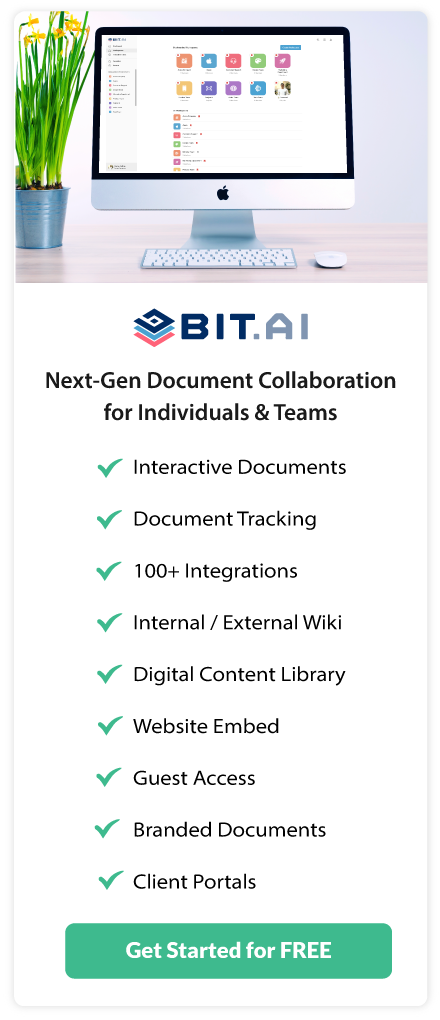 About Bit.ai
Bit.ai is the essential next-gen workplace and document collaboration platform. that helps teams share knowledge by connecting any type of digital content. With this intuitive, cloud-based solution, anyone can work visually and collaborate in real-time while creating internal notes, team projects, knowledge bases, client-facing content, and more.
The smartest online Google Docs and Word alternative, Bit.ai is used in over 100 countries by professionals everywhere, from IT teams creating internal documentation and knowledge bases, to sales and marketing teams sharing client materials and client portals.
👉👉Click Here to Check out Bit.ai.