One of the most important ways for businesses to make money outside of the services and products they provide is by sending out invoices to customers!
It is a receipt issued by the company that shares a sales transaction and requests payment Invoices need to be precise and accurate as they are often the last form of communication when a prospective customer becomes a customer.
It's important that you leave a good impression of your company! Crafting and sending out invoices can be time-consuming, especially if you are doing it for the first time.
Important Fact: Did you know that 61% of late payments are because of incorrect invoices?
This is why we have built an invoice template to help you structure your invoice and receive payments on time. But before we dig into the template, it is important to understand what exactly is an invoice, why is it important, and what are the items that should be included in this document.
What is an Invoice?
An invoice also called a sales receipt or bill is a document that lets your customers know what they are purchasing and how much the cost is. The items can be products or services listed along with the quantity of each item.
There is a subtotal, total, and mention of coupons or discounts if applicable. Invoices can range in price and it's important that your invoice is easy to read, reflects the brand, and shows trust.
Why Invoices are Important?
Most organizations around the world use invoices to make sure payment for their services and products being received. But there are various other reasons for having a professional invoice document:
Get Paid On Time: One of the primary and most obvious reasons to create an invoice is to receive timely payments. If you have many customers, you'll automatically have to create more invoices to send out. The more invoices you have, accordingly, you'll receive the payments based on purchase time and date.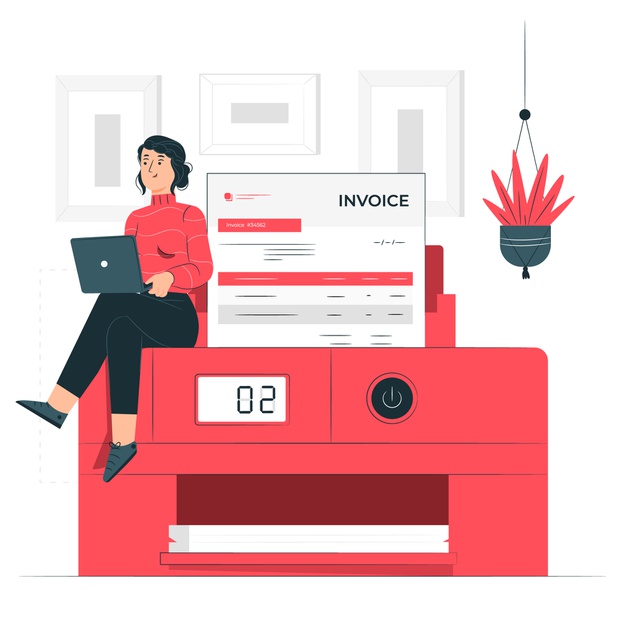 Reduce Billing Questions: The cleaner the invoice and better your billing ethics are, the fewer questions your customers will have about their purchasing details. Insufficient information may cause buyers to reach out to you.
Eliminate Tracking Problems: Each invoice generated has a unique ID and it's an important way to avoid invoice tracking nightmares. When you're working on monthly, quarterly, and annual sales it's helpful to be able to track each transaction. It helps identify what products, services, and clients are helping the company succeed and what's not.
Read more: Purchase Orders: What are they & How to Create them?

What You Should Include in an Invoice?
Name of Company: Registered name of the company
Address: Permanent address of the company
Email & Phone Number: Registered Email id and phone number for customer support of the company
Invoice Number:
Due Date:
To: Who the invoice is for
Address
Phone Number
Email Address
Items Purchased
SKU Number
Quantity
Unit Price
Total
Subtotal:
Sales Tax:
Total Due: Amount due for the payment
Button: Takes a user to online bill payment (Optional)
Note: Provide an email for the user if they have any questions. Thank them for their business.
Create a Professional Invoice the Right Way with Bit
All set to create an invoice document for timely payments? Well, we have got the perfect tool for you!
Bit.ai is a smart new-age document and workplace collaboration tool that helps everyone in the organization collaborate, create, and share knowledge. Bit's platform starts with workspaces that can be structured around departments, teams, projects, employees, and partners.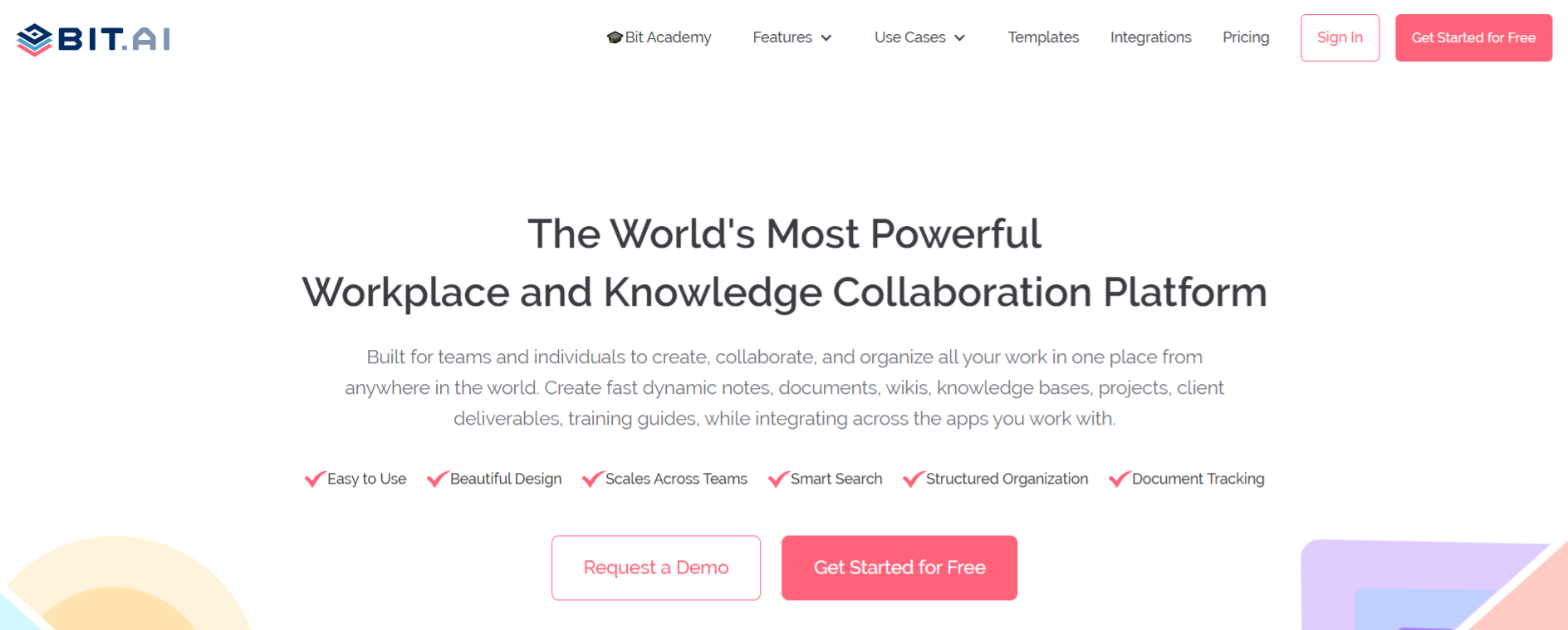 Each workspace can be customized with its own set of collaborators so that knowledge is protected and shared with those that need access to it. Inside of each workspace collaborators can create smart documents and store any type of digital access.
Bit's smart documents allow anyone to weave in all types of digital content inside of their documents to communicate effectively. Whether you're creating invoices, memos, training manuals, sales plans, or customer surveys.
You can even add Google Spreadsheets inside, code blocks, file attachments, videos, and much more! Bit bring any type of digital content inside of your documents and watch it come alive! If you're creating a document for the outside world you can track engagement levels.

Bit's platform is easy to use and navigate making it easy to scale across the entire organization. Let's see some more of Bit's awesome capabilities:
Collaborate in Real-Time: Multiple users can simultaneously collaborate on a Bit smart document in real-time. They can work together, make inline comments & @mention collaborators. Questions get answered quicker, decisions are made sooner and feedback makes things better!
Minimalistic Editor: Bit's distraction-free editor allows teams to focus on the work they are doing. As you write simply highlight your text to turn it into a heading style, quote, checkmark list, and much more.
Markdown Support: Bit supports Markdown inside the editor to help developers and writers quickly write without having to touch their mouse:) In addition, you can import Markdown files and turn them into Bit documents and you can export Bit documents to Markdown. This is helpful for technical documentation that is coming in and out of platforms like GitHub.
Smart Widgets: While you work in the editor a (+) icon will be following you around. Click that icon anytime to bring any type of digital content into your documents:
File attachments
Weblinks and turn them visual bookmarks
Rich embeds like Google Sheets, YouTube videos, Typeform surveys, and content from nearly 100 popular applications.
Tables
Code blocks
Math Equations and more!
Automated Table of Contents: Bit also has an automated table of contents based on the headers you add to your document. This helps you and your audience scroll to different sections of your document quickly.
Multiple Sharing Options: Bit documents can be shared in a live state meaning that all changes that you make to the document will update in real-time. Moreover, options like link tracking, password protection, expiration dates, and embeds open up multiple avenues to share knowledge.
Here are some of the man benefits of using Bit:
Smart search, which allows anyone to search and find any files, images, documents, etc. quickly.
Interlink invoices and other documents
Create fully responsive documents
Create private invoice documents only visible to yourself or your team.
Track engagement on shared invoices with clients, partners, etc.
100+ rich media integrations.
Now, that you have learned everything about an invoice and how to create one it's time to take a look at a sample template from Bit.
To make the process of crafting an Invoice easy, we have created a ready-made template for you! Check it out below: 

How to Use an Invoice Template with Bit
The process of creating an invoice on Bit is really easy! Just follow these four simple steps to create an Invoice. document quickly:
Step 1: Create a Bit Account
Go the home page of Bit.ai and click on Get Started for Free or Sign Up to get started. Enter your email address to sign up. Once in, you can create your personal profile.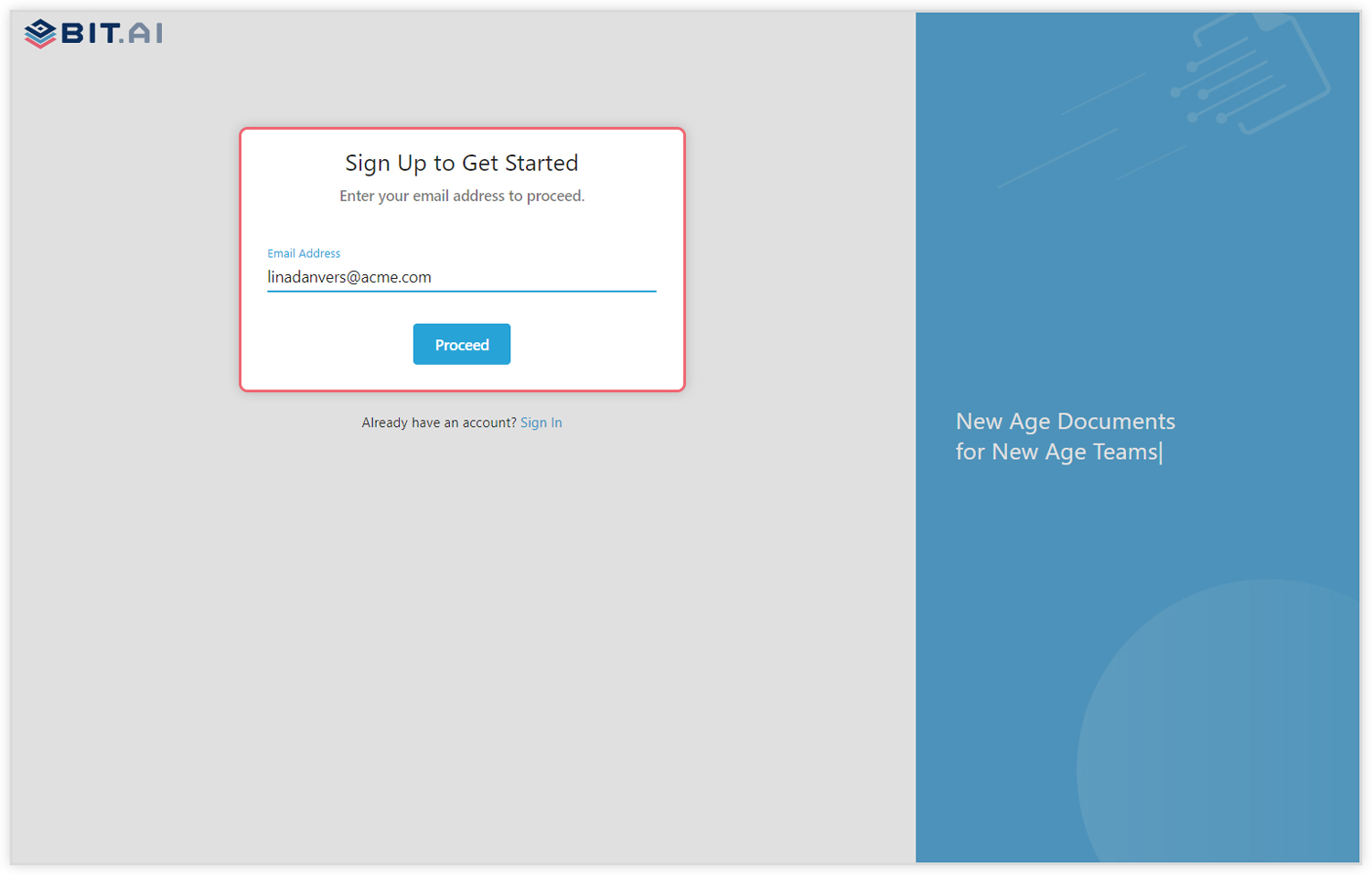 Step 2: Create a Workspace
Workspaces are where the work gets done. Click on the 'Create Workspace' button on the right. A popup will show up prompting you to add a name for your new workspace.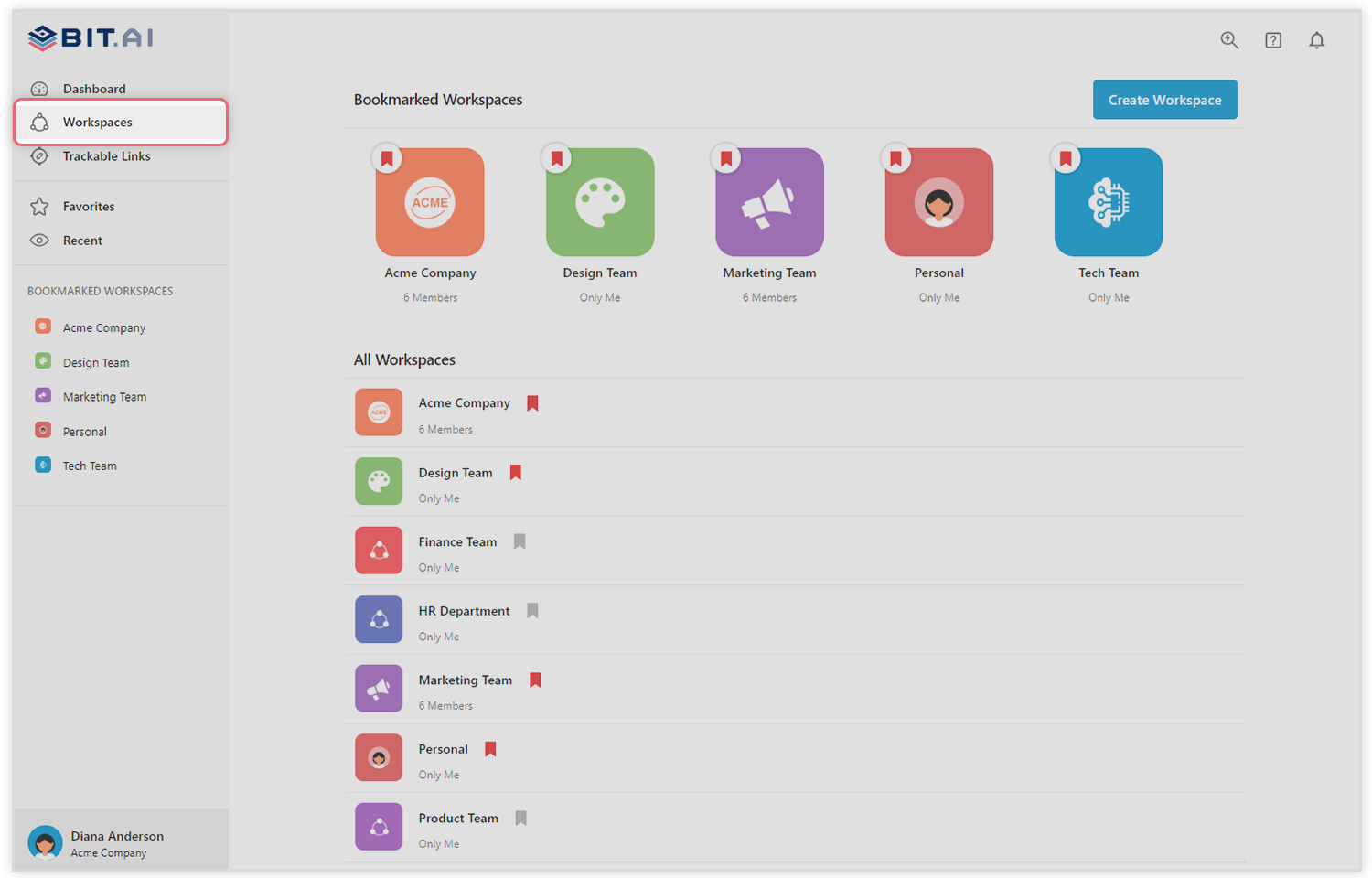 You can create a workspace around a team, department, large project, client, partner, etc. Inside each workspace, you can create an unlimited amount of Bit documents and access your content library (storage area for all of your digital assets – web links, files, cloud files, rich embeds, etc.).
Step 3: Add Team Members
Bit allows your team members to collaborate in real-time and get work done. Collaboration starts at the workspace level.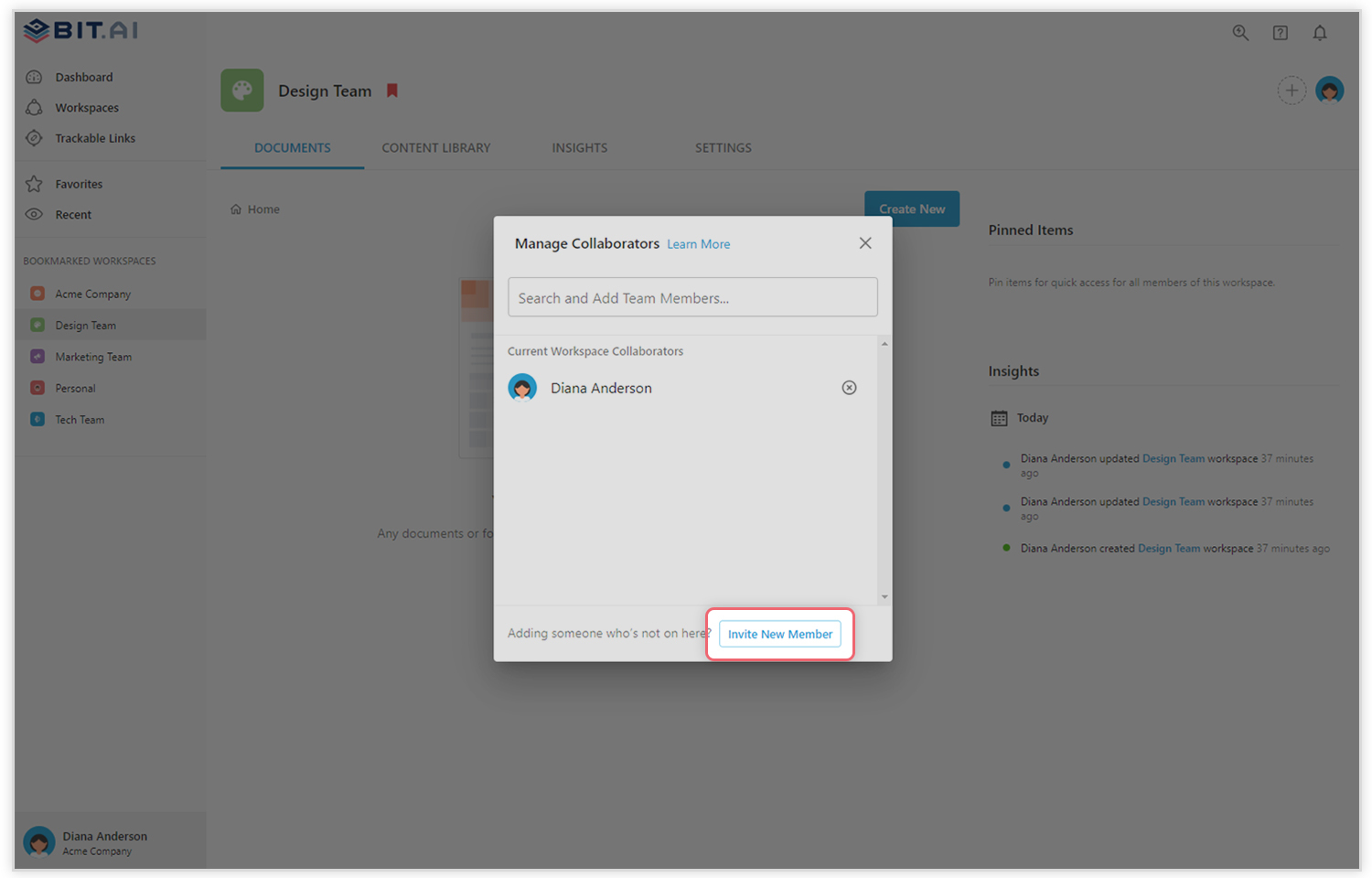 You create private workspaces by default. However, you can invite others to join you inside of a workspace and collaborate together with the knowledge, projects, documents, and content inside of the workspace.
Step 4: Create Your Desired Document
Once you are in the workspace, click on the 'Create New' button. Select 'From Template' in the dropdown. A pop up will display allowing you to select a template from the gallery.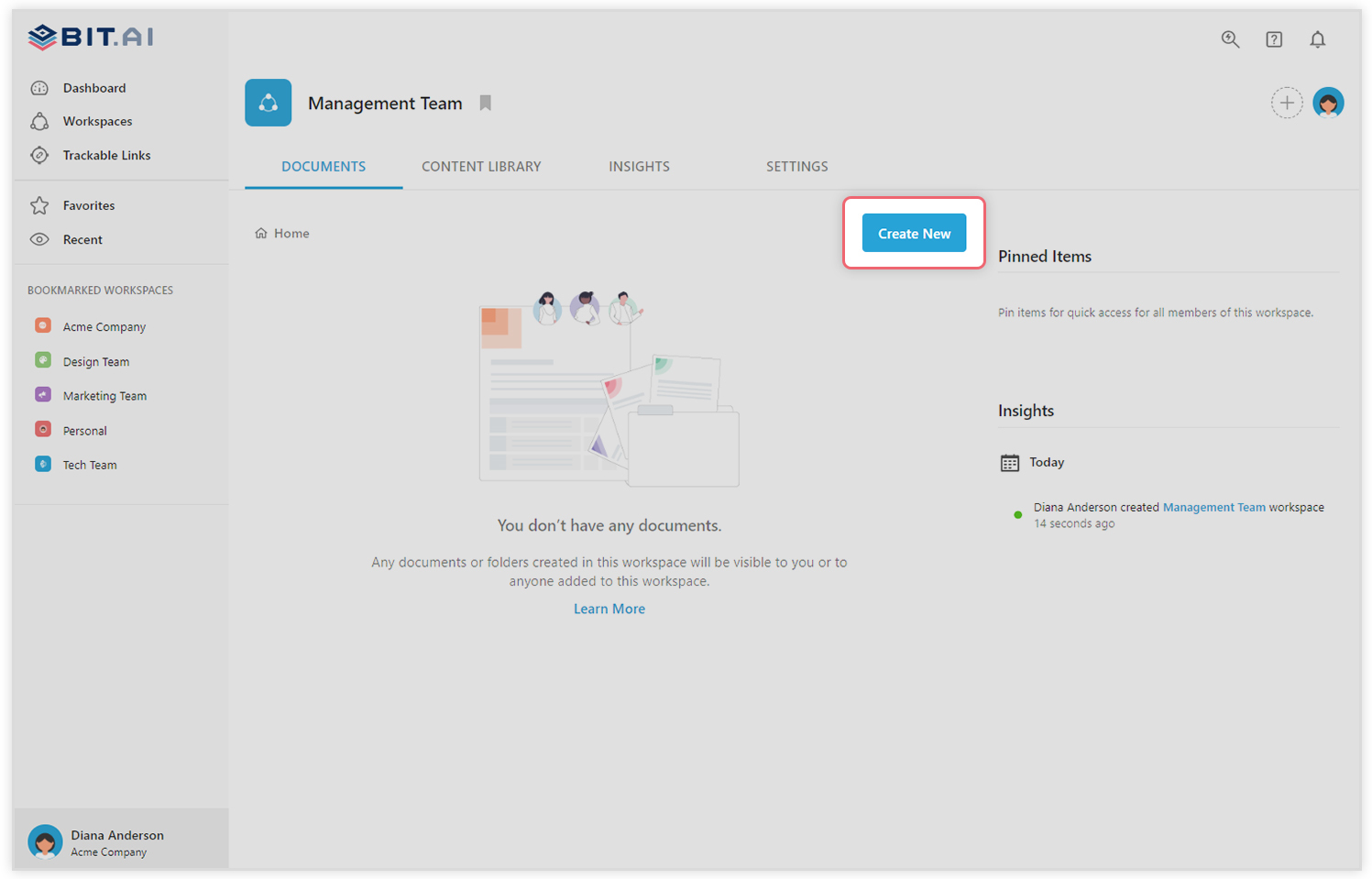 In the search box on the top left corner, you can search for the "invoice template". Once your desired template pops up, click on it and click on the "Use Template" button on the bottom right corner.
That's it! Your invoice launchpad document is ready for use!
🎥Watch this video to learn more👇
Wrapping Up!
Whether you are drafting an invoice for the very first time or are using any software to create one, always keep in mind to provide a support phone number and describe a return policy for your customers. Also, this is the last document that your customers see, so in the interest of good relations, try to be kind and appreciative.
Using Bit's invoice template can surely reduce the time and energy required to create these important documents, especially if you are serving more than one customer at a time. If you need any help with the invoice template or want to know how Bit can help your business, let us know by tweeting us @bit_docs. Cheers!
Further reads: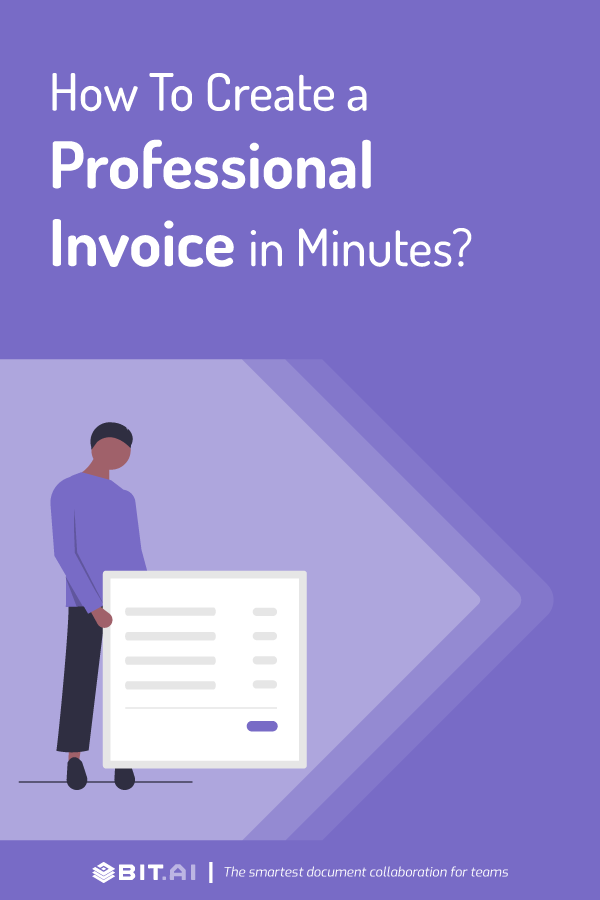 Related posts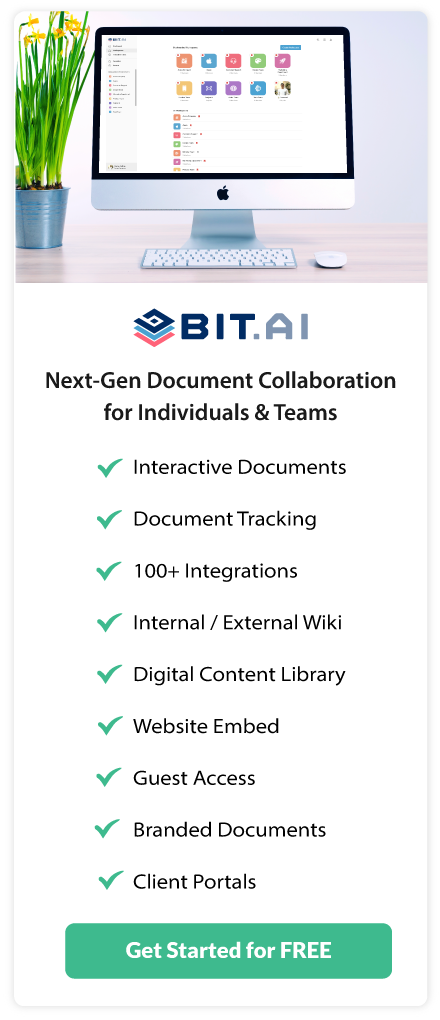 About Bit.ai
Bit.ai is the essential next-gen workplace and document collaboration platform. that helps teams share knowledge by connecting any type of digital content. With this intuitive, cloud-based solution, anyone can work visually and collaborate in real-time while creating internal notes, team projects, knowledge bases, client-facing content, and more.
The smartest online Google Docs and Word alternative, Bit.ai is used in over 100 countries by professionals everywhere, from IT teams creating internal documentation and knowledge bases, to sales and marketing teams sharing client materials and client portals.
👉👉Click Here to Check out Bit.ai.