A report by Userlane states that more than 3,000 new products are launched every year, but only 15% of them turn out to be successful! It is not much of a surprise if you consider the constant demand for new features in the current world of modern tech and buzzing ideas of product managers. So, what can be done to create a balance between these ideas and features? Create a clear Product Roadmap, We say!
A product roadmap is a high-quality summary document that maps out the direction and vision of your product offering over time. Crafting one is a multistage process- From planning your product vision to achieving your strategic goals.
A Product Roadmap is the heart and soul of a production strategy!
However, there isn't a uniform approach to create one! This is why we built a roadmap template to help you align stakeholders and ensure to provide the priority product needs.
But before we dig into the template, it is important to understand what is a product roadmap, why do we need one, and what are the things we need to include in this document.
What is the Roadmap Documentation?
Roadmaps are an organized way of listing out features and updates that will be rolling out in the future. It can be for products and services. This map allows all stakeholders to be on the same page of the importance and timing of features so that the company can work towards making those strides.
Why is Roadmap Documentation Important?
Roadmaps can be created at an organization or department level. It's an important way to make sure everyone knows what's coming down the pipeline and what is being focused on in the near and distant future.
Building an open product roadmap allow ideas to be thought through, reflected on, the timing of items to be processed, and debated.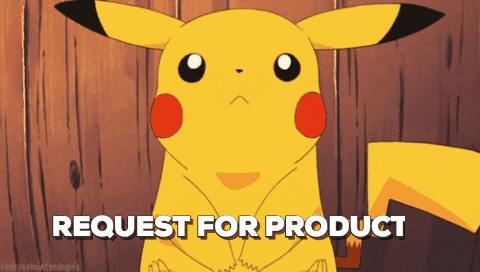 Roadmaps are a great way to share product details with clients and partners. It provides the excitement about what they get to look forward to and shows that your company is continuing to evolve.
Most importantly, it lets you communicate key product priorities with internal and external stakeholders in an understandable way. A product roadmap gives a 100% view of the product and the main areas of focus.
Read more: How To Create An Impressive Pitch Deck

What You Should Include in Roadmap Documentation
The structure of a typical Transition plan contains the following elements:
Title:
Overview
Time Frame
Author
Participants (optional)
Milestone 1:
Goal
Start Date
Status
Completion Date
Steps
Result
Continue adding milestones.
Important Factors to keep in mind when creating an effective product roadmap.
After, all the elements and priorities are established, building a product roadmap document require teams to analyze and summarize the following factors:
Internal capacity and capabilities- Knowing about your companies key strengths and weaknesses and where does your company want to invest this year?
Current Customer/ Client Feedback- Getting some feedback on key priorities from your priority customers/clients?
Stakeholder input/priorities- What are some of the key priorities for stakeholders, what are they investing in, and how it might affect your company?
User Research- Understanding the key needs of your user, Do you have analytics on user behavior or user needs?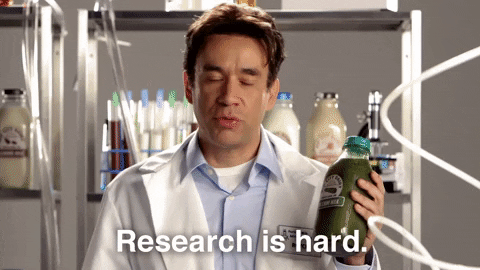 Competitive Benchmarks- What are your competitor's planning and where are they investing compared to your cohort?
Company Priorities- Where does the company want to focus for the next year? Any potential synergies?
By synthesizing the information from these inputs, you can create a top-level roadmap that drives major product features and goals for implementation like-
Goals
High-level business objectives
Keeps company focused
Helps drive resource allocations
Features
Small and measurable
Sprint level coordination
Read more: How To Create Product Launch Marketing Documentation
Create a well-defined Product Roadmap the Right Way with Bit
All set to create a clear roadmap document for a smooth production process? Well, we have got the perfect tool for you!
Bit.ai is a new age online document collaboration tool that helps anyone create awesome roadmap documents, product requirements documents, instruction manuals, and other company documents in minutes. Bit is the dream tool to help teams revolutionize the production process and makes it more smooth, and interactive.

Bit has an amazing UI that's easy to understand by a new user, making onboarding easier. The user experience is phenomenal too as everything is easily organized in workspaces, folders, and content libraries.
No matter if you want to create a roadmap or an operational plan for your product, Bit's amazing organizational capabilities help arrange your information easily.
Still not sure how Bit can help you create an effective product roadmap to help you execute the process? Let's see some more of Bit's awesome capabilities! :
Collaborate in real-time– Multiple people can simultaneously collaborate on a Bit smart document in real-time. Suggest edits, work collectively and ask questions with real-time mentions, and comments.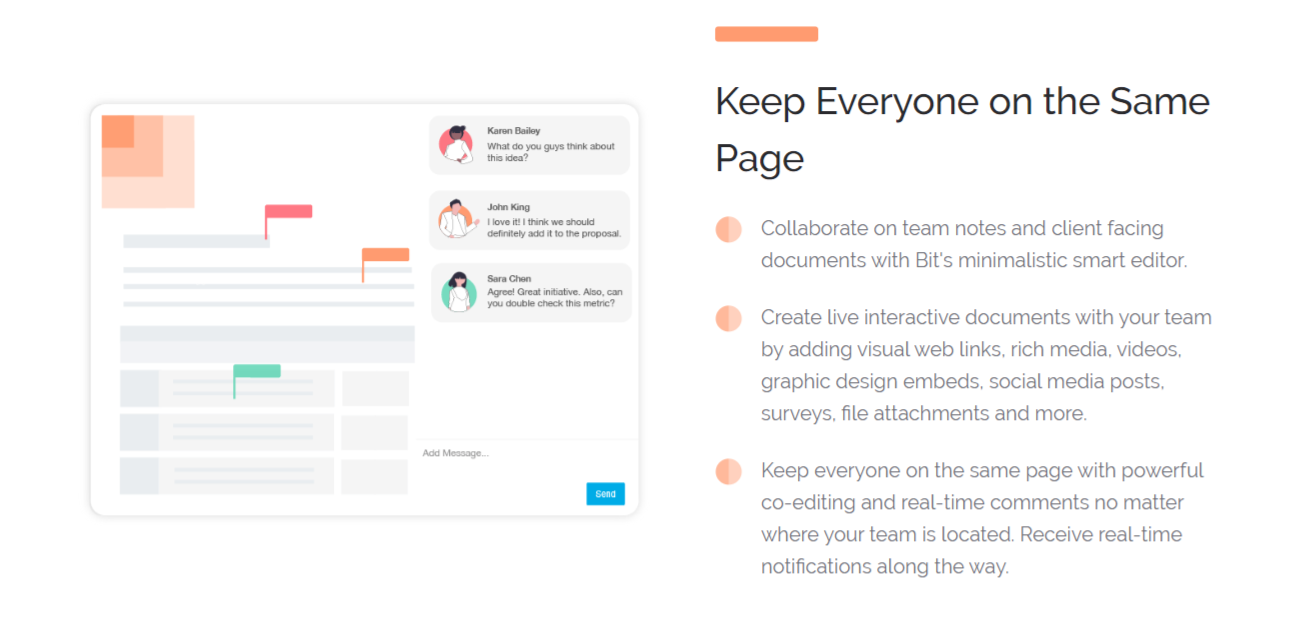 Minimalistic Editor – Bit's editor allows you to focus on writing and the work you're implementing, without any distractions. The platform interface is easy to understand, making it easy for new visitors to get onboard quickly.
Distraction-free and quick documentation- The best part is Bit's support for Markdown which allows developers to quickly create and format text without any distractions. Once you are done creating your document, you can easily export it as PDFs, Word files, Markdown, and much more. Markdown is supported by GitHub and other software development tools, making it easy to share the work you do inside of Bit with other platforms.
Automated table of contents – Bit also has an automated table of contents based on the headers you add to your document. This makes sure you can scroll to different sections of your document quickly as a successor, employee, and for your HR viewing the final published document!
Multiple ways to share- Bit documents can be shared in a live state meaning that all changes that you make to the document will update in real-time. Moreover, features like document tracking, password protection, file access restrictions, etc. help keep your documents safe.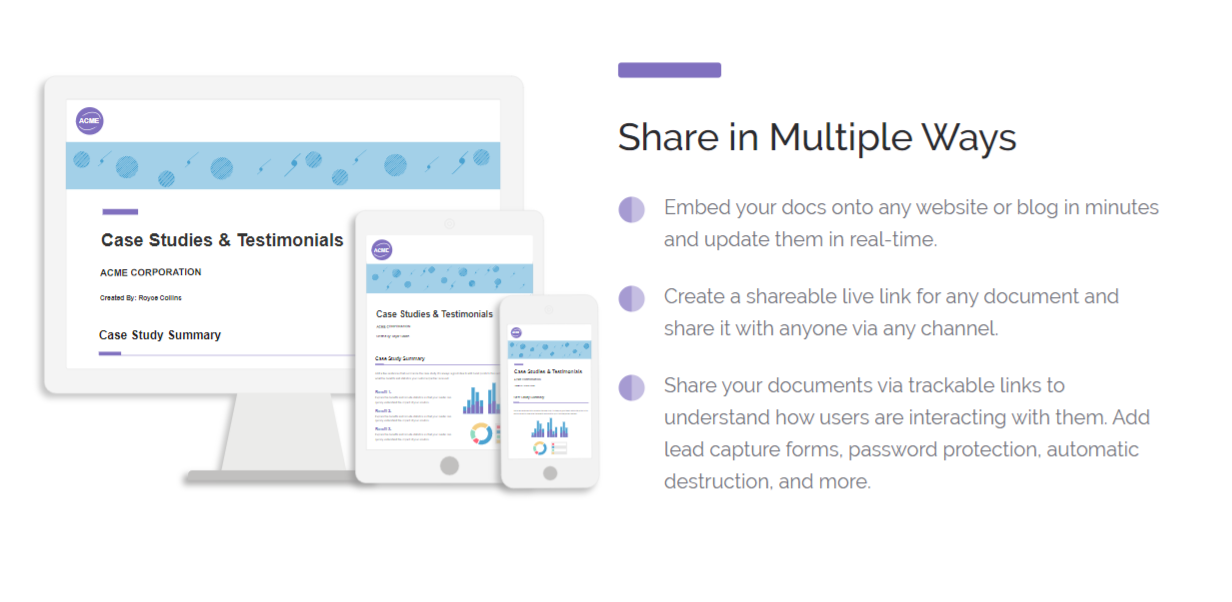 Here are some of the man benefits of using Bit:
Smart search, which allows anyone to search and find any files, images, documents, etc. quickly.
Interlink roadmap documents and projects
Create fully responsive documents
Create private roadmaps only visible to yourself or your team
Track engagement on shared roadmaps with clients, partners, etc.
100+ rich media integrations
Now, that you have learned everything about roadmaps and how to create a document on it, feel free to check out Bit's amazing Roadmap template to make the production process effortless!
To make the process of crafting a Roadmap easier and fun, we have created a ready-made template for you! Check it out below: 

How to use a  Product Roadmap Template with Bit
The process of creating a Roadmap document on Bit is insanely easy! Just follow these four simple steps to create a thesis report document quickly:
Step 1: Create a Bit Account
Go the home page of Bit.ai and click on Get Started for Free or Sign Up to get started. Enter your email address to sign up. Once in, you can create your personal profile.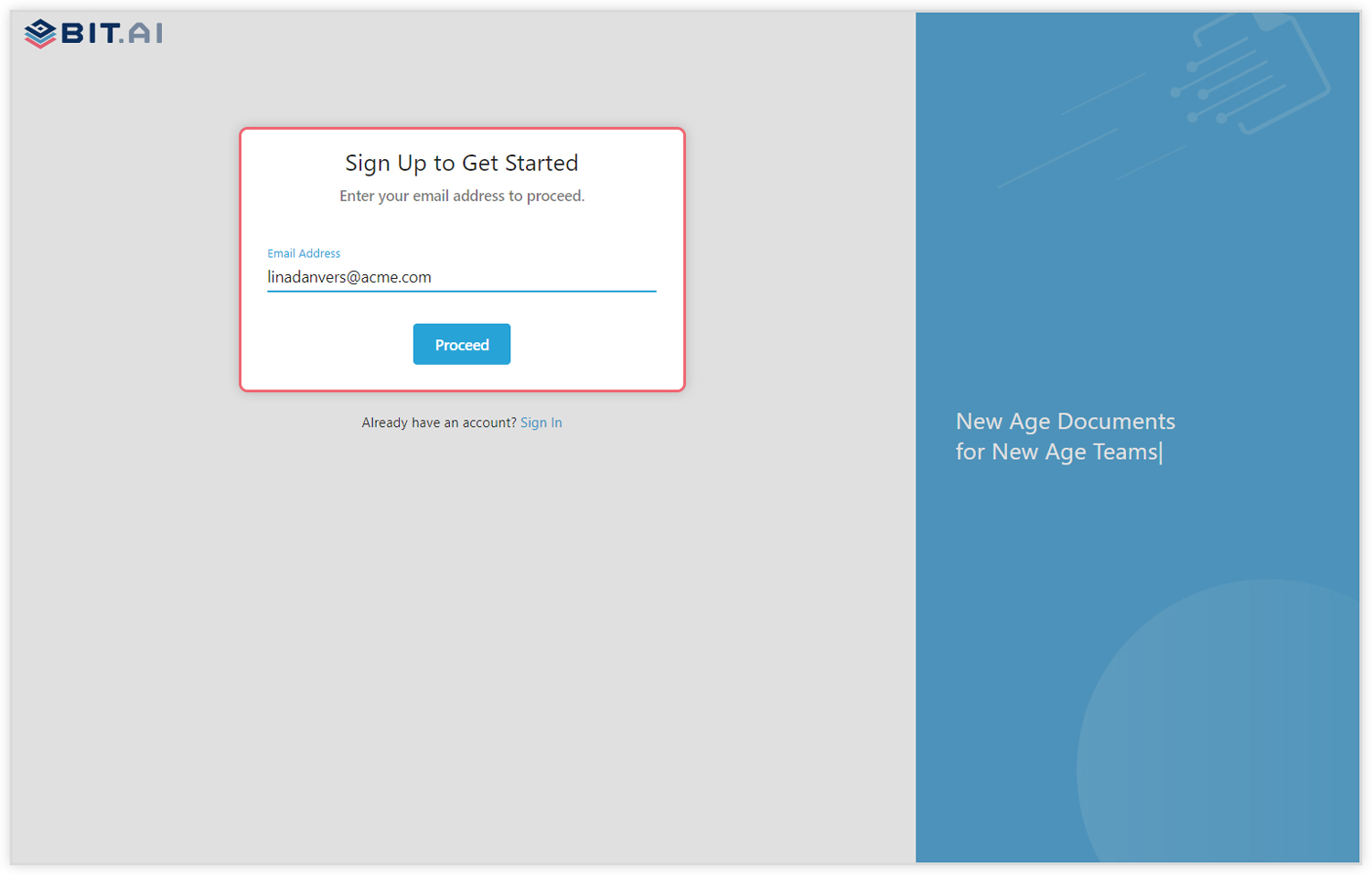 Step 2: Create a Workspace
Workspaces are where the work gets done. Click on the 'Create Workspace' button on the right. A popup will show up prompting you to add a name for your new workspace.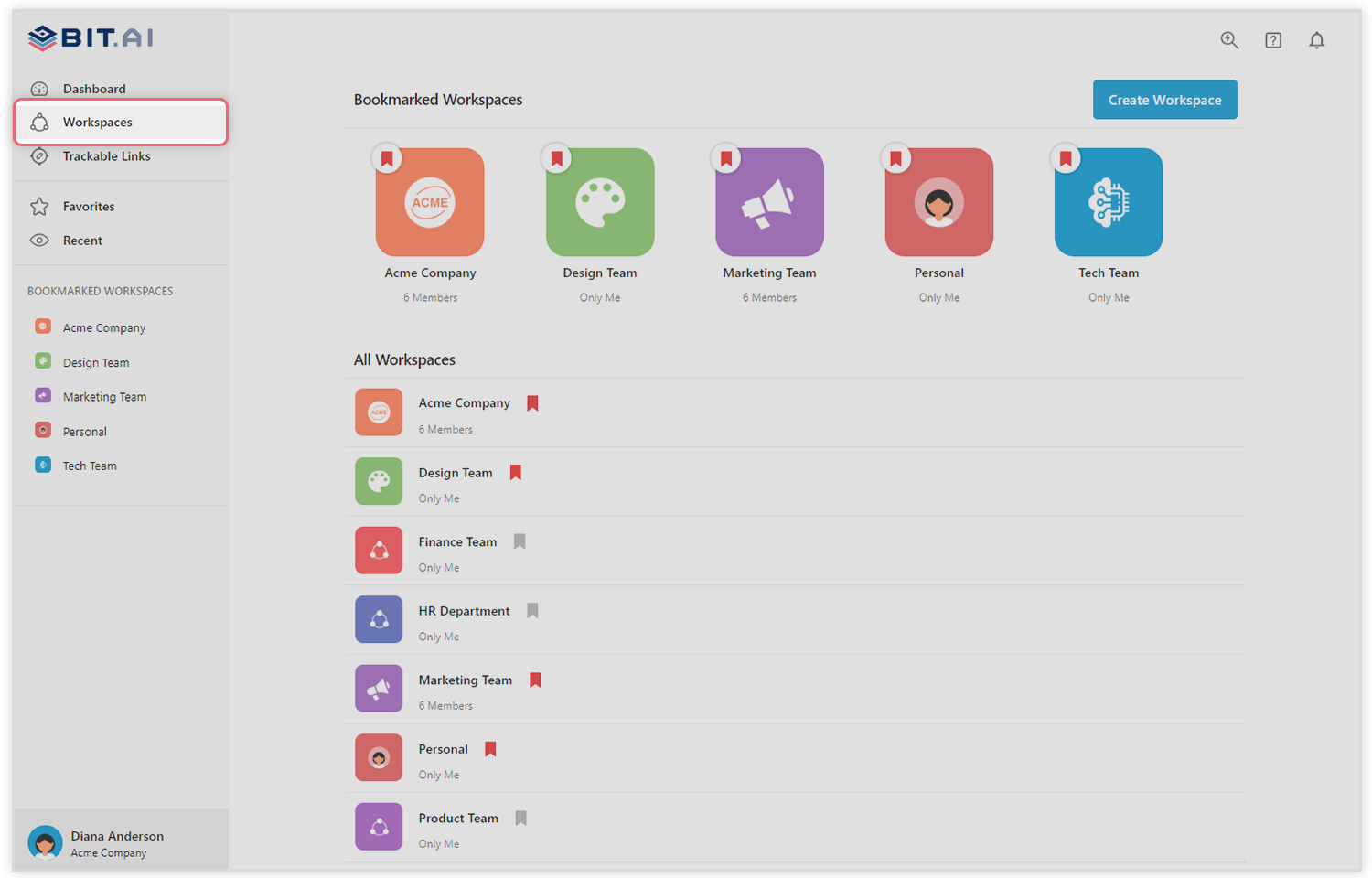 You can create a workspace around a team, department, large project, client, partner, etc. Inside each workspace, you can create an unlimited amount of Bit documents and access your content library (storage area for all of your digital assets – web links, files, cloud files, rich embeds, etc.).
Step 3: Add Team Members
Bit allows your team members to collaborate in real-time and get work done. Collaboration starts at the workspace level.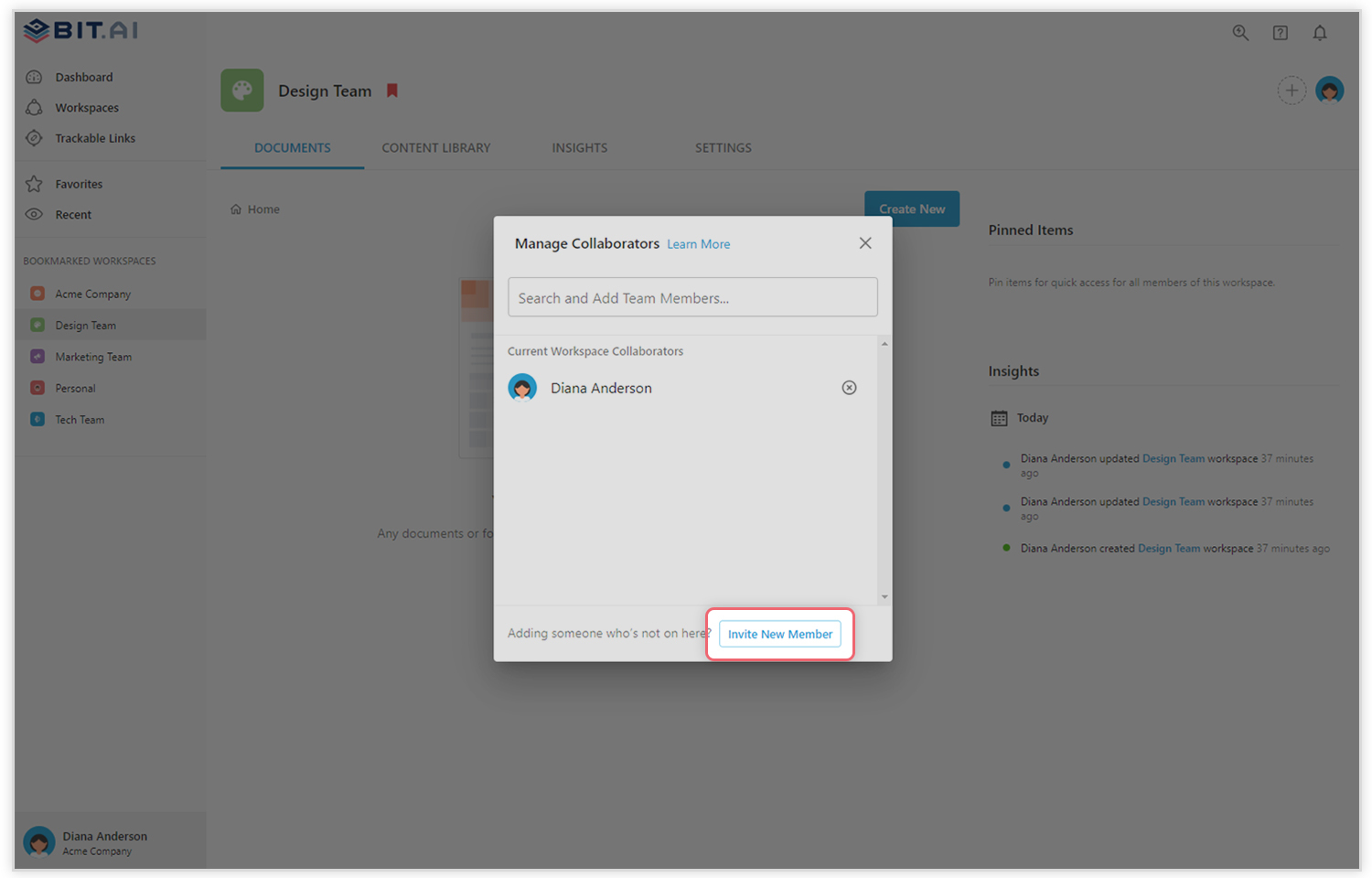 You create private workspaces by default. However, you can invite others to join you inside of a workspace and collaborate together with the knowledge, projects, documents, and content inside of the workspace.
Step 4: Create Your Desired Document
Once you are in the workspace, click on the 'Create New' button. Select 'From Template' in the dropdown. A pop up will display allowing you to select a template from the gallery.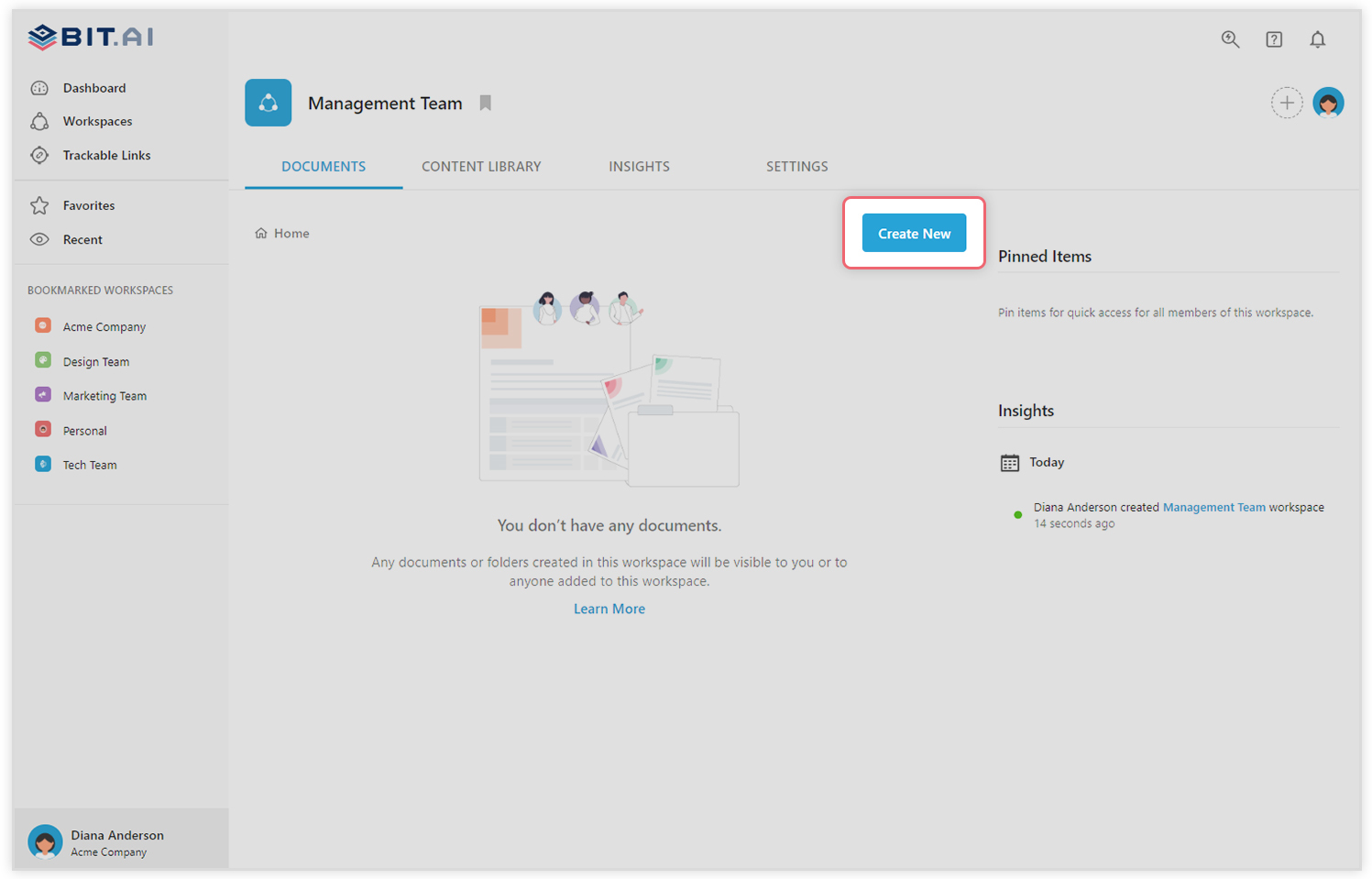 In the search box on the top left corner, you can search for the "Product roadmap template". Once your desired template pops up, click on it and click on the "Use Template" button on the bottom right corner.
That's it! Your product roadmap document is ready for use!
🎥Watch this video to learn more👇
Conclusion
When creating a product roadmap, it's important to note that it's a breathing and living document. It should always be changing based on resources available, market conditions, and company priorities.
Ideally, you might want the roadmap development process to be a cycle that feeds into itself. If you need any help with our roadmap template or want to know how Bit can help your team, let us know by tweeting us @bit_docs. Cheers!
Further reads: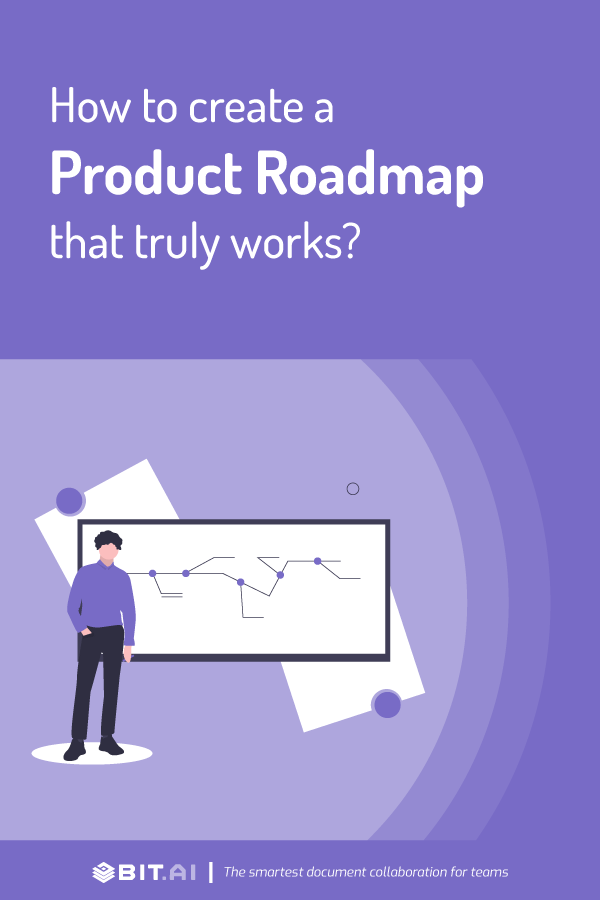 Related posts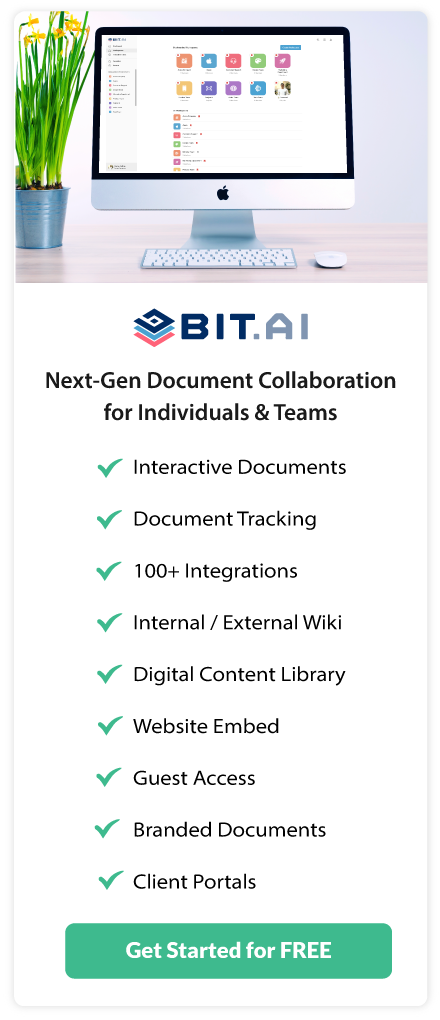 About Bit.ai
Bit.ai is the essential next-gen workplace and document collaboration platform. that helps teams share knowledge by connecting any type of digital content. With this intuitive, cloud-based solution, anyone can work visually and collaborate in real-time while creating internal notes, team projects, knowledge bases, client-facing content, and more.
The smartest online Google Docs and Word alternative, Bit.ai is used in over 100 countries by professionals everywhere, from IT teams creating internal documentation and knowledge bases, to sales and marketing teams sharing client materials and client portals.
👉👉Click Here to Check out Bit.ai.