There has never been a perfect recipe for managing and developing a successful product. Having a skilled product manager and the right resources are only the ingredients that help you make your product a great market dish.
But, product planning is like the process of cooking everything in a way, that you get the expected taste out of it!
In other words, product planning is the essence of product management that entails managing a product throughout its life, which contributes to a company's growth with increased productivity.
"Proper planning and preparation prevents poor performance." ― Stephen Keague
However, effective product planning is a complex process that covers thousands of factors transforming the initial idea and a wide range of activities to ensure suitable end results!
In this article, we will define the role of product planning in product management, its importance, best practices, and the process- step by step!
Let's dig in!
What is Product Planning? (Definition)
Product planning is the process of identifying and creating a new product idea with all product-related requirements such as its features, price, promotion, distribution, etc.
Product planning aims to align the assets of the business and operational factors, to focus on product development, design, and engineering efforts.
Its purpose of it is to deliver the greatest probability of success in achieving business goals through effective product strategy.
The Importance of Product Planning:
Product planning is an indivisible part of every product's implementation journey. It allows for secure product development as it helps to gauge possible risks and threats.
Project managers use the assumptions of product planning in their work to achieve best practices and outcomes.
Furthermore, product planning is beneficial for:

1. Better Customer Service
Product planning through work management and proper scheduling helps in providing better support to customers in terms of quality goods at reasonable costs as per the promised delivery timeline.
Proper product quality and delivery are an integral part of product planning that wins the confidence of customers, promotes profitable repeat orders, and improves relations with customers.
Read more: How to Create an Agile Product Roadmap?
2. Better Control on Inventory
A sound system of product planning and control helps in managing inventory at proper levels and, thereby, reduces investment in inventory.
It requires a minimum inventory of work-in-progress and lower finished stock to give efficient customer support. Product planning also helps in exercising better control over raw materials, which contributes to more effective purchases.
3. Optimum Resource Utilization
When a product is planned, it results in the effective and appropriate utilization of available resources and inputs which go into the production process.
Avoiding wastage of available resources and optimum use of required resources is one of the benefits of product planning.
4. Good brand Image
A good product makes a happy customer! And, happy customers and brand loyalty go hand in hand!
For a great product, companies need a proper system of product planning that helps in keeping everything systematized.
Such a company is in a position to meet its orders in time, making its customers happy. This leads to customer loyalty, increased profits, increased sales, industrial harmony, and ultimately a good brand image of the business.
Read more: What is Product Adoption & How to do it Right?
Step by Step Process of Product Planning:
Product planning presents a much larger view of the management and technical side of a product-based business which includes all of the moving parts from inception to exit.
Here are the key steps of product planning that you should go through when building out a new product:
1. Define the product concept
This is the most crucial step in your business that pivots and defines what you are trying to build as a product. Jot down this stage and ensure your idea for the product is a real idea.
Another part of the product concept is making sure you have a firm knowledge of the upcoming problems based on your strong understanding of the solutions needed.
2. Add details of your market research
Not all successful product ideas are successful business ideas. Once you have walked into the first step and have an idea or concept that solves a real problem, now it is time to do some market research.
During this stage of product planning, you need to prove that your idea has a market to sell.
This includes studying your competition, analyzing their weaknesses & strengths against yours, and finding out the niches where your product can have an advantage over your competitors.
3. Plan your product testing process
If your product planning has crossed step 1, step 2 of building a concept and confirming that there is a place in the market for your product, the next step is to build the MVP (Minimum Viable Product), so you can put a real-life product in front of customers or users for them to look at, test and provide feedback on the product.
4. Write product maturity details
After the launch, you need product maturity. This is where the product roadmap merges with the product planning.
A product roadmap will help you with smooth working on building out your product teams, pricing changes, and infrastructure, as you add more features and overall sales and marketing approaches.
5. Explain the product life cycle
The process of product planning does not stop with a product launch. It should also include managing the product throughout various stages of its product life-cycle.
During the initial growth phase, competition is usually low while sales are strong. However, with time, competitors will come up with their own products. So, having a constant life cycle in product planning will maintain the balance!
Read more: What is a Product Requirements Document & How to Create One Effectively?
3 Best Practices in Product Planning
As product planning is a very broad concept, there are a lot of ways as to how you can make it perfect:
Agile Product Planning
Easy product management methodologies can be applied to product planning and as we discussed above. There are three stages of agile product planning:
Vision: This vision is what the goals and objectives represent, a common goal that all can work towards, and isn't specifically about any particular product.
Product Strategy: This is about how the objectives will be achieved, including identifying the target group, their demands, the benefits of the product offered to the target group, and to the business itself.
Product Tactics: This level focuses on the basics of functionality, design, user interaction, and sprint goals.
Know your Audience
You can plan a product that design, management, and sales teams love. But if the customer or end-user is not pleased, the product will land with a thud.
That is why you need to be clear from the start on all customer demands. If you lack the opportunity to talk to them directly, ensure you work closely with your internal stakeholders who speak on their behalf.
This will help you to see different product plans that show relevant information from the audience's point of view. You can then do product planning without worrying about results or customer acceptance.
Use a Product Management & Roadmapping Tool
Using software to plan out the product planning processes and their levels is an excellent way to make sure that everything is flowing in the right direction. In the past, product planning would be done on paper or on some generic software such as MS Word.
Today, however, there are multiple options for visual product mapping. These tools allow for a lot more customization, putting the product roadmap document right at the center of the business! In fact, over 50% of product managers will rely on product road mapping and management tools to improve communication and planning with IT and business stakeholders, by 2022.
One such product management software that is trusted by organizations and professionals in over 100+ countries is Bit.ai!
Why Create a Product plan in Bit.ai?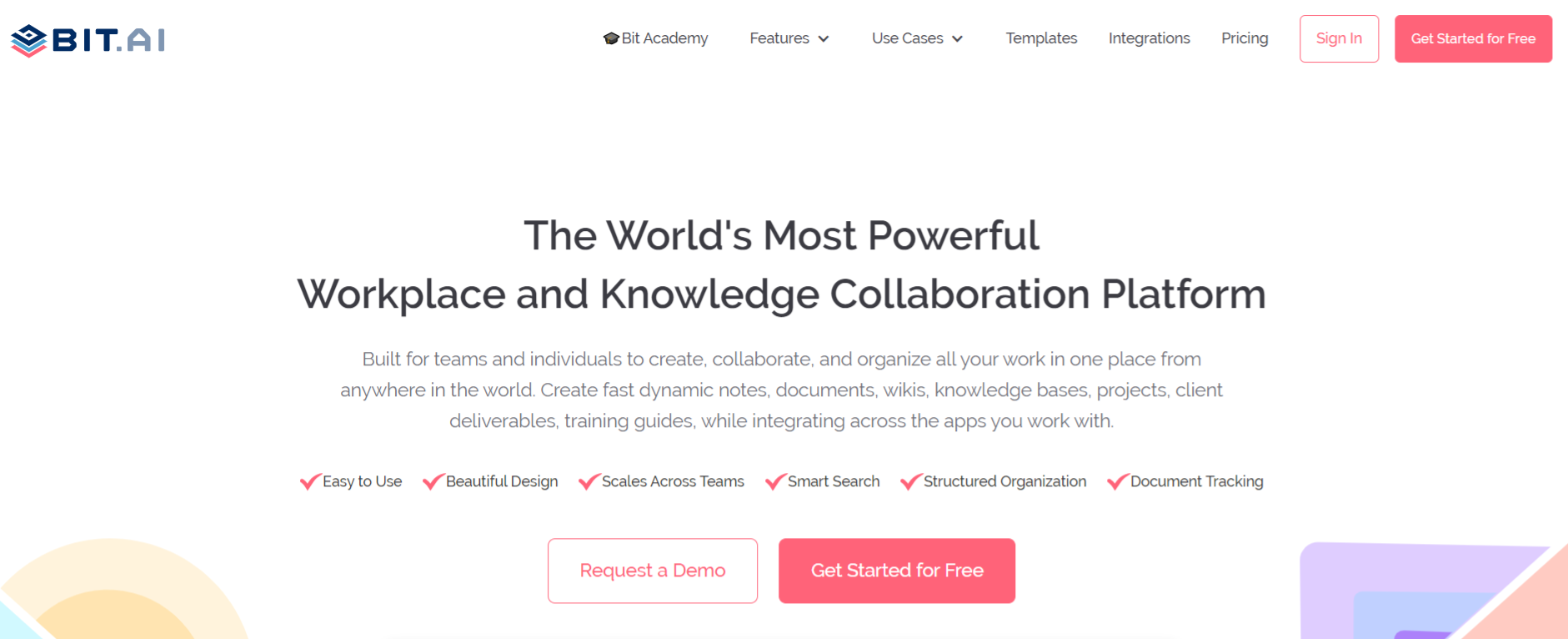 Bit.ai is a red-hot online document collaboration and knowledge management tool that allows you to quickly create a repository of important product management documents and let your teams & employees work more efficiently!
It is the dream tool to help teams transform the planning process, by making it interactive and collaborative. Cool, right?
Here are some of the main benefits of using Bit:
Organized workspaces and folders – Bit brings all your project management documents and details in one place by allowing you to organize information in workspaces and folders. Workspaces can be created around projects, operations, departments, and fields. Everyone added to a workspace can access and collaborate on its content. Inside each workspace, you can create an unlimited number of wikis and access your content library.
Content library – Bit has a content library at the workspace level where you can store and share assets. You can save images, files, and content easily and can access it at any point.
Rich embed options – Bit.ai integrates with over 100+ web applications (Ex: YouTube, PDFs, LucidChart, Google Drive, etc.) to help you weave information in their wikis beyond just text and images.
Smart search – Bit has very robust search functionality that allows anyone to find information quickly. You can search for folders, files, documents, and content inside your documents across all of your workspaces.
Interlink documents – Bit allows employees to create unlimited documents and interlink them to create wikis that expand the knowledge base. Simply highlight the words and you have the option to create a new document.
Permission & sharing access – Bit supports features like document tracking, cloud upload, templates, document locking, document expiration, password protection, etc. Also, Bit docs can be shared in 3 different ways- Trackable links, Live embeds, and live state!

To make the process easier and fun, Bit offers a ready-made Product roadmap template for you! Check it out: Product Roadmap Template by Bit
Bottom line!
Good product planning lays the foundation for successful product management!
It exhibits the basis for cross-functional teams to plan, develop, and introduce their product in the market, and it ensures that product managers identify the appropriate target customers and niche industries prior to reaching the product planning stages.
Do you use a tool to optimize your product management plan? If yes, share your experience in the comments section below. Cheers!
Further reads: 
Top SaaS Products for Small Businesses in 2022
Product Mix: Definition, Dimensions, Importance & Examples!
Software Product Development: Definition, Types, Methodologies & Process!
How To Create Product Launch Marketing Documentation
Product Development Process: Definition & Key Stages!
How to Create a Product Plan the Right Way?
How to Create an Effective Operational Plan for Your Business?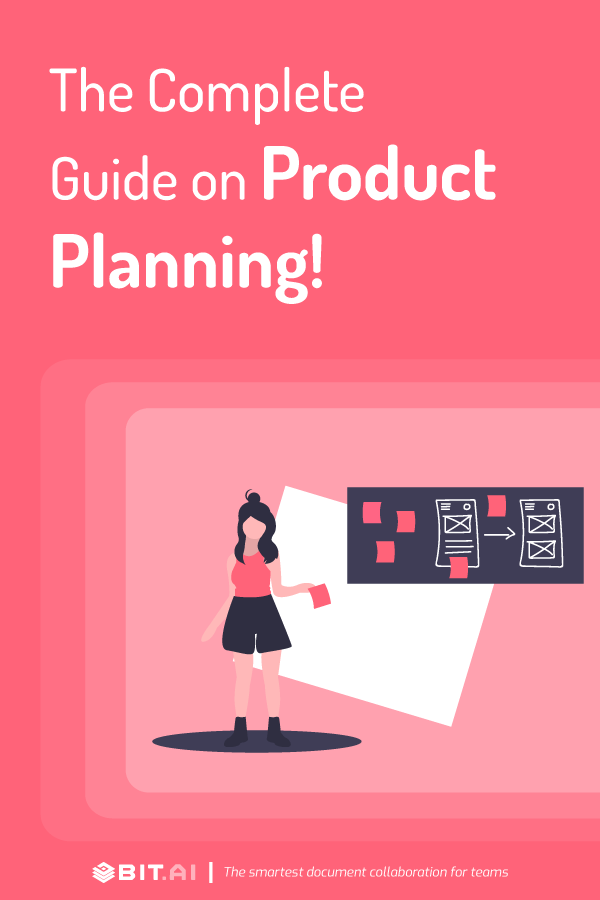 Related posts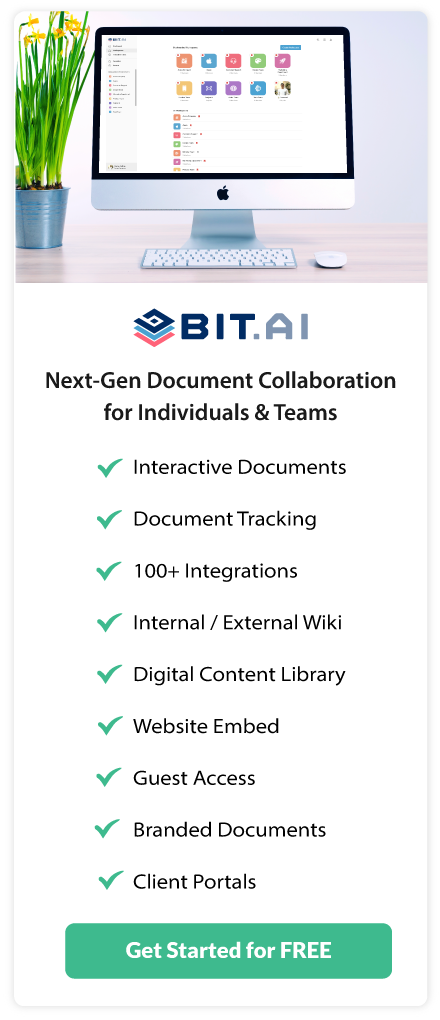 About Bit.ai
Bit.ai is the essential next-gen workplace and document collaboration platform. that helps teams share knowledge by connecting any type of digital content. With this intuitive, cloud-based solution, anyone can work visually and collaborate in real-time while creating internal notes, team projects, knowledge bases, client-facing content, and more.
The smartest online Google Docs and Word alternative, Bit.ai is used in over 100 countries by professionals everywhere, from IT teams creating internal documentation and knowledge bases, to sales and marketing teams sharing client materials and client portals.
👉👉Click Here to Check out Bit.ai.