Until and unless you live under a rock, you probably know that we're living in the age of visual communication.
And the king/queen in this visual age is, undoubtedly, GIFs. 
They took birth in the '80s and went through a distinctly unpopular teenage phase in the late '90s.
Right now, GIFs – the short, silent, endlessly looping moving pictures that are almost like videos, are ruling the internet and the world.
A quick search on Google Trends confirms it: GIFs are more popular than both vines and Instagram videos.
Honestly, we can't even imagine what the internet would be without those gifs bemoaning the start of another work week, babies making suspicious faces, and cats using a laptop.
Given the fact that GIFs are so awesome, how about we insert them in our documents?
Because, let's be honest – plain, boring documents don't just cut it anymore.
If you want to communicate effectively, you need to grab the infinite opportunities that lie beyond the written word.…and this is exactly where GIFs come into play.
Think of it: You spend weeks creating a document, and the recipient deletes it in seconds.
Unless, of course, something keeps them hooked and makes your document stand out, and GIFs are excellent at doing that.
You can thank us later for this super awesome idea, but first, we'd like to give you some reasons why you should add gifs in your documents (and how to do it!)
Why You Should Embed GIFs in Your Documents?
We'd like to start with a few statistics that prove that GIFs are hot and certainly not going away anytime soon.

22.7% of all the websites online use GIFs.
GIPHY is worth $600m! There are more than 250 million monthly users on GIPHY.
In 2015, Facebook incorporated the option to send GIFs on Messenger and in the same year, 5 million GIFs were sent every day via Facebook Messenger.
In the year 2017, 25000 GIFs were sent through Messenger every minute which means 36 million GIFs daily!
In November 2016, the use of GIFs grew when WhatsApp added the feature of sending GIFs. Currently, 700 million stickers GIFs are sent via WhatsApp chats every day!
Now, let's explore a few more reasons why you should embed GIFs in your documents.
1. Our Attention Spans are Shrinking
According to a study, our attention spans have dropped to a mere eight seconds before losing interest.
Simply put, people take hardly a few seconds to decide whether something is worth reading.
Right now, the importance of visual content cannot be underestimated.
Embedding GIFs in your documents is precious at a time where getting folks to retain your messages and content is harder than ever.
If you don't hook them right away with something like a GIF, they'll probably not read the entire document.
The point being, embedding GIFs in your documents is a great way to grab eyeballs!
2. Say it in GIFs, Not Words
Let's consider a scenario.
You want to give your client a rundown of your company's work ethic before they sign the contract. Most probably, you'll add a section in your document that accomplishes this.
However, the chances that they will read every line of that section are very slight.
What's the alternative? Show what your company culture is like using GIFs.
That way, you'll save up space and word count, and make everything so much easier to consume.
Also, people only remember 20% of the text if they read content that doesn't have any visuals. GIFs give people the chance to engage with your brand even in an otherwise boring document.
According to Giphy's CEO, Alex Chung, "the average GIF contains sixty frames, then they're capable of conveying 60,000 words – the same as the average novel."
Like we said above, say it in GIFs, not words!
Read more: How to Embed Canva Designs into Your Documents?
3. Stand Out From The Crowd
With such a huge number of images and videos demanding our attention throughout the day, how would you make your documents stand out from the crowd?
How do you make them stand out enough so that people actually read them?
The key to that is instant gratification.
It's exactly what everyone wants and it's exactly what GIFs offer.
Let's face it – no one has time to scroll through long documents and everyone wants information in quick, easy-to-digest hits.
Enter: GIFs.
You can use GIFs to garner attention more quickly, enhance prospects' experiences with your content and add an extra dimension of helpfulness – just what you need to stand out!
Not to forget that they look more impressive than words on a blank page!
Well, now you know that there are quite a few benefits of embedding gifs in your documents…and it is pretty easy to do that if you've got Bit.ai in the back of your pocket!
Bit.ai – What on Earth is That?

Bit.ai is the world's most robust document collaboration platform that helps you collaborate, share, track, and manage all your documents under one single roof.
Bit helps you create interactive documents that are stunning, dynamic, and much more than dull and plain text.
Multiple people can collaborate on a bit document in real-time. You can co-edit and use comments to bring your team to the same place and make decisions related to your documents.
Bit allows you to embed all types of rich media in your documents like GIFs, Videos, SoundCloud Playlists, Tweets, Cloud files, PDFs, Pinterest boards, Spreadsheets, and more! You can even attach files right within your documents and that's not it Bit will even showcase your pdf files live in your docs.
Simply put, anything on the internet with a link can be embedded in your document, and Bit will turn it into visual content.
Just enter any weblink on a blank line and hit enter. Boom! The content will show up beautifully.
Bit.ai allows you to embed GIFs from any GIF website like Giphy, Imgur, etc. directly in your Bit document.
Whether you already have some GIFs you'd like to add to your documents or are still fishing for ideas, embedding them in your Bit doc takes just a minute. Learn how!
How to Embed GIFs Inside a Bit Document?
Follow these easy peasy steps to add GIFs or any web link in your Bit documents.
Step 1: Open up any GIF that you would like to add to your Bit document and copy the shareable URL.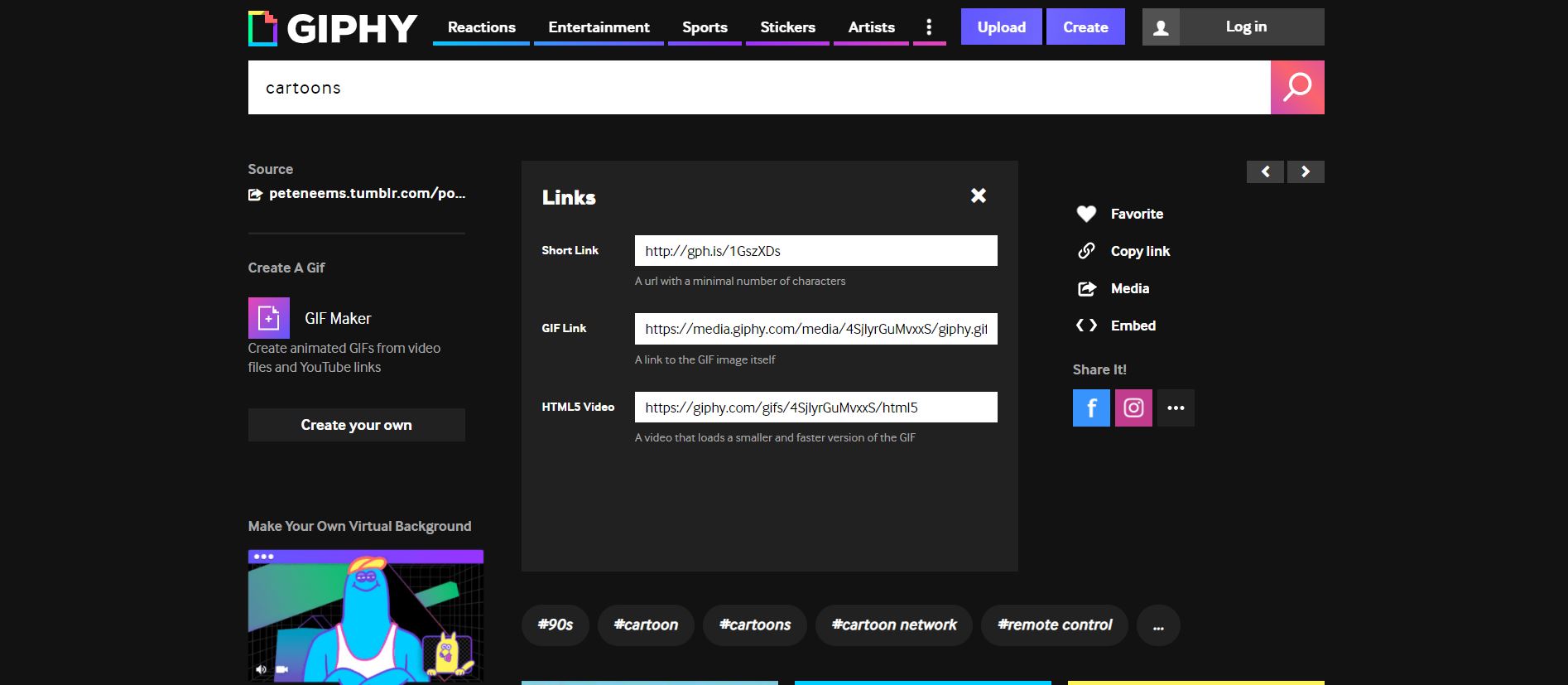 Step 2: Open your Bit document and paste the URL on a blank line.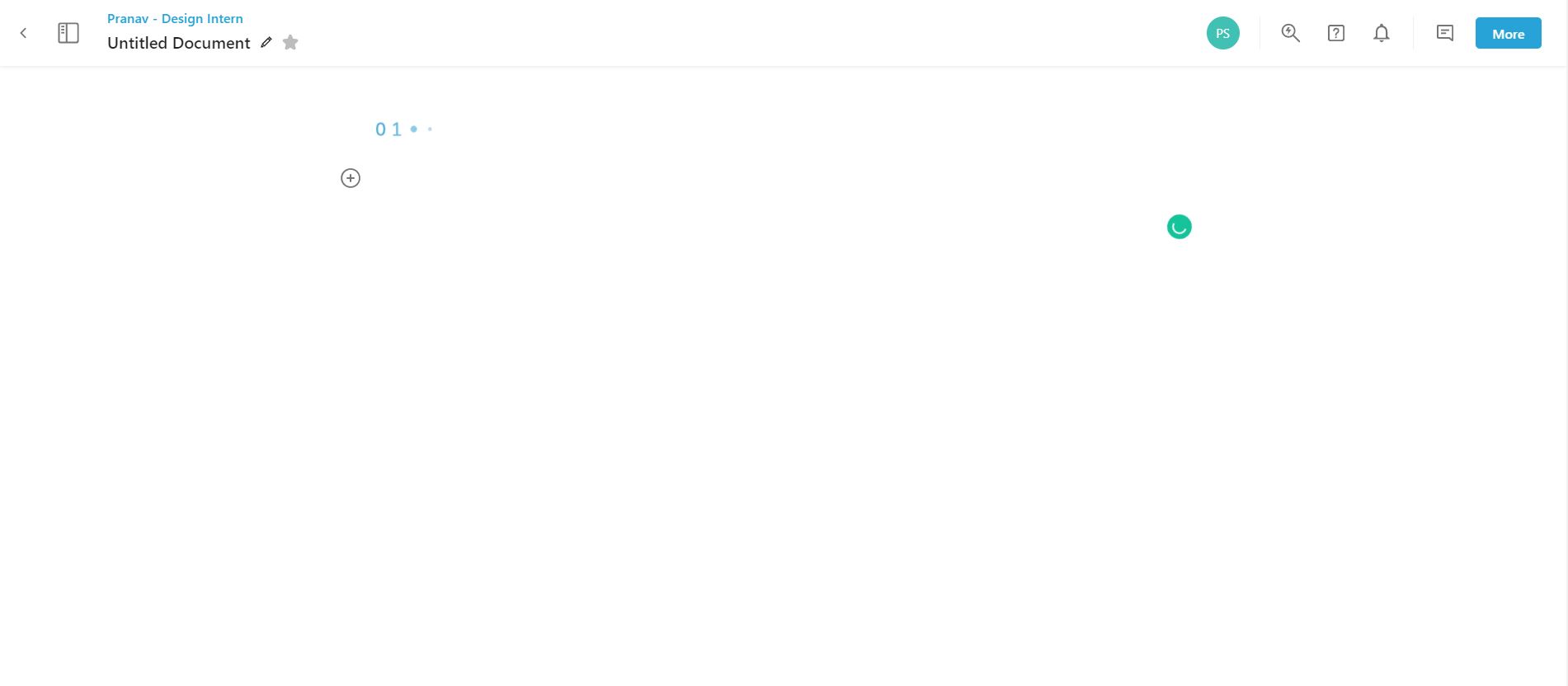 Step 3: Bit will automatically start loading your GIF and have it appear inside of your content! (You can embed as many GIFs as you want!)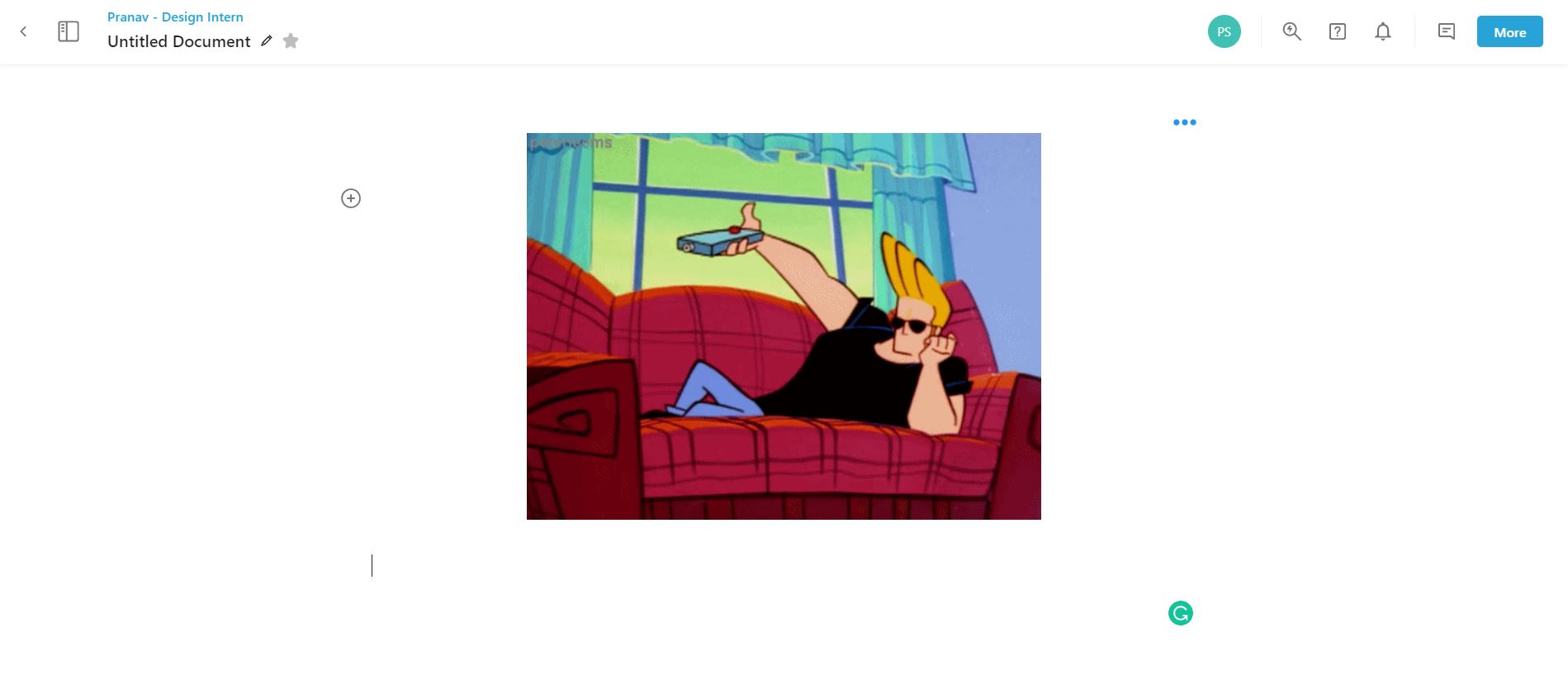 Step 4: For additional formatting options, you can click on the three dots on the top right corner. This toolbar will allow you to add a caption to your GIF or delete it!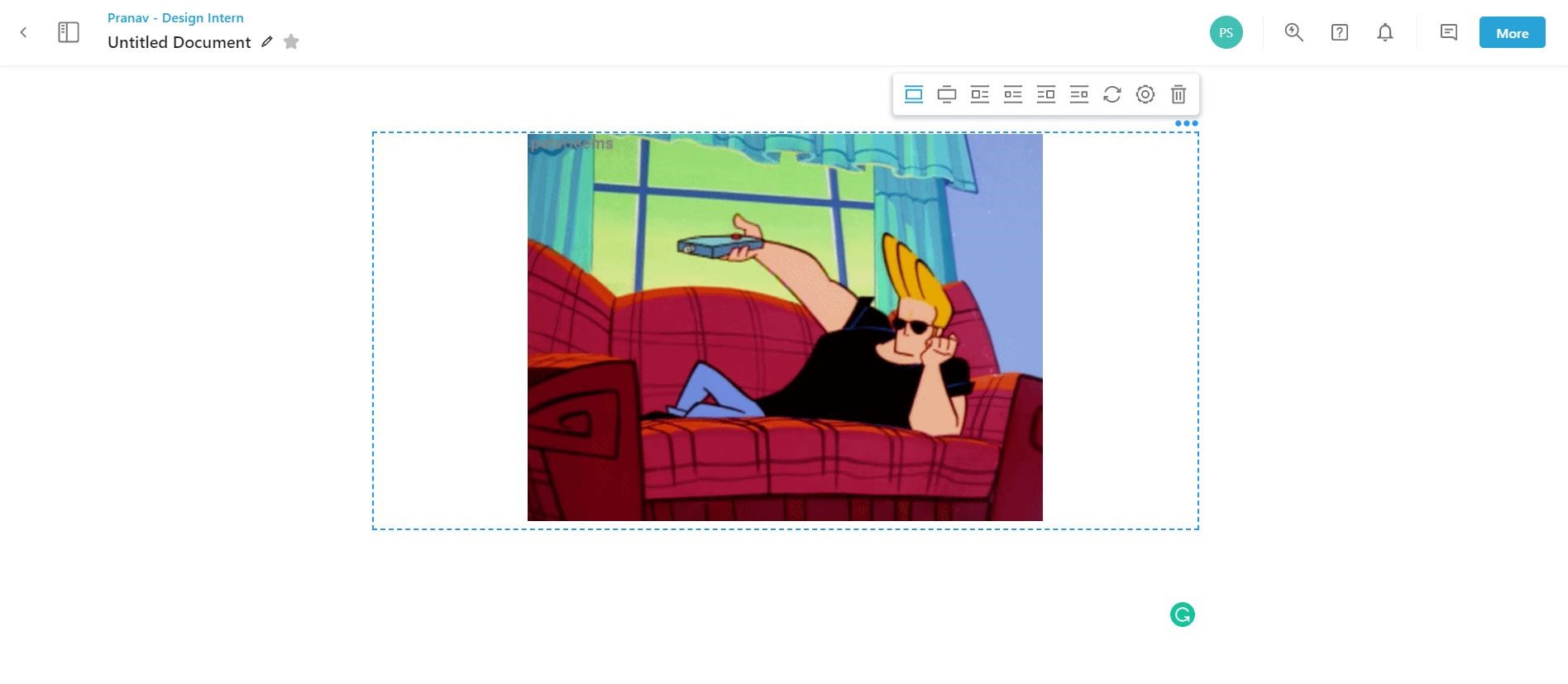 Yes, it is that simple. They call Bit.ai the most powerful platform to create documents for a reason!
👉Watch this video to learn more:
Wrapping Up
There's something that's talked about more than if pineapple really belongs on pizza – the pronunciation of GIF.
Well, the debate on whether you pronounce it with a hard or soft G might never get resolved.
But there's something none of us can argue about – GIFs are the rage these days.
The perfect middle ground between images and videos, GIFs save you from scratching your head when you can't just find the appropriate words to describe something.
They are a better vehicle for your jokes, your excitement, your pain, and all other emotions.
They aid in explaining how something works better (and quicker!) than a still image or a paragraph.
Our eyes are naturally drawn to moving things, and GIFs do just that.
With so many benefits, no wonder GIFs have stolen our hearts and attention.
So, what're you waiting for? Make your documents pop by using Bit and adding GIFs!
Further reads:
How to Embed Lucidchart Diagrams to Your Documents?
Embed Spotify Music in Your Documents With Bit.ai!
How to Embed Marvel into Your Documents?
How to Embed Paperform to Your Documents?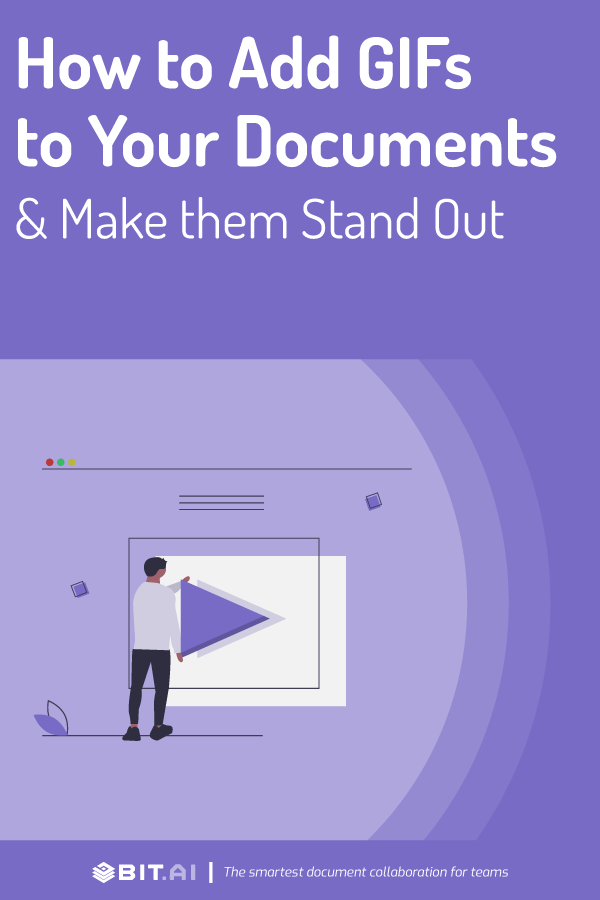 Related posts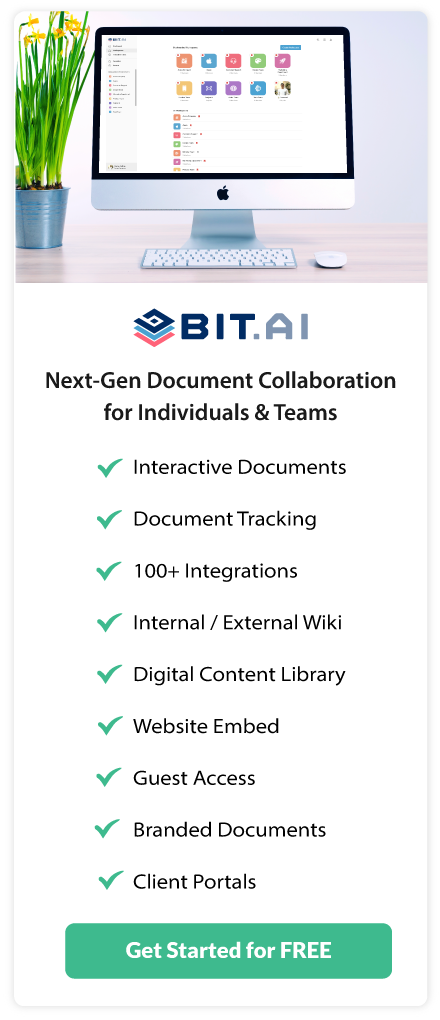 About Bit.ai
Bit.ai is the essential next-gen workplace and document collaboration platform. that helps teams share knowledge by connecting any type of digital content. With this intuitive, cloud-based solution, anyone can work visually and collaborate in real-time while creating internal notes, team projects, knowledge bases, client-facing content, and more.
The smartest online Google Docs and Word alternative, Bit.ai is used in over 100 countries by professionals everywhere, from IT teams creating internal documentation and knowledge bases, to sales and marketing teams sharing client materials and client portals.
👉👉Click Here to Check out Bit.ai.