Have you ever gone through a job recruitment process? We can see you slightly nodding…
Ever spent hours writing your cover letter for your favorite position? Or even over-prepared for a job interview?
Such a tiring experience.
Okay, so this was one side of the story. Want to hear the other side of it too?
Meet TEAM HR!
They are the ones who check your applications, fix meetings, send emails, and other important mind-numbing tasks!
Not only this, but they have to choose the right applicants and spend a lot of time deciding who to choose because after all, they want the BEST!
For an individual, this job can be really tough. From maintaining leave and attendance sheets to communicating with new hires, they are the real reason behind the success of the company!
Isn't it unkind to put the most important staff under such pressure?
Well, we have a solution to this misery… HR software and tools!
Check out what these cool tools are capable of, by simply reading this blog!
What are HR Software and Tools?
HR processes, if done manually, can be really tiring and time-consuming. Each task needs to be done with the utmost care, and mishandling any of it can make the situation really cumbersome.
Imagine yourself in a situation where you have vacation sheets, leave permissions, and attendance sheets to prepare! Not only this, but new employees are waiting to get interviewed!

So, how in the world do you manage and record these activities without getting a headache?
The answer is simple – using HR software and tools!
These tools are technological support that helps business parties and companies organize and manage their day-to-day activities in the field of human resources.
HR software and tools can really increase the process of automation exponentially. With these amazing tools, the HR staff can save a lot of time and cut down on undue costs.
HR tools can perform a variety of tasks for the HR team. With it, you can manage your employees easily. Addressing the otherwise exhausting day-to-day activities like marking attendance, filling out leave, and many other recruitment processes can also also be shortened with these cool tools!
Picking out the right HR software and tool is hard. For that, you need to understand all tasks you need for it to carry out. Then start researching what kind of tools are there…
Does that sound like just another administrative task?
Forget all your worries because here we have listed the best 13 HR Tools and Software for you to check out! But before that, understand why you should be using these tools.
Benefits of Using HR Software and Tools
Accuracy- All HR tasks can be conducted accurately and consistently with these tools, thus this saves you from silly errors!
Automation- The otherwise manually performed tasks can now be automated with these tools. So now you can leave the worry and focus on important tasks.
The Solution to Lesser Staff- If your company does not have a big HR staff, then you can put these tools forward to take the place of a larger human force.
Get Easy with Onboarding Process- HR tools and software can help you automate the onboarding process and create employee records easily in lesser time.
Saves Tons of Time- These tools help companies in speeding up the process that can otherwise be really time-consuming and labor-intensive. Thus saving time and costs!
…and much, much more!
List of Top 9 HR Software and Tools for Companies
The Ultimate HR Tool!

Give your new hires a warm welcome with Bit!
Bit.ai is an all-in-one document collaborator to maintain, edit, organize, share, and work collaboratively on documents. This is a useful tool for managing HR processes, benefits, training content, offer letters, and much more. So much of what HR professionals do has to deal with preparing documents to help onboard new employees, train existing employees and communicate updates and changes in benefits.
Bit documents are digitally rich, allowing you to add just about any type of digital media to your documents. This includes adding PDFs like contracts, offer letters, video tutorials, messages from the CEO, important employee benefit links, and much more. Bit helps you and your team modernize and bring your HR documents into the future.
The best part is you can bring your HR department in to collaborate in one clean environment. Create workspaces around internal department work, knowledge bases for employees, workspaces for managers, and much more.
There are numerous ways you can use Bit to share documents and knowledge bases with your audience, whether it's a single document to a new employee, trackable documents, training manuals for employees, management training, etc. Bit has you covered!
Bit has some amazing time saving collaborative features. Check out a few of them:
Workspaces – Bit's workspaces are the smartest solution to team communications. You can create workspaces for separate teams in the organization and give access to people of that department.
Create Beautiful Documents – With Bit, documentation and formatting are really simple. Be it job descriptions, employment contracts, employee handbooks, onboarding procedures, statutory documents – you can create beautiful documents for anything.
Real-Time Collaboration – You can communicate with employees in real-time and make the best out of your documents. With the co-editing feature, you can work with them in real-time and use inline comments to communicate.
Content Library – Bit provides you a space to save all your media files for quick access. Here you can keep all your training and development files and use them as guides for new hires.
Digital Media – From PDFs to podcasts and everything in between can be added to your document!
Smart Search – You can search using keywords and find important documents with ease.
Document Tracking – Track audience engagement on the documents you share. Gauge the interest of a prospective employee and customize your follow up accordingly.
…and much more!
So what's the wait? Get started with Bit.ai and save tons of time!
Read more: 10 Best Reporting Tools and Software for Businesses

Check out this amazing tool for managing and organizing employee data, all in one place. It was primarily designed for small and medium-sized enterprises, but now it leaves no dissatisfaction for large enterprises as well!
Zoho People is a cloud-based HR management software that can help you track leaves, manage timesheets, create forms, etc.
Key Features:
Easy to Use: You won't feel overloaded with a lot of features while using this tool thus making it easy to use for many users.
Data Maintainance: You can neatly maintain your data and records on this extremely secure platform that can be accessed anytime!
Automation- Here is a chance to automate all of your recruitment tasks in a go with Zoho People.

Here is a cloud-based HRM software designed to meet the needs of the HR staff! It is quite useful to businesses of all sizes- be it small or big enterprises. With a number of features and integration, Kronos Workforce Ready is ever ready to support all your needs.
Kronos Workforce Ready can help your company in carrying out a number of human resources tasks, some of which are mentioned below.
Key Features:
Customization: Users of this cool software can customize dashboards to get a view of their data in no time.
Performance Insights:  With these features, you can measure how your organization's workforce is performing.
Unified Platform:  You can carry out HR tasks through a single interface.
Read more: 6 Best Talent Management Systems & Software in 2022

iCIMS Talent Acquisition is exactly what it sounds like! You can hire the best recruits hired with this tool.
Used by over 3,200 organizations in the world, iCIMS Talent Acquisition is probably one of the most popular tools among other talent acquisition HR software and tools.
You can use this feature-rich HR tool to kick start your onboarding process!
Key Features:
Fastens the Recruitment Process- This tool can help your company reduce time in the recruitment process.
Career Portal- This software includes dynamic features, one being a customizable career portal. This is the place that lets candidates search for career opportunities based on their field.

Here is a single tool to deal with all the management around HRMS. With it, you can control all the internal working of your company and deal with them smoothly.
Thus, all-in-all it is a simple to use tool that can help you carry out multiple functions at a time! Hurry up and check out the features of this cool platform below!
Key Features:
Payroll: Workday HCM offers payroll capabilities for U.S., U.K., France, and Canada. All transactions compile in the payroll module which includes a calculation engine as well.
Talent Management: This feature includes onboarding and career and development planning ways. It is of immense importance to new hires by enabling them to access messages, videos, and more from a single dashboard only.
Learning Management System: Let learning never stops! This feature helps you deliver and get in touch with training materials.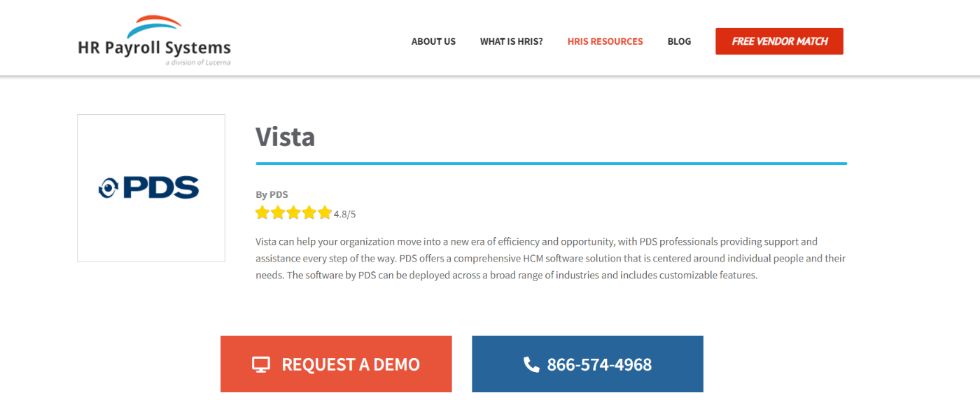 Here is a software offered by PDS – Vista that can help you organize tasks at every stage of the employee lifecycle. This platform is suited for any type of business- small, mid, or large-sized! It is for the companies of the U.S. and Canada.
With this tool, you can streamline employee communication at best! You can also automate the employee addressing processes and save time.
Key Features:
Benefits Administration: This feature supports the various procedures and policies related to administration. With it, you can offer a host of plans and coverage levels to your workforce.
Payroll: With tools such as time collection, tax maintenance service, auto-pay, it helps you complete all payroll activities easily.
Time and Attendance: It offers geofencing and geolocation, a drag-and-drop schedule, message alerts, and a lot more!

Up in our list is another HR tool suitable equally for small, medium, and large businesses. What makes Breezy the best is that it readily integrates with existing HR tools seamlessly. So this place can be an easy swap option because here you will be able to access data of other apps as well.
While most HR software and tools focus broadly on recruitment, this one breaks the boundaries. For better recruitment, it also connects with LinkedIn and AngelList to get the best candidates for your firm!
In addition to this, you can keep a track of current employees and streamline the communication process and stages.
Key Features:
Reporting and Analytics- Get insight into each and every aspect of your recruitment process and make it even better with this feature.
Automation- Schedule Email and SMS to deliver them just at the right time for quality bonding with candidates.
Advertise Your Jobs- Create an unmatchable job description for a post at your firm and advertise it over 50 job boards with this tool!

This is a platform that excels in integrations because it connects to other SAP solutions as well.
It has its roots dug deep into extensive customization, integration, and analytics. Check out the following features that speak out loud for its bumper appeal:
Key Features:
Highly Customizable: It is one of the most highly preferred tools because of the dynamic customization opportunity it gives to the user.
Performance Management: This feature of performance management offers annual reviews and comparisons that can give an exemplary insight into the performance of the company.
Integrated Solution: It can be very easily plugged into the SAP ecosystem.
Irrespective of the varied features it has, this tool is meant for large enterprises because of its cloud9 pricing!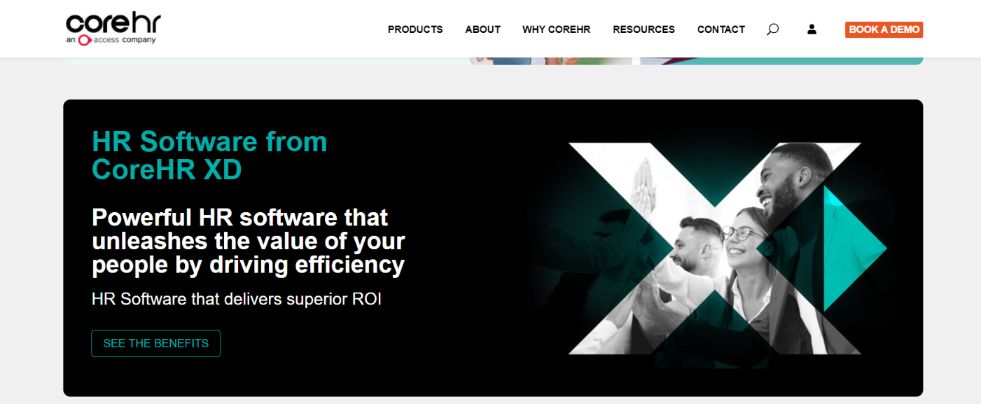 CoreHR is a cloud-based solution to all sorts of HR needs. It provides its users with integrated payroll, people management, workforce management, talent, recruitment, and analytics.
You can cut down on your time and cost by automating tasks and making sure you don't end up committing some silly mistake.
Key Features:
Recruitment: This is not a simple recruiting tool with general features. Here you will find features to facilitate video interviews, online questionnaires, assessment frameworks, interview scheduling, etc.
Talent Management: Here you can monitor employees' performance without having to do anything. It also enables employees to actively develop their own skill-set.
HR Analytics- This feature very accurately combines many reports into one. This can help you in decision-making by reflecting on it.
Before you go!
Our team at bit.ai has created a few awesome templates to make your hr process more efficient. Make sure to check them out before you go, your hr team might need them!
Wrap Up
There you go! Now you have seen how your mountain of tasks can be reduced to an easy-peasy chunk with HR software and tools.
We hope you find the best suitable tool for your company to help you navigate seamlessly through the stages of hiring, firing, performance management, and many other administrative works.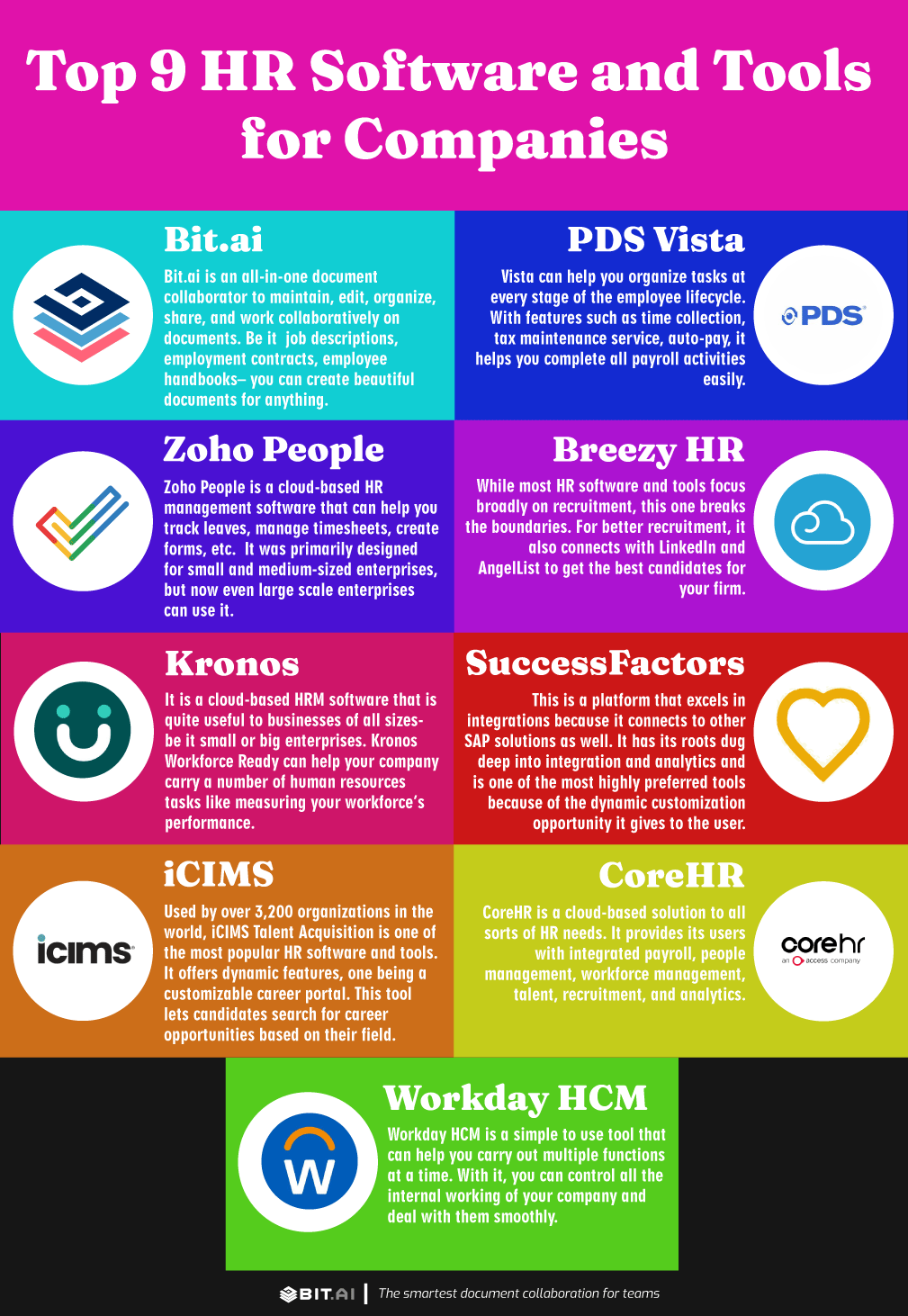 Check out our list and see what fits the best for your business!
Also, did we not mention your favorite HR software and tools? Our apologies…Bring it to light by simply tweeting to us @bit_docs. We'd be happy to hear from you! 🙂
GOOD LUCK!
Further reads:
How to Create a Talent Acquisition Process Documentation?
Top Employee Management Systems You Should Be Using in 2022
9 Best Payroll Software For Every Business! (Free & Paid)
11 Task Manager Apps You Must Know About!
9 Client Management Software You Must Check Out!
Employment Contract: What is it & How to Make it? (Free Template Included)
Best Resource Management Tools and Software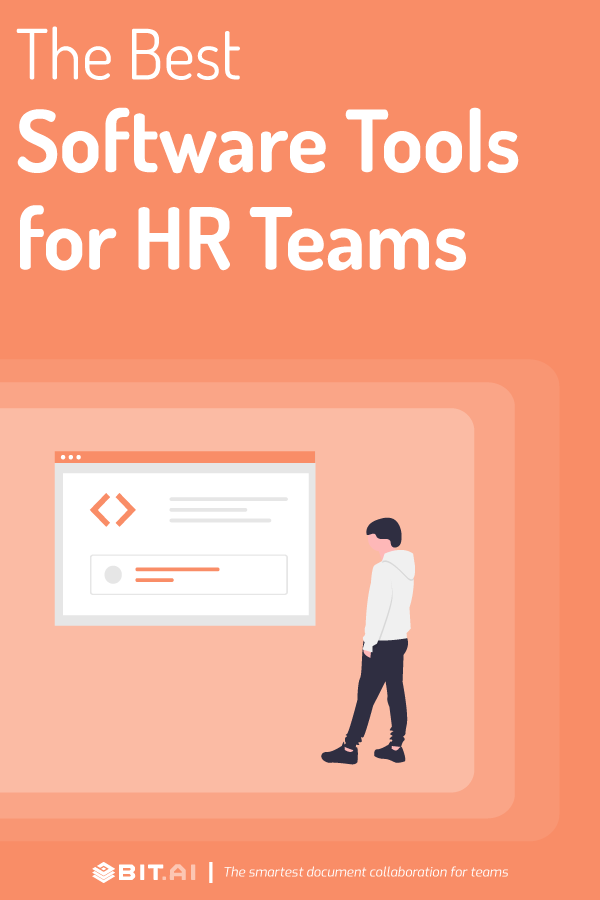 Related posts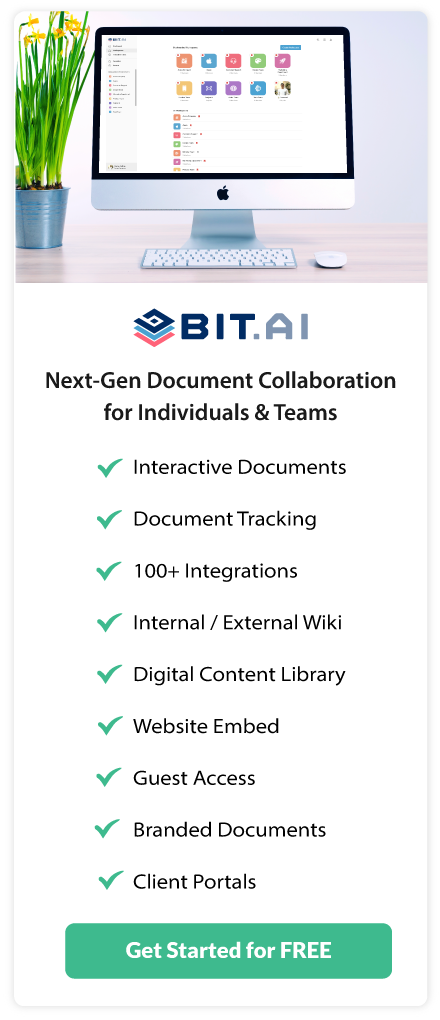 About Bit.ai
Bit.ai is the essential next-gen workplace and document collaboration platform. that helps teams share knowledge by connecting any type of digital content. With this intuitive, cloud-based solution, anyone can work visually and collaborate in real-time while creating internal notes, team projects, knowledge bases, client-facing content, and more.
The smartest online Google Docs and Word alternative, Bit.ai is used in over 100 countries by professionals everywhere, from IT teams creating internal documentation and knowledge bases, to sales and marketing teams sharing client materials and client portals.
👉👉Click Here to Check out Bit.ai.