Taking notes used to be a complicated (and painful) process. You had to find a blank sheet, a pen, and then scribble down the notes furiously. That's a lot of work!
Thanks to technology, we now have a quicker and more convenient way of taking notes. We are talking about the array of free notepads available on the internet.
If you use an online notepad, you can take down notes, copy, or edit them from any device. You won't have to carry a pen and paper at all times. Awesome, right?
Moreover, with online notepads, you can actually search all your notes by just typing out the keyphrase. You won't have to go through bundles of papers to look up a piece of information. How cool is that!
The bottom line is, online notepads really simplify everything! Luckily, we have done the research and put together a list of the best FREE online notepads. Are you ready? Let's go.
Bit.ai is a new-age cloud-based document collaboration and note-taking app. The core of Bit's note-taking awesomeness starts around workspaces. Bit allows users to create smart workspaces around projects, teams, departments, and clients to keep everything organized.
These workspaces are fluid so your notes and documents can move through your organization's workflow. The best part? Bit documents are fully responsive, so you can access your notes on any device.
With Bit's collaboration feature, you can brainstorm and collaborate in real-time on the notes that you create via chat, in-line comments, @mentions, and more. It even allows you to share your notes in a live state with anyone you want and updates all the changes in real-time. What's more?
Bit's clean and minimal editor provides a rich note-taking experience. You can use Markdown to quickly format your notes by adding headers, checklists, numbered lists, and more with keyboard shortcuts.
Moreover, you can add YouTube videos, Spotify, Google Spreadsheets, One Drive Word documents, Dropbox files, GIFs, PDFs, and more to visually enhance your notes. Bit also has a smart search feature that allows you to search and find any note that you've created across all of your workspaces quickly.
Furthermore, Bit provides options like link tracking, password protection, expiration dates, and lots more, making this note-taking app a hit. Bit will definitely give you a one-of-a-kind documenting and note-taking experience.
Key Features:
Real-time collaboration.
Clean and minimal editor.
Smart workspaces.
Media-rich documents and notes.
Robust search.
Fully responsive documents.
One of the best free online notepads on our list, Evernote provides a great user experience and offers some really amazing features. Once you've created an account, all you have to do is click on the 'new note' tab.

A page will open up, with a variety of options including search, chat, and more. Just add a title to your new note and start writing! You can save your notes directly on Evernote, or export them however you want. Other features offered by Evernote are adding tags to your notes, creating shortcuts for your favorite notes, etc.
Key Features:
Create and organize tasks within notes.
10 GB monthly note uploads.
Connect your primary Google Calendar.
View your notes offline – anywhere and anytime.
Another notepad on our list is Primapad, which allows you to view and edit your notes from anywhere and at any time. To get started with Primapad, all you have to do is create a document, name it and start typing.
You can even share your notes with collaborators. Simply click on the 'share' button and pick one of the many sharing options available. Your collaborators can give their feedback on your notes, and you can even give them permission to edit the notes.
Key Features:
Quick note-sharing, making it easier to share notes with your team.
Cloud storage (Create and edit your notes anywhere and anytime)
Read more: 12 Best Journal and Diary Apps for Making Notes!
Whether you want to create an office document or just a personal writing project, Hypernotes is perfect for you. The tool has the power to automatically connect similar concepts together. So, every note that you create on this free online notepad would have great potential.
Apart from that, this notepad offers features like automated connection suggestions, semantic knowledge graphs, bi-directional linking, and a lot more. Moreover, you can even access Hypernotes offline.
Key Features:
Offline access on mobile devices.
Embeds text blocks to reduce duplicate content.
Break major topics into smaller sub-topics (Outline feature).
Knowledge graphs for better discovery of your content.
Google's reputation and brand value are enough to make you choose Google Keep as your go-to online notepad. Google Keep comes as a Chrome extension, and it's also available as an app for Android users.
Just like other online notepads, Google Keep allows you to add several elements to your notes, including sound recordings. What's more? You can customize the background color, embed labels, add a to-do list, and more.
When you're done creating the notes, you can share them via email or store them in Google Docs. Also, whenever you want to access and edit your notes, just set a reminder and you'll get a notification.
Key Features:
Type, talk, draw, or capture.
Alerts and reminders.
Send notes to Google Docs.
Access it anywhere, as it's also available as a mobile app.
Rapid Tables is extremely easy to use and comes with a plethora of note-taking features including copy, cut, paste, redo, undo and select all. There's also a 'zoom in' and 'zoom out' feature you can use to get a better view of your notes.
When you will open up this notepad online, you will see a text area where you can jot down your notes. After creating your notes, you can either save them as a text file or print them out straight away.
Key Features:
Share your notes on social media platforms and via email.
Line count, column count, and character count in the footer.
Line graph maker, PDF converter, and many more handy features.
To use the ClickUp notepad, you first need to register an account and download the browser extension. It's worth the effort because this free online notepad has so many amazing features, including a chat feature that lets you collaborate freely with your team.
It even offers time tracking, goal tracking, and project management tools that can increase your productivity levels! In addition, ClickUp offers several tutorials to help you get the hang of the platform quickly. This notepad also has a mobile app, for both Android and iOS.
Key Features:
Also available as a chrome extension.
Real-time collaboration with your team through threads.
Manage and track time and goals on the go.
Create and manage to-do lists and mark them once finished.
One of the most used online notepads, Editpad is super easy to work on and has a minimalistic interface. Apart from the free online notepad, the platform also offers many more features that can help you in your content creation journey.
For example, you can check plagiarism in your writing, paraphrase your content to make it unique, and find out the word/character count.
Key Features:
Instantly save your work as a TXT file.
Keep track of your word and character count.
Check plagiarism in your writing and paraphrase your content.
What we love about this free online notepad is its sleek and intuitive user interface. There are no unnecessary bells and whistles in this notepad, and you don't have to go through a steep learning curve to use it.
ZippyJot Notepad has some really cool features as well! You can quickly access, search, edit and save your notes on the platform. The best part is, this notepad offers cloud-based backup, which means that you would never lose your notes – even if your PC crashes or your system suddenly runs out of battery.
Key Features:
A backlog of notes is maintained on the server.
Save notes on the cloud.
Search and sort notes by title and dates.
A free online notepad by Microsoft, OneNote comes with a wide range of features. On OneNote, you can create multiple notebooks aka folders, under which you can create your notes.
Moreover, you can create separate sections in each notebook, add pages, and import your existing notes into the pages. That's not it! You can also add links, images, special characters, etc to your notes. You can either import the images from your PC or directly from the internet.
Key Features:
Password security for each section.
Translate the notes from one language to another.
Record audio and videos and add them to your notes.
Extract information from a web page to OneNote.
Read more: 11 Best Note-Taking Apps for Better Productivity!
11. Shrib
Dubbed by its creators as 'the fastest notepad on the planet', Shrib runs quite quickly and smoothly. However, there's a lot more to Shrib than just 'speed'. It has a minimal design with a plain white text editor that covers your browser screen.
So, you can focus more on your notes and text, and less on the side distractions. All in all, when it comes to speed and simplicity, Shrib is surely one of the best free online notepads.
Key Features:
Create a new URL for every note.
Save your notes on the cloud for three months, post which they will be deleted.
Share your notes on over 180 social media platforms.
Print your note directly from the notepad.
To get started with Pote, you first need to register for an account and sign in. Once that's done, just give a title to your notes and start writing – it's that easy!
Pote gives you the option to change the font size and color of your notes, along with the page background, platform color, and window size! When you're done working on your notes, you can email them to your collaborators, or print them out.
Key Features:
Upload a file from the computer and modify it or create notes from scratch.
The notes can be saved online or can also be downloaded.
Change the notepad platform color – black on white, white on black, or yellow on black.
13. ProtectedText
As it's evident by the name, Protected Text is all about protecting your text. The makers of this free online notepad call it 'the safest site on the web for storing your text", and rightly so!
This tool makes sure that the security of your data isn't compromised, amidst the growing vulnerabilities in the digital world. So, all the notes you create on this platform are safe and encrypted, and no one can access them without your permission.
Key Features:
Available on Android as well.
Save your notes on the cloud, and view them from anywhere.
Can be accessed offline.
Create a custom URL for easier accessibility.
Writing notes on this free online notepad makes you feel like you're writing on real paper that's placed on a wooden surface. That's how beautiful the platform's interface is! You can add special characters and emojis to your notes too.
Furthermore, you can email your notes to your collaborators, or store them in the cloud. Even though Memo notepad doesn't require you to sign up to create notes, if you want to save your notes on the cloud, you need to have an account.
Key Features:
3 fonts are available (standard, handwriting, and typeset)
Create a backup of your notes using the cloud.
Dark mode is available as an in-app purchase.
Yes, ANotepad doesn't have a fancy name, but it gets the job done. This free online notepad is incredibly fast and offers a bunch of amazing features. It has a rich text editor using which you can embed links in your notes, add images, tables, and much more.
You can share your notes directly to social media platforms including Facebook and Twitter. You can also save your notes on your PC, as a PDF, word file, or in text format. Anotepad also gives you the ability to password-protect your notes and restrict access to them.
Key Features:
Dark mode color theme for better readability.
Password-protected notes.
HTML tags to make your notes more solid.
Auto-saves notes while you're working.
Preview option to glance over multiple notes at once.
Wrapping Up
There you go, folks! These free online notepads will certainly make your note-taking process simple, efficient, and a lot more accessible.
So, what are you waiting for? Pick the one that fits your needs the best, and start writing down your notes. Don't forget to let us know how it goes by tweeting us @bit_docs.
Happy note-taking! ✨
Further reads: 
10 Best Organizational Tools To Get Rid Of Work Chaos!
Best Roadmap Software You Need to Try (Free & Paid)
20 Best Online Collaboration Tools For Teams!
11 Free PDF Readers You Must Explore!
10 CRM Tools and Software You Should Explore Right Now!
11 Task Manager Apps You Must Know About!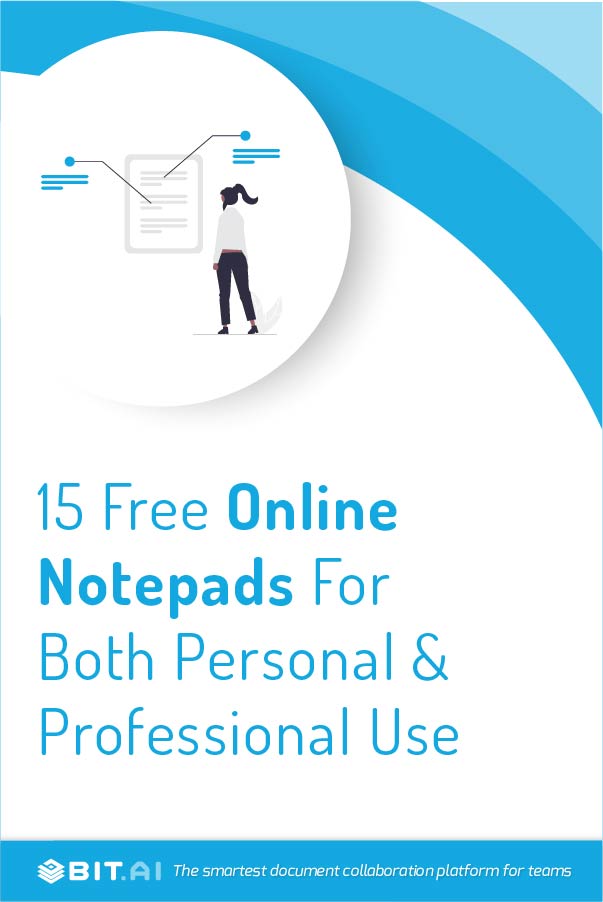 Related posts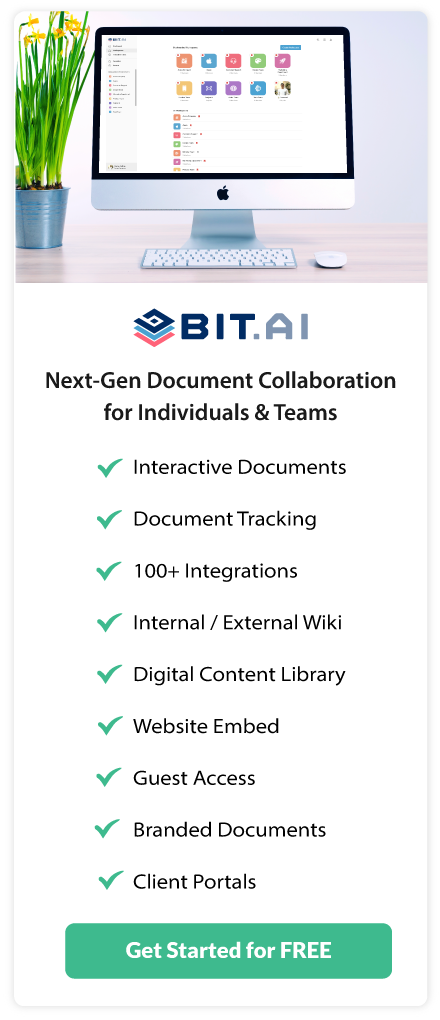 About Bit.ai
Bit.ai is the essential next-gen workplace and document collaboration platform. that helps teams share knowledge by connecting any type of digital content. With this intuitive, cloud-based solution, anyone can work visually and collaborate in real-time while creating internal notes, team projects, knowledge bases, client-facing content, and more.
The smartest online Google Docs and Word alternative, Bit.ai is used in over 100 countries by professionals everywhere, from IT teams creating internal documentation and knowledge bases, to sales and marketing teams sharing client materials and client portals.
👉👉Click Here to Check out Bit.ai.