Building and launching a product, service, or anything else isn't an easy process. Getting your customers to love what you have built – that's another ballgame altogether.
The process of building a product/service might differ from company to company, but the first step to building a good and successful product should always be: creating a roadmap.
A roadmap basically illustrates your vision, your goals and gives your team a foundational understanding of what a product/service should do for the user.
However, crafting a roadmap from scratch can be cumbersome, and that's where roadmap software comes into play. They make it easy for you to plan, coordinate activities, collaborate with your team, and track the progress – all in one place.
However, the thing is, there are more than a few roadmap software available in the market. So, to help you pick the best one, we have built a comprehensive list of the best roadmap software out there. Ready? Let's go!
This simple and efficient roadmap software is perfect for workflow planning. Using ClickUp, you can create tasks, organize them in a tree-shaped hierarchy, and then assign these tasks to your employees.
You can customize and align ClickUp's workflow according to your own needs. Moreover, you can get a perfect view of your workflow and workload in three formats: list, box, and board.
What's more? The software integrates with over 500+ apps and tools. So, if you're someone who uses multiple applications on a daily basis, ClickUp is perfect for you.
The best part? ClickUp even has a free version, however, it comes with limited storage capacity and features. It is perfect if you have a small team, or if you have a limited budget.
Toggl Plan is a user-friendly roadmap software with a drag-and-drop interface which makes designing timelines super easy! It offers features like project timelines, in-task comments, and task management boards.
What else? Toggl Plan lets you organize all your tasks on Kanban boards so that you can always keep up with their progress. The 'commenting' feature facilitates team collaboration and helps you run everything smoothly.
If you are managing a solo project, then you can use the free version of Toggl Plan. However, for teams, you need to buy the premium versions, which start at $8 per user a month.
Read more: How to Create an Agile Product Roadmap?

The best thing about Airtable is that it keeps all the information about your projects under one roof. Some key features of this roadmap software include multiple project view modes, image gallery, etc.
Depending on your business needs and the industry you are in, you can choose from a variety of project visualization features, like Kanban boards, Gantt charts, and calendars.
Airtable also gives you the ability to create your own custom view form. Furthermore, if you manage small projects, you can certainly use the free version of this tool.
Remember that the free version has very limited functionality, and lacks some important features like the history of project revisions and automated table syncing!
Roadmap planner suits companies and organizations of all sizes. It has a simple, drag and drop interface with features like Gantt charts, resource planning, and more.
Irrespective of the plan you choose, this roadmap software will help you create solid visual project roadmaps, record your ideas, add user stories, set task priorities, etc.
Depending on the plan you choose (Pro or Basic), you would get features like visualization, data exchange, diverse planning, management, and integration.
Next on our list is Hygger, a roadmap software that offers various features like kanban boards, sprint planning, backlog, scrums, roadmaps, and more.
This software gives you a 360-degree view of the project you're working on and allows you to share data across the other project management tools that you use. How cool is that?
Moreover, Hygger has rich management functionalities, which can help you complete your projects faster and more efficiently. You can easily prioritize tasks, push them to development, and implement your ideas.
Just like ClickUp, Hygger has a free version that comes with limited storage capacity. However, it can be used for unlimited projects and by teams of any size.
The last roadmap software on our list is Craft, which comes with several features for strategic planning, team collaboration, and project management.
Using this nifty software, you can set your performance goals, create roadmaps, track the progress of your tasks and define product features and stories – in an easy and efficient way.
Some other features of Roadmap include product spec management, capacity planning, and prioritization engine. It even supports many other software development tools, like Active Directory, Jira, and GitLab.
Another amazing roadmap software is, well, Roadmap. With powerful features like resource planning and time tracking, Roadmap is the go-to choice for many companies.
It can also be called a resource planning and forecasting tool, and it is the perfect choice for fully remote, hybrid, and international teams that want to manage all their data in a central location.
Roadmap can be used to find and allocate different resources, create Gantt charts, visualize your work process, share the data with the team, and generate pivot tables.
Furthermore, it offers several third-party integrations include GitHub, Basecamp & Jira. That means you can keep all the data in one place without having to update it everywhere.
The basic version of Roadmap costs $82 per month if billed annually. Roadmap offers advanced versions as well, and they include several additional features and allow you to manage more projects.
Wrapping Up
Always remember: not using a roadmap software can be a slippery slope for any organization. It is just what you need to have everything under control, from concept to completion!
Excited about creating a roadmap with one of these roadmap software from our list? We know you are! Don't forget to let us know about your experience by tweeting us @bit_docs.
Cheers!
Further reads:
6 Best Talent Management Systems & Software in 2022
13 Timesheet Software & Tools to Manage Time Perfectly!
11 Bug Tracking Software to Check Out in 2022!
10 CRM Tools and Software You Should Explore Right Now!
11 Proposal Software You Must Try Out!
11 Smartsheet Alternatives & Competitors You Must Check Out!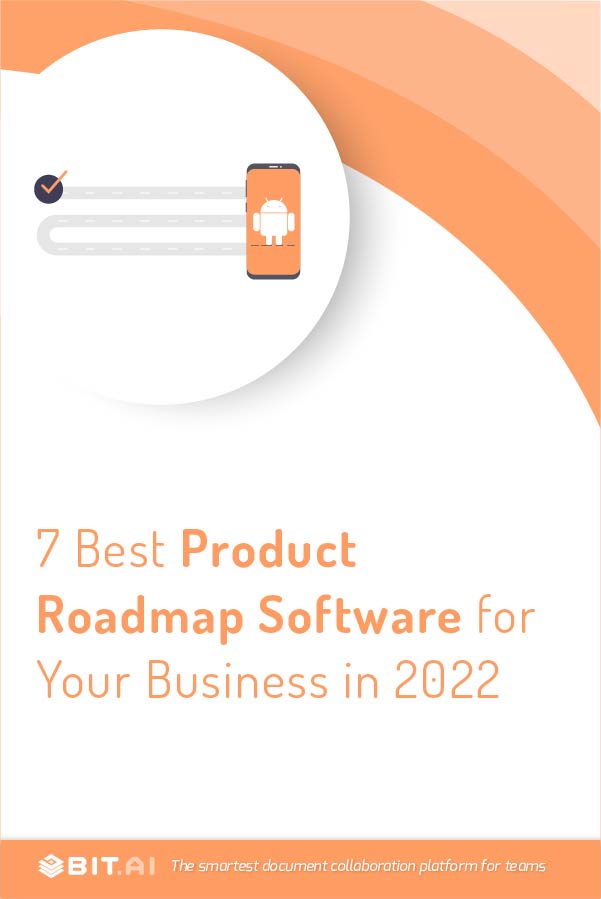 Related posts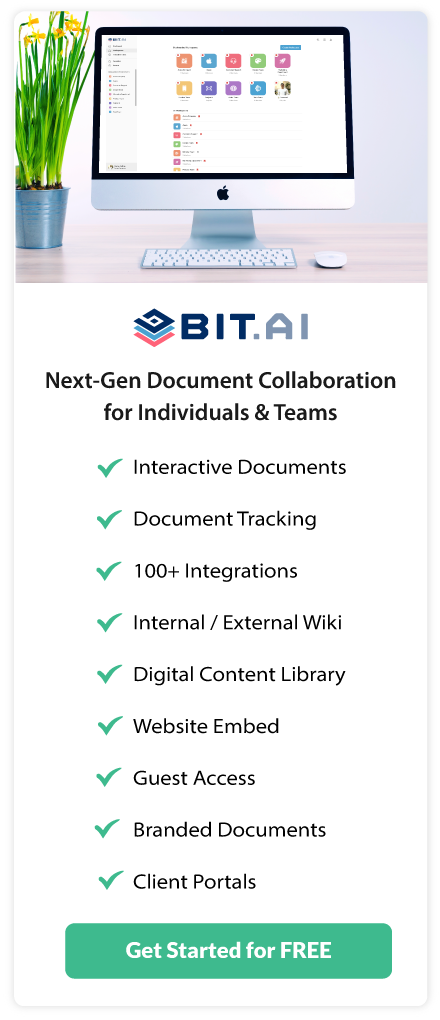 About Bit.ai
Bit.ai is the essential next-gen workplace and document collaboration platform. that helps teams share knowledge by connecting any type of digital content. With this intuitive, cloud-based solution, anyone can work visually and collaborate in real-time while creating internal notes, team projects, knowledge bases, client-facing content, and more.
The smartest online Google Docs and Word alternative, Bit.ai is used in over 100 countries by professionals everywhere, from IT teams creating internal documentation and knowledge bases, to sales and marketing teams sharing client materials and client portals.
👉👉Click Here to Check out Bit.ai.