In a world where 77% of high-performing projects were performed using project management software, we can say that these tools are effective and efficient in delivering results.
And one of the most popular projects management software in the current market is Smartsheet. It visually resembles Excel and comes with project planning, workflow automation, resource management, team collaboration, and file-sharing all under one umbrella.
So if Smartsheet is so great, then why is there a need for a blog on Smartsheet alternatives? The truth is, not everyone may be happy with Smartsheet's services. And there are a lot of other options are available in the market.
So, if you are a Smartsheet user looking for some other alternatives or just someone looking for project management tools in general, then you have come to the right place!
In this blog, we have compiled for you a list of some of the best Smartsheet alternatives available in the market. But before we get down to that, let's try to understand why you need a Smartsheet alternative in the first place!
Ready for this ride? Then strap in, folks!
Why Look for a Smartsheet Alternative?
Smartsheet might be a great project management tool, but it's not perfect. It has drawbacks because of which it might not give you the right kind of experience. What are these drawbacks? Let's take a look:
1. Expensive
SmartSheet is a pricey project management tool, especially in comparison with all other project management tools in the market. It provides a 30 day free trial period after which it charges $14. And if you want advanced features, you'll have to upgrade to an even more expensive premium or business plan.
2. Deep Learning Curve
Smartsheet is a complex project management tool with a complicated spreadsheet view. It is difficult to use and hence has a deep learning curve which often takes up time and effort.
3. No Real-time Collaboration
That's right, Smartsheet does not have a real-time collaboration or real-time chat feature. This means that you cannot collaborate on your projects with your teammates nor do you get any real-time updates.

4. No Time Tracking
Smartsheet has no built-in time tracking functionality. This means that you will not be able to track the time you've spent on tasks and projects.
And due to these reasons, we believe it's safe to say that Smartsheet is not the best project management tool in the market, which is why you need to consider Smartsheet alternatives.
List of Smartsheet Alternatives and Competitors

Let's start off the list with Monday.com, a great Smartsheet alternative. It is an all-in-one project management tool that lets you create and manage projects and tasks and track time and productivity.
Monday.com visualizes data through its dashboard and shows project details in a timeline view with the help of Kanban boards. It also helps customize and automate your workflows without a third-party integration.
With Monday.com, you can easily collaborate with your teams in a shared workspace that keeps all your team members on the same page. Furthermore, Monday offers templates and integrations with multiple apps.
Key Features
Offers kanban boards and dashboard feature
Comes with collaboration features
Provides built-in workflow automation
Pricing
Basic Plan at $39/month
Standard Plan at $49/month
Pro Plan at $79/month
Read more: 10 Task Management Tools Every Business Must be Using!

Here we have Wrike, a free Smartsheet alternative that offers time-tracking features, real-time support, visual timelines, resource, and project management.
Wrike provides a 360° visibility of your workflow to view tasks ahead of you, streamlines them, and tracks your progress. It allows you to communicate in real-time and share reports as well as customize your dashboards to make it organized.
With Wrike's built-in proofing and approval system, you can easily review and approve work within the system. What's more? Wrike offers a phone app and also has enterprise-grade security!
Key Features
Helps customize dashboards
Provides built-in proofing and approval system
Offer enterprise-grade security.
Pricing
Free for small teams up to 5 users
Professional plan at $9/80/user/month
Business plan at 24.80/user/month

Workzone is a powerful spreadsheet-based project management tool that is suitable for marketing departments, ad agencies, service firms, universities, and more.
This Smartsheet alternative is easy to use and provides you with dashboards that give you detailed information on the status of your projects and deadlines. It helps manage workloads and automates workflow to save both time and effort.
With Workzone, you can collaborate securely in the cloud, add comments to images or documents, share files, set reminders, and create to-dos. Furthermore, it offers templates and supports cross-project views and automatic alerts.
Key Features
Provides dashboard for tracking projects
Automates workflow
Supports automatic alerts and cross-project views
Pricing
Team plan at $24/user/month
Professional plan at $34/user/month
Enterprise plan at $44/user /month

Basecamp is another great Smartsheet alternative that offers a centralized platform for project management and lets you access your data from anywhere at any time.
This software comes with a customizable user interface and offers features such as Kanban charts, message boards, schedule boards, to-do lists, uploading files and docs, group chats, and many more.
You can break down your projects, track your work progress, and spot problems using Basecamp's Hill Charts. It also offers automatic check-ins option and a reminder feature to keep you on track. Furthermore, Basecamp allows you to easily share files, updates, and messages with your teams.
Key Features
Supports a customizable user-interface
Provides Hill Charts to track tasks
Offers automatic check-ins and reminders
Pricing
Free personal plan
Basecamp Business plan $99/month

Up next we have ClickUp, a project management software with a simple and easy-to-use user interface. It lets you manage and schedule your tasks through notes, Kanban boards, Gantt charts, calendars, reminders, etc. and prioritize them into a project timeline.
This Smartsheet alternative offers time-tracking features to measure the time you spend on each task and provides you a full report on your project progress. It also comes with collaboration features, customizable templates, forecasting features, and many more.
ClickUp also has a 24/7 live chat and provides over one thousand built-in native integrations. Moreover, it is supported on Windows, Mac, and Linux as well as mobile apps.
Key Features
Uses Kanban, Gantt charts, calendars to manage tasks
Offers a time tracking feature
Supports over 1000 built-in integrations.
Pricing
Free version available
Paid plan at $5 per month
Business plan at $9 per month
Read more: Simple Team Management Software Every Business Should be Using!

Another strong contender as a Smartsheet alternative is Notion, an all-in-one workspace, and productivity platform. It has a distraction-free interface that comes with a Kanban-style board, which helps you visualize your tasks and prioritize them in a systematic view of the workflow.
Notion has a note-taking feature that allows you to add texts, sounds, videos, and code snippets. Its built-in collaboration tools provide a real-time chat option to stay connected and share data.
In addition to all this, Notion offers several ready-made templates, rich media support, integrations with other software, and even provides an option to undo actions.
Key Features
Supports real-time collaboration
Offers note-taking feature
Comes with ready-made templates
Pricing
Free plan available
Personal plan at $5/member/month
Team plan $10/month
Enterprise plan at $25/member/month

Asana is a cloud-based project management software with a clean and user-friendly interface that helps you and your team manage multiple projects at the same time.
Asana offers project templates for specific industries, Gantt charts, Kanban boards, calendar views, task list views, and drag-and-drop functionality for handling all your tasks.
It's a great Smartsheet alternative because it comes with features like real-time chat, workflow, and project portfolio management.
What's more? Asana works offline too and it integrates with multiple third-party apps such as DropBox, Sunrise, HipChat, Google Drive, and more.
Key Features
Offers drag-and-drop functionality
Has a robust collaboration tool
Integrates with multiple apps
Pricing
Free plan available
Premium plan at $10.99 per user/month
Business plan at $24.99 per user/month

Here we have Microsoft Project, another Smartsheet alternative that integrates with the rest of the Microsoft software for project and task management.
Microsoft project has customizable charts and interactive dashboards to visualize your workflow and help you communicate using BI visualizations. It has portfolio management, resource management, and time-tracking features as well.
With Microsoft Project, you can easily collaborate with your team, work remotely and share files with each other. It also lets you set calendars, track durations, and send alerts for deadlines for your tasks and projects.
Key Features
Provides Gantt charts with split screens
Supports interactive dashboards
Integrates with Microsoft software
Pricing
Essential plan at $7/user/month
Professional plan at $30/user/month
Premium plan at $55/user/month

Next on the list, we have Airtable, an easy-to-use project management software with a centralized system for planning, organizing, prioritizing, managing, and tracking tasks – all in one place.
Airtable offers built-in customizable templates, Kanban boards, grids, and team calendars to help you create and visualize all your databases.
It is a great alternative for Smartsheet as it offers collaboration tools that allow you to comment, edit and collaborate in real-time with your team. Moreover, Airtable has a mobile-friendly functionality and it offers over 150 open-source apps on GitHub.
Key Features
Offers customizable templates, kanban boards, and calendars
Provides real-time collaboration features
Mobile-friendly functionality
Pricing
Free version available
Plus plan starts at $10/user/month
Pro plan at $20/user/month

Up next on the Smartsheet alternative list is Jira, an easy-to-use project management tool that provides a 360⁰ view of your projects and tasks.
Jira allows you to assign tasks, evaluate timelines, track progress and discuss the team's work with full visibility. It helps to streamline your projects through Kanban boards, timeline views, etc., and ensure that your data is free of any errors through its bug tracking feature.
Jira also provides a step-by-step onboarding process to help you set it up and helps you import your data from third-party systems. Furthermore, it syncs with your mobile app and sends email alerts and reminders of due tasks.
Key Features
Streamlines work through Kanban boards
Provides onboarding instructions
Offers over 1000 integrations and add-ons
Pricing
Free version available
Standard plan at $7/user/month
Premium plan at $14/user/month

To wrap up the Smartsheet alternatives list, we present to you Redbooth, a project management tool that offers a flexible structure to view your projects and tasks.
Redbooth uses Kanban boards, Gantt charts, task lists, and calendar view to help you organize, prioritize, and track your projects easily.
With Redbooth, you and your team can see your daily and weekly priorities and conduct HD video meetings powered by Zoom.
Furthermore, it has machine learning features that assign tasks to members and makes suggestions for due dates based on previous tasks.
Key Features
Sends alerts and reminders about due dates
Integrates with Zoom for video meetings
Offers machine learning features
Pricing
Free plan available
Pro plan $9/user/month
Business plan $15/user/month
Conclusion
As you can see, there are many Smartsheet alternatives that you can choose from to manage your projects and tasks efficiently.
You can say goodbye to Smartsheet because you now know that there are so many better options with better features and higher quality available to make project management a breeze for you!
But remember, you need to understand the specific needs of your company before picking one. Hope you find the one that fits your needs!
And that's a wrap, folks!
Further reads: 
Top 5 Google Sheets Alternatives to Help Businesses
Top Airtable Alternatives & Competitors You Must Explore!
9 Best Free Project Management Software in 2022
6 Workflow Tools and Apps for Smoother Processes!
11 Gantt Chart Software You Should Check Out!
Top 9 HR Software and Tools for Human Resource Departments!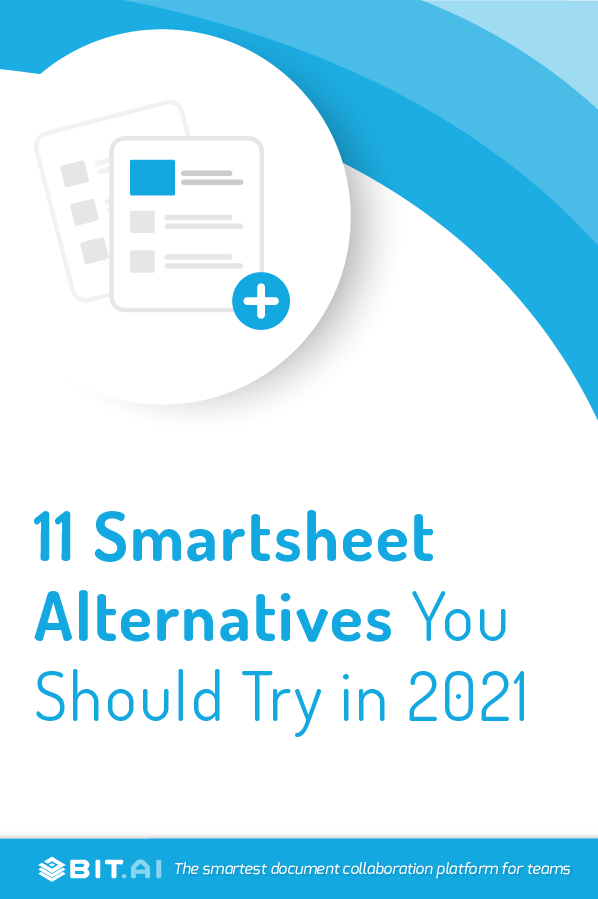 Related posts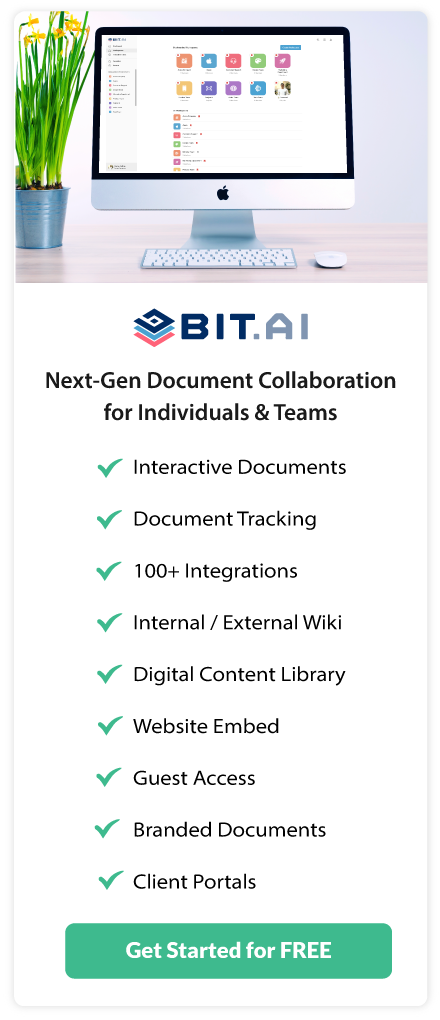 About Bit.ai
Bit.ai is the essential next-gen workplace and document collaboration platform. that helps teams share knowledge by connecting any type of digital content. With this intuitive, cloud-based solution, anyone can work visually and collaborate in real-time while creating internal notes, team projects, knowledge bases, client-facing content, and more.
The smartest online Google Docs and Word alternative, Bit.ai is used in over 100 countries by professionals everywhere, from IT teams creating internal documentation and knowledge bases, to sales and marketing teams sharing client materials and client portals.
👉👉Click Here to Check out Bit.ai.