Visualizing your work goes a long way in organizing your work life.
That's why we rely on sticky notes, whiteboards, charts, and diagrams every time we want to envision our projects and tasks. They just make our lives so much easier, right?
But with a hectic business schedule, you'll need more than just sticky notes and charts to organize and visualize all your data and information.
That's why we now have Kanban tools and software. Thanks to them, you can now easily manage all your projects and tasks in the most visual manner and access them from anywhere.
Kanban tools and software are the best things that happened to project and task management! Are you now curious to know more about these tools? If you just answered 'yes', then this blog is for you!
In this blog, we will discuss what Kanban tools are, why they are important, and the best ones available in the market. So what are you waiting for? Dive right in!
What is a Kanban Tool or Software?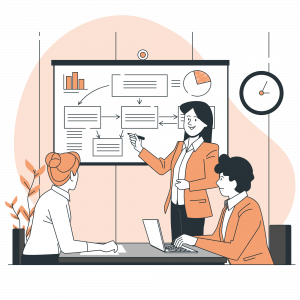 Kanban, in Japanese, literally translates to 'visual board' or 'visual signal'.
It was a system, used in Japan, which regulated the supply of components with the help of instruction cards sent along the production line. It basically visualized all the work.
So, in essence, a Kanban software is a software that helps manage and visualize workflow, track its progress, and simplify team collaboration – with the help of Kanban boards and cards.
Kanban tools give you a full and visual overview of your work such as a brief description of your job, who is responsible for each task or project, how long each task or project will take, and lots more.
This tool maximizes efficiency, improves productivity, and enhances the different business processes. Now that you know what a Kanban tool is, let's try to understand why you need to use one for your business.

Why You Should Use a Kanban Tool
A Kanban software comes with a wide array of benefits that helps improve the overall productivity and efficiency of a business. How? Let's take a look!
It is highly flexible as it provides efficient communication across multiple industries and companies.
Offers visibility and transparency in workflow management through visual representation.
Ensures continuous improvements and necessary changes.
Ensures smooth work functioning of processes by optimizing cycle times.
Helps spot bottlenecks and blockages through visual metrics such as flow diagrams, charts, etc.
Reduces wastage through proper allocation of resources and checking its consumption.
All-in-all, a Kanban tool is a great visual tool that helps minimize the chaos at your workplace through visual organization, thus enhancing the overall productivity of your business.
For these reasons, a Kanban tool is a great investment for your business. So let's check out some of the best options available to you!
List of 11 Kanban Tools and Software

Let's start off this list with KanbanTool, a simple Kanban task management tool for visualizing all your processes on an online board.
Kanban Tool helps you make new boards with its built-in basic templates and allows you to customize them by adding more sections. You can then choose a customizable color tag, add details, and create/add new tasks.
With its Analytic feature, you can see the breakdown of your cards by type and time reports, track the progress of your work and get a detailed overview of your team's activity.
Furthermore, it supports real-time communication and integrates with over a thousand different apps.
Key Features
Offers built-in templates
Comes with an analytics feature
Supports real-time communication
Pricing
Free plan available
Team plan $5/user/month
Enterprise – $9 per user/monthly
Read more: 11 Task Manager Apps You Must Know About!

If you're looking for a Kanban tool that comes with time tracking features, then we recommend you check out KanbanFlow. It has a simple and easy-to-use interface that lets you add lists and cards and customize them.
The best feature of KanbanFlow is that it supports a built-in Pomodoro timer that helps you get work done by setting timers and reminders for your tasks. It also lets you make time estimates and tracks your productivity.
With KanbanFlow, you can list your subtasks, add markdown-formatted descriptions, customize labels and card colors and even create standard to-do lists. It also comes with analytics and reporting features.
Furthermore, it offers customizable templates and integrates with your favorite apps as well.
Key Features
Supports a built-in Pomodoro timer
Offers analytics and reporting features
Has a simple user-interface
Pricing
Free version available
Premium plan at $5/user/month

Next, we have Miro, a cloud-based collaborative whiteboard platform that offers a visual brainstorming solution and Kanban features suitable for UX research, web design, product development, and many more.
Miro's Kanban boards and Gantt charts help customize workflows, keep track of work items and gain insights about project timelines and milestones. You can color-code your Kanban cards, assign team members, set due dates, and move the cards around using its drag-and-drop feature.
With Miro, you can communicate in real-time, leave tagged comments and even use its voice and video conferencing features. Furthermore, it comes with pre-built templates, infinite canvas, and brainstorming techniques like lotus diagrams, mind-mapping, affinity mapping, and lots more.
Key Features
Offer a visual brainstorming solution
Provides real-time communication features
Comes with pre-built templates
Pricing
Starts at $16 user/month for businesses.

Kanbanize is a great Agile project management software that combines business automation with Kanban-style features. It is widely used in IT sectors, pharmaceuticals, product development, architecture, etc.
This software helps you break down and manage all tasks and provides timelines to plan on Kanban boards. It also offers split boards which help you visualize and track several levels of information at the same time.
Kanbanize has a simple and easy-to-use interface that allows you to customize your workflow, create business rules, and set WIP limits. Furthermore, it sends an email and in-app notifications about all dashboard updates.
Key Features
Combines business automation with Kanban features
Offers split boards
Sends email and in-app notifications
Pricing:

If you run small to medium teams, then SwiftKanban is a great Kanban project management tool for you. It combines scrum boards, Kanban boards, and visual management to manage, visualize and automate highly efficient workflows.
With SwiftKanban, you can observe patterns, track velocity and cycle time, identify bottlenecks, sources of rework, and lots more so that you can tackle any issue at an early stage. Its story mapping feature also lets you analyze, brainstorm, and break down your workflow.
SwiftKanban has a Board Playback feature that creates 'Kanban movies' to help you track the performance of your workflow over the week, month, or quarter. Furthermore, it integrates with JIRA, TFS, Git, and over 35 other tools.
Key Features
Visualizes and automates workflows
Offers story mapping feature
Creates Kanban movies to track performance
Pricing
Free version available
The group plan starts at $7 user/month.
Read more: 15 Business Intelligence Tools & Software Every Business Needs!

Here we have Kanbanchi, a dashboard and task management app known to manage workflow with the help of Kanban tools.
Kanbanchi comes with a time tracker functionality that lets you track and maintain a record of the time you and your employees spend on each task. This in turn helps track daily productivity as well.
Not only does Kanbanchi help you capture, store and distribute data easily, it comes with a drag and drop functionality and also allows you to collaborate on tasks in real-time.
In addition to this, Kanbanchi integrates with Google Calendar and Google Drive and it can be directly accessed from your PC, tablet, or even smartphone.
Key Features
Offers time tracker functionality
Provides the ability to drag and drop
Offers real-time collaboration features
Pricing:
Starter – 9.95 per user/monthly
Professional – $24.5 per user/monthly
Enterprise – $34.97 per user/monthly

If you're looking for more visuals than your regular kanban boards, then Blossom is an amazing Kanban tool for it. Like regular kanban software, Blossom creates and manages tasks, visualizes project stages in lists, and shows analytics of the performance and progress.
Blossom shows you task statistics in the form of rubber stamp-style tags marked as 'Ready for next stage', 'Ready', and 'Approved' and it creates beautiful email reports as well.
Blossom offers other features like portfolio management, idea management, milestone tracking, agile methodologies, client portal, and many more. Furthermore, it integrates with GitHub, Slack, HipChat, etc.
Key Features
Uses rubber stamp-style tags
Offer collaboration tools
Integrates with GitHub, Slack, etc.
Pricing
There is a free version
Pricing plan starts at $19/month

Up next we have Trello, a well-known task management software that uses a simple and basic Kanban board to visualize and organize your workflow. This one is great for personal use and for small businesses.
With Trello, you can assign, organize and prioritize your tasks, add descriptions to each task with a Trello card, set deadlines and due dates, create checklists, and track your processes.
Trello comes with a simple drag-and-drop interface that allows you to move around your Trello cards. It also offers a calendar view of your deadlines and sends you notifications and alerts.
What's more? Trello has unlimited storage and supports unlimited number of users.
Key Features
Provides a drag-and-drop interface
Offers Trello cards
Has unlimited storage
Pricing

Here we have Taskworld, a cloud-based task management software that offers a great Kanban task board view. It lets you manage and visualize tasks and track progress on Kanban boards.
Taskworld's dashboard gives you an overview of all your projects and helps you filter your tasks on the basis of due dates, status, assigned team members, and more. It allows you see multiple tasks in a single line of text at once and displays your scheduled tasks in an interactive calendar.
This software also comes with built-in chat functionality which lets you create public channels or chat rooms and private groups for communication. Furthermore, you can use the drag-and-drop upload to upload files and send attachments with image previews.
Key Features
Offers dashboard features
Built-in chat functionality
Drag-and-drop upload feature
Pricing
Free plan available
Solo plan at $5.99/month
Team plan at $8.99/month per
Read more: 9 Amazing Flowchart Software and Tools of 2021
Monday.com is popular all-in-one task management software that comes with a Kanban tool for workflow automation. It has a highly visual interface that offers various customizable templates, supports Kanban, and shows all project details in a visual timeline.
You can use Monday's Kanban boards to visualize your tasks in a list-based view and visualize all your data through its dashboard feature. It also lets you sync calendars and set reminders as well.
Monday offers collaboration and communication features that let you invite, collaborate and share files and documents with your team and clients. Moreover, it seamlessly integrates with multiple apps.
Key Features
Supports a highly visual interface
Offers customizable templates
Provides built-in workflow automation
Price
Basic plan for $8 per month per user
Standard plan for $10 per month per user
Pro plan for $16 per month per user

Finally, we present to you MeisterTask, a web-based team collaboration and project management tool that comes with a great Kanban-style board and Gantt-style overview of tasks.
MeisterTask offers a well-designed and intuitive interface and also helps you create customizable project dashboards. It helps streamline creating projects and helps monitor work progress and productivity.
The MindMeister feature helps build digital mind maps thats let you outline your ideas using important details and due dates. This software also offers communication tools that let you collaborate in real-time.
What's more? MeisterTask integrates with Google Drive, Slack, GitHub and Zendesk.
Key Features
Intuitive interface with Kanban boards and Gantt charts
Builds digital mind maps
Offers real-time collaboration
Pricing
Free version available
Pro plan at $8.33/month per user
Business Plan starts at $20.75/user/month
Conclusion
… and that's a wrap to the list of some of the best Kanban tools and software that you'll ever come across.

We have given you Kanban tools that are suitable for different purposes, different company structures, and different industries.
Now it's up to you to choose one that fits your company's needs and start visualizing all your work. Cheers!
Further reads: 
10 Workflow Management Software Every Business Should be Using!
11 Gantt Chart Software You Should Check Out!
11 Dashboard Software You Should Explore in 2021
10 Best Reporting Tools and Software for Businesses!
Top 9 Virtual Data Room Providers in 2021
11 Asana Alternatives & Competitors You Must Know About!
Burn-Up Charts: What are they and How to Create One?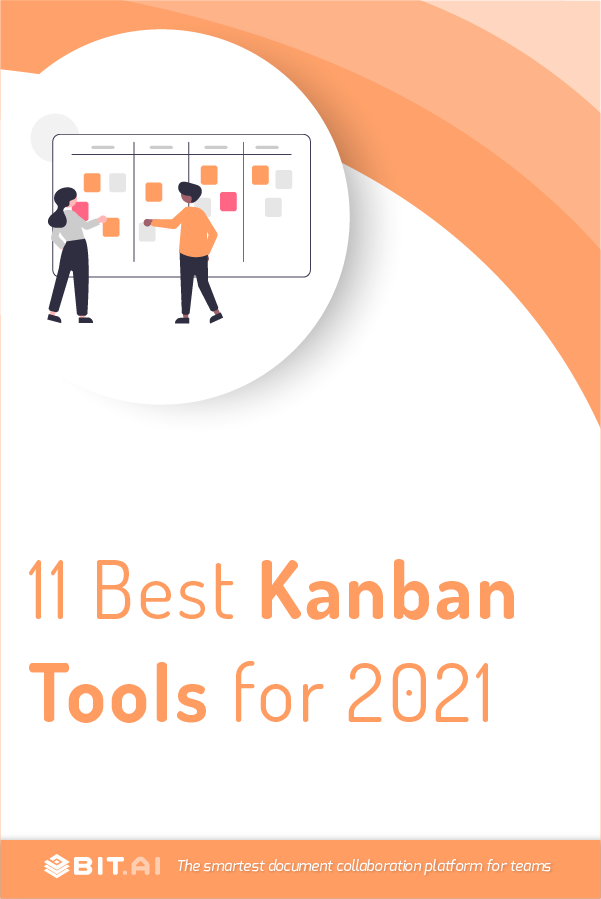 Related posts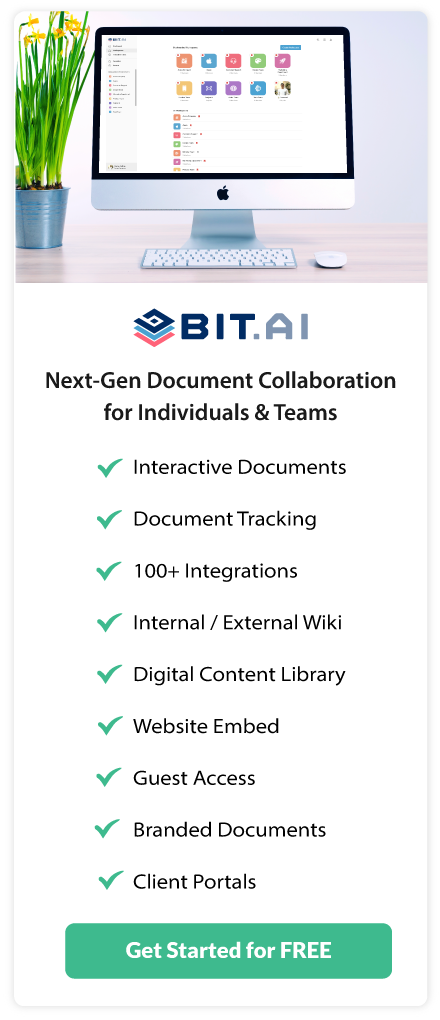 About Bit.ai
Bit.ai is the essential next-gen workplace and document collaboration platform. that helps teams share knowledge by connecting any type of digital content. With this intuitive, cloud-based solution, anyone can work visually and collaborate in real-time while creating internal notes, team projects, knowledge bases, client-facing content, and more.
The smartest online Google Docs and Word alternative, Bit.ai is used in over 100 countries by professionals everywhere, from IT teams creating internal documentation and knowledge bases, to sales and marketing teams sharing client materials and client portals.
👉👉Click Here to Check out Bit.ai.