Let's take a look at the Simple Workflow Management software Every Business Should be Using…
Improving your workflow can help you get more productive, delegate tasks more effectively, keep an eye on progress, and move towards your business goal efficiently.
The way you do that is by using Workflow management software, which is basically software designed to help you get the most out of your time by breaking down projects into processes and tasks and giving you an eagle-eye view of the progress.
Workflow management software comprises not only includes project management and planning apps but can include anything from a to-do list app, a kanban board, content management service, a calendar tool- anything that automates your workflow and makes it seamless without any hiccups.
In this blog, we talk about some of the best workflow management software there and how they can help you get more done in less time!
List of Workflow Management software:
Bit.ai
Avaza
Kissflow
Zapier
Pipedrive
Asana
Smartsheet
Monday
Filestage
Wrike
Let's go through each one of them in detail and decide which workflow management software is the best fit for you:

A big part of your work life is the documents you produce daily. Bit is a document collaboration and content management tool that helps you create, manage, share, and track all your work files in one place.
Bit provides a commonplace for employees to simultaneously collaborate on a Bit smart document in real-time. It's a wonderful way to manage projects, create client-facing material, brainstorm, share meeting agendas, create proposals, and most importantly, share knowledge.
Bit is great workflow management software that also has a Content Library where you can save all your images, files and digital content you add to your documents so that you can access and reuse them easily, making your workflow smooth as ever!
Smart workspaces are created around projects, teams, departments, and clients to keep your documents, data and information organized. Workspaces make it easy to collaborate, ensures that the right team members have access to the right documents at the right time, and break down silos for a free flow of information.
Read more: The Ultimate Guide To Document Management Workflow

Avaza is a project management tool and a workflow management software with some bells and whistles of accounting software. It allows users to collaborate, tracks time spent on tasks or projects, generates expense reports, timesheets, sends invoices to customers, and even gets paid right there from the tool.

Avaza allows for easy collaboration with email-enabled discussions and notifications. It also provides the ability to switch between Kanban, Gantt, and list views for tasks that you create. It even allows you to convert an email into tasks, track the completion rate of a task, time spent on tasks, and much more.
You can integrate files into Avana from your Dropbox or Google Drive to keep all your files in one location to avoid duplication and confusion. Avaza is especially useful for freelancers or small businesses. It allows you to share your project board with your customers, send them quotations, and share project reports.

Kissflow is a business process management software that lets you create an unlimited number of automated business applications.
Choose from 45+ pre-installed apps, or create your own using its cloud-based drag and drop workflow builder, whether it may be employee onboarding, vacation request, purchase request, travel reimbursement, etc.
The tracking progress of your processes is easy with Kissflow as it instantly shows you the progress of any item. With its tailor-made reporting to meet your workflow automation needs, users can easily identify bottlenecks quickly.
You can integrate Kissflow with 1000s of your workflow apps including the G Suite and Office 365 apps.
With clients like Pepsi and Dominoes, Kissflow is a must-try workflow management software.
Read more: Top 5 Business Process Management (BPM) Tools

Zapier is a service that lets you link together over 1,000 apps and automate your workflow. Working on the "if this, then that" model, users can use Zapier by automatically setting up triggers for various apps and letting Zapier do the work for them.
For example, you could tell Zapier, "when I get a new email in Gmail, copy the attachment from Gmail to Dropbox, and alert me in Slack about the new Dropbox file".
Zapier integrates with apps such as Slack, Quickbooks, Google Sheets, and many more! Now you can focus on more important things at work and let Zapier do the monotonous tasks.
With an easy-to-use interface, anyone can create workflows without the help of a developer. A must-have app to manage workflow and get rid of repetitive tasks quickly.

The next one on our list is for our salespeople! We all know how challenging it can be to keep track of your sales efforts as the number of clients and prospects increase. This is where Pipedrive comes in.
Pipedrive is a cloud-based CRM software that is intuitive to use and easy to understand. Pipeline's minimalistic user interface visualizes your sales process and allows you to view all the important sales data- your schedule, follow-ups, emails, proposals, etc- in one glance.
Pipedrive can remove a lot of redundant tasks that salespeople have to perform daily and allow them to focus on more quality work. For example, you can have Pipedrive automatically send a response email every time a prospect fills out a form on your landing page! This saves a lot of time for the sales rep and gives them a chance to automate their workflow.
The interface shows you the progress of each sale and helps in organizing and prioritizing tasks. Add to this, top-notch statistics and reporting, and Pipedrive is easily one of the best CRM tools out there.

One of the crowd's favorite workflow management software, Asana is a project and task management software that makes team collaboration and communication a breeze.
With Asana, you can assign tasks, view progress, have conversations all in one place. Asana is a fast, responsive, beautiful-looking, and feature-rich application.
Asana users can share notes, attachments, follow and 'like' tasks, add due dates, and receive email notifications when a task is assigned to you or if someone on your team has made changes to the task or project. It makes it easy to add files to tasks, with a size up to 100 MB and the best part is there's no storage limit.
With plenty of third-party integrations like Dropbox, Hipchat, Zendesk, and many more, Asana enhances your productivity and helps you handle all your operations from a single software. Apart from the Kanban-style JIRA-esque interface, Asana allows your tasks and projects to be displayed in the list view, calendar view, or file view.
Read more: 11 Asana Alternatives & Competitors You Must Know About!
Another code-free installation tool, Userpilot help teams increase user adoption by allowing them
Smartsheet is a cloud-based collaboration tool that allows teams to plan, capture, track, automate, and report on work at scale. Smartsheets has a clear, intuitive interface that empowers business users to quickly configure, adapt, and improve their work processes.
With a spreadsheet-like interface, Smartsheet allows users to quickly view all operations in action, plan and collaboratively, and keep a tab on the workflow throughout the organization.
According to Forrester, over 92% of Smartsheet's customers find it easy to deploy and use, and 96% of them would recommend Smartsheet to a colleague. It has also been named in the Forbes "Cloud 100" list of the best private companies in cloud computing, and by Gartner as a "Cool Vendor". Smartsheet is used by over 96 of the Fortune 100 including Netflix and Cisco and enables hundred of integrations to keep your workflow as smooth as possible.
Read more: 9 Best Organisational Tools To Get Rid Of Work Chaos!

Putting the visual aspect of the workflow at its forefront, Monday operates as a project or task management app with employees having a shared workflow to track progress and changes.
It has a beautifully designed user interface that makes sure all your projects, task, milestones, and to-dos are displayed in a visually appealing manner. With a glance, you can have all the information you need- who's doing what and what's the progress.
Anyone familiar with social media can easily use Monday. You can communicate with team members, assign tasks, view progress, share progress and stats with clients and partners, and much more.
The software is highly customizable, allowing users to view the progress using a Kanban, calendar or timeline view. Monday now claims to have more than 10,000 customers in 136 countries around the world. With iOS and Android apps, Monday is great workflow management software for those looking to get the whole project overview quickly.

If your workflow revolves a lot around digital files like videos and images, then Filestage just might be the tools for you. Accessible via the cloud, Filestage's workflow management platform allows team members to collaborate on digital content entirely online.
Being cloud-based means that Filestage requires no installation and even allows clients the ability to provide feedback without the need to register an account.
Designed with the creative team in mind, Filestage is the perfect choice for marketing agencies, corporate marketing teams, and collaborative content creators of all kinds. Project members can easily review and add annotations to your videos, images, and PDFs to provide their comments and make change requests
Businesses can even customize Filestage with their logo, making it an integral part of their client communications. The availability of smartphone apps makes it easy to carry on with your work on the go.
Read more: 10 Best Free Project Management Software in 2022

Wrike is a project collaboration and workflow management software that gives a team an overview of project status and the team's productivity. Users also can create a Gantt chart, create and edit tasks, and work with their teammates.
Wrike lets teams break down substantial work into small blocks of easy work so that each task can be completed in time
Wrike offers a plethora of features:
Live editing and file management
Budget and time tracking
Resource management
Templates to reduce duplicate tasks
Email integration which converts emails into tasks on Wrike
Calendar synchronization
And much more!
Wrike can be integrated with all your third-party apps including Gmail, Zapier, Box, JIRA, Photoshop, GitHub, and much more. Using Wrike APIs, you can essentially connect any tool to Wrike.
Final Words:
And this wraps up our list of some of the best workflow management software. Depending on the needs of your business and the size of your team, you can choose between any of the above-mentioned workflow management software and you'd not be disappointed.
If we missed out on any software, do let us know by tweeting us @bit_docs.
Further reads:
[/vc_column_text]

Don't want to forget this information?
Pin it for future reference!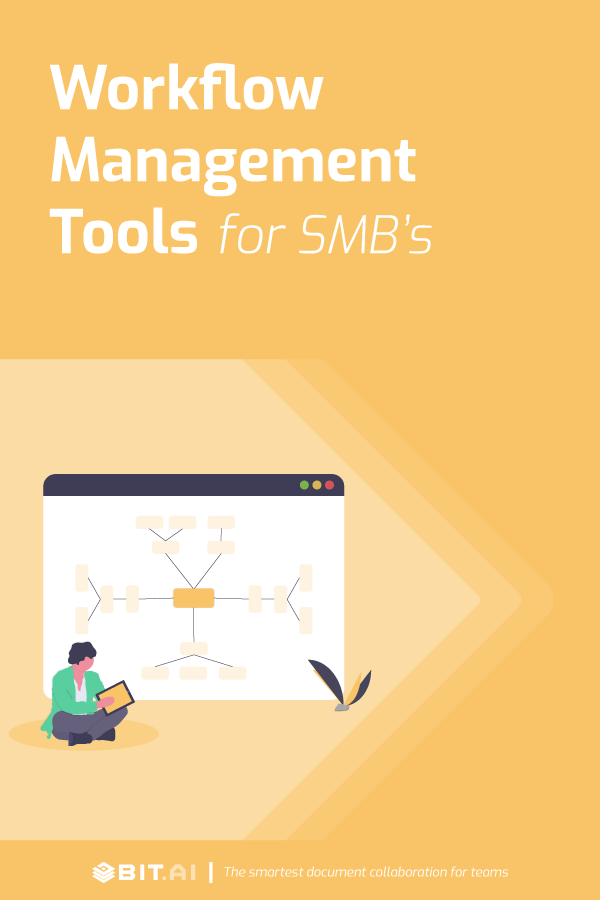 Related posts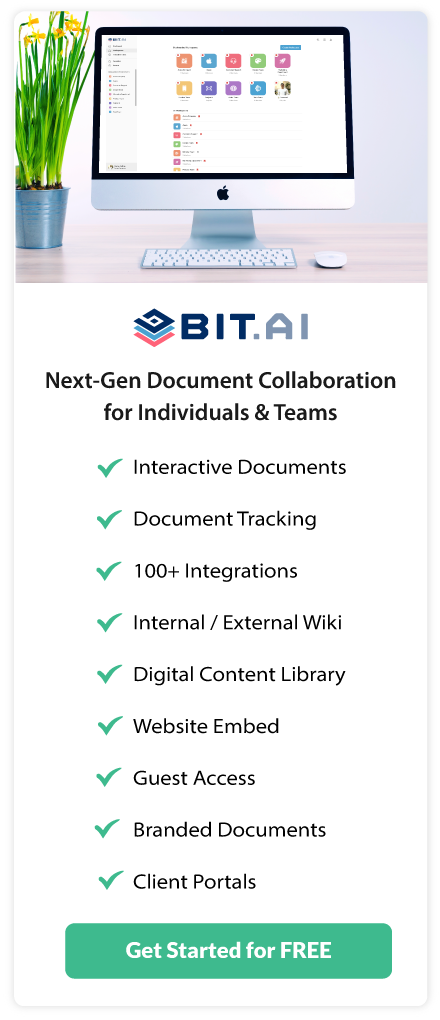 About Bit.ai
Bit.ai is the essential next-gen workplace and document collaboration platform. that helps teams share knowledge by connecting any type of digital content. With this intuitive, cloud-based solution, anyone can work visually and collaborate in real-time while creating internal notes, team projects, knowledge bases, client-facing content, and more.
The smartest online Google Docs and Word alternative, Bit.ai is used in over 100 countries by professionals everywhere, from IT teams creating internal documentation and knowledge bases, to sales and marketing teams sharing client materials and client portals.
👉👉Click Here to Check out Bit.ai.