As a designer or a design agency, whenever you're approaching potential clients, you need to make sure that they understand how awesome you are, and why they should work with you.
It's super important to present your work and what you bring to the table in the best possible way. Moreover, all the expectations, roles, responsibilities, and design deliverables need to be discussed beforehand.
As we already know, the first impression is the last impression, and you need to work really hard on this 'first impression' – especially if you have got a short window of opportunity to impress.
Well, there's a document that checks all these boxes and it should be used by every designer and every design agency. We are talking about a design proposal.
In this blog, we're going to talk about what design proposals are, why they are important, and the different sections you should include in these proposals. Ready? Let's go!
What Exactly is a Design Proposal? (Definition)
A design proposal is a document that maps out your vision and plan for a design project. It is given to potential clients as a way to show what the designer is bringing to the table, and why they should be hired.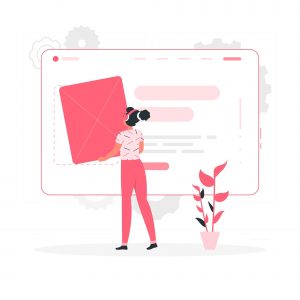 This proposal requires descriptive and visual content, i.e, elements of drawings, reports, and tentative models that would help the client get a picture of what the designer will be giving them.
The document also lays down the framework around which the designer's work will revolve. Moreover, it includes a solid set of guidelines and terms that should be accepted by both parties.
A design proposal is also a way for clients to compare the features and values offered by different design freelancers or agencies. Let's explore a few more reasons why you should create a design proposal!
Reasons Why You Should Create a Design Proposal
1. Shows That You Care
A design proposal has components that cater directly to the client, such as designs based on what the client wants and the problems that the client wants to solve.
So, before a design proposal is sent to the client, designers should do a lot of research about the client's needs, their competitors, and the overall idea that they will be working on.

A detailed design proposal that is curated for the specific client shows that you are serious about fulfilling their needs and providing a relevant solution!
Read more: Design Brief: What is it & How to Create One that Works?
2. Sets Expectations for Both the Parties
A design proposal gives a glimpse into the work that is to be done, and the basic guidelines that need to be followed. It also includes the terms and conditions of the proposal, thereby acting as a pre-contract.
The proposal lays out what the client expects from the designer and vice-versa. This way, there are fewer chances of miscommunication and conflicts from either end.
3. Protects The Designer & The Client
A design proposal can actually save you thousands of dollars worth of legal fees. For instance, if a designer fails to deliver what he promised, a client can use the design proposal as proof of what was agreed upon.
Similarly, if a client is dissatisfied with the designer's work and accuses him of something or the other, the designer can use the design proposal as proof too.
We know that we've convinced you to create a design proposal. So, it's time to learn how to create a rock-solid design proposal that woos your clients.
How to Create a Design Proposal? (Steps & Format)
Step 1. Cover Page & Table of Contents
Start off with a stylish but simple front cover that showcases your logo and company in a professional manner. On the next page, give a chronological index of the different sections within the proposal.
Step 2. Project Overview
This is the executive summary of your proposal. It should describe what you have understood about the client, their need, the direction of the design project, and the different approaches that could be taken.
Step 3. Objective
Describe in detail which problems would be answered through the design and how. Make sure that you define the objective clearly and concisely. If there are multiple objectives, list them in order of importance.
Step 4. Why You?
Use this section to elaborate upon why you are the perfect fit for carrying out this design project. Here, you need to sell yourself and showcase what makes you stand out from the competition.
Read more: 12 Best Design Collaboration Tools for Designers!
Step 5. Deliverables
Include a list of everything that you will deliver to the client. What are you going to design? What are the specifications? Don't forget to include a tentative design outline using pictures, videos, etc.
Step 6. Timeline
Create a timeline of your project and set a projected date for the final delivery. If there are multiple tasks in the project, you should create an individual timeline for each of them.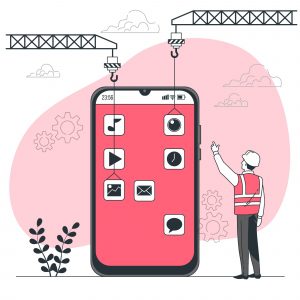 Step 7. Resources Used:
Before giving a final budget to the client, you should explain how the money will be used. Highlight the resources that you will use for delivering the project to the client – be it a software or the people in your team.
Step 8. Payment Terms
Once you have explained the resources you will be using, give a fair and reasonable price for carrying out the design project. Also include the payment mode, as well as the expected date of payment.
Step 9. Terms and Conditions
Mention any terms and conditions you feel are relevant to the design project. You can include intellectual and virtual property clauses. You can even include confidentiality, dispute, or breach of agreement clauses.
By the way, are you thinking about using the same old MS Word & Google Docs to create your design proposals? If yes, it's time to dismantle and revamp your proposal from the ground up using Bit.ai. Remember, it's not all about the words you say – the visuals matter too, especially in design proposals!
Bit.ai – The Ultimate Tool for Creating a Wonderful Design Proposal
Through its robust, intuitive, and integrated tools, Bit.ai has made the complicated and long process of creating design proposals a walk in the park. Using Bit.ai, you can create a 'live and interactive' design proposal that highlights your text, has the perfect format, is easier to remember, and great to look at!
You can easily share this proposal with your team, trainees, and your prospective clients. Using Bit will bring happiness into your workday, while also making your design proposal a hundred times more awesome! Don't believe us? Check out all these mind-blowing features of Bit!
1. Real-Time Collaboration: If team members work on a design proposal together and take inputs and ideas from one other, the proposal is bound to rock. Well, Bit.ai helps you do just that. Bit allows you and your team to collaborate on a Bit document in real-time and handle different aspects of your proposal in one place.
2. Smart Workspaces: Every prospect needs a different design proposal, and storing all the different kinds of information can be daunting. Don't worry, because Bit solves that problem for you. Using Bit, you can create workspaces around different teams, departments, and more.
3. Interactive Documents: From compelling images, social proof to pricing tables, a design proposal is made up of a number of things. With over 100+ integrations Bit lets you add any rich media in your Bit doc in seconds. All you need to do is copy the shareable link and paste it into your Bit doc.
4. Fully Responsive Documents: Using this powerful document collaboration platform and its 90+ stunning templates, you can create and share documents that are the best in class. Moreover, Bit documents are fully responsive so your clients can view your proposal on any device, regardless of its size.
5. Get Real-Time Insights – Bit offers a document tracking feature using which you can get real-time insights on your shared docs. That means you can see how much time your prospect has spent reading your design proposal, how often they come back to read it, and a lot more.
6. Sleek Editor: Your design proposal is a super important document and it needs all your attention. Bit totally understands that and that's why it offers a minimal and distraction-free editor.
7. Guest Access – On Bit, you can give 'guest access' to your clients, trainees, or other interested stakeholders. The 'guests' aka your clients or trainees can get two types of access to the documents: comment-only and read-only.
With the comment-only access, they can @mention team members and give their suggestions or feedback while read-only access only allows them to read the content you have shared with them. The read-only access is the best when it comes to new trainees and interns!
8. Content Management: While creating design proposals, there's a lot of digital media that might come in handy. Managing and storing all these digital media assets becomes a breeze with Bit.ai. It has a powerful content library that you can use to save and access all types of digital content you might need in your proposal.
Wrapping Up
As you can see, creating a solid design proposal is important for you as a design consultant, freelancer, or agency. Thanks to Bit, you can create a design proposal and share it with your clients in no time!
So what are you waiting for? It's time to step up your game and start using Bit.ai. There's nothing like Bit.ai out there when it comes to creating design proposals, or any other document.
Got any queries, suggestions, or concerns? Don't forget to let us know by tweeting us @bit_docs. We would be more than happy to help you out. Cheers!
Further reads: 
3 Project Proposal Examples You Must Check Out!
11 Proposal Software You Must Try Out!
How to Create Quotations That Your Clients Can't Reject?
Proposal Cover Letter: What is it & How to Create it?
What is a Website Proposal & How to Write a Good One?
Design Documents: Definition, Importance, Key Elements!
What is UX Strategy? A Complete Guide To Success!
Freelance Contract: What is it & How to write it?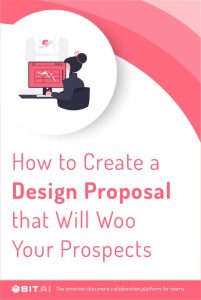 Related posts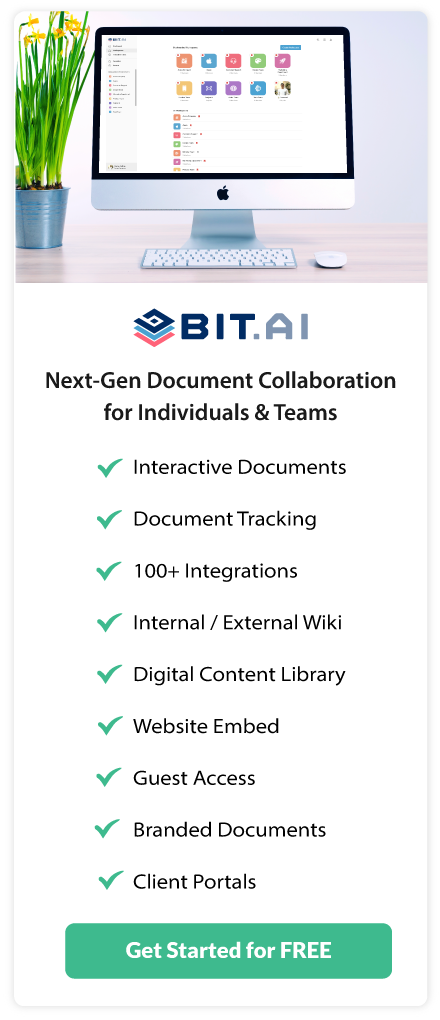 About Bit.ai
Bit.ai is the essential next-gen workplace and document collaboration platform. that helps teams share knowledge by connecting any type of digital content. With this intuitive, cloud-based solution, anyone can work visually and collaborate in real-time while creating internal notes, team projects, knowledge bases, client-facing content, and more.
The smartest online Google Docs and Word alternative, Bit.ai is used in over 100 countries by professionals everywhere, from IT teams creating internal documentation and knowledge bases, to sales and marketing teams sharing client materials and client portals.
👉👉Click Here to Check out Bit.ai.