UX design is now almost everywhere. It's the talk of the town and it's gaining so much traction that it's becoming hard to ignore it. More and more companies are employing UX designers and creating UX strategies to boost the company's growth.
And truth be told, UX design is no longer a nice-to-have thing, but it's a crucial business element that differentiates you and gives you a competitive advantage. For this reason, it's important to have a UX strategy in place.
With a well-defined UX strategy, you can create engaging and exceptional experiences for your customers at every customer touchpoint. It ensures that your business objectives and customers' needs are always aligned, thereby providing team members with a clear path to follow.
So if you're looking to learn the nuts and bolts of UX strategy, this blog post is the right place to be! Here we will explain to you what a UX strategy is, its components, how to develop one to take your business to the next level, and more!
So what are you waiting around for? Dive right in!
What is a UX Strategy?
First off, let's try to understand what UX means. UX simply stands for user experience. It refers to all the experiences and interactions a user has with a company. The aim of UX is to meet the end user's needs while striking a balance with the needs of the business.
UX strategy is a detailed plan that helps align a user's experience with a company's overall business goals and objectives. It contains the plans, principles, and approaches that a UX team needs to create a product.
Basically, a UX strategy is a vision, plan of action, and guidelines all combined into one. It acts as a guide for the UX team and ensures that they consider the user and the overall business goals while making design decisions.
A good UX strategy is based on the combination of UX design and business strategy. Businesses are able to prioritize tasks and ensure that they save time by working on essential aspects of the product during its developmental phase with the help of a good UX strategy.
Usually, a UX strategy is made up of a total of 3 primary components. What are they? Let's take a closer look!
The Three Primary Components of UX strategy!
The Three Primary Components that make up a UX Strategy are:
Vision
Goals
Plans and Objectives
1. Vision
The overall vision is one of the core components that will influence the rest of the plan. It can be defined as a summary of the product or service you provide and the value it brings to the customer.

The vision will eventually decide the kind of work a team will do at a higher level with a user-centered approach. This vision should be well-researched and viable in the market, it should be positioned strategically with respect to the market as well. This strategic intent is based on the intention of solving a user problem and supporting the needs of customers across the market.
2. Goals
A set of goals, complemented by key performance indicators and metrics are also an integral part of the UX strategy. These goals should be based on the needs and wants of the organization, along with their budgets. This helps you in staying relevant and connected to your business priorities.
These goals are usually decided by the leader and they typically use past performances as a metric for deciding these measures and goals. Each of the visions decided by the team should be eventually broken down into quantifiable goals that would align with the needs of the users.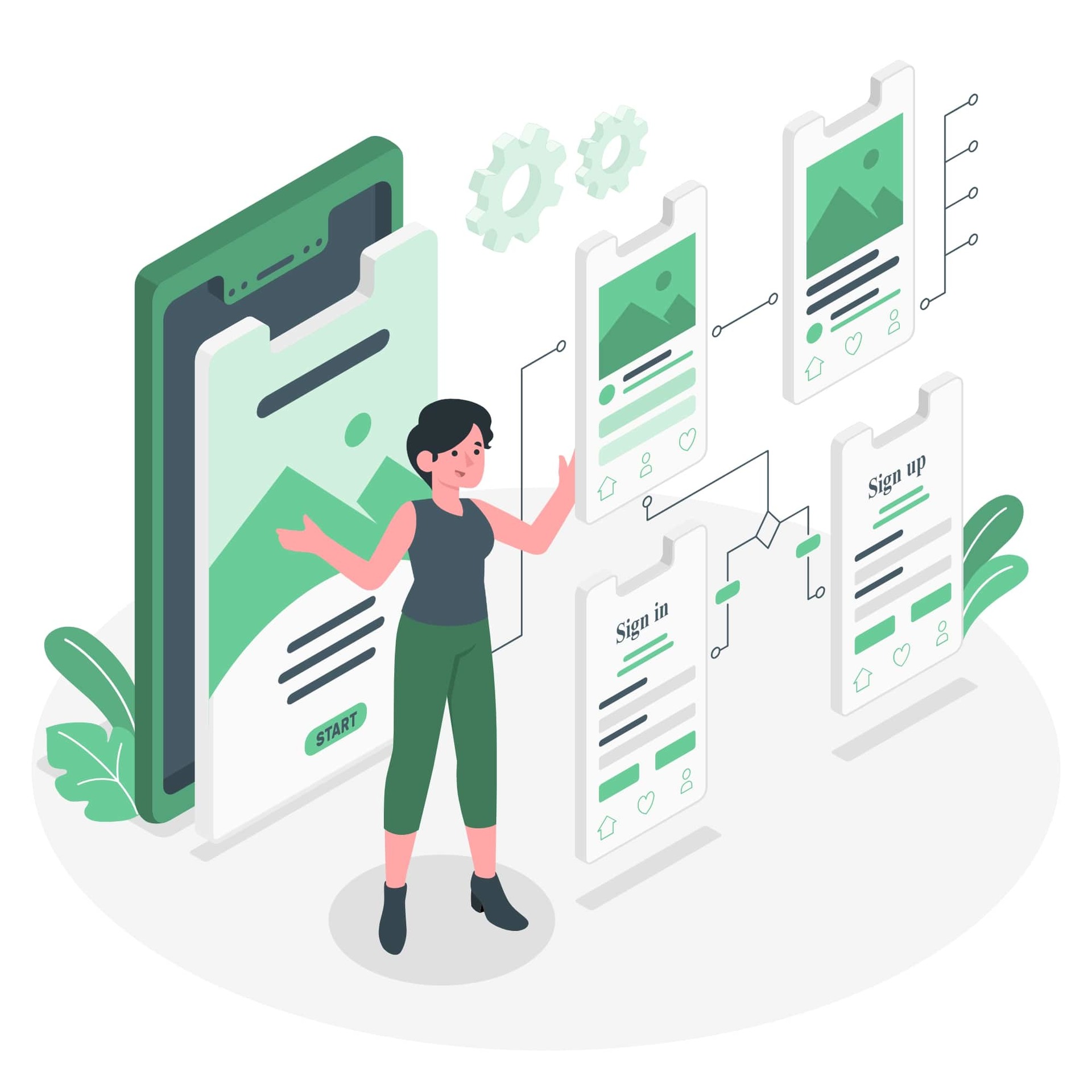 3. Plans and Objectives
To bring each goal into a reality it is essential to break it down into small actions that work together towards the higher goal. These plans should be focused on solving a problem related to relevant user experience as well as exploring new possibilities and ideas.
Completing the tasks in the plan will be a step toward achieving the goals you have set for yourself and therefore show the quantifiable results your team needs. The plans should also be flexible and constantly re-evaluated to match the needs of the team.
Having the skills and ability to come up with a good UX strategy will hold you in good stead in the organization.  So, let us understand the steps and processes involved in coming up with the right UX strategy for you.
How to Create a UX Strategy?
1. Define a Business Strategy with Upper Management.
Getting the upper management and company leaders involved early in the project is the first step toward coming up with a good UX strategy.
Some aspects you need to focus on while trying to define your business strategy include:
The positioning of the product in the market space
The ultimate goals and objectives of the organization
Financial targets
Improvements in company process, structure, culture, and performance
Measuring the success of the product
You can involve the upper management in the decision-making process and ensure that your plans for the users are aligned with your brand and business.
2. Set Specific Design Goals.
Design is the most important aspect of UX. Therefore it is imperative that you have the right design goals for your team. Make good use of the data that you gather from your users and leaders and come up with metrics by which you can judge the success of the design goals that you have set for yourself.
You also need to be flexible but specific with your goals, the actions you take to achieve them, and how you visualize their success. Taking care of design goals will eventually help you in creating the right UX for your customers.
3. Conduct Quality Research and Analysis.
After aligning the goals with the business strategy you will need to assess the place of the product in the market. The user will only begin to use your product if they see some value in it. You will have to do research to understand what you can include in your product to add value to it.
Understanding and figuring out user problems and how you can solve them along with adding key features to your product will help you in staying relevant in the market. Also, keep an eye out for global challenges and trends that might affect your business.
4. Stay User-Centered.
Keeping the user at the forefront of your plans will help you come up with a product that people would love to use. You can get this done by taking constant feedback from your target customers and users. Taking the help of surveys and feedback forms will go a long way in getting you the relevant data that you need from your customers to improve your product.
You have to back the value that you feel will work best for your users, then get it validated by taking the feedback of real users. You can go ahead with the value of getting the right response from your users, if not, you can always go back to the drawing board to come up with something the users would want.
5. Create Guidelines.
Another crucial part of a UX strategy is to create guidelines with specific rules that will allow you and your team to accomplish the overall goals and objectives. This guideline must define what kind of approach will be taken to solve issues and achieve business goals. Doing this will help everyone to move in the same direction without any confusion.
6. Define Metrics.
Metrics are what will help you evaluate and assess whether your plan is helping you reach your goals and objectives.
It is better to immediately determine how often you will track changes in metrics. It depends on the metrics, but you can take checkpoints every 2-4 weeks as the base case.
7. Be Open to Experimentation.
Having the willingness to constantly experiment and evaluate the features of your product will help you in pushing boundaries and coming up with better features thereby giving your users the experience they desire.
Stay on track with the plan you have set for yourself but also keep the option of experimenting open for yourself. The trial and error method for testing features and having good results will definitely leave both you and your users satisfied with the end product.
Now that you know to create a UX strategy, the next step is to figure out how you can be a good UX strategist. To be one requires you to have a lot of skill and aptitude. So, let's take a closer look at what qualities one needs to develop to become the UX strategist that organizations want.
How to Become a UX Strategist? (A Guide)
1. Understand Your Role.
The role of a UX Strategist is to associate the user experience design with the goals and strategy of the organization. The UX strategist acts as the link between the UX design team and the Product Manager so as to ensure that the UX design is always in line with the business goals of the organization. Having this clarity is very essential for the UX strategist to deliver what is required of them. Without being sure of their role, they cannot perform at their best. Therefore, having role clarity is the most essential attribute of a UX strategist.
2. Improve Designing and Product Management Skills.
The UX strategist has a dual responsibility of ensuring that their team comes up with the best UX design which also aligns with the business goals of the organization. This means they need to have the right tools and skills to manage the design team as well as the product management team and ensure that they both are able to deliver the results from them. Giving them constant insights and ideas and keeping them on the right path and plan is also the responsibility of the UX strategist.
They need to ensure that the product design is fit for the market and brings business success to the organization. To achieve this feat, they need to be well-versed in the needs and demands of the customers and the market. It is essential that the UX strategist comes with the right marketing research before formulating the relevant plan for the respective teams.
3. Build UX Research Skills.
A good UX strategist is also a wonderful analyst with good research skills. They should be able to use the research insights and turn them into unique solutions that match the needs of the customers. Having this ability is a boon for any UX strategist and they need to keep honing this ability to get better at their job. The UX strategist should be able to tweak their plans according to the needs and demands of the market and should put their research findings to good use.
4. Develop Leadership Qualities.
More often than not, a UX strategist has to lead and work with a team. Thus, they should have the qualities of a leader. They should be able to prioritize top projects, manage the tasks of the team, and constantly communicate with the team to ensure a smooth flow of work that is completed within the given deadline and within the allocated budget. Having management skills is a crucial part of their skillset that cannot be ignored.
5. Utilize Data Analysis Skills.
Having experience as a data analyst will also hold you in good stead as a UX strategist. A good UX strategist performs site or application audits and analyzes the data coming from the different measurement tools. This helps them in gaining insights into user behavior and use them to make the relevant changes in design that would improve the user experience and benefit the clients.
Conclusion
Serving your digital client and ensuring that they have the best experience with your product will help you make a mark in your industry and the business world.
If you constantly work to improve your user's experience, they will spread positive feedback about your product. This will in turn help you garner new users and customers.
Use the right UX strategy and you will be able to improve the experience of your customers and go a long way in achieving your business goals. Good luck, folks!
Further Reads: 
UX Testing: A Beginner's Guide & Checklist!
Portfolio: What is it & How to Create an Impressive One?
Design Documents: Definition, Importance, Key Elements!
Design Proposal: What is it & How to Create it?
Design Brief: What is it & How to Create One that Works?
12 Best Design Collaboration Tools for Designers!
8 Different Types of Branding Strategies (With Examples)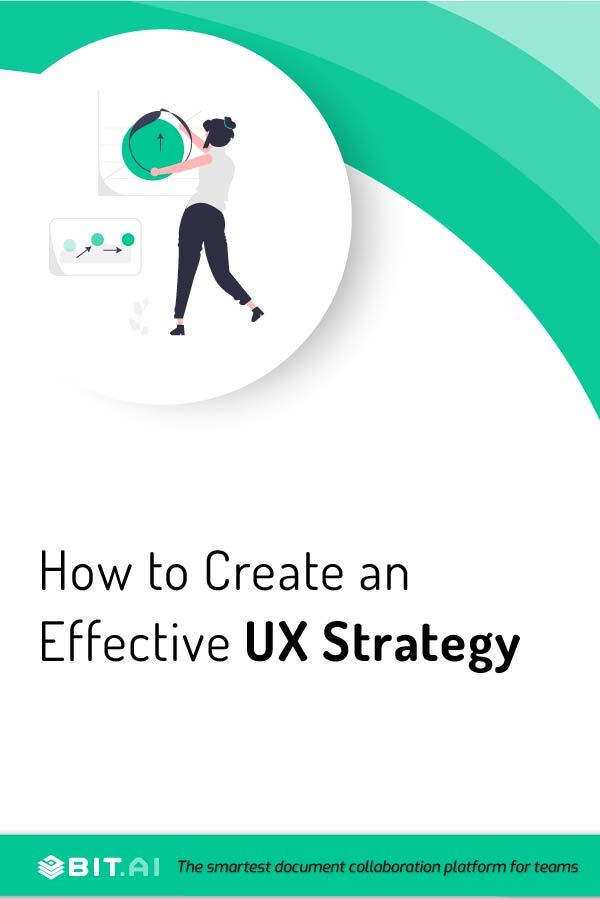 Related posts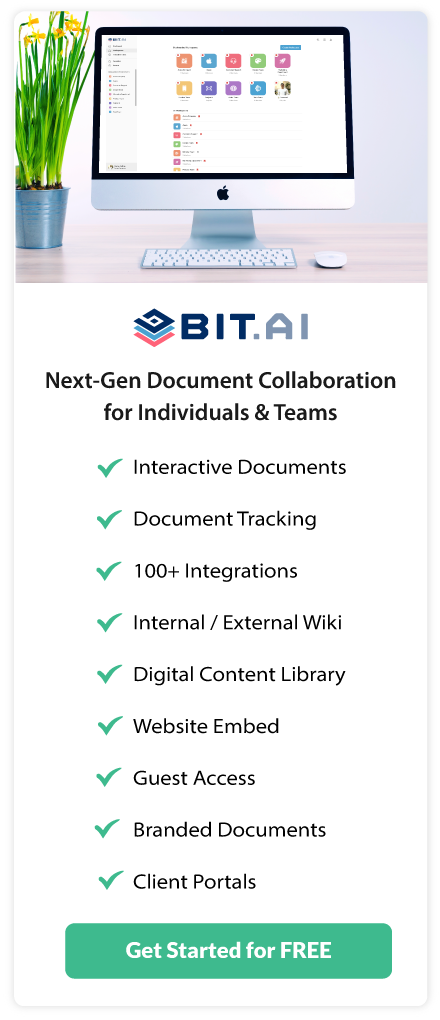 About Bit.ai
Bit.ai is the essential next-gen workplace and document collaboration platform. that helps teams share knowledge by connecting any type of digital content. With this intuitive, cloud-based solution, anyone can work visually and collaborate in real-time while creating internal notes, team projects, knowledge bases, client-facing content, and more.
The smartest online Google Docs and Word alternative, Bit.ai is used in over 100 countries by professionals everywhere, from IT teams creating internal documentation and knowledge bases, to sales and marketing teams sharing client materials and client portals.
👉👉Click Here to Check out Bit.ai.