What do you think is the most factor in running a successful company? Is it the product? the team? the funding? or anything else?
While all of the above-mentioned elements are crucial for making a business successful, we often overlook the thing that binds them all together- the documents! Documents are the building blocks of any business operation.
From marketing and sales to product development and customer support – everyone creates, shares, and uses a ton of documents on a daily basis to do their jobs effectively.
Yet, documents are easily the most negligible part of our daily work life.
From emails, notices, brochures to reports, presentations, contracts, and invoices- documents touch almost all aspects of a business. Documents support brainstorming of ideas, save our thoughts, share information, facilitate discussion, and allow us to collaborate & get work done.
Seeing their importance, it's crucial to make the best of use of our documents and simplify our document creation process for maximum efficiency. This is why we are going to talk about the top 5 reasons your document creation process is broken and what you can do to fix it. Excited? Read on…
Reasons Why Your Document Creation is Broken
There are many reasons why your document creation process might be broken. Here are the most common reasons why businesses struggle with their documents:
1. Brand consistency
"Determine who you are and what your brand is, and what you're not. The rest of it is just a lot of noise." – Geoffrey Zakarian
Brand consistency affects what customers think about your company. The more consistent you are with your branding, whether through messaging, design, or perspective, the more you stay on the top of your customers' minds and build a consistent image.
In an internet-enabled world, its quite easy for any employee to create company documents like blog posts, ebooks, white papers, etc., and go from idea to finished product quickly. However, this same speed of work breeds inconsistency if you don't have proper systems in place.
Documents produced by two separate departments can appear completely different, leaving your customers wondering if they are from the same company.
If you leave your brand open for interpretations and don't lay out any guidelines for your content, documents are bound to look different. If your brand doesn't project uniformity, it's only going to confuse your customers.
This will lead to a lack of trust and eventually, a lack of sales. This is why it's important to have concrete standards for brand consistency so that every customer interaction embodies the brand values and promises.

Read more: 12 Dos and Don'ts for Successful Document Creation
 2. Lack of organization 
One of the biggest problems businesses face with their documents is the chaos and confusion caused by a lack of organization of these documents. Our documents are often scattered all over the place on our digital devices- you may have Word files on your desktop, files stored in cloud apps like Google Drive, OneDrive, Box, Dropbox, documents in email attachments, and so on.
Browsing through hundreds of folders, searching in your chaotic and insanely populated inbox, combing through your cloud files, etc., all lead to a waste of time and resources.
Unlike the paper mess created in our pre-internet era, you really cannot see or feel the digital mess you have created until you are asked to find an old file.
Since most of this content is unstructured, making it available to your employees (or other stakeholders) on time becomes difficult. Therefore, instead of using multiple cloud storage apps, businesses should stick to a single app for all their document and content storage.
3. Not making documents media-rich 
It's not just the utter numbers, documents today are more complex than ever. Gone are the days of simple, plain, and boring text-based documents. Documents are now full of rich media content like images, graphs, charts, and more. However, such documents are still lacking way behind the modern-day workflows we have established in our day-to-day lives.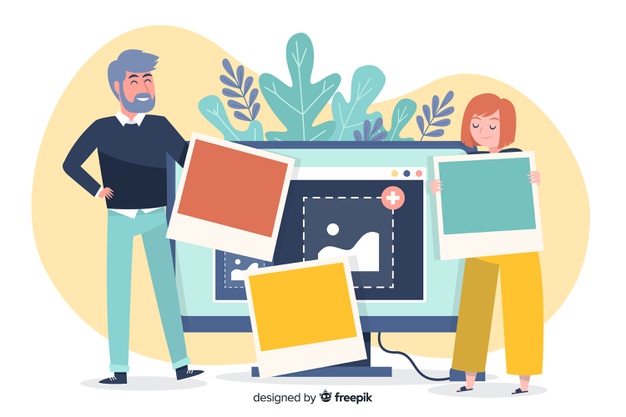 Apart from images, we use videos, music, podcasts, code blocks, equations, PDFs, and a plethora of rich media to get our work done. Unfortunately, incorporating such media in our documents is impossible if you are using an outdated editor like Word or Google Docs. These tools force you to collaborate on written text and fail to incorporate the digital content around us (videos, files, websites, spreadsheets, PDFs, etc.).
4. Not tracking your documents
In this informational age, data is everything. Having useful data about your prospects, customers, clients, partners, investors, and competitors give you the ability to make intelligent decisions and optimize your business. Feedback from this data allows you to change what's not working and what is.
Advanced analytics allow businesses to study how their work is being received and learn what they are doing right/wrong. This is why businesses track practically every aspect of their online actions. Businesses track their social media accounts, website traffic, blog statistics, email open rate, video views, audio streams, etc. But one thing that most businesses don't track is their documents.
When the bulk of our trade consists of creating and sharing documents, it's a shock that we still don't have the precise tools to estimate the engagement levels on a document. There's hardly any document tracking, no good way of knowing what happened to your document after you shared it with your peers or clients.
Did they open it?
How often?
At what time?
How far did they scroll?
Having answers to such questions can do wonders for your documents and is critical to make informed business decisions in the future.
Knowing that we often create business documents to move a deal forward, update or inform an important client or investor, onboard employees, or share a white paper/research, using analytics on such documents can improve your business multifold and even help you gain a competitive advantage in the market.
Thus, next time you look for a document collaboration tool, make sure it has document tracking built-in.
Read more:  The Ultimate Guide To Document Management Workflow
How to Fix Your Document Creation Process with One Easy Step!
Documents are indispensable. Hence, making sure we have the right tools to create, share, manage, and track these documents is critical to business success. While there are many things one needs to do to improve their document creation process, the easiest thing any business can do is switch to a modern-day documentation tool and let-go of age-old editors.
A tool that understands the modern, digital era, incorporating different aspects of our work under a single platform. A software that is simple to use, allows you to create, manage, and share documents, has great search, and is scalable with your business is hard to find. This is why we came up with Bit, the best document management platform on the planet!
Bit.ai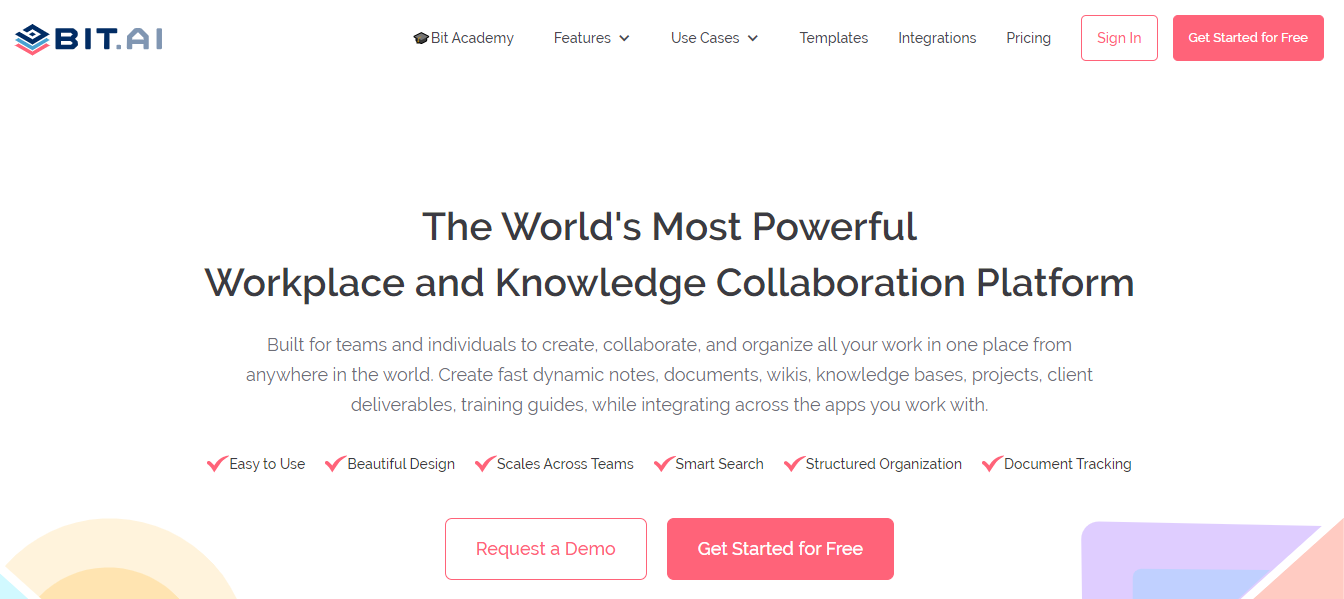 is a new-age document management and collaboration tool that helps teams to collaborate, share, track, and manage all company documents, files, and other content in one place. Imagine sharing, collaborating, and working together in one central location.
Bit documents have been created to allow projects to be completed, reports to be analyzed, and decisions to be made by pulling information together wherever it lives on the internet.
Multiple people can simultaneously collaborate and create a smart document in real-time. It's a wonderful way to manage projects, create client-facing material, brainstorm, share meeting agendas, create proposals, and most importantly, share and manage information and knowledge! Bit's smart editor makes the process of documentation and content creation quick and easy.
Simple, Clean UI: Bit has a very minimal design aesthetic to it, allowing a newbie to quickly get on board with the platform. Even though the platform is feature-rich, it does a great job as to not overwhelm a new user and provides a systematic approach to work.
Smart Workspaces:  Information is often scattered in cloud storage apps, emails, Slack channels, and more. Bit brings all your information in one place by allowing you to organize information in workspaces and folders.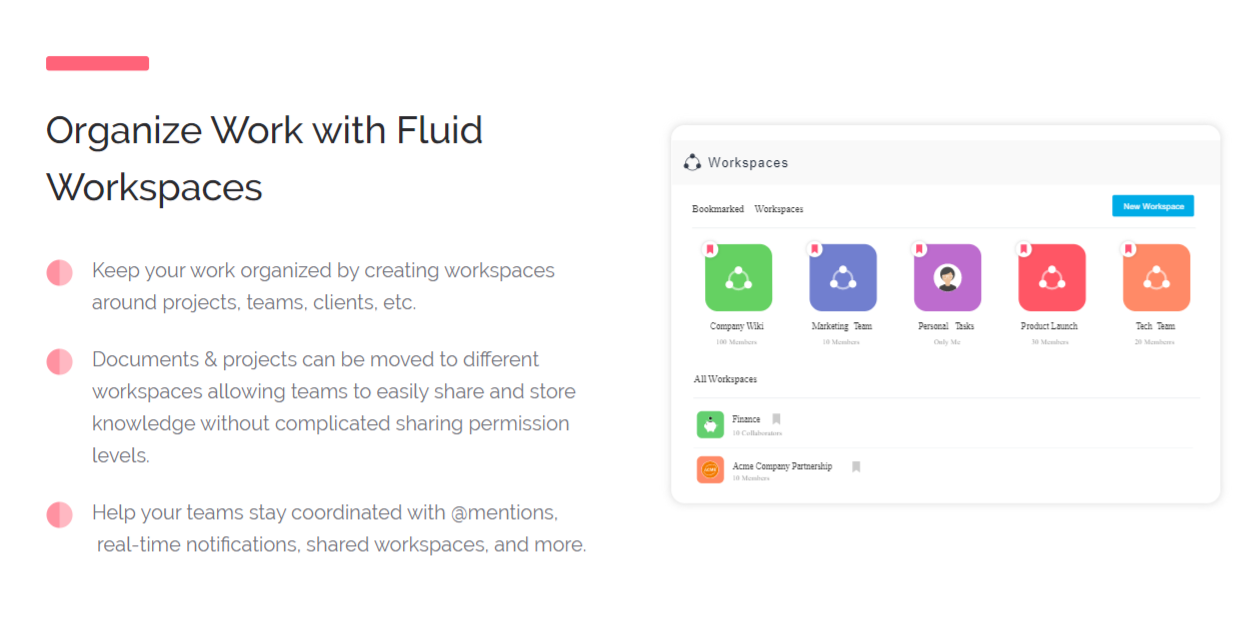 Bring all your documents, media files, and other important company data in one place. Workspaces can be created around projects, teams, departments, and clients to keep your documents, data, and information organized.
Apart from creating multiple workspaces to keep your documents organized, you can further optimize the structure by creating an unlimited number of folders and subfolders.
Content Library: Bit's content library helps teams save and categorizes digital content (images, videos, music, etc.) and assets you use frequently inside documents, making it easy to reuse any digital asset to create other documents. You can also integrate with your cloud platforms and quickly add content to your content library. Add content from Google Drive, OneDrive, Sharepoint, Box, etc.
Smart search:  Bit has very robust search functionality that allows anyone to search and find their documents swiftly. You can search workspaces, folders, document titles, and the content inside of documents with Bit's rich-text search. With the ability to effectively label content, users can search their digital assets using keywords, titles, descriptions, or tags. They can even search for files based on their source. (i.e., YouTube).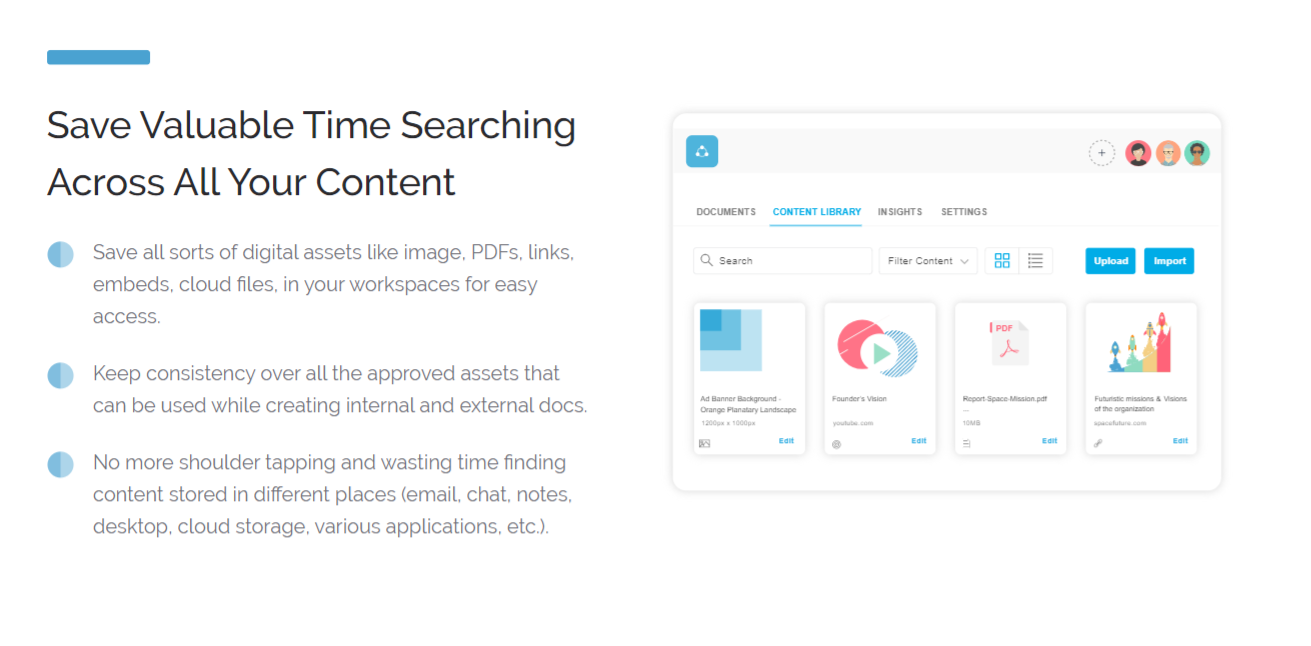 Brand consistency: Focus on the content and let Bit help you with the design and formatting. Bit documents are completely responsive and look great on all devices. With amazing templates and themes, Bit docs provide you with the type of brand and design consistency which is unheard of in the documentation industry
Integrations to keep everything together: Companies use an average of 34 SaaS apps! No wonder why most of our time is spent hopping from one app to the next, looking for files and documents. This is why Bit.ai integrates with over 100+ popular applications (YouTube, Typeform, LucidChart, Spotify, etc.) to help teams weave information in their documents beyond just text and images.
Sharing: Bit documents can be shared in three different states:
Live state: A live state meaning that all changes that you make to the document will update in real-time. If you are sharing your documents with clients, partners, or customers they will always get your most up-to-date changes.
Embeds: You can embed Bit documents on any website or blog. Bit docs are fully responsive and render perfectly on your website.
Tracking: You can track your documents and gather real-time insights to understand how users interact with your documents. See how much time users spend viewing documents, scroll ratio, user information, and more.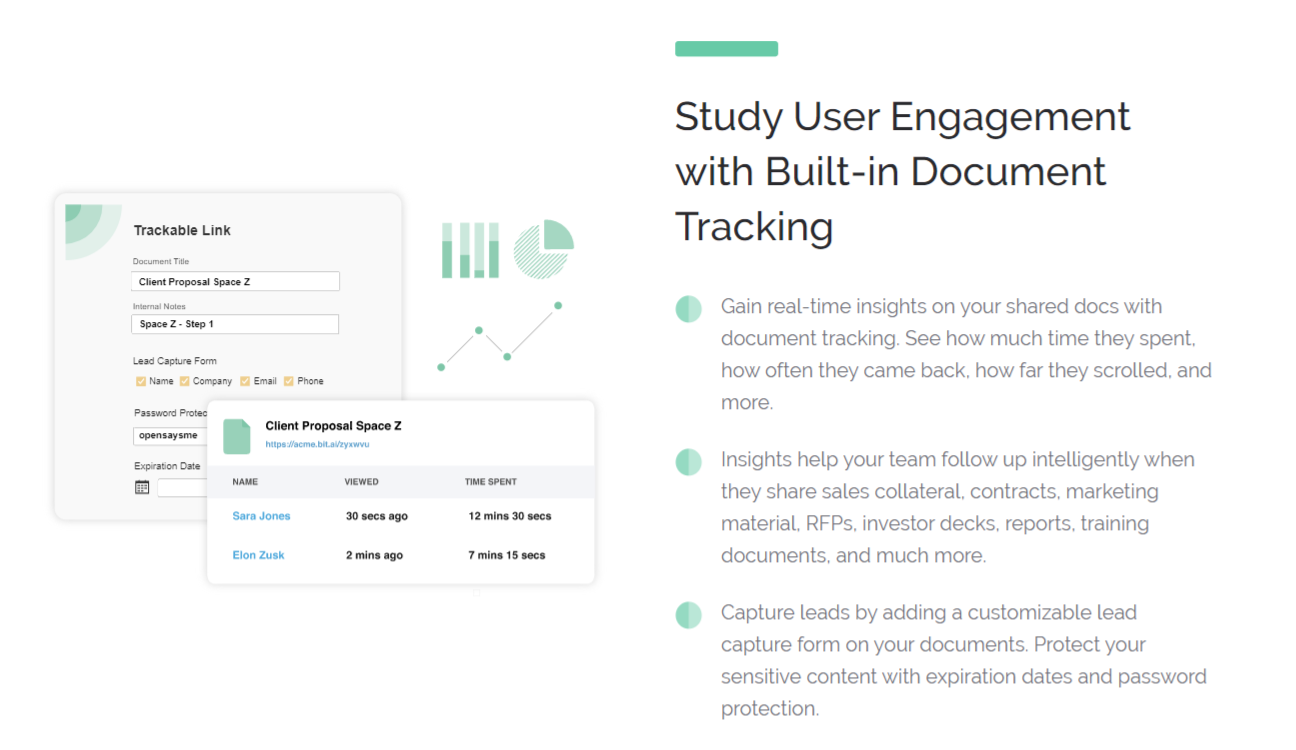 Tons of other features: Bit has a plethora of amazing features like version history, document tracking, cloud-upload, document locking, document expiration, and much more, making it a well-rounded document management tool.
Bit checks all the boxes by allowing you to create and edit documents collaboratively, keep them organized in workspaces and folders, search and access information quickly, and track your documents to get detailed analytics.
It helps preserve key knowledge for everyone to access, facilitating better decision-making, reducing the chances of error, stimulating innovation, and encouraging a culture of constant learning.
Over to You!
Creating and managing documents doesn't have to be this hard. Replacing your old document editor with Bit can help solve all your documentation worries. Bit makes it super easy to create better and smarter documents. With a simple click of a button, you can track those documents too! Just sign up for a free account and start creating modern documents wit Bit!
Further reads: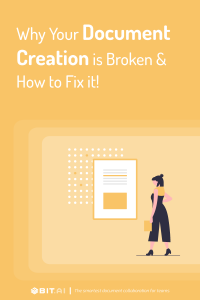 Related posts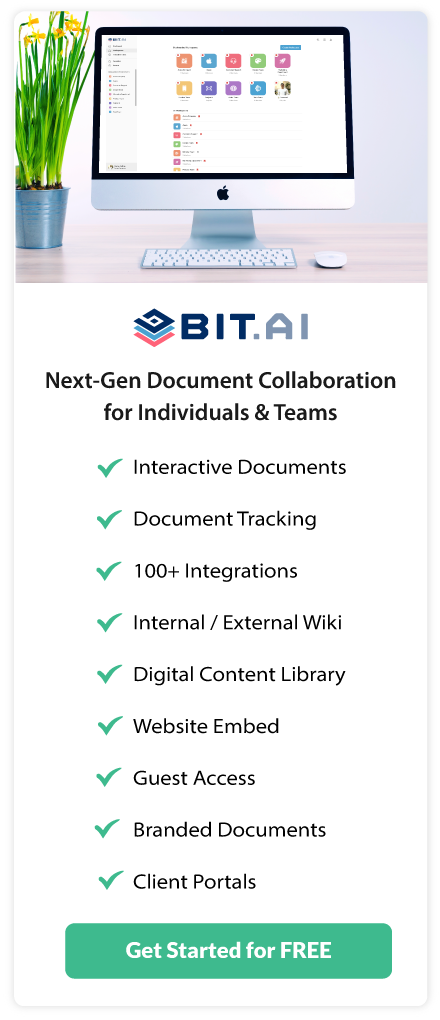 About Bit.ai
Bit.ai is the essential next-gen workplace and document collaboration platform. that helps teams share knowledge by connecting any type of digital content. With this intuitive, cloud-based solution, anyone can work visually and collaborate in real-time while creating internal notes, team projects, knowledge bases, client-facing content, and more.
The smartest online Google Docs and Word alternative, Bit.ai is used in over 100 countries by professionals everywhere, from IT teams creating internal documentation and knowledge bases, to sales and marketing teams sharing client materials and client portals.
👉👉Click Here to Check out Bit.ai.