Want to streamline workflow by managing documents efficiently? Document management workflow helps in ensuring the hassle-free movement of information through documents. Read on…
Documents are a huge part of our daily work life. No matter which industry you belong to- healthcare, technology, automobile, finance or any other, they all create and make use of documents on a daily basis.
In fact, it would be nearly impossible for a professional to go through an entire day without (directly or indirectly) interacting with a document.
That includes project proposals, finance reports, software documentation, HR guidelines, marketing material, training manuals, just to name a few.
Documents play a crucial role in aiding the proper workflow of any business.
However, the problem arises when we have to manage these documents and get work done efficiently. The more we create and rely on these documents for our daily work, the more important it becomes to have reliable systems in place to manage them.
This is what document management workflow is all about. A document management workflow ensures streamlining of all workplace documents so that every person can have access to documents quickly and get their work done hassle-free.
Without having a document management workflow set up, work gets inefficient and repetitive. How? Let's find out…
Why do you need a document management workflow?
Even though documents are indispensable to our work, they are responsible for a lot of inefficiencies in our workflow.
We have all done this- spending hours and hours of our precious time looking for a document on our computer, on our hard drives, in our cloud folders, in chat messages, in our inboxes, etc.
A global survey of workers and IT professionals in 2012 by IDC revealed that document challenges account for 21.3 percent of productivity loss. We often can't find the right documents or files when we desperately need them or can't access the document due to time or location barriers.
Another way document challenges hamper our workflow is when you need something approved by other teammates and managers. The process of document submission, review, and approval takes a lot more time than it should. Paper documents often travel from desk to desk and can get overlooked or misplaced. It's no surprise then, as to why our documents get lost in this shuffle and slow down our work.
This is precisely the reason why a lot of companies around the world are adopting the notion of a document management workflow which is often achieved by using a document management software system.

Read more: Workflow Management Software Every Business Should Be Using
What is document management software(DMS) and how does it improve document management workflow?
As the name implies, document management software is a tool that allows the creation, storage, management, protection, and retrieval of digital documents.
A document management system is much more than simply a cloud storage tool to store your digital documents. It's essentially a framework that streamlines workflows and stimulates collaboration by facilitating the free flow of critical information across the organization.
By managing your document workflow, you improve overall office efficiency which ultimately has a positive impact on the company's bottom line.
There are a plethora of benefits of document management workflow and shifting to digital document management software. Some of these are listed below:
Related: 10 Best Free Project management Software
The Top Benefits of Document Management Workflow
1. Get Rid of the Inefficiencies of Paper Documents
Switching from paper to digital documents, not only gets rid of the inefficiencies associated with paper documents, but also helps save additional operating costs like maintenance, printing, filing, and storing paper. Seeing how the average office spends about $25,000 to fill a four-drawer file cabinet and $2,000 annually to maintain it, digital documents seem like a bargain.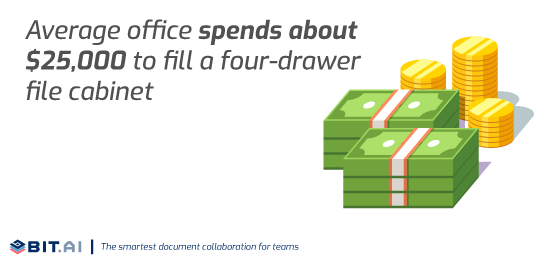 According to a report by Registeredrep.com, companies with annual revenues between $500k and $1 million can save around $40k per year by switching to digital document management. While content management service Laserfiche estimates a 20% time savings based on filing and retrieval efficiencies, eliminating misfiling and workflow efficiencies.
Going digital also means that you are helping the environment by reducing the amount of paper waste generated by your office!
3. Dramatically Improves Office Efficiency
In our fast-paced world where new competitors emerge every day, you cannot waste your crucial time looking for stuff on your computer.
Since the majority of our time is being spent in piecing together information, its no surprise that a whopping 68% of employees feel they don't have enough hours in the day to complete their tasks.
A great way to free up working hours is to use a document management system for easy creation, sharing, editing, and approval of your documents. In this way, business processes are sped up dramatically and employees can spend time doing the work they were actually hired to do!
4. Reliable and Accurate
Digital documents are more reliable and accurate to their paper counterparts, particularly because making edits to a digital document is much easier. A great document management system comes with all the tools needed to create, edit and collaborate on documents to streamline workflow.
Features like version control ensure that you can see the entire timeline of a document and how it came to be. Users can revert back to an older version if needed, something which cannot be done using paper documents.
Read more: Document Creation Tool: How to Choose the best one?
5. Search Away!
We all agree that searching for a document in file cabinets is not the best use of time, right? Even if you are looking for a digital document, finding the right cloud app, the right inbox, or the right folder can take up hours and hours of your time.
Document management workflow ensures that all your documents and files are a quick search away so that you spend more time doing the work than looking for it. No matter how big your document directory is, a document management workflow can help you find out the file in seconds.
6. Cost-Effective
Gartner estimates that a company can save up to 40% of document-related costs if they deploy a document management system.
How? Well, the cost of creating, storing, and managing paper documents can be pretty high, especially as your company grows. The storage facilities, cabinets, cost of paper, printing, office space, storage, and hiring employees who manage all this can all add up to be quite an expensive bargain.
By switching to a document management system, you can get rid of all those paper files, reduce storage space, save money on printing, ink, and other stationery items, and also on hiring new employees to manage those documents.
7. A Lot Safer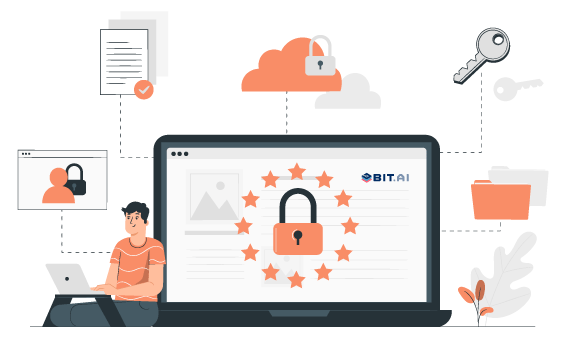 We all know how difficult it can get to safely secure paper documents and then remember where each document is. A document management system keeps all your files safe and secure. With features like document tracking, password version control, real-time notifications, password protection, etc you are always aware of a document life cycle- who viewed it, when, from what location, and what changes did they made to it.
8. Scales with Your Company
The number of documents you produce is directly related to the number of employees you have or the size of your operation. As your company grows and becomes successful, the number of documents you produce also increases with it. More documents would lead to more clutter, which eventually leads to a loss of productivity.
A document management system does not punish you for growing a successful company as it is easily scalable. Simply get more cloud storage and continue your operations without any hiccup.
Read more: Document Management System: Definition & Importance!
Ready To Get Started?
Excited about installing document management software for your business? We got you covered!
A document management system that is easy to use provides all the tools needed to store, manage, and retrieve data at any point, has awesome search capabilities, and is scalable is hard to find.
This is why we came up with Bit, the best document management and collaboration tool on the planet.
Bit is a new age, a cloud-based collaboration tool that helps teams create, manage and track documents.
Bit allows teams to create workplace documents like- project proposals, sales decks, how-to guides, company policies, training documents, process documentation, media kits, case studies, etc. and provides a safe and robust place to store these documents. If you want to send these documents to external partners, clients, customers, or prospects, you can even track them to get intelligent engagement insights.
Apart from documents, Bit also provides amazing content management capabilities. Bit has a content library where you can save all your company brand assets, images, videos, files, and other rich media for easy access.
Bit's real-time collaboration feature makes it easy for your team to get under one virtual roof, give their feedback and suggestions, add comments, and discuss work together. Additional features include live document sharing, document tracking, document expiration, and real-time notifications, custom document branding and much more!
Documents today need to be multidimensional. And as the data around us keeps evolving, we need powerful tools like Bit that can adapt to our needs!
Final Words
The ability to streamline all your work documents and have a smooth document management workflow can do wonders for your business. Having the right information at the right time will allow your employees to do their jobs efficiently, thereby providing you a competitive advantage over your competitors who are still stuck with old filing systems.
Further reads: 

Don't want to forget this information?
Pin it for future reference!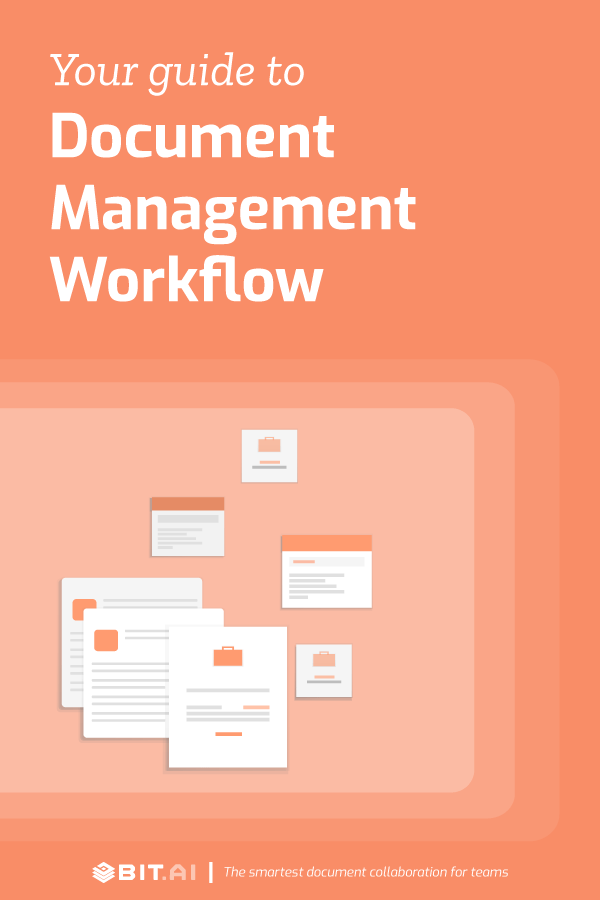 Related posts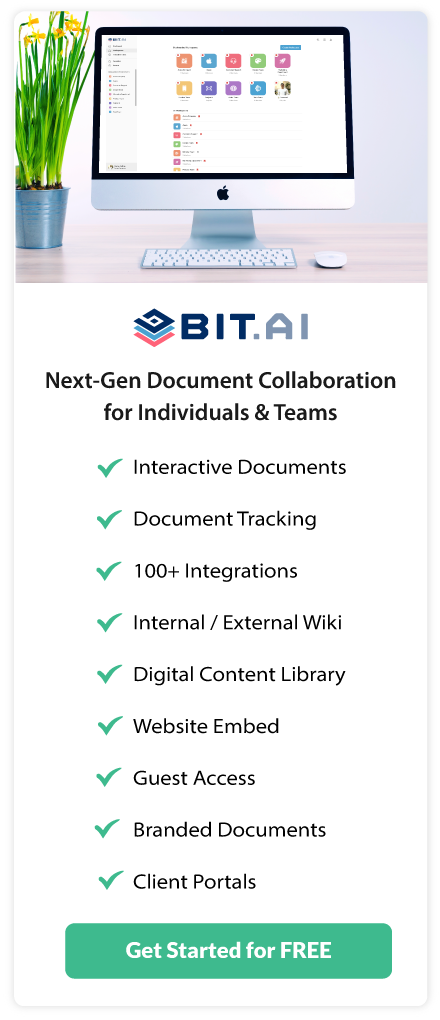 About Bit.ai
Bit.ai is the essential next-gen workplace and document collaboration platform. that helps teams share knowledge by connecting any type of digital content. With this intuitive, cloud-based solution, anyone can work visually and collaborate in real-time while creating internal notes, team projects, knowledge bases, client-facing content, and more.
The smartest online Google Docs and Word alternative, Bit.ai is used in over 100 countries by professionals everywhere, from IT teams creating internal documentation and knowledge bases, to sales and marketing teams sharing client materials and client portals.
👉👉Click Here to Check out Bit.ai.