Calling out to all the wanderlusts and adventure-seekers out there – here's a blog you didn't think you need! Sure, traveling is exciting and fun, but you know what's not fun? The pre-travel panic and the last-minute packing frenzy.
We understand that packing can be overwhelming – choosing what to bring, how much to pack, and ensuring you have all the essentials without overburdening your luggage. But fear not, as we've curated a comprehensive guide that covers everything from travel wardrobe essentials to handy accessories, and even those often-forgotten travel documents.
Whether you're an enthusiastic globetrotter or a regular solo traveler or a first-time adventurer, this blog has something for everyone! So let's quit waiting around and get started!
What are the Travel Must-Haves?
1. Travel Documents
Your travel documents are the backbone of your journey so they need to be the first on your travel packing checklist. Your passport is the most important one – without it, you won't be able to leave or enter a country. Ensure that your passport has at least six months of validity beyond your intended return date, as some countries have this requirement.
Additionally, check the visa requirements for the countries you plan to visit. Obtaining the necessary visas in advance is crucial, as some visas may take time to process.
Lastly, don't forget to purchase travel insurance. It protects you from unexpected events such as medical emergencies, trip cancellations, or lost baggage so that you have peace of mind throughout your entire travel.
2. Money and Payment Options
Adequate financial preparation is vital for any trip, so the next thing to include in your packing checklist is money and payment options. Carry some local currency for emergencies and places where card payments might not be accepted. Ensure your cash is stored securely in a money belt or a hidden compartment in your bag.
It's also wise to bring at least two credit or debit cards from different issuers. Inform your bank about your travel dates to avoid potential card blocks, and always have a backup payment option in case one of your cards gets lost or stolen.
3. Health and Medication
Prioritize your health by making sure you have all the necessary medications and health-related items in your travel checklist. If you take prescription medications regularly, ensure you have enough to last the entire trip, plus a few extra days' supply in case of unforeseen delays. It's also wise to carry a copy of your prescription in case you need to show it to customs or medical personnel.
Additionally, pack a basic first aid kit with bandages, antiseptic wipes, pain relievers, and any other medications you might need during your journey.

4. Travel Adapters and Chargers
In our tech-driven world, staying connected is essential. Research the plug types used in your travel destination and bring the appropriate travel adapters to charge your electronic devices.
Having fully charged devices is particularly important when navigating unfamiliar places or in emergencies. Don't forget to pack the chargers for your phone, camera, laptop, or any other devices you plan to bring along. Add them to your packing checklist now!
5. Appropriate Clothing
The last thing you want is to wear your favorite tank top and shorts only to realize later that the temperatures are too cold at your destination and you end up shivering the entire trip. That's why packing the right clothing is essential for your comfort and well-being during the trip.
Before you leave, check the weather conditions of your destination during your travel dates. This will help you pack clothing suitable for the climate, whether it's warm, cold, or variable. Also, consider any cultural norms or dress codes in your destination, especially if you're visiting conservative regions, religious sites, or formal events.
6. Comfortable Shoes
Travel often involves a lot of walking and exploring, so having comfortable shoes is a must in your travel packing checklist. Avoid packing new or uncomfortable shoes that might cause blisters or foot pain. Opt for well-worn, supportive footwear that will keep you comfortable throughout your journey.
7. Personal Care Items
The next thing to add to your travel checklist is toiletries. They are essential for maintaining personal hygiene during your travels. Opt for travel-sized toiletries like shampoo, conditioner, soap, toothbrush, and toothpaste to save space in your luggage. You can also purchase these items at your destination, but having some on hand for the first day is helpful. Don't forget to pack sunscreen to protect your skin from harmful UV rays, especially if you're traveling to sunny destinations.
8. Travel Pillow and Eye Mask
Long journeys can be exhausting, and getting some rest during flights or train rides is essential to start your trip fresh. So, add a travel pillow and eye mask to your packing checklist. A travel pillow can provide neck support and make sleeping easier, while an eye mask helps block out light and improve sleep quality, especially during flights or in bright hotel rooms.
9. Reusable Water Bottle
Your ultimate mantra should be to always stay hydrated and this should be in your travel checklist. Staying hydrated is crucial during your travels, especially in warm climates or while engaging in physical activities. Bring a reusable water bottle and refill it whenever possible to reduce plastic waste and save money on bottled water.
10. Travel Locks and Security Items
Keep your belongings secure during your trip with TSA-approved locks for your luggage. These locks allow security personnel to inspect your bags without damaging them. For added safety, consider using a money belt or a neck pouch to keep your valuables like passports, money, and cards safe and hidden from potential thieves. After all, it's better safe than sorry, right?
11. Travel Guides and Maps
While smartphones provide a wealth of information, having physical travel guides and maps can be helpful, especially when you're in areas without reliable internet access. Travel guides offer valuable insights into local attractions, restaurants, and cultural tips, while maps help you navigate unfamiliar cities and regions. Make sure to add them to your travel checklist!
12. Snacks and Entertainment
Last, but not least, packing some snacks for the journey is a good idea, especially for long flights or road trips. Snacks can tide you over during travel delays or when you can't find a suitable place to eat. Entertainment items like books, e-readers, music, or podcasts can also help pass the time during transit and make your journey more enjoyable.
Remember that these travel must-haves may vary depending on your destination and personal preferences. Always double-check the specific requirements for the country you're visiting and plan accordingly to make the most of your travel experience.
Now that we have covered everything you need in your travel checklist, how about if we told you that there is an amazing tool that can help you whip up a packing checklist in no time? Intrigued? Scroll down to learn more!
Make a Travel Packing Checklist With Bit.ai For the Next Adventure!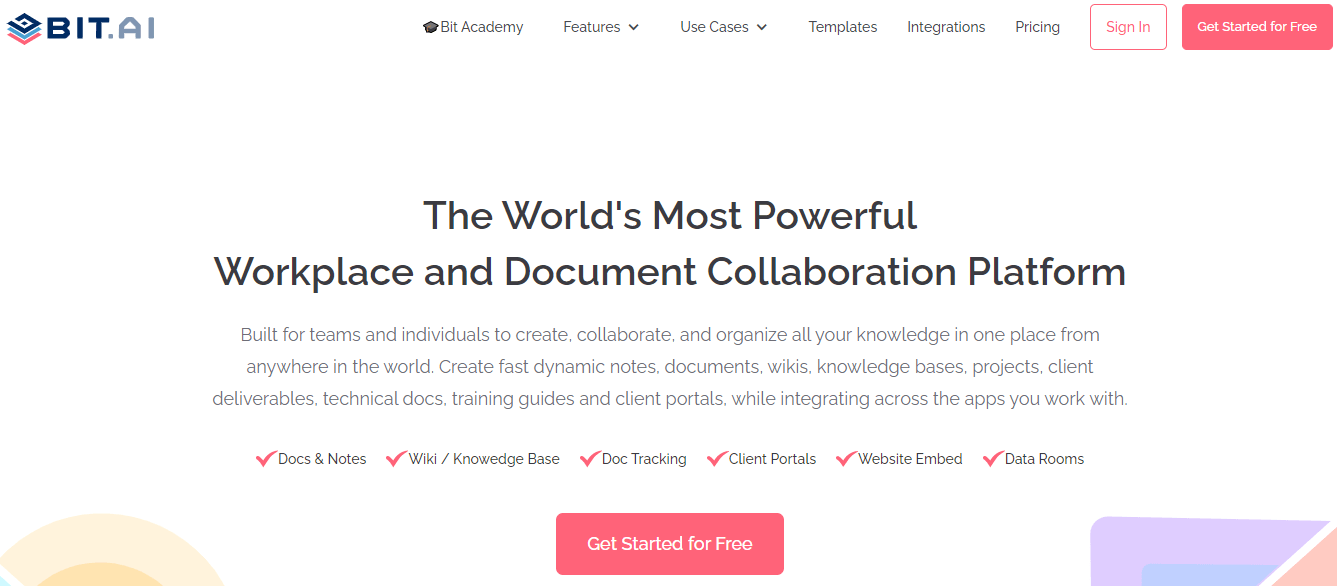 Bit is a modern cloud-based documentation and collaboration platform that is designed exclusively for your document creation needs. And an amazing part of Bit is that it helps you create, design, and share amazing checklists with anyone.
With Bit, you don't ever have to worry about how your checklist is going to look because it has an extensive template gallery that offers over 70+ stunning templates, from which you can choose your favorite one for creating a checklist. Bit allows you to customize this template and lets you add a dash of color to it with just a few clicks!
Forget about spending time on the format of your checklist, because bit's auto-formatting feature will automatically format your document, giving it a very uniform and consistent look.
Want to add PDFs, web links, or other media files to your checklist? Bit has got that covered for you! With its rich media integration, Bit supports over 100+ file formats that you can easily embed into your document.
You can also easily create multiple workspaces and folders around your different travels to store and manage information in an organized manner.
And that's not all! With Bit's real-time collaboration features, you can easily collaborate and work together with other people while creating a checklist. This allows your travel buddies to edit and add more things to the checklist in real time!
In a nutshell, Bit is the real deal for creating and sharing all kinds of checklists. So we think it's time you got Bit for yourself and make your life easier!
Wrap Up
There's no denying that packing efficiently can make or break your travel experience. With the right travel packing checklist by your side, you can bid farewell to those forgotten essentials and overstuffed suitcases.
We hope this blog has helped you create the ultimate travel packing checklist for your next adventure! Now go out there, plan like a pro, and say hello to a stress-free, organized, and seamless packing process! Thanks for reading and ciao!
Further Reads:
How To Plan a Business Trip Like an Expert? (Tips & Essentials)
Onboarding Checklist: What is it & How to Create it?
Move Out Checklist: A Complete List with Template!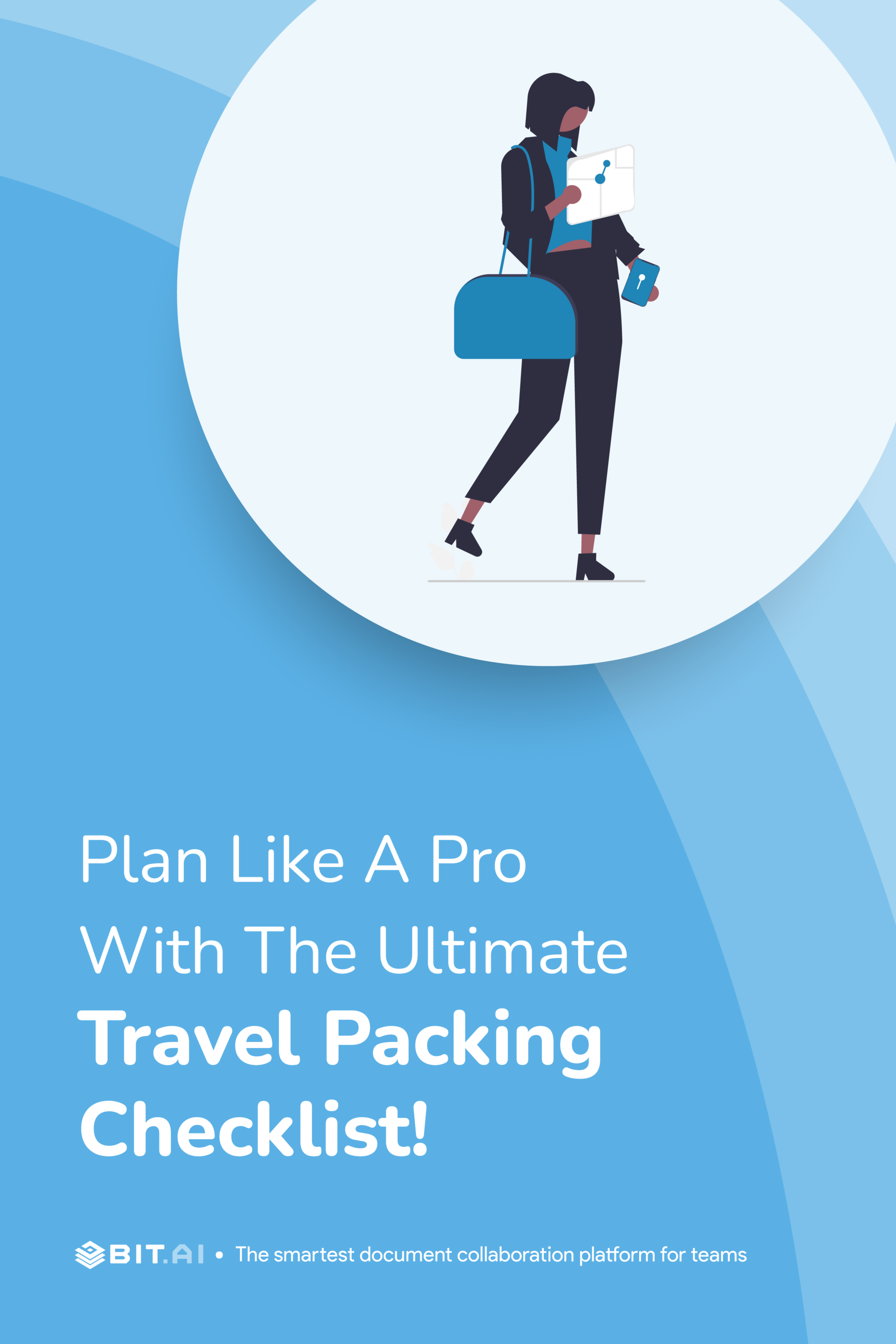 Related posts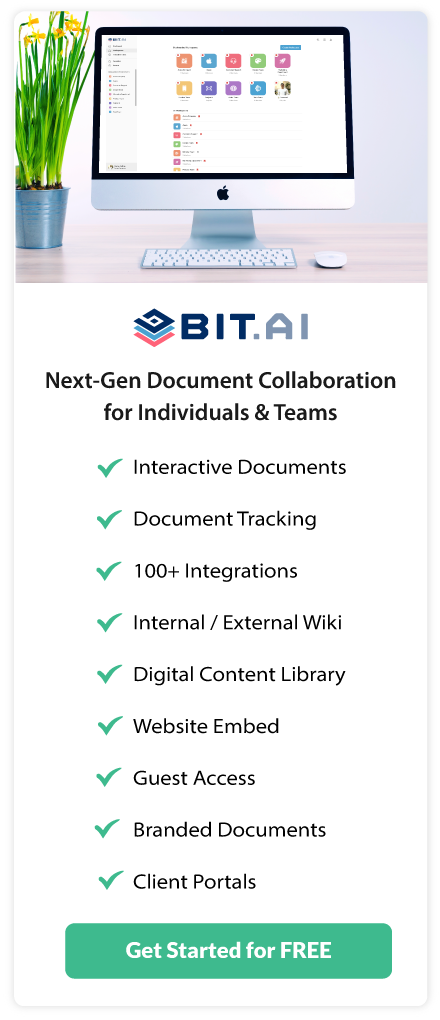 About Bit.ai
Bit.ai is the essential next-gen workplace and document collaboration platform. that helps teams share knowledge by connecting any type of digital content. With this intuitive, cloud-based solution, anyone can work visually and collaborate in real-time while creating internal notes, team projects, knowledge bases, client-facing content, and more.
The smartest online Google Docs and Word alternative, Bit.ai is used in over 100 countries by professionals everywhere, from IT teams creating internal documentation and knowledge bases, to sales and marketing teams sharing client materials and client portals.
👉👉Click Here to Check out Bit.ai.