"Business has only two functions – marketing and innovation." ~ Milan Kundera
So you have got an awesome product, a full-proof business plan, a ton of investor money, and a solid team. Yet, for some reason, your business isn't growing. If that's you, don't worry. All you lack is a detailed marketing plan!
In this blog post, we are going to uncover what it takes to make a product or service successful, gain and retain customers for your business, and build an everlasting brand, all on the back of a marketing plan. Are you ready? Let's go!
What is a Marketing Plan? (Definition)
A marketing plan is defined as a business document describing your marketing strategy, tools, and tactics to reach your target audience over a period of time.
A marketing plan, much like a business plan, is a comprehensive document that incorporates a variety of details, such as marketing goals, outreach strategy, advertising budget, and action steps.
Marketing plays a vital role in a business's pursuit of growth and sustainability. It's via the efforts of marketing that a product gets the attention it deserves, consequently bringing in more customers for the business.
Without marketing, people can't discover your product to buy from you. Without customers, you don't have a business! However, without having a marketing plan in place, marketing your product is like shooting in the dark.
"You can't just place a few 'Buy' buttons on your website and expect your visitors to buy." – Neil Patel
Unlike your business plan, a marketing plan is a living document that needs to evolve from time to time to incorporate customer demand and changing market trends. With our ever-changing digital environment, keeping your marketing plan as fresh as possible is vital to keep your business growth steady.
Different Types of Marketing Plans
Different companies leverage different types of marketing plans to accomplish their marketing goals.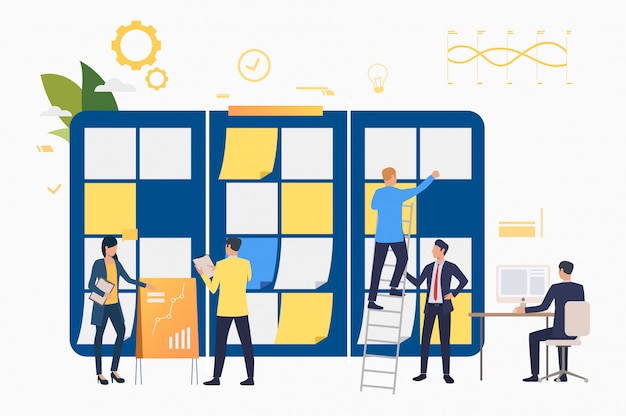 Here are a few common marketing plans businesses use:
1. Paid Marketing Plan
This type of marketing plan usually involves paid strategies to acquire new customers. These include PPC (pay-per-click) advertising, paid social media promotions, influencer marketing, native advertising, and more.

2. Content Marketing Plan
The content marketing plan typically includes strategies and tactics that require content creation in order to gain new customers. These include blogging, guest publishing, ebooks, whitepaper, and more.
3. Social Media Marketing Plan
The social media marketing plan entails strategies and tactics that you are planning to execute via different social media platforms.
4. Relationship Marketing Plan
This type of marketing plan usually involves strategies and tactics that focus entirely on customer satisfaction and customer delight. These include offering discounts and coupons, sending birthday wishes via company newsletter, chatbot strategies, and more.
Read more: Go-To-Market Strategy Guide for Businesses
Why Does Your Business Need a Marketing Plan?
A study conducted by CoSchedule, a marketing software, found that marketers with a documented plan or strategy are 313% more likely to report success in their marketing campaigns than those who don't have a clear plan. Moreover, marketers who proactively plan projects are 356% more likely to report success.
Without the right marketing plan in place to guide you, converting a prospect into a paying customer and growing your business is virtually impossible. A marketing plan acts as a roadmap to guide your marketing team towards success. Businesses use a marketing plan to brainstorm, organize, accomplish, and track their marketing strategies over a period of time.
"Marketing's job is never done. It's about perpetual motion. We must continue to innovate every day." ~ Beth Comstock, Former CMO & Vice Chair, GE
As we discussed before, a marketing plan is not meant to be a static document you review once and get over with it. It's a living document that needs to be reviewed and referred to for results regularly.
Moreover, the marketing plan should be tailored on a continuous basis based on the findings from the metrics that show which marketing strategies are having an impact and which are not.
Without a thorough marketing plan, your team is setting itself for failure. A marketing plan gives the entire team a stable reference point and helps coordinate the efforts of a large group efficiently.
Some Amazing Benefits of a Marketing Plan
There are numerous benefits of creating a detailed marketing plan that helps guide your marketing team. Some of these include:
1. Provides a plan of action
A marketing plan acts as your plan of action, i.e. what product you are selling, how it's different from others in the market, who'll want to buy it, and what tools and tactics you'll use to get leads for your product.
2. Roadmap to Success
A marketing plan is a map that leads your marketing team to success. With so many marketing avenues – social media, email, content marketing, direct mail, banners, and more, having a plan in place for the best course of action is vital. This helps keep your marketing team focused and not get distracted by the newest "marketing hack."
3. Brings clarity
A marketing plan provides much-needed clarity regarding a product's USP (unique selling point) and its target audience. When you have these two components, crafting marketing messages that resonate with the target audience becomes easy.
4. Gives a reference point
Last but not least, a marketing plan gives a single source of truth for everything your marketing team is responsible for accomplishing. It removes ambiguity from the process and makes sure every team member knows exactly what they need to do to market a product successfully.
Read more: Marketing Report: Definition, Types, Benefits & Things to Include!
How to Write a Marketing Plan in Simple Steps?
Now that we know what exactly is a marketing plan and why it is important, it's time to dive deep into the elements of a marketing plan. Here are the key elements every marketing plan must incorporate:
Step 1. Conduct Market Research
Start your marketing plan with comprehensive research about the market you are selling or are planning to sell in. Not conducting appropriate research prior to entering a market could prove disastrous for your business.
Use a documentation tool to collect and organize all your research in one place and make future decisions accordingly. You can start by researching the market size, market growth, consumer buying habits, suppliers, and vendors in the marketplace, the average age of consumers, or any other current trends.
Step 2. Define your Target Audience
The next step is to define your ideal customer. Who is the most suitable buyer of your product/service? The answer to this question determines your target audience. Without a target audience in mind, you can't craft marketing strategies and tactics effectively.
If you have no idea who you are marketing to, you might as well save some money and stop marketing altogether! Start by collecting the information of your target customer such as:
Age range
Sex
Countries/city they live in
Annual household income, etc.
If you don't know who your target customer is, start by identifying the people who will benefit from using your product/service. For example, if you are selling a weight loss program online, your ideal customer could be people who are overweight or those looking to stay fit and healthy.
By knowing who you are targeting, you can create marketing messages catered specifically for such an audience, thereby increasing your rate of conversion.
Step 3. Define your Marketing Goals
Having strong, detailed, and clearly defined goals is a must for every marketing plan. Without a goal, marketing becomes chaotic and messy, with no control in sight. If you don't know where you are going or what results you want, campaigns become meaningless and often result in unfulfilled results.
A key point to keep in mind while defining your marketing goals is to be as specific as possible. For example: Finding x number of clients over the next 6 months or increasing likes on our Facebook page to x amount.
 When you have such specific goals in place, it's easy to measure the effectiveness of your campaigns and strategies. For better results, we suggest everyone set up SMART goals (SMART is an acronym that stands for "Specific", "Measurable", "Achievable", "Relevant", and "Time-Bound") instead of the usual checklist-themed goal setting.
Step 4. Identify your Competition
"All failed companies are the same. They failed to escape competition." ~ Peter Thiel
Competitive analysis is another critical component of your marketing plan and should be taken with utmost seriousness. Mapping out the competition in the market, their price points, and how your product or service is better than theirs are a few key areas to explore while pinning down this section of your marketing plan.
Recognizing the competition and keeping an eye on what they are up to is crucial to your business success. Knowing key details about your competitors like their strategies, distribution, tactics, etc. will allow you to modify your marketing messages, and in turn, better stand out of the crowd and attract customers.
A study found that about 74 percent of marketers agreed that competitive analysis is "important or very important." However, nearly 6 out of 10 admitted they weren't good at it!
Step 5. Describe Your Strategies and Tactics
With a plethora of marketing avenues out there, it's important to carefully select your strategies and not get distracted by the next big thing. Your target market is your guide in picking out your marketing strategies and tactics. Ask yourself- where does your target audience hang out? Which platform are they most active on?
Once you have answers to these, you will easily be able to map out the details and devise a plan. For example, if you sell designer handbags and your target audience is women aged 18-40, you might consider developing a strategy for Pinterest in your marketing plan.
Similarly, if your audience is active on Facebook a lot, you might consider joining relevant Facebook groups and interacting with your target audience to boost sales.
Your marketing strategies can also include details regarding what type of content you need to focus us on (PPC ads, blog posts, ebooks, social media posts, etc.), how much content you will be publishing on a weekly/monthly basis, and what are the key channels of distribution you will be focussing on.
Read more: Business Development Plan: What Is It And How To Create A Perfect One?
Step 6. Don't Forget the Budget! 
Marketing free! It's important to keep things under a budget and explicitly take out the time to include the same in your marketing plan.
Your marketing budget should include all your expenses for the upcoming quarter or year (however long you are making this plan for). This includes sponsorship fees, money for freelancers or influencers, paid promotions on social media, paid ad placement on websites, PPC ads, etc.
Of all the places you spend money in your business, marketing is arguably one of the most important departments. As the great Henry Ford once said: "A man who stops advertising to save money is like a man who stops a clock to save time."
Step 7. Execution Strategy
Once you are done with the comprehensive planning, it's time to kickstart the actual work! Asking questions like "What strategies are you going to implement first? "How will you fit these marketing strategies into your regular business activities?" make the meat of this section.
For example, if you are planning a content strategy, you need to define how often will you create a piece of content and who will be responsible for that project.
Similarly, if your plan is to increase your social media footprint, will you be hiring a social media manager to handle that work or will you use a social media management tool to carry out the work for you? Make sure you have an execution strategy before you wrap up your marketing plan.
Step 8. Tracking Progress via KPIs
Every smart marketer knows that tracking is as important as creating and distributing content. Listing down your Key Performance Indicators or KPIs for every campaign allows you to measure success (or failure) and make sure the team is on the right track.
For example, if you run an ad campaign on Facebook for your business as part of your marketing plan, your KPI could be the number of clicks you got for your ad or the amount of time someone spent interacting with your ad.
You can use Google Analytics for tracking metrics related to your website and can also maintain a spreadsheet to compare your marketing budget with the campaign ROI.
Now that you know what to include inside your marketing plan, let's see how you can create an awesome marketing plan document easily with Bit!
Create Your Marketing Plan the Right Way with Bit.ai
Marketers often find themselves making a lot of assets in the form of marketing plans, product launch docs, ebooks, brochures, whitepapers, blog posts, sales playbooks, sales processes, presentations, email templates, competitive analysis, company one-pagers, marketing proposal documents, case studies, pitch decks, etc.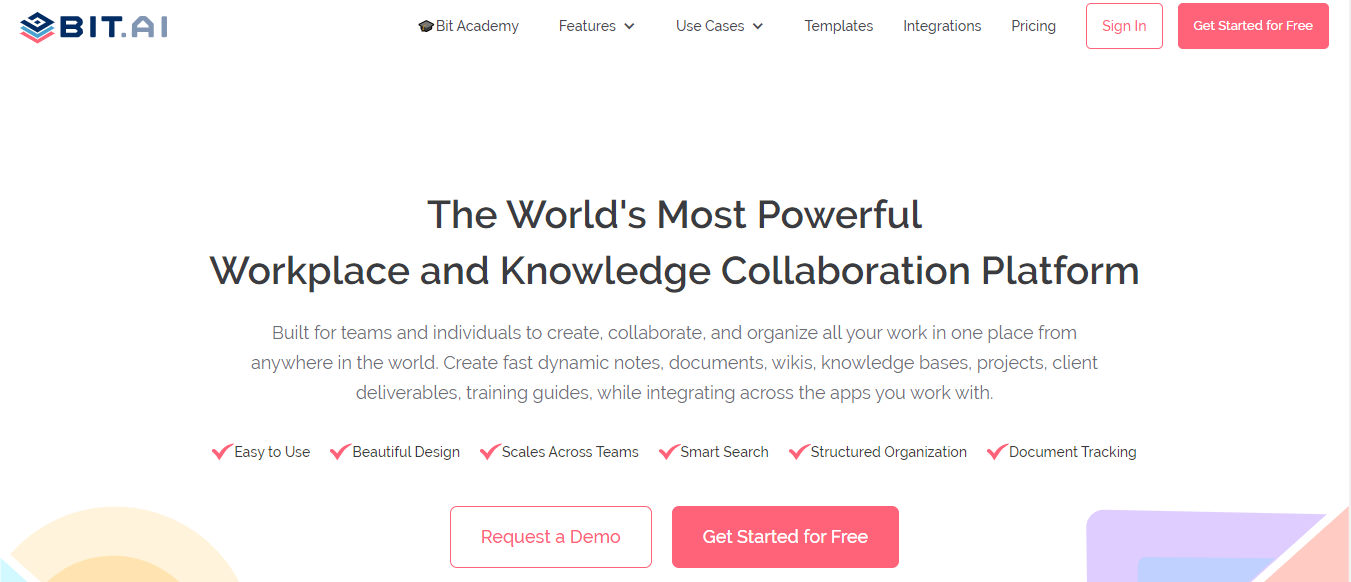 Having a single source of knowledge where all your marketing work is centralized is an important necessity. This is why we have built Bit, a one-stop-shop for all your work documents and collaboration.
Bit is a modern-day workplace collaboration tool that empowers marketing teams to have one place they can work while collaborating together. Marketers can create, customize, and collaborate on daily work like share social media content, blog posts, ebooks, whitepapers, blog posts, sales playbooks, presentations, email templates, and other internal as well as client-facing material.
Whether your marketing team is working on internal projects or sharing information with influencers, customers, and prospects externally, they can easily add videos, PDFs, Slideshare decks, spreadsheets, and more directly into a Bit document. It's a smart way to add context to the knowledge you are sharing.

Simple, Clean UI: Bit has a minimal design aesthetic to it, allowing a newbie marketer to quickly get on board with the platform. Even though the platform is feature-rich, it does a great job as to not overwhelm a new user and provides a systematic approach to work.
Organization of information:  Organizational information is often scattered in cloud storage apps, emails, Slack channels, and more. Bit brings all your information in one place by allowing you to organize information in workspaces and folders. From documents to media files, Bit makes organizing data easier than ever.
Brand consistency: Focus on the content and let Bit help you with the design and formatting. Bit documents are completely responsive and look great on all devices. With amazing templates and themes, Bit docs provide you with the type of brand and design consistency that is unheard of in the documentation industry.
Smart search: Bit has very robust search functionality that allows anyone to search and find any files, images, documents, etc. quickly and easily across all of their workspaces. Users can search their digital assets using keywords, titles, descriptions, or tags. They can even search for files based on their source (example: YouTube).
Media Integrations: Companies use an average of 34 SaaS apps! It's no wonder why most of our time is spent hopping from one app to the next, looking for information. This is why Bit.ai integrates with over 100+ popular applications (YouTube, Typeform, LucidChart, Spotify, Google Drive, etc.) to help teams weave information in their documents beyond just text and images.
Recommended power links and files you can add to your marketing plan document:
Weblinks
Google Sheets, OneDrive Excel, Airtable
GitHub
Social Media posts
YouTube, Vimeo
Draw.io, Lucidcharts
Sketchfab, Figma, Marvel
PDFs, PowerPoint in Google Drive/OneDrive
Sharing: Bit documents can be shared in a live state meaning that all changes that you make to the document will update in real-time. If you are sharing your documents with clients, they will always get your latest changes. You can even embed Bit documents on any website or blog.
Tons of other features: Bit has a plethora of amazing features like document tracking, cloud-upload, document locking, document expiration, and much more, making it a well-rounded documentation tool.
Bit provides a common workplace for marketers to collaborate, document, share their knowledge, brainstorm ideas, store digital assets, and innovate together. The best part is that this knowledge is safely secured in your workspaces and can be shared (or kept private) with anyone in your organization or the public!
Our team at bit.ai has created a few awesome marketing templates to make your marketing process more efficient. Make sure to check them out before you go, your marketing team might need them!
Final Words
A marketing plan will act as your guide as you start your journey towards lead generation and brand building. Remember, a marketing plan is an ever-growing, ever-changing, living document.
You need to continuously update your plan based on the results you are getting from your marketing campaigns. This is why documentation tools like Bit can be so helpful while creating a marketing plan.
Since you can create living documents on Bit, you can consistently update the contents of the marketing plan, even after you have shared it with your teammates. With its amazing collaboration features, Bit makes sure that marketers are equipped with everything they need to do their jobs effectively.
So what do you think about our marketing plan document? What key elements do you include in your marketing plan? Do share your thoughts with us by tweeting us @bit_docs.
Further reads: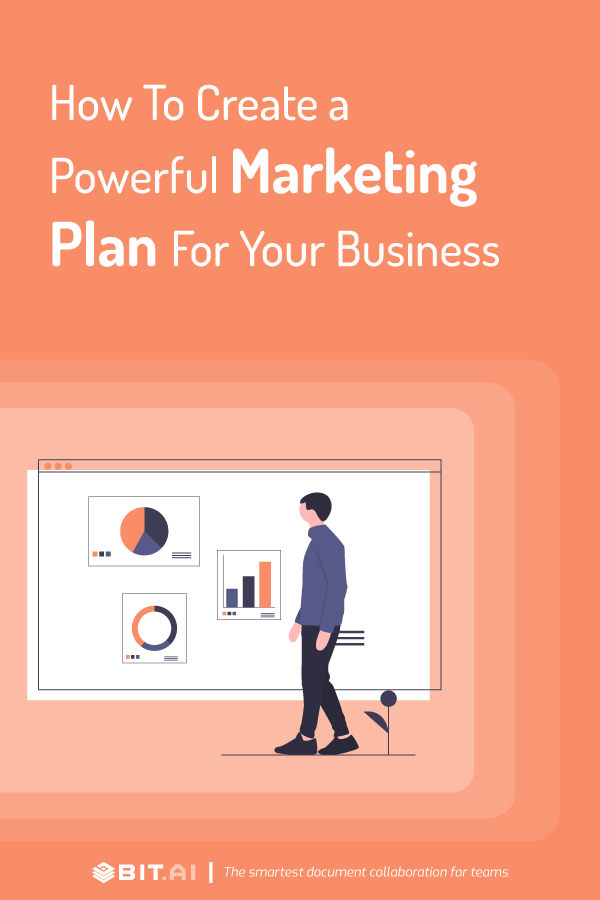 Related posts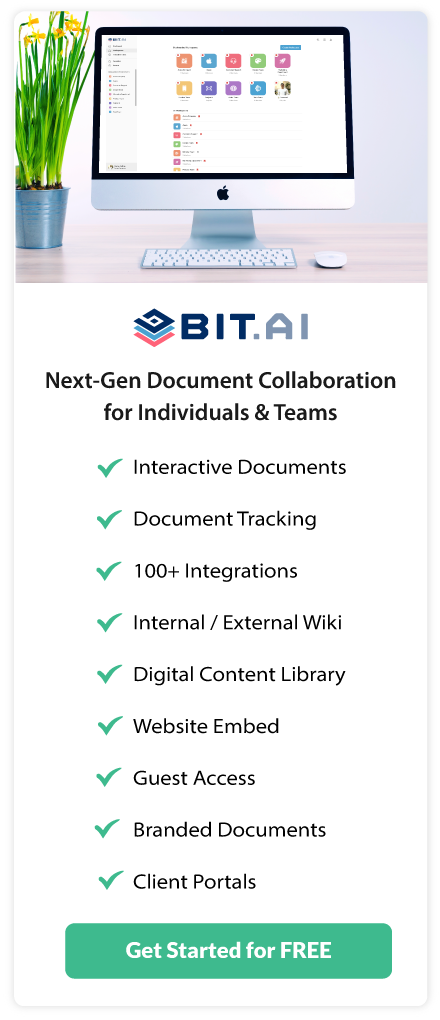 About Bit.ai
Bit.ai is the essential next-gen workplace and document collaboration platform. that helps teams share knowledge by connecting any type of digital content. With this intuitive, cloud-based solution, anyone can work visually and collaborate in real-time while creating internal notes, team projects, knowledge bases, client-facing content, and more.
The smartest online Google Docs and Word alternative, Bit.ai is used in over 100 countries by professionals everywhere, from IT teams creating internal documentation and knowledge bases, to sales and marketing teams sharing client materials and client portals.
👉👉Click Here to Check out Bit.ai.