If you've ever used a pedometer, you would know that it tells you the number of steps you took while walking and the total distance you covered. Basically, it indicates how you performed while walking.
In business, such a tracker is called a KPI or Key Performance Indicator. They are measurable metrics that track how effectively and efficiently you are accomplishing your goals.
Being in the marketing department, you would know that you need to keep up with the changes and adapt well if you want to grow and expand your business.
But, growth cannot happen without measuring your performance, which is why marketing KPIs are necessary.
So, in this blog, we have compiled for you a list of marketing KPIs that you shouldn't miss out on while monitoring your marketing performance.
But before that, let's try to understand what exactly is marketing KPIs and how they are important to your business!
What Is a Marketing KPI? (Definition)
A marketing KPI is a measurable value used by organizations to evaluate the performance of a marketing campaign and monitor their progress towards their goals. It helps companies understand how effective or successful they have been at reaching their targets.
These KPIs cover everything from digital marketing to content marketing to email marketing and more! By tracking the right marketing KPIs, your company will be able to make the right adjustments and improve its marketing strategies and budgets.
Why Is Marketing KPI Important?
A marketing KPI is integral to your marketing efforts. Without them, you'd be just launching campaigns left and right without thinking about how exactly they would bring in more revenue or customers.
They help you address the following questions:
What are your goals and marketing objectives?
What do you need to do to reach those goals?
Did your marketing efforts bring you results?
What can you do to improve your results?
Your marketing KPI will give you a clear overview of your marketing activities and guide your team members and organization in the right direction. It will help you identify areas that are outdated and stagnant and enable you to make them better.
A great marketing KPI will ensure that there is a smooth functioning between the marketing and sales department as they have a huge impact on each other. These KPIs will help your marketing team work smarter, leading your company on a profitable path.

In short, the right set of marketing KPIs will provide you with unique insights, anticipate issues, maximize profit, and improve the overall health of your company. It's everything your marketing team could ask for!
In this blog, we have prepared for you a list of marketing KPIs that must try out to improve your marketing results. Scroll down, folks!
Read more: 12 Marketing Goals You Must Include In Your Plan!
List Of Marketing KPIs You Need to Measure
1. Marketing Revenue Attribution
Have you wondered how much revenue your marketing campaigns have brought to your company?
Marketing revenue attribution is a marketing KPI that informs you how your marketing efforts have effectively contributed to your marketing goals.
Tracking this information is a great way for your team to show the value of its efforts. This KPI gives you a clear-cut overview of your strategies and their role in customer engagement.
It also lets you analyze your performance and understand your marketing channels to help you make better decisions, implement changes to your marketing campaigns, improve your ROI and capture more leads.
2. Sales Growth
Your sales growth indicates an increase in sales or revenue from sales over a certain period of time.
Your marketing campaigns and strategies have a huge influence on your sales, which is why your sales growth is a great marketing KPI you need to measure.
It identifies and tracks growth trends and helps bring changes to your marketing strategies, which in turn improves the overall health of your company.
Read more: Marketing Funnel: What is it & How to Create it? (Steps included)
3. Customer Acquisition Cost
Customer Acquisition Cost is a really important marketing KPI that looks at all the marketing expenses and costs required to sign up a new customer.
With it, you can compare how viable each marketing channel is for acquiring new customers. You can also determine whether your sources are worth the time and money and whether they will increase your profits.
You can use this to analyze whether your costs will be higher or lower than the revenue you will get from it. Calculate CAC by dividing your total costs of acquisition by the number of new customers in a period of time.
4. Website-Traffic-to-Lead Ratio
Your website traffic refers to all the people who visit your website. This makes them all potential leads who can be turned into customers.
What makes your website traffic-to-lead ratio an extremely useful marketing KPI is that it focuses on the total amount of website visitors that have turned into actual leads. You can calculate it by dividing the total number of your website visitors by the number of leads generated in a specific time period.
This ratio helps you measure the quality of your website traffic and help you determine when it's time to change your website page copy, design, or CTA. It also measures your conversion rates and lets you keep track of your daily, weekly, monthly, and yearly progress!
5. Engagement Rate
Engagement rate is simply the level of interaction you have with your audience which arises from your marketing campaign or content creation. This includes reactions from your followers on social media such as clicks, likes, shares, comments, etc.
This is an excellent marketing KPI as it lets you quantify each and every engagement you have with your audience. By tracking your engagement rates, you get to measure the growth and performance of your website.
You can also identify potential issues and make adjustments to your marketing campaign in order to improve your engagement levels, which in turn can help improve your conversion rates.
6. Conversion Rate
Want to know how many people actually performed an action that you wanted them to? Conversion rates calculate just that! It is an essential marketing KPI that shows the percentage of people who completed action and converted themselves to your customers.
Tracking your conversion rates in each stage of your marketing process helps you to identify specific pain points which tell you whether your methods are working or not and helps you improve your marketing strategies.
It measures which marketing channels and campaigns are effective and successful and allows you to optimize your websites as well.
7. MQL to SQL Ratio
Marketing qualified leads or MQLs are leads who are more likely to be your customer. Sales qualified leads or SQLs are potential customers who are likely to make a sale.
MQL to SQL ratio is the percentage of MQLs that get converted to SQLs. It's a great marketing KPI to measure because it shows the cooperation between the sales teams and the marketing team.
This ratio lets you measure the efficiency of your marketing team in qualifying and screening leads. It also tracks the time taken for the conversion to happen and assists you in making any improvements or adjustments in your marketing campaigns and communications.
8. Average Order Value
If you really want a window into your customers' purchasing pattern or behavior, then the marketing KPI you should be measuring is your average order value.
AOV is the average money each customer spends while they place an order. This can be calculated by diving your total revenue by the number of orders.
Knowing your company's average order value helps you plan your pricing strategies and online marketing strategies according to your customers' buying patterns!
Read more: Top 10 Key Performance Indicators You Need To Measure In 2021
9. Click-Through Rate
Click-through rate is the ratio of the number of clicks on a link or call to action compared to the number of times people were exposed to that link.
It's an amazing marketing KPI to start with when you are measuring the success of your online marketing activities such as Facebook, Instagram, LinkedIn advertisements, or your SERP ranking.
It can be used to measure the effectiveness of all your online campaigns, understand your customers and their needs, and learning what works while trying to reach your target audience.
Tracking your CTR also helps you compare your ad performance on various sites!
10. Unsubscribe Rate
Tracking when you lose customers is as important as tracking when you gain them, which is why unsubscribe rates are an integral marketing KPI you should consider for your business. It's simply the number of customers who have clicked the 'unsubscribe' link to your email subscriptions.
Your unsubscribe rate informs you about your email marketing campaign. It shows whether your email syncs with your subscribers' interest, deliver value to them, and gets the sending frequency right.
It also helps you study how soon subscribers are unsubscribing and lets you measure the engagement levels to improve your campaign.
11. Bounce Rate
Bounce rate is the percentage of visitors who 'bounce' or exit from your website without viewing any other page on your site. It is an important marketing KPI because it calculates the average session duration and average pages per session and measures whether your viewer found what they wanted on your site or not.
Monitoring your bounce rate helps you evaluate how long visitors stay on your website and analyzes whether your content and design are effective in attracting customers to invest.
This can help you identify the problems with your sites and make changes accordingly for improving them!
Read more: How To Create An Effective Marketing Strategy For Your Business?
12. Customer Retention Rate
Your customer retention rate shows the percentage of people who continue to use your products and services over a certain period of time and even make repeat purchases as well.
All in all, it's a great marketing KPI because it measures the customer satisfaction levels which are a reflection of your brand's overall performance. Knowing your retention rates gives you insights into the current customer base and their purchasing behavior patterns.
It even lets you evaluate your customer engagement levels and determine changes and marketing trends that affect your users. This in turn helps you plan your retention strategies accordingly!
Our team at bit.ai has created a few awesome marketing templates to make your marketing process more efficient. Make sure to check them out before you go, your marketing team might need them!
Conclusion
The more you learn about your marketing process, the better you'll be able to understand how each action affects your business results.
And what better way to do it than tracking your KPIs?
You're now more than prepared to start tracking your marketing efforts as we have given you a list of amazing marketing KPIs to monitor closely.
Start tracking. Here's to your success!
Further reads:
Top 7 HR KPIs You Should Measure in 2022!
10 Top Performing Business Metrics Your Business Must Know About!
Guerrilla Marketing: What is it and How to Use it For Marketing!
KPI Dashboard: Definition, Tools, and Tips!
KPI Report: What it is & How to Create a Perfect One?
12 Sales KPIs Your Sales Department Should Measure!
Marketing Campaign Plan: What is it & How to Create it?
Marketing Report: Definition, Types, Benefits & Things to Include!
14 Best Marketing Automation Tools to Help Grow Your Business!
OKRs Vs. KPIs: Breaking Down The Types and Differences!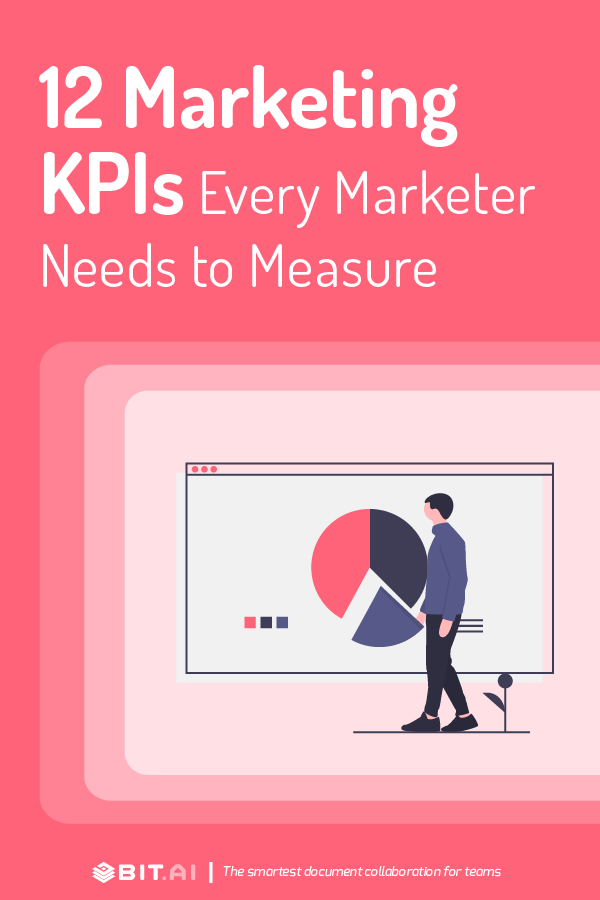 Related posts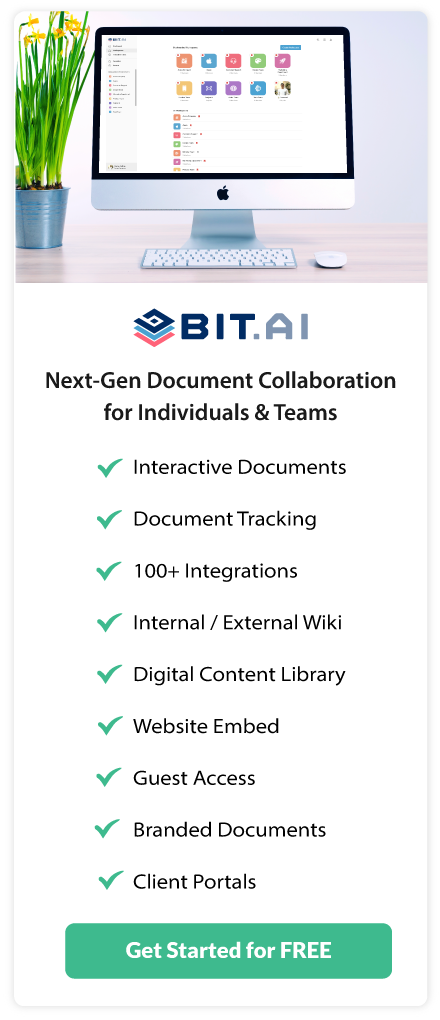 About Bit.ai
Bit.ai is the essential next-gen workplace and document collaboration platform. that helps teams share knowledge by connecting any type of digital content. With this intuitive, cloud-based solution, anyone can work visually and collaborate in real-time while creating internal notes, team projects, knowledge bases, client-facing content, and more.
The smartest online Google Docs and Word alternative, Bit.ai is used in over 100 countries by professionals everywhere, from IT teams creating internal documentation and knowledge bases, to sales and marketing teams sharing client materials and client portals.
👉👉Click Here to Check out Bit.ai.