No matter how comprehensive you are as a writer, there might be some content somewhere that may seem reflected from other works.
Gone are the days when you could easily go unnoticed of such plagiarism – search engines are smarter than ever!
And at such times you need paraphrasing tools to be able to express yourself in the best way possible.
With paraphrasing tools, you can make sure your content is one-of-a-kind and plagiarism-free!
That's why we have such an abundance of paraphrasing tools available online, both free and paid.
The problem is finding the right paraphrasing tool. Most of these tools end up not making much sense and thus, end up being a waste of time.
But not to worry, we're here, we are bringing you a list of the 9 best paraphrasing tools, you can use with ease and with power-packed quality!
Before we jump in, let's dive deeper into what paraphrasing tools are!
What is a Paraphrasing Tool? (Definition)
A paraphrasing tool is also known as a content spinner or article writer, generates new content using your content that is not only promising but also won't get flagged by any site.
It undeniably makes life easier for writers by expressing your content in a newfound way.
Worried about the structure of your content? Or if your writing skills are good enough or not? A paraphrasing tool will be your savior!
Using paraphrasing tools is just as simple – All you have to do is provide your content and with one click, it'll rewrite your content keeping the original meaning intact.
Let's learn some more reasons why you need a paraphrasing tool…

List of 9 Best Paraphrasing Tools In 2022
1. QuillBot
Pricing: $14.95/month
Want to enhance your writing with a state-of-the-art AI, well Quillbot is what you need!
It is the best online tool for paraphrasing for students, professionals, writers, and scholars. Over time, Quillbot has become a great tool for crafting legal emails, preparing doctoral theses, and document translation, among other uses.
Quillbot not only has a super easy interface but it uses machine learning to enhance its paraphrasing performance. It also offers a free forever plan that is great for basic paraphrasing.
It also offers a Chrome extension and can integrate QuillBot into your Google Docs and Microsoft Word to make your processes easier.
2. WordAI
Pricing: $49.95/month
WordAI is another well-known tool among SEO professionals and students for paraphrasing content. Before rephrasing, the WordAI tool uses artificial intelligence to understand the meaning of the content.
It is also integrated with the Perfect Tense tool to make sure that there are no grammatical or spelling errors. This helps it to deliver shining results!
And there's more – it also supports more than four languages including English among others. It has the potential to paraphrase up to 1,000 articles with a single upload.
Read more: 9 Awesome Assignment Writing Tips to Get Better Marks!
3. Chimp Rewriter 
Pricing: $15/month
Chimp Rewriter is a program that specializes in paraphrasing and creating SEO-friendly content. Not just this, it deems itself a content creation assistant rather than just another tool.
This tool includes various other advanced tools like N-spin, anchor text spin, bulk directory rewrites, random ordering, and a lot more.
Chimp Rewriter supports all languages and its API integrates with almost all SEO tools.
The fascinating part is that it has the potential to automatically include images and videos in your article. Fun right?
And they're also offering a 14-day free trial, we suggest you try it out for yourself!
4. Spinbot 
Pricing: $10/month
Spinbot alongside its priced plans is also offering its paraphrasing services and features for free. This makes it the best choice for students
Spinbot automatically paraphrases and rewrites your content into readable text!
It provides a sufficing daily 10,000 character limit for paraphrasing and you don't have to sign up to use Spinbot's free version.
So all you have to do is decide your content, open the website, add your content, and boom! Your content is paraphrased!
If you are a developer, Spinbot also offers API credits. It starts with $5 for 1,000 credits and goes up to $2,000 for 500,000 credits.
5. Free Paraphrasing Tool by SmallSEOTools
Pricing: FREE
Another great free tool if you don't want to spend big bucks on paraphrasing tools!
Free paraphrasing tool by SmallSEOTools has an extensive user base. But it is to be noted that this tool is only good for basic paraphrasing, it's not adept with handling restructuring the entire sentence.
This free paraphrasing tool allows you to rephrase 2000 words in one go and it doesn't store any of your data, meaning it is highly secure. You can also import data from Google Drive or Dropbox easily.
And to add to all this – it also provides a free grammar checker and plagiarism checker tools after the paraphrasing is done!
Read more: Top 9 Writing Checkers Every Writer Should Use!
6. DupliChecker 
Pricing: $20/month
Duplichecker is an all-inclusive tool for your content. It not only includes a paraphrasing tool but also a grammar, and plagiarism checker!
It develops powerful and robust content which would otherwise take strenuous hours, within seconds. And you can use it for free too!
This tool is the perfect fit for students and also bloggers, writers who want to use SEO to drive traffic. The tool uses advanced artificial intelligence (AI) which makes all of its work reliable and sound.
With Duplichecker, you can also confirm that your content is clean and unique for publishing using its plagiarism checker.
7. Clever Spinner 
Pricing: $9.90/month
Clever Spinner offers paraphrasing of top-notch quality at a very affordable expense.
It is an AI-based paraphrasing tool with easy to use and comprehensible interface; all you need to do is copy the content you want to rewrite and paste it on a clipboard and the CleverSpinner takes care of the rest.
CleverSpinner has an extensive set of synonyms and vocabulary for paraphrasing. It also automatically balances the use of active and passive voice in the paraphrased article. All of which helps it to develop unique and one-of-a-kind content.
Even after all that, to be 100% sure, it sends the rewritten content to Copyscape to check the uniqueness.
Read more: 11 Best Free Plagiarism Checker for Writers!
8. Spin Rewriter 
Pricing: $47/month
Spin Rewriter was launched way back in 2011, meaning that it has grown a lot over the years, making it one of the most proficient tools available today.
It is jam-packed with features like stock photo integration, mass export, bulk content spinning, and more!
With Spin Rewriter you can compare the original and spun articles side by side so you can see the difference. Not just this, you can create up to 1000 variations of a single content.
Spin Rewriter's bulk article spinning feature gives it the ability to generate unlimited content instantly.
The tool is fully responsive on all kinds of devices and one of the very few tools that offer in-depth tutorials and manuals on how to use the tool.
9. Content Professor 
Pricing: $19.95/month
Content Professor works as a super effective paraphrasing tool for students and scholars.
It can be accessed from all devices and it generates quality content in multiple spintax formats, Content Professor integrates with Copyscape and Plagium to keep your content plagiarism-free.
With many other features, it comes off as a powerful tool and it also lets you store up to 100 articles on its servers!
Content Professor offers a forever-free plan that allows you to paraphrase articles with 5,000 words limit. But if you want to remove the limitation, then you may have to buy the monthly plan.
Writing is a strenuous task and writers are very well aware of that. But is there a way to make this experience exciting and easier?
Well, there is – let us tell you!
Bit.ai: The Best Tool For Writers
Bit.ai is a new-age documentation and knowledge management tool that allows students and writers to store, track, share, and manage all knowledge and research in one place. It's the perfect tool to manage and process all kinds of content.
Let us tell you how Bit.ai makes writing super easy for you:
Real-Time Collaboration: When working on any content, it's possible that you'll be working with a team. At such times, it's more important than ever to have a seamless collaboration experience! Bit facilitates exactly that with its real-time collaboration feature that lets you work on the same document together, comment to exchange ideas and chat on the side.
Minimalistic Editor: Creating comprehensive content will require edits and revisions but don't worry, Bit's sleek editor comes in handy for such occurrences!
Distraction-free, Quick Documentation: The best part is Bit's support for Markdown which allows developers to quickly create and format text without any distractions. Once you are done creating your document, you can easily export it as PDFs, Word files, Markdown, and much more. Markdown is supported by GitHub and other software development tools, making it easy to share the work you do inside of Bit with other platforms.
Automated table of contents: Bit also has an automated table of contents based on the headers you add to your document. This makes sure you can scroll to different sections of your document quickly and access specific aspects of the document.
Here are some of more benefits of using Bit:
Smart search, which allows anyone to search and find any files, images, documents, etc. quickly.
Interlink your content and other documents.
Create fully responsive documents.
Create content that is secure and can only be viewed by people to whom you allow access.
100+ rich media integrations
Add math equations, code blocks, and much more
Now that you know about so many amazing paraphrasing tools, use Bit to get started with your content and then use the tools to make sure all your work is perfect! Trust us you'll love this experience with Bit!
And with its free account for up to 5 users, why miss out?
Conclusion
Believe us, writing is no cakewalk! It takes a lot of determination and creativity to develop a piece of content that stands out.
And if after all that work you get flagged for plagiarism for minor similarities, that would just not be fair!
A paraphrasing tool will help you ease this process and make sure that your content is a sure-fire in terms of originality and this, in turn, will increase your chances of ranking higher!
If you're swaying between the many options we've provided, we suggest you start with the free paraphrasing tools to truly assess what you need and what works for you.
We know you will make the right choice – Good luck!
Do you have any queries about paraphrasing tools? Tweet us @bit_docs and we are here to help you out whenever you need!
9 Powerful Tips For Writing Great Content For Your Website!
11 Grammarly Alternatives and Competitors You Must Know!
Article Spinner: Definition, Purpose & Tools!
10 Writing Tools that are Essential for a Writer!
The Best Authoring Tools You Must Explore!
10 Best Apps for Writing a Book!
9 Essential Writing Tips Every Writer Must Use!
10 Best Writing Apps To Make You A Better Writer!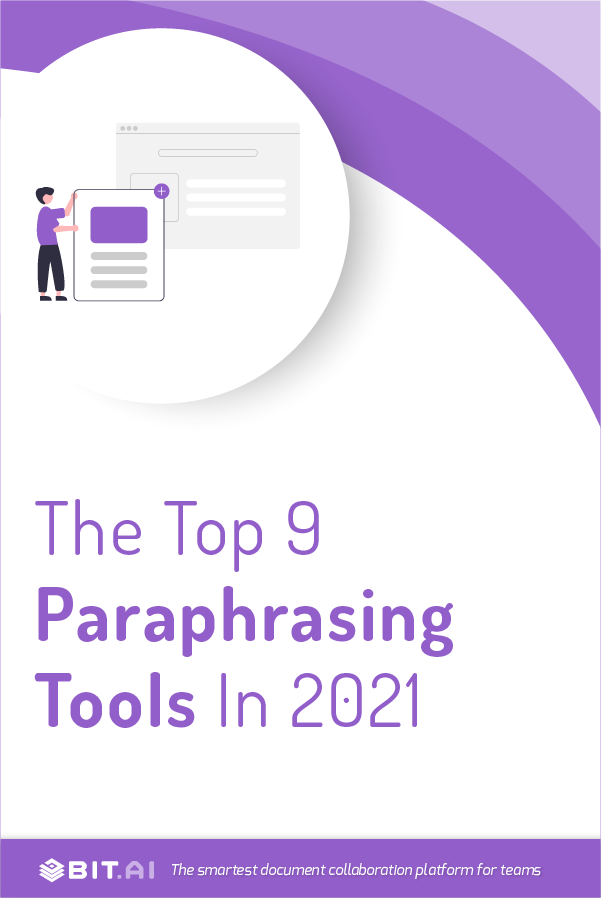 Related posts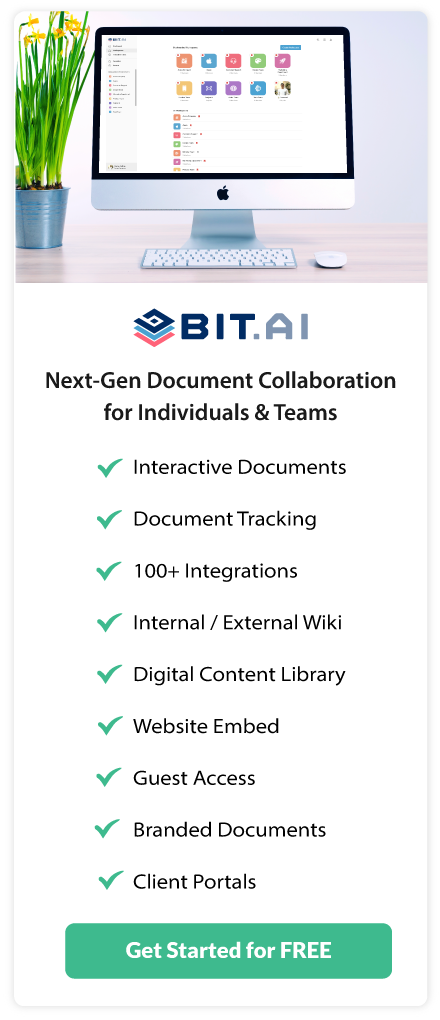 About Bit.ai
Bit.ai is the essential next-gen workplace and document collaboration platform. that helps teams share knowledge by connecting any type of digital content. With this intuitive, cloud-based solution, anyone can work visually and collaborate in real-time while creating internal notes, team projects, knowledge bases, client-facing content, and more.
The smartest online Google Docs and Word alternative, Bit.ai is used in over 100 countries by professionals everywhere, from IT teams creating internal documentation and knowledge bases, to sales and marketing teams sharing client materials and client portals.
👉👉Click Here to Check out Bit.ai.