A lot of effort and energy goes into writing content of any sort.
If you're an employee, writing reports and tasks could be a part of your day. If you're a student, you might be writing projects or assignments.
And, grammatical errors or spelling mistakes in your work can make that entire hard work go to the drain!
They not only ruin the quality of your work but also set a very bad impression on the reader. Not just this, the text on your social media profile, e-mails, or even a professional text message should always be error-free.
In a study of 100 LinkedIn profiles, it was found that people who always write error-free content rank higher than those who overlook it.
However, proofreading every line after you finish writing is excruciating. you might miss a simple colon or exclamation mark. This is why grammar check tools are used by one and all.
And, one of the most popular ones is Grammarly.
With around 55.50 million monthly visits and 6.9 million daily users, Grammarly is one of the most popular grammar and plagiarism tools.
Grammarly comes as a web-based version and extension compatible with all popular browsers like Chrome, Safari, Firefox, etc.
However, there are many reasons one might look for an alternative to Grammarly. Let's explore some of them.
Why Look for a Grammarly Alternative?
People who have used Grammarly for a long time have faced problems like:
You get access to very limited features in the free version.
Grammarly is not compatible with every application.
The premium version starts from $29 per month and it is not efficient for some people to pay that amount just to check grammar and spelling in their text.
Authors and long-form content writers face difficulty in checking plagiarism because of the restricted word count on the tool even after paying for the premium version!
Do you see why we need to look for Grammarly alternatives now?
In this article, we have compiled a list of the 11 best alternatives of Grammarly to best suit your needs!

Ready to write better? Let's get into it.
List of 11 Amazing Grammarly Alternatives and Competitors

This is by far the best alternative to Grammarly in the market. ProWritingAid facilitates editing, grammar and spell check, plagiarism check, and even style editing.
The 'style editing' feature is great for companies that want a consistent tone of writing. Simply enter the tone you want to write in and Prowriting Aid will edit and suggest sentences according to that.
Unlike Grammarly that has a word limit for checking plagiarism, ProWritingAid checks books, and long-form content at once. Thus, it is a suitable choice for authors.
Some other key features of the tool include:
In-depth analysis of your work with 20+ types of reports.

Integrated with popular platforms such as MS-Word, Google Docs, Scrivener, Apache Open Office, etc.

Thesaurus reports show better alternatives to words allowing you to explore and choose what's best.
Help detects repetitive words, readability, grammatical errors, and much more.
Pricing:
It has a free plan with limited features and the pro plan starts from 60$ a year.
Cons:
The ProWritingAid extension can be used only on Chrome browsers. It does not support Safari, Firefox, and iOS.
There is no monthly plan. Thus, the pricing might look high for small-scale writers and bloggers.
Read more: 9 Essential Writing Tips Every Writer Must Use!

White Smoke is a fully integrated writing tool that makes sure your work is free of all sorts of errors. It detects the tone of your text, corrects grammar, sentence formation issues, spelling, and punctuation.
It uses AI with natural language processing to analyze text and suggest the best possible solutions.
It has a personal dictionary and is comparatively than other grammar tools.
Some other key features of White Smoke include:
White Smoke not only detects errors but also provides additional information on the errors. This helps you not repeat that mistake in the future.
It redesigned its entire layout with dozens of content updates and tested user experience.
100+ pre-designed templates for resumes, thank you letters, condolences, cover letters, and more.
Supports 55 languages and uses Statistical Machine Translations (SMT) to translate and provide suggestions.
Checks 16+ kinds of sentence structures including dangling modifiers, run-on sentences, fragments, etc.
Pricing:
White Smoke Chrome Extension – $4.16 per month

White Smoke Web- $5 per month (billed yearly)

Premium- $6.66 per month (billed yearly)

Business- $11.50 (Billed yearly)
Cons:
You have to copy-paste documents in White Smoke. It does not allow uploading docs.
You have to pay to use the Chrome extension.
A little slower than Grammarly.

Writer.com is an amazing alternative to Grammarly Business and is great for teams and organizations. It uses AI-powered style guides to bring accuracy and consistency to your text tone.
Conglomerates like 'Bill.com' and 'Marriot International' use this tool for their content.
Writer.com provides accurate grammatical suggestions and insightful suggestions on errors. You can insert custom brand abbreviations and this tool will expand it in your text.
Some other key features of Writer include:
Equipped with custom brand style guides with the ability to store 200+ terms.
It has a strong plagiarism checker that provides source links.
It is integrated with Chrome, Word, and Google Docs.
Easy to use and highly collaborative.
Pricing:
It does not have a free version. The price per month for all the features is $11. However, you can use the grammar check feature for free.
Cons:
Does not have a desktop or mobile application.
No free version, thus many people might hesitate to use it.

Created in 2007, Ginger is one of the most promising Grammarly alternatives in the industry.
It is an Israeli start-up that uses AI to maintain accuracy in your text and natural language processors to detect and translate 60+ languages.
With a personal dictionary and customizable dashboard, Ginger lets you create unique and error-free text.
It comes as a mobile application, desktop application, and web-based mode. You can sync multiple devices and view, edit and create documents from wherever you want.
Some other key features of Ginger include:
Real-time editing with word suggestions, punctuations, and spell check
Ginger has a text-to-speech feature allowing you to listen to your text, check for tone, flow, speed, and eliminate passive voice.
It translates

60+ languages

in its free version. Thus, Ginger is great for people writing in multiple languages.
It even facilitates grammar lessons to help you get a better hold of English!
Ginger identifies wrongly framed sentences and rearranges them in a better, more readable manner.
Comes with a powerful Chrome extension.
Pricing:
The pricing for Ginger is very flexible. It offers a limited-time free version along with three premium versions.
Monthly- $20.97

Annual- $7.49

2 years- $7.66
Cons:
Does not work on Google docs.
Premium plans are costlier than other tools. However, Ginger offers a 7 day 100% money-back guarantee upon dissatisfaction.
Read more: 10 Writing Tools that are Essential for a Writer

Hemingway is a fast and efficient tool that largely focuses on creating texts with easy readability.
It is sort of different than the other tools in the list as it simplifies your writing instead of correcting it.
The tool highlights lengthy, complex sentences with yellow color and suggests shorter, easier alternatives to them. If you see red highlights, that means the sentence is too dense and your reader will get lost in deciphering its meaning.
Similarly, the color green and blue show passive voice and weak sentences respectively. It means you have to get rid of them.
Hemingway Editor is an ideal tool for writers to create optimized content. Additionally, it allows them to directly post on WordPress and Medium to save time.
Some other key features of Hemingway include:
It has a clean and easy-to-use interface.
Unlike other editors, you can work on Hemingway in offline mode as well.
Pricing:
The web server is free to use. To use the desktop application there is a one-time payment of $19.99.
Cons:
Lack of grammar and spell-check makes it a secondary tool.
Unable to work with complex data.

As the name suggests, this tool mentors you in the entire process of writing content.
Virtual Writing Tutor checks your grammatical errors, spelling mistakes, punctuation flaws, paraphrasing hiccups, and vocabulary pitfalls.
Not just yours, this tool mentors teachers as well. It offers free proofreading training as well as the ability to assign tasks to students right from the tool itself.
It also has a target structure checker to help writers instantly improve sentence formation.
Some other key features of a Virtual Writing Tutor include:
Suggests a two-pronged approach for editing i.e first run it through proofreading software and then come to this tool.
It is completely free of cost and great for newbie writers.
The customer support of the tool is good, according to reviews.
It supports British, American, and Canadian English.
Pricing:
Free of cost for all features.
Cons:
Cant check the writing style.
Not accessible on android.

Paper Rater is a tool designed to keep a student's needs in mind. It provides fast and efficient proofreading of any assignment or paper you need to submit.
It checks spelling mistakes, grammatical errors and gives useful suggestions for improving word choice and sentence formation.
Paper Rater focuses on creating error-free, and optimized content. It also has style guides to enhance the quality of your content and maintain overall consistency.
Some other key features of Paper Rater include:
In-house, free-to-use plagiarism checker tool.
Offers valuable feedback on detecting errors. It even prepares a letter grader for different elements of writing.
Detects passive voice and suggests active alternatives.
Pricing:
It has a free version with limited features. The premium plan starts at $14.95 per month and $95.40 annually.
Cons:
The plagiarism check tool has a maximum of 5-page submissions in the free version.
Takes some time to analyze the text.
8. Slick Write

Slick Write is an amazing free-of-cost tool that edits and proofreads your work.
It checks the readability, use of adverbs, reading time, and structural flow of your content along with basic spelling and grammar checks.
With a beginner-friendly interface, it highlights different types of errors with colors. When you click on a certain color, it will tell you the error it has, explain the reasons for future improvement, and suggest alternatives to use.
Because it is free to use, it is great for budget writers and students.
Some other key features of Slick Write include:
Can be used as a plugin for WordPress, Open Office, and

LibreOffice

.
The extension is available for Chrome and Firefox.
The associator feature suggests a list of associated words for every chosen word.
Pricing:
Free to use.
Cons:
No plag check tool included.
Only available as a web-based version.

Best known for its language translator, Reverso is the brainchild of the Ginger software, mentioned earlier in this article.
Like other tools, it also has the basic features of spell and grammar check.
However, it does have many unique features such as a comprehensive resource library to store all your data and a personal dictionary to add custom words and abbreviations.
Some other key features of Reverso include:
Helps eliminate repetition by suggesting synonyms and conjugations.
Online translation and grammar checking for 14+ languages including German, Italian, Spanish, Russian, etc.
Works in offline mode as well.
Shows flashcards to memorize new words and lets you share the feedback of your work with other people.
Pricing:
Reverso is free to use with all the enlisted features. However, if you have specific demand, you can pitch it to them and you'll receive a price quotation.
Read more: 10 Best Writing Apps To Make You A Better Writer!

1Checker was created by a team from Cambridge University to help non-native English speakers write correct English.
Thus, it focuses on correcting common errors a non-native person might make, such as the wrong usage of articles, prepositions, pronouns, and sub-verb agreement.
It also corrects words that might be confusing to newbie English speakers such as homophones.
Some other key features of 1Checker include:
Uses AI and natural language processing technology to edit your work efficiently.
Available as a plugin for Word and Outlook.
It has a downloadable version for Windows, Mac, and

iOS.

Provides an overview of your errors with color highlights, and suggestions for improvement.
Pricing:
Free to use.
Cons:
Does not have a style guide to maintain consistency of the text.
Misses errors like passive voice and proper nouns sometimes.

Last but not the least, LanguageTool is a comprehensive editor with a plethora of features.
It proofreads your work in 20+ languages and provides insightful details on errors.
LanguageTool comes as a desktop version for offline use and plugins for Firefox, Chrome, Google Docs, Microsoft Word, and Libre Office.
The extension checks your work wherever you're writing.
Some other key features of Language Tool include:
Simple analysis with colored errors for easy correction.
Provide keyboard shortcuts for users to work faster.
Has a personal dictionary.
Pricing:
It is free to use up to 20,000 characters. The premium version starts at $4.92 per month or $59 a year.
Cons:
Do not check punctuations.
A plagiarism checker is not available.
Conclusion
As you can see, there are many alternatives to Grammarly.
Some have enhanced features such as language detection, while some are inexpensive.
It is important for you to pick an effective editing software for daily use as it saves a lot of editing time and enhances the quality of your work!
Out of the ones we shared with you above, which tool will you consider using?
Do let us know by tagging @bit_docs on Twitter!
Further reads:
12 Best Student Tools for Better Learning in 2022
11 Best Free Plagiarism Checker for Writers!
Best Journal and Diary Apps for Making Notes!
10 Best Apps for Writing a Book
9 Best Paraphrasing Tools for Writers! (Free & Paid)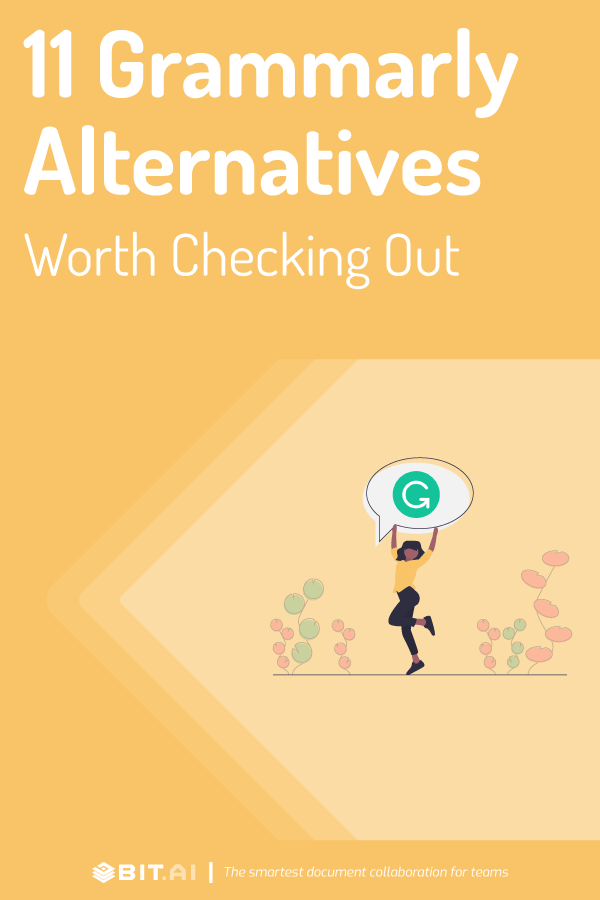 Related posts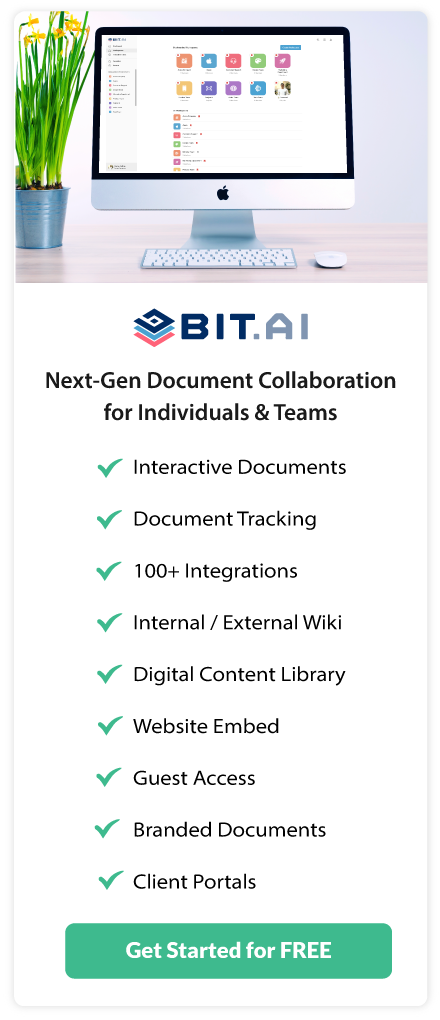 About Bit.ai
Bit.ai is the essential next-gen workplace and document collaboration platform. that helps teams share knowledge by connecting any type of digital content. With this intuitive, cloud-based solution, anyone can work visually and collaborate in real-time while creating internal notes, team projects, knowledge bases, client-facing content, and more.
The smartest online Google Docs and Word alternative, Bit.ai is used in over 100 countries by professionals everywhere, from IT teams creating internal documentation and knowledge bases, to sales and marketing teams sharing client materials and client portals.
👉👉Click Here to Check out Bit.ai.