With the recent outbreak of the Coronavirus or COVID-19, remote work has seen a tremendous rise in popularity.
While businesses asked their employees to work from home to protect themselves from the pandemic, they are quickly realizing the upside of remote working.
It's safe to say that this trend towards remote work is not going to end soon and is only a matter of time before it becomes the norm.
The "office" as we know it is quickly becoming a thing of the past.
There has been a lot of research done on the state of remote work and its future.
As we transition from an in-office environment to remote work, it's important to understand where we stand currently and where are we headed.
To better recognize the impact of remote work on the workplace and predict its future, we have gathered a list of some amazing remote work statistics for you.
To make it easier for you to scan, we have also divided these stats into 5 different categories.
General Remote Work Statistics
1. 5 million employees (3.6% of the U.S. employee workforce) currently work-at-home half-time or more. (Global Workplace Analytics)
According to 2018 American Community Service (ACS) data, around 5 million employees are working remotely in the United States alone.
This makes up over 3.2% of the entire US workforce.
According to the same report, regular work-at-home has grown 173% since 2005, 11% faster than the rest of the workforce (which grew 15%) and nearly 47x faster than the self-employed population.
Clearly, work from home is on the upward slope.

2. The number of people who work from home has increased by 140% since 2005. (Global Workplace Analytics)
As technology has evolved in the last decade, so has the trend for remote work.
Any task that requires a laptop and an internet connection can be done from anywhere in the world.
The same report also shows that full-time employees are about 4 times more likely to be offered remote work than part-timers.
As full-time employees are more likely to know the ins-and-outs of the work, they can easily transition to remote work as compared to part-timers.
Read more: Combating Social Isolation in Remote Working
3. Around the world, 44% of companies don't allow remote work at all. (Owl Labs)
Even though the world has started to realize the importance and benefits of remote work, almost half the companies out there don't offer remote work at all.
We have a feeling that this statistic will quickly change in the coming years as major companies start adopting remote work and lure in top talent from around the world.
4. 30% of people report working remotely full-time, 18% work remotely one to three times per week. (Owl Labs)
People work remotely at different frequencies- alternating their time at home and at the office.
54% of respondents work remotely at least once per month, 48% work remotely at least once per week, while 30% work remotely full-time.
5. Small companies are twice as likely to hire full-time remote workers. (Owl Labs)
Remote workers cost a lot less than in-office employees as companies don't have to buy office space, pay internet/electricity bills, or buy desks and chairs for their employees.
Since small companies often operate under a tight budget, they are more likely to hire remote workers to save money.
6. 16% of companies exclusively hire remote workers. (Owl Labs)
Some companies are more into the remote lifestyle than others.
Around 16% of the global companies hire remote employees exclusively and operate without an office space.
While some companies can make this work, it's not the right approach for a majority of companies out there.
For most, a hybrid approach (hiring both in-office and remote employees) is more feasible.
7. By 2028, 73% of all departments will have remote workers. (Upwork)
Millennials and Gen Z workers make up about 38% of the workforce, a number that is going to rise to 58% by 2028.
Since Gen Z and Millennials are more likely to adopt remote work because of their proximity to technology, it's no surprise that by 2028, 73% of all departments will have remote workers.
Perks of Working Remote Statistics
1. 83% of survey respondents agree that the ability to work remotely would make them happier. (Owl Labs)
What's more important than your employee's happiness?
When employees are happy with their jobs, they are more likely to do it sincerely and with utmost dedication.
Managers need to get on board with the idea of remote work as employees clearly want it.
2. 75% of people who work remotely do so because there are fewer distractions. (FlexJobs)
A 2018 FelxJobs survey shows that majority of the people want to work from home to improve their concentration and reduce distractions.
A whopping 74% of respondents said they work remotely to get away from colleague interruptions.
Moreover, the typical office-chatter causes a ton of noise and distractions, as noted by 60% of survey respondents.
Reduced stress from commuting (70%) and minimal office politics (64%) are other notable factors that contribute to higher employee productivity while working remotely.
3. Businesses would save an average of $11,000 annually for each half-time telecommuter. (Global Workplace Analytics)
Remote work not only helps employees but the business as well.
Factors such as improved productivity, reduced office costs, reduced absenteeism, and lower turnover- all lead to a ton of monetary savings for a business.
The report also found that part-time employees could net an average of $3,000 per person per year based on lower costs for transportation, meals, and work clothes.
4. 86% of people feel that working remotely reduces stress. (FlexJobs)
A staggering 77 percent of respondents say they have experienced employee burnout at their current job, with more than half citing more than one occurrence.
Moreover, 91 percent of respondents say having an unmanageable amount of stress or frustration negatively impacts the quality of their work.
Managing employee stress and avoiding burnout should be the top-most priority of every employer.
Remote work solves this problem as more than 86% of people feel remote work helps remove stress.
Furthermore, 77% of employees believe remote work enhances general health because it allows for a better diet, exercise routine, and a usually healthier lifestyle.
Read more: Work From Home Policy: What is it and How to Write One?
5. 40% of people feel that the greatest benefit of remote work is the flexible schedule. (Buffer)
Having the ability to set their own work schedule is the primary reason why people love working remotely.
Squeezing in an early-morning workout session instead of commuting, catching up with friends during lunch, or walking the dog in the evening – people like having the flexibility to work and take breaks according to their needs.
According to the same report, employees also enjoy the fact they can work from any location (30%), spend time with their family (14%), or work from home (13%).
6. 21% of workers would give up some of their vacation time to get flexible working options. (FlexJobs)
The chance of getting a flexible working environment is so alluring to employees that nearly 21% are willing to give up their vacation time to attain it, according to a Felxjobs survey.
Moreover, 28% of employees said they would take a 10% to 20% cut in pay while 16% said they would give up employer-matching retirement contributions.
7. 32% of remote workers who have unlimited vacation options only take two or three weeks off per year. (Buffer)
Even if companies offer unlimited vacation benefits, nearly half (43%) of all remote workers actually opt for just two or three weeks of vacation a year.
Moreover, 20% of remote workers took between no vacation and one week per year.
Since remote workers can set their own schedules in most cases, they don't find the need to take an off even when they are traveling.
This is the reason why remote workers take less time off and are more productive than their in-office counterparts.
Statistics of The Challenges When Working Remote
1. The biggest problem for 22% of remote workers is unplugging after work. (Buffer)
While most employees crave the flexibility of remote work, some have a hard time separating their work and personal time.
Moreover, 19% of employees feel lonely while working remotely and another 17% believe that remote work does not allow normal communication and collaboration with coworkers.
2. 38% of remote employees received no training on how to work remotely. (Owl Labs)
Training is an integral part of the workplace as it helps employees do their jobs effectively. Sadly, 38% of remote employees received no training on how to work remotely. Moreover, 15% of remote managers say they didn't receive any training as well.
3. 82% of remote employee managers are most concerned about reduced employee productivity. (Owl Labs)
A common counter-argument for the application of remote work is that employees won't get work done as productively.
Since managers cannot see who's working and who isn't, the level of trust is compromised.
Apart from employee productivity, reduced employee focus (82%), lower employee engagement and satisfaction (81%), and whether their remote employees are getting their work done (80%) are the topmost concerns of remote employee managers.
#4. 74% of workers would quit their job if offered more flexible options elsewhere. (TechRepublic)
That's right!
A whopping 74% of employees are willing to quit their job for the one that offers them more flexibility.
This is why employers who offer remote work options have lower turnover rates than those who don't.
Final Words
As you can see from the stats above, remote work's meteoric rise cannot be ignored.
With the benefits it offers to both the employees and their employers, it's foolish not to consider remote work as a viable option for your business.
So, what are your thoughts on remote work? Do you think remote work is the future of work?
Do let us know by tweeting us @bit_docs.
Cheers!
Further reads: 
Remote Collaboration Guide & Tools For Distributed Team
Focus at Work with the Help of These 11 Effective Ways!
Remote Tools to Help Counter Coronavirus Pandemic
What is Digital Workplace and Its Impact on the Future of Remote Work
8 Key Benefits of Virtual Teams for Your Company!
9 Virtual Team Building Games for Remote Employees!
12 Must-Have SaaS Tools for Remote Teams!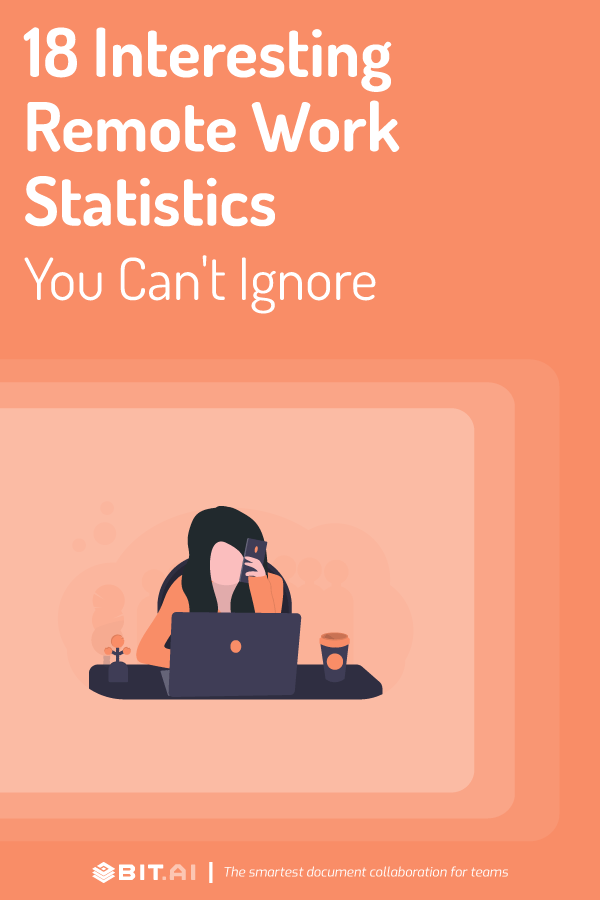 Related posts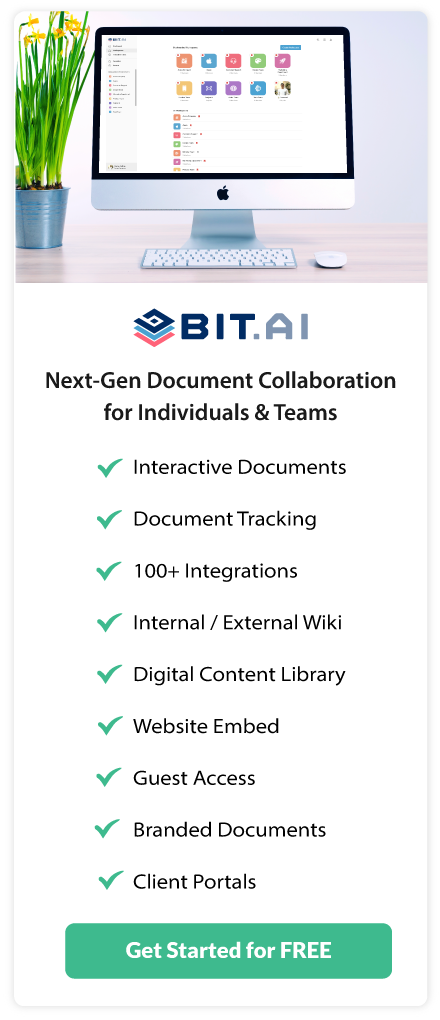 About Bit.ai
Bit.ai is the essential next-gen workplace and document collaboration platform. that helps teams share knowledge by connecting any type of digital content. With this intuitive, cloud-based solution, anyone can work visually and collaborate in real-time while creating internal notes, team projects, knowledge bases, client-facing content, and more.
The smartest online Google Docs and Word alternative, Bit.ai is used in over 100 countries by professionals everywhere, from IT teams creating internal documentation and knowledge bases, to sales and marketing teams sharing client materials and client portals.
👉👉Click Here to Check out Bit.ai.