Thanks to technology, there are now numerous ways of producing and distributing digital learning content for teaching and training purposes. Commonly known as authoring tools, these software help users create multi-media-rich digital and e-learning content.
However, finding the right tool from a plethora of tools out there is a chore. In this blog post, we have made this easier for you by picking the best authoring tools out there and compiling them in an awesome list. Read on…
List of Best Authoring Tools You Must Check Out:
An authoring tool can be as simple as a document editor or as complex as graphic design or video editing software. The main job of an authoring tool is to allow fast and efficient creation of content to promote better training and learning. Here are our picks for the best authoring tools in 2020:
Adobe Captivate
Bit.ai
Lectora
Elucidat
DominKnow
Brainshark
Easygenerator
iSpring
Gomo
Articulate Storyline

The first authoring tool on our list is Adobe Captivate. Available for both Mac and Windows, Captivate is one of the most powerful tools on our list.
Perfect for experienced authors, Captivate does have a steep learning curve and requires getting used to before one can smoothly operate the software.
Authors can quickstart their courses using various themes available and customize slides using slide masters and different color palettes. With fluid boxes, authors can create responsive designs for laptops, PC, and smartphones. With built-in screen recording, creating learning courses has never been easier.
Other amazing features include automated branching by copying the appearance and style of one object to another. Users can also edit SVGs and convert them to buttons, play overlay videos, and add multiple overlay slides at any point in their video. The platform supports a wide range of formats like HTML5, SCORM, AICC, xAPI (TinCan), and more.
Some cool features of Adobe Captivate
Convert existing PowerPoint content to interactive videos
Create virtual tours, safety drills, and cool VR videos for enhanced learning
Simultaneously record webcam and on-screen content.
Pricing:
Free trial available
Paid plans start from: Subscription ($33.99/month), Perpetual License Price ($1299), Student & Teacher Edition ($399), Upgrade price ($499)
Read more: Top 10 Screen Recording Software and Tools that are Highly Advanced!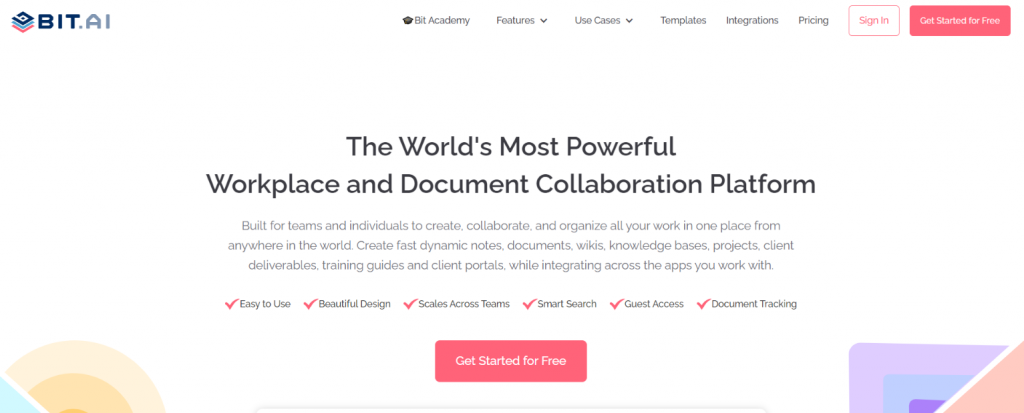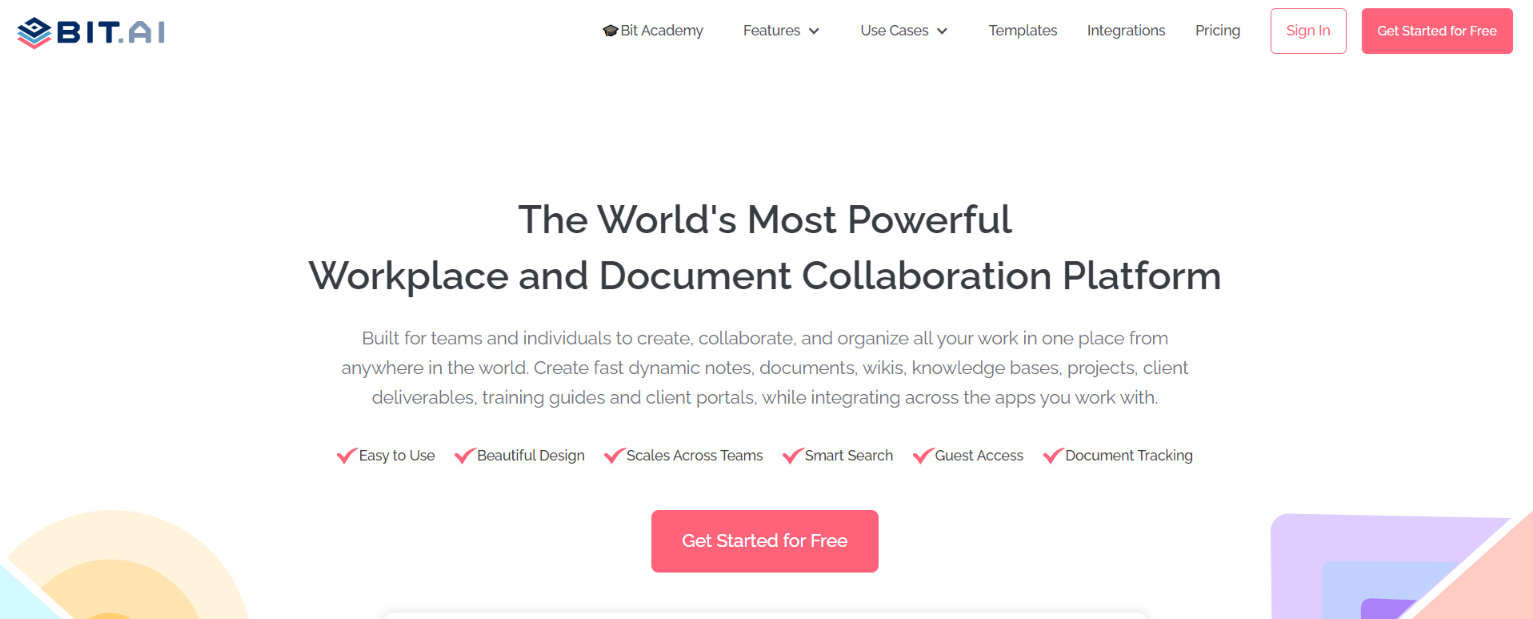 Bit is an amazing writing and collaboration platform for anyone looking to create amazing content collaboratively. A better alternative to old-age editors like Word and Google Docs, Bit is a much more simple and yet, powerful writing and authoring tool.
Bit's smart, minimal editor is perfect for distraction-free writing. No more word-styled ribbon with complex tabs and buttons. Just start typing on a clean canvas and you're good to go. If you need to format the text, just highlight the word/sentence/paragraph and you're presented with a hidden set of formatting tools!

Invite peers or friends inside your document and get their suggestions and feedback while chatting with them with in-built chat. The tool also supports Markdown for blazing-fast typing.
Some cool features of Bit:
Media-rich content: Bit.ai integrates with over 100+ web applications (Ex: YouTube, PDFs, LucidChart, Google Drive, etc.) to help you create media-rich and interactive e-learning content.
Workspaces and folders: Bit brings all your documents in one place by helping you organize them in workspaces and folders.
Real-time collaboration: Collaborate with your peers in real-time using @mentions and highlight features as every document comes with its separate comment stream. You can also ping collaborators to notify them of any changes.
Content Management: Bit has a content library where you can store and share media assets like images, files, videos, PDFs, and more.
Smart search: Robust search allows anyone to find information quickly. You can search for folders, files, documents, and content inside your documents across all of your workspaces.
Templates: Bit has a number of amazing templates that cut your work in half and help you kickstart your work quickly.
Other features: Version history, Document tracking, lead capture, and more.
Pricing: 
Free with limited functionality
Paid plans start from: Standard ($12/month), Plus ($20/month), Enterprise (contact sales).
Read more: 6 Awesome Video Presentation Software and Tips to Follow!


Some of the world's largest organizations prefer Lectora as it is compliant with the latest requirements and Web Content Accessibility Guidelines (WCAG). Been around a long time, Lectora has made some changes to its offerings recently with Lectora online, their cloud-based HTML5 version of the authoring tool.
There are many pre-built templates to kickstart your work but you still have to be a somewhat experienced designer to get around Lectora. Users can quickly design, publish, and deliver courses across multiple platforms and mobile devices easily with this platform.
You can use Lectora with any LMS (Learning Management System) as the tool supports HTML5, AICC, SCORM, xAPI, and cmi5. Users can also directly publish their courses to Healthstream, CourseMill, Docebo, SABA, and any PENS-enabled LMS such as SCORM Cloud.
Some cool features of Lectora
Write your own scripts or import custom libraries, CSS, and fonts
Add question banks, quizzes, and more to make your content interactive.
Collaborative authoring, version control, multiple entries, and more.
Pricing:
Free trial available
Paid plans start from Silver suite ($899/year), Gold suite ($1299/year), Platinum suite ($1599/year).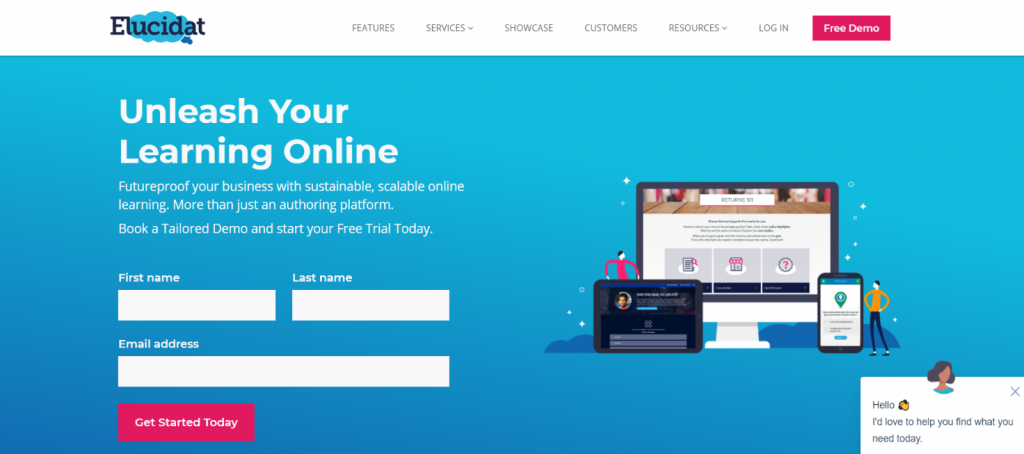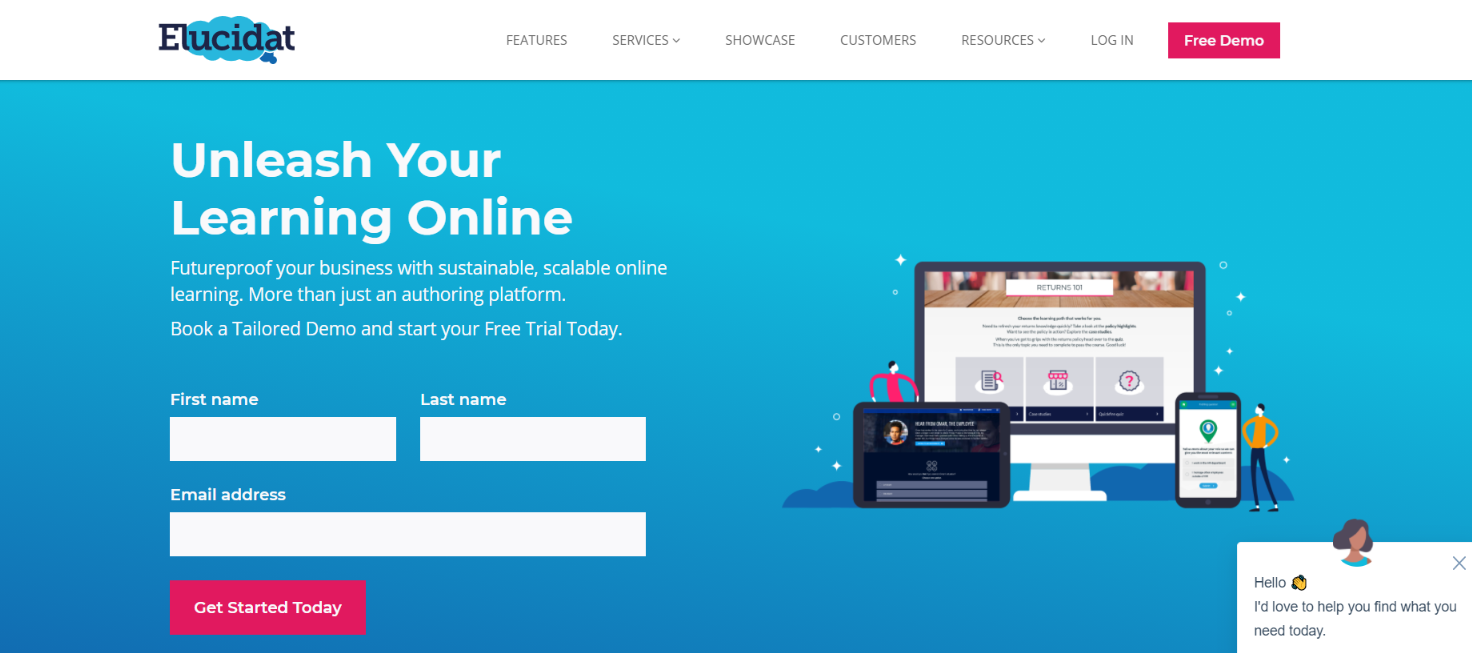 With a cloud-based solution, Elucidat offers scalable and sustainable online learning. With tons of pre-built templates, even newbie authors can create interactive content quickly. For those looking for more customizable options, the "layout designer" allows them to build their own pages without needing to code.
Elucidat is a pretty flexible tool, offering varying rules and branching options to help authors build complex and personalized workflows. Add social polling, gamification, and other amazing feature to engage learners. You can invite SMEs to produce training directly in Elucidat with its customizable user roles and permissions options.
Elucidat also supports collaboration as authors can review projects collaboratively online and cut the back and forth emailing and meetings. Manage multi-media, images, captions, and more and only give access to people inside your organization. Users can also update multiple courses at once and keep their content current.
Some cool features of Elucidat
Start your courses via web-link or on any SCORM-compliant LMS
The WYSIWYG editor makes it easy to build and save custom page templates.
Add fonts, CSS, logo, colors, and more.
Pricing:
Free trial available
Paid plans start from: Contact sales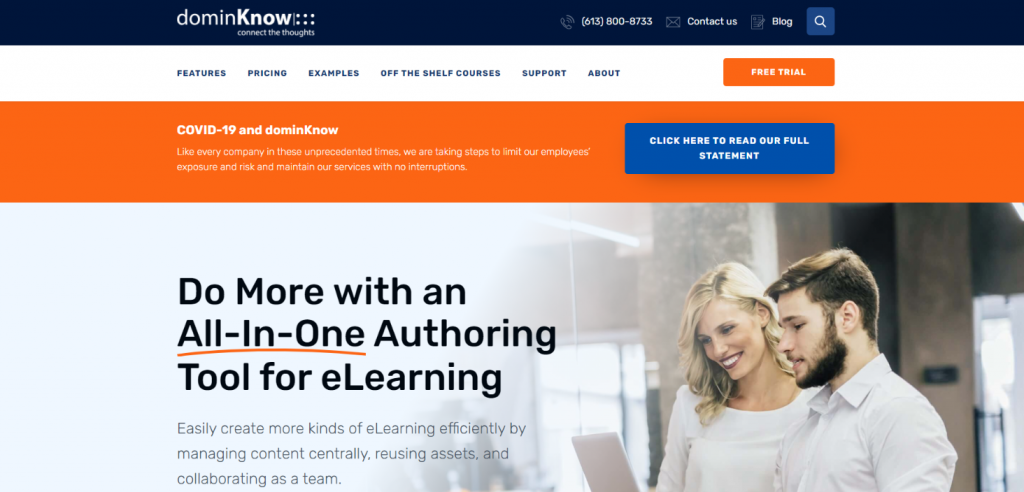 DominKnow is an all-in-one authoring tool, allowing authors to collaborate, create amazing content, manage and reuse assets- all from one dashboard. With beautiful templates and customizable workflows, authors can quickly create simulations and content.
With built-in accessibility options, authors can build content that meets everyone's needs. Dominknow is highly responsive, allowing authors to create HTML5 mobile-friendly content. You can publish your content as SCORM, xAPI, AICC, Web, or Print and use PENS for one-click uploading into your LMS.
With built-in content management, you can save a ton of time by sharing and reusing content directly from the content library. Dominknow supports section 508, WCAG 2 Level AA, and WAI-ARIA compliance, ensuring your content is in the right hands.
Some cool features of Dominknow
Translate and localize content easily
Cloud-based Learning Content Management System
Track projects and progress
Pricing:
Free trial available
Paid plans start from: Solo ($997 per user/), Team ($1497 per user/year), Business ($2497 per user/year)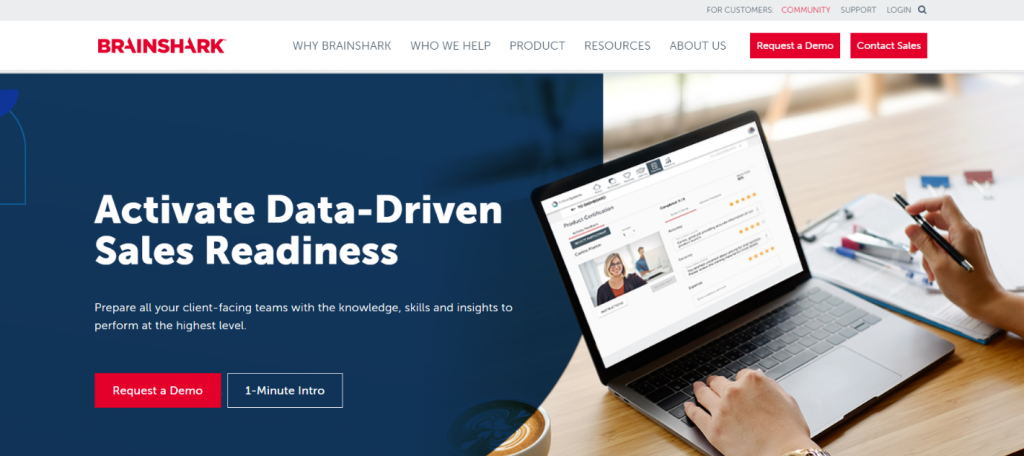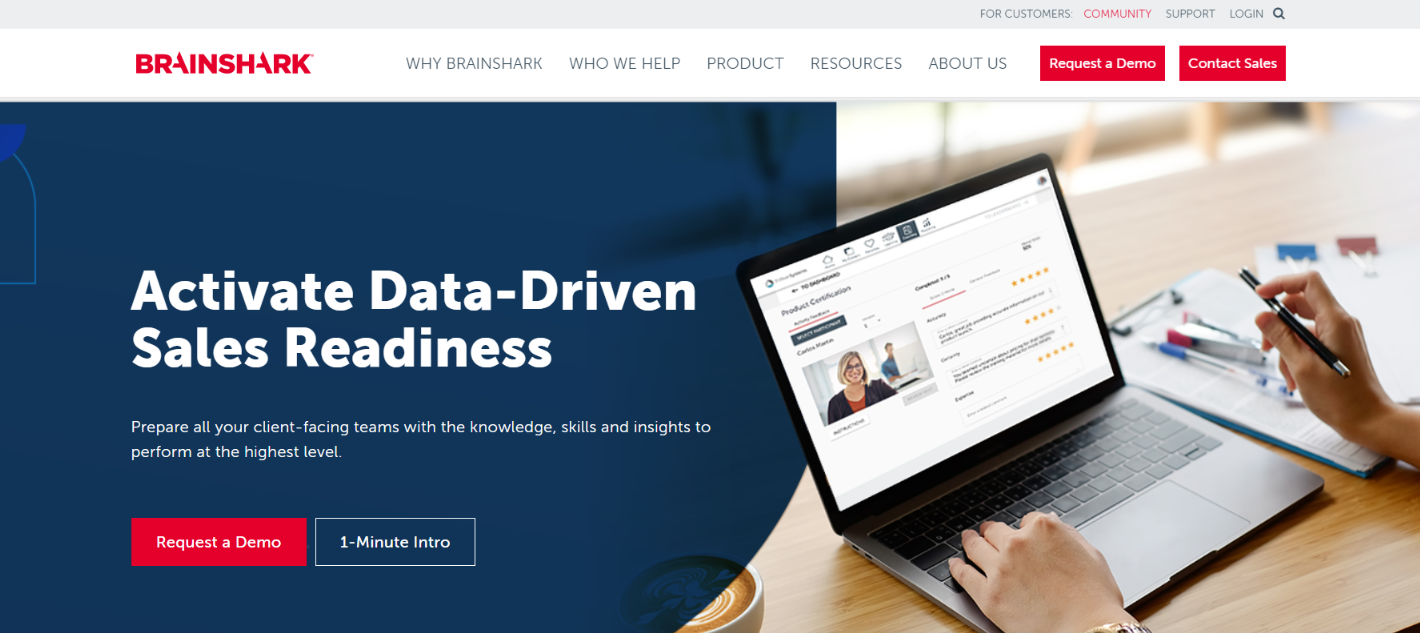 If you need an authoring tool especially for your sales team, Brainmshark is the tool for you. A sales enablement platform, Brainshark has built-in content authoring for corporate training, knowledge sharing, and internal communications.
Quickly create video training content by transforming existing PDFs, PowerPoints, web pages, and other assets, adding audio on top, and creating interactive video content for sales teams. With analytics and sales dashboards, users can see the effectiveness of their content and track your team's "readiness".
With built-in collaboration, teammates can share their knowledge and insights regarding training content easily, without being trained in instructional design. Brainshark promotes both content authoring and LMS hosting and supports HTML5, SCORM 1.2/2004, Web, and Offline modes.
Some cool features of Brainshark
Tracking and analytics
Video editing and templates
Catered towards sales teams
Pricing:
Free trial available
Paid plans start from: Contact sales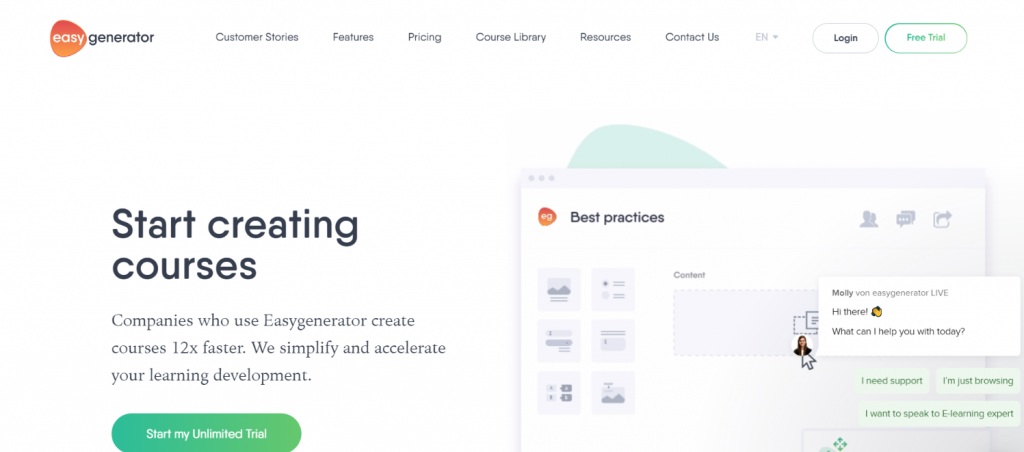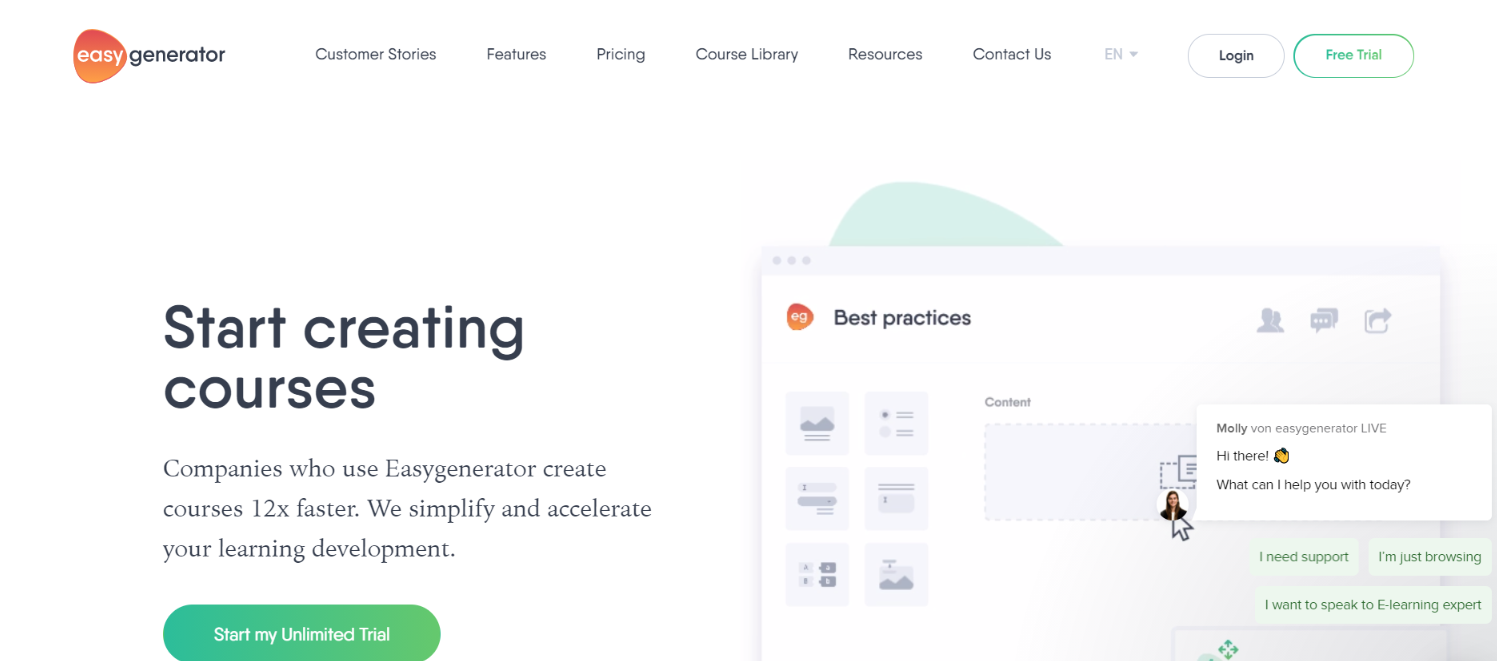 As the name suggests, Easygenerator is an easy to use content authoring tool used by over 50,000 users worldwide. With a drag and drop editor, users can use pre-designed content blocks for video, audio, and up to 11 types of questions to make their content interactive and fun.
Easygenerator is compatible with every industry standard LMS such as SCORM, xAPI (TinCan), and LTI, providing much-needed flexibility to publish content anywhere you want. Once you are done creating your course, you can track learner's performance and see how they are doing.
Need a co-author? Easygenerator has amazing collaboration features allowing authors to keep each other up to date by sending messages within the app. They can also get their feedback and suggestions with comments within the platform for effective collaboration without depending upon email.
Some cool features of Easygenerator
Personal onboarding with a success manager
Customize the look and feel of the tool according to your brand
Collaborate with co-authors via chat and comments
Pricing:
Free trial available
Paid plans start from: Pro ($99/month), Team ($413/month), Enterprise (contact sales)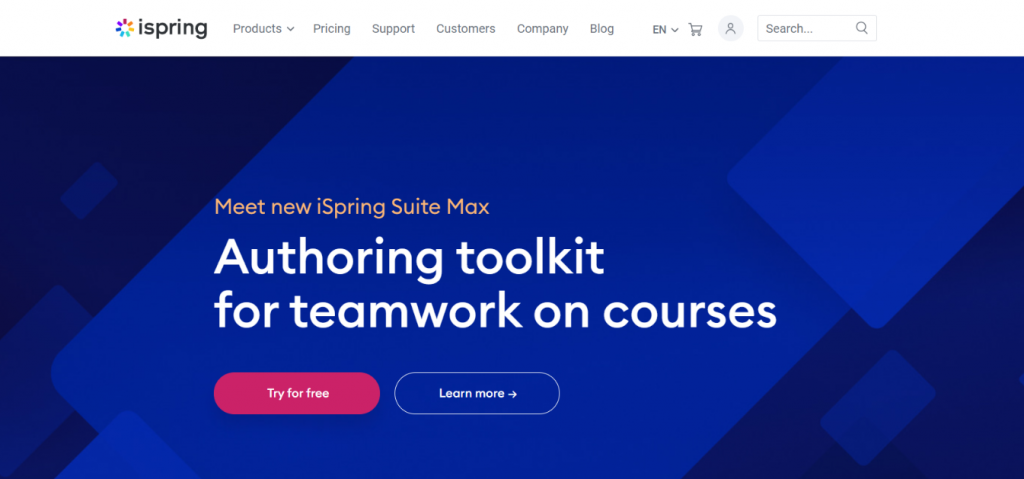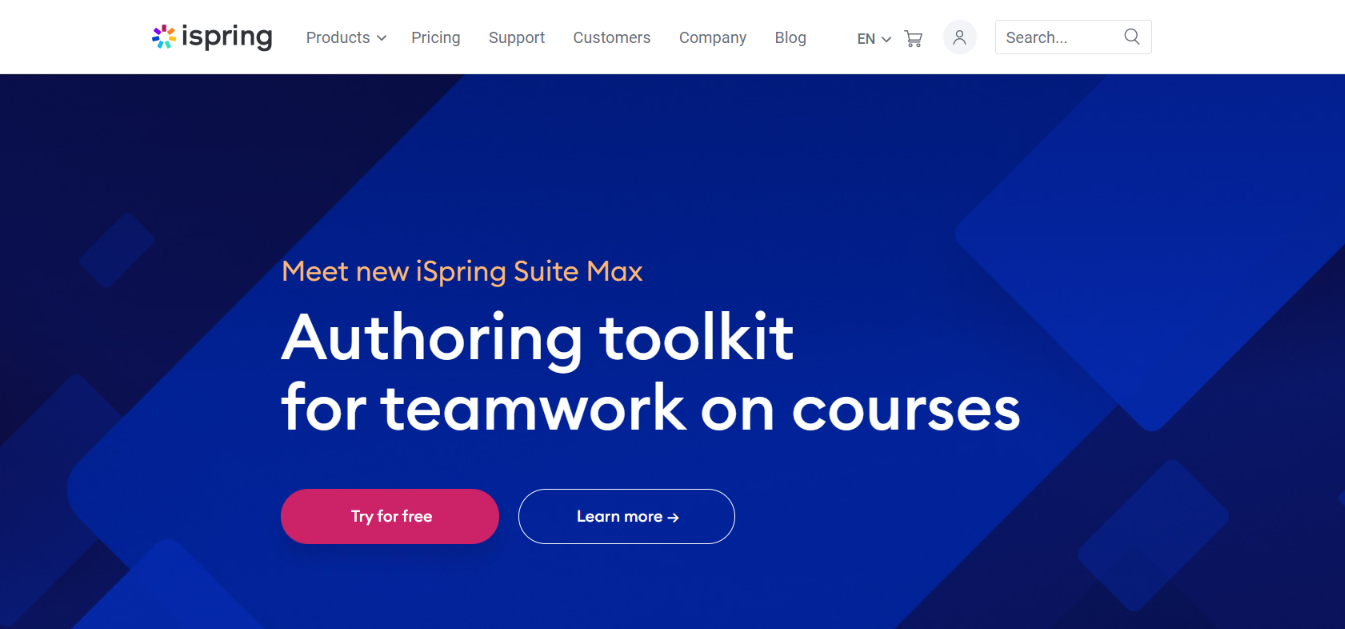 A PowerPoint-based authoring toolkit, iSpring is next up on our list of amazing authoring tools. Create quizzes, courses, slideshows, dialog simulations, screencasts, video lectures, and other multimedia courses with this awesome tool. The tool is easy to learn with a relatively low learning curve compared to some of the other tools on this list.
iSpring supports over 68,000+ eLearning assets, templates, and characters to help you build your courses quicker. Need help? Use iSpace spaces to bring your team under one roof and create content collaboratively. Simply start with a PowerPoint, add a video narration, insert a quiz, add a video screencast, and upload your course to your favorite LMS in one click.
The platform supports 14 ready-to-go question templates from multiple-choice to matching, drag-and-drop, sequencing, and more. Moreover, you can add branching scenarios and feedback slides to help reinforce knowledge.
Some cool features of iSpring
Record video lectures, software simulations, and other interactive content
Randomize questions and answers and make it cheat-proof
450 slide templates, 65,000 character images, 1020 location images, etc.
Pricing:
Free trial available
Paid plans start from: iSpring Suite($770 per author/year), iSpring Suite Max ($970 per author/year).


A cloud-based, mobile-first, authoring tool, Gomo is responsive and supports HTML 5. Gomo lets you quickly create, discover, track, and publish amazing e-learning content. Since its 100% cloud-based, there's no pesky software installation, simply sign up and you're good to go. Gomo also supports collaborative content development, allowing authors to share their work with flexible permissions (administrator, editor, or reviewer).
The platform is highly responsive as it autodetects the screen size and makes sure that your video is delivered in the best way possible. Using iFrame, you can add YouTube videos, websites, social media content, Twitter feeds, Adobe Edge animations, Google Maps, or any other rich media content to your course.
With a drag and drop interface, authors need to prior programming knowledge to create awesome courses. With course manager, you can get at-a-glance info regarding your course structure, simplifying the editing process multifold. With screen templates, simply add your content to a pre-existing layout and Gomo will do the rest. Add engaging quizzes and multiple-choice questions to your courses and improve engagement levels of your content.
Some cool features of Gomo
Centralized resource repository to store audio, video assets
Design with up to four columns for great layouts and greater flexibility
Adjust colors, fonts, themes, logos, quickly and easily.
Pricing:
Free trial available
Paid plans start from: Small (£690/year for 1 author login), Medium (£1960/year for 4 author logins), Enterprise (contact sales)
Read more: 13 Programming Blogs and Websites to Improve Your Coding Skills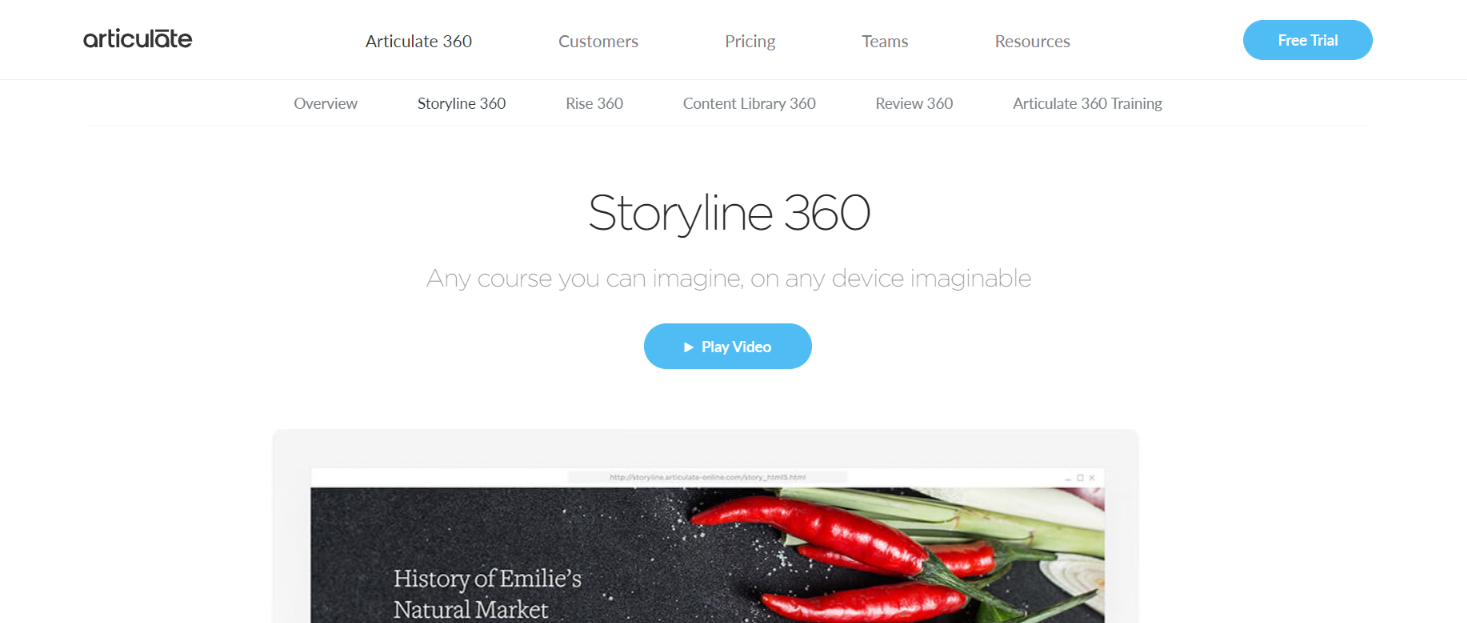 Articulate Storyline is next on our list. Like Powerpoint, Storyline has got amazing features that allow you to create customizable learning content for any screen imaginable. Unlike Adobe Captivate, there's no need to optimize your course for various device breakpoints as Storyline's responsive player does that automatically.
Control themes, colors, slides, and more to make your content as flexible as you like. With touch-screen gesture support, learners can drag along, swipe, and pinch-to-zoom on tablets and mobile devices. Storyline's integration with Content Library 360 means that users can start their course creation with high-quality media assets. You can add Content Library 360 templates and characters without breaking stride and smoothly produce high-quality content.
Need to collaborate with your team? Create shared team slides that your peers can access right from the Storyline 360 dashboard. Use branded project templates, share common slides, and give access to reusable content to team members easily. Storyline 360 supports AICC, SCORM, xAPI, etc.
Some cool features of Articulate Storyline
Add sliders, buttons, markers, dials, and hotspots to your slides for interactivity.
Create screencasts, add captions, characters, and pan-and-zoom effect
Build quick software simulations
Pricing:
Free trial available
Paid plans start from: Teams ($1299 per user/year), Personal ($999 per user/year)
Before you go!
Our team at bit.ai has created a few awesome education templates to make your processes more efficient. Make sure to check them out before you go, you might need them!
Over to you!
And that's all folks! That's our picks for the best authoring tools on the market right now. These platforms can make your teams more productive, allowing them to create amazing e-learning and training content and collaborate under one roof.
You cannot go wrong with any of the above-mentioned authoring tools. Just make sure you select a platform that fits your needs, budget, and prior knowledge of using such software.
Are there any cool authoring tools we missed? Which tool do you use to create interactive content? Do let us know by tweeting us @bit_docs
Further reads:

Related posts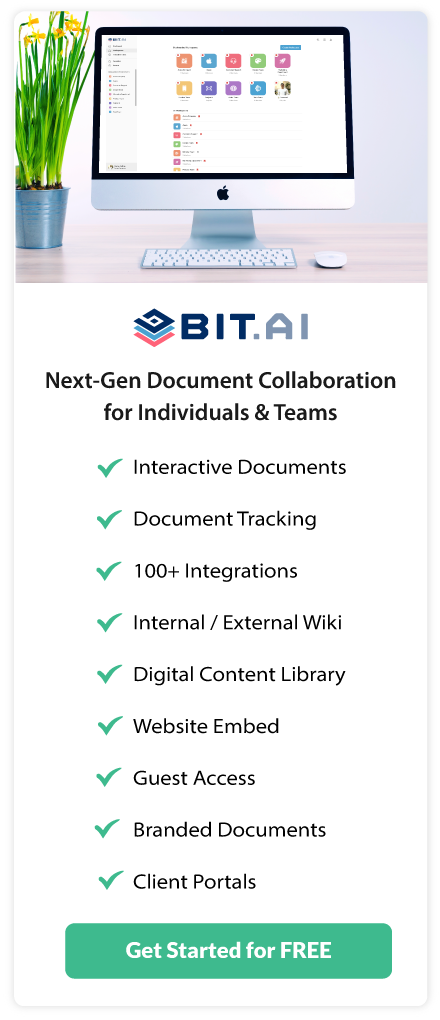 About Bit.ai
Bit.ai is the essential next-gen workplace and document collaboration platform. that helps teams share knowledge by connecting any type of digital content. With this intuitive, cloud-based solution, anyone can work visually and collaborate in real-time while creating internal notes, team projects, knowledge bases, client-facing content, and more.
The smartest online Google Docs and Word alternative, Bit.ai is used in over 100 countries by professionals everywhere, from IT teams creating internal documentation and knowledge bases, to sales and marketing teams sharing client materials and client portals.
👉👉Click Here to Check out Bit.ai.