Have you ever come across the saying, "Time is Money"? It holds more so true for working professionals like us, where time literally translates into money, in the form of profits and salaries.
With so many stakes riding on time, keeping a track of it becomes extremely crucial. According to a Survey (Tsheets), 1 in 2 employees admitted to time theft and about 16% admitted to clocking in for another employee. It might not sound like much, but this is how businesses lose out on productivity and money.
The question then arises, how do you prevent your business from incurring such losses? A simple solution is to keep a record of the time that every employee spends on their job using the right tools.
But before we get into the full list of the best time tracking tools, let us first understand what they are and why do we need them…
What are Time Tracking Software and Tools? (Definition)
In the simplest words, time tracking software or tool is a type of software that allows employees to record the time that they spend on tasks and projects.
Who uses them? They are most commonly used by managers and employees to monitor working hours for billing, payroll, or operations. They generally capture the time spent by employees on assigned tasks and are used to automate payrolls and customer invoicing.
They can also provide insights into your operations, such as the tasks that the most amount of time for completion and costing the most money, enabling you to plan your projects and budgets accordingly.
Benefits of Using Time Tracking Tools and Software
Apart from the factor of time thefts, there are several other reasons why you should be using time tracking software and tools. Let us dive right in…
#1 Increased Productivity
We've all been guilty of being lazy at work and slacking off every now and then. Time tracking tools help you improve the work capacity of your team. Work deadlines become transparent and regulated, placing equal responsibility on everyone and bringing everyone on the same page. It becomes more possible to easily spot and address any wasted time.
While conducting productivity audits, you can look for tasks that take a longer amount of time in comparison to other projects. If each member of your team struggles with the timeline for such tasks, it can point to a process that needs to be changed; thus highlighting areas of improvement.
#2 Workplace Transparency
When working hours are tracked, recorded, and maintained with precision, disputes can be avoided. You can use the data made available through time tracking software to calculate dues and to evaluate employee performance. Since everything is digital, it reduces the chances of human error!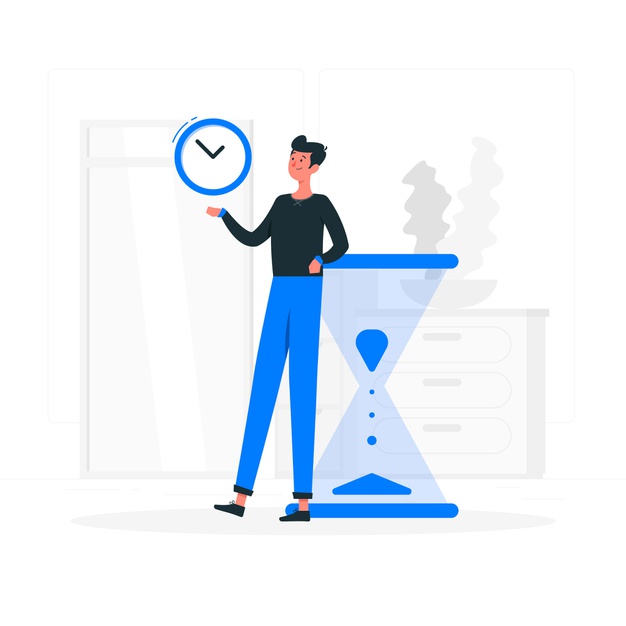 When performance appraisal occurs using data-driven metrics, objections related to biases in decision-making are avoided. This, in turn, makes the workplace more transparent and empowers the employees.
#3 Observe the Status of a Job
Keeping track of every task and every job can be difficult as a manager, with so many people working on different parts of projects and with multiple projects going on at once.
Time tracking tools and software allow you to view the status of every single job. You can view the work happening in any department or any specific team or team member, making your manager's work so much easier.
Read more: Workflow Tools and Apps for Smoother Processes!
#4 Avoid Micro-Management
So much time is often wasted on physically checking up on employees to see what they are doing at a given time and asking them to send work reports to keep a tab on their daily progress.
Time tracking tools allow you to eliminate the time wasted on micro-managing every employees' work by presenting you all the information regarding what they are doing at a given time, to updating their progress automatically into the software.
The lesser the time spent on micro-managing, the more the time that can be spent upon strategic planning, and productive work!
#5 Review Team Performance and Rewards
While conducting performance appraisals, you can use the numbers on individual employees and see how they have worked as compared to the rest of the team and then, discuss their review. Moreover, it can also help you identify the strengths and weaknesses of a team and its members to identify areas of improvement.
With an accurate log of hours worked, you can see when great work is being done and can be rewarded accordingly. Thus, it makes the process of deciding rewards and incentives much easier.
#6 Assess Profit Making
"Are we generating profit?", the question that looms over the heads of all managers. You would be able to see whether you are really turning a profit or not by gaining visibility over exactly what hours are being worked on different kinds of jobs.
You can get insights into things like whether or not you are putting too much effort into jobs that are not paying off by investing in good time tracking software.
We're hoping we have you convinced to use time tracking tools for your business by now, so without further ado, let's start off our list of the best time tracking tools out there!
List of the Best Time Tracking Tools and Software
With hundreds of time tracking software and tools out there in the market, we have curated a list of the top time tracking tool and which would be the best fit for you and your needs. The list is as follows –
Desktime
Timecamp
Time Doctor
Hubstaff
Tick
Rescue Time
Harvest
Qbserve
Clockify
Now, let's take a look at each of these tools in detail…


DeskTime is another time tracking tool that combines three essential features – employee monitoring, project management, and productivity analysis. It tracks time and employees' daily productivity, while also allowing you to create employee groups and manage application productivity individually for every group.
Key Features of DeskTime:
Provides a daily productivity timeline
Takes auto screenshots
Integrations with project management applications
Conducts invoicing
Pricing:
DeskTime Lite – Free with limited features
DeskTime Pro – $7/user per month
DeskTime Premium – $9/user per month
DeskTime Enterprise – $14/user per month
Read more: 6 Best Talent Management Systems & Software in 2022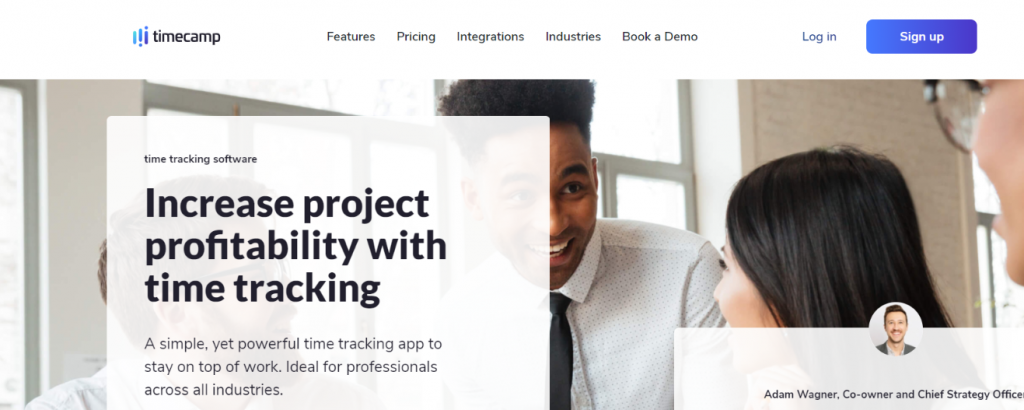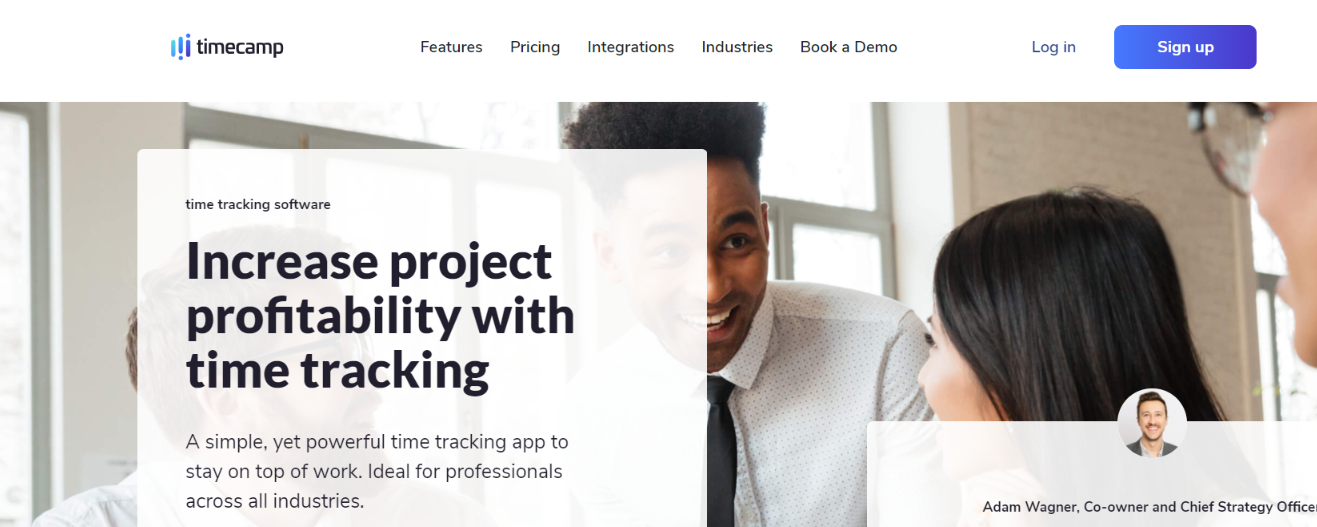 Timecamp is a cloud-based time tracking software that enables project managers to collaborate, keep a tab on billable work hours, and keep an eye on project statuses. It also allows you to create employee payrolls automatically. Additionally, it can track your employee's productivity.
Timecamp is a suitable tool for managers and organizations that are looking for an integrated time tracker and billing application.
Key Features of Timecamp:
Variety of integrations with other apps
Creates daily productivity analysis
Attendance Tracker
Pricing:
Solo Plan – Free with limited features
Basic Plan – $7/user per month
Pro Plan – $10/user per month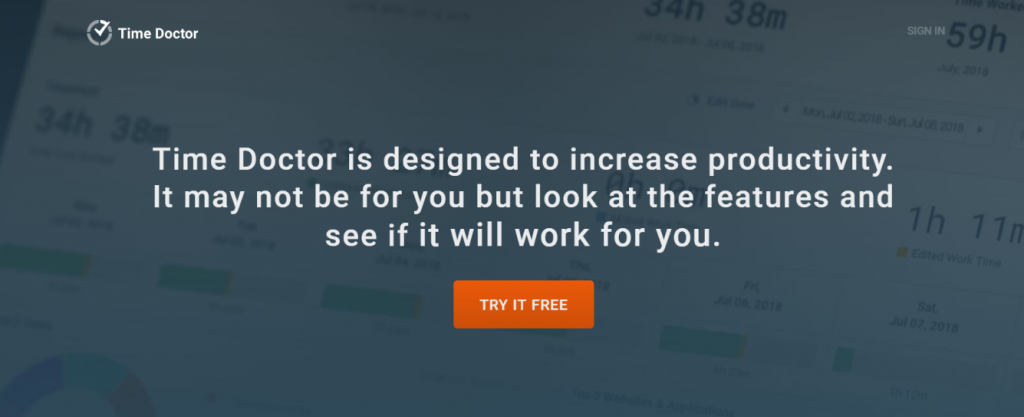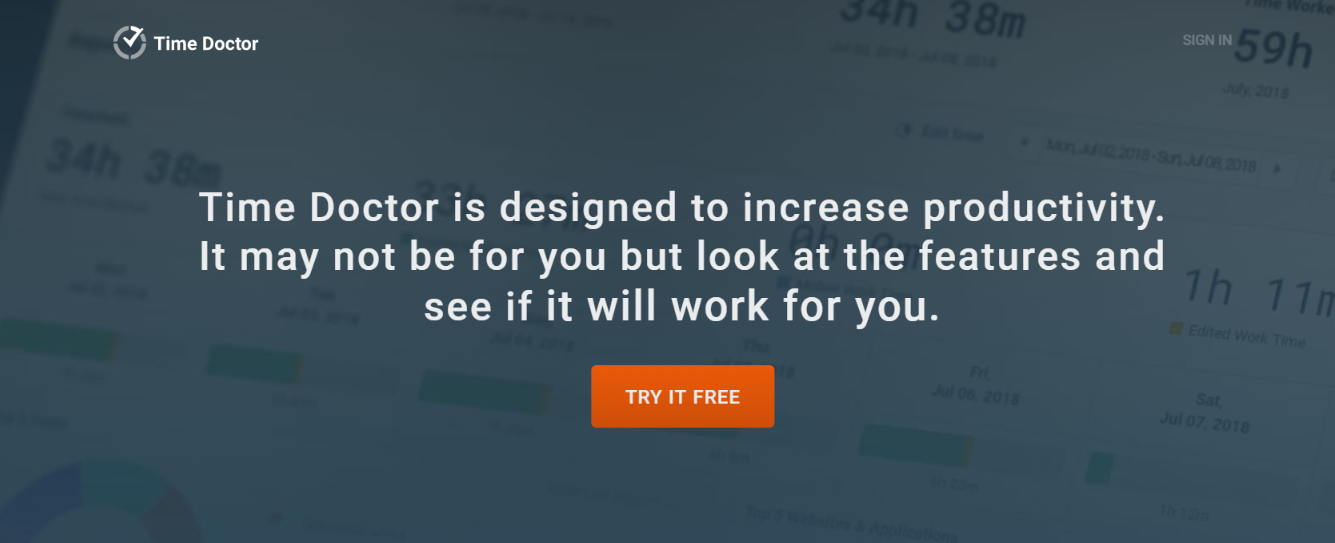 Next up, Time Doctor is a mix of time tracking, employee monitoring, and project management. It also gives you very detailed information about your employees.
The time tracking system of this software records the web pages and apps each employee uses. It also takes desktop screenshots to see what the employees are working on at a given time. Along with time tracking, you can also pay your employees directly from this software based on the hours each employee has worked.
Key Features of Time Doctor:
Creates payrolls automatically
Auto screenshot option
Chat monitoring
Pricing:
Basic Plan – $7/per month
Standard Plan – $10/per month
Premium Plan – $20/per month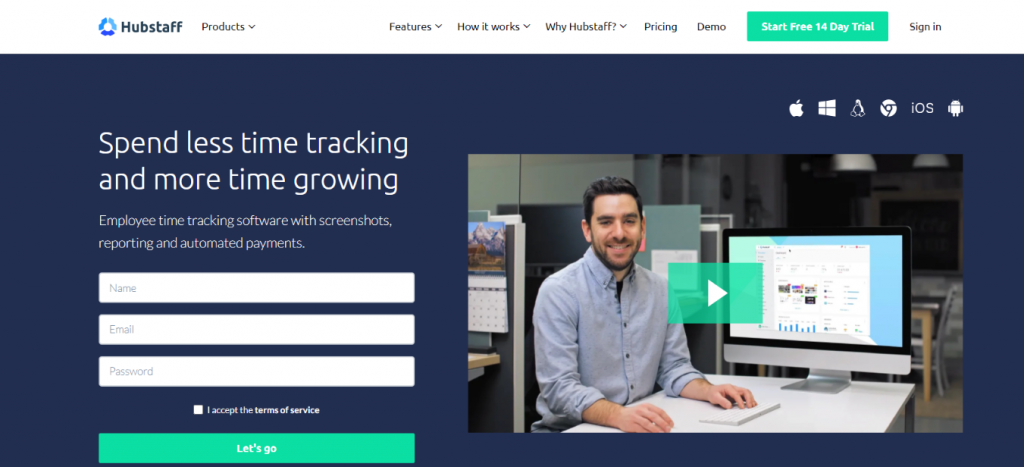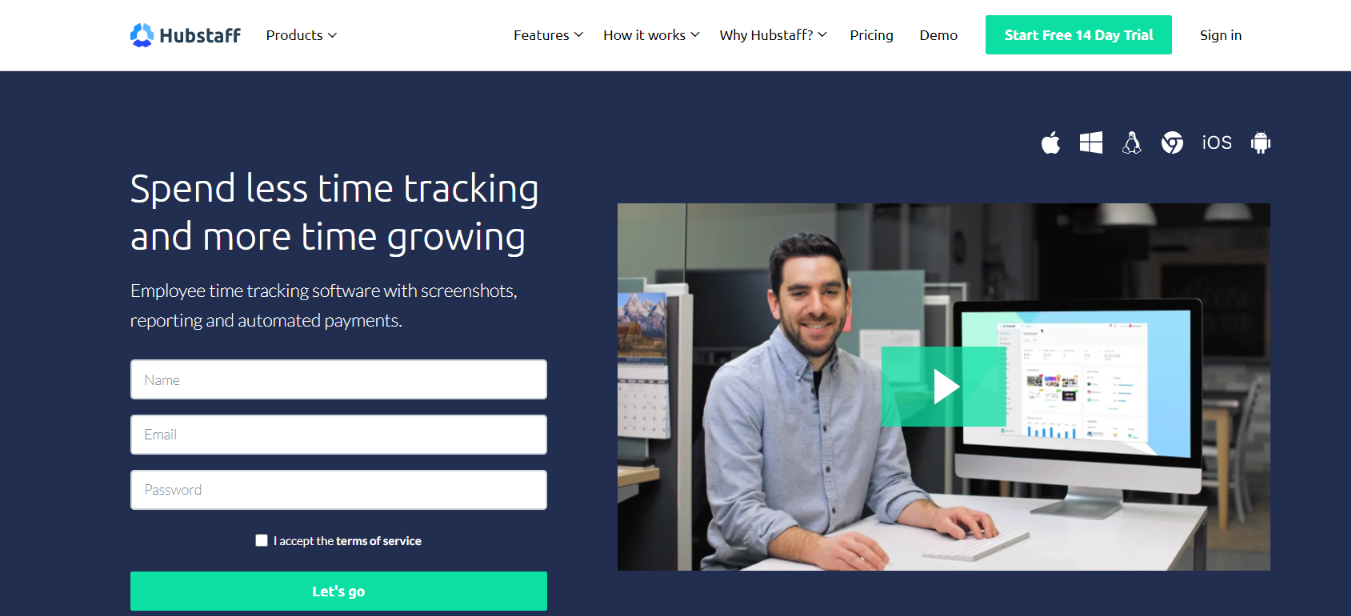 Hubstaff is quite similar to Time Doctor. It offers similar time tracking capabilities, employee monitoring, and project management features. The only difference is that Hubstaff allows you to track your employees anywhere, as it comes along with a GPS tracker,
This app works best for companies where employees are frequent travelers like sales and delivery people. Managers can see things like, the exact location of employees at a given time and how much time they spend traveling.
Key Features of Hubstaff:
Employee GPS tracking
Takes screenshots automatically
Generates payrolls through the software
Pricing:
Solo Plan – Free for 1 user
Basic Plan – $7/user per month
Premium Plan – $10/user per month
Enterprise – $20/user per month
Read more: Best Employee Onboarding Tools Out There!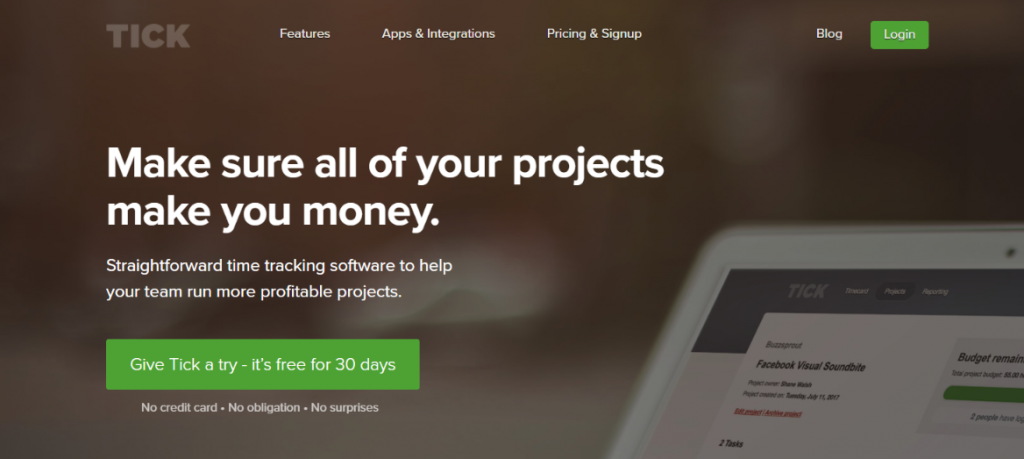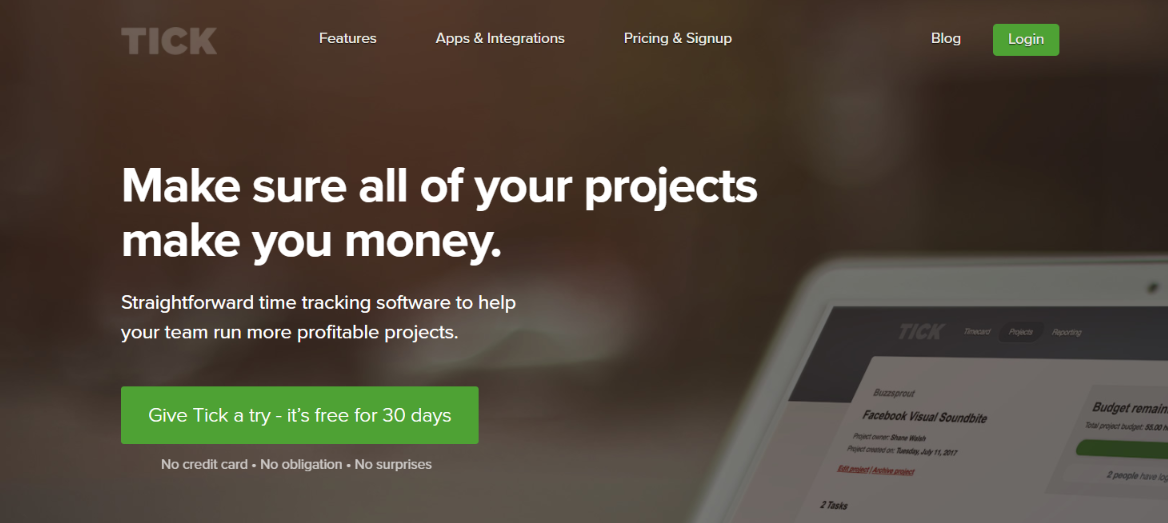 Next on the list, Tick is a time tracking app focused on projects that enables you to track time against your expected project schedule and budget. It is a one-stop solution for freelancers, small businesses, and startups that work on recurring projects and tasks.
Using Tick, you can track how much time you need for certain projects, and use your previous timelines to create offers for new customers.
Key Features of Tick:
Tracks time against the projected timetable of the plan and budget
Set recurring projects to reset every month
Assign team members who can add time to tasks
Pricing:
1 Project – Free
10 Projects – $19 per month
30 Projects – $49 per month
60 Projects – $79 per month
Unlimited Projects – $149 per month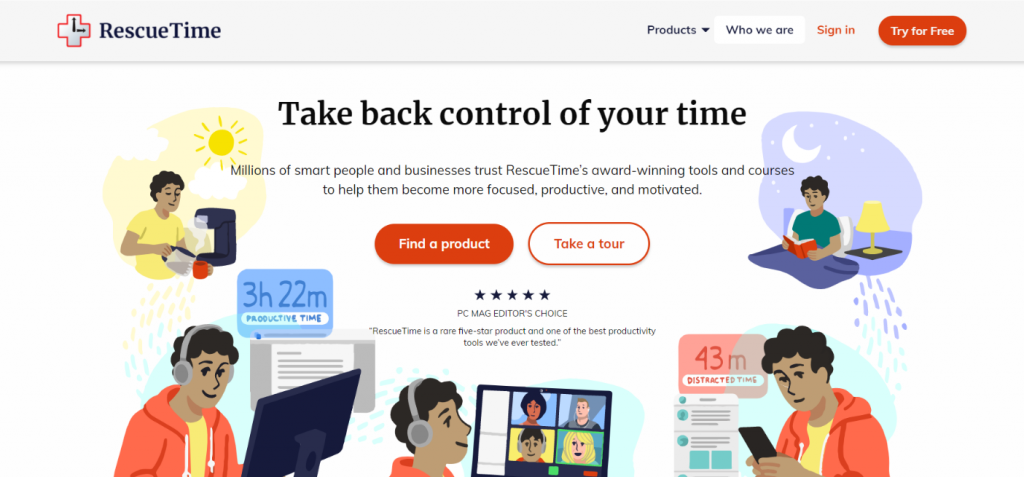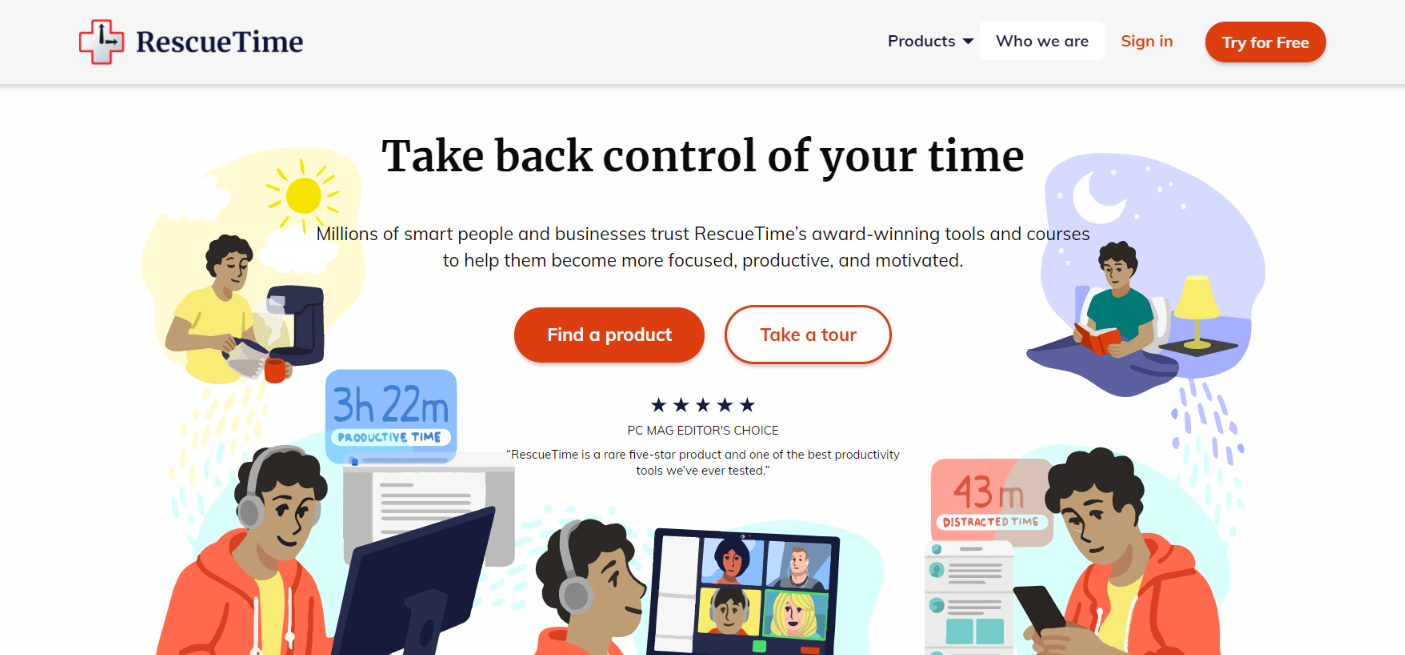 RescueTime is a time tracking software that not only records the time you spent on certain URLs, services, and applications but also tells you how effective you were during the day.
RescueTime automatically measures the productivity based on pre-grouped categories with productivity scores built-in. Additionally, you can set your task goals with RescueTime and keep track of how you are going.
Key Features of RescueTime:
Set regular targets for tasks
Receive an analysis of everyday productivity and performance
Block access to web pages that distract employees
Pricing:
RecueTime Lite – Free
Rescue Time Premium – $9/user per month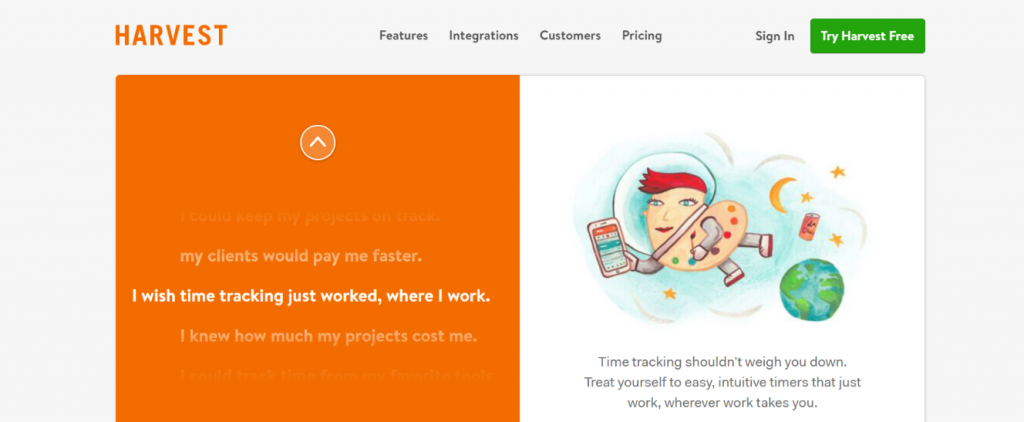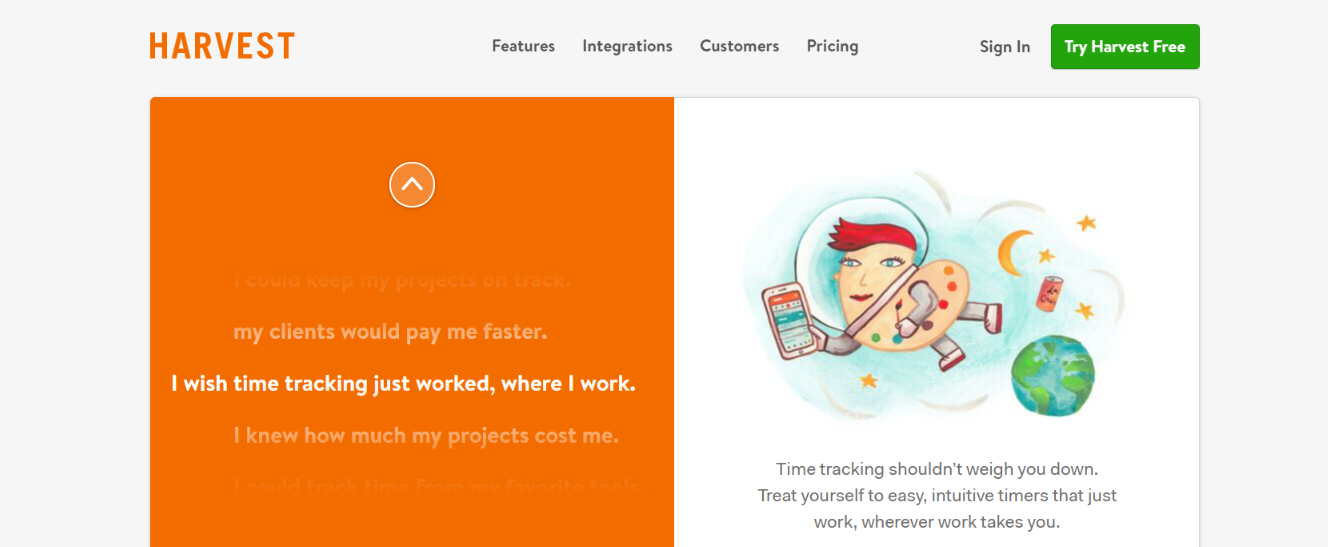 Harvest is a time tracking software and cost tracking tool that helps you to monitor your time spent on each project or individual tasks. It then gathers the data and generates visual, informative reports that make it easy to see what the team has been working on and make wise company decisions.
Not only does Harvest keep track of how you invest your time, but it also keeps all of your invoices and revenue flow in one place.
Key Features of Harvest:
Creating invoices automatically and collecting payments from customers.
Automatic alerts about invoices to be charged are sent to customers.
Attach comments and notes to the team's activities.
Pricing:
Free Plan with limited features
Pro Plan – $12/user per month

For Mac users, Qbserve us an automated time tracking and productivity tracking app that is helpful for procrastinators. The software monitors time only when a certain collection of keywords are identified in a text, URL, or app title.
When you begin to use the app, you define these keywords and can add new keywords at any time.
Key Features of Qbserve:
Time tracking based on keywords
One-time payment
Pricing:
$40 one time payment/user


Last on the list, Clockify is a simple time tracker and timesheet app that allows you and your team to track work hours across projects. You can also see where you are spending time and what your team is working on.
Key Features of Clockify:
Start and stop the timer as you work
Creates intuitive reports
Keeps an eye on project progress and budget
Pricing:
Free plan with limited features
Plus Plan – $9.99 per month
Premium Plan – $22.99 per month
Enterprise Plan – $9.99/user per month
How to Choose the Best Fit for you?
Not sure about what software would be the best fit for you? No worries, we've got you covered with some tips and tricks to help you choose the best tool for you…
#1. Determine The Features You Need
The first step in choosing the right time-tracking tool is to determine the features you may need. Ask yourself what you want your time tracking system to do for you. Here are some features that you can look for:
Time Tracking
Data Analysis
Billing & Invoicing
Quick Overviews
Team Tracking
Project & Client Tracking
#2. Shortlist the Tools That Meet Your Requirements
Once you've settled on what features you need, you can search online to see online reviews of tools and compare products. Look for the following 4 factors while comparing products:
Value for money
Customer support
Features and functionality
Ease of use
Now that you have gathered all the intel on the software, let's move to the final step…
#3. Sign Up For Free Trials
Sign up for free trials of the apps that you have shortlisted to gain a first-hand user experience. You can rank every software as soon as you have tried everything, to make the call of whether or not an app is meant for you.
Final Words
Did you know? An average entrepreneur spends only about 31.9% of their time working on their long-term goals and strategic planning; whereas, the rest of their time is spent on day-to-day tracking of tasks and unnecessary distractions (Source).

Using time-tracking tools can help you make the most of your working hours without wasting time on miscellaneous activities, which sounds like a pretty great deal to us. What about you?
Do you have a favorite time-tracking software that is not included in our list? Let us know @bit_docs on Twitter! Happy Productivity!
Further reads: 
Tips and Tools to Manage Your Distributed Team
13 Timesheet Software & Tools to Manage Time Perfectly!
10 Best Reporting Tools and Software for Businesses
Project Timeline: What is it & How to Create it? (Step By Step)
Best Resource Management Tools and Software
Best Focus Apps to Eliminate Distractions!
Top 5 Business Process Management (BPM) Tools
Best Document Tracking Systems In 2022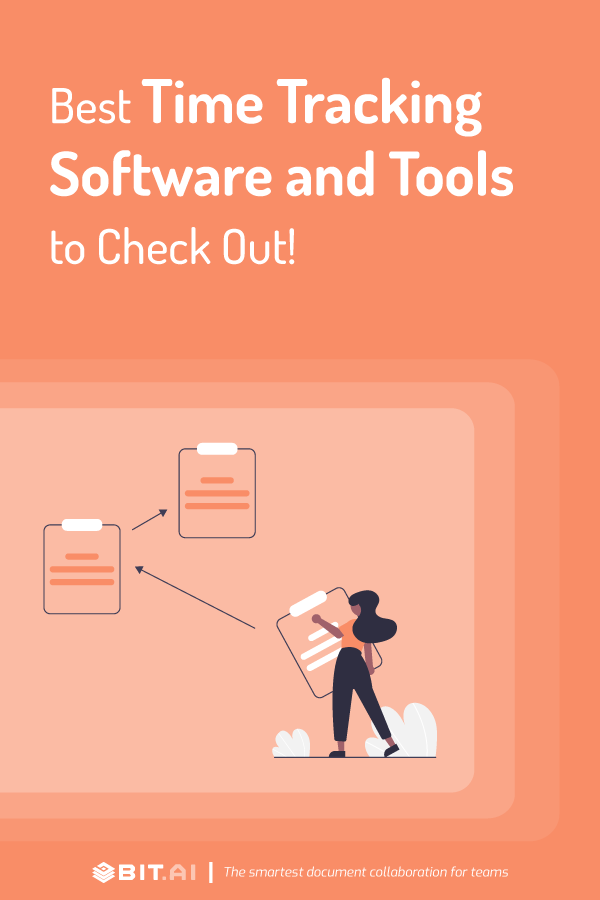 Related posts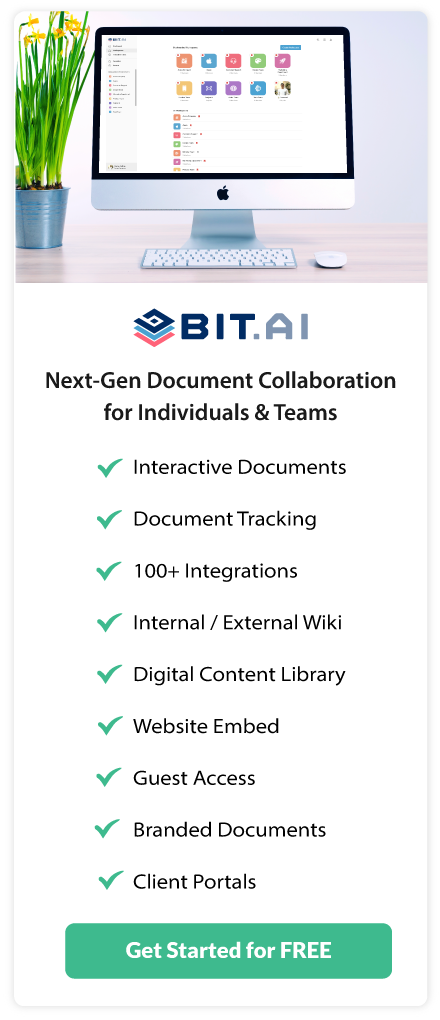 About Bit.ai
Bit.ai is the essential next-gen workplace and document collaboration platform. that helps teams share knowledge by connecting any type of digital content. With this intuitive, cloud-based solution, anyone can work visually and collaborate in real-time while creating internal notes, team projects, knowledge bases, client-facing content, and more.
The smartest online Google Docs and Word alternative, Bit.ai is used in over 100 countries by professionals everywhere, from IT teams creating internal documentation and knowledge bases, to sales and marketing teams sharing client materials and client portals.
👉👉Click Here to Check out Bit.ai.