If you're on the internet looking for the best resource management tools and software, we're assuming that you've probably recognized the importance of resource management and now want to seal the deal by finding the right tool for yourself. No worries, we've got you covered!
But first, let us run over the basics of resource management. It is the process of planning, monitoring, and maximizing the use of resources (such as employees. space, and equipment) to optimize project work and its completion.
Okay great, now that we've got that across, let's get started with the what, why's and how's of resource management tools!
What are Resource Management Tools and Software?
In the simplest words, resource management tools and software makes it far easier to plan, organize, schedule, and reschedule projects. It is often referred to as resource capacity planning software.
Moreover, it is a form of project management tool that allows you to schedule, delegate, and then monitor who is working on what project, where are they working, and for how long.
It makes it easier to see the organization's resource availability and capacity, the skills available, and then plan and report. It also showcases the historical and expected usage of resources.
Before we dive into the full list of the best resource management software and tools, let us take a look at the benefits of using this planning software…
Benefits of Using Resource Management Tools and Software
To improve profit-making, streamline costs, and eliminate time wastage, it is important to manage your most expensive resource i.e. human resources. How do you effectively manage resources? That's right, using resource management tools and software.
Here are some other benefits of using resource planning software…
1. Automated Planning
You must have noticed a trend across businesses of increasingly becoming reliant on technology to save time. The secret to improving operational efficiency is the automation of tasks. When it comes to the management of resources, your agency needs a configurable framework that can update itself, constantly and reliably, automatically.
Automated resource planning software can track your human supply and demand chain continuously and provide you with insights into your needs. You would be able to recognize skill gaps and training requirements, which will provide insight into your resource capability and project execution potential.

2. Increase in Accountability
Wouldn't it be amazing if you didn't have to do tedious tasks like keeping a track of payroll, timesheets, and labor costs? Resource management tools make it possible for you to get a comprehensive view of all your employees and boosts accountability.
It enables you to easily access, assess, and analyze data about all the labor and time information that is recorded by the software. Some software also includes integrated accounting features, which makes a lot of payroll procedures automatic. Pretty cool, right?
Read more: 10 Best Reporting Tools and Software for Businesses
3. Reduction in Administrative Costs
The days of conventional spread-sheet-based resource management systems are long gone. Automated systems for resource planning eliminate the margin of error and the tedious nature of maintenance of records.
Automation not only boosts sales but also maximizes profit capacity, and strengthens customer relationships. It also dramatically reduces management costs associated with outdated systems.
4. Conflict Resolution
What are the consequences of resource conflicts arising in workspaces? That's right, it takes a serious toll on revenue generation and customer satisfaction.
Resource management tools and software ensures that whenever there's a chance of a resource is doubly booked, a project plan is derailed, you can easily identify the conflicts. You will be better positioned to alleviate any potential resource disputes by providing real-time visibility to your agency.
5. Increase in Revenue
Resource planning tools give you a thorough summary of your team members allowing you to determine how well your resource pool is being utilized on a daily, weekly, quarterly, or annual basis.
You can quickly determine where hours can be reduced by evaluating this information, resulting in a reduction in operating costs and an improvement in profit margins.
We're hoping we've convinced you about the necessity of using resource management tools by now, so without further ado, let's get started with our list of top resource management tools and software!
Read more: 6 Best Talent Management Systems & Software in 2022
List of the Top Resource Management Tools and Software
Here's a list of the best resource management tools that are out there in 2020…
bit.ai
Teamdeck
Float
Forecast
10,000 ft
Mavenlink
Ganttic
Resource Guru
Let's take a look at these tools in detail…


bit.ai is a new age virtual document collaboration platform that allows you to create amazing resource management plan documents, project management plans, risk management plans, and other company documents in minutes. Bit is the dream tool to help teams work on collaborative projects by making it interactive and super easy to use!
bit.ai gives employees a shared workspace to collaborate and handle tasks at the same time and, most importantly, share expertise & knowledge. It comes along with a content library where you can save and easily access all your photos, files, and digital content, making your workflow smooth like butter!
Simply create a workspace, add your team members, and start creating your workplace documents like product plans quickly! You can further share these documents with external clients, partners, agencies, etc., and get detailed insights on how they interacted with your documents!
All you need to do is create a workspace, add your team members, and start creating documents like resource management plans! You can further share these documents with external clients and customers, partners, organizations, etc., and gain comprehensive insights into how they interacted with your documents. Sounds like a lot of hard work made easy, right?
Some key features of bit.ai:  
Collaborate with teammates in real-time
Workspaces and folders to keep everything organized
Create and plan resource management together!
Interactive documents that allow you to add rich media right within your docs.
100+ integrations to bring data from other applications
Get management feedback in real-time using @mentions and highlight features as every document comes with its separate comment stream.
Bit has a collection of amazing templates to kickstart your work.
Document Tracking
The inbuilt content library so you can keep all digital assets in one place
Guest access so you can bring clients in private workspaces
Pricing:
Free plan with limited features
Pro Plan – $8/per month
Business Plan – $15/per month
Enterprise – Contact Sales
Read more: Resource Management Plan: What, Why, and How to Create It?


Teamdeck is the one-stop-shop for all your resource scheduling, time tracking, and leave management problems. It gives you a calendar view from which you can spot available resources, add bookings to them and also, monitor their timesheets.
It also helps you create customizable reports that help you measure your team's utilization, create budgets, and calculate KPIs like Employee Productivity Rate or ROI.
Some key features of Teamdeck:
Plan and manage your team's work
Allows you to make data-driven decisions based on customizable reports
Pricing:
Free plan for up to 2 users
Paid Plan: $3.99/user per month

Next on the list, Float is a resource planning tool that allows you to manage bookings, visualize team workload, and assign tasks. It's simple and user-friendly interface allows you to quickly spot who's available and manage work accordingly.
It also helps you to set a budget to forecast and track your spending, and in turn, strategically plan your resources. You can also monitor your team's resource utilization.
Some key features of Float:
Allows time-tracking
Direct integrations that support your workflow
Has a mobile app
Pricing:
Resource Planning Plan: $5/user per month
Resource Planning + Time Tracking Plan: $10/user per month


Forecast is a resource and project management software that allows for better team management and monitoring with its scheduling and time-tracking features. It also helps you supervise projects and teams with a visual all-in-one platform.
Additionally, it gives you complete operational and financial visibility across your portfolio so that you are in a position to make strategic decisions and plan for company growth.
Some key features of Forecast:
Cuts down on non-billable work like project planning & resource allocation
Conducts performance analysis
Comes with various integrations
Pricing:
Annual Plan Lite: $29/user per month
Annual Plan Pro: $49/user per month
Annual Plan Enterprise: $69/user per month
Read more: Top 9 HR Software and Tools for Human Resource Departments!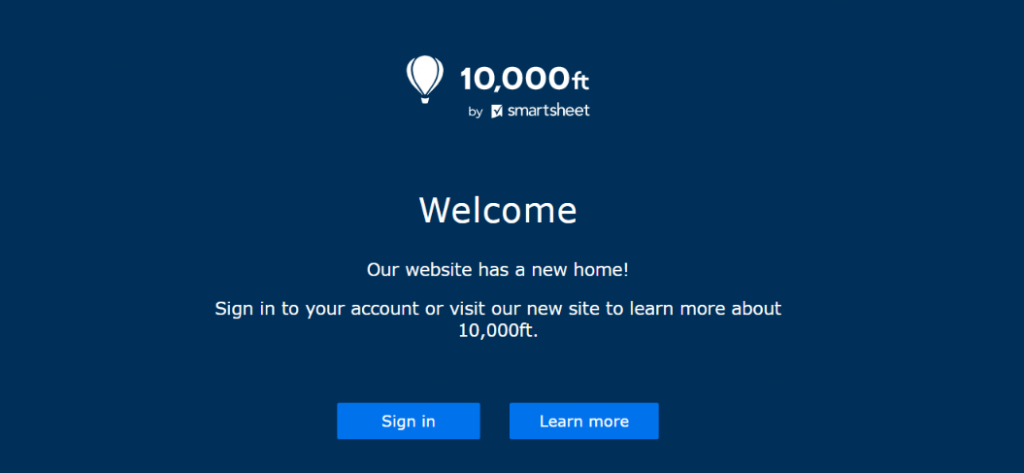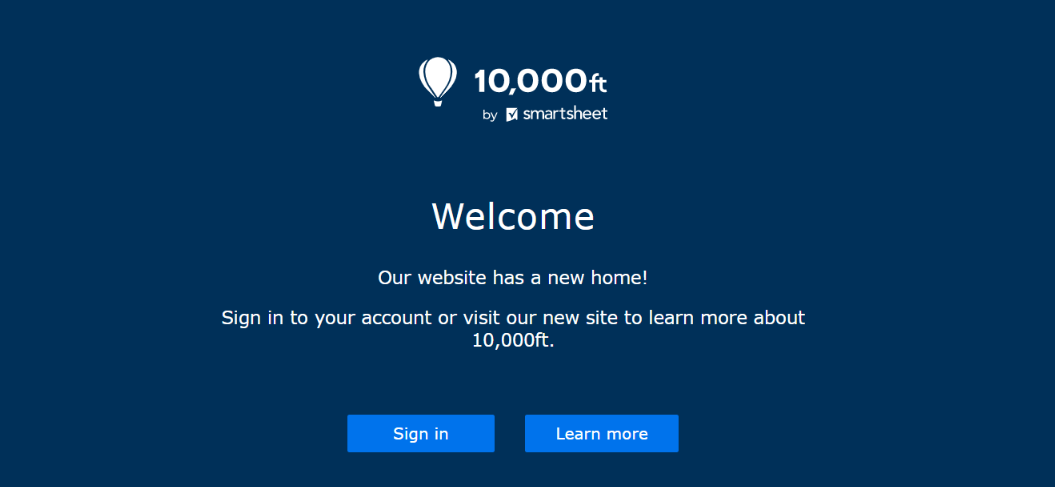 10,000ft is a resource management and time tracking software that can be used to get an overview of your resources at the workplace, reduce the time needed to find available resources, and forecast the upcoming workload.
With its project planning tool, keeping projects on budget and on time has become much easier, which is great news for users like us!
Some key features of 10,000 ft:
Gantt-styled projects breakdown
Simple resource allocation
Accurate project planning
Time-tracking tool
Pricing:
Individual Plan – $14 per month
Business Plan – $25/user per month
Enterprise and Premier Plan – Contact Sales


Next on the list, Mavenlink is a modern-day collaborative platform that helps you plan, manage, and optimize resources. Mavenlink facilitates more efficient, repeatable resourcing processes to aid in requesting resources, updating skills, and estimating, allocating, and scheduling project teams.
You can align your staffing and team configurations to business goals to consistently gain more value from each project with a fully optimized team.
Some key features of Mavenlink:
Team Builder allows you to strategically explore available resources
Allows you to efficiently staff, plan, and allocate resources
Adjust resource strategies swiftly
Pricing:
Team Plan – $19 per 5 users per month
Professional, Premier & Enterprise Plan – Contact Sales
Read more: 11 Budgeting Tools & Software to Keep Track of Business's Budgets!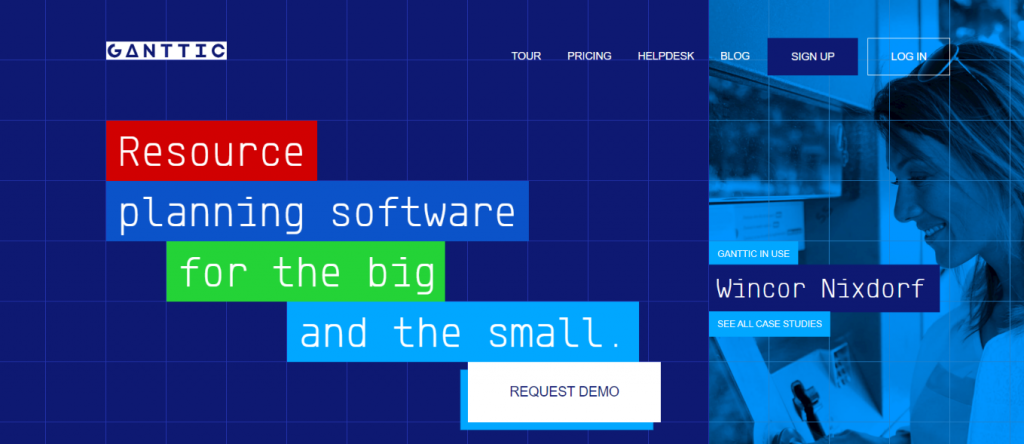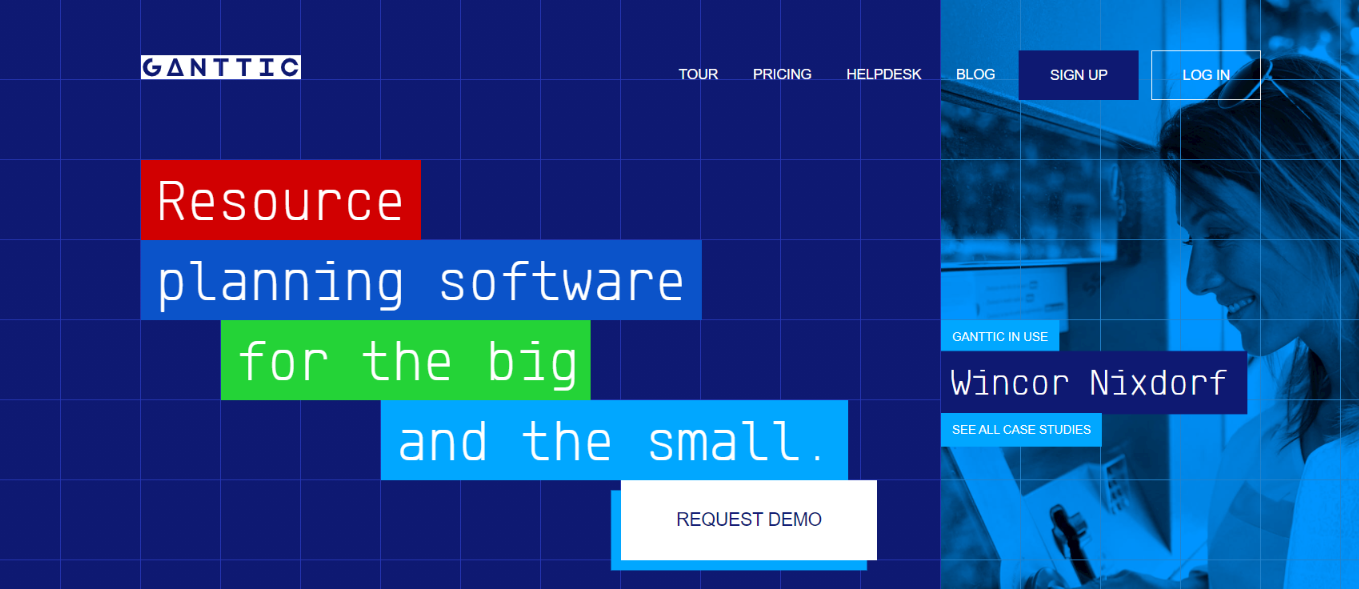 Ganttic is a software for online resource planning and management that you can use for handling project portfolios while planning resources with optimum productivity.
You can also build simple and detailed visual plans that give you all your resources and projects under an instant view. It also allows you to reallocate resources to manage utilization and view your plan from different perspectives.
Some key features of Ganttic:
Resource scheduling made easy
Live updates and notifications
Mobile app available
Pricing:
Free Plan for up to 10 resources
Pro 20 Plan – $25 per month
Pro 50 Plan – $59 per month
Pro 150 Plan – $149 per month
Pro 250 Plan – $229 per month
Pro 500 Plan – $379 per month
Pro 1000 Plan – $599 per month


Last but not the least, Resource Guru is a fast and easy way to schedule people, equipment, and other resources online. It provides team visibility on one clever calendar to get a quick overview of who's busy and who's available!
It also has lightning-fast features like easy scheduling where you can add, edit, move & delete bookings in seconds! Sounds like a catch, right?
Some key features of Resource Guru:
Staff time-off tracker to include vacations, sick days, maternity leaves, etc
Helps you monitor utilization rates and report on key metrics
Advanced clash management tool available
Pricing:
Grasshopper Plan: $3/user per month
Blackbelt Plan: $5/user per month
Master Plan: $8/user per month
With that, we conclude our list of the top resource management tools and software. You might ask yourself, "What would be the right fit for me?" Well, we've got the answers for you!
Choosing the Best Resource Management Tool
To find the perfect resource management tool and software for yourself, you must first know what makes it perfect for you. Consider looking at the following features before settling on a tool…
1. The Resources
When you are looking for resource management software, you should look for one that caters to all your resources. If your resources are people, then you are good to go with most of the resource planning tools that are out there.
However, if your resources are things like equipment and raw material, then it's a whole different ballgame. If you want to have an overall view of everyone and everything, you will need to find the right tool for your purpose.
2. Number of Projects
This one's quite simple. Different platforms allow a different number of projects to be run simultaneously. Whatever your number is, you will need resource management software built for that number.
3. The Pricing
The budget should always be one of your top priorities before investing in any tool. If you're a small business with a lesser number of employees, you can opt for a tool that is priced per user.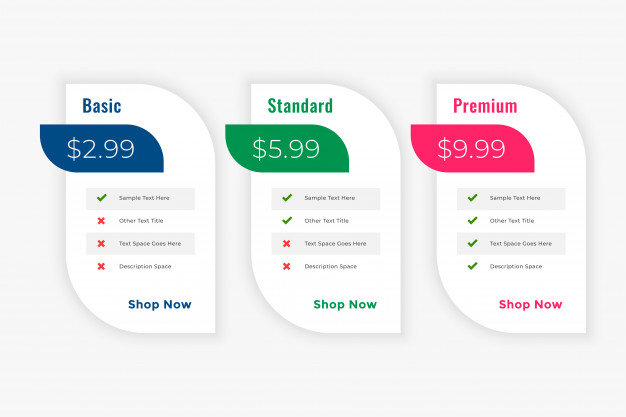 On the contrary, if you're looking for centrally managed resource management software for multiple departments and hundreds of resources, you might want to opt for a tool that offers enterprise-based pricing.
4. Features
Another important facet of choosing the right resource management tool is to look at the features being offered. Some of the features that you can look at are whether or not the software offers a timeline, the scope to enter custom data, the ability to make Gantt charts, and to report the data obtained.
5. Sign Up for Free Trials
Lastly, sign up for free trials before you settle onto any software. Free trials will give you a first-hand experience of the user experience and allow you to make an informed decision at the end of the demo period.
Wrapping Up!
According to statistics, an average American worker makes 118 mistakes per year! That's a staggering number because it could potentially lead to business losses.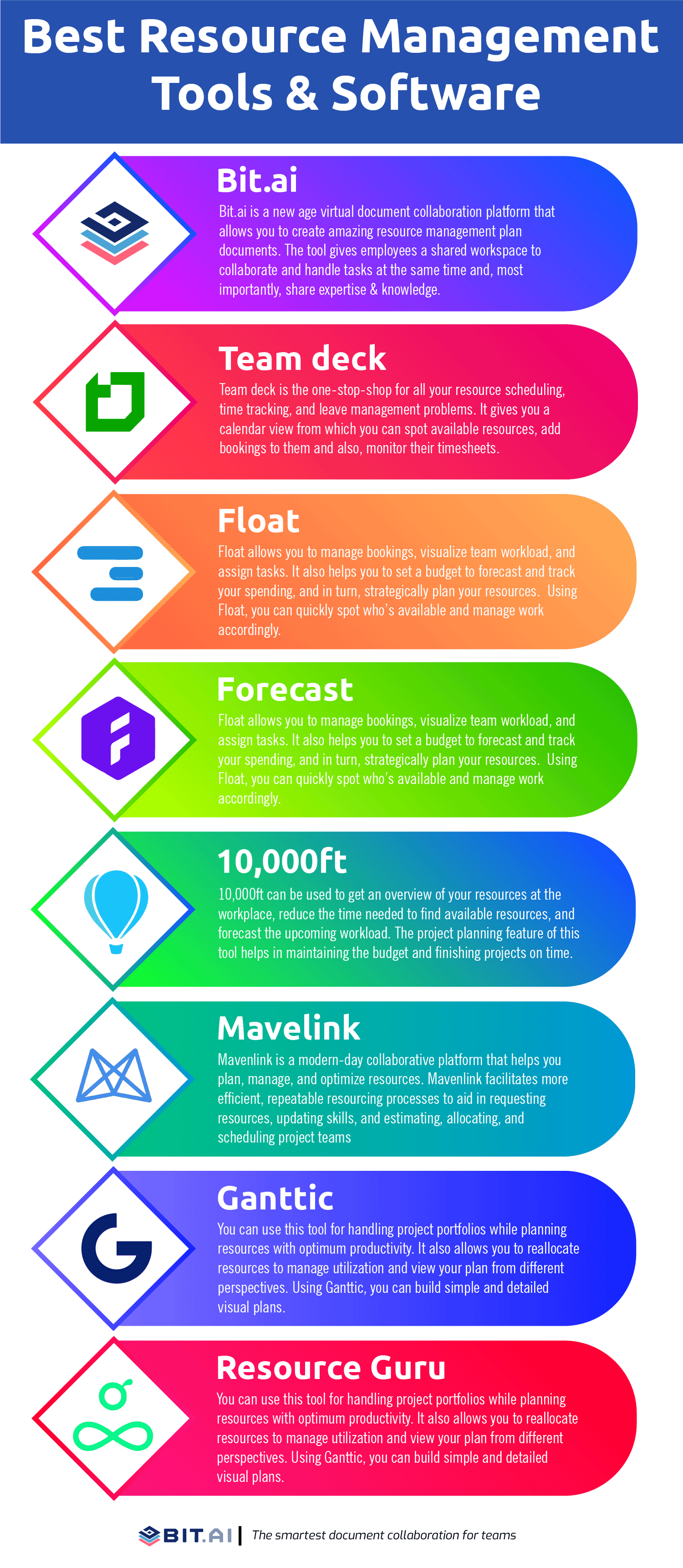 Using the right resource management tools and software will not only reduce the margin of human error but it would also lead to an increase in the revenue generated by your business.
Now that you have all the information that you need to pick the right resource planning software at hand, go ahead, and optimize your workforce! Don't forget to tweet us @bit_docs and share your experiences!
Further reads: 
8 Best Digital Assets Management Software
Best Focus Apps to Eliminate Distractions!
Presentation Tools That Enable Better Collaboration!
Best Time Tracking Software and Tools in 2021
Top 11 Social Media Management Tools for Marketing Teams
Best File Management Software and Systems
Simple Team Management Software Every Business Should be Using!
What is Resource Allocation? Definition, Tips & More!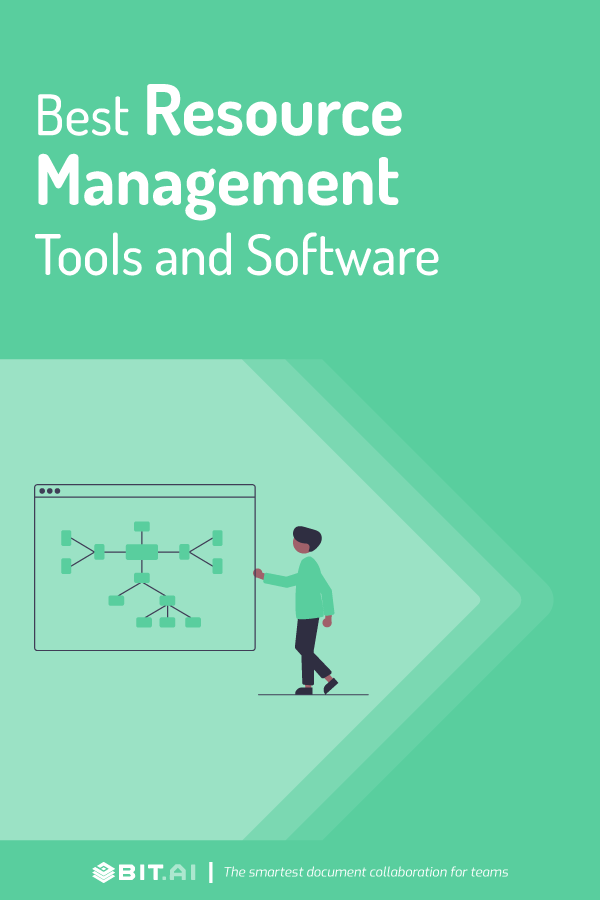 Related posts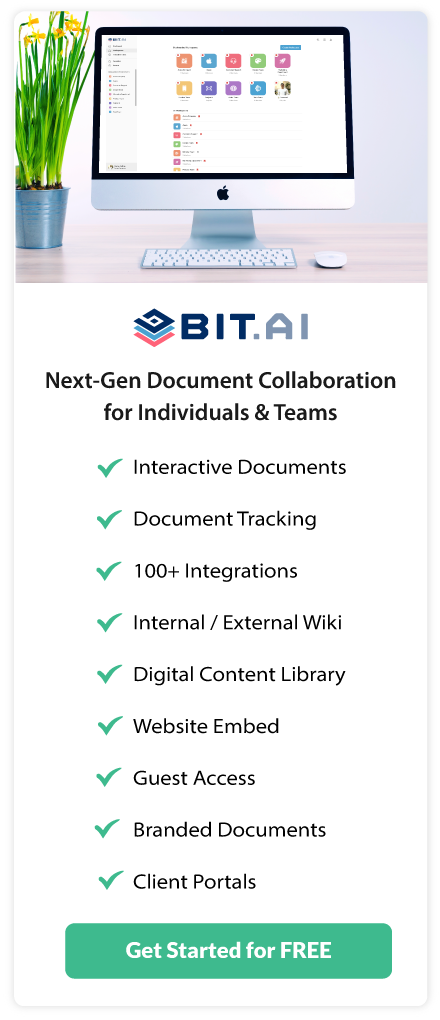 About Bit.ai
Bit.ai is the essential next-gen workplace and document collaboration platform. that helps teams share knowledge by connecting any type of digital content. With this intuitive, cloud-based solution, anyone can work visually and collaborate in real-time while creating internal notes, team projects, knowledge bases, client-facing content, and more.
The smartest online Google Docs and Word alternative, Bit.ai is used in over 100 countries by professionals everywhere, from IT teams creating internal documentation and knowledge bases, to sales and marketing teams sharing client materials and client portals.
👉👉Click Here to Check out Bit.ai.