Whether you're starting a new company or trying to develop an existing one, one of the most important things is to consider & develop how things will be done. Why's that? Well, for starters, keeping uniformity in the way things are done brings about consistency and ensures good quality.
In the process of figuring out how things will be done, you might have thought of questions like, "What tasks need to be done? Who needs to do them? What are the right ways to approach these tasks?" These questions form the basis of systematizing a company.
While systematization might sound like a complex procedure for some of us, it really isn't that bad. A simple yet effective way of systematizing is by creating SOPs. An SOP is a list of instructions that defines all of a method or procedure's relevant steps and activities.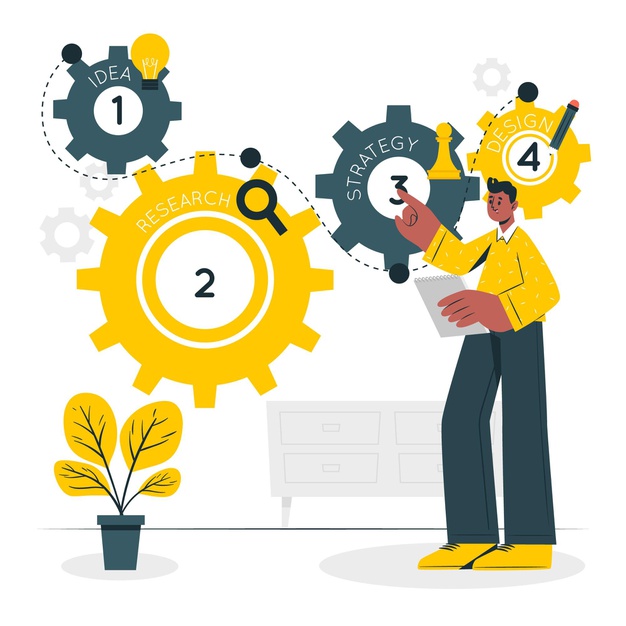 To make things a lot easier for you, we've even got you covered with the steps to create Standard Operating Procedures (SOPs). Let's dive right in!
How to Write a Standard Operating Procedure Document?
You should have well-defined SOP documents that can help your employees learn how to conduct repetitive jobs efficiently, in accordance with laws. They all should know how to perform those jobs reliably no matter who performs it, no matter what kind of company you have.
Unfortunately, no structured, standard operating procedure manual is available that can show you how to write an SOP. However, you should follow some steps to coordinate your thoughts and prepare the most productive way to standardize your procedures.
Step 1: Start with the End in Mind
First off, describe what the end product or the target is for your SOP. For example, if you write a text outlining the protocols for closing a restaurant at night, the purpose is to secure the building before the planning team arrives in the morning.
Details such as washing floors or arming alarm systems are not included in this step. You should identify what the procedure is going actually to achieve.
There are protocols and practices in all companies that are replicated every day, weekly, and monthly. When you identify your priorities, ask if the specific target involves an SOP paper. Or, see whether an SOP has already been established to meet the purpose, and you have to study it and search for opportunities to strengthen it.
Ask yourself if there is a clear explanation of why a standard operating procedure document should accompany this goal. It's much easier to compose an overview and describe the specifics because you know what you expect your SOP to do.
Step 2: Select a Format
Chances are your business still has some SOP documents that have been written in the past for other operations. For desired formatting instructions, you should easily refer to such documents as models.
Try one of these suggestions if you don't have any documents to use as a reference:

Simple steps format: Use this format for routine procedures that are clear and easy to follow. This format is usually a simple numbered or bulleted list with brief, simple sentences that are straightforward and easy to understand for the reader.
Hierarchical steps format: You may want to use hierarchical steps if the procedures contain several steps that require certain decisions. Typically, there is a bulleted or numbered list of key steps, followed by a sequence of individual sub-steps.
Flowchart format: To layout and schedule processes with several potential effects, you may want to use a flowchart. It is a great choice when the results are not always predictable.
Step 3: Ask for Input
Bring the team together and ask them how they feel the task can be accomplished. These are the individuals you will expect to stick to the SOP, so you want to make sure it makes sense to them and that it contains all the activities required.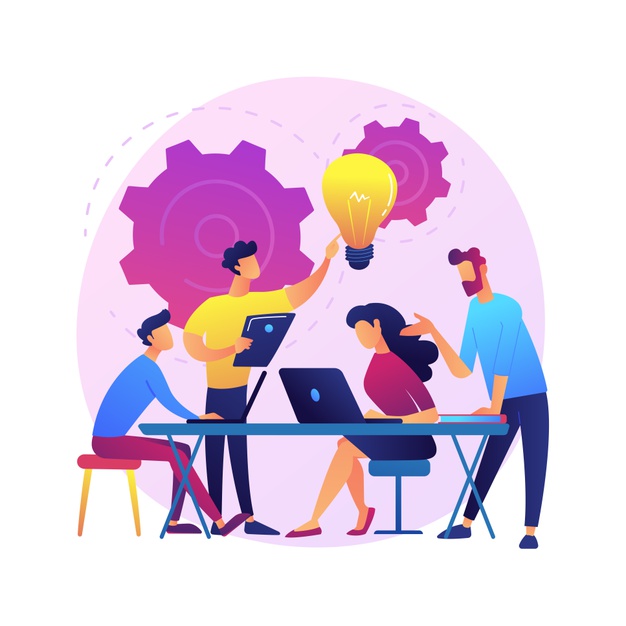 There will be numerous revisions and reviews. Ensure that you allow the staff to review the drafts so that they can make some further recommendations.
Step 4: Define the Scope
The SOP you work on likely relies on other SOPs and teams in other divisions to carry out effectively. Determine whether citing these other processes is appropriate or whether you need to add them to the existing standard operating procedure text. To specifically identify dependencies and liable actors, you might need a flowchart or a map.
Step 5: Identify the Audience
Knowing your audience lets you decide how your SOP document should be written. Consider these issues:
What is their prior knowledge?
Are the company and the processes already familiar to them?
Do they know the terminology already?
Have they become complacent and need a refresher?
What is your audience size? Will multiple people in different roles across various organizations be reading the document?
You have to write to your readers' level of comprehension, dumb it down too far, or make it too complex, and you will lose them.
You may want to write the procedures in a manner that clearly defines who, or what role, performs each task. This helps your audience comprehend where they fit into the process and why their particular part is important.
What are their linguistic abilities?
Your audience may not be native of your language. You may want to use more photographs than sentences if that is the case.
Are they new team members?
Your SOP documents need to be very comprehensive and training-oriented when taking on fresh workers. No matter who is doing a task, you want to ensure reliable performance.
When you determine your audience, you can delineate duties and obligations within the procedure, so everyone knows what activities they are responsible for.
Step 6: Write the SOP
Write a draft of your standard operating procedure and take into account including some of the following elements:
Title page: This page is built to include:
The title of the proceedings
An identification number of the SOP
A deadline for publication or a revision date
The name of the role, company, division, or agency to which the SOP relates to
Names and signatures of those who prepared the protocols outlined in the SOP and approved them
You only need a table of contents if the document is massive with many pages.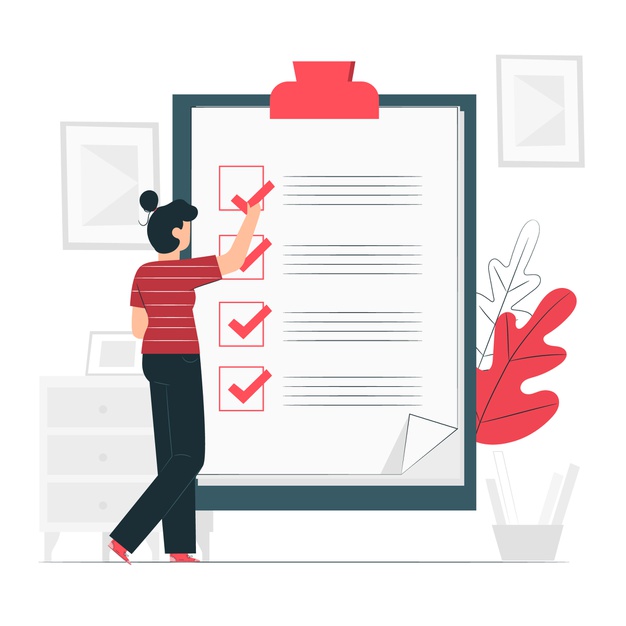 The table of contents provides quick access to particular fields of the documents.
This is the majority of the document, which contains the actual step-by-step protocols to be followed to conform with business standards and safety legislation effectively. It may also contain this section:
An overview of the SOP's scope and function, its boundaries, and how it is used. Standards, legal criteria, positions and tasks, and inputs and outputs should be included.
To complete each move, necessary and additional information is required. Discuss choices that need to be taken, future blockers, safety considerations, and all other imaginable "what if" situations.
Terminology explanation, with acronyms and words that the audience may not be familiar with.
Warnings about health and safety. These alerts should be mentioned in a separate section, and within the framework, they should accompany the relevant steps.
A full list of all the appropriate equipment and materials, where to find them, and where each of them is needed.
A segment of troubleshooting to cover stuff that may go wrong, what sorts of stuff the reader can look for, and what may conflict with the final result.
Stage 7: Evaluate, test, edit, repeat
After you have compiled your standard operating procedure document:
Submit a copy of the SOP to the team members for analysis. Have grammatical and functional mistakes noted.
To ensure that you obtain the intended result, test the document yourself.
Get the procedures reviewed by other staff members to ensure that the terminology is consistent, quickly followed, and efficiently implemented.
To strengthen the document, integrate related changes and recommendations.
Repeat these measures before all stakeholders agree and accept the document.
Get the SOP implemented. Make it open to those who need it to do their work quickly.
Every six to twelve months, or whenever appropriate, you can revisit the SOP to find areas where it can be improved and incorporate any suggestions made to the existing procedures.
Key Features of Creating Standard Operating Procedure documents on Bit.ai
You need a proficient tool to build Standard Operating Procedure documentation that can help you create, exchange, and interact with partners to successfully get work done. This is where Bit comes into the picture!

Bit.ai is a documentation and knowledge management platform that helps people in one place to communicate, communicate, track, and maintain all business expertise.
Bit documents are collaborative, unlike the regular Word Docs. This means that developers can connect code blocks with a single click to a document quickly!
Bit has an impressive UI that a novice user can quickly grasp, making onboarding smoother. The user interface is also phenomenal, as items easily flow from documentation to workspaces.
You can simply add code blocks and inject samples of GitHub Gists and Pastebin content directly into a Bit document if your team is developing SOP documents, technological specifications sheet, training notes, best practices, customer service information, etc.
Some interesting features of Bit include:
Easy collaboration with stakeholders
Distraction-free and quick documentation
Bit keeps your SOP documents safe and secure
Integrations with 100s of apps
Multiple ways to share
Track engagement on shared software requirements documents with customers, partners, etc.
…and so much more than that! It's a must-have tool!
How to Create Standard Operating Procedure Document with Bit
The process of preparing a Bit SOP document is pretty fast! To easily create a document, just follow these four basic steps:
Step 1: Create a Bit Account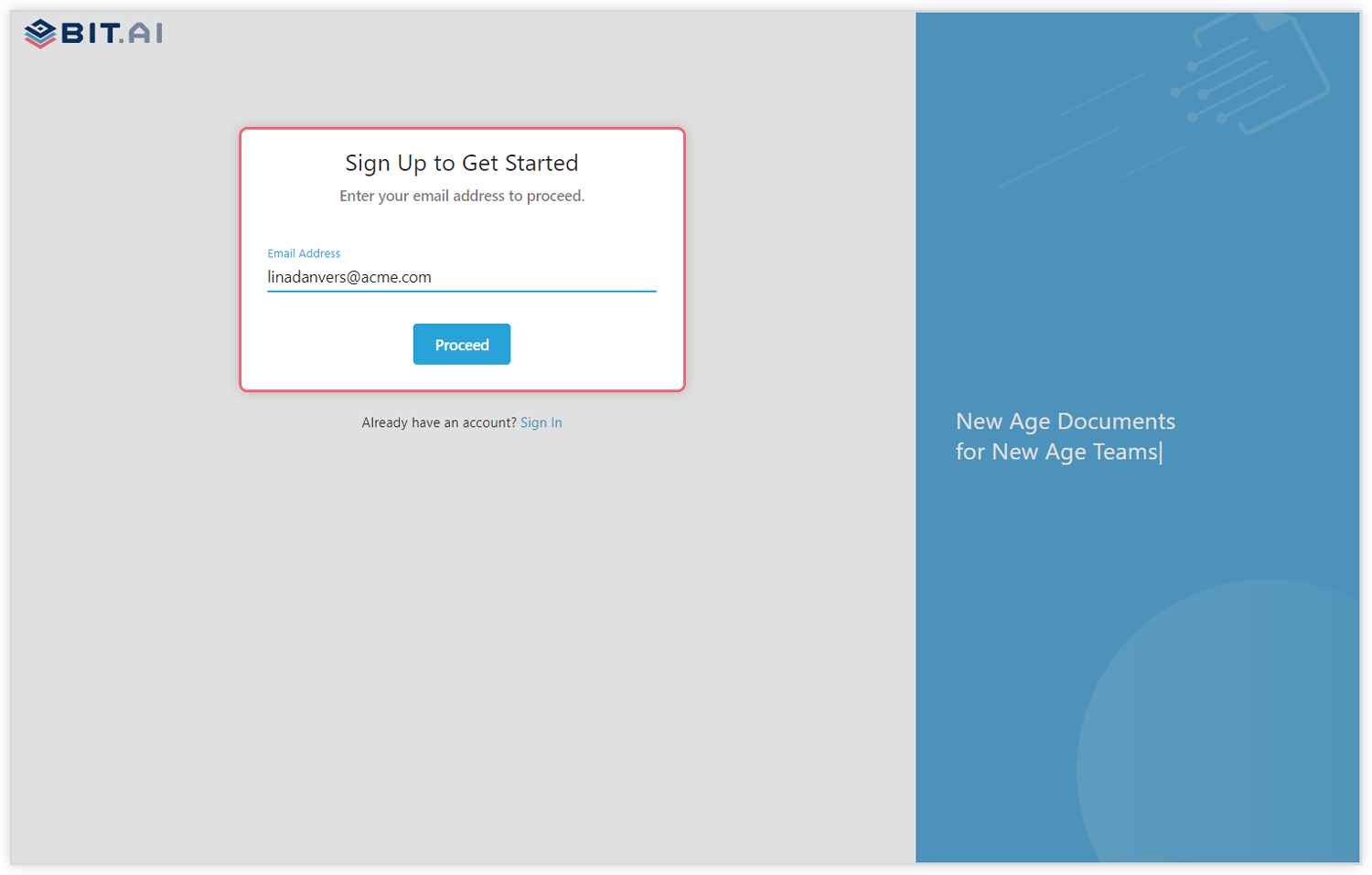 Go to the Bit.ai home page and to get started, press Get Started for Free or Sign Up. To sign up, enter your email address. You will create your personal profile once you go in.
Step 2: Create a Workspace
Workspaces are where the task is completed. On the right, click on the 'Create Workspace' button. There will be a popup that asks you to add a name to your new workspace.
You can generate a workspace around a team, department, large project, employee, partner, etc. You can build an infinite number of Bit documents and view your content library within each workspace (storage room for all your digital assets-web links, archives, cloud files, rich embeds, etc.).
Step 3: Bring Team Members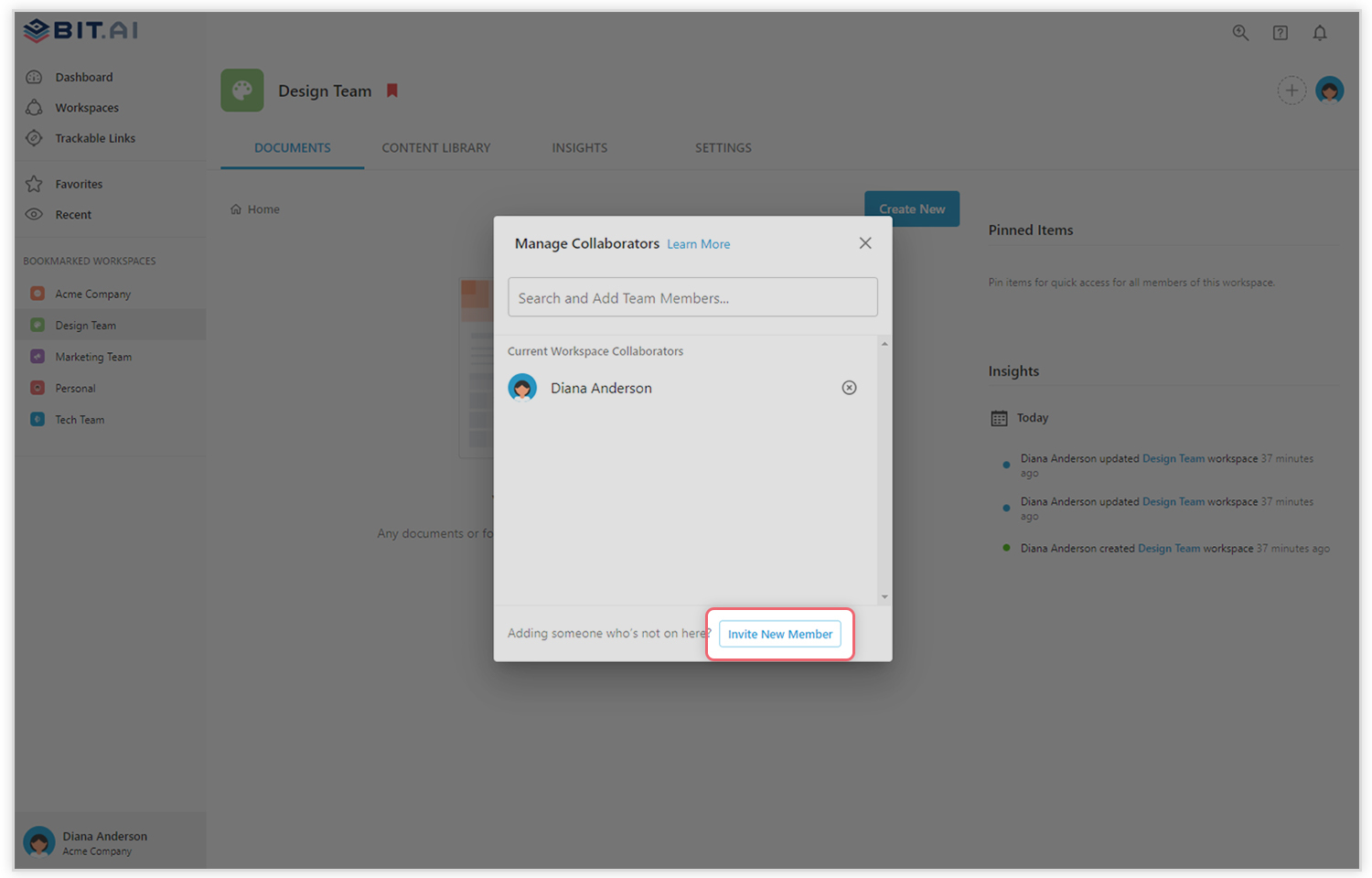 Bit helps members of the team to collaborate in real-time to get work completed. Collaboration begins at the level of the workspace.
By default, there are private workspaces in Bit. However, within a workspace, you can allow someone to join you and connect with the information, tasks, documentation, and material within the workspace.
Step 4: Create the Desired Document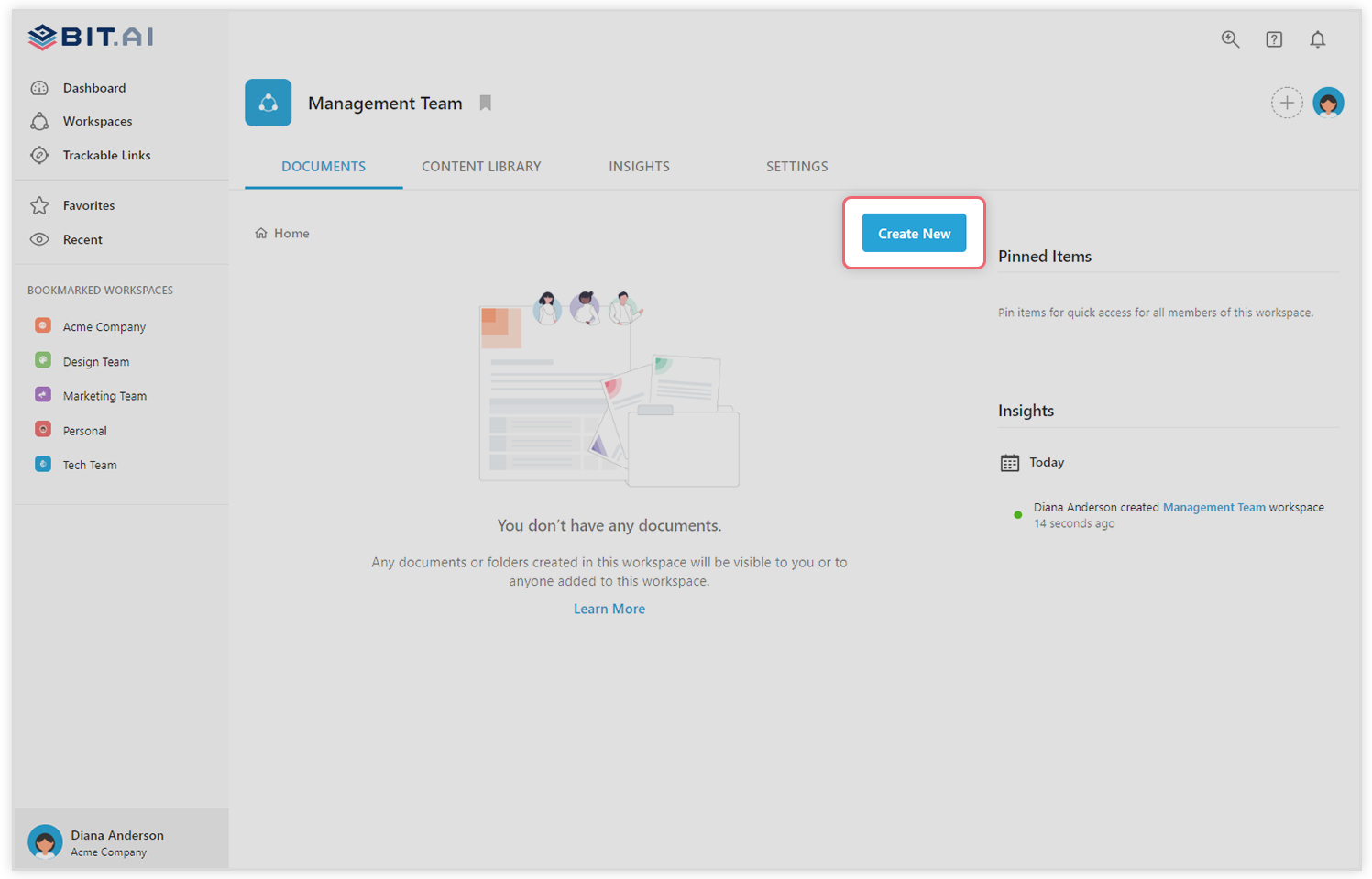 Click on the 'Create New' button until you are in the workspace. Select 'Blank Document' in the dropdown.
That's it! Your Standard Operation Procedure document is ready for use!
Conclusion
With that, you're all set to create your very own SOP following these industry best practices. Once you make an SOP, you'll see remarkable differences in the efficiency and quality of work occurring at your organization, in no time! That's our guarantee to you! Good luck!
If you need any tips or want to learn more about how Bit can help your business, feel free to reach out to us at @bit_docs.
Further reads: 
Standard Operating Procedure Examples You Can Use Today!
Business Continuity Plan: What, Why & How to Create it?
Company Profile: What is it & How to Write a Perfect one?
How to Create an Agile Product Roadmap?
Procurement Management Plan: What, Why, and How to Create?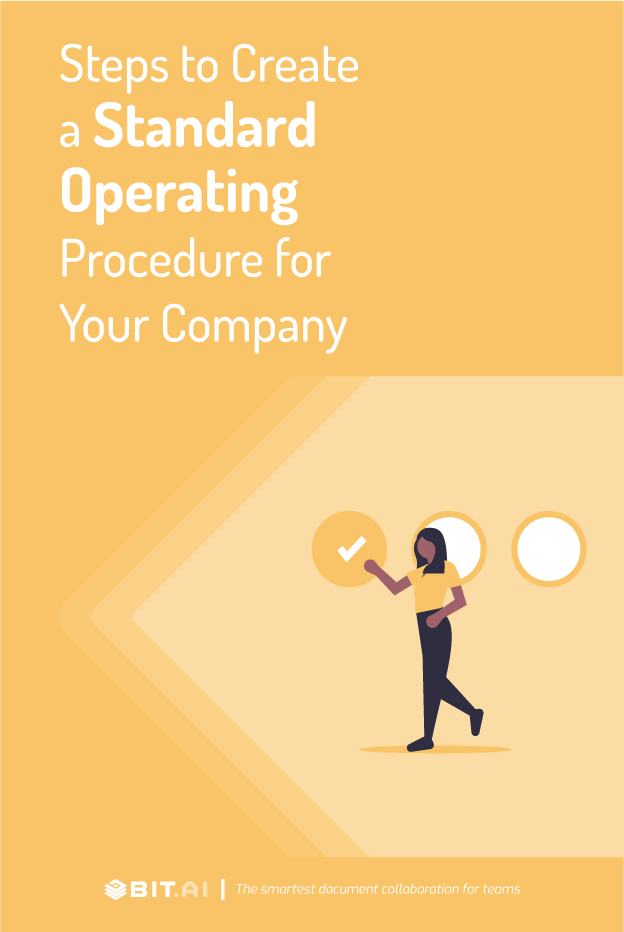 Related posts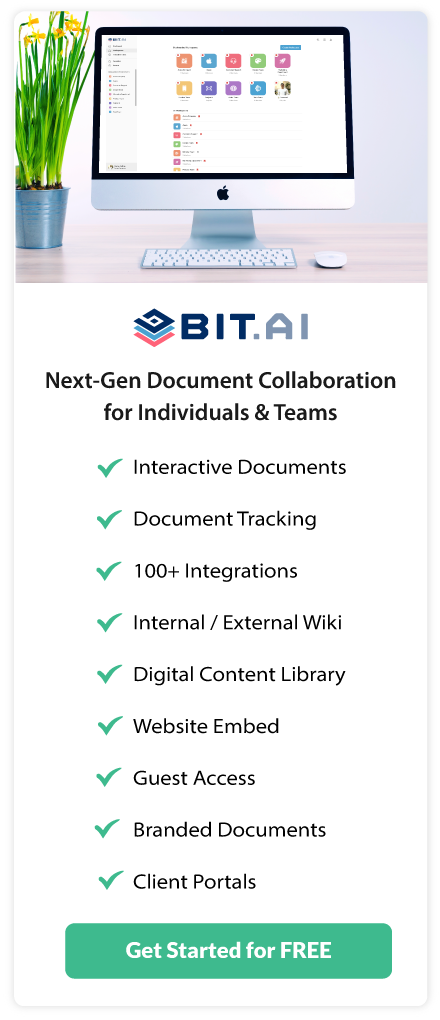 About Bit.ai
Bit.ai is the essential next-gen workplace and document collaboration platform. that helps teams share knowledge by connecting any type of digital content. With this intuitive, cloud-based solution, anyone can work visually and collaborate in real-time while creating internal notes, team projects, knowledge bases, client-facing content, and more.
The smartest online Google Docs and Word alternative, Bit.ai is used in over 100 countries by professionals everywhere, from IT teams creating internal documentation and knowledge bases, to sales and marketing teams sharing client materials and client portals.
👉👉Click Here to Check out Bit.ai.