Would you want to ride a car that was manufactured without following standardized procedures? OR would you get on an airplane that wasn't inspected according to the strict inspection checklist?
Of course not, and this is why Standard Operating Procedures are created. It greatly reduces the chances of mistakes. However, if you don't have a proper SOP that can guide your team, the consequences can be lethal.
Honestly speaking, without a proper "set" of step-by-step procedures and checklists, you won't just have to go through inefficiency and lost profit, but it could also result in injury or even death.
In a nutshell, having an SOP is one of the simplest ways to streamline your business activities and optimize your day-to-day performance.
With that in mind, in this blog, we're going to share some great Standard of Procedure examples with you. You can take some inspiration from them and get started with your own SOP.
But, before that, let's understand what a Standard Operating Procedure exactly is. Ready? Let's go!
What's Standard Operating Procedure?
Basically, a Standard Operating Procedure, aka an SOP, describes the steps that one needs to follow while performing a specific task. In short, a Standard Operating Procedure is a 'how to' document.
The steps given in the SOP are usually in accordance with industry regulations, laws, or even a company's own standards. It defines the expected practices and all the quality standards that need to be met.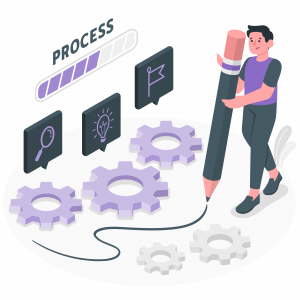 For example, if you're in the manufacturing industry, your SOP would consist of activities that your team needs to undertake while making the product.
This way, your work would become much more efficient, and we all know that efficiency always leads to consistency and reliability. The end result? Profitability!
It's obvious that no two businesses would have the same SOP. After all, every business has a unique market, every CEO has their own leadership style, and every industry is different.
In this blog, we have shared five amazing Standard Operating Procedure examples. If you find one related to your industry, good for you, but if you don't, you'll still learn a lot and create an awesome SOP. We bet!

5 Standard Operating Procedure Examples That Work
Standard Operating Procedure Example 1 – Blood Bank
Purpose
The purpose of this standard operating procedure is to ensure that the blood is stored and issued in an aseptic environment through trained professionals.
Scope
This document describes the steps the blood bank needs to take in order to store and issue collected blood to patients on time.
Responsibility
It is the responsibility of the head of the blood bank to ensure that all the given steps are followed carefully, and blood is issued on time without any complications.
Procedure
The physician needs to select and screen the donor.
Collect blood using an aseptic method and a sterile system.
Screen the collected blood for infectious diseases.
Prepare the blood components using double, triple, or quadruple plastic bags.
Use the designated area for storage of untested, tested, and expired blood.
Ensure that all blood components are stored within the temperature required.
After successful testing, issue the blood to the patient after careful screening.
Related Resources
Please find attached the following documents:
List of diseases a blood donor should be free of.
Checklist for blood screening.
Checklist for patient screening.
Standard Operating Procedure Example 2 – Passenger Tests Positive For Covid at Airport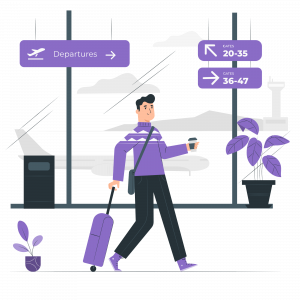 Purpose
This standard operating procedure aims to reduce the risk of the spread of COVID and maintain the safety of passengers, crewmembers, and airport workers.
Scope
This document describes the steps the airport authority needs to take when a passenger tests positive for COVID during the primary screening.
Responsibility
It's the responsibility of the health screeners at the airport to ensure that all the below steps are adhered to, and no COVID-positive patient enters the flight.
Procedure
If a passenger test positive, deny their boarding and move them away from others at the airport. Initially, you can send them to the isolation room built by the airport authorities.
Find out what resources are available to the patient for healthcare. Clarify that they will need to self-pay for services rendered by the healthcare provider during the course of their treatment.
Notify the county health team, and triage positive passengers for further public health and medical evaluation.
Notify Airline POC that boarding was denied for the passenger, and they are allowed to request re-booking on future flights after he is in the clear.
Related Resources
Please find attached the following documents:
WHO's advisory on COVID-19.
The details of secondary screening processes for passengers.
Secondary screening form.
Read more: Steps to Create a Standard Operating Procedure for Your Company
Standard Operating Procedure Example 3 – HR Department
Purpose
The purpose of this Standard Operating Procedure is to establish the roles and responsibilities of the employees in the HR department at ACMA Co.
Scope
This document describes how the HR managers at ACMA Co. must hire new employees and the set of steps they need to follow before deciding to hire a candidate.
Responsibility
It's the responsibility of the head of HR to ensure that all the below steps are followed with utmost precision. The head will be held accountable in case of any error.
Procedure
Conduct screening of the candidate through his resume and a phone call.
Invite the candidate for a walk-in-interview.
After the walk-in-interview, two evaluation rounds will be conducted: Technical Round & HR Round.
Ask the selected candidates for their legal documents (ID Proofs, etc.) & academic certificates.
Send them an offer letter specifying the salary, perks, joining date, and other allowances.
Related Resources
Please find attached the following documents:
Details of the technical and HR round.
List of documents required from the candidate.
Details about leaves and other perks.
Sample of an offer letter.
Standard Operating Procedure Example 4 – Blog Publishing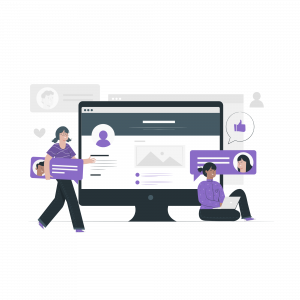 Purpose
The purpose of this Standard Operating Procedure is to ensure that all the steps involved in publishing a blog are followed with precision.
Scope
This document describes steps that need to be followed by the content writers and the managers before publishing a blog on the website.
Responsibility
It is the responsibility of the Head of Content to ensure that all the steps involved in the blog publishing process are covered and solve queries of the content writers, editors, and content managers.
Procedure
The content manager needs to come up with blog posts topics for the week.
Get the topics approved by the Head of Content.
Assign the approved topics to the writers, and send the first draft to the content editor.
The writers will make all the changes requested by the content editor.
Share the final draft with the Head of Content.
If no further changes are needed, the HOC will send the blog to the content manager for publishing.
Related Resources
Please find attached the following documents:
Style sheet for writing.
SEO practices that need to be followed.
The Do's & Don't while writing a blog.
Standard Operating Procedure Example 5: Retail Loans
Purpose
The purpose of this Standard Operating Procedure is to ensure that loans are granted to citizens after careful screening, and the applicant is aware of all the terms and conditions.
Scope
This document describes all the steps that need to be followed by the bank staff while granting a loan.
Responsibility
It is the responsibility of the bank manager to ensure that the staff is following proper procedures while granting loans to citizens and the applicants are aware of their rights and responsibilities.
Procedure
Provide the application form along with the checklist of the documents to be submitted.
Describe in detail all the legal documents that the customers need to submit and the other formalities.
Conduct a pre-sanction inspection at a time convenient to both the customer and the bank official.
Verify all the documents submitted by the applicant and inform them if there are any deficiencies.
If all the documents are in order, process the loan application and sanction the loan. Then, disburse the loan amount in stages as per requirement.
In case of rejection of the application, communicate the same to the applicant with the reasons for rejection.
Related Resources
Please find attached the following documents:
Application Form
Checklist of documents that the application needs to submit.
List of Terms and Conditions.
Before You Go!
There you go, folks! We hope these Standard Operating Procedure examples have inspired you, and you are totally ready to create an SOP for your own business practices.
But, before you go, we've something else that we need to share with you: the best platform for creating SOPs or any other document that exists on Earth.

We're talking about Bit.ai – a powerful document collaboration platform that comes with over 90 stunning and fully responsive templates. Bit takes care of the entire design and formatting aspect for you!
The best part? You can add videos, music, maps, charts, surveys/polls – basically any rich media you can think of in your SOPs and make it even more extensive.
There's more! You can create different workspaces for different teams on Bit, and then create the SOP document with your team members in real-time using inline comments and @mentions.
Your team can refer to the document anytime they want, and if they have any queries, they can just leave a comment on the document for you to address. Cool, right?
Not to forget, Bit allows you to invite guests (clients, contractors, vendors, or partners) into your workspaces. It is a great way to bring someone into your workspace without giving them the ability to edit any content or see/access anything else.
Guests can get two types of access to documents: read-only or comment-only. With read-only access, guests can only read the content you have shared with them, while comment-only access allows them to @mention team members and give their suggestions or feedback.
Before you go! check out these helpful templates:
So, try Bit out today, and don't forget to let us know how it goes by tweeting us @bit_docs. Good luck! 💖
Further reads:
Policy and Procedure Manual: What is it & How to Create it?
Operating Agreement: What is it & How to Draft One for your LLC?
Characteristics of Well-Written Standard Operating Procedures!
Corporate Wiki Guide for All types of Businesses!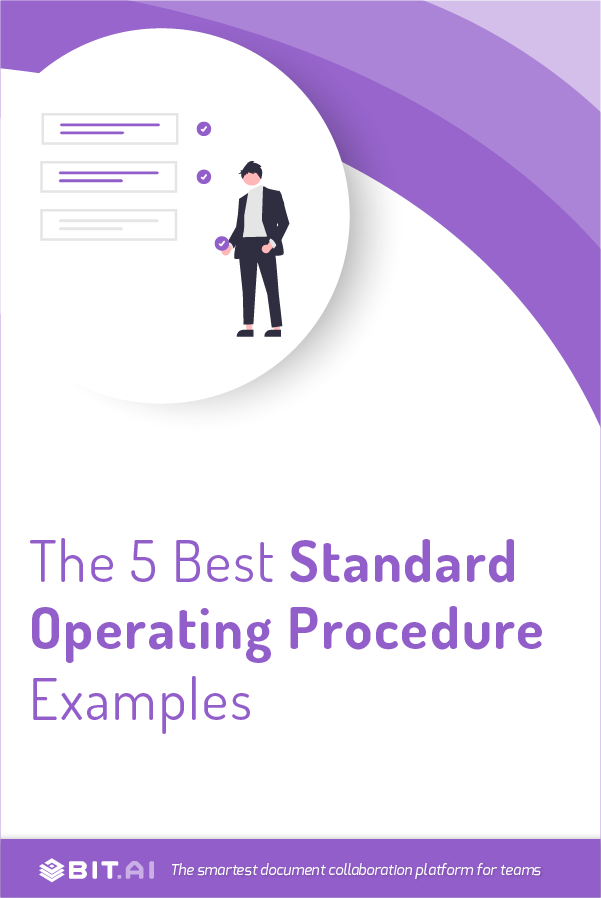 Related posts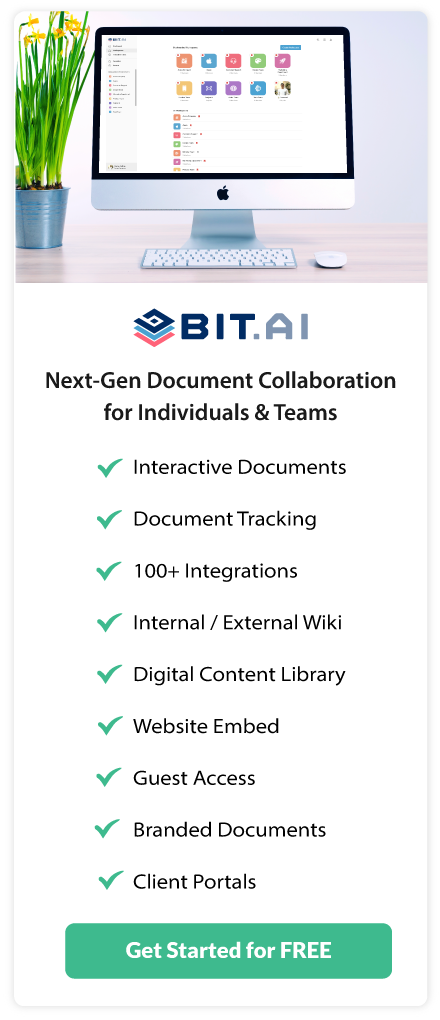 About Bit.ai
Bit.ai is the essential next-gen workplace and document collaboration platform. that helps teams share knowledge by connecting any type of digital content. With this intuitive, cloud-based solution, anyone can work visually and collaborate in real-time while creating internal notes, team projects, knowledge bases, client-facing content, and more.
The smartest online Google Docs and Word alternative, Bit.ai is used in over 100 countries by professionals everywhere, from IT teams creating internal documentation and knowledge bases, to sales and marketing teams sharing client materials and client portals.
👉👉Click Here to Check out Bit.ai.