With physical bits of information being increasingly converted into digital formats, digitization has taken the world by storm. At this juncture, it will be considered naive to disregard the importance of digitization in the business world.
In fact, in 2019, digital-first businesses were 64 percent more likely than their peers to have met their top 2018 business targets. Moreover, 45 percent of companies reporting positive market impacts of digital transformation have recorded higher net sales growth (source).
If the idea is to digitize businesses and their processes, then all documents, workspaces, manuals, and files must be digitized as well, right? One of these crucial documents happens to be Standard Operating Procedures. That's where we come into the picture, but let's not get ahead of ourselves.
Let's first go over the basics of Standard Operating Procedures and then dive into the characteristics of a well-written, digital SOP!
What are Standard Operating Procedures (SOPs)?
Standard Operating Procedures (SOPs) are documented processes that an organization has in place to ensure that services and goods are consistently provided every time. SOPs are also used to show compliance with laws or operating procedures and to record how activities must be carried out within the organization.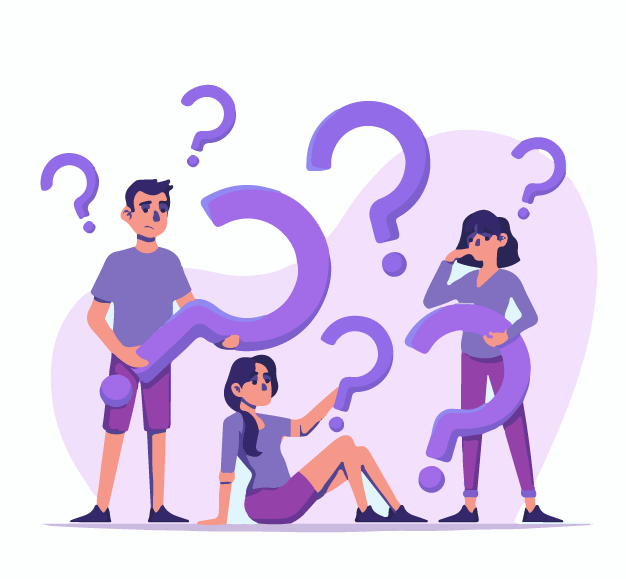 An SOP is a valuable business tool as it communicates the correct way to carry out an operation within your company. It supports you by supplying you with…
Consistency – The primary reason why you need SOPs is consistency in the way a person performs a specific task or operation. The more reliable the procedure is from person to person, the less likely will the occurrence of quality issues be.
Error Reduction – A written procedure details a series of instructions for executing a job. As long as each person on your team executes the task as written, there is a greater likelihood of error reduction.
Communication – Another great explanation of why you need SOPs in your company is to benefit communication. With process changes, operating procedures are modified and new training is needed for each upgrade. Updating SOPs provides a means to convey process changes to employees.
If those aren't reasons enough why you should be creating SOPs, here are some more to get you on board with the idea of creating SOPs…
What are the Benefits of Creating Standard Operating Procedures?
Alright, let's begin with the top reasons why you should consider investing your time and resources into creating SOPs. They can help you…
To provide people with all the necessary protection, health, environmental and operational information to enhance their performance at the job.
To ensure that manufacturing activities are carried out consistently to maintain the quality control of processes and goods.
To ensure that the processes proceed uninterrupted and are completed within the prescribed timeline.
To ensure that there are no defects in production and other processes that might affect everyone in the surrounding community.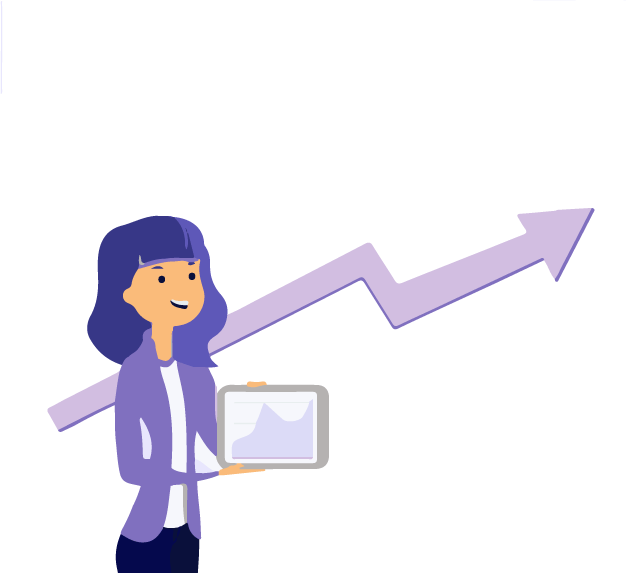 To ensure that approved procedures are followed as per company and government regulations.
To serve as a training manual for educating users about the method about which the SOP has been written.
To act as a guideline for co-workers who observe job results to improve overall performance.
To be used as a guide for auditors.
To serve as a historic record of how, when, and what steps are taken in an existing process.
To act as an explanation of the steps in the accident report review process.
Now, without further ado, let's dive into the features of a well-written SOP in this era of digitization. Read on!
Components of a Well-Written SOP 
We've already spoken about the importance of digitization of your workplace files and documents, but the question that then arises is, "But, what should I include in these documents to enhance efficiency?" Don't worry, we've got you covered with this list of components that'll help in creating a well-rounded SOP…

Visual Appeal & Aesthetics
Uniform Formatting
Multimedia Files & Rich Media
Interlinked with all relevant documents
Easy to Navigate through
Trackable
Fully Responsive
Let's take a look at each of these features in detail…
1. Visual Appeal & Aesthetics
In a very interesting research study, it was found that users are strongly influenced by the aesthetics of any given interface, even when they try to evaluate the underlying functionality of the system (source). In simpler words, the visual look of any system/document directly relates to how the user interprets its functionality.
So, there you have it! Science also suggests that the more aesthetic and eye-catching your SOP is, the more useful it is likely to be perceived as. You need something more than the old Times New Roman documents with basic designs. Minimal and aesthetic is the way to go!
2. Uniform Formatting
Making SOPs is often a collaborative effort with many people providing their inputs into the creation of the document. This often leads to different people using different ways to format the information, and the result, you may ask? It's often a chaotic, haphazard-looking document.
Formatting not only adds to the visual appeal of a document, but it also makes information more accessible to the reader by creating and labeling sections (headings), highlighting keywords or ideas (bold, italics, or lists). This creates a good impression by giving a professional look and feel to your SOP.
We admit it, formatting can be a rather tedious task, but we've got just the right tool for you that makes the formatting work look like a piece of cake. Keep reading!
3. Multimedia Files & Rich Media
The importance of visuals while providing information to users is often under-emphasized while making technical documents like SOPs. Let's take a look at some stats that shed light on the importance of visuals…
Visuals increase the desire to read content by 80% (source)
91% of people like visual content over written content (source)
People can follow instructions 323% better when visuals are used (source)
You should consider adding multimedia files and rich media documents like videos, cloud files, presentations, spreadsheets, databases, charts, diagrams, tasks, schedules, codes, infographics, images, GIFs, all under the roof to your SOP to make it as invigorating and visually fulfilling as possible!
4. Interlinked with all relevant documents
To maintain the consistency that we initially talked about, SOPs are generally very long and elaborate documents. Rather than making one single document that's spread across several hundred pages, it is better to divide the content into shorter files and link them to one another.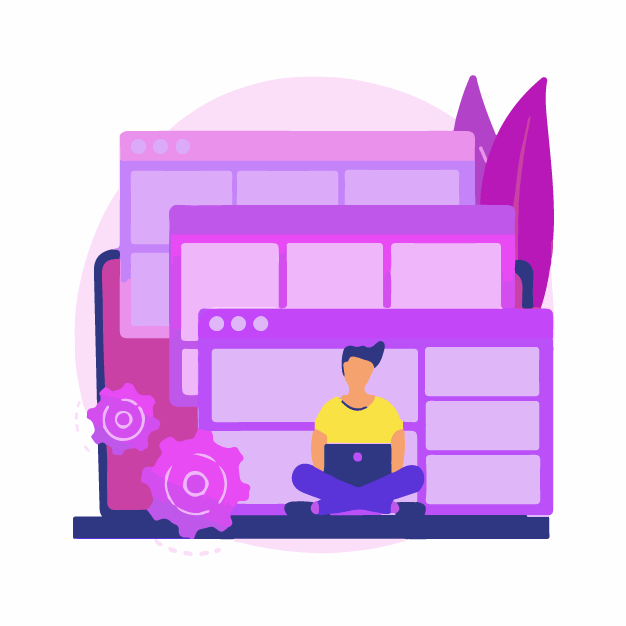 The idea is to provide complete information to the reader without overwhelming them with too much of it, at once. This can be made possible when you interlink one SOP document to another so that the reader can go through all the procedures at their own pace, without feeling overloaded with information.
5. Easy to Navigate Through
SOPs prevent workplace accidents from occurring. However, with a sea of information being presented in SOPs, a reader might likely feel confused about a previous section and make errors while doing their job. How do we prevent that from happening?
Simple! Just make your SOP easy to navigate through, so that it is easy to access any section of the document, whenever the reader feels lost or confused.
6. Trackable
Coming back to the idea of workplace accidents. Why do accidents occur? One of the primary reasons is often the negligence and incompetence of the person handling the workplace operations. With SOPs, the reader might just skim through the document.
How do you solve this problem? Well, you could just track the activity on your SOP by altering the settings. This way, as a manager, you can keep track of how much time a reader has spent reading the SOP document, to identify who has sincerely read the document and who has skimmed through it.
7. Fully Responsive
Lastly, it is essential that whatever device the reader chooses to read the SOP on, the document is fully responsive and adapts to the device's system. This is one of the unique ways to retain engagement on your SOP documents!
Now that we're through with the features of a well-rounded SOP in the era of digitization, it is only valid to wonder what tool might be the best to provide you with all these characteristics. To help you, we present to you…
Read more: Standard Operating Procedure Examples You Can Use Today!
Bit.ai: The Ultimate Platform for Creating SOPs

Bit.ai is a new-age document collaboration platform for all your needs. It serves as a central hub where collaborators, content, and knowledge can be accessed in an all-inclusive document. Technical writers can use Bit to create Standard Operating Procedures (SOPs), collaborate with their team in real-time, and store all assets in one place for easy and fast access.
Here are some of the main benefits of using Bit:
Allows you to collaborate with your team in real-time
Has a simple, elegant, and minimalistic UI and document templates
Automatically formats all documents
Supports over 100+ file formats to be added to the documents
Easily searches digital assets inside your content using keywords, titles & descriptions
Allows you to create links to track document activity
Fully responsive interface
…and so much more!
Final Words
Voila! There you have it! The perfect mantra to write a splendid SOP that'll fit your needs! We're sure that these features will only add to the charm of your SOPs and make it more palatable for your readers! Now that we've also provided you with the right tool, you can start working on your 2021-ready SOP! Good luck!
Did we miss out on any of the features of a well-written SOP? Tweet us @bit_docs and let us know! We'd be happy to hear from you!
Further reads: 
Business Requirements Document (BRD): What, Why, and How to Write?
Related posts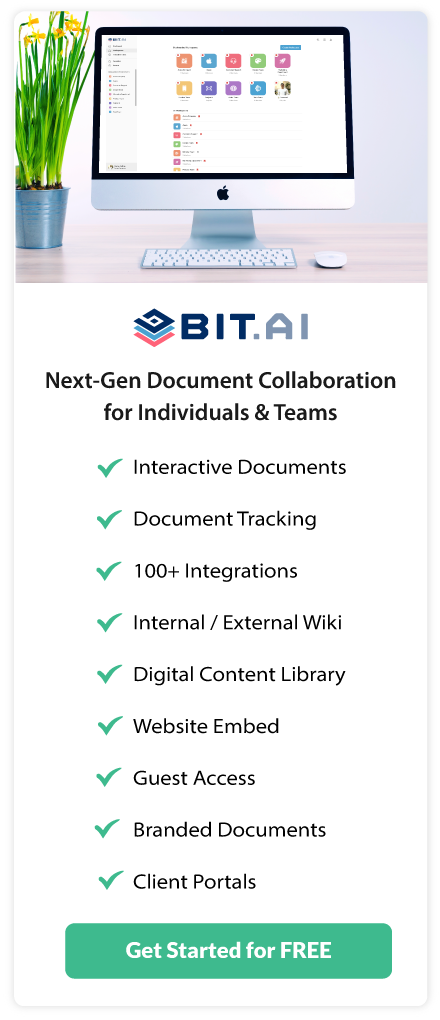 About Bit.ai
Bit.ai is the essential next-gen workplace and document collaboration platform. that helps teams share knowledge by connecting any type of digital content. With this intuitive, cloud-based solution, anyone can work visually and collaborate in real-time while creating internal notes, team projects, knowledge bases, client-facing content, and more.
The smartest online Google Docs and Word alternative, Bit.ai is used in over 100 countries by professionals everywhere, from IT teams creating internal documentation and knowledge bases, to sales and marketing teams sharing client materials and client portals.
👉👉Click Here to Check out Bit.ai.