As children, we are frequently told to 'concentrate' on our studies to achieve success. This principle of concentration or focus is often forgotten when we enter the corporate world. Research has shown that having specific goals can result in higher performance and successful goal attainment.
Surprisingly, in a study conducted by London Business School, only one-third of the 11,000 senior executives surveyed could list down the top three priorities of their companies.
If senior executives aren't focused on company goals, it would be difficult for their teams to know the direction in which the company wants to move forward.
Fortunately, the Objectives and Key Results (OKR) framework is a simple and effective method to communicate goals and highlight achievements for communicating priorities and responsibilities. OKRs clearly define a company's top priorities and the quantitative data that needs to be tracked to ensure progress.
OKRs aim to achieve business goals and superior organizational performance through alignment of employee performance and team results. It is seen as a way to focus on value creation, boost self-management, and create high-performance oriented teams.
What are the Objectives and Key Results (OKR)?
OKRs help set a specific strategy and goals for a team or organization over a specified duration. At the end of the time period, you evaluate how well you succeeded in meeting those goals. Spending time in defining team goals and organizational strategy in a specific measurable manner can help align everyone's efforts.
Let's break up the words:
Objective – What you want to accomplish?
Key Result – How do you know if you are there?
An Objective is setting a goal to be achieved in the future. It provides a clear direction of where you want to go. It could be referred to as an inspirational vision that is time-bound and specific.
A Key Result is a quantifiable target value that measures the progress towards an objective. It expresses measurable milestones that describe the progress towards an objective.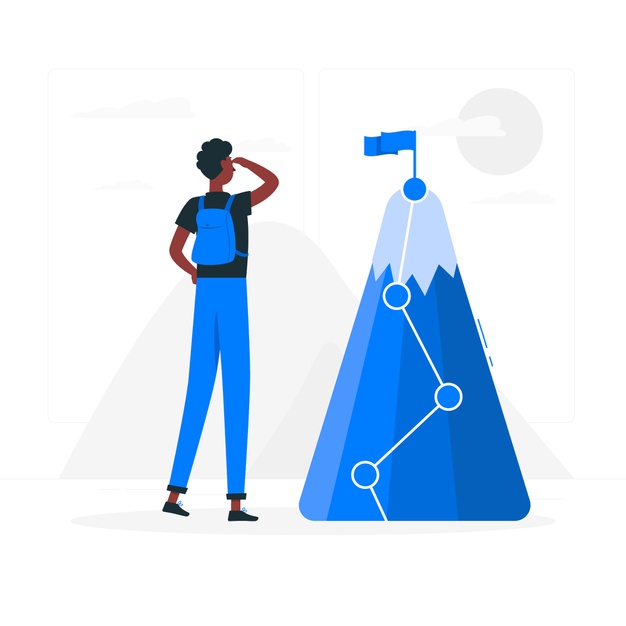 An OKR cycle starts with management setting organizational OKRs which ideally should be aspirational and should have all stakeholders' buy-in. From there, draw up the team OKR's which could be product-wise or departmental, but they roll into the organization's objectives. They could be a mix of top-down and bottom-up suggestions, this enables all organizational employees to contribute and strive with earnest towards the shared goals.
Each team could have 3-5 objectives with at least 3 key results for each objective. It's critical that every team tracks their active progress towards their objectives.
Specific review meetings will enable everyone to be aware of the progress and discuss the challenges they might face. It's important to be transparent on what objectives different teams are working on and their current progress. Establish clear and consistent communication to discuss progress and set accountability amongst teams and members.
The best way to explain OKRs further would be to use examples. So let's take a look at some examples of organizational OKRs and team OKRs for various departments:

Read more: Objectives and Key Results (OKR): What, Why, and How?
OKR Examples for better understanding:
To enable you to better understand the concept, let's discuss some examples from some organizations.
A product tech company wants to launch a new product, at an organization level they can consider the below OKRs:
Organization Objective: Launch a new version of our company product
Key Results:
Receive 70% positive reviews in the beta testing phase
Get 1000 early registrations
Receive 10 mainstream media press mentions before the launch date
Organization Objective: Increase profit from the current product by 10%
Key Results:
15% growth rate in new registrations
Reduce operational costs by 15%
Launch 3 new offers to increase revenue by 25%
With these objectives and results areas, your company employees can be focused on taking actions that would result in meeting these goals. This would streamline efforts to ensure everyone is moving in the same direction.
More Examples of OKRs for your Business
We've described 2 examples of OKRs that can be created at an organizational level for the company. A great benefit of using the OKR methodology is that it can be broken down for different departments and teams, such that the entire company pursues the same organizational goals, but utilizes specific Key Results. Let's take a look at different OKRs that can be used for different departments or teams.
OKR Example for Marketing Team
Objective: Enhance content creation and distribution
Key Results:
Create 1 new piece of content every working day
Implement 5 new channels to post content
Get 2 guest post opportunities every month
OKR Example for Sales Team
Objective: Increase the main product revenues
Key Results:
Reach 100% monthly revenue targets
Add 3 new sources of revenue
Increase the average renewal rate to 80%
OKR Example for Finance Team
Objective: Raise fresh capital for minor product
Key Results:
Outreach campaign to 100 venture funds
Get 20 funding meetings
Close an investment round of at least $1 million
OKR Example for Product Team
Objective: Activate user testing of product A
Key Results:
Get 50 testing users
Conduct 10 face-to-face user tests
Conduct feature comparison testing
OKR Example for Human Resource Team
Objective: Improve employee engagement
Key Results:
Conduct 1 monthly activity for employees
Add 3 more team awards
Introduce health check-ups for employees
OKR Example for Finance Team
Objective: Enhance the documentation process
Key Results:
Streamline documentation processes to improve efficiency by 25%
Decide 10 new good documentation practices
Decide documentation platform to adopt
OKR Example for Customer Service Team
Objective: Improve customer satisfaction
Key Results:
Ensure 25% of customer satisfaction feedback
Conduct 10 group discussions with customers for suggestions
Improve customer satisfaction score by 10%
OKR Example for IT Team
Objective: Improve data security efforts
Key Results:
Compare security procedures of 5 competitors
Conduct monthly security checks by an external partner
Document security efforts and provide a roadmap for future
If you don't reach 100% of your Key Results, you should still be proud of the effort that went towards it, evaluate if changes need to be made and realign objectives and key results for the next cycle.
It's recommended to frequently collect feedback on your OKR framework to connect different teams and gather learnings. The OKR methodology is a continuous cycle so don't get down if you don't get it right the first time, it's important to introspect and improve with each iteration.
Do You Want More?
The OKR framework is a great tool to streamline your organization. Do take time and effort to read more about it from the masters that created it at the WhatMatters website. Do these OKR examples motivate you to adopt OKRs at your company? We'd love to know what you're thinking. Comment below if you would like to learn more about OKRs.
Further reads: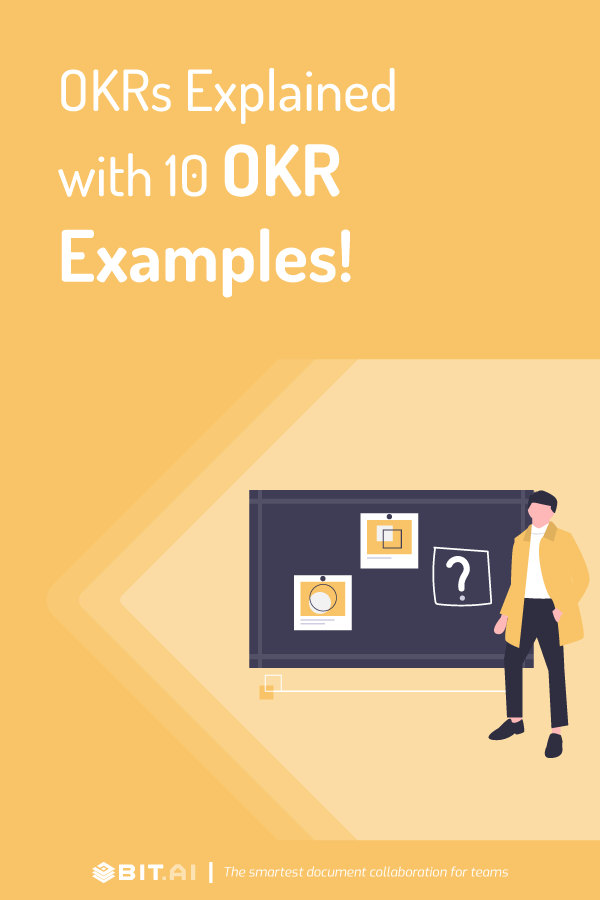 Related posts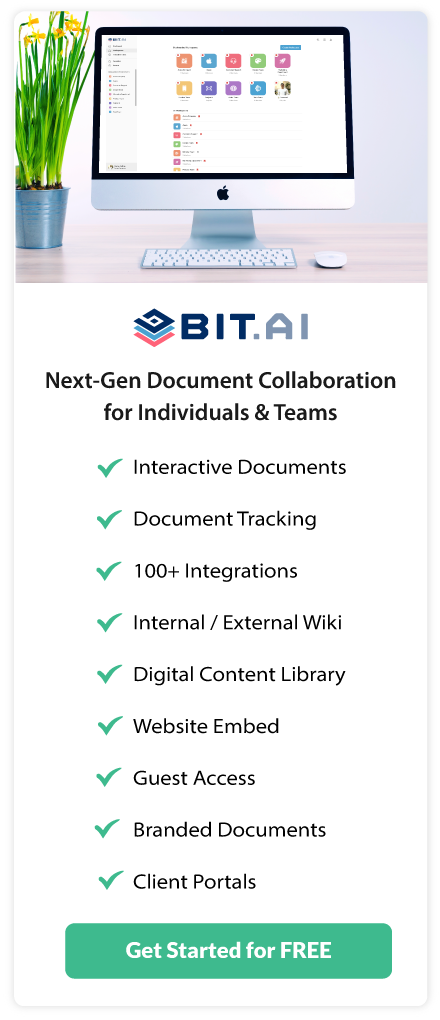 About Bit.ai
Bit.ai is the essential next-gen workplace and document collaboration platform. that helps teams share knowledge by connecting any type of digital content. With this intuitive, cloud-based solution, anyone can work visually and collaborate in real-time while creating internal notes, team projects, knowledge bases, client-facing content, and more.
The smartest online Google Docs and Word alternative, Bit.ai is used in over 100 countries by professionals everywhere, from IT teams creating internal documentation and knowledge bases, to sales and marketing teams sharing client materials and client portals.
👉👉Click Here to Check out Bit.ai.